It is estimated that there are more than 30,000 castles in the Emerald Isle spread across Northern and Southern Ireland. The best castles in Ireland are in various states of repair from ruins that have been abandoned to fully restored castles that are open to the public or turned into hotels and event spaces.
With all these castles and palaces to choose from, I asked some of my fellow bloggers to recommend what they consider to be the best castles in Ireland.
---
*This site uses affiliate links and I may earn a small commission when you use my links and make a purchase without incurring an additional fee yourself.
Thank you for supporting this website. See my disclaimer page for more details.
---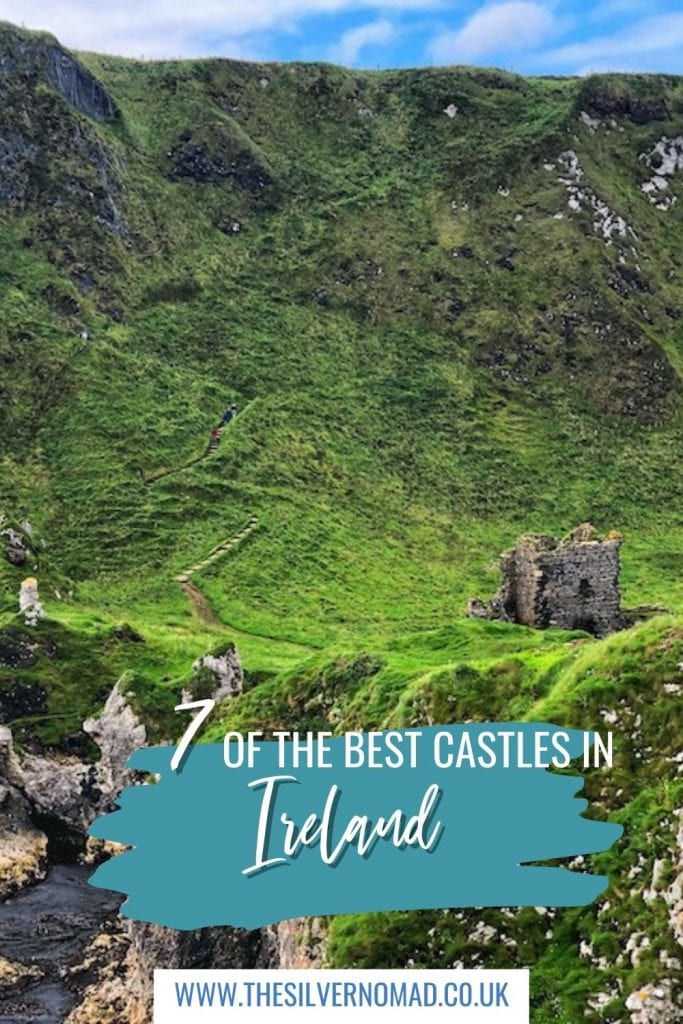 Three of the Best Castles to visit in Northern Ireland
Dunluce Castle, Northern Ireland
Recommended by Bradley from Dream Big Travel Far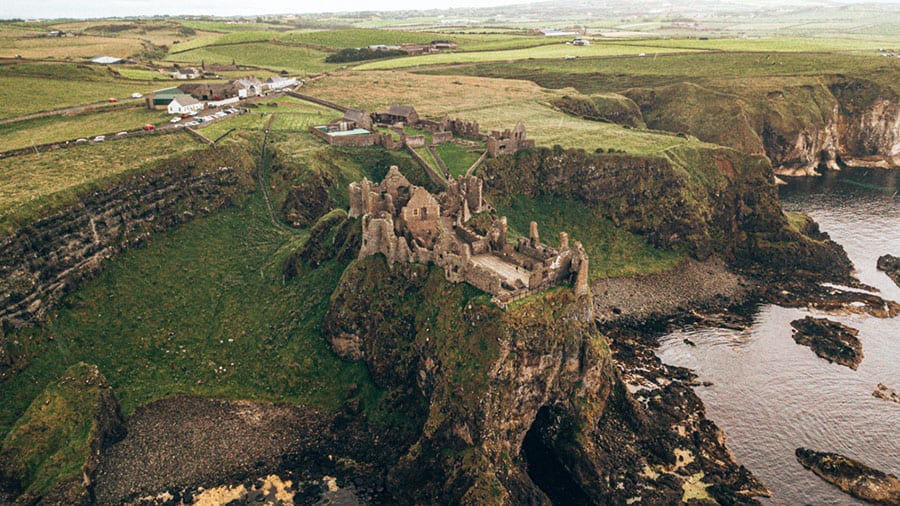 One of my favourite castles anywhere in the UK is Dunluce Castle. If you've visited Northern Ireland and driven the Causeway Coast, then you definitely would have come across it. Located right on the edge of the cliff, Dunluce Castle now lies in a great deal of disrepair, but that just adds to the charm and mysteriousness of it.
A castle structure was originally built here in the 1200s, but it has undergone a lot of change since then and was victim of much of the unrest Ireland has witnessed throughout the years. It's dramatic location and inspiring history is what led to it forming the basis of Castle Greyjoy in Game of Thrones. Getting there is fairly easy, it's located about an hours drive from Belfast and only 10 minutes from the Giants Causeway.
It's £6 to go inside for adults, but I will be honest and say that there isn't that much to see inside. Instead, the best way to experience Dunluce is to walk around the cliff in each direction and take it in from these angles. Besides the Giant's Causeway, other great sites nearby include the Bushmills Factory, Carrick-a-Rede rope bridge and Dark Hedges walkway.
Address: 87 Dunluce Rd, Bushmills BT57 8UY
Castle Ward, County Down, Northern Ireland
Recommended by Emer and Nils from Let's Go Ireland
If you have watched HBO's Game of Thrones, then you probably remember Castle Ward, the famous location of Winterfell and main location for the series pilot. Yet, Old Castle Ward, dating from the 16th century, has so much more to offer beyond following the footsteps of the Stark Family.
Located less than one-hour's drive from Belfast in Northern Ireland, the National Trust property's main attraction is a newer building: the architecturally stunning 18th century mansion which surprises visitors with an eccentric mix of architectural styles, for example one exterior side of the building (south-east) is in the Palladian style while the other side is Gothic in style. Inside the mix is even more dazzling.
Another great perk that Castle Ward has to offer is their parks and gardens. Here you have a stunning view over Strangford Lough while enjoying the tranquillity of nature. If you are looking for a longer walk, the grounds of Castle Ward have you covered too. There are several trail routes to choose from. Another great way to spend the day at Castle Ward is to rent a canoe or kayak and explore the serene lough bay at your own pace.
Make sure to visit the beautiful tea room for some refreshment before you leave. Adults will have to pay £10 while kids pay £5.
Address: Strangford, Downpatrick BT30 7BA
Kinbane Castle, near Ballycastle, County Antrim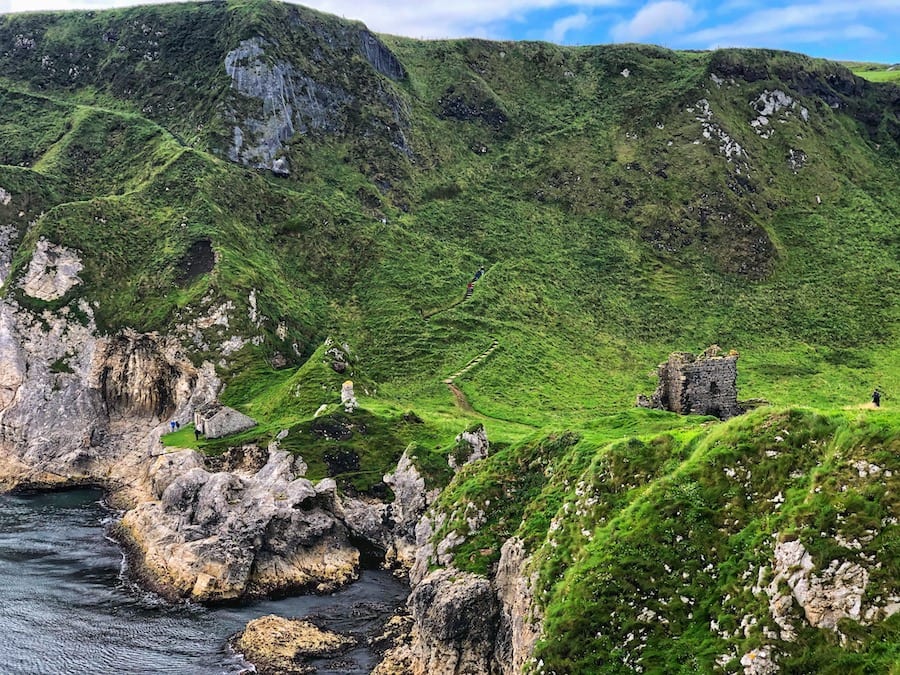 Contributed by Jackie from Jou Jou Travels
Ballycastle is a charming seaside town in Northern Ireland on the eastern end of the Causeway Coast. To get there, it is best to rent a car after arriving from Belfast Airport.
Ballycastle is a wonderful stop if you're planning a road trip through Northern Ireland. First, you can visit the main town where you can enjoy breakfast or lunch at Thyme & Co or Ursa Minor. After lunch explore the small-town shops and scenic streets.
Then take the car again and drive up to Kinbane Castle, which might be one of the prettiest stops on your road trip. The castle is one of the smallest you will ever see! It is made of white limestone and was built in 1547.
There are beautiful cliff views once you get to the top. Final stop in Ballycastle is the Marconi Memorial, a monument commemorating Guglielmo Marconi. End your evening by having dinner and drinks at Central Wine Bar, which has a lovely atmosphere and great food.
Address: Ballycastle, off Whitepark Road, Ballycastle, County Antrim, BT54 6LP
Four of the Best Castles in Southern Ireland to Visit
Blarney Castle: Co. Cork, Ireland
Contributed by Larch from The Silver Nomad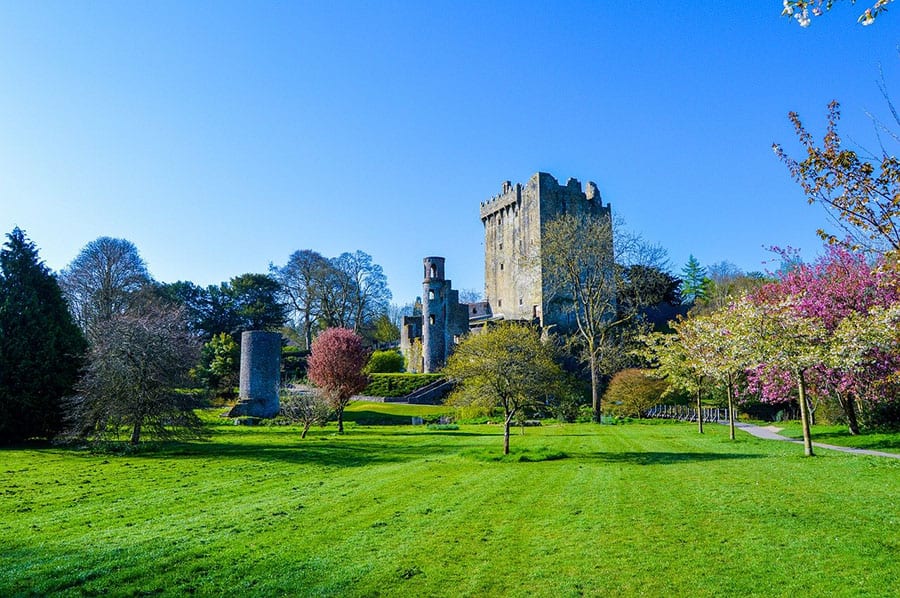 It is said that if you kiss the stone at the top of the tower at Blarney Castle, you will get the gift of the gab and never be lost for words again. There is more to Blarney Castle than the stone.
The first Blarney Castle was built in the tenth century and was made of wood. This was succeeded around 1210 AD by a stone built castle. The third castle, which is the one you see today, was built in 1446 using the demolished previous castle as foundations.
There are many parts of the castle to see: Badger's Cave, The Court, The Dungeon, The Witch Stone and The Battlements
Leave time after you have been around the castle to enjoy the gardens and walks in the grounds.
Tickets are €16.00 for adults, Children (8-16 years, under 8s free) €7.00 and Seniors (over 60) / Students €13.00.
Address: Monacnapa, Blarney, Co. Cork, Ireland
Dromoland Castle, County Clare, Ireland
Contributed by Lauren of Always Find Adventure
Dromoland Castle is located in County Clare, Ireland, less than 20 minutes north of Shannon airport.
The castle has been around since the 16th century originally home to the O'Briens of Dromoland. It's a 450-acre estate that has been converted into it's own destination after 1987 when a consortium of Irish American investors purchased it.
The estate is now a hotel that includes a spa, world-class golf course, bar, restaurant, and tea room. Some of the more popular activities here include the falconry experience, high tea, and rounds of golf. You can also come for guided tour of the grounds, or choose one of the mail trails for hiking. They have plenty of seasonal events including retreats, New Year's Eve, gastronomic nights, and Halloween.
Getting there: If you're on a road trip around Ireland, it's a perfect stop if you're driving from Limerick (26 minutes driving north from Limerick) or Galway (1 hour south of Galway). Alternatively, if you haven't rented a car, you can get to Dromoland Castle from Dublin by bus in just under 5 hours for around 22-35 Euro. A train from Dublin will cost you 30-45 euros and takes a bit longer than 5 hours.
Address: Dromoland, Newmarket on Fergus, Co. Clare, V95 ATD3, Ireland
Dublin Castle, Dublin
Contributed by Pam from Directionally Challenged Traveler
Dublin Castle looms over the city of Dublin as a beacon of years gone by. The first castle was built around 1200 but most of it was burned in a fire in spring 1684. Many of the buildings were rebuilt and still remain today. The castle served as the seat of the United Kingdom Government's administration in Ireland until 1922 – now it's a major Irish government complex.
One of my favorite aspects of the castle is the Chapel Royal. The woodwork inside the chapel is incredibly detailed. Even the parts that look like stone are actually wood! You wouldn't know by looking at them – just gently touch them! The Chapel Royal is built on soft ground, so the architects had to use lighter material.
Exploring the State Apartments is a great way to literally walk through Ireland's history. The rooms are filled with impressive decor. The most famous room in the castle is the Connelly Room. Named for James Connelly, leader of the Easter Rising (rebelling against British rule) in 1916 and signer of the Proclamation of the Irish Republic. James was held here as a wounded prisoner before being killed by British military forces at Kilmainham Jail.
St. Patrick's Hall is the largest of the State Apartments. It used to be where Parliament met and now it's used for stately functions such as inaugurations! Don't forget to visit the gardens for a nice city break.
Address: Dublin Castle, Dame St, Dublin 2
Powerscourt Estate, County Wicklow, Ireland.
Recommended by Lauren of Always Find Adventure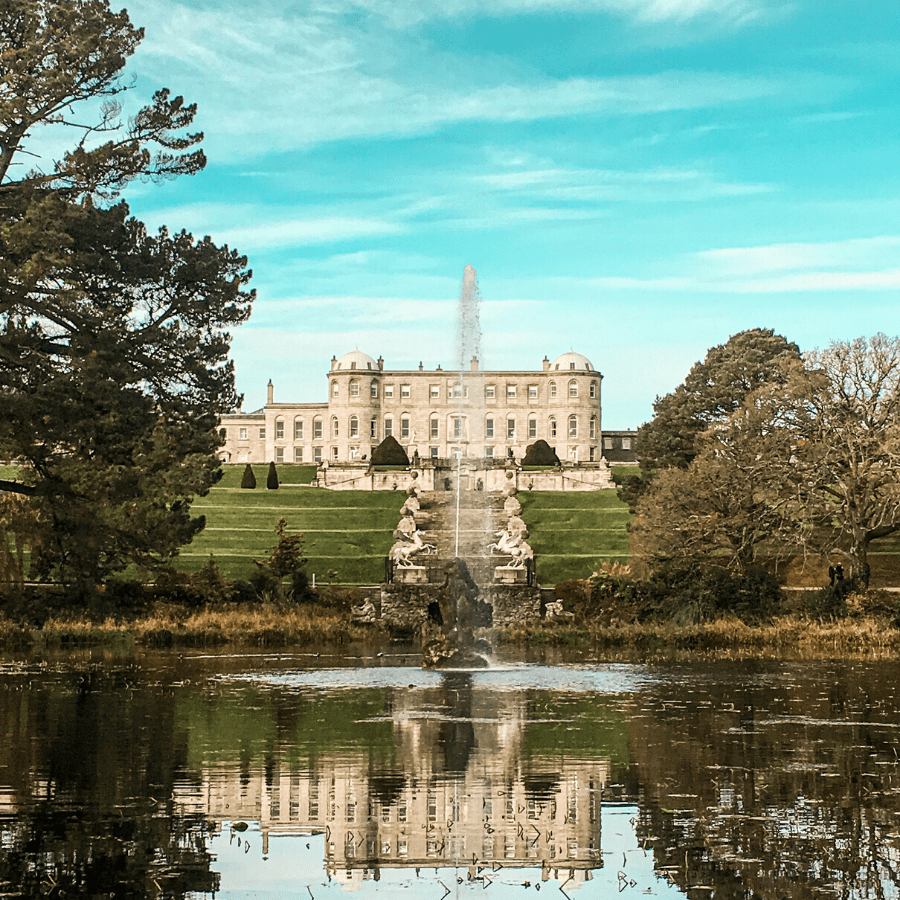 The estate was originally a 13th-century castle set in the Wicklow countryside, and owned by a man called "de la Poer" which means "power" thus the name Powerscourt. It was commissioned by the 1st Viscount of Powerscourt, The Wingfields, to be transformed into a Palladian-style, 68-room mansion in 1741 by a German architect, Richard Castle.
Today you can visit the grounds on a guided tour through the gardens and/or waterfall for under 20 Euro for adults and less for seniors, students, children, and families. There are different areas of the garden, stretching over 47 acres. There's an Italian garden, a Japanese garden, a walled garden, and a pet cemetery. The waterfall is a 30-minute walk down a trail, and you can picnic there. The estate has a cafe inside where you can grab some beverages and sandwiches to eat out on the terrace while overlooking the grounds. You can also visit the distillery, stay overnight in the hotel, play a round at the golf course, or visit the 'cool planet' attraction with your kids.
Getting there: If you're in Dublin, you can drive 42 minutes south or you can take the 44/44c bus from Hawkins Street in central Dublin to Enniskerry (about 4 Euro). Then walk 500 meters to the main gates. A taxi will cost you around 45 Euro.
Powerscourt Estate is located in County Wicklow, Ireland.
Address: Powerscourt Estate, Enniskerry, Co. Wicklow, Ireland
---
I hope you like this look at some of the best castles in Ireland, which is your favourite? Let me know in the comments below. Have a look at my other recommendations for the best castles in England, Scotland and Wales.
Don't forget to pin this article so you can come back to it later