Drones seem to be constantly in the news these days, especially after the various near-collisions and the Gatwick and Heathrow shutdown debacles at Christmas 2018. Hobbyists use drones to fly around taking photos, videos or even to race them. Instagram is awash with amazing aerial views from all over the world taken by drone users, bloggers as well as fully licenced drone pilots, CAA PfCO Drone Pilots.
But droning isn't just a hobby or a way to get awesome aerial photos for your Instagram feed. Drones can be used in all types of businesses. Estate agents, farmers, surveyors, construction, the police and the film industry are just some of the industries that use them as well as bloggers and vloggers making travel videos or promotional videos. Becoming a CAA licenced drone pilot can lead to a lucrative career in an emerging and growing industry.
---
*This site uses affiliate links and I may earn a small commission when you use my links and make a purchase without incurring an additional fee yourself.
Thank you for supporting this website. See my disclaimer page for more details.
---
Why do you need to obtain become CAA PfCO Drone Pilot?
At the moment – March 2019 – you don't need to have a PfCO to own a drone. You can go on Amazon and buy a DJI Mavic Pro II, a DJI Phantom 4 Pro Plus or any other drone, set it up and off you go, though I would highly recommend you read the Drone Code from the CAA first!
But in the UK you have to have a CAA PfCO Qualification to be paid for your drone photos, videos or work. Payment doesn't just mean money, any remuneration is deemed as payment. Yes, even that pint or two that you were given for the shots of your friend's house is considered payment.
If you are a blogger or vlogger working with a brand and including drone footage for payment or freebies, you should be qualified and have EC785/2004 compliant insurance at the time of flight, otherwise you may be fined. I was recently asked to do a shoot over a stately home. I won't get paid, but I will get free admission to the house, which technically is remuneration, so I will be filling in all my forms and checklists, organising my insurance and I will be good to go, weather dependent of course!
What is a CAA PfCO Drone Qualification?
The CAA issue an annual PfCO to competent drone pilots who have completed and passed the CAA PfCO Drone Training course with an approved trainer or NQE. PfCO stands for Permission for Commercial Operations. In other words, the CAA are giving you permission to use your drone following the CAA Commercial Operations guidelines and Drone Chttps://register-drones.caa.co.uk/drone-codeode and to be paid for your work.
So, how do you become a CAA PfCO Qualified Drone Pilot?
There are three parts to the CAA Drone Training Course:
Theory Test
Operations Manual
Flight Test
You must complete your course with a CAA Approved Training Centre (NQE) either attending a course or completing it online and then going to a Training Centre to sit the exam.
1 – The Theory Test
The theory test consists of a 40 question multiple choice exam. Prior to that you need to have thoroughly studied eight modules of course work, covering aspects like Meteorology, Airmanship, UAV Operations and Human Factors.
You can do the training online, but you have to sit the actual test at an approved CAA Training Centre, such as Hummingbird UAV who I trained with.
In this emerging industry, I believe that having tutors on hand to go through the coursework with, and fellow students to interact with, is invaluable as you pick up hints and tips that you might not otherwise do when it is just you and the internet.
2 – Operations Manual
Once you have passed your theory test, you move on to your Operations Manual. This document, of around 55 pages, is designed to outline the parameters of your commercial operation and how you intend to carry out any paid work.
Basically it covers what you've got, how you are going to use it and the checklists and logs you are going to complete for every commercial flight. It is basically arse-covering, but it is an important document.
You add in the drones you are flying including specs and serial numbers. You cannot add drones you might fly in the future as you have to add the serial numbers which you won't have yet (see the next paragraph). In your scope of works, you list the industries you plan to work in. Try not to restrict yourself, you would kick yourself if you got the chance to do drone shots for a wedding, for instance, but it is not in your scope of works, so you would have to turn the gig down.
Your PfCO is renewed annually, at which time any changes can be included in your Operations Manual. For instance you might want to add additional Remote Pilots, other drones you fly or anything to the scope of your business. Any updates to ANO (Air Navigation Orders), CAA directives or laws that have come into force during the year have to be added and it is useful to add these as they come out, so that you do not miss them.
3 – Flight Test
This can be the most daunting part of the CAA qualification. You are showing that you are competent and safe to fly. The Flight Assessment is treated as an actual commercial job, so you must follow the procedures you have set up in your Operation Manual.
During your flight test you will have to complete pre- and post-flight checks, briefing your spotter, then proceed to the actual flight. You need to have insurance for the flight.
I would recommend Coverdrone, who provide on-demand flight test insurance to trainee drone pilots through an easy-to-use mobile app. They've partnered with many flight schools throughout the country including Hummingbird UAV to offer flight assessment insurance for free, so remember to ask!
You will be taken through a range of manoeuvres which could include hovering, controlled ascents and descents as well as the dreaded figure-of-eight which show your competence in handling, flying and manoeuvring your drone. To test your emergency procedures, you will be given a scenario either actual or verbal to go through how you would handle the situation.
Yay, you've passed….. now what?
After the exhilaration of passing your test diminished – yes I did a little dance – you wait for your Certificate of Recommendation to come through from your Test Centre. This is the recommendation to the CAA that you are a competent drone pilot and that you have successfully completed the course.
You then apply to the CAA for the PfCO, filling in an online form and uploading your Certificate of Recommendation, Operations Manual and Insurance Cover Note and paying £247.00 for your annual PfCO. The CAA aim for 5-10 working days to process your application, but it might take a bit longer if there are any amendments to be made.
After you get your PfCO number, you are ready to apply for jobs or set up your own business and get paid for your work!
What did I look for in a CAA Approved Training Course
I looked into several different Training Centres, before choosing Hummingbird UAV. Originally they were a helicopter training centre, so these guys really know the ins and outs of flying. Realising that the drone industry was up and coming, they diversified and started offering drone courses in 2017.
I found the pre-course advice to be excellent. Matt and Helen who run Hummingbird UAV answered all my questions promptly and were available to talk me through the process of getting my qualification.
Once signed up, the Student's Area of the Hummingbird UAV website provided all the information I needed including a Pre-Course Study Pack covering the 8 Modules – Air law, Navigation, Aircraft systems, Meteorology, UAV Operations, Human performance, Airspace, Airmanship; how to draw up my Operations Manual; Information about my flight test and much more.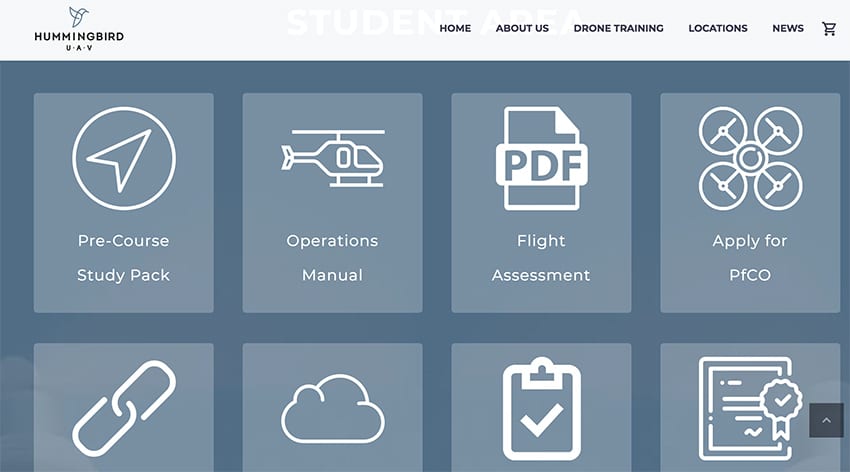 The team headed by Matt are knowledgeable, friendly and very supportive and now have training centres in Doncaster (Head Office), Ashford, Lee-on-Solent, Nottingham, and Wickenby.
Hummingbird UAV also run a closed Facebook page for graduates of the course, though you can join before you sit your tests. The group is so helpful with updates posted, news and has a supportive community ready to answer questions and give advice.
My Theory Course with Hummingbird UAV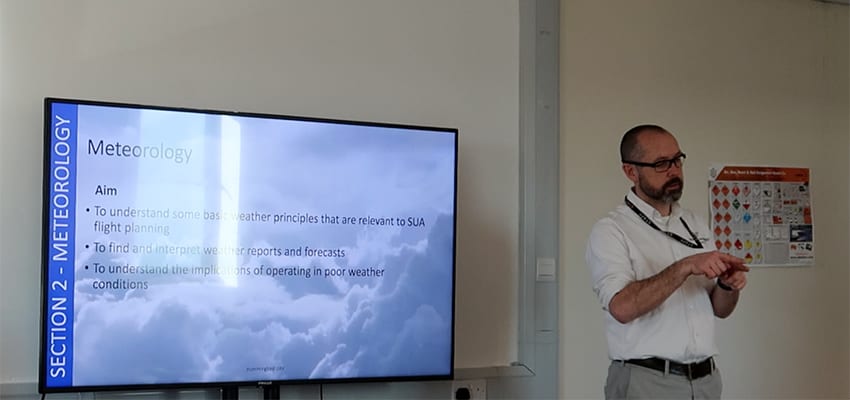 I took my 2-day training course in the Doncaster offices with Matt and 4 other budding trainee drone pilots – they run classes during the week as well as weekends. We went through the Student Handbook thoroughly, discussing each module in depth. At the end of the first day, we sat our Theory Test, which I passed with 90%.
During our second day, we went through writing up our Operations Manual and pointers for sitting our flight test.
Courses start from £699 + VAT (correct at March 2019, the courses are normally £899 plus VAT). They will also be introducing a finance option.
FAQs about Using A Drone
If I am taking drone photos or videos for myself, do I need to be qualified?
If you are taking photos or videos solely for your own use, you will not need to be qualified, but you should follow the Drone Code at all times. If, however, you intend to sell them or offer your services as a drone pilot, it is a legal requirement to have a CAA PfCO qualification and the appropriate insurance in place.
Do I need to fill in all the checklists and logs if I am just going out for a test flight?
I find it is good practice to fill in my pre- and post-flight checklists, as practice makes perfect. I also update all of my battery and flight logs.
What kit do you need to take for your test flight?
The kit you take very much depends on what you have written in your Operations Manual. If, for instance, you say that you will have a fire extinguisher with you, then if you are doing your test flight you have to have it with you.
I prepared a box with fire extinguisher; first aid kit; regional aeronautical map; anemometer; hi-viz vest; landing pad; pop-up cones, folder with my check-lists and logs in; spare batteries (you don't know if you will need to use more than one battery), battery chargers and my drone – yes don't forget to take your drone, it is an automatic fail if you don't bring it!
Putting this together in a plastic box means that any time I have a job, I can just pick up the box knowing it is all there, all I have to do is add my batteries and drone and sort my insurance.
Do I need insurance for every flight?
For every commercial flight, it is a legal requirement to have EC785/2004 compliant insurance. Flock provide fully flexible, CAA compliant Pay-as-you-fly and monthly commercial drone insurance options. You can easily switch between the two products throughout the year, using the monthly option when you're busy, and Pay-as-you-fly when things wind down (like in the winter).

Pay-as-you-fly is a great option if you're just getting your new career off the ground, as you only pay for the flights you take. Policies range from 1-8 hours and start from £4.95.
If you are training or doing recreational flights, it is up to you to use your own judgement whether you need it or not. Flock Cover also offer training and recreational insurance. Sometimes it is better to be safe than sorry!
What if I am flying abroad?
The world is a big place and there are way too many countries for me to list here. What I would recommend is do your research before you leave the UK. Check out UAV Systems International for information on the country you are going to and see if you are able to fly commercially, but also what the restrictions are for recreational flying.
You may need a licence or permission from the relevant Aviation Authority and there may be a fee for this, so worth bearing in mind if you are quoting on a job abroad.
I would recommend getting insurance if you are using your drone abroad.
Flock now offer Fly Unlimited, which is a flexible monthly policy that starts from £24.95. You can add or remove countries as and when you need to, which will raise or lower the charge for the month.

Fly Unlimited is a rolling monthly contract, so you're not tied in for 12 months. This means you can take out cover when you go abroad, and then pause or cancel it when you're back.
Also before you book your flight check out my post on which airlines allow you to take drones as hand luggage and which make you put them in the hold.
Good Luck and happy and safe droning!
Fancy getting your next drone flight insured for free? Download the Flock Cover app and enter the referral code: INFO170. This will instantly unlock a free Flock Pay-as-you-fly policy (with a max. discount of £10). If you're after more free cover, be sure to share your Flock referral code with your drone pilot friends!'
Don't forget to pin this article so you can come back to it later