When you are in a foreign country and are given restaurant recommendations, some times, you are pointed in the direction of overpriced "authentic" restaurants which turn out to be tourist traps. Every so often you come across an absolute gem. Juggernaut in Kailash Colony Market, Delhi is one of them.
Arriving at Juggernaut can be a bit disconcerting as the entrance looks like a shop, not a restaurant, with the counters laid out with the fabulous snacks that Juggernaut sells.
---
*This site uses affiliate links and I may earn a small commission when you use my links and make a purchase without incurring an additional fee yourself.
Thank you for supporting this website. See my disclaimer page for more details.
---
The restaurants are upstairs away from the hustle and bustle of the street.
We were greeted and given a tilak – a red paste line on the forehead – then escorted to the lift and whisked upstairs to the main restaurant.
The Restaurant at Juggernaut
The first-floor restaurant is an explosion of colour! The walls are adorned with exquisite handpainted decorations, including a mural taking up the whole of the wall. Everywhere you turn there is something interesting to look at.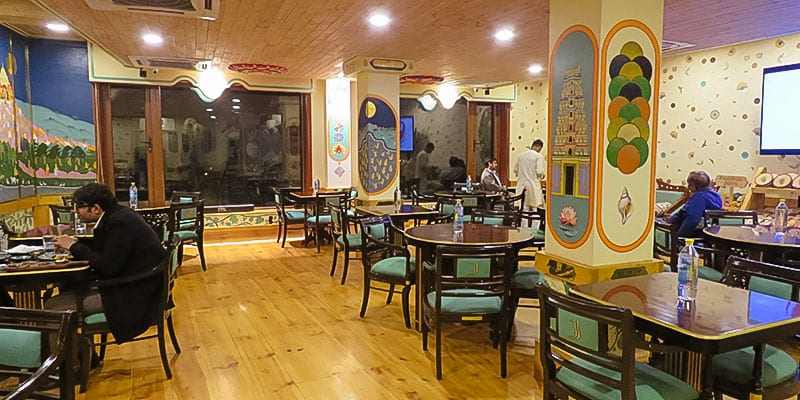 The menu is South Indian vegetarian and vast. There are 26 different types of dosa, a thin crispy pancake stuffed with delicious fillings, a selection of interesting sounding Vada, Uttapam, Idli and Main Curry Dishes.
Our waiters were very conscientious in explaining the various dishes to us but in the end, we opted for Thaal- Alan had a North Indian one while I went chose the South Indian Thaal.
Quick Tip: If you are unsure of the menu in an Indian Restaurant, try the thaal. This will give you an opportunity to sample different dishes and bread instead of choosing just one.
And we weren't disappointed. Out came two silver platters with lots of little dishes and I felt like a kid in a sweet shop, I didn't know what to dip into first….maybe some appalam, sambhar, rasam, kulambu, chettinad curry, kootu, poriyal? All served with spicy pickles, banana chips, yoghurt, ghee and a curd milk drink.
They all sound wonderful and I may not know what they were, but all were heavenly and I polished off every delicious bite.
On the side was delicious pudding which rounded the meal off perfectly.
After we got chatting with the owner. He explained that the restaurant had taken 6 months to decorate and took us up to the top floor restaurant.
Dominating the wall was an amazing art installation made up of bricks. Each brick has been individually painted with a symbolic reference to India including snakes, elephants, symbols and even a brick for the great mathematician Ramanujan. It is a compelling piece and each time you look you see something new.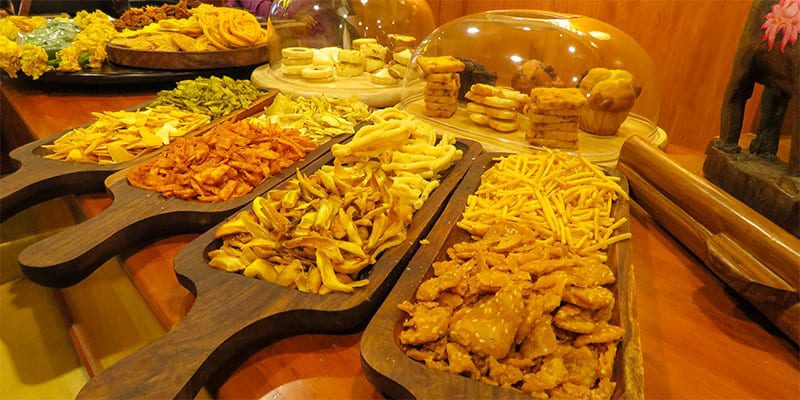 On our way out, we tried some of the snacks on offer which were scrumptious. The restaurant called a taxi for us and even escorted us to make sure the taxi driver had the correct address.
The whole experience was delightful and I would highly recommend the Juggernaut if you are in Delhi, in fact on our last night in Delhi, we returned for another amazing meal. We received the same great service and the food was just as good.
How to find Juggernaut
Our Meal For Two | Rs 900 (approx £9.85 correct at 31/3/18 exchange rates)
Address | Juggernaut – HS-16, 2nd Floor, Main Market, Kailash Colony, Delhi
Telephone | +9111-41059991
Check Them Out On-line | Website and on Facebook
---
Have you been recommended a restaurant that turned out to be a real find? Let us know and if we are in the area we will try to review it too! We'd love to hear from you!
---
Pin on Pinterest