Asia is the largest continent in the World taking in over 40 different countries. For the fourth in my series about UNESCO sites off the beaten track we explore lesser-known UNESCO sites in Asia, among some of the most stunning in the world
My fellow bloggers have helped me produce the following list of over 20 unusual UNESCO sites in Asia that you might not have heard of.
---
*This site uses affiliate links and I may earn a small commission when you use my links and make a purchase without incurring an additional fee yourself.
Thank you for supporting this website. See my disclaimer page for more details.
---
Lesser-known UNESCO sites in Asia
Lijiang Old Town, China
By Brittany from Asia Undiscovered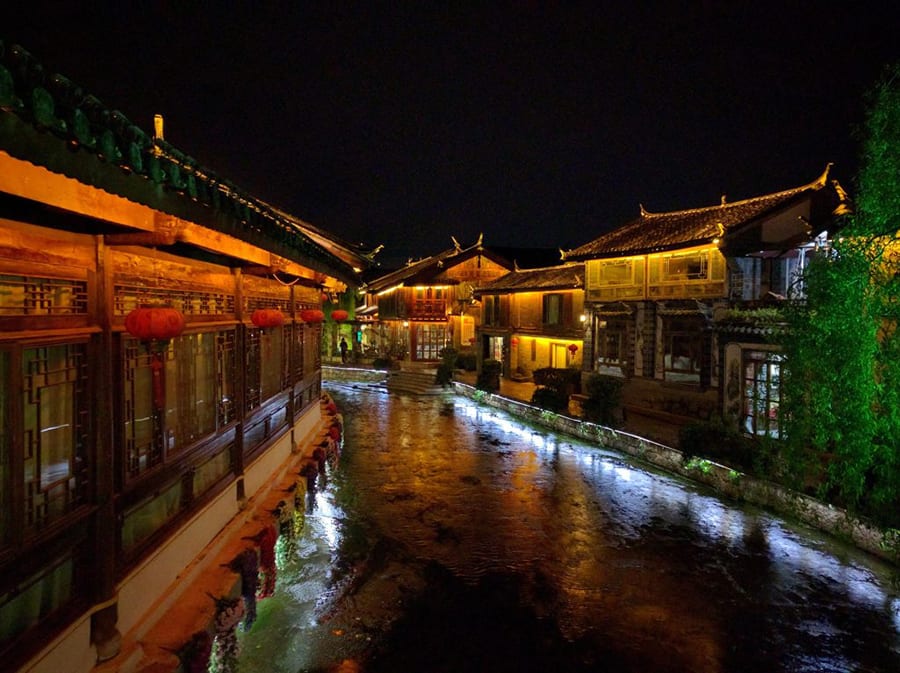 Lijiang Old Town is located in Yunnan, China. This UNESCO World Heritage Site has a history of over 1,000 years. Moreover, it is the perfect place to see traditional Chinese architecture and is located near some of China's prettiest landscapes.
Getting to the town from Lijiang airport is about half an hour by car. Also, the town has a maintenance fee for all tourists of 80 yuan ( 11 USD ).
The town is gorgeous. It is very colourful and the shops are all uniquely decorated. The streets are made of stone and rocks. Further, there are canals that run through the town and at night the street lights reflect off the water giving the town a romantic feel.
The town is designed mainly for tourists and mostly consists of shops, cafes and restaurants. If you're looking to buy traditional Chinese souvenirs you will really enjoy your time there! Most of the goods are inexpensive and you can buy anything from hand-made scarves to delicious Yunnan coffee.
One thing I love about Lijiang, is all the locals and tourists that wear the traditional Yunnan dress. The local cuisine is also uniquely different from other parts of China. If you get the chance to visit, you must try the yak meat and yak sweet cheese. They're both delicious!  

Kathmandu Valley, Nepal
By Michelle from Full Time Explorer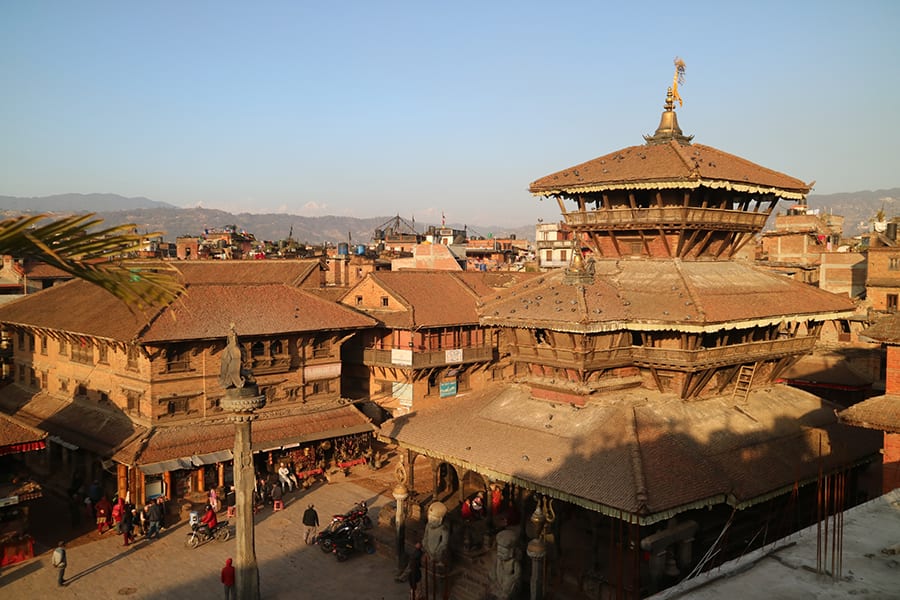 While there are tons of things to do in the Kathmandu Valley, the biggest attractions are the UNESCO sites. In Kathmandu Valley, there are seven individual sites to see including the three Durbar Squares located in Kathmandu, Patan, and Bhaktapur. In addition, there are several temples including Swayambhu, Bouddhanath, Pashupatinath, and Changu Narayan which is the oldest known standing temple in Nepal.
Each of these places is unique in its own right, but their craftsmanship is what makes them truly special. Most of them were designed with the famous artistry of the Newar caste in Nepal during the Malla Dynasty which is considered the "Golden Age of Kathmandu." Newars are famous for their wood carvings, pottery making, painting and sculpting.
Each location has different fees since they are very spread out. Changu Narayan is currently free of charge. Swayambhu and Bouddhanath are less than $5 to enter. All three Durbar Squares and Pashupatinath range from $10-$15 to enter.
Kathmandu Valley is fairly large, so you may need to take a day trip to see the sites in Bhaktapur and Patan. Luckily, all are accessible by local bus, but it is easier to hire a private vehicle if it's in your budget. The Kathmandu Valley has so much to offer and is such a unique experience when it comes to learning about history.
YOU MIGHT ALSO LIKE: Unesco Sites Off The Beaten Track – UK
Goreme Open Air Museum in Cappadocia, Turkey
By Rahma from The Sane Adventurer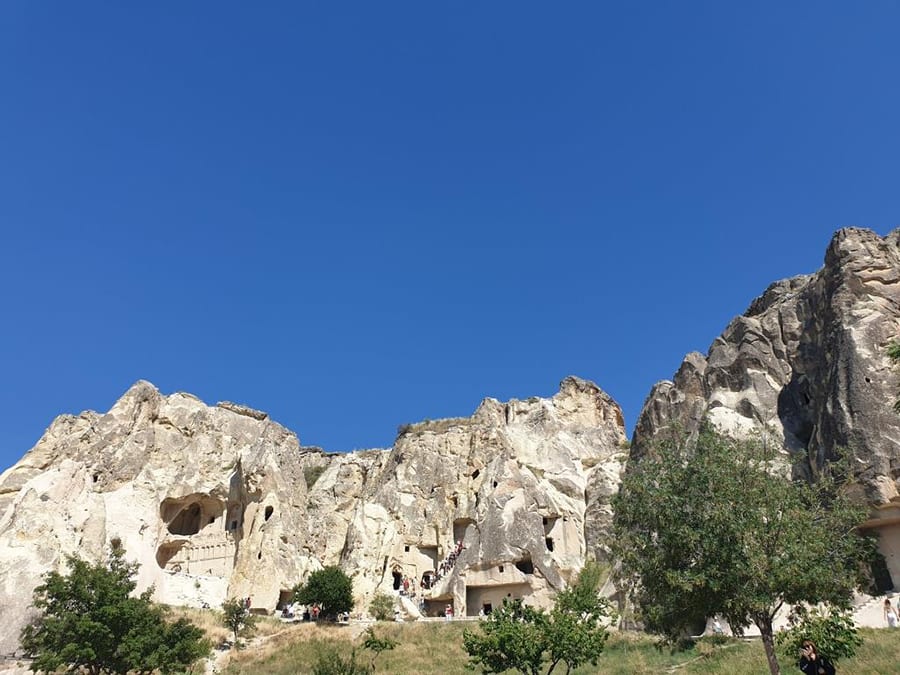 Cappadocia in Turkey is popularly known for the hot air balloon ride, however, there is a lot more to do and see in the city which is often overlooked by the average tourist. One of the most unique things to do in Cappadocia is the Goreme Open Air Museum. The entrance fee to the museum is $9. It can be explored on a self-guided tour, however, it is much better to hire a guide to learn more about the history of the museum.
As its name suggests, GOAM is located in the small touristy town of Goreme and has centuries-old unique shaped rock formations and caves. According to the history buffs, the phallic-shaped rock formations also known as the fairy chimneys were formed due to sand erosion that occurred millions of years ago. Later on, the monks in the area occupied Goreme and built an educational place in the area.
Some of the rock formations at GOAM were used as classrooms or dorm rooms for the monks. There are many underground caves at GOAM as well, however, only three are open to the public. One of the caves have all the major biblical scenes graved inside of the cave, which was used to tell stories as there were no writing scripts used back then.
Shirakawago, Japan
By Chloe from Chloe's Travelogue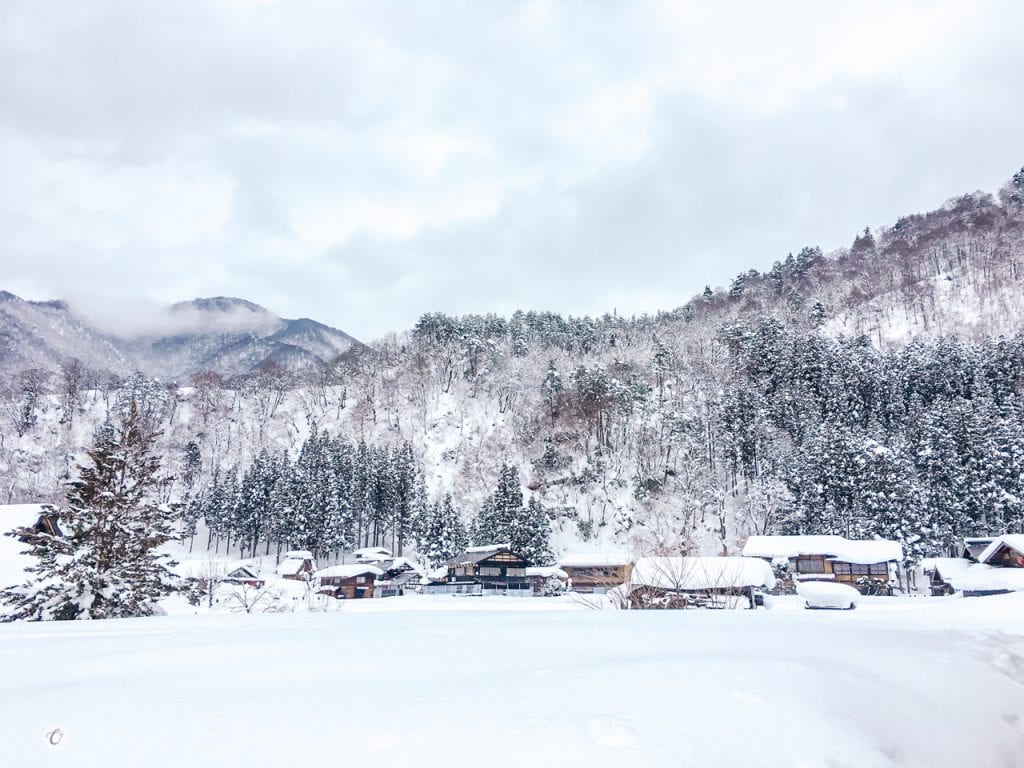 Shirakawago is a small farm village in the Hokuriku region of Japan. This quiet town tucked in Japan Alps was hidden from the world until it became a UNESCO Cultural Heritage Site in 1995. Now, more than 1.7 million people all over the world pay a visit annually despite its remote location from major cities in Japan.
What makes Shirakawago worth your visit? The historic village features 300-year-old Japanese farmhouses called "gassho-zukuri." The locals still live in these ancient farmhouses, making the entire town virtually a living museum.
The roof of these houses looks as if Buddhist prayers put their hands together. This thatched roof is designed to protect the home from the heat in summer and from heavy snow in winter.
The best time to visit Shirakawago is winter, in my opinion. During the snow season, Shirakawago hosts its annual Winter Light-up Festival. All the gassho houses covered in heavy snow will be illuminated at dusk, resembling gingerbread houses in a fairytale winter wonderland.
For those interested in attending the festival, be sure to check Shirakawago Winter Light Up 2020 updates. With the growing popularity, the local community starts reinforcing the limited access to the village strictly to guests who made reservations, to protect the heritage site. The event dates change each year, too. You will also need to book public transport and hotels well in advance due to the limited infrastructure in this remote town.
Mulu Caves in Borneo
Fiona from Passport and Piano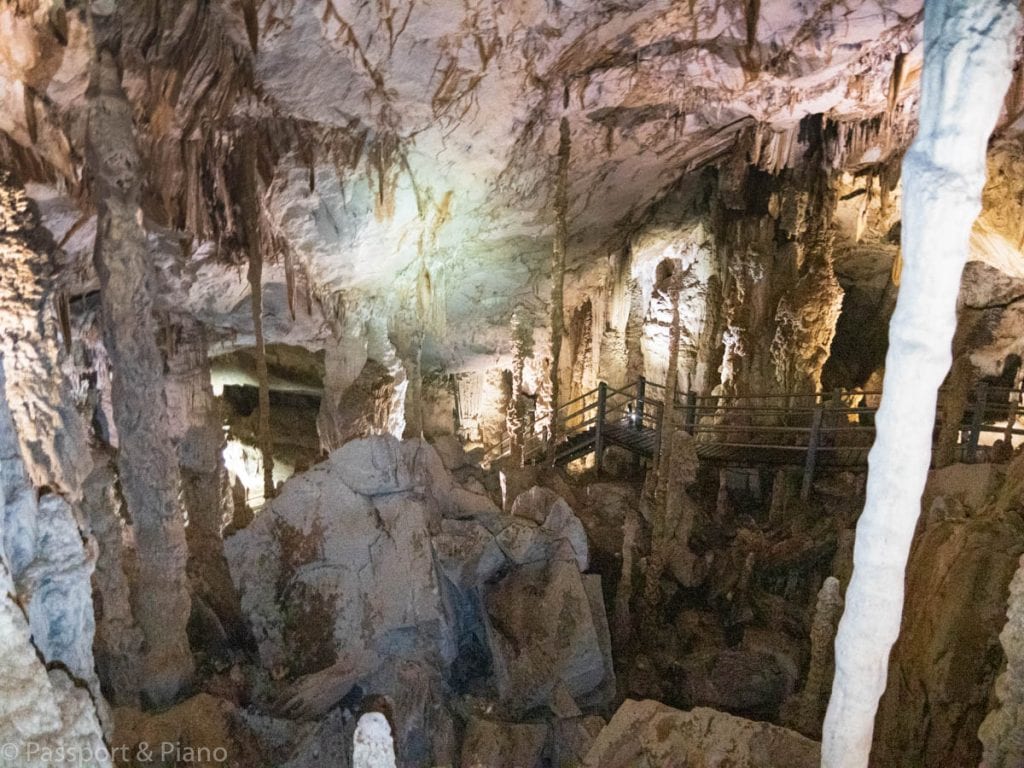 Mulu Caves in the North of Sarawak, Borneo is a remote, yet magnificent UNESCO World Heritage Site. The caves are in the heart of the Gunung Mulu National Park, which is one of the most remote destinations in Malaysia.
The area is only accessible by plane from Kuching or Miri. However, the more adventurous can take a two-day trek along the Headhunter trail, which takes you through the jungle and into the National Park.
The magnificent cave passages are renowned throughout the world and explorers are still discovering new ones today. The most famous cave to visit is the Deer Cave which has the most extensive cave passage that you can enter in the world. It's home to beautiful limestone formations but it's the garden of Eden that makes it unique.
The Deer Cave is also home to millions of bats and every evening you can watch their magnificent display in the sky as they go and hunt for food.
Another spectacular cave not to miss is Clearwater which has a river running through the middle. To reach the cave, you either have to trek along the 4 km nature trail or take a boat ride on the Melinau River.
In addition to the caves, there is a wealth of trails that you can explore throughout the surrounding rainforest. The easiest ones take you along wooden boardwalks and are well signposted while a guide leads the more challenging ones. One of the most popular is the tree canopy walk which stretches for 480 metres and allows you to explore the upper levels of the rainforest.
Tours of the caves and the guided walks have to booked through the National Park Office and vary in price. However, you can expect to pay approximately 35 Malaysian Ringitt for the main show caves. The park also has an entrance fee of 10 ringgit which allows you access for five days.
Konark Sun Temple, India
By Shalini Garnaik Eager 2 Travel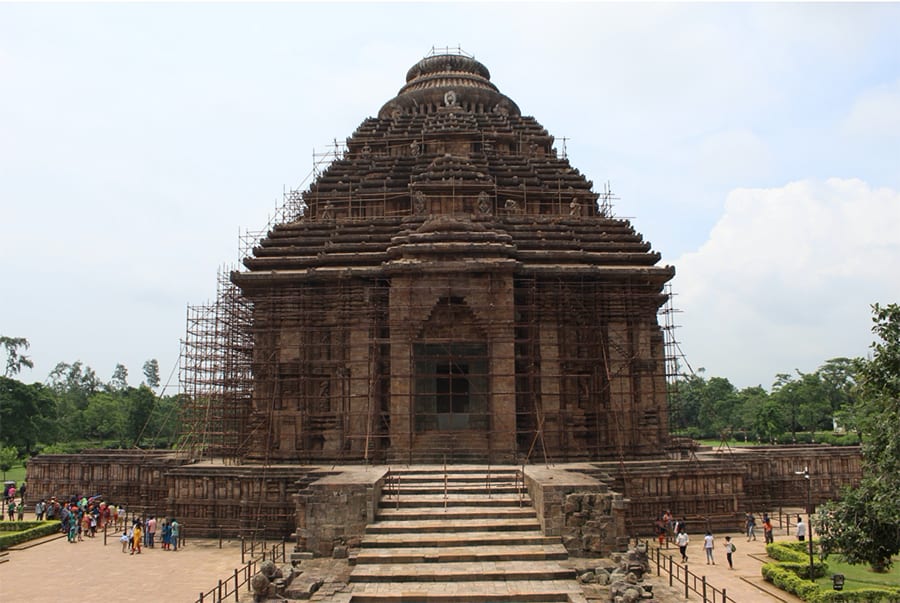 Konark Sun Temple is located on the coastline of Puri in Odisha, India. It was built in 13th century by Narasimha Deva of the Eastern Ganga Dynasty. The temple is dedicated to the Hindu God Surya (sun). It now stands in ruins but originally was built in the form of a chariot with wheels, carved in stones.
Konark Sun Temple is also called a black pagoda. There are beautiful carvings on the wall of the main temple along with a Natya Mandap in front of the temple. The temple is said to symbolize the passage of time, governed by the Sun God.
The set of horses is meant to represent seven days of a week while twelve pairs of wheels represent the twelve months a year. Each wheel is three meters wide. Unfortunately, only six of the seven horses stand today. The temple fell into disuse after the envoy of Jahangir desecrated it in the 17th century.
Nearby places to visit:
Chandrabhaga Beach is one of the cleanest beaches in Odisha. It was said that the sea was near to the temple but now it has moved further away.
How to reach Konark Sun Temple?
The nearest airport is Bhubaneswar International Airport which is 80km away. The nearest major railway stations are Puri and Bhubaneswar.
Timings: 6 am to 8 pm
Entry fees: 0.7$
Wat Phou in Laos
By Marie from A Life without Borders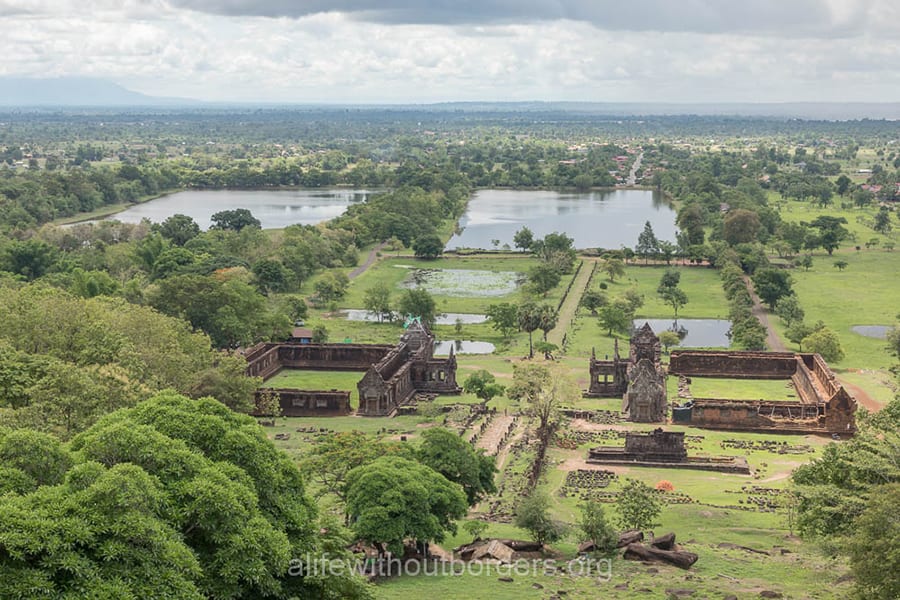 Located 10 kilometres from the sleepy town of Champasak is the UNESCO World Heritage listed Wat Phou in southern Laos.  A highlight of Champasak Province, the 10th century temple complex predates Angkor Wat and is arguably one of the most magnificent Khmer Hindu temples outside of Cambodia.  Listed as a UNESCO World Heritage Site in 2001, the Wat Phou temple ruins include two palaces, several shrines and two huge barays, along with the remains of a sanctuary and library.
Extending from the flat Mekong plains, the Wat Phou site continues up to the base of Phou Kao mountain where the main sanctuary boasts panoramic views looking back over the whole complex and surrounding landscape. The world heritage area also includes several smaller Khmer sites together with an ancient road that stretches over 200 kilometres from Wat Phou all the way to Angkor.
The picturesque Wat Phou, whilst older than its more famous Cambodian counterpart, is much smaller in size than Angkor. But its mystical atmosphere, impressive views and the lack of crowds more than makes a visit to Wat Phou worthwhile. Undoubtedly the best part is, unlike Angkor Wat, you can peacefully enjoy a visit to Wat Phou with virtually not a soul in sight.
Open daily from 8.00am to 6.00pm, entrance to Wat Phou costs 50,000 kip (USD $5.70). The small on-site museum is also worth visiting for a detailed overview of the temple complex and historical artefacts on display.
Geghard Monastery in Armenia
By Carine & Derek from We Did It Our Way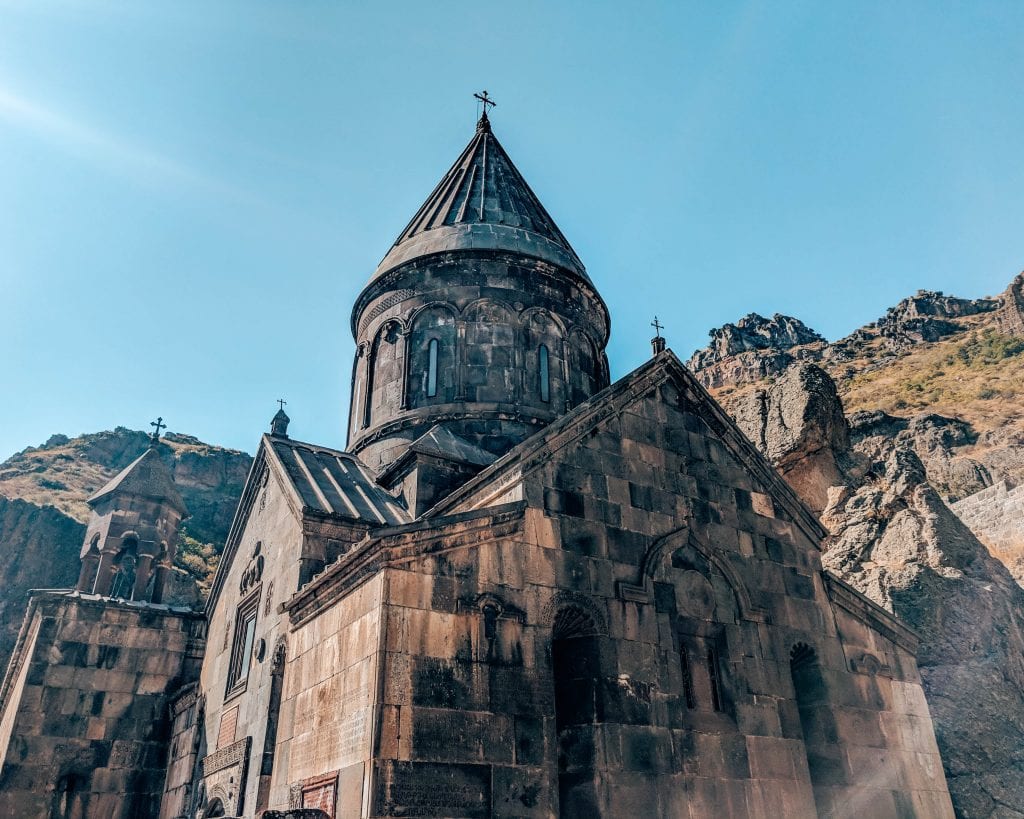 Geghard is a medieval monastery in the Kotayk province of Armenia. It's one of the most beautiful monasteries in a country that has a thousand churches! Part of its beauty comes from the fact that it's partially carved out of the adjacent mountain and surrounded by cliffs.
Most of the monuments in the Geghard Monastery were built between the 4th and 13th centuries, making the feat even more impressive! In fact, you can still see where the mountain and the church become one. The monastery was listed as a UNESCO World Heritage Site with enhanced protection status. It's one of three World Heritage sites in Armenia.
What makes Geghard even more special is that the spear, which had wounded Jesus at the Crucifixion, was allegedly brought to Armenia by Apostle Jude, and stored amongst many other relics at this church. The name "Geghard" actually means "spear". But don't expect to see the spear at the church, it has since been moved to Etchmiadzin.
Entry to the church is free. The best way to get there is to either take a local bus, hitchhike or drive from Yerevan. While you're there, make sure you make your way to the Garni temple as well. And do yourself a favour and buy one of the delicious cakes or treats being sold at their entrance.
The Complex of Hué Monuments, Vietnam
By Wendy from The Nomadic Vegan
The city of Hué was the political, cultural and religious centre under the Nguyễn Dynasty, who ruled Vietnam from their capital in Hué for 143 years, from 1802 to 1945. Hué is a prime example of a complete Asian feudal capital city, though it, unfortunately, suffered a lot of damage during the Vietnam War. But it has been listed as a UNESCO World Heritage Site since 1993, and restoration work has been ongoing ever since.
Surrounded by a moat filled with water lilies, the Hué Citadel is the main area of the complex. It housed the imperial residence and several other royal palaces. It's a huge complex with many different buildings inside, so you should plan to spend at least three hours here if you want to see everything. Because it's so large, the complex never feels crowded, and it's easy to get away from the tour groups.
In addition to the Citadel, there are also seven imperial tombs along the Perfume River in the south of the city that you should include in your itinerary. These can be reached by taxi, bicycle, or even riverboat.
One of the more popular ones is the Khai Dinh Tomb, which was completed in 1931, making it the last of the imperial tombs to be built in Vietnam. It's also the best preserved. Another tomb that should not be missed is the Minh Mang Tomb, which is surrounded by woodland and water, making it very peaceful.
There is a separate entrance fee for each part of the complex, but the best value is the combination ticket that includes entry to three or four sites. You can visit the Hué Imperial Palace, the Minh Mang Tomb and the Khai Dinh Tomb for 280,000 đồng, or add on the Tu Duc Tomb and pay 360,000 đồng.
There are plenty of accommodation options in town and loads of restaurants and local speciality dishes to try. Many Buddhists in Hué follow a vegetarian or partially vegetarian diet, so you'll find lots of inexpensive vegetarian Vietnamese restaurants in Hué.
Sukhothai Historical Park
By Maire from Temples and Treehouses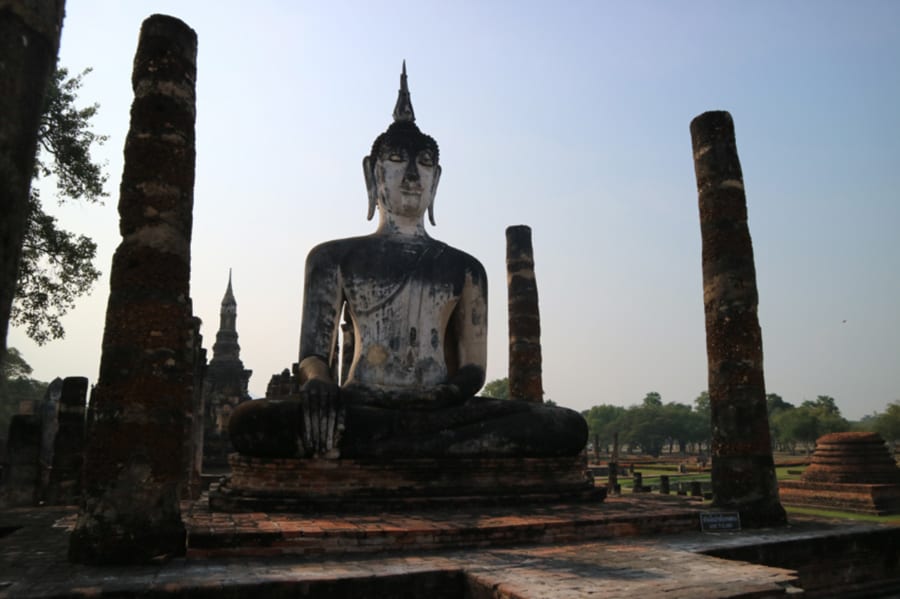 Sukhothai was an ancient capital of the Kingdom of Siam back in the 13th and 14th centuries. Today, you can visit Sukhothai Historical Park in Northern Thailand and see the temples, monuments and Buddha statues that still remain. The park covers a huge area, separated into several separate sites, and you need a bicycle or a taxi to see many of the far-flung monuments.
Visiting Sukhothai Historical Park was genuinely an incredible experience. The scale of the ruined temples and the level of detail that has been preserved blew me away, and although this is one of Thailand's most treasured sites, it was also very quiet with only a handful of other tourists around.
You can fly to Sukhothai from Bangkok in just over an hour. Alternatively, you can take a train to Phitsanulok from Bangkok or Chiang Mai, and get a bus to Sukhothai from Phitsanulok.
The park is divided into three zones, each of which cost 100 Thai Baht to enter, plus 10 Thai Baht if you have a bicycle. The cost to visit all three zones is roughly £9 / $11 USD.
Puerto Princesa Subterranean River National Park
by Katherine from Tara Lets Anywhere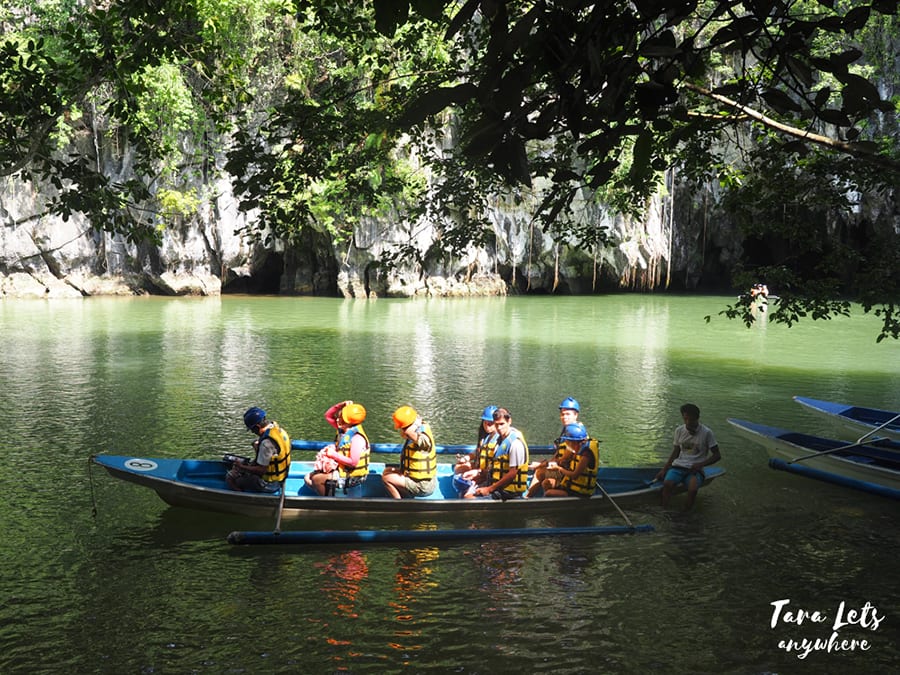 The Puerto Princesa Subterranean River National Park is one of the UNESCO Heritage Sites which can be found in the Philippines.
The park is located in the St. Paul Mountain Range in Palawan. It's considered an important biodiversity conversation area, with a full mountain-to-sea ecosystem that includes forests and an underground river called Puerto Princesa Underground River.
The Puerto Princesa Underground River is a wonderful place to see. It's one of the longest underground rivers in the world, with a cave system that stretches for 24 km and the river at 8 km. Recent explorations have discovered a second floor, which contains small waterfalls.
You can take a boat tour to explore the first length of the underground river. The tour takes approximately 45 minutes. You'll be aboard a paddle boat with an audio guide, while a paddler/guide shines light on interesting formations inside and give additional insights about the system. It is a quiet, almost profound experience to get inside the cave.
The tour can be done via DIY, although an easy option would be to get a packaged tour as it includes the registration, land transfer from Puerto Princesa City to Sabang, and everything else you might need for the tour. Regular rate is P2000 ($40) for 1 person.
Hampi, India
by Ellis from Backpack Adventures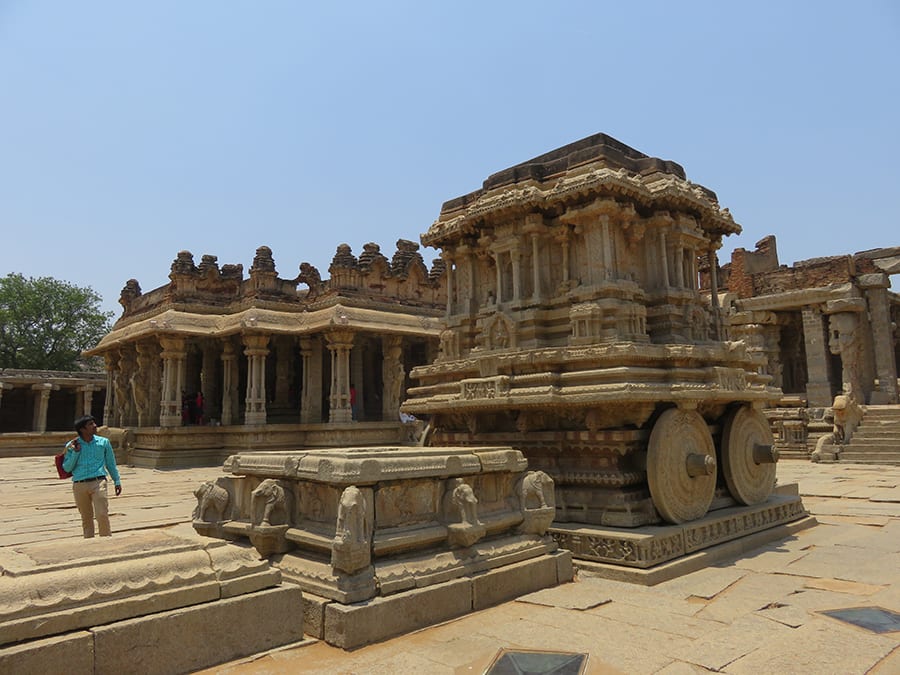 Everybody knows the Taj Mahal and it is probably the most famous UNESCO site in India. But have you also heard about Hampi? Hampi is also a UNESCO World Heritage site and certainly just as impressive as the Taj mahal. In fact, Hampi in Karnataka state is much older and larger in scale.
Hampi was the ancient empire of the Vijayanagara empire in the 14th century. It was a wealthy city full of temples, merchants homes and palaces. It was one of the greatest Hindu kingdoms of India until Arab armies took over. Hampi was abandoned and slowly fell into disrepair.
Yet, it is remarkable how well preserved some of the ruins are and most of all how many there are. You could spend weeks exploring the area where hundreds of ruins are scattered throughout the rocky landscape that is just as impressive as the monuments itself.
Three days is just enough to see the highlights such as the still functioning Virupaksha temple, the Vittala stone chariot, the Queen's baths, the horse stables, the step wells and the Ganesh statues. There is a Hampi ticket for these main attractions at a cost of 500 rupees.
However, as soon as you go off the beaten path you will find plenty of old temples with beautiful carvings that are absolutely free. One such place is the beautiful little village of Anegundi where you will also come across the still active monkey temple and Durga temple.
Because the ruins are in quite a large area it is best to rent a tuk-tuk for the day or a motorbike. Hampi has a very relaxed atmosphere and with so many things to see most people end up staying much longer than they had originally planned.
YOU MIGHT ALSO LIKE: Unesco Sites Off The Beaten Track – Europe
Old Macau
by Mar Pages from Once in a Lifetime Journey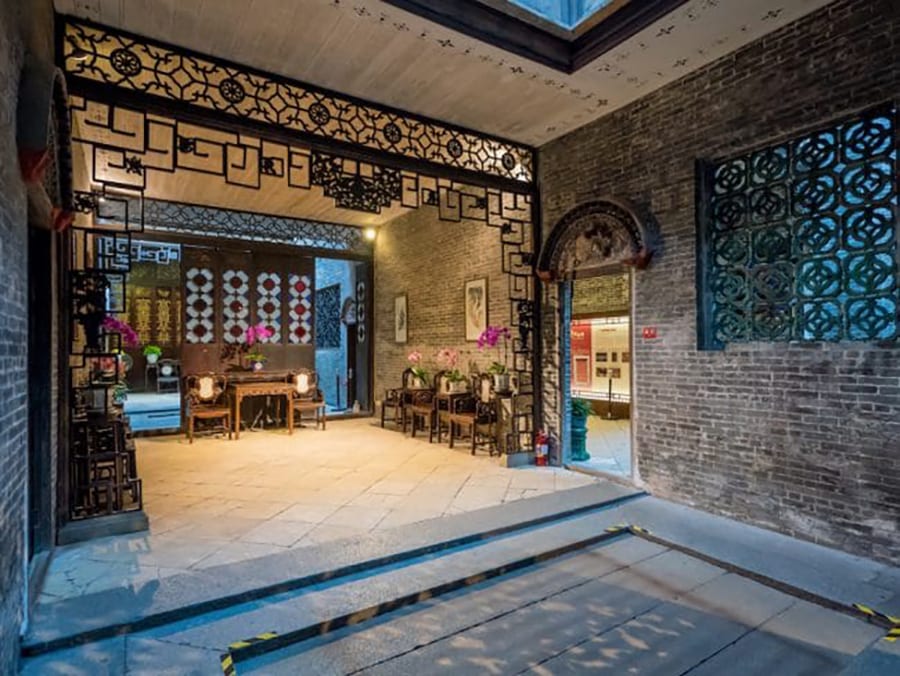 For a glimpse into a really unique cultural heritage, you should give Macau a try. It is a blend of Portuguese and Chinese where Old Macau has 22 buildings with UNESCO status. While most visitors to Macau are there for the flash and glamour of the casinos, I found that for a culture vulture like myself one of the best things to do in Macau is to explore the UNESCO-listed heritage buildings. Most visitors don't even know that they exist as they usually head straight to the baccarat tables.
Start your journey at Casa Garden which was built in 1770, making it one of the oldest buildings in Macau. The bright yellow facade of the Church of St Dominic is invigorating with old slatted windows that remind me of the shophouses in Singapore.
But the cream of the crop is the Lou Kau Mansion that was built around 1889. It's a Xiguan-Chinese mansion that belonged to a successful merchant, Lou Wa Sio (or Lou Kau). The mansion is built in grey brick with intricate wooden carvings. It's made of three halls and two courtyards and has influences of Chinese, Western and Latin American design. And the best part, all of these sites are free to peruse. Just walk along and take in all the history of the small Chinese SAR.
The Dzong, Bhutan
By Trijit from BudgetTravelBuff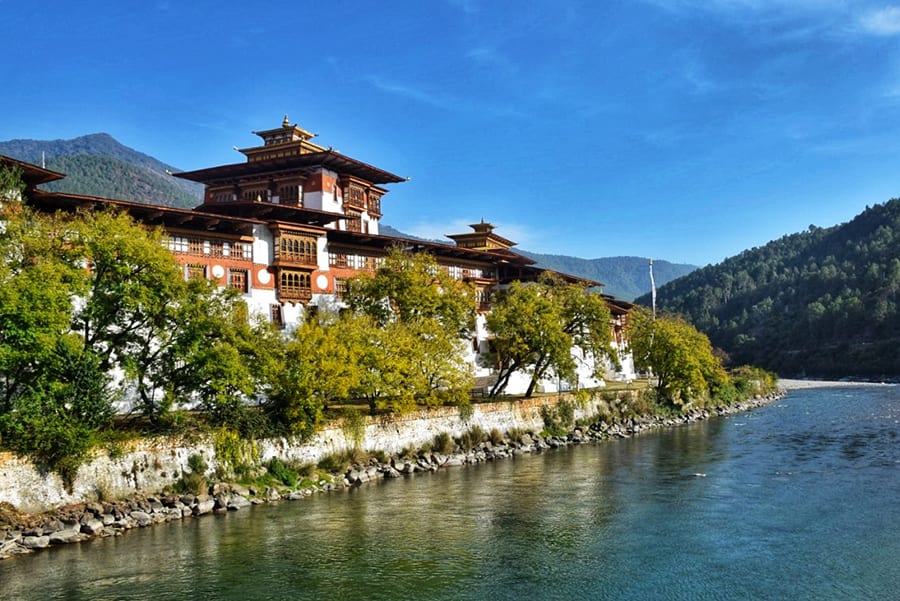 Dzongs are one of the most important and beautiful World Heritage Sites of Bhutan. There is a total of five Dzongs in Bhutan – Punakha Dzong, Paro Dzong, Wangdue Dzong, Trongsa Dzong and Dagana Dzong located at five different parts of the country.
Dzong is basically a fortified building generally situated at a defensively strategic point. These Dzongs were built by the great Bhutanese leader Zhabdrung Ngawang Namgyel in the 17th century. The history of these Dzongs carry an in-depth knowledge of Bhutan's rich culture and heritage.
These Dzongs were built to form unity among Bhutanese and also used as the principal seat of Buddhist schools in the past. Nowadays, these Dzongs act as administrative buildings of different districts as well as a religious place.
Among all five Dzongs, Punakha Dzong is the most popular Dzong among tourists for its picturesque location and historic significance. It is Bhutan's second oldest and second largest Dzong which is located at the intersection of Pho Chu(male river) and Mo Chu(female river). Crossing the wooden bridge when you enter the Dzong you will be amazed by the great architecture and open courtyard of Punakha Dzong. Life of Buddha is described here in detail with great artwork.
Tips:
Entry fee of most of the Dzongs is around 300 Ngultrum. Instead of visiting all Dzongs, visit one Dzong(Punakha Dzong recommended) keeping enough time in hand.
Bhutanese are very sensible with their religious matter. Show respect and dress properly before entering any Dzong or temple.
Polonnaruwa, Sri Lanka
by Emily from Two Get Lost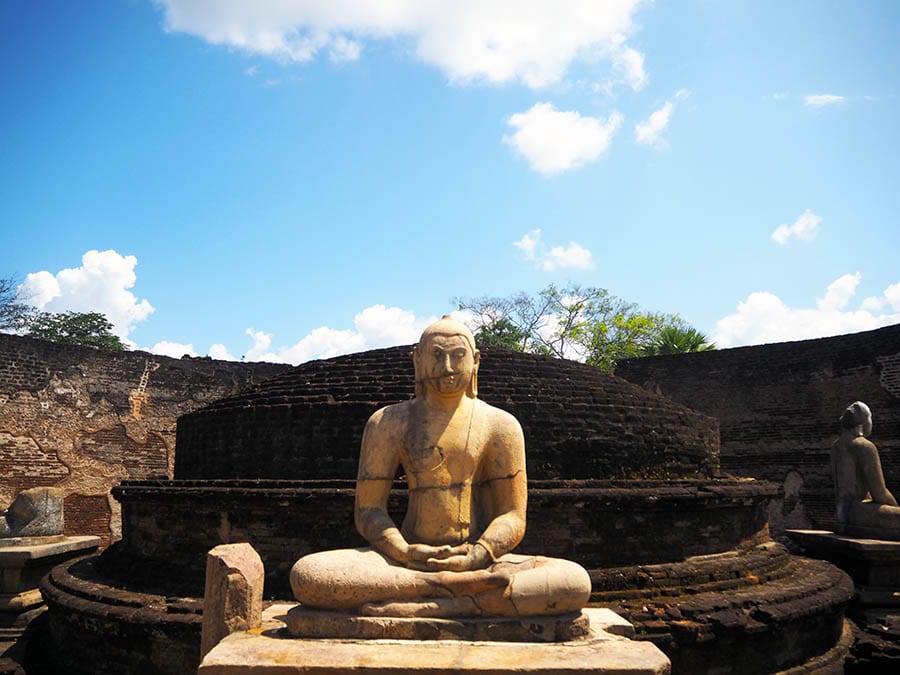 Sri Lanka is home to some of the most incredible UNESCO sites, including the less-visited Ancient City of Polonnaruwa. World's away from the bustling, dusty town that this site is found inside, Polonnaruwa is reminiscent of a mini Angkor Wat, with beautifully intricate crumbling temples and the feeling that nature is slowly taking over an ancient city that long lay forgotten. Monkeys play amongst the statues and trees surrounding the temples, giving it a tranquil and secret feel.
Polonnaruwa should be high on everyone's Sri Lanka itineraries. With the famous Sigiriya Rock just down the road, it seems many tourists neglect a visit to Polonnaruwa and we often had the temples all to ourselves, with few other tourists around.
This only added to the slightly mysterious atmosphere here. Walking alone around colossal pillars that would once have made up important places of worship is quite an experience.
You will want to hire bikes or a tuk-tuk driver for your visit as the temples are very spread out. With the help of transport, it is very possible to see most of the sights in the afternoon, so you can easily combine a trip here with a visit to Sigiriya.
Expect to pay £25 for an adult ticket. The ticket office is not at the main entrance to the site so make sure you grab a map, and there is a small museum at the ticket office that is worth a look if you have time.
YOU MIGHT ALSO LIKE: Unesco Sites Off The Beaten Track – Africa
Sambor Prei Kuk, Cambodia
by Ben from The Sabbatical Guide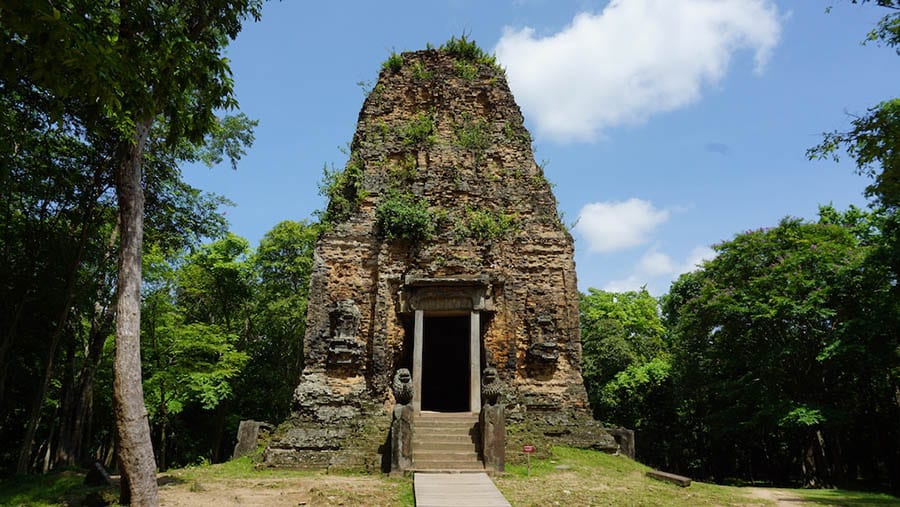 Sambor Prei Kuk is overshadowed by its big sister 80 miles up the road and is probably the best place in Cambodia you've never heard of. Thanks to my obsession with UNESCO Heritage Sites it was on my list to visit straight after we'd seen the Temples at Angkor.
So why visit?
Sambor Prei Kuk was once the capital city of the Chenla Kingdom, who were in power before the Khmer. The temples here are different to those at Angkor, filling in a gap in Cambodia's history.
With the last of the landmines only cleared in 2007, Sambor Prei Kuk feels like having a piece of history all to yourself and is very different to the crowded tourist hotspot of Angkor. Our guide told us that even in the high season only 100 people a day come, and when we visited we were the first and it was nearly 10am!
The temples are being quickly restored, with money used from gaining UNESCO status in 2017, so this 'off-the-beaten track' status won't last long.
Visit Sambor Prei Kuk as soon as you can, and get your own Indiana Jones style adventure at an ancient capital city.
Bagan, Myanmar
by Sally from Our 3 Kids v The World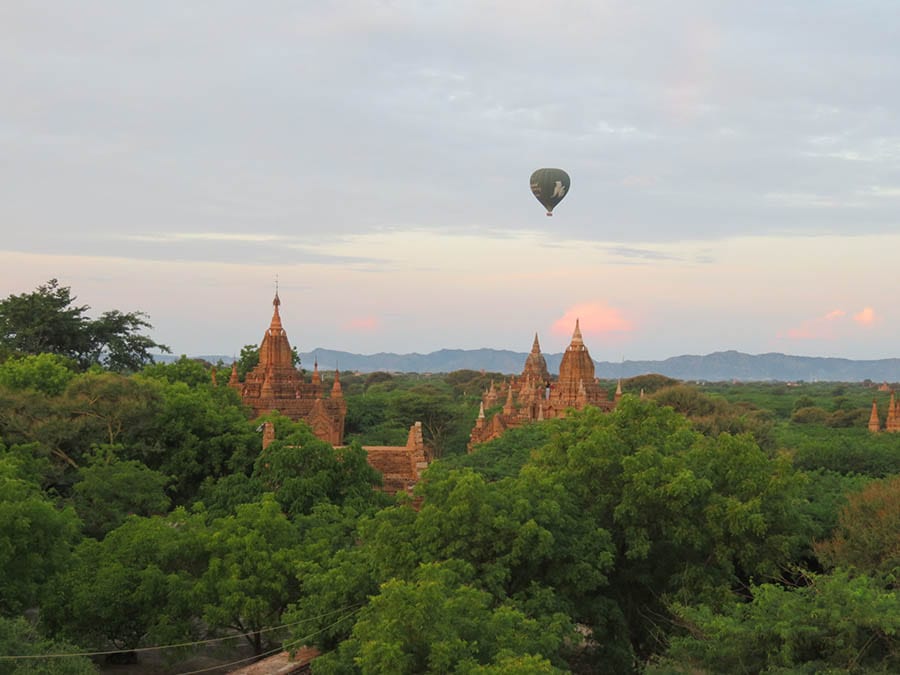 No visit to Myanmar is complete without spending at least a few days in Bagan, an ancient city located in central Myanmar. Created between the 11th and 13th centuries, there were originally 4,446 Buddhist temples and pagodas built, of which 3822 still remain today. Bagan was officially inscribed as a World Heritage Site by UNESCO in July 2019, a title it well and truly deserves.
Located in the Bagan Archaeological Zone which comprises of 13km x 8km area around Old Bagan encompassing Nyaung U and New Bagan. You will be required to pay an entry fee into the zone of 25,000 khat, you can pay in USD or Euro however it works out to be more expensive. We paid $20USD per person as that was all we had on us. Once inside you are rarely asked to produce your entry ticket as like you are in Angkor Archaeological Zone, however, make sure you keep it on you at all times.
We hired electric scooters and rode around all the temples and pagodas, electric scooters are easily accessible from hotels or you'll see hire stores around Old Bagan, New Bagan and Nyaung U. They are very cheap at $7USD for full day hire. Many of the temples are closed due to damaged caused by the 2016 earthquake that affected many of the structures however there are many more that are still open and accessible.
I loved Bagan, it's up there with one of my favourite travelling experiences, while it is gaining in popularity as a tourist destination it is currently still really accessible and very easy to get around. It is also very easy on the budget. The best way to see Bagan is by sunrise hot air balloon during the months of October to May. We arrived on October 1 and I hadn't pre-booked so I missed out. I will definitely return one day just to experience that.
Seongsan Ilchulbong, South Korea
by Max from Dame Cacao
Of the three UNESCO Sites on South Korea's Jeju Island, the most physically striking is Seongsan Ilchulbong.
The volcanic tuff cone, which characterizes the eastern side of the island, is covered in greenery in warmer months and snow in the dead of winter. Every spring, bright yellow canola flowers dot the sides of the fields, drawing in thousands of budding photographers.
The site is known locally as Sunrise Peak, for its perfect position in the East Sea, and it's one of the can't-miss stops for tourists to Jeju. Visitors often spend a full day in the area, also taking the ferry over to Udo, an equally beautiful island about 10 minutes further off the coast.
While Jeju Island is still largely undiscovered by international visitors, the flight to Jeju from Korea's capital city of Seoul has become the most travelled route in the world, underlining its popularity as a weekend getaway for Seoulines of means. Sites like this in Korea are also remarkably affordable. Entrance to Seongsan Ilchulbong is open year round and costs just ₩2000 (~$1.75USD), while many other historical sites in Korea are free to visit.
YOU MIGHT ALSO LIKE: Unesco Sites Off The Beaten Track – Middle East
Lahore Fort, Pakistan
by Samantha from Intentional Detours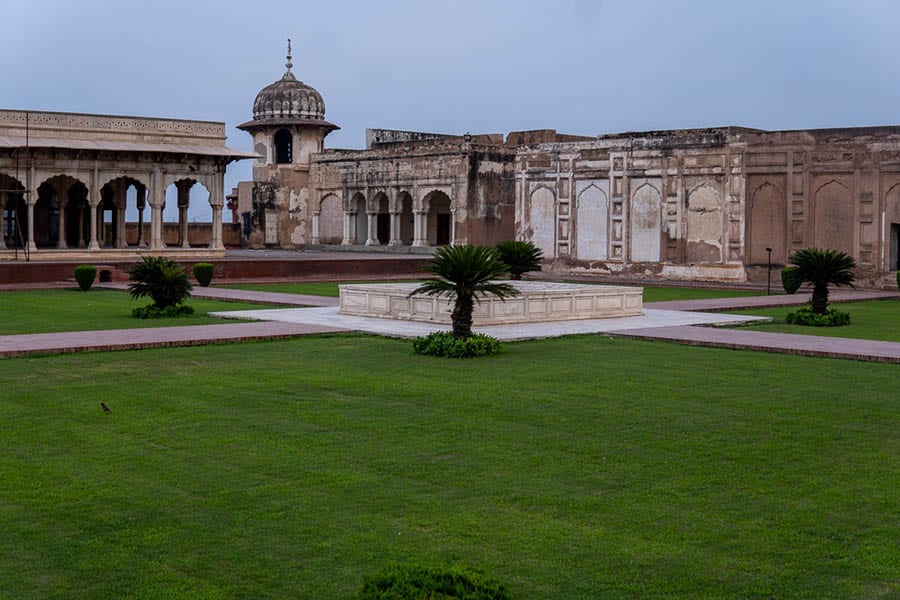 The Lahore Fort can be found in the alluring cultural capital of Pakistan – also known as Lahore. A relic of the South Asian Mughal Era, the sprawling fortress spans a massive 20 + hectares and has housed a' many royal rulers throughout the centuries. Yup, the site of the Lahore Fort has been inhabited for thousands of years, though the citadel you'll see today was built in the 1500's.
The grounds are rich in elaborate Mughal architecture, painting and glasswork- don't miss the Sheesh Mahal and Picture Wall for the best of the latter! The famous Sheesh Mahal was installed under Shah Jahan, the same man who commissioned the Taj Mahal over on the other side of the border! Even if you're not a history buff, the sheer size and beauty of the fort and its grounds is sure to make some sort of impression. It is pretty epic to wander about a place that was once such an exclusive palace.
The Fort rests in Lahore's Walled City- another bygone of Mughal times past. Aside from everything within its bounds, this UNESCO site also provides some sweet views of Pakistan's beloved Badshahi Mosque as well as the Minar-e-Pakistan, the exact spot where the Lahore resolution to split with neighbour India was passed.
These days, foreign tourists are charged an entrance fee of 500 rupees and Pakistani citizens are charged 20 rupees. If you plan a visit, try to aim for somewhere in between October-May, as Lahore becomes hot and seriously humid in the summers.
Khajuraho, India
by Sapna from My Simple Sojourn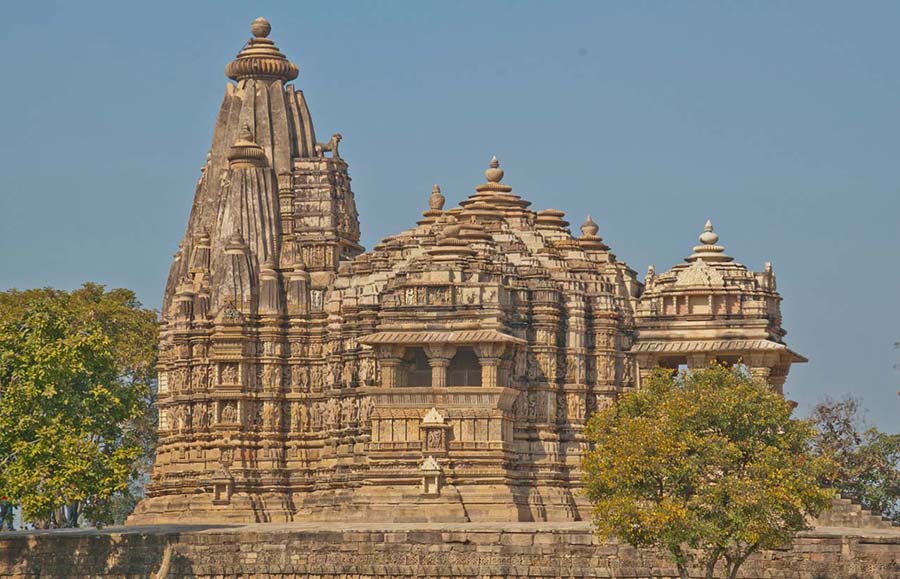 Khajuraho is a small town in the state of Madhya Pradesh in Central India. Khajuraho group of monuments in this town is a beautiful UNESCO World Heritage site. The town is popular for its Hindu and Jain temples. Most of these temples were built between 950 to 1050 AD. Originally 80 temples were built but today only 25 survived.
Most of the Hindu temples are dedicated to Lord Shiva and Lord Vishnu. There is a popular Hindu temple, which is dedicated to Goddess. It is believed that this temple was used for tantric activities but some people believe that this temple was built to show women empowerment. All the Jain temples are dedicated to Tirthankaras (The saints of Jain religion).
Khajuraho group of temples is popular for erotic sculptures on its outer walls. Interestingly only 10% of the sculptures are erotic. Some of these erotic sculptures of Khajuraho temples are very explicit and based on the concept of Kamasutra.
The most popular is the western group of temples, which are in an enclosed compound. These temples are still in very good condition.
The entry ticket for Indians is 40 INR and foreign travellers pay 600 INR. The ticket is required only for the western group of temples, there is no ticket for other temples which are spread in town. Jain temples are live temples and there is no entry ticket.
These temples remain open from sunrise to sunset. Also, go for light and sound show. It's an interesting program in which they tell the history and story of temples.
Train from Delhi, Agra, and Varanasi connects Khajuraho. There is a small airport, which operates flights from Khajuraho to Delhi and Varanasi.
YOU MIGHT ALSO LIKE: Unesco Sites Off the Beaten Track – The Americas
Longmen Grottoes, China
by Steve from The Trip Goes On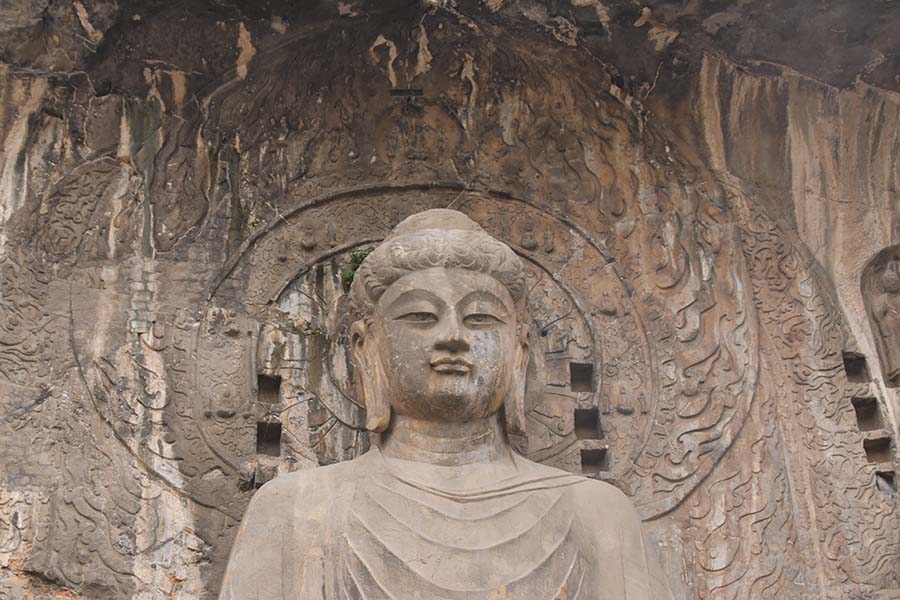 The UNESCO listed Longmen Grottoes in China's Henan Province are a collection of thousands of caves containing carvings of the Buddha. The impressive site stretches for a kilometre along the Li River just south of Luoyang, itself the ancient capital of China.
The carvings were made predominantly during the Northern Wei Dynasty (386 to 534AD) and Tang Dynasty (618 to 907AD) and range in size from a couple of centimetres up to a staggering 17 metres tall. The ears alone on the Vairocana Buddha, the main attraction, are 2 metres in height.
Guyang Cave
The Guyang Cave is the oldest and largest of the grottoes with the carvings dating to around 478AD. The grotto contains the Vairocana Buddha with various Bodhisattvas, some of which have been damaged (the guides will tell you that the missing faces of many of the carvings resulted from plundering, but others have said that they were vandalised during the Cultural Revolution).
Entrance to the Grottoes
Longmen Grottoes can be easily reached from the centre of Luoyang with bus 60 (every 10 minutes, 1.50 RMB). Entrance to the heritage site costs 90 RMB (approximately $13).
Included in the ticket price is access to both sites stretching across the river, a small museum, the tranquil Bei Garden and Xiangshan Temple. Allow at least half a day to tour the whole site.
Don't forget to pin this article so you can come back to it later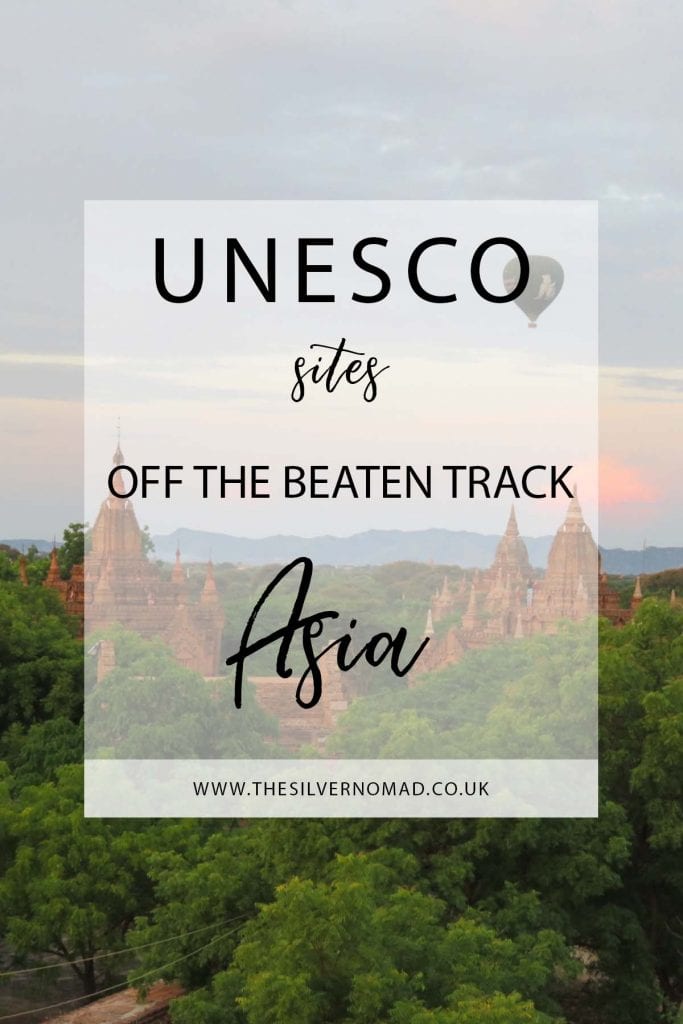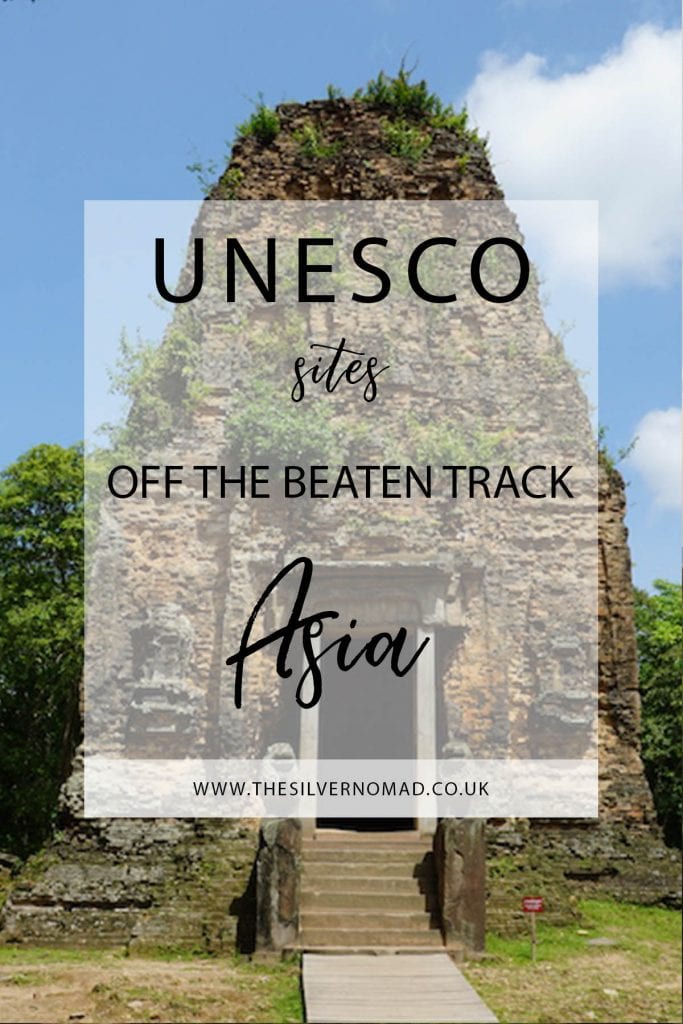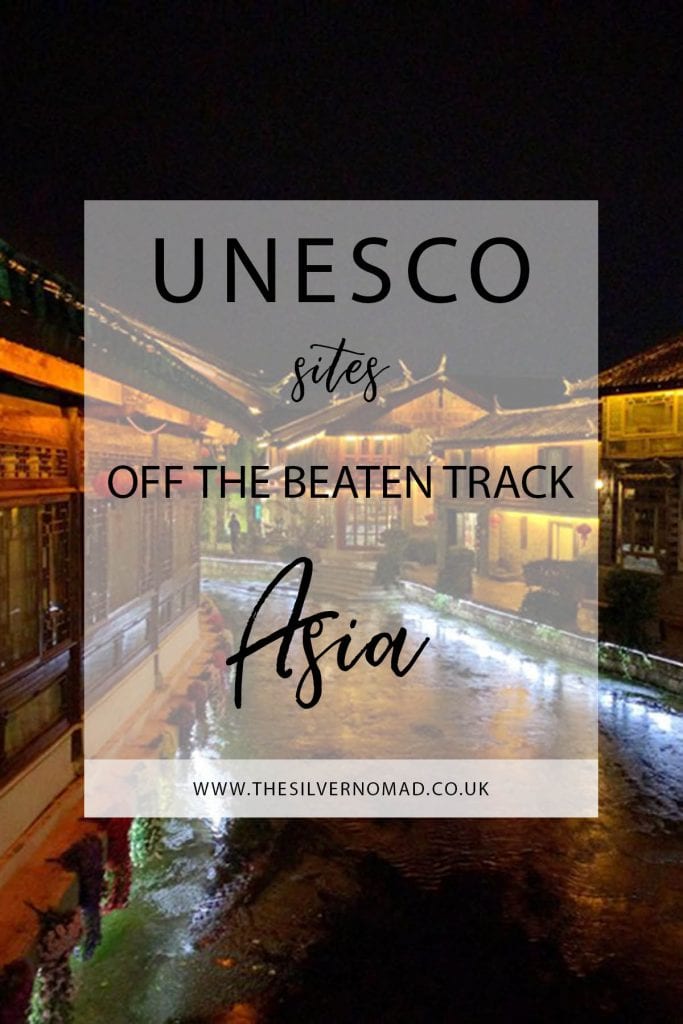 Editor's Note: This post was originally published in November 2019 and has been updated for accuracy and comprehensiveness.