Winter is upon us and with it comes the colder weather and if you are lucky some winter snow. The United Kingdom can be a bit hit or miss for snow in winter. We tend to have to travel to find snow around the world.
Winter snow landscapes can be amazing, the white of the snow against bright blue skies, or maybe contrasting against grey.
---
*This site uses affiliate links and I may earn a small commission when you use my links and make a purchase without incurring an additional fee yourself.
Thank you for supporting this website. See my disclaimer page for more details.
---
Maybe you are after the perfect white powder snow for skiing, the ideal conditions for a snowman or just the crunch of crisp snow underfoot when you are walking. Here are some recommendations for places to visit around the world to get the best winter snow.
Awesome places to visit for Winter Snow Around the World
Antarctica
Contributed by Pamela from Solo Passport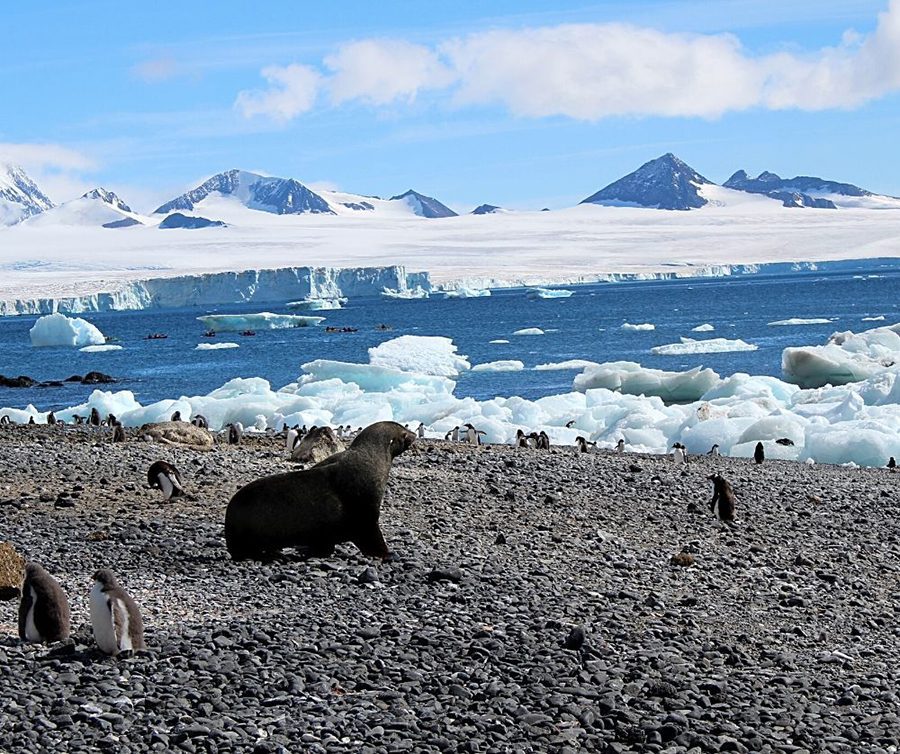 There isn't a winter in the world like the winter in Antarctica. Luckily, unless you're a scientist, you can't visit during the winter months – but you can enjoy summer (which feels like winter!). Tourists can only visit the continent between November and early March. The temperatures are typically in the low to mid-30's Fahrenheit
If you're going to have to dress for the cold and deal with the snow, you might as well enjoy walking with penguins at the same time. 
There are plenty of things to do that make visiting Antarctica a bucket list experience. Whether you prefer to learn about the unique geography of the continent, go kayaking with seals, brave the cold water in a polar plunge – there's something for everyone to brag about when they come home. 
Only 10,000 people visit Antarctica yearly, making it the least visited continent. It's strongly protected by countries around the world. Any cruise company that visits must abide by the International Association of Antarctica Tour Operators (IAATO). This association sets the standards to protect the fragile and unique ecosystem.
Only 100 people are allowed on land at a time, so the smaller the ship the better. Once you get on land, you'll find seals, penguins, birds, and research stations. Some research stations are in use today while others have been preserved as historical places. You can see how some of the early explorers of Antarctica lived and worked here.
The untouched wilderness of Antarctica is unlike anywhere else on Earth.
Winter Snow in Canada
Canada is famous for its deep, crisp snow which lasts most of the winter.
Mont-Tremblant, Quebec, Canada
Contributed by Megan from Bobo and Chichi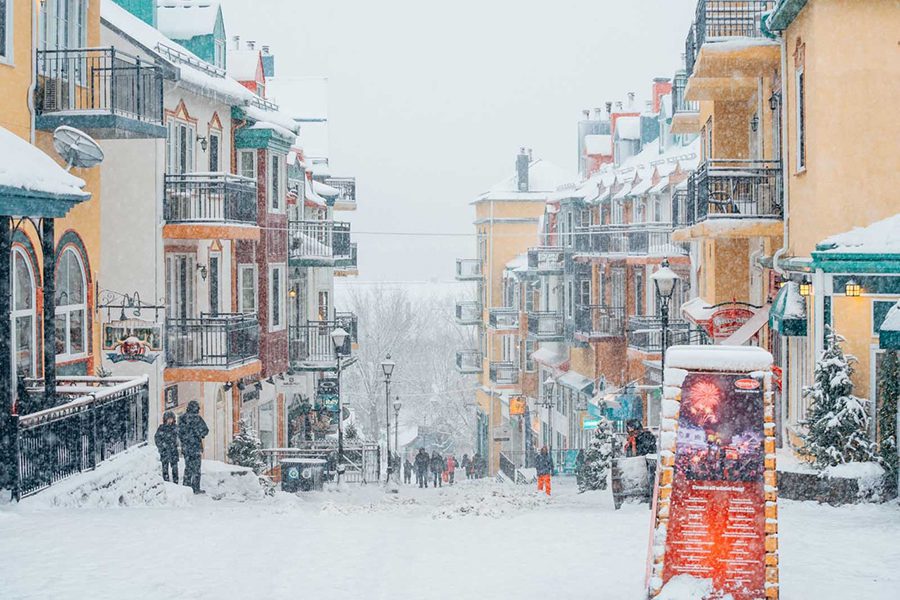 One of the best bucket list destinations in the winter absolutely is the magical winter village of Mont Tremblant in Quebec, Canada that has been named one of the top 25 ski villages in the world by National Geographic and the top ski resort in Eastern North America by Ski Magazine.
This is a dream winter getaway (from the months of November through March) for anyone who wants to hit the slopes with over 102 trails where you can ski right into the charming, snow globe pedestrian village.
Besides enjoying a day on the mountain skiing or snowboarding, you can also enjoy the shops, restaurants, and other fun stops in the village as you watch others come down the mountain.
If you need to rest your hard-working muscles, enjoy a day at the Scandinave Spa Mont Tremblant where you can soak in heated outdoor pools surrounded by the cold, crisp winter air and snow or enjoy a steam room and other therapeutic treatments they offer guests.
Other fun winter activities you can enjoy range from snowmobiling, snowshoeing, and even taking in an aerial view of this incredibly scenic winter destination from a helicopter!
Choose your hotel in Mont Tremblant
Whistler, BC, Canada
Contributed by Debbie from World Adventurists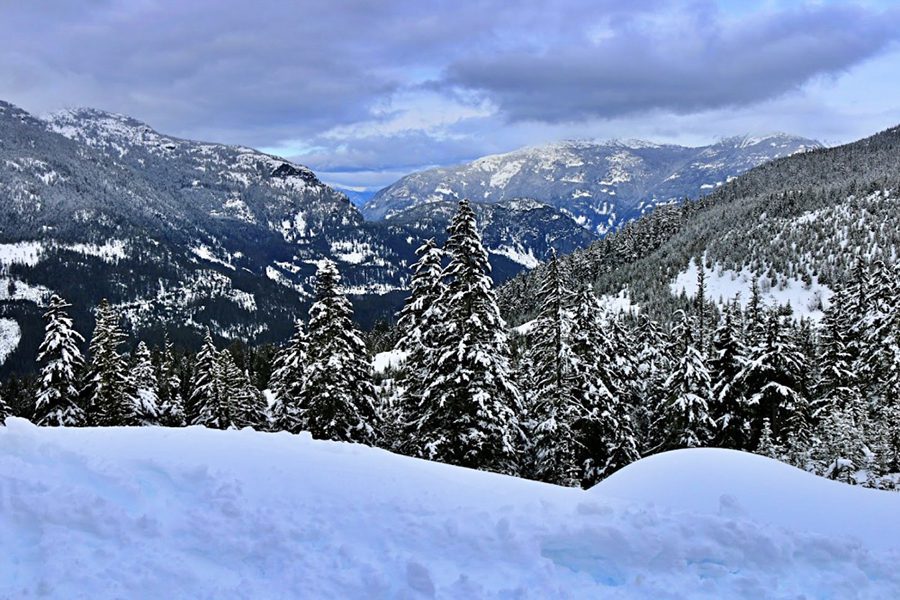 Every winter powder hounds flock to Whistler Blackcomb, the largest ski resort in North America. However, winter enthusiasts do not have to be avid snowboarders or skiers to enjoy the mountain culture vibe around town. 
Whistler was also home to a large part of the 2010 Olympics. There are several ways to experience the Olympic sports, such as a Biathlon lesson, skiing the same course as the 2010 athletes (Dave Murray Downhill ski run), trying the bobsleigh or skeleton, and searching for all the Olympic rings. 
Take a snowshoeing or snowmobiling tour through the majestic snow-covered trees of the backcountry. Or, enjoy an evening wandering through a forest of enchantment at Vallea Lumina. Get that adrenaline pumping with a flight through the snow-covered valley on a zipline excursion.
Take a stroll around the charming car-free village. One of the best places for dinner in the heart of Whistler Village is the Longhorn Saloon & Grill. Located at the base of Whistler Mountain, it is busy but has really fun energy. For breakfast, take a short drive to the Southside Diner in Creekside. It is a small diner with great food and personality.  
Adventure in Whistler is endless; one visit is never enough to experience it all.
Banff, Canada
Contributed by Nick from Spiritual Travels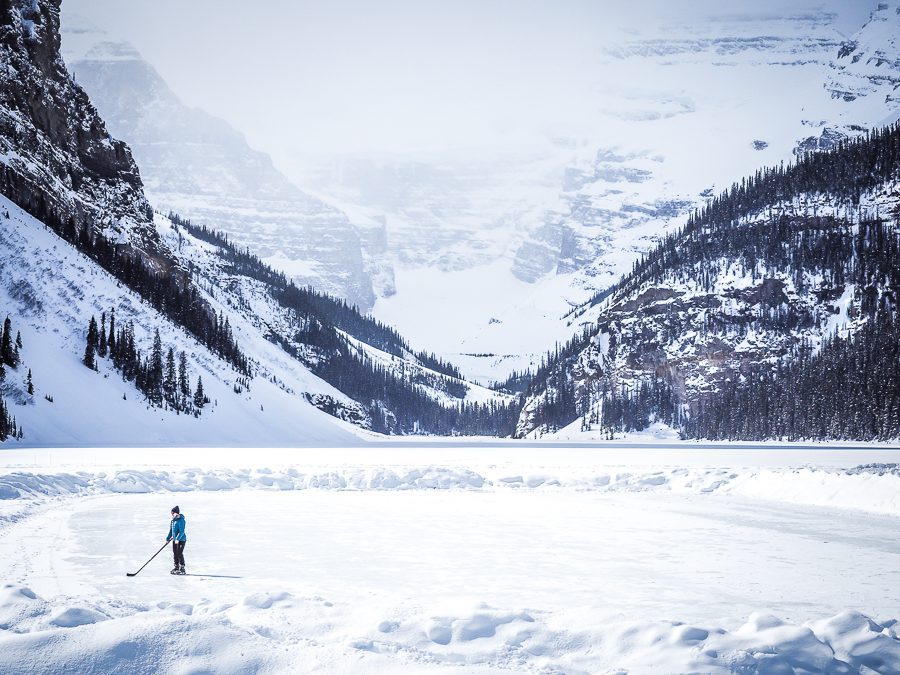 Canada's first national park, Banff, remains the country's most popular, and for good reason. Come in winter and you'll find dramatic Rocky Mountain peaks towering above a wintry landscape of unparalleled beauty. 
Some of the best things to do in Banff in winter include ice skating on iconic Lake Louise, soaking in Upper Hot Springs on the side of Sulphur Mountain, trekking to frozen waterfalls on the Johnston Canyon Ice Walk, and hitting the slopes at Lake Louise Ski Resort, one of the world's best.
To really escape the crowds, which are already at a minimum in winter, strap on a pair of snowshoes and blaze trails through fresh snow, or try your hand at ice climbing, with a licensed guide of course.
Also take the opportunity to learn about how Banff National Park and the entire Canadian national park system started at Cave and Basin National Historic Site, where hot spring water was first discovered and Banff's original spa was located. Also, learn about the region's indigenous culture at Buffalo Nations Museum.  
To warm up after a memorable day of icy activities, enjoy a belly-warming cocktail beside a fireplace at Banff Park Distillery, which specializes in craft spirits and fine cuisine to go along with them.
Winter Snow in America
Rocky Mountain National Park, Colorado
Contributed by Meg from Fox in the Forest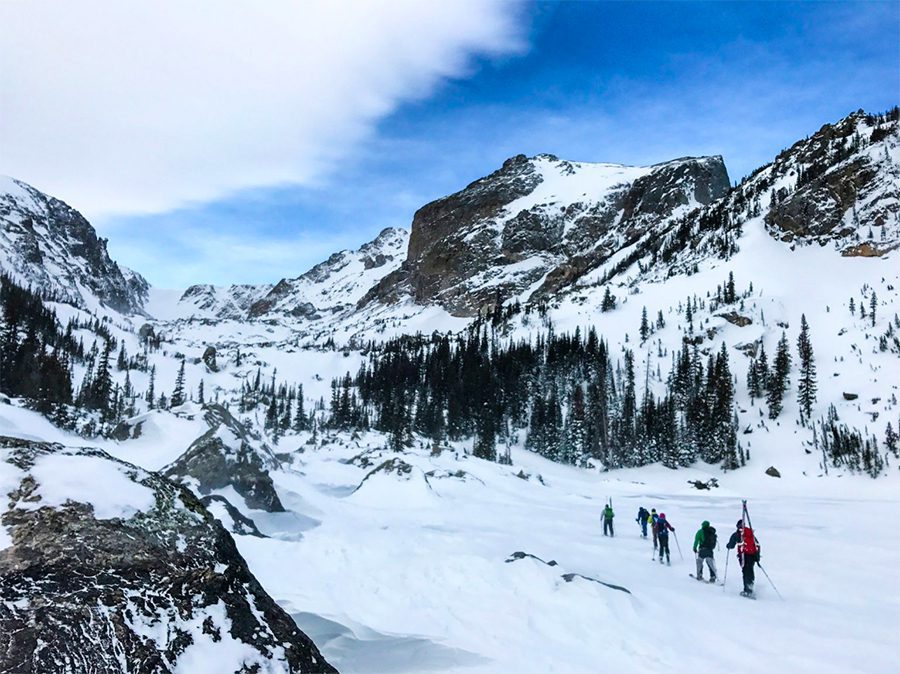 Rocky Mountain National Park is gorgeous year-round, but it becomes one of the most beautiful places to visit in the United States for snow during the winter months. Set just an hour away from Denver, the winter months turn The Rockies into a gorgeous landscape of snow-capped mountains and frozen alpine lakes that look straight out of a painting.
One of the best things to do in Rocky Mountain is putting your hiking shoes on and hitting the trails. Due to snowy conditions, avalanche safety knowledge is essential, but you can still conquer a few of the trails even during the winter months (don't miss out on the Emerald Lake hike ).
Other incredible activities that winter offers are ice climbing, spotting wildlife, and cross country skiing the Trail Ridge Road. Another unique activity is sledging down Hidden Valley, which is an abandoned ski resort where you can 'backcountry' ski the trails, throw a snowball fight, or sledge at the remnants of the park. 
There are no restaurants available inside Rocky Mountain National Park, although there are plenty of stunning picnic spots available if you bring your own food.
For proper restaurants, head to the nearby Estes Park, where you'll find plenty of options on offer – Bird & Jim and Grubsteak Restaurant are both great options!
Park City, Utah
Contributed by JJ Haglund from The Minivan Bucket List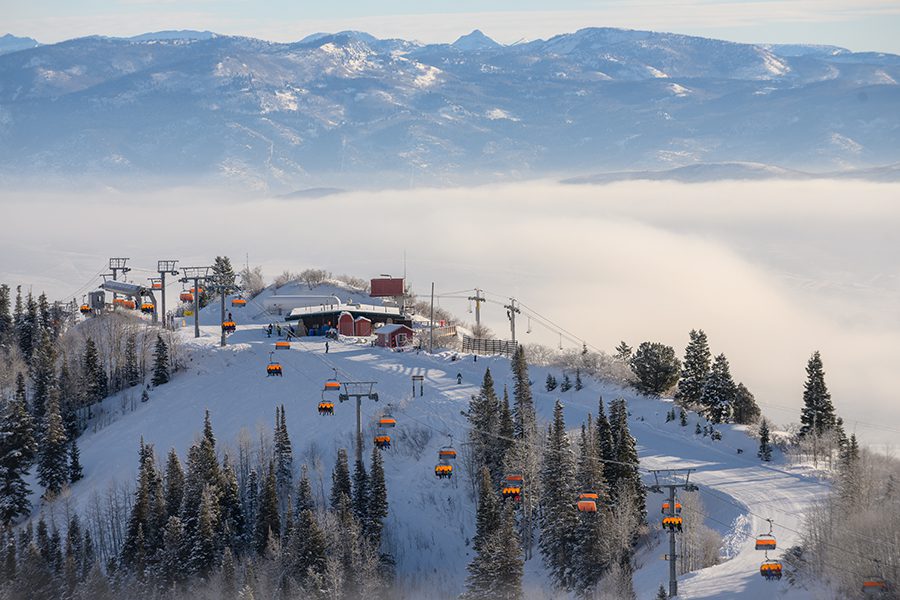 Park City is best known for two things – the 2002 Winter Olympics and the Sundance Film Festival. Beyond that, not only is it one of the best places to visit in Utah, it's also one of the best snowy winter destinations in the US.
Utah's license plates proclaim it to have "the greatest snow on Earth". That's because Utah's mountains get a rare combination of cold and dry with hundreds of inches of snowfall every year, so the snow is always light and fluffy.
And Park City is one of the best places to get a taste of that famous Utah powder thanks to Park City Mountain Resort, the largest ski & snowboard resort in North America, and Deer Valley, a skier's-only luxury nirvana.
If skiing isn't your thing, there is still plenty to do. You can visit the Utah Olympic Park and stare in awe at the athletes training there and you can even take a ride down the bobsled track yourself if you dare!
You can take a stroll down Main Street to explore its many art galleries, shops, restaurants, and bars. Or you can head over to nearby Midway, where you can soak in a geothermal hot spring inside a volcano-like crater, go tubing at the Soldier Hollow Olympic venue, or take a ride on Heber Valley Railroad's North Pole Express.
If you're looking for the best snowy destinations, you won't regret taking a trip to Park City in the winter!
Alaska
Contributed by Paula from Paula Pins The Planet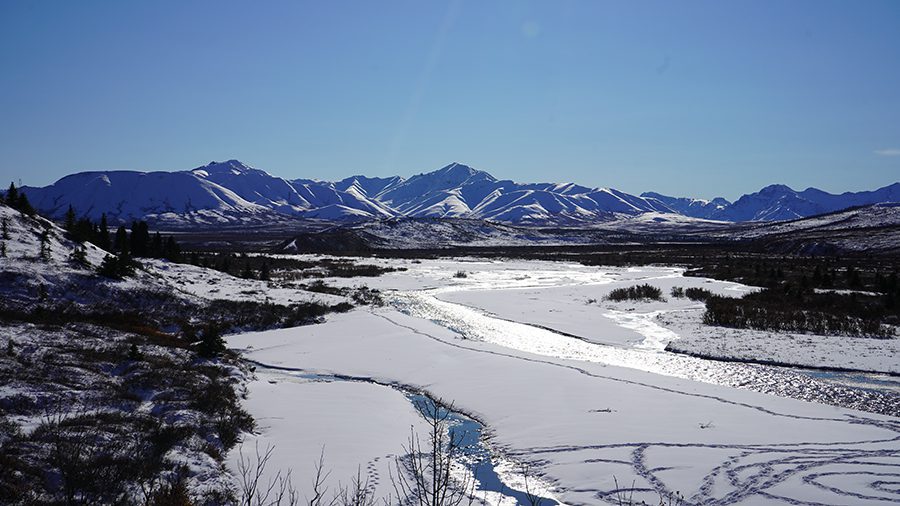 It is impossible to talk about a Bucket List Destination without thinking about Alaska. The last frontier State is huge, and it offers amazing things to do all year long, but during wintertime is when the magic really happens. It is important to plan well your Alaska Itinerary during wintertime, because some activities close for the season, while others start and you can find endless things to do.  
One of the bucket lists in Alaska during wintertime is to see the northern lights, and during the months of September through early April is the best time to see it, with shorter days and darker nights, is when the chances to see the Aurora Borealis increase. The best place to see it is in Fairbanks, and make sure to spend at least 2-nights to increase your chance to see it. 
Also, during wintertime is when you can choose from many snow activities, such as ski races, dog sledding tours, Nordic skiing, downhill skiing, and snowmobiling. Also, make sure to enjoy the gorgeous scenery with a bonfire on the beach. The average temperatures in Alaska this time of the year can go as low as minus 20, and the daylights are shorter with 6 to 12 hours in the winter, but you won't be bored to choose to visit Alaska during wintertime, because you can certainly find many fun things to do, including many winter festivals to enjoy.  
Wisconsin
Contributed by Paulina from Paulina on the Road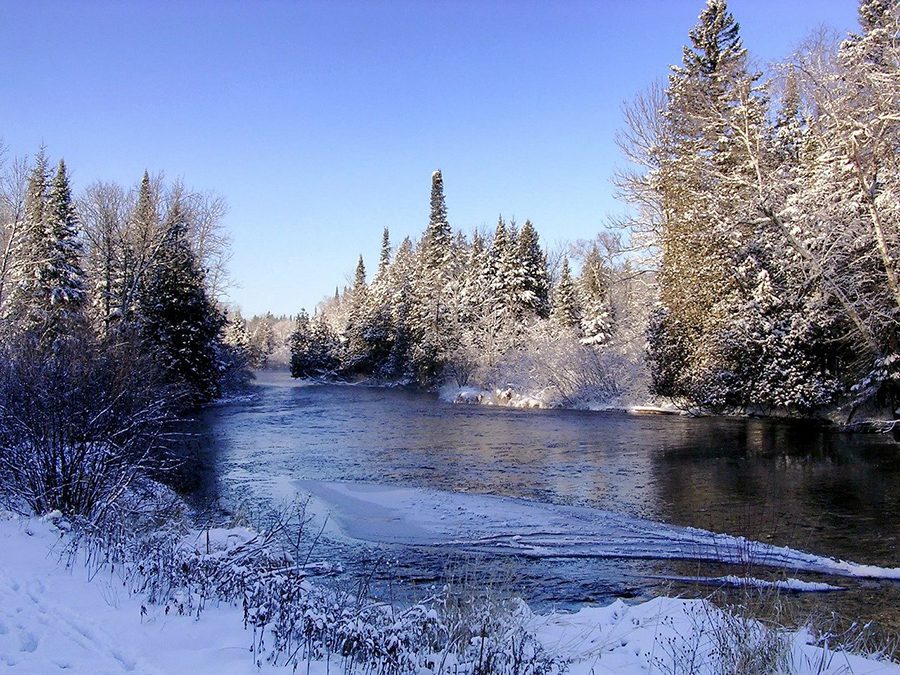 Wisconsin in winter is a snowy break and a revitalizing experience. It offers the best destinations to explore the winter scenes and gives a unique wintery experience with your friends and family. Discover north Wisconsin to explore the best things to do in Winter.
North Wisconsin has over 60 state parks large open spaces, and nature preserves. It has outdoor adventures in abundance. Travellers can enjoy ice fishing as there are lakes throughout the state. The frozen water surfaces to four inches call for ice fishing. Travellers can find various fish species here like pike, perch, and many others.  
After that, snowmobiling is one of the top winter adventures in Wisconsin. They can enjoy snowmobile riding in winter. From flat farmlands to exciting hills, the terrain has a vast range and all of them are adventurous to the peak. Downhill skiing, ice skating, and Winter Wisconsin Festivals are some other things that travellers must enjoy. 
The historical places in Wisconsin are also a new experience to have. Visitors can learn about the history of the place by visiting places like Aztalan State Park, Circus World Museum, Forest Home Cemetery, Old World Wisconsin, and more.  
After the wintery exploration, the visitors can grab some food at fine restaurants. Rookery Pub Fine Dining is one of the popular choices. Travellers can have a great stay after dinner at top winter resorts in Wisconsin like The Waters of Minocqua.
Mammoth Lakes, California
Contributed by Jessica from Uprooted Traveler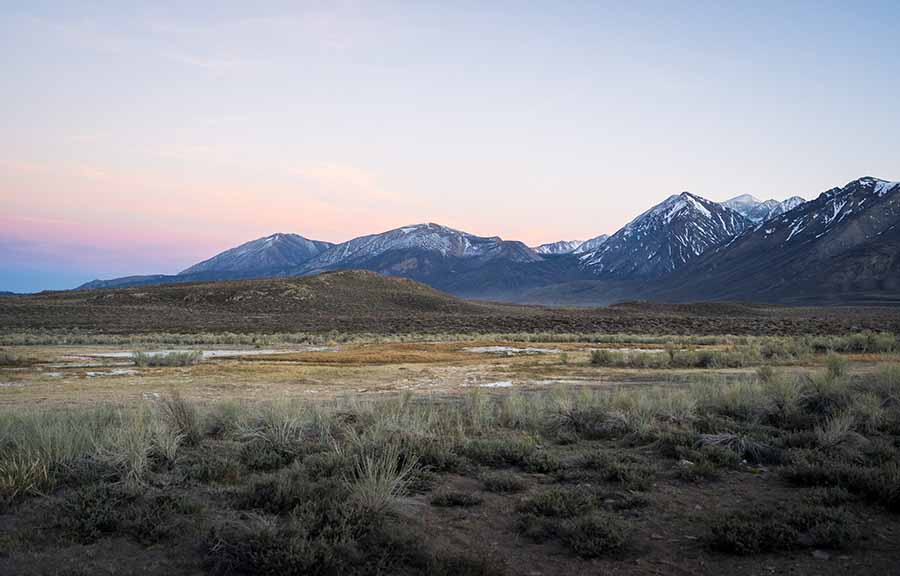 Mammoth Lakes, California is a small ski town, bursting with charm and natural beauty. The town is located in the eastern Sierra Nevada Mountains, providing stunning mountain views, chill vibes, and plenty of snowy outdoor adventures in the winter.
Mammoth Lakes is home to a number of world-class ski resorts like Mammoth Mountain and June Mountain- not only does Mammoth Lakes provide a memorable backdrop for skiing or snowboarding down untouched powder, but also, due to the Sierra Nevadas' high elevation, the area enjoys an unusually long ski season.
If you're not interested in downhill skiing, there's still plenty of other opportunities to get out and enjoy Mammoth's wintery beauty- for example, there's more than 140 miles of snowshoeing trails in the nearby Inyo National Forest or over 19 miles of cross-country skiing trails at the Tamarack Cross-Country Ski Center. 
After all that skiing and snowshoeing, your muscles will surely need a good long soak- good thing there's several beautiful natural hot springs in Mammoth Lakes, where you can relax and drink in the incredible mountain vistas. While Mammoth Lakes' main draw is its outdoor scene, the town itself is absolutely worth exploring as well.
Be sure to check out any one of its awesome breweries, like Distant Brewing, and get a big bowl of steaming pho to warm up at Noodle-ly. Between the charming town and the amazing outdoor landscape, there's something for every traveler in Mammoth Lakes, come winter.
Best Places for Winter Snow in Europe
Bansko, Bulgaria
Contributed by Larch from The Silver Nomad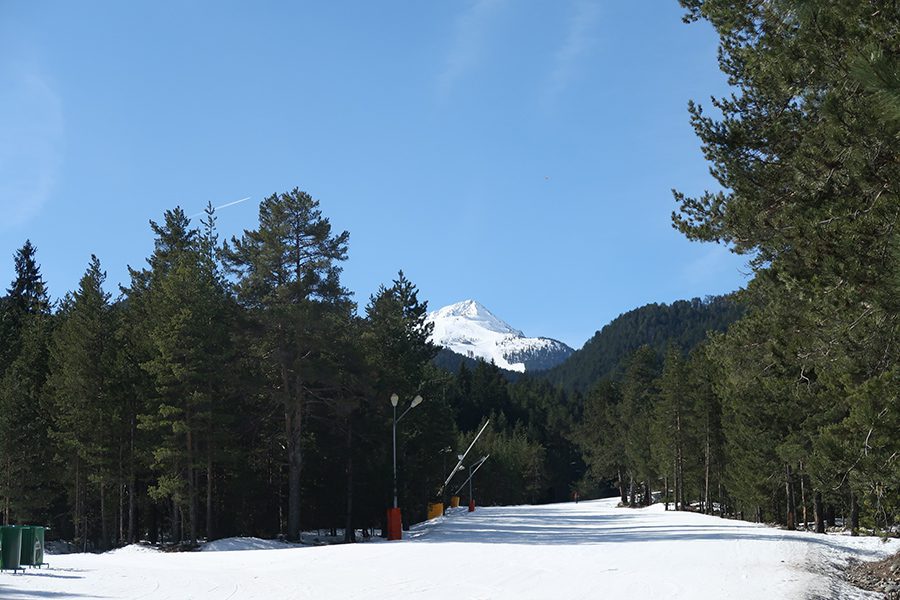 Bansko is a 3-hour drive from Sofia and is the biggest ski area in Bulgaria.
There are over 75kms of pistes to try out with cable cars taking you higher and higher up the mountains. Whether you are a skier, a snowboarder or prefer to snowshoe, there is plenty to do.
Along with the gentle nursery slopes for beginner skiers and snowboarders, there are also some red and blue runs. If you want more of a challenge, try the Tomba black run that carves through the trees.
There is also a vibrant apres-ski scene with bars and restaurants to keep you busy in the evenings.
There are plenty of things to do for the non-skiers. Explore the town for museums, the beautiful Trinity Church, go ice-skating or walk up by the reservoir.
A short drive from Bansko is thethermal spas where you can ease your aching bones.
Tarta Mountain, Poland
Contributed by Jakub from Tymrazem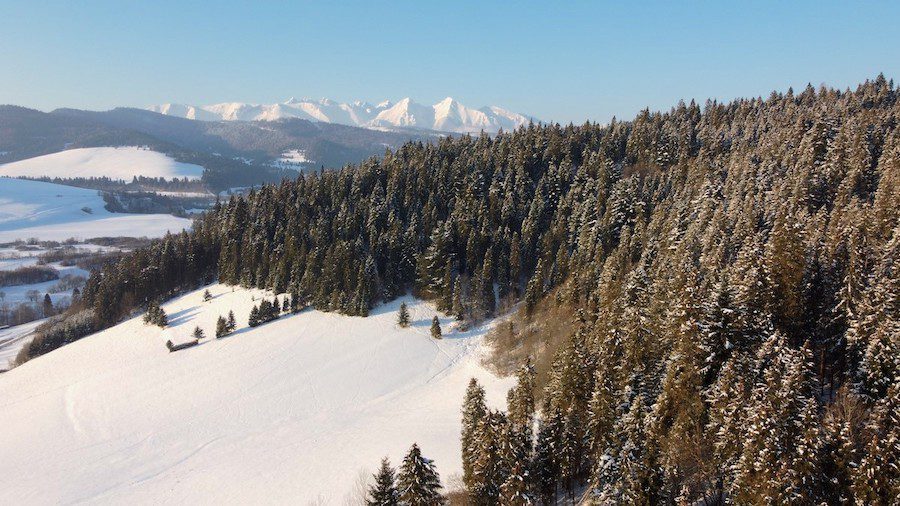 Some people love snow and others avoid it as much as possible. For years, fans of winter madness and snow in Poland have been coming to the mountains. Some choose the Beskids, others choose the Sudetes, but the most popular of the Polish mountains are the Tatra Mountains.
They are divided into three ranges – the Bielskie, West and High Tatras. In winter, it is a real paradise for skiing. But that's not all. Some of the Tatra hiking trails are accessible to tourists and guarantee unforgettable views and experiences.
Snow in the Tatras comes much earlier than in the rest of the country and stays on the peaks much longer. However, it is worth remembering about the avalanche risk and following the information about the condition of the snow.
The first association with the Tatra Mountains is the city of Zakopane, but there are many more interesting towns and villages there.
If you like snow only from the window of a warm room and you do not want to go to the mountains, the Tatra Mountains also have a lot to offer for you. A variety of museums, thermal baths and other attractions await you.
Being in the Tatra Mountains in search of snow, be sure to try Oscypek – smoked, mountain cheese, which is a regional product, and for warming up you can use perfectly mulled wine or beer, which pleasantly raises the body temperature.
Hallstatt in Austria
Contributed by Martina from PlacesofJuma
The beautiful village of Hallstatt in Austria is definitely one of the most beautiful places to visit in winter! In summer, this little town is full of tourists, but in winter you can enjoy a romantic setting far away from the crowds. Especially impressive here is the location on the snow-covered Lake Hallstatt, where the imposing snow-covered mountains in the background conjure up a panorama like something out of a storybook. No wonder Hallstatt is probably the most photographed in Austria!
Although Hallstatt is not too big, you can discover numerous attractions in the village but also in the surrounding area. A must-see is the historic market square with the beautiful Holy Trinity Column, where the many colourful houses together with the snow conjure up a romantic backdrop. In winter, the Christkindlmarket is also held on this square.
Interesting and a popular attraction is the Bone House, where a historically important collection of 600 colourfully painted skull bones is kept in the cemetery.

If you love photography and want to take beautiful winter pictures, then you should definitely go to the Hallstatt Viewpoint, where you can enjoy the most beautiful view of the town and the lake!

But also in the surroundings of Hallstatt is a real highlight in winter. An insider tip is a snowshoe hike on the Dachstein-Krippenstein to the 5-Finger-Skywalk. Sporty people should definitely also go to neighbouring Gosau, where there is a wonderful ski area.

As an insider's tip, we recommend the Seehotel Grüner Baum directly in Hallstatt and with the best location on the lake! You should try the delicious "Ofenfrische Schaumrollen" – a pastry store in the village centre!
Troodos Mountains, Cyprus
Contributed by Larch from The Silver Nomad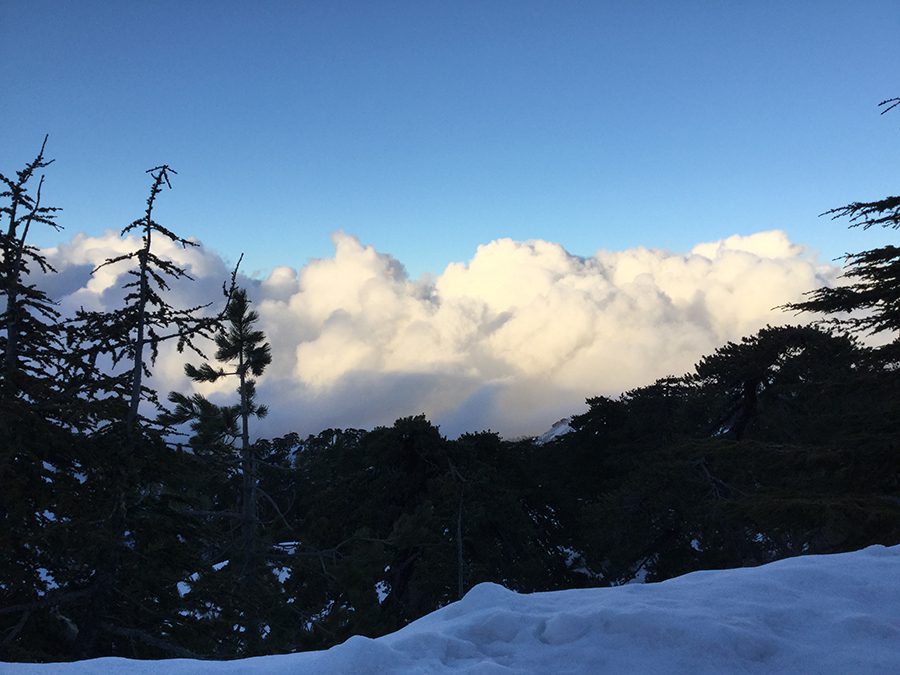 Not normally known as a winter destination for snow, Cyprus enjoys a sunny climate down by the coast. However, if you drive about 30 miles inland from Larnaca, you will come to the Troodos Mountains. 
Stretching across most of the western side of Cyprus, the Troodos Mountains tend to have snow in winter from January to March.
Here you will find the Troodos Mountains Ski Resort on Mount Olympus.
There are six ski slopes to choose from including a beginners' slope, three blues, a red and a black. You can hire your skis or snowboards and passes at the resort.
If you are not a ski-er, however, there are plenty of walks and hikes to do in the area. You can also spend half your day ski-ing and then travel down to the coast for some winter sun!
Iceland in Winter
Contributed by Claire from ZigZag On Earth
For an ice and snow Wonderland, Iceland should be on the top of everyone's Winter bucket list.
The landscapes vary from blue ice caves to partially frozen waterfalls, snow-covered volcanic cones, black and white lava fields, and magnificent fjords… Any winter trip to Iceland is filled with magical and unforgettable moments.
2 options to plan a Iceland Winter itinerary:

The first one is to stay in Reykjavik as a base and to enjoy day trips to the Southern attractions such as the famous Golden Circle, the Blue Lagoon, the black sand beaches, the Seljalandsfoss waterfall and so many more…  
Otherwise, a drive around the island on the Ring Road is the best way to see a lot more. The main road is cleared most of the time. Many incredible highlights are close to the Ring Road: glaciers, ice caves, lava fields, East Fjords, Lake Myvatn, Akureyri…   You may even spot reindeer, as they live closer to sea during the Winter.
Finally, all winter trips to Iceland should include a couple of days in the capital Reykjavik to enjoy its special atmosphere with great restaurants and attractions.
Don't miss the traditional Lamb or Fish soups that will warm you up in no time.
First, head to the waterfront to watch the sunrise and learn about the Hofdi house special history. Then, admire the unique cathedral and visit one of the many museums (planetarium, Whale Museum, and the unique Phallalogical museum!)
Prague, Czech Republic
Contributed by Veronika from Travel Geekery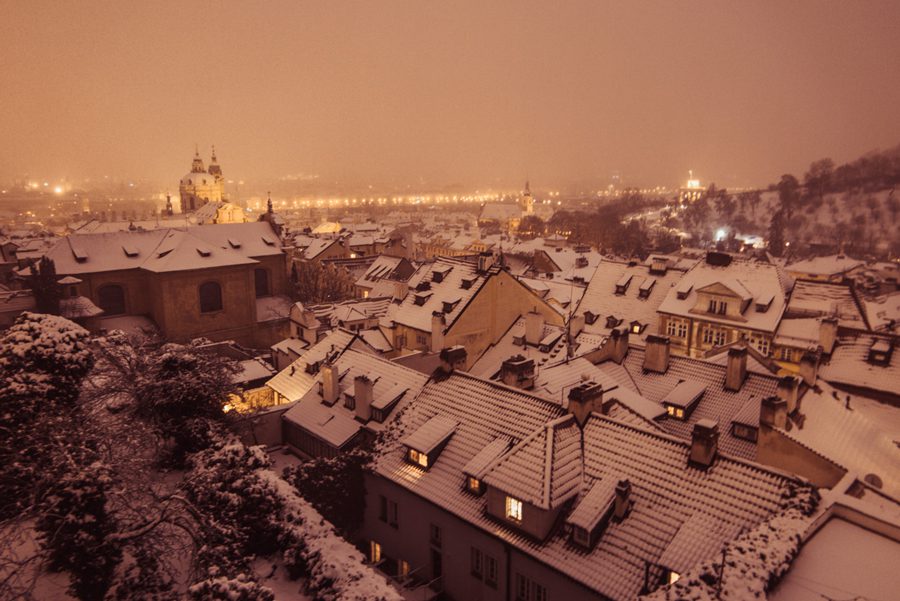 Anybody who's ever dreamed of fairytale-like winter landscapes needs to see what winter in Prague looks like. The Czech capital is full of historical sights and they look just the cutest when covered in snow.
The Prague Castle is a must, and then there's the whole Castle quarter, the famous Charles Bridge, and the Old Town with its signature Astronomical Clock. These are only the highlights of Prague's sights.
At the end of November, Prague dresses in Christmas decorations and Christmas markets pop up. In between shopping for gifts (locals) and sightseeing (tourists), everyone finds time to have a cup of mulled wine with friends at one of the many Christmas markets. There's also hot mead, sausages, roasted chestnuts, Prague ham, and the sweet chimney cake called Trdlo.
Winter activities are plentiful in Prague. Ice-skating can be done even in the city centre at the Ovocný trh Square. When the snow cover is solid enough, locals even engage in cross-country skiing in the larger parks such as Stromovka. For downhill skiing, one can go to the nearby Monínec resort, which is an hour away by car/bus.
Amid all the sightseeing and spending time at Christmas markets, there are plenty of indoor things to do in Prague. Museums, classical music concerts at magnificent venues, art galleries or one of Prague's unique Baroque libraries are only a fraction of things one can engage in indoors. 
A local chain of Czech restaurants, called Lokál, offers Czech staples made in an excellent way. Always delicious and high quality, the Lokál restaurants are a safe bet when looking for a place to eat in Prague.
French Alps, France
Contributed by Jessie of Pocket Wanderings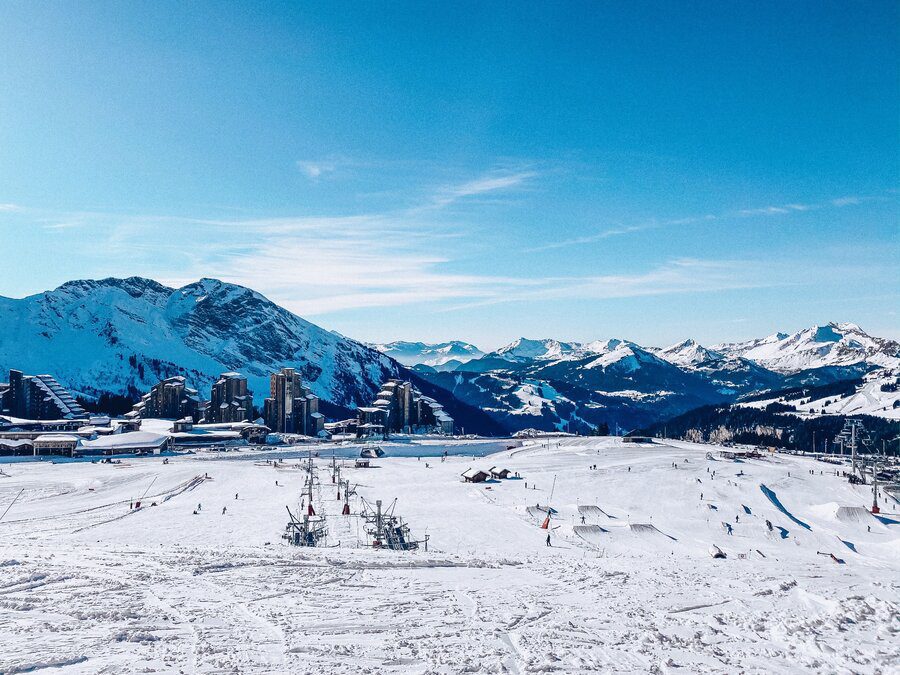 The French Alps are a haven of natural beauty all year round. When the winter season hits and glistening snow blankets the land, the Alps become the perfect getaway for a wintry break. The most popular activity of the winter months in the French Alps is skiing or snowboarding, where world-class resorts offer incredible experiences.
Skiing in Europe brings some of the best snow, runs, food, and hotels in the world – and nowhere does it better than the French Alps. With a number of popular ski resorts, there are plenty of options for each type of traveller. Whether you are travelling as a family, a pro skier, or simply want to enjoy the winter landscapes without hitting the slopes.
Head to the Three Valleys for expansive skiing – Courchevel brings buckets of luxury while Val Thorens is better for partygoers. Chamonix is one of the oldest ski resorts in the Alps, Val D'Isere is popular with seasoned skiers, or the Portes du Soleil region caters for everyone.
Skiing aside, the French Alps offer plenty of other winter activities. These include sledging, snowshoeing, ice climbing, ice skating, fat biking, and more. You'll be spoilt for choice with mountain restaurants, from charming Alpine eateries to lavish fine dining. There are few places better than the French Alps for a thrilling winter break.
Switzerland
Contributed by Alyse from The Invisible Tourist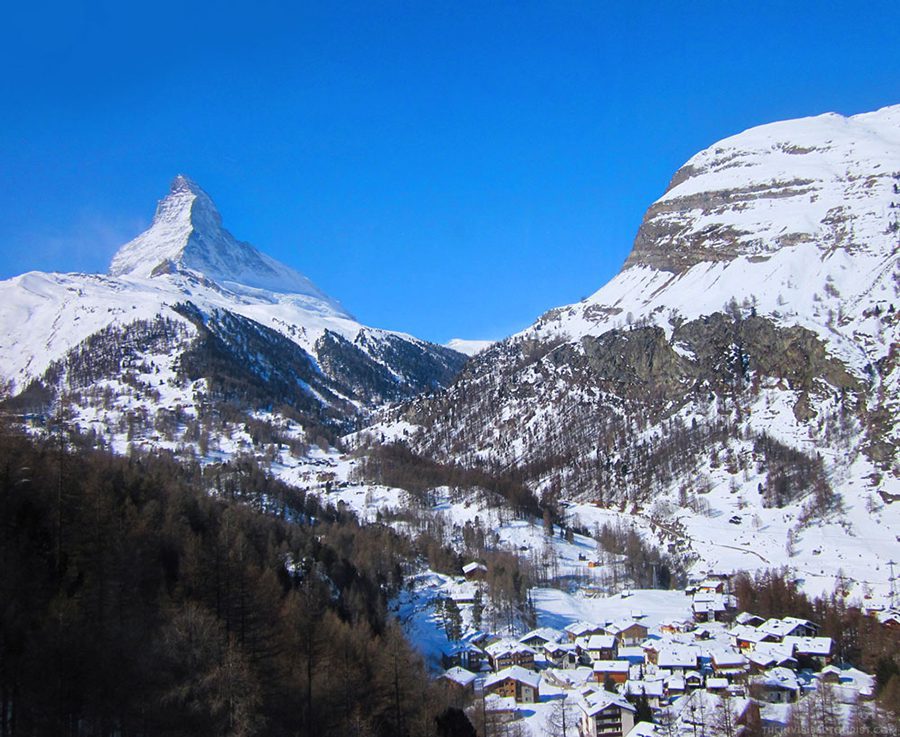 Switzerland is stunning during the warmer months, however, some visitors aren't aware it's also one of the best places in Europe for a winter break – even if they don't ski! Planning a winter itinerary for Switzerland has many benefits that are often overlooked.
Whist the majority of tourists are enjoying themselves up in the ski fields, this leaves the picturesque old towns relatively uncrowded, especially after New Year and before Easter. Marvel at the centuries-old buildings in Zurich and Geneva, their colourful painted facades will whisk any mind back to medieval times. 
Some absolute musts to experience in Switzerland include the pyramid-like Matterhorn from the Gornergrat lookout in Zermatt; taking a gondola to Mt Pilatus' summit (and witnessing icicles over 6 feet in length!); admiring the Zytglogge of Bern, an astronomical clock tower that's been watching over the city since the 15th century. Let's not forget taking a day trip to Jungfraujoch, Europe's highest point that can be reached by train.
For what to eat in Switzerland, a must-try dish is raclette – delicious Swiss cheese melted over a fire and scraped off onto a bed of potatoes and cold meats. Rosti is another Swiss favourite, grated potatoes fried in oil and butter, often with bacon and onion. Of course, no trip to Switzerland would be complete without trying some Swiss chocolate, with Lindt and Toblerone being some of the best!
Lapland, Finland
Contributed by Nichola from Globalmouse Travels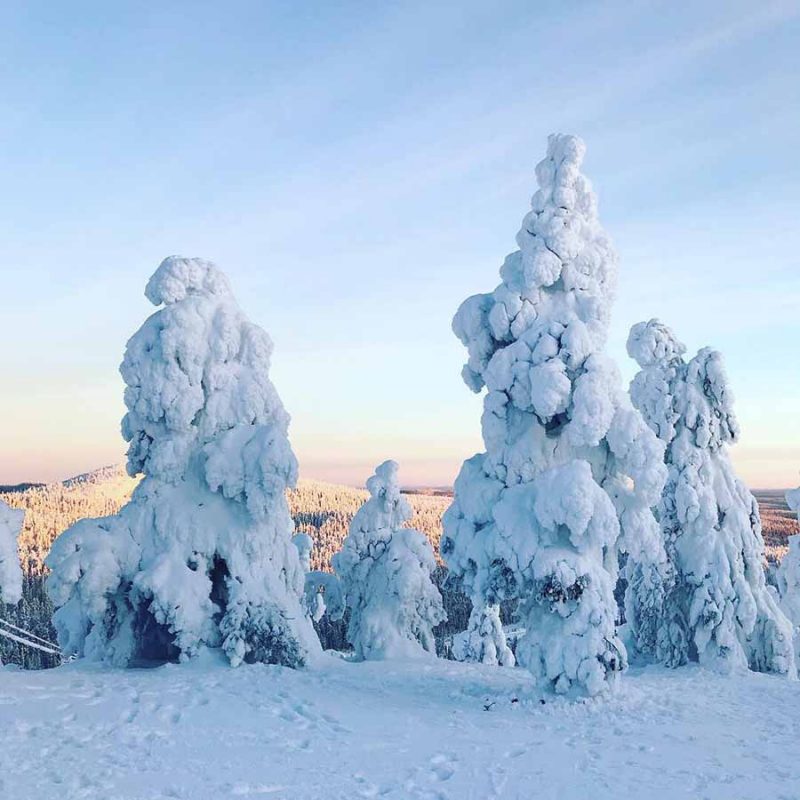 Lapland is the perfect winter destination, as wintry and fairytale-like as it gets. This whole region stretches across Finland, Sweden, Russia and Norway although Finland and Sweden are the largest areas.
The home of the largely nomadic Sami community Lapland is steeped in legend and folklore and full of charm. The snow here is like something else – so thick and soft and particularly in the areas high above the Arctic Circle the air just sparkles as if it's full of glitter, it is unbelievably magical.
Come here for exhilarating husky dog sledge rides, enjoying the slow plod of a reindeer sled ride or looking out for the Northern Lights. It's the perfect place to ski or try out a snowmobile.
If you're visiting Lapland with Kids then they will love visiting the home of Father Christmas and there are many places you can visit him (whether you're travelling with kids or without). Lapland is a wonderful place to try the local foods from foraged mushrooms to the most delicious berries including the evocatively named Cloudberries. Lapland is often described as being a once in a lifetime destination but it's one of those places that get under your skin and one visit is rarely enough.
Lipno nad Vltavou, Southern Bohemia
Contributed by Cosette from KarsTravels.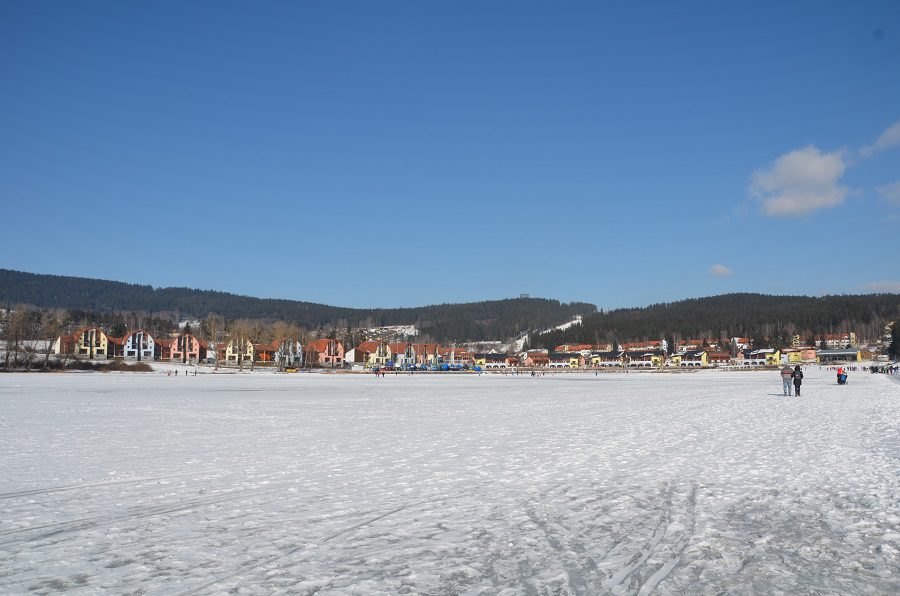 Lipno nad Vltavou is a perfect destination for winter snow. There's snow everywhere and a frozen lake, which gives postcard picture-perfect views of snow-covered mountains as a backdrop to a frozen lake. 
The town is located in Czechia, in Southern Bohemia. There are several fun things to do in Lipno nad Vltavou, making it the perfect place to be outside all day long. 
On the frozen Lipno Lake, a track is kept snow-free, which makes it ideal for ice skating. There are kilometres of natural ice to skate or walk on. If going early in the morning, the lake will be almost free of people.
The lake isn't the only place to enjoy the winter, on the mountain is the Snowpark Lyžařsky areál. This area has 13.5 kilometres of ski slope and 4 ski lifts. Next to the ski slope is a treetop walkway which is 40 meters high and gives mesmerizing views over the mountains, forest and the lake. Or visit Slideland Bobova Draha Lipno, a bobsled that goes up and down the mountain on a rail. 
Close to Lipno nad Vltavou is Český Krumlov, a UNESCO city. The city is from medieval times with Baroque, Renaissance and Gothic architecture. It's really beautiful covered in a layer of snow.
Marina café has delicious ice cream and cakes. Restaurant-Karolína, H&M Steak Restaurant and Restaurace Marina Lipno are perfect for lunch and dinner. 
Jukkasjärvi, Sweden
Contributed by Fredrik from Sticks & Spoons Food Travel
200 km North of the Arctic Circle in Sweden, you'll find Jukkasjärvi and one of the most unique hotels in the World today; ICEHOTEL.
ICEHOTEL was the first hotel ever built completely with snow and ice 31 years ago.
The Circle of Ice from Torne River is central in the idea for ICEHOTEL; to build the hotel the team at ICEHOTEL use 99% of the building material from the Torne River and snow. The remaining 1% consists of reindeer traps, doors, beds, etc.
The hotel is built from scratch every year and is then allowed to meltdown during the summer, back into the Torne River.
Nowadays, you also have the opportunity to experience ICEHOTEL 365 with a smaller part of the hotel being open all year round.
ICEHOTEL offering an unique environment filled with art and design, and a visit to the hotel is filled with beauty and admiration.
Activities like Northern Lights tours, ice sculpture classes, dog sledging, snowmobile tours, skiing, snowshoeing, adventure trails, boat tours, fishing, rafting, and guided tours to experience the Sami Culture, makes ICEHOTEL the Ultimate Winter Destination to travel.
Winter Snow in Australia
For Australians, winter comes when at the opposite time of the year than the UK. So if you are planning to go to Australia for snow, you will need to go in our summer.
Mount Buller, Victoria, Australia
Contributed by Raksha from Solo Passport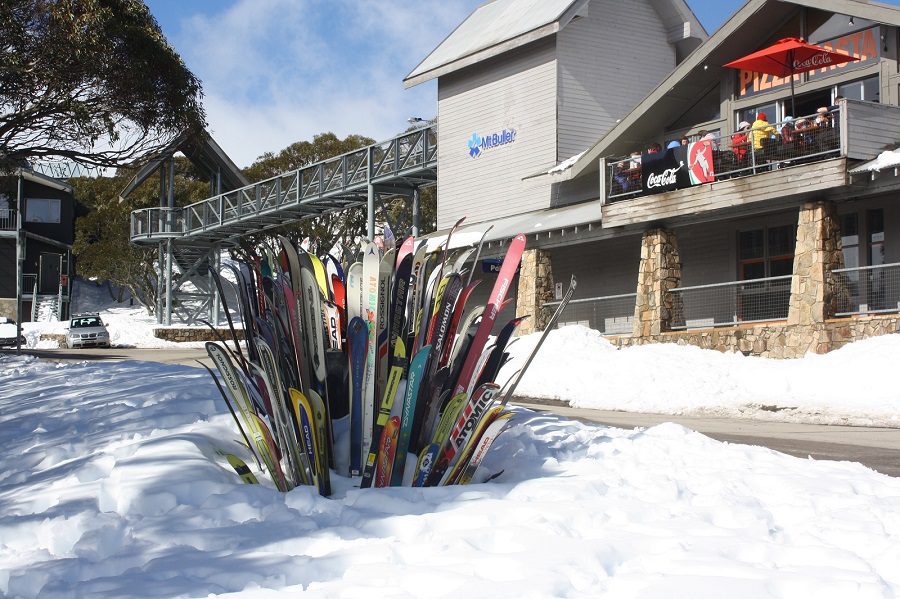 Part of the Australian Alpine region, Mount Buller is a snow resort village in the Victoria state of Australia. Mount Buller is around 250 kilometres from Melbourne city and makes it a perfect weekend trip. The resort is a popular skiing destination during the winter season where the climate ranges between 5 degrees to -2 degrees. The mountains get fresh snow every year.
The ski resorts offer a wide range of activities including a perfect stay in the snow. The stay caters for travellers including backpackers and families.
There are many ski tracks that are divided between beginners, intermediates and experienced. One can also take ski lessons from professionals and these ski lessons range from a few hours to multiple days.
Other popular activities in the snow are snowboarding and tobogganing. There are shops prior to reaching the ski resort where equipment for skiing and snowboarding can be hired. 
There are cafes and restaurants in the resort which have a variety of food and drink options. Ranging from beers to coffees, the cafes serve different drink options. The famous drink to sip in the cold weather is hot chocolate. The restaurants offer different cuisines including Chinese and Thai.
Find places to stay in Mount Buller
Don't forget to pin this article so you can come back to it later
If you like this content or want to come back to it later, please use one of the pins below