The weather has changed and the days have become shorter and colder. Maybe it is time for some winter sun?
There are people who love winter snow, and others who can't wait to escape to some winter sun.
---
*This site uses affiliate links and I may earn a small commission when you use my links and make a purchase without incurring an additional fee yourself.
Thank you for supporting this website. See my disclaimer page for more details.
---
For those of us who long for heat in the winter, to bask in the warmth of the winter sun, paddle in the sea or just to be able to go out without a jacket, these destinations are worth looking at.
Winter Sun in Africa Destinations
Uganda
Contributed By Bella from Passport & Pixels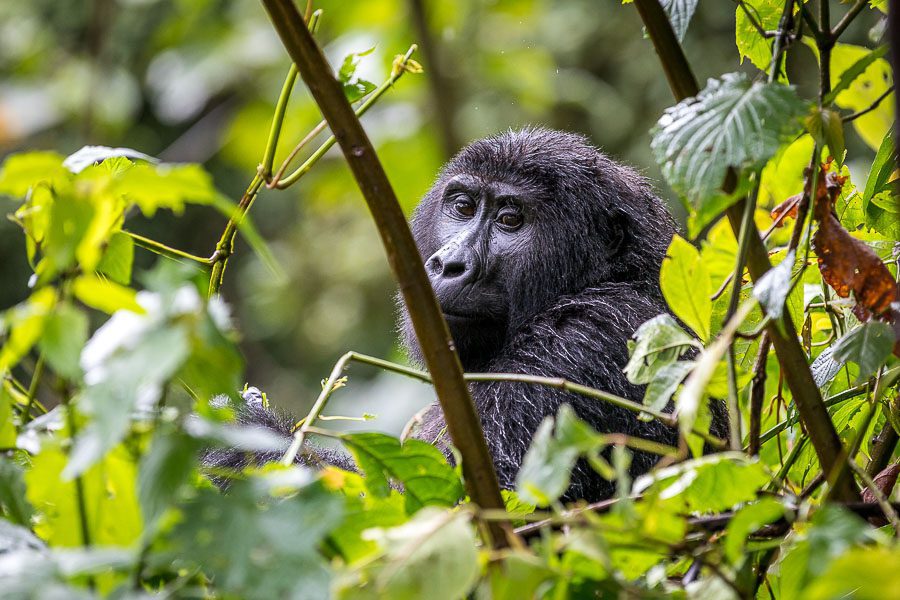 If you love sunshine, wildlife, and beautiful places without the crowds, you can't beat Uganda for your next winter holiday destination. While Europe and North America are grey and frosty, in Uganda you'll find temperatures settled nicely in the high 20s, with plenty of sunshine and dry weather (rainy seasons are September to November and March to May).
Uganda is most famous for its wildlife, especially the chance to go gorilla trekking and spend time in close proximity to the critically endangered mountain gorillas. But the country also has ten national parks teeming with other wildlife, such as chimpanzees, rare shoebill storks, tree-climbing lions, hippos, giraffes and more.
If adventure is more your thing, Uganda also boasts plenty of mountains, providing opportunities for climbing in the snow-capped Rwenzori Mountains or hiking in Mount Elgon National Park. And for adrenalin junkies there's always the River Nile, which starts at Lake Victoria the south of the country and foams and froths its way north, providing plenty of chances for white-water rafting and other river sports.
When you've had enough of the great outdoors head to Kampala, which may be famed for its traffic but is also known as the 'party capital of East Africa', which plenty of bars, clubs and restaurants like Mexican favourite Que Pasa and the French-inspired 'Bistro'.
Cape Town, South Africa
Contributed by Katja of Wander Cape Town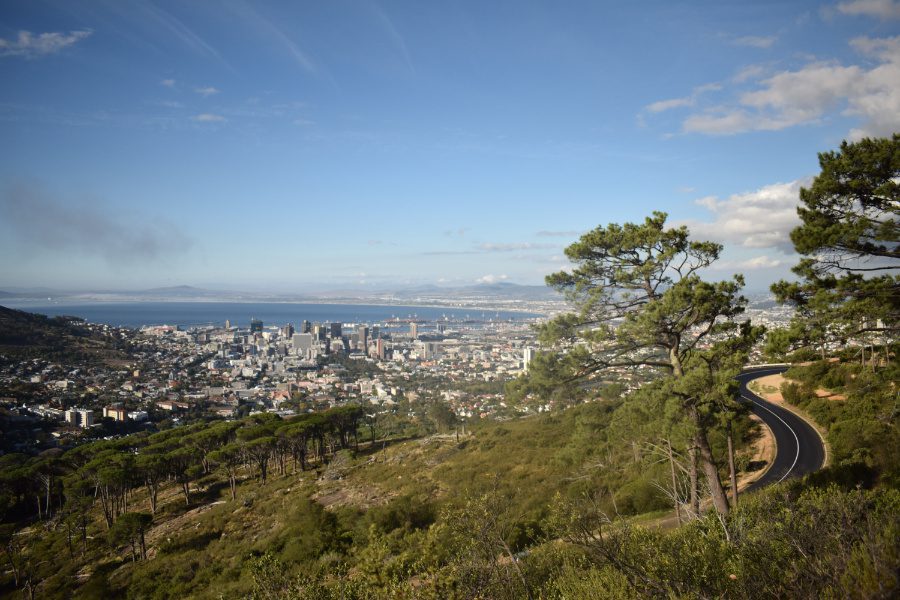 Cape Town is an incredible winter destination, whether you're visiting in the Northern or the Southern's Hemisphere's wintertime! This city sits at the Southern tip of Africa and has a temperate climate, so it never gets too chilly. It's also a city surrounded by nature, so a trip here can include hiking or biking amongst the unique biosphere of Table Mountain, snorkelling through rich marine life, and enjoying some of the best beaches and surf in the world! It's an adventure destination, ideal for those looking for a break from an indoor winter.
Cape Town has a pretty international food culture, with a huge variety of restaurants and coffee shops. Some top recommendations for local cuisine, though, are Pahari African Restaurant, and Hemelhuijs. And if you're more interested in vegan or health food, you can pop by Scheckter's Raw in the lovely coastal neighbourhood of Sea Point.
This city's historic spaces are mostly found in the centre, with colonial buildings that now house museums and galleries. While these aren't as well-funded as many European museums, they're valuable places to learn about the country's complex and difficult history of colonialism and apartheid, but also about its contemporary artists and changemakers.
Marrakech, Morocco
Contributed by Stephanie from The Unknown Enthusiast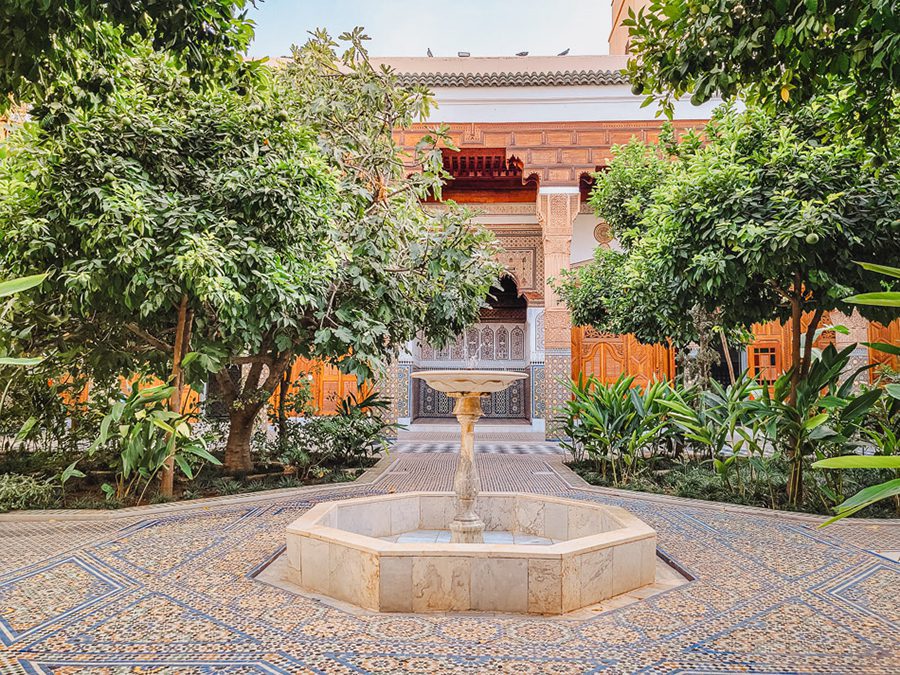 Marrakech, Morocco is the perfect place for a winter sun getaway. With average January highs still in the mid-60's, it's a great place to escape the cold.
Marrakech has many beautiful palaces, tombs, and gardens to explore. Head to the Bahia Palace or the Musee Dar El Bacha for some absolutely mind-blowing mosaics and tilework. Bahia is much bigger, very grand, and very famous, with many rooms and gardens to walk through and explore. Dar Bacha is much smaller and less well-known, but no less grand, with a beautiful courtyard featuring a fountain and exotic plants, intricate columns, and interesting little rooms and alcoves.
The Jardin Majorelle and the Jardin Secret are both visually appealing and relaxing gardens. The Jardin Secret has olive trees galore, an intricate gazebo, and columns and draped curtains, giving it an air of regalness. In contrast, the Jardin Majorelle is full of exotic plants like bamboo and cacti. Most notably, the walls and structures are painted a striking blue, with yellow accents throughout.
Of course, you can't come to Marrakech without experiencing the bustling streets. There are always lots of people out walking, cars and taxis zooming by, scooters weaving in and out, and even cart-pulling donkeys trucking along.
Hit up the souks (markets) to shop colourful ceramics, hand-crafted leather goods, spices, teapots, lanterns, wooden boxes, kaftans and scarves, and many other enticing wares.
When you're hungry, I recommend Cafe dar Touareg. The food was delicious and reasonably priced, and the rooftop terrace was colourful and cute.
With all the sites, sounds, and places to explore in Marrakech, you won't be lacking in things to do or experience during your sunny winter break in this enticing Moroccan city!
Winter Sun Destinations Asia
Phuket, Thailand
Contributed by Pete from The Backpacking Family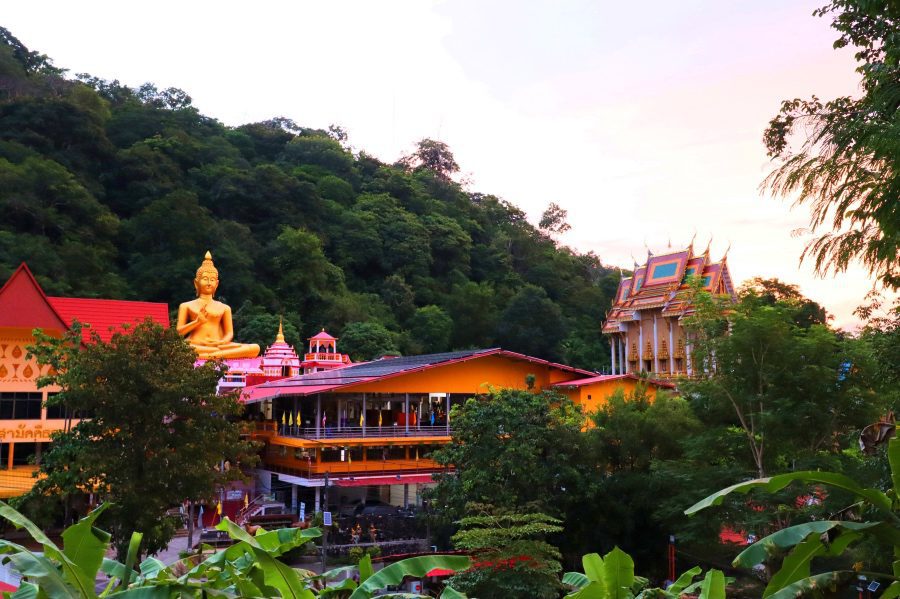 Need a little more sun, sea and sand in your life? Consider a visit to Phuket this winter for amazing food, friendly locals, tropical beauty and great prices. Situated in the southwest of Thailand, Phuket is packed with epic activities for travellers of all styles.
Take an island tour of the Phang Nga national bay, including the famous James Bond island. Trek to amazing viewpoints and waterfalls. The Big Buddha is the most prominent and well-known viewpoint. The Black Rock viewpoint is a hidden gem. Snorkel around the reef on Kata bay or just chill out at Banana beach, a quiet secluded jungle beach. If you love a good waterpark Blue Tree is now open and offering great promo prices.
If you love immersing yourself in culture – don't miss Wat Chalong (the oldest and most prestigious temple in Phuket) and take a stroll around the Phuket Old Town with its colourful colonial buildings and boutique coffee shops. Phuket also has some amazing opportunities for ethical animal encounters. Don't miss the Elephant Jungle Sanctuary.
Amazing restaurants in Phuket include: The Three Monkeys canopy restaurant, the stunning Khao Rang Breeze restaurant (a great spot for seeing wild Macaque monkeys) and don't miss the Kalim Rimlay seafood BBQ – amazing fresh seafood for super cheap local prices.
Finally, exciting news – Thailand has just opened up a quarantine free "Test and Go" scheme for fully vaccinated travellers from 63 low-risk countries. Check out this amazing up to date one week Phuket holiday itinerary.
Bali, Indonesia
Contributed by Larch from The Silver Nomad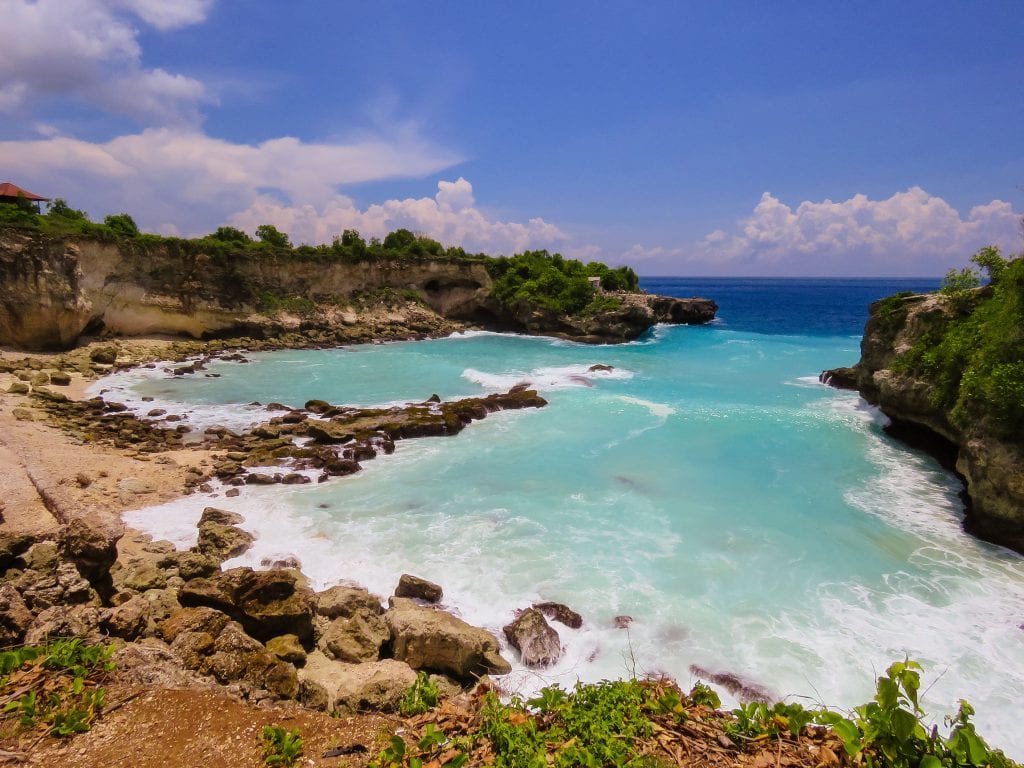 The most well-known of all the 17,000 Indonesian islands is Bali, the island of the Gods. With year round sun, it is the ideal place to spend get some winter sun in Asia.
Although between November and March is the rainy season in Bali, it shouldn't put you off from going. It tends to rain for only a few hours, then the sun comes out again.
Hire a driver or a scooter and explore the island. Take in the many waterfalls in the middle of the island. Make an early start to climb to the top of Mount Batur for glorious sunrise view. Go to the Wanagiri Hidden Hill for Instagram opportunities.
With a predominatly Hindu community, there are many temples to visit including Tanah Lot, Goa Gajah, Ulun Danu Beratan Temple or Uluwatu Temple. Don't forget to cover your shoulders and possibly your legs out of respect. Many of the temples offer sarongs for hire for a few hundred rupiah.
Take a boat trip over to one of the islands just off the coast. Nusa Lembongan, Nusa Penida and the Gilli islands are all a short boat ride away from the main island and spend a few days relaxing on the beaches, snorkelling or paddleboarding.
The food in Bali is amazing. Drop into a warung for delicious nasi goreng, ayam goreng or gado-gado with peanut sauce. While you are there, why not try a Bali Cooking Class?
If the south of Bali becomes too busy for you, head up to the north of Bali for a more laid-back, authentic holiday.
Meghalya, India
Contributed by Joydeep from The Gypsy Chiring
Meghalaya, the abode of clouds, is a state in the northeast part of India. It is famous for its unique cultures, caves, waterfalls, lakes, natural pools and nature-friendly practices. The wettest place on earth – Mawsynram is also in Meghalaya. The Discover India Magazine declared Mawlynnong Village of Meghalaya as the 'Cleanest Village in Asia'. Khasi, Garo and Jaintia are the major ethnic groups of the state.
To get an insight into the beautiful culture of Meghalaya attend the Shad Suk Mynsiem and Nongkrem Festival of the Khasis, Wangala festival of the Garos, Shad Sukra and Behdeinkhlam Festival of the Jaintias.
Experience the genuine nature-human relationship by visiting the Living Root Bridges which are built with the roots of rubber trees by the Khasis of Meghalaya. While there are many, do not miss the Double Decker Living Root Bridge at Cherrapunji and the single-decker root bridge at Mawlynnong.
For adventure enthusiasts, Dawki, Cherrapunji, David Scott trail, Nongriat, Mawlyngbna, Mawryngkhang are favourable destinations for kayaking, ziplining, snorkelling, camping and hiking activities.
Explore the waterfalls and blue natural pools of Krangsuri, Seven Sisters Falls, Phe Phe Falls, Nohkalikai, Elephant Falls among others. Meghalaya also has a number of scenic and adventurous caves such as Mawsmai, Arwah, Mawmluh and Krem Liat.
The Kiang Nongbah Monument, the Um-Nyakanah megalithic bridge and the Nartiang Megalithic site depict the rich history and prehistory of Meghalaya.
In Shillong, the capital city of Meghalaya, the Groove Eatery, Dejavu Restaurant, the hut, the Grub Cafe, ML 05 Café serves Indian, Asian, Chinese and continental dishes. For a traditional Khasi meal, visit Jadoh located at Laimu point of the town.
Winter Sun in The Caribbean
Curacao
Contributed by Elena from The Carry-On Chronicles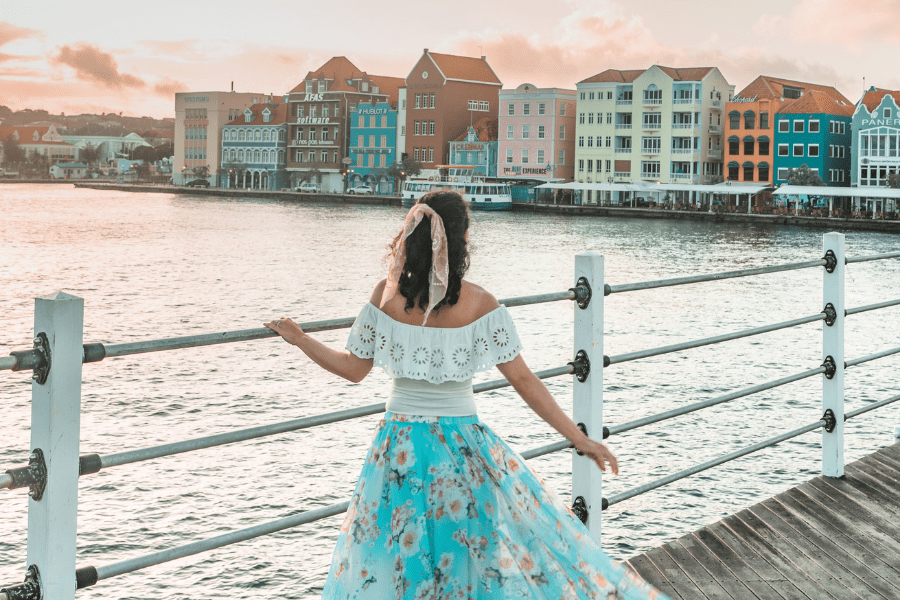 Those looking to shake off winter's chill and bask in the sun's warm glow will find their happy place in Curacao. From turquoise beaches to outdoor adventure, to salt flats housing precious pink flamingos, this Dutch Caribbean island is the perfect escape from the everyday.
Visitors can enjoy a wide range of offerings in this semi-arid tropical paradise, whether kicking back on one of the island's 30+ beaches or taking an invigorating hike up to Christoffel National Park. Thalassophiles, in particular, will easily fall head over heels for Curacao, which is home to some of the best snorkelling spots in the Caribbean. In addition, the island is the perfect jumping-off point for a day trip to neighbouring island paradise Klein Curacao, located around 15 miles off the coast.
Alternatively, those looking to experience island life on land can enjoy a visit to Landhuis Chobolobo to learn about the birthplace of Curacao liqueur and sample the different varieties. In addition, the island's capital city of Willemstad is another popular tourist draw.
This UNESCO-world heritage site features vibrant Dutch colonial architecture and the famous Queen Emma Bridge, a moving pontoon bridge that serves as a main thoroughfare into the heart of the city. Here, visitors can enjoy a fresh meal at BijBlauw, a trendy seaside restaurant with dishes as enticing as the turquoise views.
Antigua
Contributed by Larch from The Silver Nomad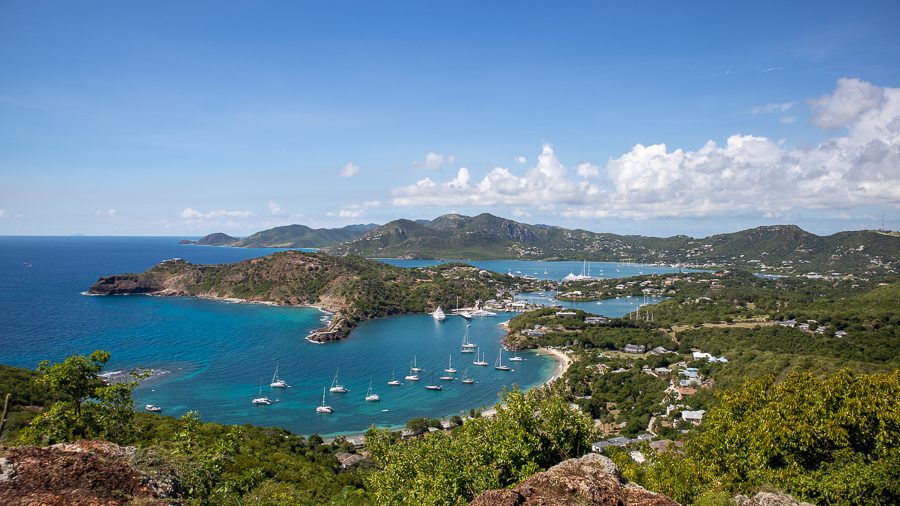 Travelling to the Caribbean is the perfect antidote to a cold winter. With Antigua and Barbuda, you get two islands to choose from. The two islands that make up Antigua and Barbuda are quite different.
Antigua is the larger of the two islands and has an international airport.
If you love beaches, Antigua has 365 beaches to enjoy! Yes, one for each day of the year. Long stretches of white sand to relax on and plenty of watersports to take part in.
Many of the hotels in Antigua are all-inclusive and you don't need to venture out. It would be a shame however to miss things like the UNESCO site of Nelson's Dockyard or The Antigua Museum in St Johns.
Take a trip up to Shirley Heights for stunning views over English and Falmouth Harbours. On a clear day you can also see the nearby islands of Guadeloupe and Montserrat. On Sunday's between 4 pm and 10 pm, Shirley Heights comes alive with barbeques, steel drum bands, dancing and singing, a treat not to be missed!
You can arrange a tour around the island with the United Taxi Company based in St Johns or take to the sea on a catamaran tour with Tropical Adventures.
Barbuda
Contributed by Larch from The Silver Nomad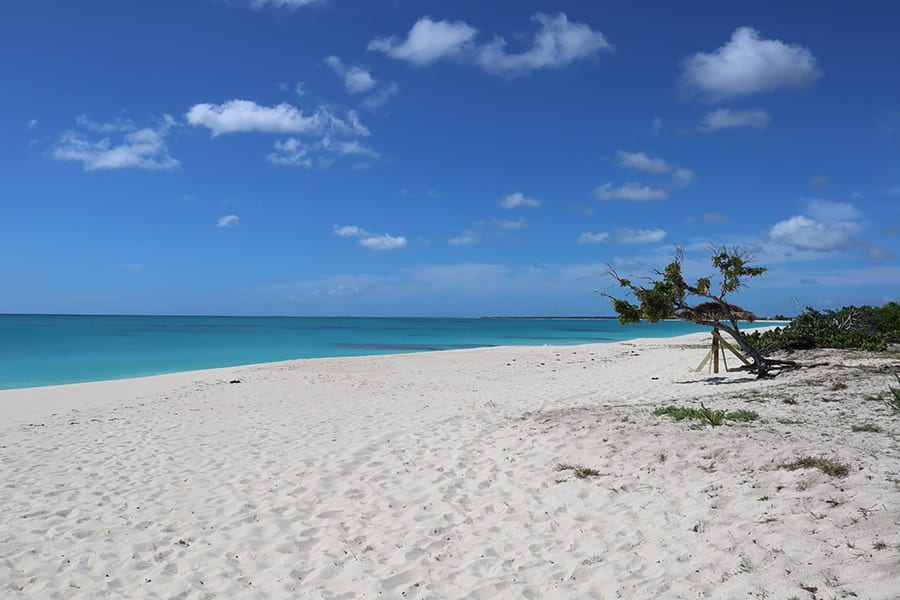 The smaller island of Barbuda is a short 90-minute boat ride away from Antigua.
Barbuda is quiet, peaceful and very beautiful. With long luscious white beaches tinged with pink, Barbuda is an idyllic place to get some winter sun.
Although devastated by hurricane Irma in 2017, Barbuda is recovering and rebuilding itself and has many things to do. Try snorkelling, kayaking or kitesurfing in the turquoise waters. Take a boat trip out fishing or visit the Frigate Bird sanctuary to see the birds puff up their bright red gullets.
A trip to Princess Diana Beach is a must. The long white beach is very quiet and is perfect for lapping up the winter rays!
For nature lovers, hike to Darby Sinkhole, explore the caves at Two Foot Bay and take a walk over Spanish Point.
There is a choice of places to stay on Barbuda, from the luxurious Barbuda Belle to the chilled out eco-cabin at Frangipani Glamping.
Dominican Republic
Contributed by Chris from Punta Cana Travel Blog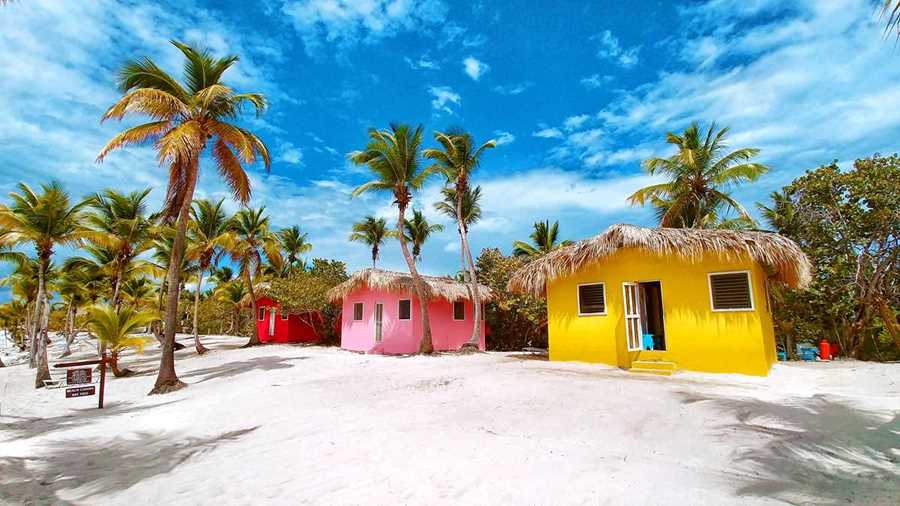 Punta Cana in the Dominican Republic is the perfect bucket list destination for getting a lot of sun and Caribbean vibes during winter. There are direct flights from various airports in the UK (mainly London, Manchester and Birmingham) and the Dominican Republic is a stable country during Covid-19 without any travel or quarantine restrictions since autumn 2020.
When looking for a place to stay, you can either book a comfortable all-inclusive resort or choose one of the thousands of Airbnbs or luxury villas in the area. Even all-inclusive tourism is dominant in Punta Cana, you can also find plenty of local and international restaurants, especially in the areas of Corales, Cortecito and Downtown Bavaro.
Once in the Dominican Republic, there are plenty of excursions and tours in Punta Cana you can participate in. Among the most popular activities are ziplining, dune buggy tours and catamaran excursions. If you'd like to explore the natural beauty of the country, the paradisiacal Isla Saona is a must and if you are a wildlife lover, you should head to Los Haitises National Park. For culture and history buffs, Santo Domingo is a must-visit. All those places are a maximum of 2-3 hours away from Punta Cana.
In case a resort holiday is not what you are looking for, don't worry. The Dominican Republic has many adventures waiting for you as well. Explore more than 50 waterfalls, dozens of pristine beaches, cute fishing villages, gigantic mountains and spectacular landscapes – with the largest diversity of the entire Caribbean. In this case, all those places are best explored on a self-drive tour through the country.
Winter Sun in North & South America
Ulvita, Costa Rica
Contributed by Sarah from Costa Rica Vibes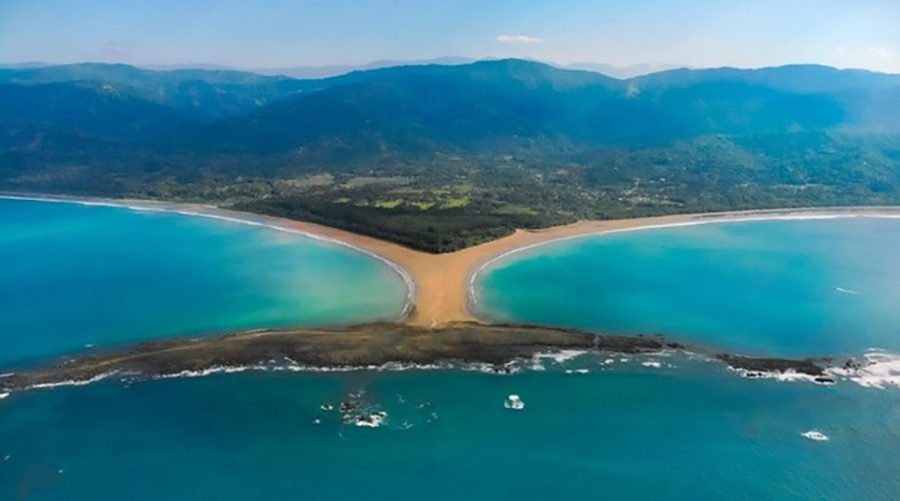 The Pacific Coast beach town of Uvita, Costa Rica is an idyllic sunny destination when looking to escape the cold this winter. From mid-December until late April, Costa Rica experiences its peak dry season. This means that there is no rain and the daytime temperature is usually around 28°C (82°F).
Uvita is most famous for its impressive whale tail phenomenon that is visible during low tide. During this time of day, it is possible to see a jutted out piece of land on the white sand Uvita beach which resembles a large tail of a whale.
It is possible to walk the pristine Uvita beach out to the whales tail, but the best way to view this is from one of the resorts located in the dense hilly jungle above Uvita with panoramic Pacific coast views.
Other fun things to do in the area include; sliding down the small Uvita waterfall, visiting the wildlife-filled Manuel Antonio National Park just north of Uvita, trying out surfing with an experienced instructor, and spending a day beach hopping.
The best restaurants in the area are Los Laureles (the owner welcomes everyone like family) and Sabor Espanol (for delicious Spanish inspired cuisine with fresh seafood).
Make sure to pack plenty of sunscreen for daytime and bug spray for the evening. The UV index is high here due to the close proximity to the Equator and when the sun sets at 18:00 the mosquitos come out in full force.
Ceará, Brazil
Contributed by Larch from The Silver Nomad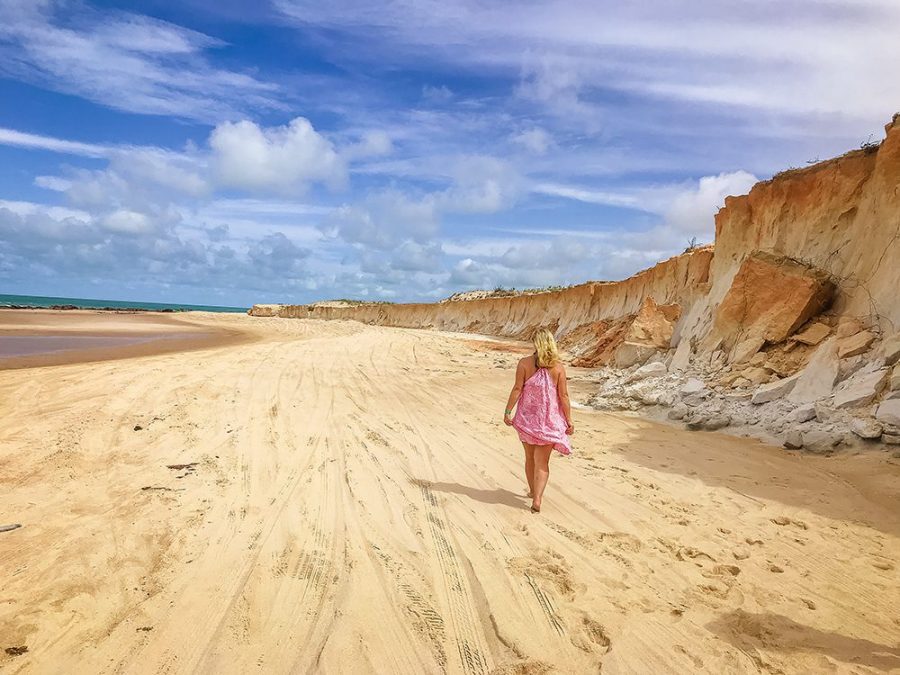 Ceará in the northeast of Brazil has long sandy beaches, plenty to do and see and, of course, lots of winter sun.
Start off in the capital of the state, Fortaleza. Apart from the beaches, make sure you visit the Mercado Central de Fortaleza for clothes, Brazillian foods and leather goods.
In the evenings head to Pirata in Rua dos Tabajaras for drinks, some food and great dancing!
If you want to explore Ceará more, take a drive down to Aracati. The nearby beach, Canoa Quebrada, is stunning. With red-topped cliffs and a long, long beach, it is perfect to chill out on.
If you want some adventure, a dune buggy ride around the area. An exhilarating blast through the dunes including a stop for a zipline into a pool at the bottom of the dune.
You can also try a sail on a traditional boat, una jangada or go parascending, paddleboarding or kitesurfing along the beach.
Check out the GRAN MARQUISE HOTEL in Fortaleza
Playa del Carmen, Mexico
Contributed by Allison from Viva La Travelista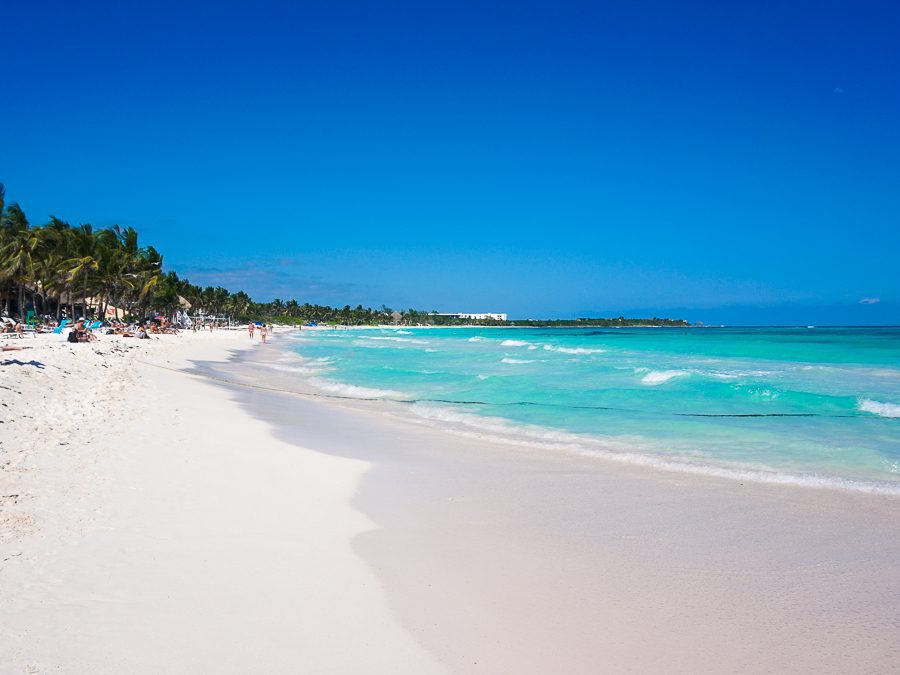 Located on Mexico's Caribbean coast, Playa del Carmen is the perfect bucket list destination for a tropical winter getaway. Originally a small fishing village, Playa del Carmen is a vibrant beach town that has developed rapidly in recent years to become one of the most visited tourist destinations in Mexico.
With tropical white sand beaches, a lively downtown area, and tons of tours and activities, Playa del Carmen is a versatile destination for a relaxing or adventurous getaway. The town is centred around Fifth Avenue ("La Quinta Avenida" in Spanish), which is a vibrant pedestrian-only street that spans more than 20 blocks, and where you'll find the majority of restaurants, bars, nightlife, and shopping.
If you're looking for a true beach break, you can easily retreat to one of the many beachfront all-inclusive resorts in Playa del Carmen or the Riviera Maya, where you can spend your days sipping frozen cocktails while relaxing at the world-renowned beaches or soaking up the sun at the expansive pools.
More adventurous activities in Playa del Carmen include snorkelling, scuba diving, catamaran sails, paddleboarding, ziplining, and numerous adventure parks. And one of the most unique experiences in the region is visiting one of the many incredible freshwater cenotes, which are hidden natural swimming holes you won't find anywhere else in the world. With so many unique and unforgettable experiences, Playa del Carmen is truly a bucket list beach destination that shouldn't be missed.
Isla Mujeres, Mexico
Contributed by Brodi from Our Offbeat Life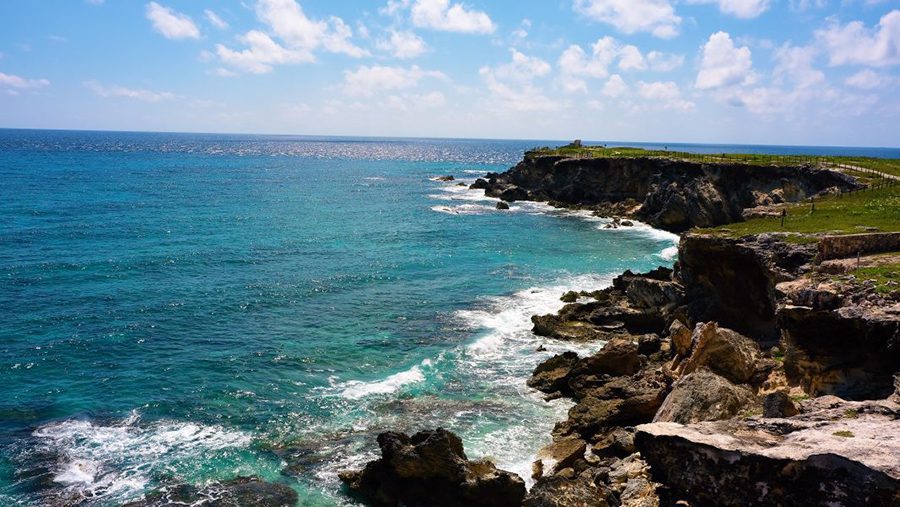 Located just 13 kilometres off the coast of Cancun, Isla Mujeres offers fun in the sun without the party vibe for which much of the Riviera Maya is known. The island's name translates to "Island of Women" after the Mayan temple to Ixchel built on the southern shore (called Punta Sur). While some people go for a day trip during their vacation in Cancun, there is plenty to do there to keep visitors busy for days on end.
From renting a golf cart to tour the 8-kilometre long island to lounging on the pristine beaches of Playa Norte (North Beach), there are activities for all types of travellers. The top-rated activities in Isla Mujeres are snorkelling at a nearby reef, visiting the Mayan ruins on Punta Sur, and eating at one of the many restaurants. Isla Mujeres has become a foodie paradise in recent years.
From burger places with artisanal horchatas and breakfast restaurants with expansive menus to microbreweries and scrumptious street food on the zocalo (town square), there is a meal for every palate and every budget. Rooster in Centro has amazing chilaquiles and baked goods.
For a small island, the challenge is not looking for things to do. The real struggle is choosing which activities and restaurants must be skipped when visitors run out of time.
Best Places for Winter Sun in Europe
Malta
Contributed by Caroline from Veggie Wayfarer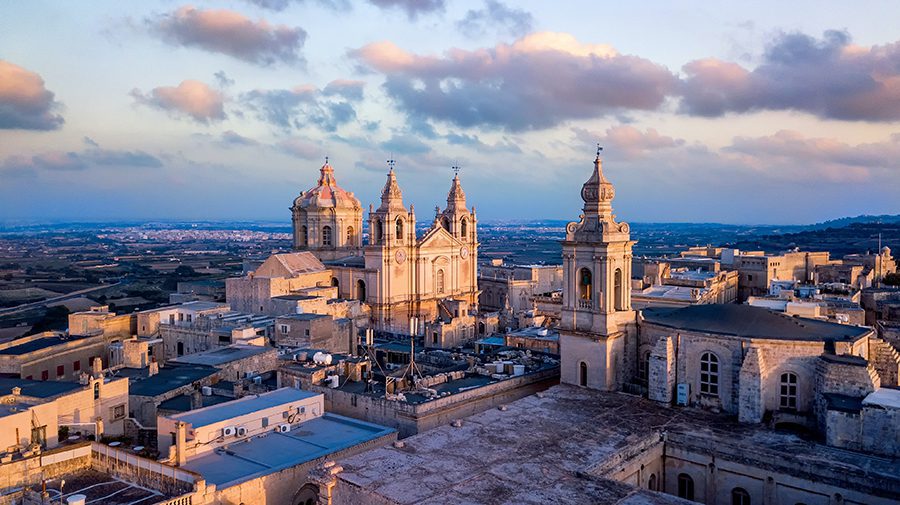 The island of Malta is the perfect winter destination in Europe. The group of three islands gets the most sun out of any place on the continent of Europe and has average winter temperatures of 17°C. In short, this means the sea does not get freezing cold in the winter, and if you are adventurous enough you could even venture a dip (although it will be far from the warm water you might associate with the summer!). On a good day, you could easily walk around in a T-shirt and a light jacket while the rest of Europe is still wearing many layers to fight off that winter cold. Vitamin D deficiency? Not possible on this sunny island.
Malta is great if you are looking for buzzing nightlife, ample restaurants and historical sites. The island was once home to the Knights of Saint John who have left their traces everywhere in the forms of churches, palaces and statues. Walk in their footsteps as you meander through the little streets of Valetta – Make sure to look up and take in all the wonderful colourful balconies dotted around the city. Be sure to leave ample room to wine and dine and try some of the vegetarian Maltese dishes on offer.
Gozo is the perfect place to get away from the crowds and to just "be". This island is a lot less visited but does boast the most elaborate church in the country. Spend a few days just relaxing with a good book or indulge in some of the island's well-known middle eastern-inspired sweets over a cup of afternoon tea. Speaking of sweets, if you want to experience a real treat head over to the market in the fisherman village of Marsaxlokk to catch a glimpse of authentic Maltese life.
Antalya, Turkey
Contributed by Haley of Haley Blackall Travels
Nestled along the central south coast of Turkey is the sunny city of Antalya. The Mediterranean city boasts mild yet sunny weather in the winter months making it a great destination to escape the winter blues, hitting a daily high of 16-18 degrees celsius. Antalya offers something for any type of traveller, from adventure to relaxation and everything in between.
Start the winter break off with a walk around the centrally located Old Town, otherwise known as Kaleiçi. The beautiful Roman ruins of Hadrian's Gate, built in 130CE can be found here along with quaint streets, lively pubs and expansive views of the neighbouring mountain range.
Stop by the ancient Roman harbour before continuing the day at the sweeping Konyaalti Beach. Either laze the day away or try your paragliding, a common recreational sport in the area especially enjoyed just before sunset. Watch the sun go down in Karaalioğlu Park before completing the day at Arma Restaurant for an incredible seafood dinner. For a glass of wine before dinner, try Karaf Bistro, or for new-age coffee, stop by The Sudd.
For chillier evenings, book either a private or public hammam experience (Turkish bath) and receive a scrub down with a traditional mitt, bubble soap massage and steam, leaving rejuvenated and refreshed.
Rome, Italy
Contributed by Linn of Brainy Backpackers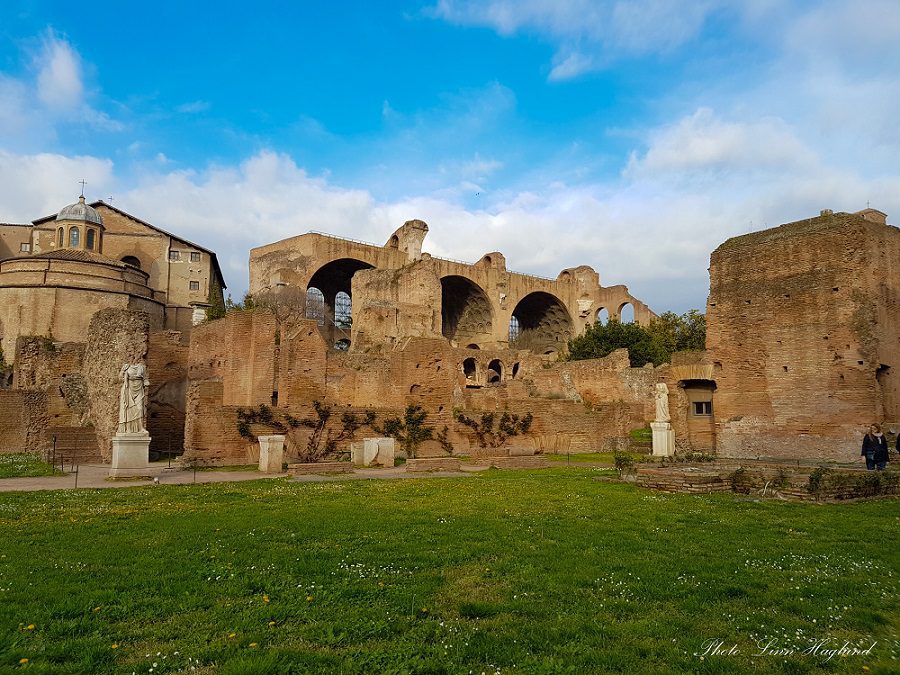 One of the most impressive cities in Europe and a great place to soak in the winter sun is Rome. With daytime temperatures ranging between 10 and 15 degrees, you need to bring your winter coat, but it always feels warmer in the sun so you can enjoy a nice stroll in Villa Borghese or have a coffee outside.
There are so many things to do in Italy's capital that you can easily fill 4 days in Rome just by exploring the main attractions. Make sure you visit the Colosseum and the Roman Forum, throw a coin into the Trevi Fountain, walk the Spanish Steps, and go window shopping in Via del Corso. The Pantheon and Piazza Navona are also must-see. Keep a whole day aside for the impressive St. Peters Church and the Vatican. Especially if you don't get a skip-the-line ticket.
While you're in Rome, you should definitely try a Pizza al Taglio, which is pizza by the slice that you pay by weight. There are a whole lot of vegetarian and vegan options too. For dinner, it is a must to eat in the hip neighbourhood of Trastevere. This is also where you find a lot of bars and a vibrant vibe at night.
Algarve, Portugal
Contributed by Larch from The Silver Nomad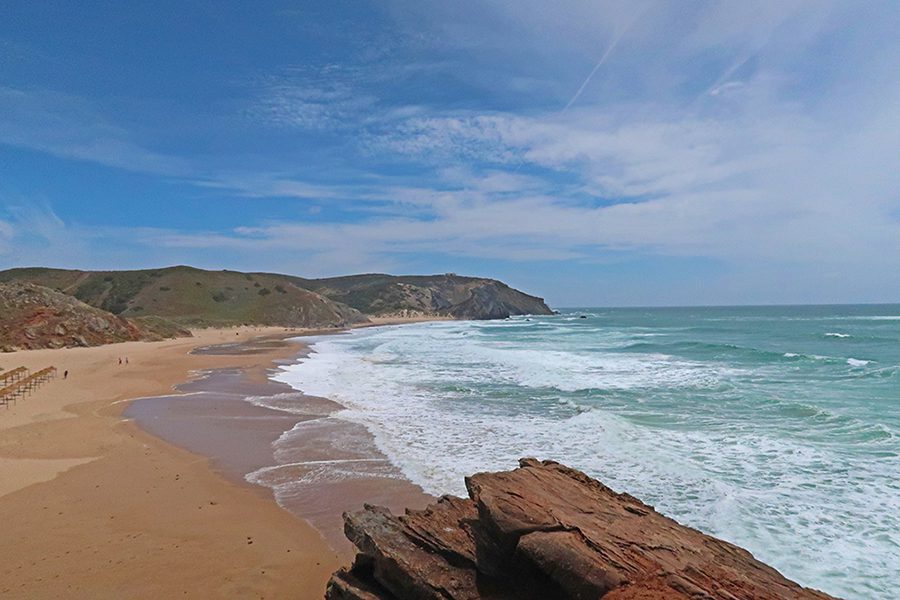 With moderate temperatures around 15-17°C, the Algarve in Portugal is perfect to get some winter sun and escape the winter chills.
The towns and villages are quieter, the restaurants are not packed and most of the tourist attractions are emptier, though check first that they are not closed.
It might not be quite warm enough to sunbathe but the balmy weather means you can still go to the beach for walks, and it is not unheard of to have a Christmas Day picnic.
For surfers, the waves tend to be better for either beginners or pro surfers. Try along the west coast to Praia da Arrifana. Paddleboarding also will find the seas calmer further east. If you are tempted to go in, don't forget a wetsuit.
If you are a golfer, the courses will be less busy and there may be discounts on tee times!
At Christmas time look out for Bolo Rei (king cake), a ringed fruit cake studded with candied fruits and with a dash of port and rum, delicious!
Marbella, Spain
Contributed by Joanna from The World in My Pocket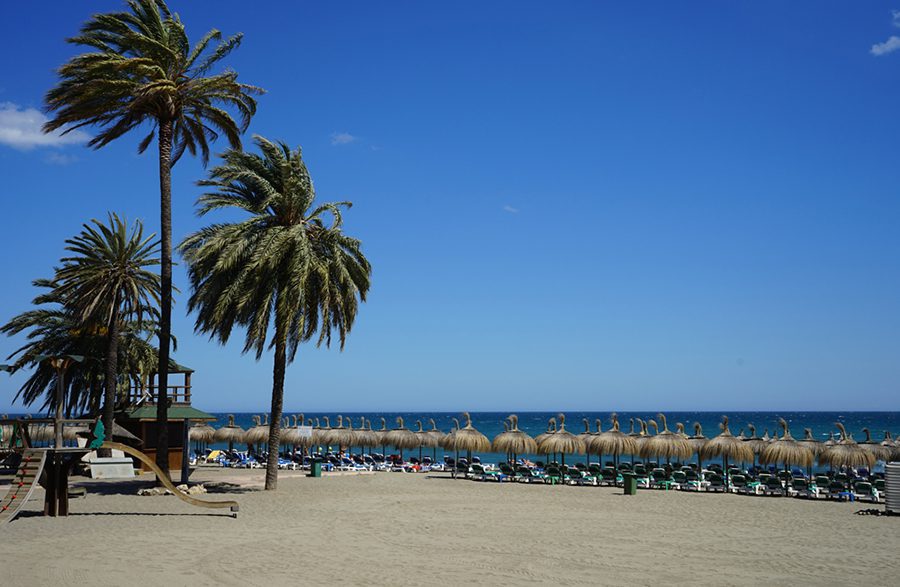 Marbella is one of the most popular winter sun destinations on Costa del Sol. Many tourists come here to escape the cold weather and enjoy sunny days and warm temperatures. The closest airport to Marbella is Malaga, located around 40-50 minutes drive away.
There are so many things to in in Marbella in winter. Whilst it may not be warm enough for sunbathing, you can still enjoy strolls along the beach or boat rides on the Mediterranean Sea. For a romantic experience, you can rent a boat and sail with your loved one at sunset.
Marbella might be known for its party scene, with many clubs and bars that attract tourists. However, Marbella old town is extremely pretty and charming, with pretty white houses decorated with flowers and narrow cobbled streets.
Winter is also a great time to come to Marbella for a golf holiday. The golf courses around Marbella are some of the most famous on Costa del Sol. Many golfers choose winter to come and play golf here because of the milder temperatures. In summer it's simply too hot.
Another great thing to do in Marbella in winter is to enjoy the local food. There are many great restaurants in Marbella that in summer are simply too overcrowded, which make the service slow. In winter you won't have this issue.
Sicily, Italy
Contributed by Samantha from The Wandering Wanderluster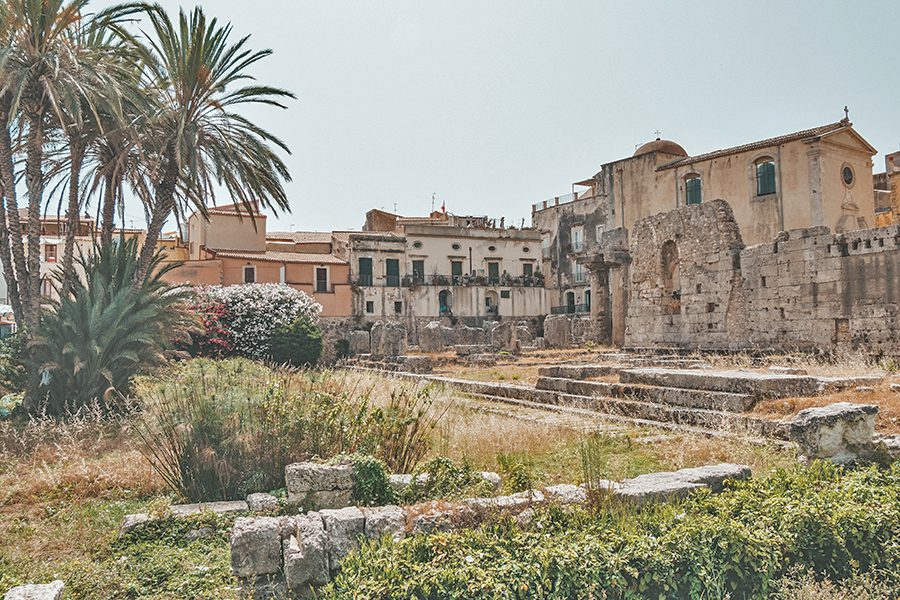 When it comes to seeking winter sun in Europe, what better destination to head to than one that perfectly combines gastronomy, wine, ancient history and beautiful architecture.
Sicily has been fortunate enough so far to have escaped mass tourism but nonetheless enjoy exploring the island's rich history and cultural sights including the Valley of the Temples in Agrigento, the Neopolis of Roman and Greek ruins in Siracusa and the charming streets and alleyways of the hilltop town of Taormina without the tourists that the height of summer often brings.
If you're brave enough, take a refreshing dip in the Ionian, Tyrrhenian or Mediterranean Sea from one of Sicily's beaches which are still occupied by sun worshippers even in the "depths of Sicilian winter" which is on average a balmy 15 degrees Celsius.
Spend time admiring the decorative buildings of the island's great Baroque cities of Catania, Noto, and Ragusa or take a detour inland and visit Scicli or the town of Caltagirone where much of Sicily's ceramics are made for an off-the-beaten-path experience. Adventure seekers will want to make time to stop by Sicily's most iconic sight, Mount Etna, where it is possible to ski on the snow-capped summit from December to March.
Those who do visit Sicily in the winter months should pay special attention to attraction and museum closures and reduced opening times and should consider that many seasonal sights, lidos and some shops will be closed during the winter.
Seville, Spain
Contributed by Becki from Meet Me in Departures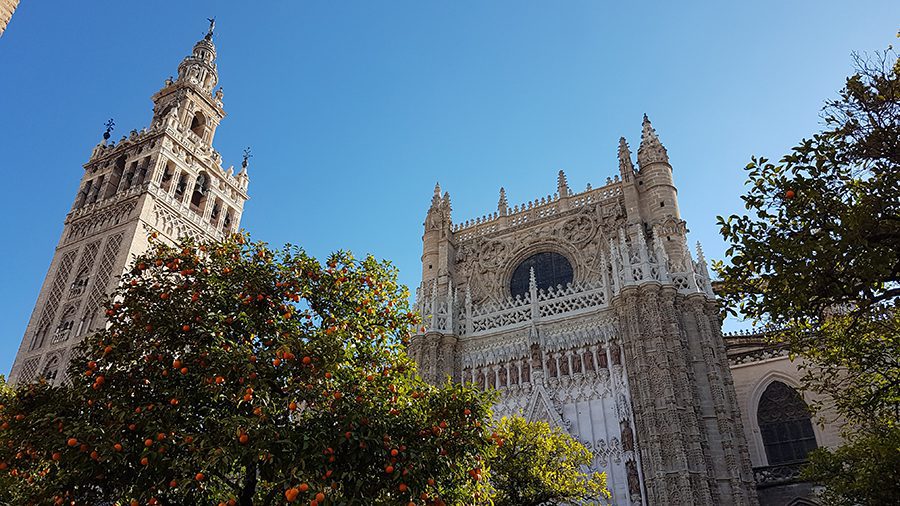 If you're looking for a sunny winter break, one of the top destinations is Seville in southern Spain. Most days you'll be blessed with sunshine! In the evenings during December and January, it does get cool (down to about 10-12 degrees), however, temperatures during the daytime reach the 20s and are certainly worthy of t-shirt weather. It can be difficult to know how to dress, so do what the locals do, and opt for layers of clothing. It's refreshing to escape from the dull and damp weather in northern Europe.
If you're visiting between December and January, you'll also see all of the orange trees bearing their fruit! The colourful trees, against the bright blue skies, give for a vibrant backdrop. As tempting as the oranges look, don't be tempted to eat them. They are incredibly sour so instead are harvested to make Marmalade.
There are plenty of things to see in Seville, and certainly enough for a short break. Some of the must-see attractions are the Alcazar, Giralda and Seville Cathedral as well as wandering around the ancient historical centre. This part of the city has UNESCO Heritage status and wandering around, you'll feel like you've stepped back in time. You'll find numerous quaint and traditional eating places here, each serving different tapas. Other places worthy of visiting are Plaza de España and neighbouring Maria Luisa park.
If you're in Seville during the festive season, then head along Avenue de la Constitucion and on to Plaza de San Francisco and Plaza Nueva where you'll find pop-up Christmas stalls, vendors selling freshly roasted chestnuts, and the ginormous city Christmas tree.
Rhodes, Greece
Contributed by Alice from Adventures of Alice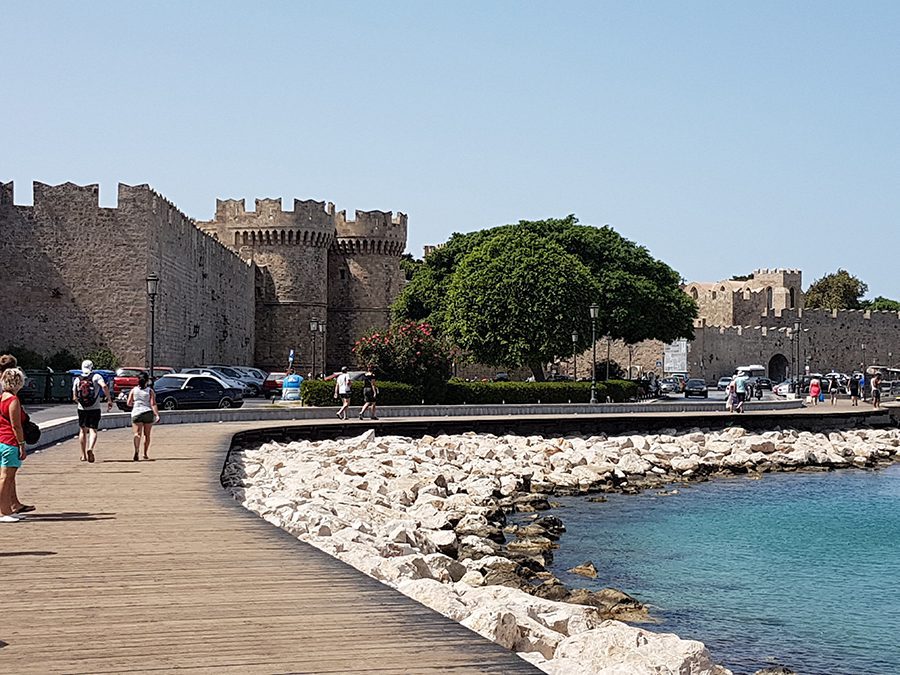 Rhodes is an amazing Greek destination and the largest of the Dodecanese Islands. It is most commonly known for its stunning beach resorts and ancient ruins. It even features the medieval Street of The Nights.
The things to do in Rhodes are endless. Usually, in the summer months, the beaches are packed with tourists sunbathing. But, during the colder months, you get to explore other areas of Rhodes that you wouldn't usually, and see Rhodes from a completely different perspective. For example, climb the steep hill to the top of the Acropolis of Lindos and you'll see the winter views of the City from 116 metres above.
You can also visit some attractions which are popular all year round, like the historic old town, which was declared as a World Heritage City by UNESCO in 1988.
Another option is to visit the Palace of The Grand Master – one of the best historical sites in Rhodes. Previously a citadel, it now stands as a museum filled with Gothic architecture.
In the winter, Rhodes stays a bit warmer than mainland Greece, with low temperatures reaching about 9 – 11 degrees. However, this isn't a place that's immune from a bit of rain during the winter months, so ensure you pack accordingly.
San Sebastian, Spain
Contributed by Alexander from Travel Your Memories
If you are looking for a city where you can enjoy a lot of culture and coast, San Sebastian is for you. The average temperature in San Sebastian is 12 °C in winter, which makes it a perfect temperature to be active.
There is a lot to see in San Sebastian. The historic centre is the area that you need to visit when you are in San Sebastian. The small streets, many pintxos bars, and imposing churches and squares make this a great area to wander through.
It is also very nice to walk from the historic centre to the mountain Monte Igueldo. This walk is one of the best hikes you can do in San Sebastian because the sea on one side and the old building on the other side makes it a great environment to walk through.
At Monte Igueldo you can reach the top via a cable car to have an impressive view over the bay of San Sebastian. In addition to the view, there is also an amusement park for children which makes it a great place for families to visit.
San Sebastian is also known for its pintxos bars, one of the best places is Bodega Donostiarra. This place is located in Gros which is the working-class neighbourhood of San Sebastian. This bar serves traditional pintxos that are affordable for everyone. Since 1928 they give the opportunity to everyone to enjoy Basque food. Definitely, a place you want to visit!
Barcelona, Spain
Contributed by Vicki from Vicki Viaja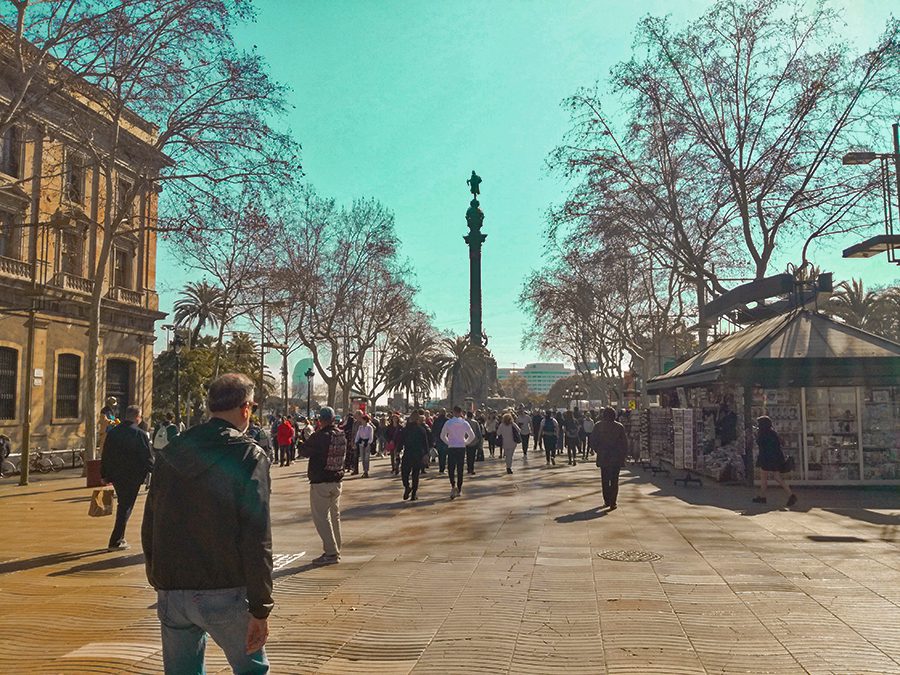 Barcelona may not be the warmest destination in winter. Still, the Catalan capital is definitely one of the sunniest places in Europe during the winter months and, therefore, a fantastic destination to visit in the cold season.
In summer, as in winter, a visit to the beach is one of the must-dos in Barcelona. Although the water is too cold for swimming in winter, you can take a long walk along the beach promenade. Afterwards, you can head to one of the many cafes or restaurants and enjoy a cold beer or some delicious Spanish tapas while you gaze out over the Mediterranean Sea.
Of course, you should not miss the most important sights in Barcelona. Especially the Sagrada Familia is considered one of the most significant highlights. Designed by architect Antoni Gaudí, the building is still under construction after more than a hundred years. Despite everything, you can already visit the extraordinary exterior facade and the spectacular interior of the basilica.
If you're in town in December, be sure to check out the small Christmas market in the park across from the Sagrada family. Following some Catalan Christmas traditions, you can buy some typical Christmas decorations and festive souvenirs here.
If you visit Barcelona during the winter months, you'll also quickly notice that there are usually far fewer tourists around at this time of year, which makes sightseeing even more pleasant and affordable.
Best Places for Winter Sun in Australia
Exmouth
Contributed by Natalie & Steve from Curious Campers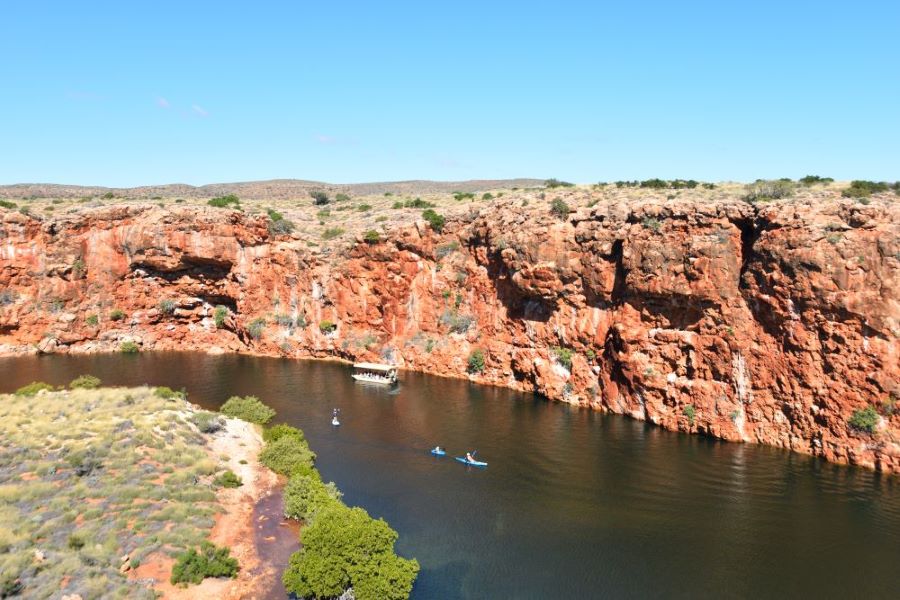 Exmouth is 1200 km from Perth on the Northwest coast of Western Australia. It is the perfect winter destination; not only do you escape the cold, but it is also the best time to visit this remarkable part of the world. Exmouth is a great base for snorkelling and cruising on Ningaloo Reef and exploring Cape Range National Park's canyons and gorges. The town is also steeped in military history.
Getting to Ningaloo Reef is on many bucket lists. It is so close to shore that swimmers of all abilities can enjoy the diverse range of marine life that calls Ningaloo home. Turquoise Bay and the Oyster Stacks are just a couple of reefs you can snorkel on right from the beach. One of the most popular reef activities is swimming with the whale sharks that migrate to the area between May and September.
Exmouth is on the doorstep of Cape Range National Park. Go for a cruise at Yardie Creek, walk through Mandu Mandu Gorge or drive to Thomas Carter Lookout for views over the range out to the ocean. In late winter, the park is also a great place to spot wildflowers.
From Exmouth's earliest days, the military has strongly shaped the town's history. Get an appreciation of this at the Krait and Potshot Memorial on the out
If you like this content or want to come back to it later, please use one of the pins below