Before I visited, I tried to check out places to stay in Barbuda and was frustrated that accommodation listing sites always put Antigua and Barbuda together. It was difficult to find information on accommodation for just Barbuda so after my visit in November, I would like to recommend the following places.
Table of Contents
---
*This site uses affiliate links and I may earn a small commission when you use my links and make a purchase without incurring an additional fee yourself.
Thank you for supporting this website. See my disclaimer page for more details.
---
Why visit Barbuda?
Surrounded by the beautiful turquoise waters of both the Caribbean Sea and the Atlantic Ocean, and with long pink and white sandy beaches, Barbuda is an idyllic place to spend your holidays. You can relax on the beach, swim in the sea, hike through the Two Foot Bay National Park, fish, birdwatch, kayak or paddleboard, or just hang out with the locals.
After being devastated by Hurricane Irma in 2017, Barbuda was closed to tourists. In 2019, it opened its doors to visitors and guests again.
The Holiday Season
The holiday season on Barbuda is from November through to June. Most places are closed for the hurricane season from July to October.
READ MORE: Barbuda – What you Need to Know Before You Go
Places to stay in Barbuda: Hotels
Currently, there are only two hotels open on the island:
Barbuda Belle Resort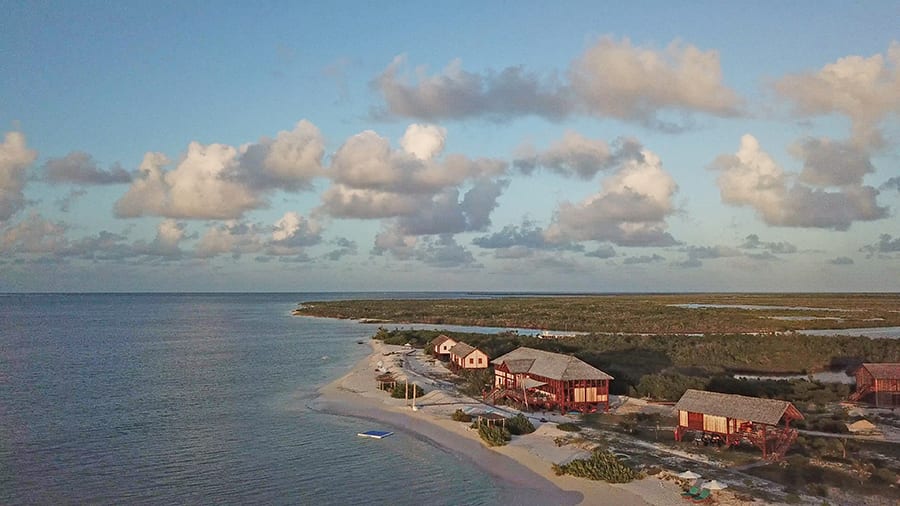 For the ultimate luxury on the island, head to the Barbuda Belle Resort. After a short trip on the private speed boat, the long pink and white sandy beach of Barbuda Belle comes into view.
Barbuda Belle is a boutique resort with eight private stilted bungalows spread along the beach facing the sea. The bungalows have a balcony with views of the sea and the mangroves in Codrington Lagoon Park.
Each bungalow is elegant and simply decorated. A king-sized bed with crisp white linen and mosquito nets, chairs for chilling and taking in the view, tea and coffee making facilities and an ensuite bathroom with a large walk-in shower, L'Occitane toiletries all make it an inviting and relaxing place to be.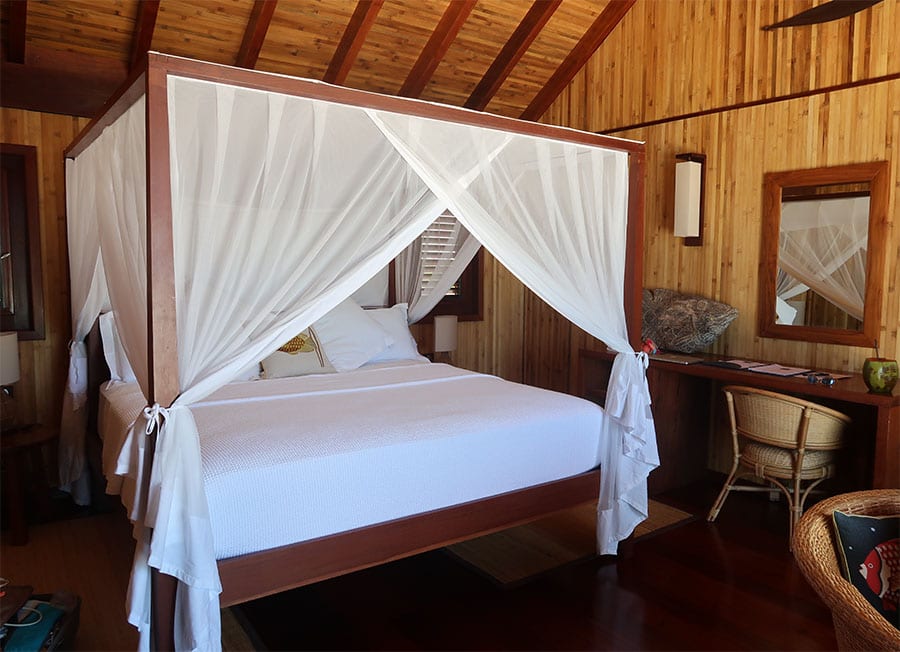 The bungalows are spread out so that you feel as if you are in your own private paradise as you lie your sunbed under your parasol. For the more active, you can snorkel, kayak or use one of the stand-up paddleboards – like a paddleboard, but with peddles!
If you are in the mood for some pampering, the spa is a short walk from your bungalow. L'Occitane products are used to soothe, cleanse and tone and make you feel amazing.
Breakfast and lunch are served on the verandah of the Clubhouse, while dinner is served in the Mangrove restaurant inside. The à-la-carte menu devised by the French chef with locally sourced ingredients featuring fresh fish and seafood.
Check out the Barbuda Belle website to make a booking.
READ MORE: Review of the Barbuda Belle Resort
Barbuda Cottages
Spread along the white sand beach, Barbuda Cottages pastel-coloured stilted cottages offers an oasis of calm with soft tones of furnishings and bedding.
Each cottage is self-contained and has a fully-equipped open plan kitchen and lounge. The bedroom with large comfortable beds with mosquito nets curtaining the bed. Next door is the en-suite with a toilet, sink and shower.
Meals can be taken out on the balcony while watching the amazing sunsets. Or take a walk down to Uncle Roddys Restaurant for some delicious seafood.
Have a look at the Barbuda Cottages Website for more information.
Places to stay in Barbuda: Glamping
Frangipani Glamping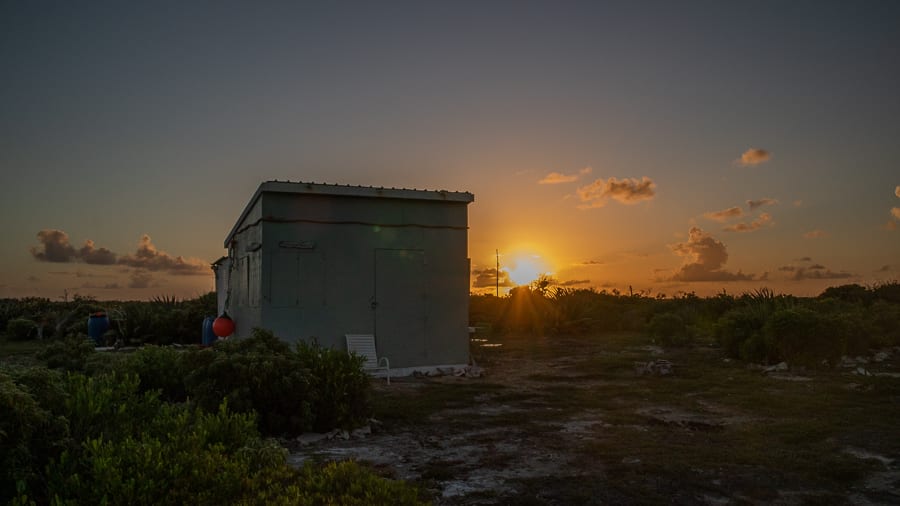 For an almost complete digital detox, head over the east coast and Frangipani Glamping. About 20 minutes outside of Codrington, you are in the middle of nowhere with nature and the sea for company, and the occasional wild donkey!
Run by sisters Asha and Afiya, Frangipani Glamping is the ultimate place to chill out. The cabin is run on solar power with an outdoor shower and toilet. At night solar lights twinkle in the dark.
The beach at Frangipani Glamping is long, white and empty and the Atlantic Ocean laps on the shore. On the beach 'Baz's Beach Shack' has kayaks and snorkelling gear to go and test the waters. There are also some lobster pots and fishing rods if you fancy catching dinner.
At the back of the cabin is an open-air kitchen where you can make tea or coffee and cook your meals. The other option is to use the BBQ, maybe to barbeque the fish you have caught.
You can hang out on hammocks, sit under the trees or watch the sea from Tommy Hill. Actually, this is about the only place you can get phone reception, 3G or 4G if you just can't resist!
Book Frangipani Glamping on their website
READ MORE: Review of Frangipani Glamping, Barbuda
Places to stay in Barbuda: Guest Houses
Most of the guesthouses on Barbuda are in Codrington. Codrington is the only town on the island and the eating places, shops and bars are all within walking distance.
Timbuk One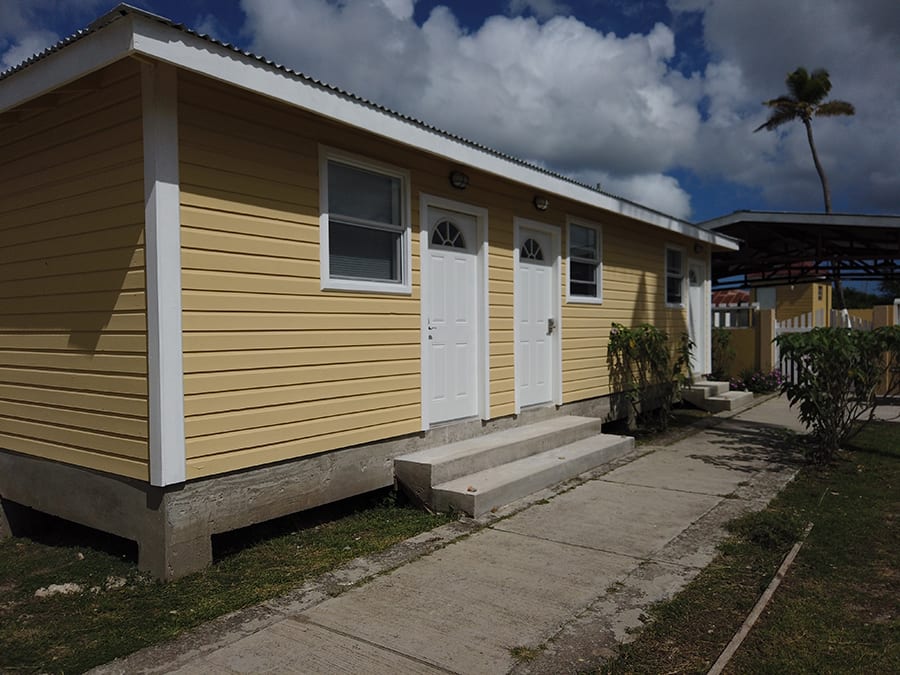 Timbuk One is in central Codrington and has 3 individual double en-suite rooms as well as 7 hostel-style rooms. They are expanding and are converting some shipping containers into accommodation.
Meals are available at the Timbuk One restaurant next door.
Island Chalet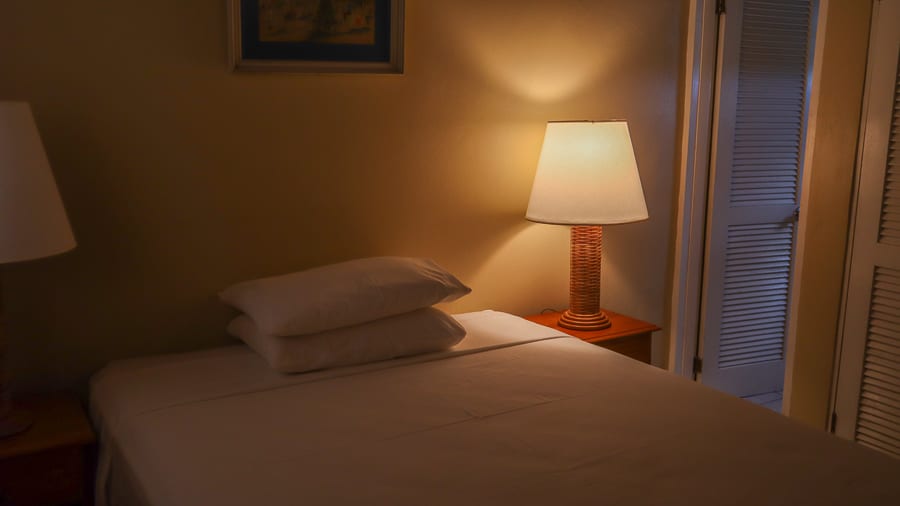 The lavender painted outside of the Island Chalets stands out in Codrington. There are four double en-suite rooms with fans to keep you cool.
There is a fully-equipped kitchen, guest lounge and balcony overlooking Madison Square where you can watch the world go by.
To book call (268) 460-0065
Gerald's Place
Currently, only two rooms at Gerald's Place are available. They are simple rooms with a single bed, fridge and sink to wash your dishes. There is also a bathroom with a toilet and shower.
A fan will keep you cool at night and a small balcony to sit out on and enjoy the peace and quiet. At the moment there is no internet connection.
To book call (0268) 772 0932
---
I'm so glad you've chosen to find out more about places to stay in Barbuda. If you have any questions or wish to share accounts of your own Barbuda adventures, please leave me a comment below!
Don't forget to pin this article so you can come back to it later