With the rising trend of people giving up eating all animal products, the number of vegan restaurants in Europe and around the world has grown. Plant-based menus have become more interesting, and colourful – no more plates of boring brown sludge. Vegan pizza, sushi, burgers, vegan junk food are all available now.
But how do you know where they are? I asked some of my blogging friends for their recommendations for vegan restaurants around Europe:
---
*This site uses affiliate links and I may earn a small commission when you use my links and make a purchase without incurring an additional fee yourself.
Thank you for supporting this website. See my disclaimer page for more details.
---
Fabulous Vegan Restaurants in Europe
Vegan Junk Food Bar, Amsterdam, The Netherlands
Recommended by Samantha from Sam Sees World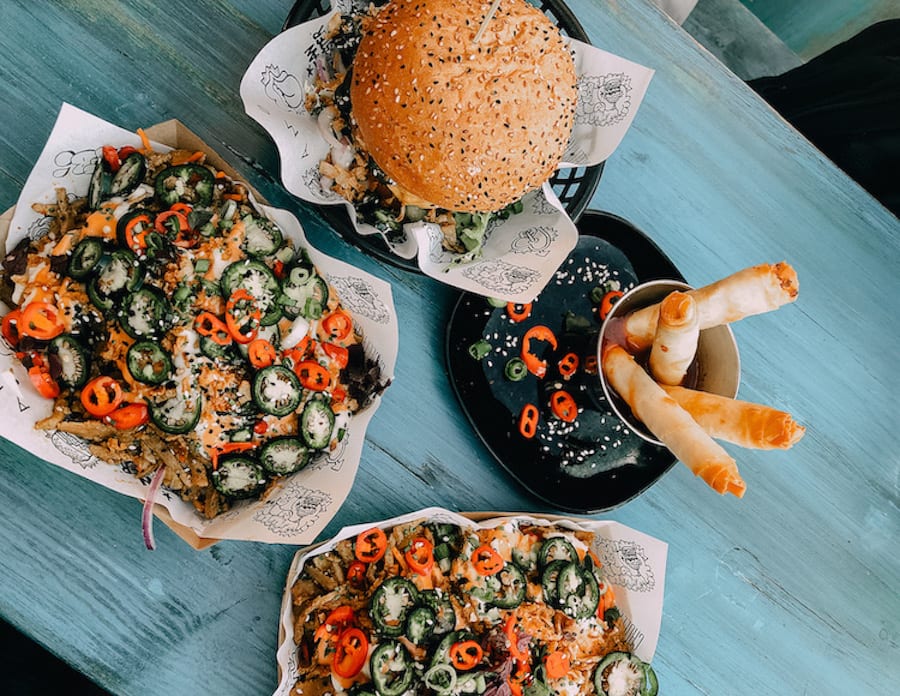 Amsterdam is an amazing city that is packed with vegan restaurants. In every area of the city, you find vegan restaurants with offerings of breakfast, lunch, dinner, and desserts. Although there are a ton of delicious restaurants to choose from, the Vegan Junk Food Bar stands out amongst the rest.
The Vegan Junk Food Bar is essentially exactly as it sounds – a vegan restaurant that serves "junk food" styled dishes. It is the perfect place to go if you are looking to get that unhealthy food fix that is still vegan and cruelty-free! Some dishes you can find here are classics like hamburgers, hot dogs, and loaded fries. But there are also some very unique and innovative dishes they serve such as sashimi, shrimp, calamari rings, and more! The food all looks amazing as well, it is super vibrant and makes your mouth water just by looking at it.
Beyond the delicious food, they also serve amazing cocktails and other drinks. This makes it the perfect place to head for lunch with friends to enjoy amazing food drinks and company. It also helps that the interior is all spray painted with sayings like "cruelty fee" "go vegan" and looks super hip!
Mono, Glasgow, Scotland
Recommended by Kathi from Watch Me See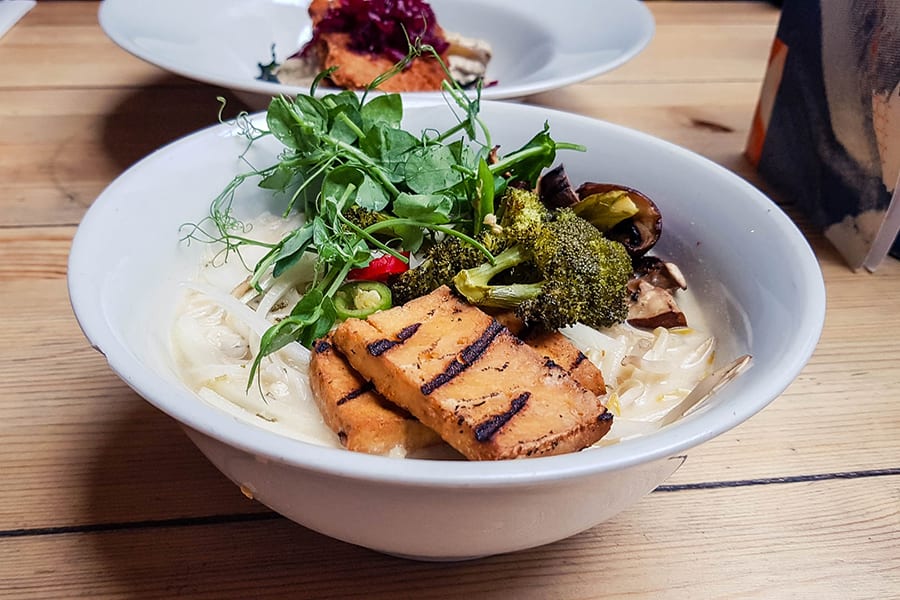 Mono is a vegan institution in Glasgow – to say the least. Opened in 2002, it was the first fully plant-based restaurant in a city that is now known as one of the most vegan-friendly cities in the UK.
The menu is very varied and includes vegan takes on Scottish classics, such as to-fish & chips or Mac & Cheese. No need to miss out on traditional Scottish food!
You will also find a few healthy options – different kinds of salads – and more delicious comfort foods. The sourdough pizzas are particularly popular – my favourite is the one with "sausage" and fennel.
There are always a few specials on the menu and if you have any space left – the desserts are delightful! I recommend the affogato for a sweet, sweet pick-me-up.
As a bar and restaurant, Mono is very casual – perfect for a boozy Sunday brunch as well as a first date. There is a small record shop called Monorail within the same premises, and a regular music programme bringing bands from all over to the venue.
Even though there are now many other vegan restaurants in Glasgow, Mono is still one of the most iconic, and a must-eat place to include on any vegan foodie trip to Scotland.
Romeow Cat Bistro, Rome, Italy
Recommended by Angela from Chasing the Unexpected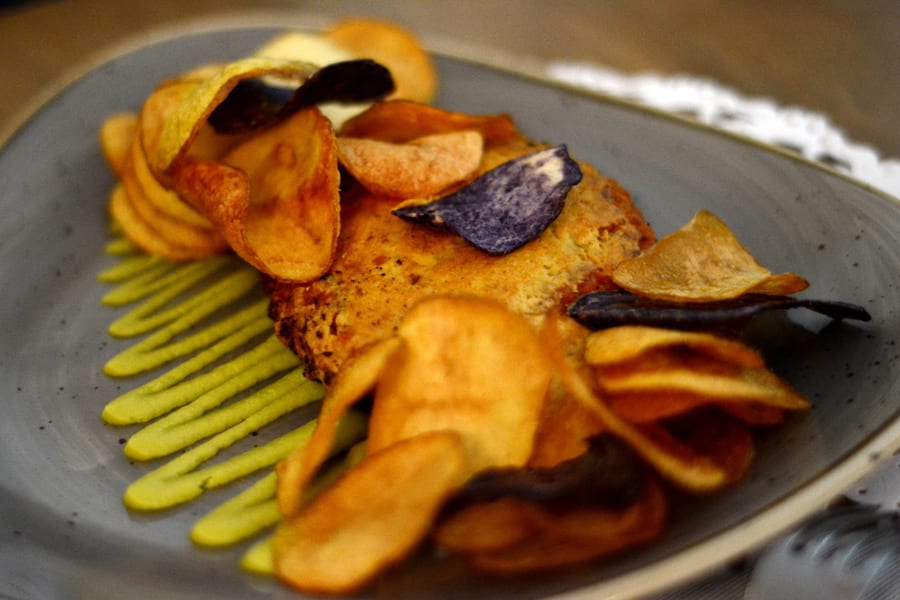 One of the best vegan restaurants in Rome, Romeow Cat Bistrot (Via Francesco Negri 15) is one of my favourite eateries in the Ostiense neighbourhood. Inspired by the Japanese tradition of cat cafes, Romeow's visitors can enjoy their delicious meal in the company of six lovely cats the owners rescued from a local cat shelter.
On the menu, the recipes change every season and sometimes a few times a month, all depending on the seasonality of the ingredients.
We have been several times and tried pretty much all the options on the menu, from the appetisers to the soups to the first and main courses. Prices are not the cheapest, but the dishes are creative and beautifully composed. You will find Italian as well as international recipes from all Continents with treats such as Indian malai kofta, Greek tzatziki, Middle Eastern falafel, Japanese ramen and some very Italian fares like carbonara, Sardinian fregola pasta and others all in their vegan version.
At Romeow's you can also find a great choice of desserts, cakes and pastries. In the afternoon until 8 pm it's a coffee shop, so you can enjoy a nice break with sweets and freshly-made smoothies and juices.
Open daily except Monday, this is a very popular restaurant so for both lunch and dinner booking is mandatory.
YOU MIGHT LIKE: Awesome Vegan Restaurants Around the World
Souls, Copenhagen Denmark
Recommended by Derek & Mike from Blog: Everything Copenhagen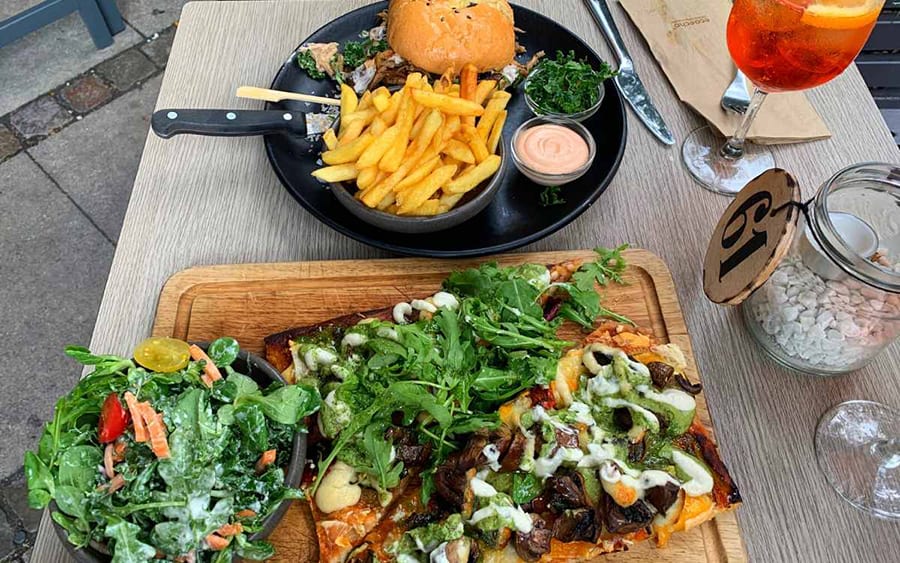 Most people don't think of Denmark as being a food destination, and probably not at all a vegan food city. That, however, is a mistake because Copenhagen restaurants are among the best in the world. The food scene is thriving and vegan eats are a huge part of Copenhagen's culinary scene.
The cuisine in Denmark is more commonly known as New Nordic. It's a style of cooking that relies on a seasonal menu that changes as local food sources are available. This means the menu is constantly changing and ingredients are fresh and local. The influence is perfect for vegan restaurants, and Souls is one of the best examples.
Souls is one of the best vegan restaurants in Copenhagen and they've recently opened a second location because it's so popular. Their menu solely vegan and is international fusion. It's international foods that holds true to the freshness of Denmark's New Nordic concept. The farm to table ingredients keep guests happy and one of their most popular dishes is the cauliflower pizza.
Souls also has a fantastic brunch served on weekends. Their motto is eat like you give a fork, and besides the play on words, it's one they live up to. Their menu is designed to encourage sustainability, which is a universally popular concept in Copenhagen. It's impossible not to notice the efforts to build a sustainable future in Copenhagen which is one reason why the vegan food scene is growing and Souls is a delicious part of that!
Hank Pizza, Paris, France
Recommended by Sophie from Solo Sophie
Though French cuisine may be best-known for its cheese heavy dishes and number of meat platters, the capital city of Paris has a surprising and invigorating foodie scene for those looking to explore Paris' foodie scene via a plant-based diet. And hands down, one of the best places in town is that of HANK Pizza. The sister restaurant to HANK Burger (a vegan burger bar), HANK actually stands for 'Have a Nice Karma'.
Located in Le Marais district of the city, an area filled with chic cafés, historic museums, and medieval mansion houses, the restaurant has been in operation since early 2017. Serving pizza by the slice, there are a few crowd favourites on the menu, including one option which comprises of the increasingly popular 'beyond meat' with several accompaniments.
The best value for money for both lunch and dinner is if you opt to purchase one of the 'formules,' whereby you'll get a drink, snack (I highly recommend the chunky wedges with the vegan mayonnaise) and two pieces of pizza (portions are pretty hearty and filling) for €13. With 'Le grand' menu at €15, you get two sides (a dessert and a savoury side), as well as two slices of pizza, and a drink.
V Rev Vegan Diner, Manchester, England
Recommended by Claire from Curious Clare
In recent years it has become a lot easier to find good vegan food in the UK with many mainstream restaurants offering vegan alternatives plus more and more vegan restaurants popping up all over the country. One of my favourite vegan restaurants in the UK has to be V Rev Diner in Manchester. Located in the city's popular Northern Quarter this is one not to miss if you're visiting Manchester.
Like any diner you visit they have all the standard dishes you'd expect to see, just with no animals harmed in the process. At V Rev you'll find lots of burger options, hot dogs, mac & cheese, pancakes, hot wings, and a load more delicious diner food options.
What I like about V Rev Vegan Diner, apart from their delicious menu, is that they are a company that cares about our environment. They don't cook with any animal products, won't buy products made using materials like silk, leather, etc and they recycle as much as possible to try and reduce their carbon footprint.
Purezza, London, England
Recommended by Mansoureh from Travel with Mansoureh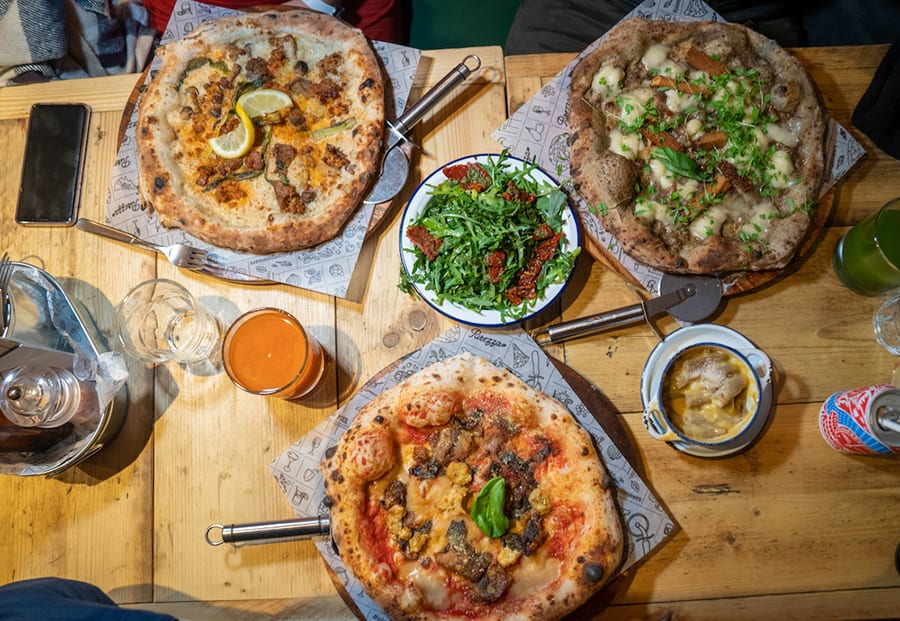 Finding a good vegan Italian Pizza is always a challenge but not in London, if you go to Purezza, which is the first vegan pizzeria in the UK, you can find the restaurant in the busy area of Camdon Town in the capital of England.
Here is where everyone loves the taste of vegan pizza, even if they are not vegan because the cheese is so creamy and tastier than normal Italian mozzarella. They produce their vegan cheese in their own laboratory using Italian brown rice. This means their vegan cheese has less fat and calories compared to mozzarella.
If you want to taste their cheese better you should order the Mac and Cheese for the starter. You won't be disappointed or even feel guilty after eating a lot.
The speciality of this restaurant is not only vegan Pizza but gluten-free food. You can find a wide range of gluten-free dishes on the menu, including gluten-free sourdough pizzas, pasta and delicious raw food.
The environment of the restaurant is so lovely and you feel cosy. The staff are so helpful and they try to give information about each food you order patiently. It is better to book your table before heading there, especially during weekends.
YOU MIGHT LIKE: Vegan Restaurants in the UK
OmNam, Helsinki, Finland
Recommended by Rai from A Rai of Light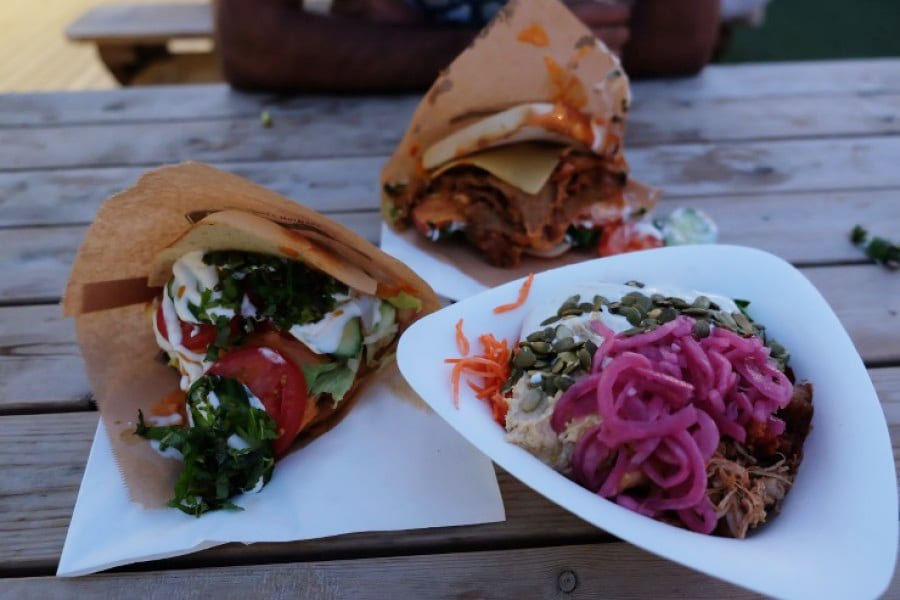 Tucked away in a small courtyard, OmNam is an unpretentious and cosy vegan restaurant that prides itself on farm-fresh local ingredients. It makes for a great stop to fuel up in between sightseeing in the city and provides a tasty insight into the food of Finland.
They offer a tasting menu or the option to order a la carte offering a wide variety of versatile, fresh, and tasty vegan food served from lunch to dinner. The menu, inspired by a variety of cuisines includes roasted vegetables, tofu burgers, and lentil balls, just to name a few. For dessert, the carrot cake is always a winner and is a must-try. The cosy atmosphere is matched with extensive service, with the staff being very knowledgeable on the food items and are happy to recommend great choices.
Highly recommended if you're interested in new flavours and experiences that are sure to leave you feeling satisfied.
La Libelula Vegan Café, Fuengirola, Spain
Recommended by Linn from Brainy Backpackers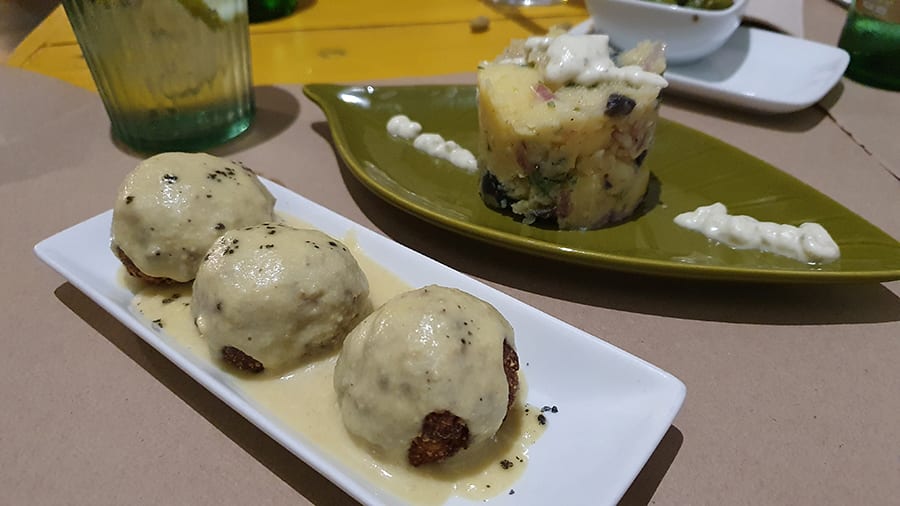 Nestled in the back streets of Fuengirola, far from the busy paseo and tourist concentration in the city centre, you find one of the most amazing vegan restaurants in Spain. La Libelula Vegan Café offers homemade organic vegan food in a cosy environment.
The girls that run it have been constantly working to improve their service as they cater to a highly environmentally conscious group of regular guests. It didn't take long before plastic straws were removed, and now you have to pay extra if you don't bring your own takeaway container if you can't dine in.
Further, they support small, local businesses that have an environmental focus and sometimes sell organic vegan chocolate or organic vegan shampoo bars from local entrepreneurs. Don't be surprised if there are paintings or photos for sale of local artists hanging on the wall. These girls support local.
And the food! The food is from another world! Not only vegans come back here time after time! My friend even brought her dad there which was super-sceptical to anything vegan. He ended the meal by saying "I would like to come back here!"
On the menu, you find anything from Homemade vegan burgers to fresh salads. Every day they have a delicious tapas menu in addition to the fixed menu. We are in Spain, after all! My top pick from La Libelula are the kebab and the moussaka. And the cakes! ALL the cakes!
La Libelula has summer and winter opening hours, and you can find them updated on their Facebook page. This gem is only a day trip from Malaga and so worth the trip!
daTerra Baixa, Porto, Portugal
Recommended by Helen from Helen on her Holidays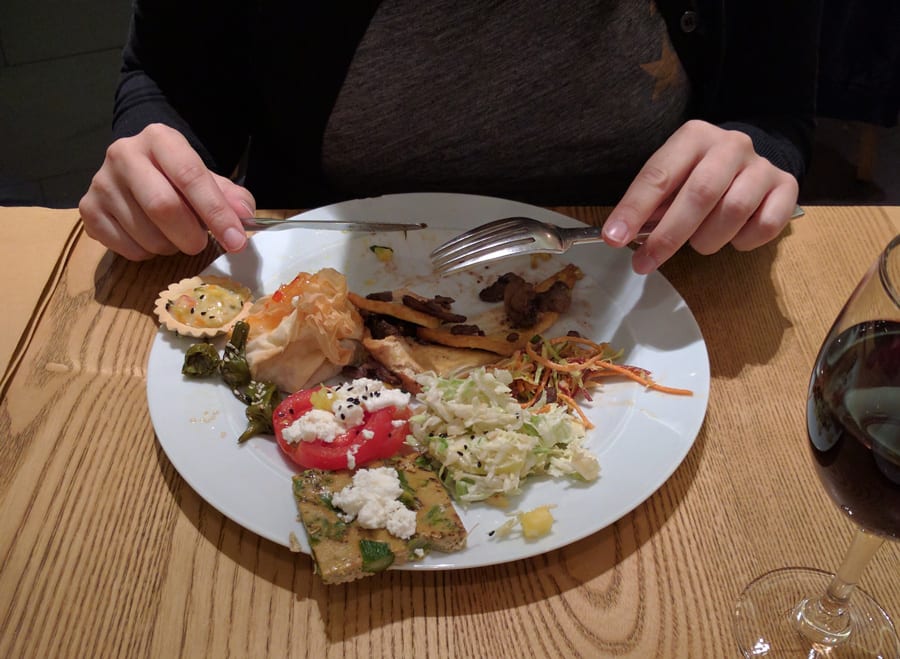 Porto can be a difficult city to be vegan or even vegetarian. The city's signature dish, the Francesinha, is a very un-vegan-friendly combination of cheese and meat, while vegan options on menus are few and far between.
Luckily for vegans visiting Porto, the daTerra chain of restaurants are ready to come to your rescue in the most delicious way possible. There are now seven outlets in the Porto area, up from just two when I visited only a couple of years ago. DaTerra Baixa is probably the most conveniently located for visitors to Porto, but all the branches serve fresh, healthy-ish and interesting vegan food. There are a few vegetarian options, but around three-quarters of their offering is vegan.
The best thing about daTerra is the buffets. If you've been travelling as a vegan for a while, you might be familiar with finding that one restaurant with a vegan option and eating there several times. Repetitive, right? At daTerra you could eat there for every meal and always have something different. Rather than having a menu, each lunchtime and evening they have a buffet with different choices each day. For instance, today you could have a buffet of lentil dahl, coriander tofu, and cauliflower and sweet potato bhuna for lunch, then return for dinner and have seitan with orange sauce and dates, and spinach and mushroom strudel, followed by black bean and banana puddings.
The menu changes every day, and because it's a buffet you can try a little bit of everything. The atmosphere is relaxed but classy, and it attracts a crowd of both locals and visitors.
Legumi Sushi, Lisbon, Portugal
Recommended by Wendy Werneth of The Nomadic Vegan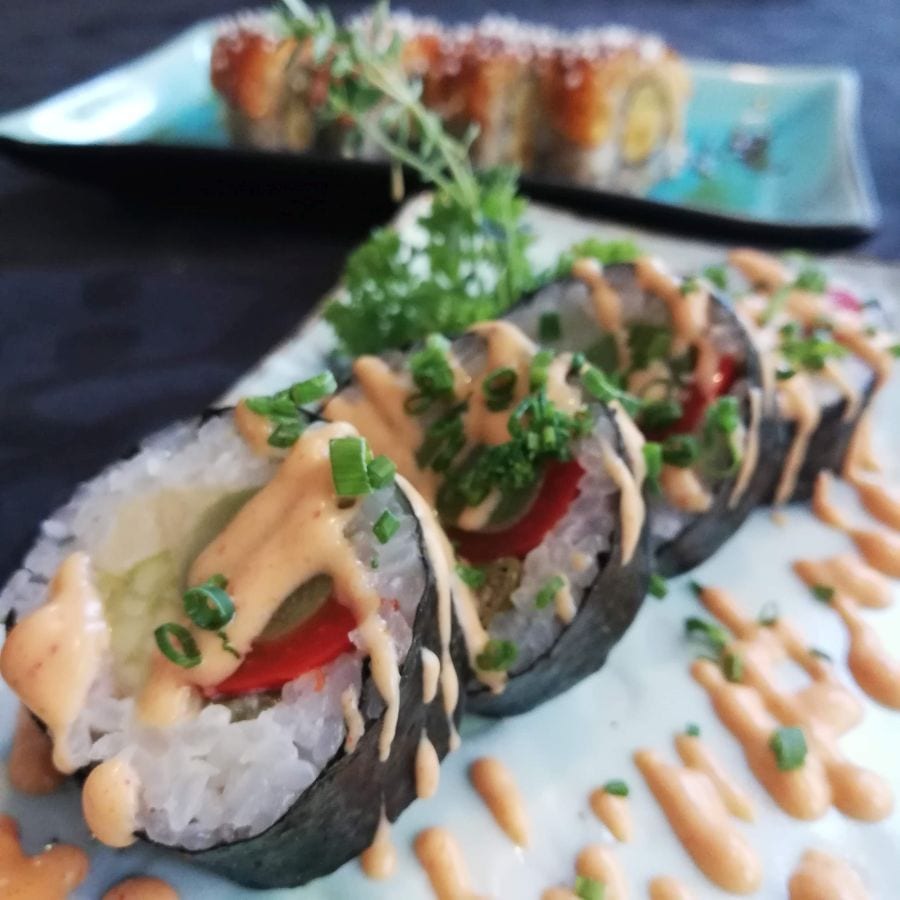 While most sushi restaurants will have a few vegan options, they tend to be pretty simple, such as avocado rolls or cucumber rolls. What makes Legumi special is that the sushi rolls here are all incredibly creative and are also 100% vegan! It's a small, intimate restaurant that's perfect for a date or to celebrate a special occasion. And with the Miradouro da Nossa Senhora do Monte viewpoint just up the street, you could combine a romantic dinner at Legumi with a trip to the viewpoint to watch the sunset.
Legumi is run by a Brazilian chef who really knows his sushi. In my experience travelling in both Japan and Brazil, I've actually found the latter to be even better for sushi, especially if you're looking for vegan or vegetarian sushi rolls. The large Japanese community in São Paulo and other Brazilian cities has led to a thriving sushi scene, and now the owners of Legumi have brought this expert sushi know-how to Portugal! If you only have time to visit one vegan restaurant in Lisbon, Legumi would be an excellent choice.
To really get the full experience, I recommend ordering the tasting menu. It's an all-you-can-eat option, and the chef will keep bringing out different sushi rolls, each more beautiful and more creative than the last. They also have a wine list that's guaranteed to be vegan, which is unusual in Portugal, as vegan wines are generally not labelled as such.
Hiltl, Zurich, Switzerland
Recommended by Vanda from The Yogi Wanderer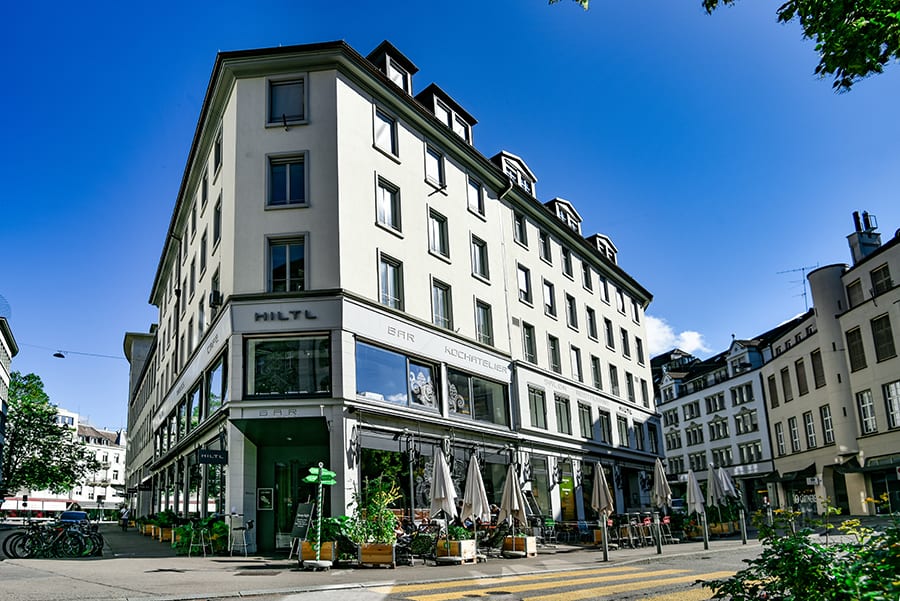 If you're a vegetarian or vegan visiting Zurich – or even if you're not! – you can't possibly miss a visit to the oldest vegetarian restaurant in the world and my absolute favourite restaurant in Zurich.
Founded in 1898, Hiltl holds the Guinness record for the longest-running veggie restaurant on the planet.
It's also one of the best and most delicious places to eat in Switzerland's largest city and a popular local hangout for lunch, dinner, or Sunday brunch.
This fourth-generation family business has now a total of eight locations spread across Zurich, but for first-timers, I would recommend visiting Haus Hiltl, the first and main restaurant situated right in the centre of the city.
Here you can eat à la carte or opt for the pay-by-weigh buffet, which offers a huge variety of vegetarian and vegan homemade specialities from around the world. Hiltl's buffet is also relatively affordable by Swiss standards, so if you're travelling on a budget look no further.
And if you're into partying, on weekend nights Haus Hiltl turns into Hiltl Club where you can dance the night away after a healthy and yummy dinner.
---
I hope you will be able to try out some of these awesome vegan restaurants around Europe. If you have any recommendations for vegan restaurants in Europe, please comment below!
Don't forget to pin this article so you can come back to it later