I love trying different foods around the world. I stopped eating meat over 40 years ago but I find when I am travelling, I have been leaning more towards a vegan and plant-based diet. I do prefer to eat in vegetarian or vegan restaurants when I can and seek them out wherever I go.
However, sometimes it helps to get some recommendations for the best vegan restaurants. I reached out to my fellow bloggers to see which vegan restaurants in the UK they have tried out and recommend.
---
*This site uses affiliate links and I may earn a small commission when you use my links and make a purchase without incurring an additional fee yourself.
Thank you for supporting this website. See my disclaimer page for more details.
---
First published: 22 August 2022
Best Vegan Restaurants in London
Farmacy in Notting Hill
Recommended by Manpreet from HelloManpreet.com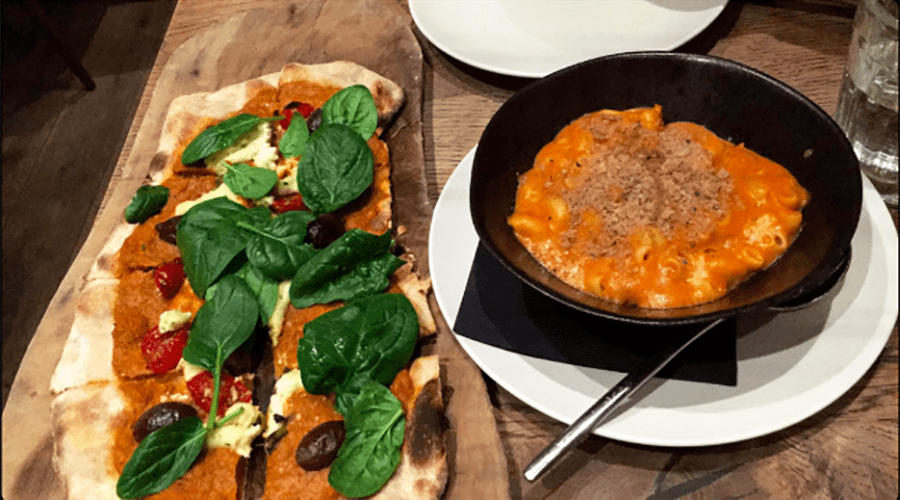 Farmacy is a gorgeous vegan restaurant that sits in the category of mid to high-end restaurant, located in the famous Notting Hill. It has a gorgeous interior with the perfect ambience for a date night or catching up with old friends. Mind you, I have also seen business meetings take place in the long table and booths near the door. They also serve an array of cocktails with an open concept bar in the middle of the seating area
They have amazing gourmet vegan food made to perfection every time. Having visited there many times, I have been lucky enough to eat almost everything on the menu and can honestly say I loved it all.
The show stopper though, is their buckwheat with beetroot dhaal as a main, with the mac and cheese as the perfect sharing starter. If you happen to be passing by during breakfast or lunch, the chickpea omelette and waffles are absolutely incredible. Not only is the food great, but the staff are very knowledgeable and helpful at every request.
I really love their array of fancy vegan juices and shots that add a little excitement to every night. Service has always been top notch! This place is priced quite high, possibly due to the quality of ingredients used but as a vegan food lover I believe it's worth it everytime.
Address: Farmacy London, 74 Westbourne Grove, Notting Hill, London W2 5SH
Copperhouse Chocolate Cafe in Islington
Recommended by Tal from Bright Nomad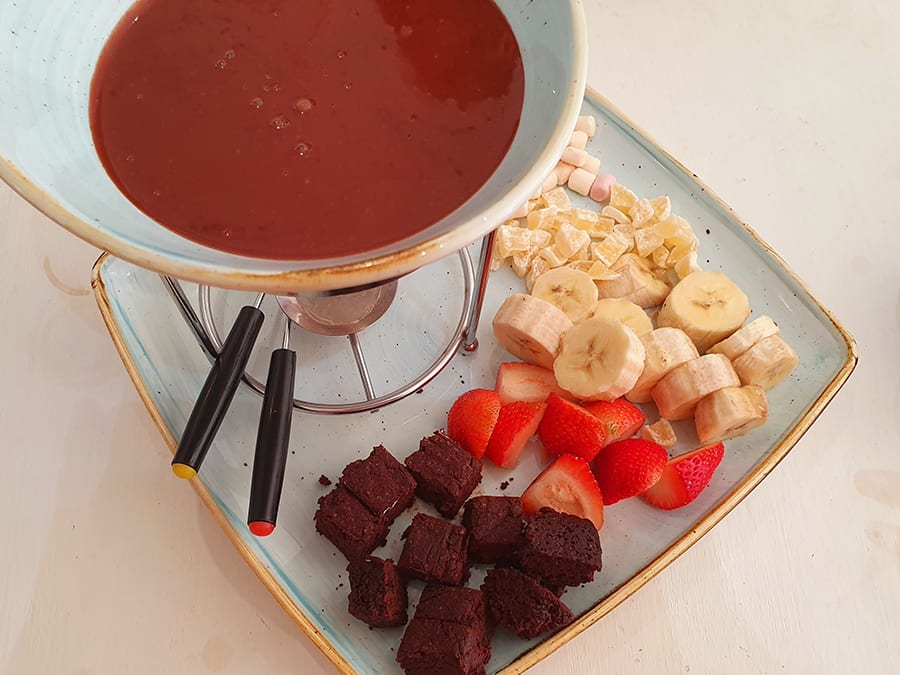 This chocolate heaven in London has a delicious, fully vegan chocolate-inspired menu. Everything on the menu, whether sweet or savoury, contains chocolate in one way or another.
That means, of course, that the dishes are super creative and full of surprising flavours and combinations that you probably won't find elsewhere.
It's that creativity and the chocolate theme that turn the visit to Copperhouse Chocolate Cafe into an experience, designed by an expert chocolatier.
For a truly decadent treat, try the vegan chocolate fondue that's perfect for sharing. Ours came with bananas, strawberries, chocolate brownies and vegan marshmallows and was an absolute delight.
Located in Islington in East London, close to the tube station, the cafe serves breakfast, lunch and brunch. You can also buy chocolate drinks, bars and boxes from their shop.
Copperhouse Chocolate Cafe is unsurprisingly famous for its hot chocolate drinks, that are made with plant based milk and come in different flavours, such as mint, chilli and gingerbread.
I enjoyed the lovely, chilled atmosphere at the cafe, with the soft music in the background and the friendly service. It has a sweet decor and some outdoor seating for sunny days.
This is definitely one of the places you'd want to come back to sample more of what's on the menu and I can't wait to go back there next time I'm in London.
Address: Copperhouse Chocolate Cafe, 1 Chapel Maret, London N1 9EZ
Purezza in Camden
Recommended by Wendy from The Nomadic Vegan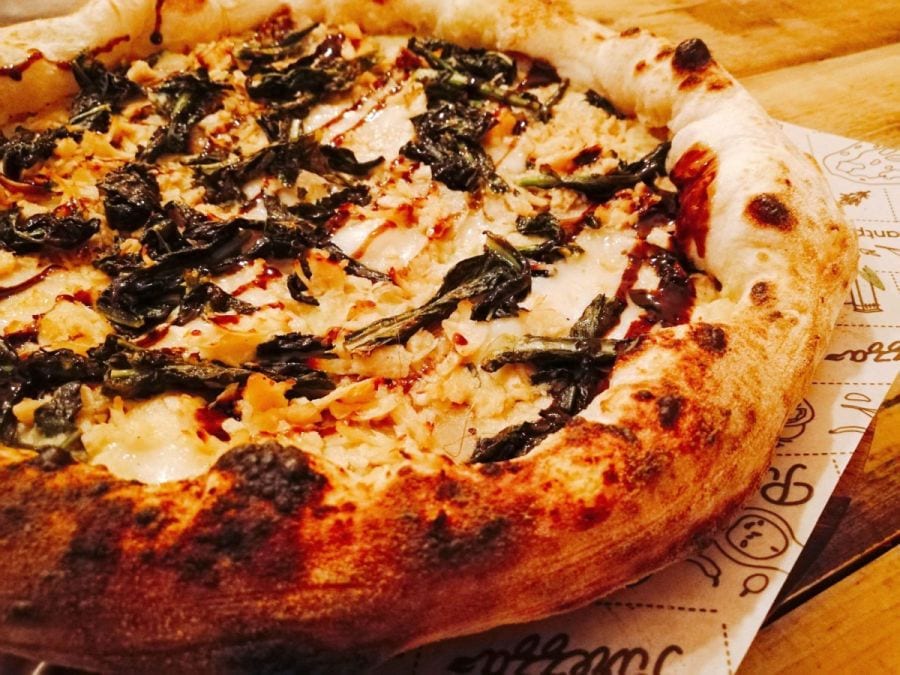 I had pretty high expectations of this pizzeria that I had heard so many great things about, and I was not the least bit disappointed. When it was founded in 2015, Purezza was the very first completely vegan pizzeria in the UK.
It's run by Italians who are passionate about pizza, and their enthusiasm really shows in the final product. As a vegan world traveler, I've tasted plenty of pizzas with vegan cheese around the world (including in Italy), and none of them come close to this
Most pizza joints that offer a vegan option will use a commercial brand of vegan cheese, such as Violife. But Purezza makes their pizzas with their own mozzarella made from Italian brown rice, which it took them two years to perfect in a laboratory. It tastes just as good as mozzarella made from cow's milk, if not better, and has less than half the calories and fat!
Their pizza crust is also whole grain and much healthier than regular pizza crust, although you'd never guess it from the taste. Gluten-free options are also available.
Purezza started out in Brighton, and they have since opened a second location in Camden. It's my absolute favourite place to go for vegan food in Camden, which is saying a lot when you're talking about London's most vegan-friendly neighbourhood. Their classic Margherita pizza is probably the best choice for your first visit, but I guarantee you'll be rushing back to try some of their more innovative offerings the next time.
Purezza is now in Brighton, Hove, Bristol, Manchester and Camden.
Address: Purezza, 45-47 Parkway, Camden, London, NW1 7PN
Cafe Van Gogh in Brixton
Recommended by Emma from journeyofanomadicfamily.com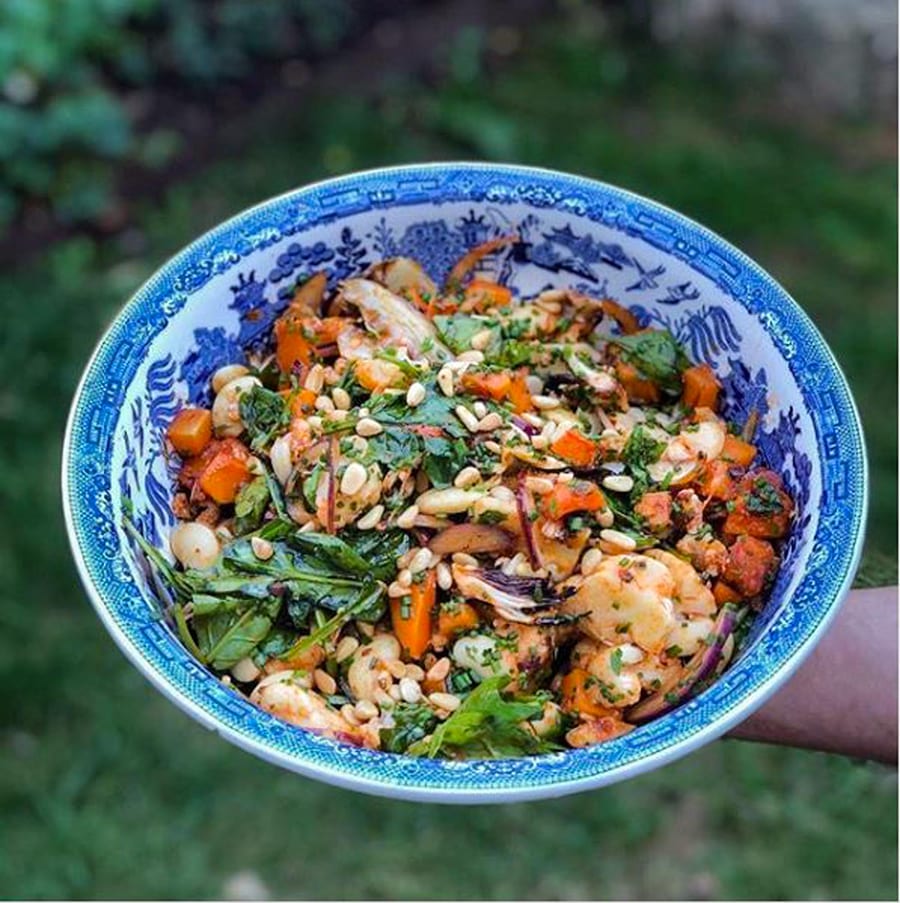 Cafe Van Gogh is a hidden gem of London and it's found in Brixton. 100% vegan & plastic-free and trying to be zero waste, Cafe Van Gogh is a not for profit social enterprise, working in conjunction with three charities to provide on job training for those with additional life challenges. Basically, they do good and they want to be good and that would usually be good enough for me but what I love about Cafe Van Gogh is their phenomenal, seasonal menu.
With four different menus, it comes as no surprise that both the Metro & The Guardian rated CVG as having the best vegan roast in London and being one of the best vegan restaurants in the UK! Full of colour and taste, grown as locally as possible and cooked from scratch in the kitchens onsite, are a mouth-watering array of dishes.
From starters to sharing plates and from full on breakfasts to exquisite desserts, different sizes & courses are catered for and you can make reservations too. Some examples from their menu include 'Cashew chocolate fondant with mango curd & coconut crumble topping' and if that isn't enough to get your taste buds drooling how about 'aubergine & red pepper shakshuka with marinated crispy tofu, tahini, zhoug & flatbread'. This menu is seasonal & subject to change.
Open every day of the week except Monday, Cafe Van Gogh can be found at 88 Brixton Road, SW9 8BE. In the summer you can sit outside but if the weather turns bad, sit upstairs and feel like you're actually part of a Van Gogh painting!
Address: Cafe Van Gogh, 88 Brixton Road, London, SW9 8BE
The Vurger Co in Shoreditch
Recommended by Laura by What's Hot?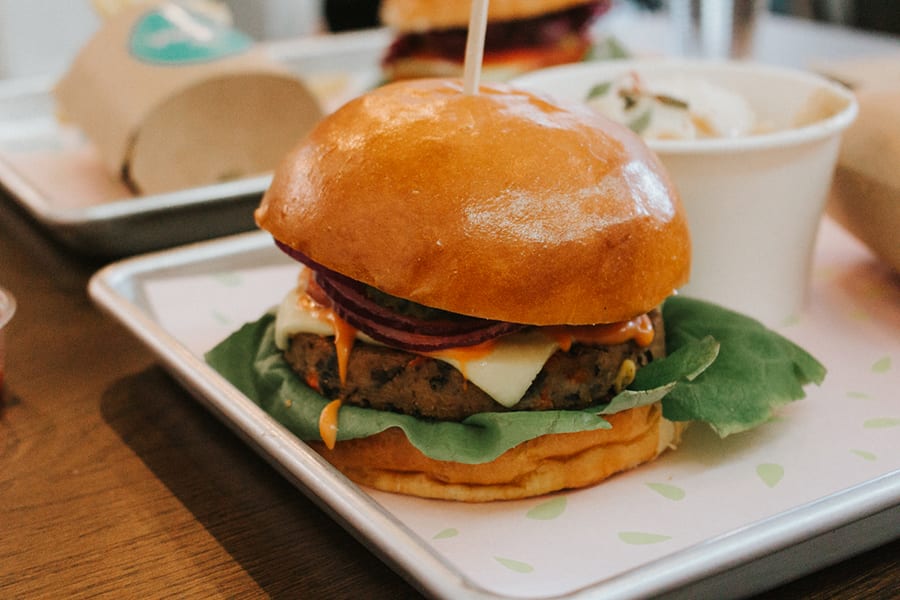 The Vurger Co was set up with the intention of revolutionising fast food with plant-based options and has been serving up vegan burgers since 2016. Their first restaurant opened in Shoreditch in 2018 but it's now also open in Canary Wharf with a branch coming to Brighton soon too.
The menu here is simple: just four vegan burgers, three salads and a selection of sides. These include fries, mac and cheese, Kentucky bites and milkshakes. If you're new to the Vurger Co, you've got to go for a burger, fries and milkshake combo. When you see the size of these burgers it might seem like a lot but these three items are just so good!
The Auberger (an aubergine burger) is a surprisingly good option but if you're looking for something with a texture similar to meat then you should opt for the New York Melt. This is made with a Beyond Meat patty and it's hard to believe this is really plant-based when you taste it.
If you find yourself torn between classic fries and sweet potato fries, you'll be relieved to hear that they serve 50/50 fries here, an ingenious idea! As for the milkshake, there are seven funky flavours to choose from (including salted caramel popcorn!) but the classic Oreo is a must.
Address: The Vurger Co, Unit 9, Avant Garde Building, 6 Richmix Square, Cygnet Street, Shoreditch, London, E1 6LD
If you can't make it to any of these restaurants, why not try one of these inspiring vegan recipe books:
Best Vegan Restaurants in England
Cafe Shanti in Lincoln
Recommended by Alex Trembath from Lincoln and Beyond
The historic city of Lincoln is full of quirky places to eat and drink, but remarkably it has only one vegan restaurant: Cafe Shanti. This family-run outfit is a big favourite among both locals and visitors, serving a range of home-made British and Nepalese vegan dishes, with a modern take.
The restaurant interior is cosy with a shabby-chic feel, furnished with old-school wooden chairs, bright table-cloths and colourful flags draped all around the walls. It's located in the heart of the city centre, just a short walk away from the famous Stonebow archway. Stepping inside is like a breath of fresh air, and a lovely counterbalance to the mixture of centuries-old buildings and chain establishments that populate the High Street.
Most importantly, though, the food is great! The menu is extensive, including breakfasts, light bites, sandwiches, salads, curries, burgers, sharing platters, desserts, and a range of fabulous cakes. The house special Shanti burger is perfect for a lunchtime fix, made with aubergine, courgette, sweetcorn and pepper. For dinner, the Nepalese-inspired curries are full of spice and flavour – try the chickpea and spinach kadala, or if you have a sweet tooth, the banana korma.
Don't leave without trying a slice of home-made cake. The choices vary daily, but you will usually find carrot cake among the options, and it's a real beaut! Alternatively, the vegan cheesecake (in various flavours) is delicious with a morning coffee.
Address: Cafe Shanti, 6 Clasketgate, Lincoln, LN2 1JS
Dr Legumes in Folkestone
Recommended by Caitlin from The Vegan Word
Folkestone may not be one of the most vegan friendly cities in the world, or even the UK, but it is home to one of my favourite vegan restaurants, Dr Legumes.
Located in a shipping container next to a disused railway track on the Harbour Arms, you can't get a more unusual restaurant location. But Dr Legumes has much more going for it than just its unique location – it has an incredibly inventive, delicious and entirely vegan menu!
The menu is short and changes seasonally, but always includes seasonal vegetables, prepared in innovative ways. You won't find the average veggie burger on the menu here. Instead, you'll find dishes such as beetroot tarte tatin made with cultured cashew cheese and served with a baby new potato salad or mushroom carpaccio of marinated Portobello mushrooms, pistachio cheese and pumpkin pesto.
The prices are a little high in comparison to other Folkestone restaurants, but the food is worth it. An explosion of tastes and textures in every bite, and beautifully presented, don't miss a meal at Dr Legumes.
And definitely don't leave without getting a brownie for dessert! Their brownies are made with beetroot and avocado and these two unlikely ingredients somehow combine to form a brownie that's perfectly fudgy, but crackly on top!
Address: Dr Legumes, East Yard, Folkestone Harbour, Folkestone CT20 1QQ
YOU MIGHT ALSO LIKE: Amazing Vegan Restaurants in Europe
Simply Wholesome in Southsea, Portsmouth
Recommended by Vicky from VickyFlipFlopTravels.com
Simply Wholesome is a vegan takeaway in Southsea, Portsmouth. There's a little space to wait and eat, but it's more for picking up and taking back to work, or the nearby beach or Southsea common. All the food at Simply Wholesome is made in house, using minimum waste techniques. Everything they make is plant-based, and there are options for all kinds of healthy diets. Nearly all of their ingredients are organic as well as earth friendly.
Simply Wholesome has food to satisfy all appetites from lunch time soups, to all time bowls and in between meals cakes. They love a sweet treat to go with a hot drink, kombucha or herbal tea. I love the falafel here, in a wrap or just in a salad. It's yum.
I love eating from here because I know that they'll have done everything in their power to minimise the impact on the environment. Everything is reusable, recyclable or compostable. Also, everything I've tried has been delicious. If ever you fancy a day out in Portsmouth, make sure to look it up near the beach in Southsea.
Address: Simply Wholesome, 100 Marmion Rd, Southsea, Portsmouth, Southsea PO5 2BB
Frost Burgers in Liverpool
Recommended by Emma from journeyofanomadicfamily.com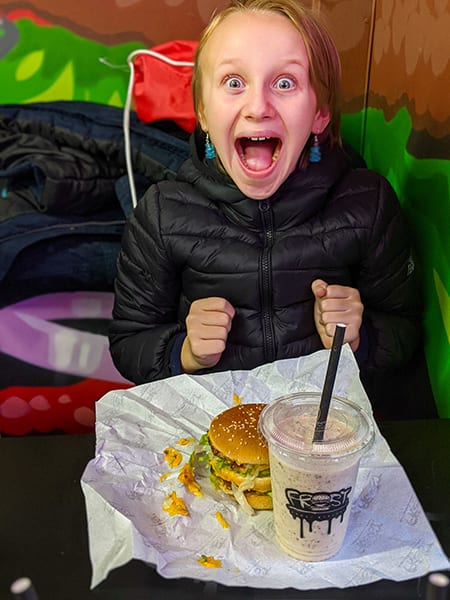 Opened by the divine Latvian goddess that is Monami Frost, Frost Burgers is 100% vegan and 1000% delicious!
I'll be honest, when we first went here I wasn't hoping for much. Vegan burgers tend to be a big disappointment but I had my mind truly blown by Frost Burgers! Situated in the adorable cobbled Ropewalks area of Liverpool, Frost's has a whole lot of taste going on and is our favourite fast food joint in Liverpool.
The succulent but flavoursome burgers are moist and dripping with delectable, vegan cheez and a whole range of other mouth watering toppings too. Whether it's scorpion spicy, vegan bacon, chicken free, double trouble or even their classy, soft serve, no milk shakes, you won't be disappointed if you eat here.
If you're feeling calorifically low, instead of a burger bun why not try the donut burger? Yeah you read it right, a vanilla glazed DONUT instead of a burger bun! This is a crazy burger that you have to try at least once. No surprises that their donuts sell out really quickly so make sure you get there early to bag yours.
Frost Burgers is open Monday to Thursday 12pm-9pm, Friday & Saturday 12pm-10pm and Sunday 12pm – 8pm. Also available on Deliveroo.
Address: Frost Burgers in Liverpool, 58 Wood Street, Liverpool, L1 4AQ
Café Thrive in Southampton
Recommended by Mal from Raw Mal Roams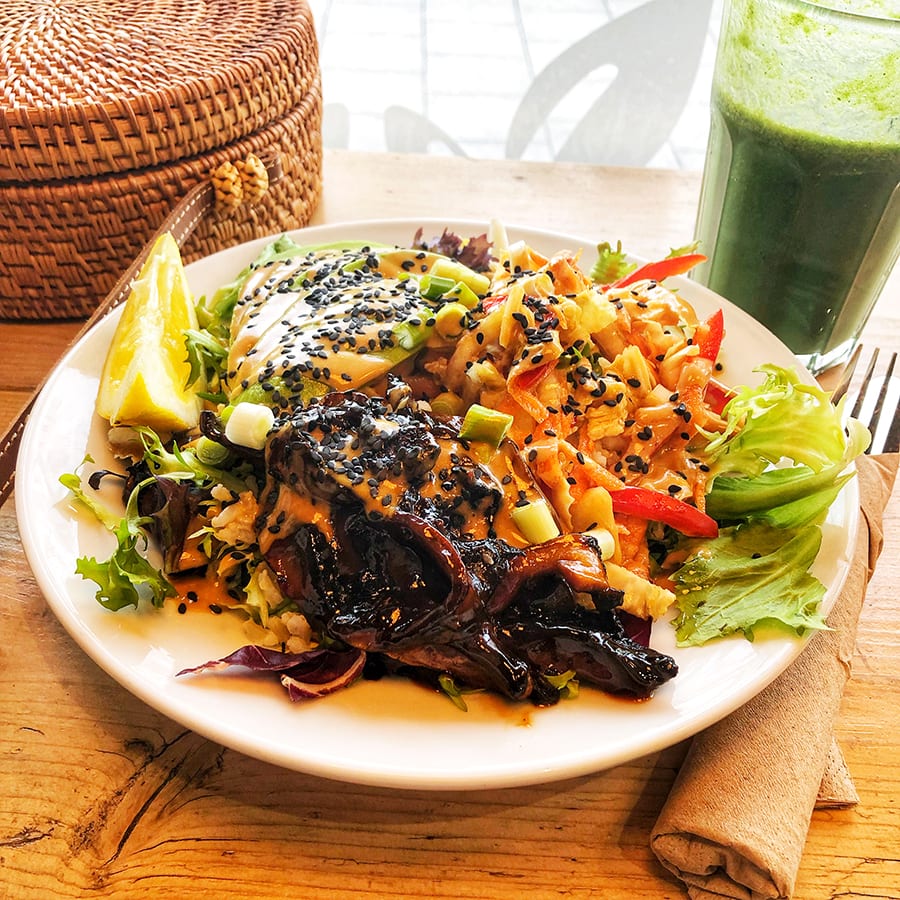 Café Thrive is located in central Southampton a short walk away from the high street and West Quay Shopping Centre on Hanover Buildings and it's facing Houndwell Park.
The owners of Café Thrive believe that food shouldn't cost an Earth, so the menu is very fairly priced and includes an extensive selection of tasty food and drinks.
The entire menu is vegan and includes many healthy options that will nourish your body and soul. My favourite is the salads, especially the Big Thrive Bowl that comes with hummus, avocado and falafel on roasted vegetables and quinoa drizzled with tahini dressing.
They also serve fantastic veggie burgers that seem to be the most popular choice. You can also get them in a gluten-free version. Other lunch options include Thrive Hot Dogs, different sandwiches and wraps.
Thrive Café is as well excellent for breakfast. You can either have an Acai Bowl or Thrive breakfast with veggie sausages, scrambled tofu, tomatoes and mushrooms.
The drink menu also has a good selection of fair-trade coffees, Cambucha drinks and awesome smoothies! And there is an excellent selection of mouth-watering vegan cakes (some even gluten-free) that you can take away along with a freshly ground coffee!
Address: Thrive Café, 18 Hanover Buildings, Southampton, SO14 1JX
Knaves Kitchen in Leeds
Recommended by Ellen from AdventuresWithNell.co.uk
Although I'm not a vegan myself, two of my favourite restaurants in Leeds are vegan! They also couldn't be more different from each other. Knaves Kitchen is a pop-up kitchen located in edgy bar and music venue Oporto, serving up an all-vegan junk food menu.
Their menu includes creatively named dishes such as the R.I.P Dogging Club (vegan Bratwurst corn dog), Papa Knave's Pizza Pocket (deep fried pizza rolls), Fat Mac (vegan nacho mac & cheese balls with smoked sriracha mayo) and a range of seitan dishes such as Nug Lyf 'chicken' nuggets and Double Double 'beef' patty.
Address: Knaves Kitchen, 33 Call Lane, Leeds LS1 7BT
Eat your Greens in Leeds
Recommended by Ellen from AdventuresWithNell.co.uk
With an altogether different feel, Eat Your Greens is light and airy restaurant with a focus on vegan and gluten free dishes prepared using local, organic produce. Their contemporary menu offers delicious brunch dishes throughout the day, with a small and large plate menu in the evening. A few meat dishes are available on the menu, but the focus is most definitely on vegan food and where meat is served it is always local and organic.
Natural, vegan-friendly wine and beer feature alongside the food, and fresh organic produce is available to purchase too. Sustainability is at the heart of Eat Your Greens, and the staff try to reduce waste as much as possible with reusable napkins, locally made crockery and no single-use plastic.
Address: Eat Your Greens, 42 New York Street, Leeds, LS2 7DY
Cascara in Bath
Recommended by Rae from Wide Eyed Views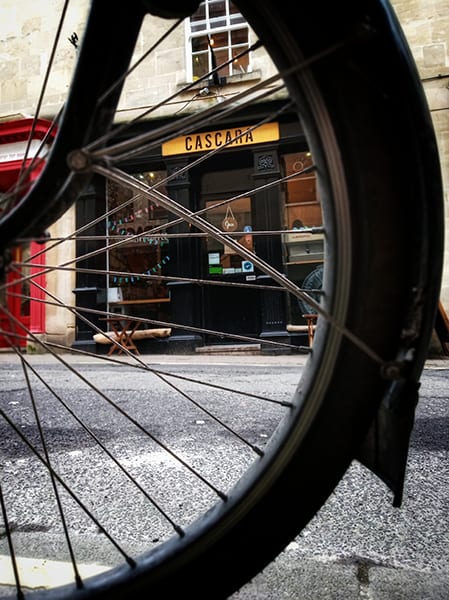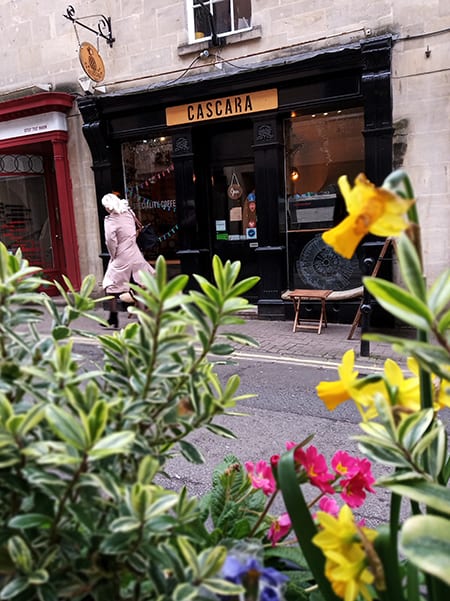 Nestled in the centre of town, Cascara: Bath is a fabulously independent, cozy, snug-of-a-place, offering delicious food, a beautifully curated gallery-style ambience, and the warm-and-fuzzies from the friendly staff.
Marmite and 'cheeze' or the Cascara 'Loaded' toast might not sound much but is a lavish treat here. The menu is small, but lovingly prepared, and deeply satisfying with just the right amount of citrus and spice in the chilli, and wholesome flavours in the soups. Food is prepared to order and as such can usually be customised to accommodate spice level and gluten-free options.
Sourcing sweet gluten-free, vegan snacks in Bath is not always easy but Cascara does a great job at providing a constantly changing range that, whilst small, still hits the spot. Bliss balls, flapjacks, polenta cake … with all this deliciousness on offer the difficulty is what to choose. Thankfully, with an outstanding array of alternative 'mylks' on offer, a warming tumeric latte can always be called upon when indecision strikes.
The options have been well thought out and, where possible, are sustainably sourced, fairly traded, and support other local enterprises. In line with this ethos, Cascara actively encourages customers to bring their own cups and containers for takeaways to keep it's impact, and ours, well up on the positive side of the scale.
All-in-all this little cafe is a delightful vegan powerhouse. Do yourself a favour, take some 'me-time' to sit, enjoy the atmosphere, the artfully considered magazine supply and, of course, the coffee. Time here, is time well spent. Walk, cycle, or bus into Bath for extra eco points, Cascara will love you for that too.
Address: Cascara, 3 Upper Borough Walls, Bath BA1 1RG
YOU MIGHT ALSO LIKE: Awesome Vegan Restaurants around the World
Oak Tree Vegan Restaurant in Leigh on Sea, Essex
Recommended by Kerry from Kerrylifeandloves.com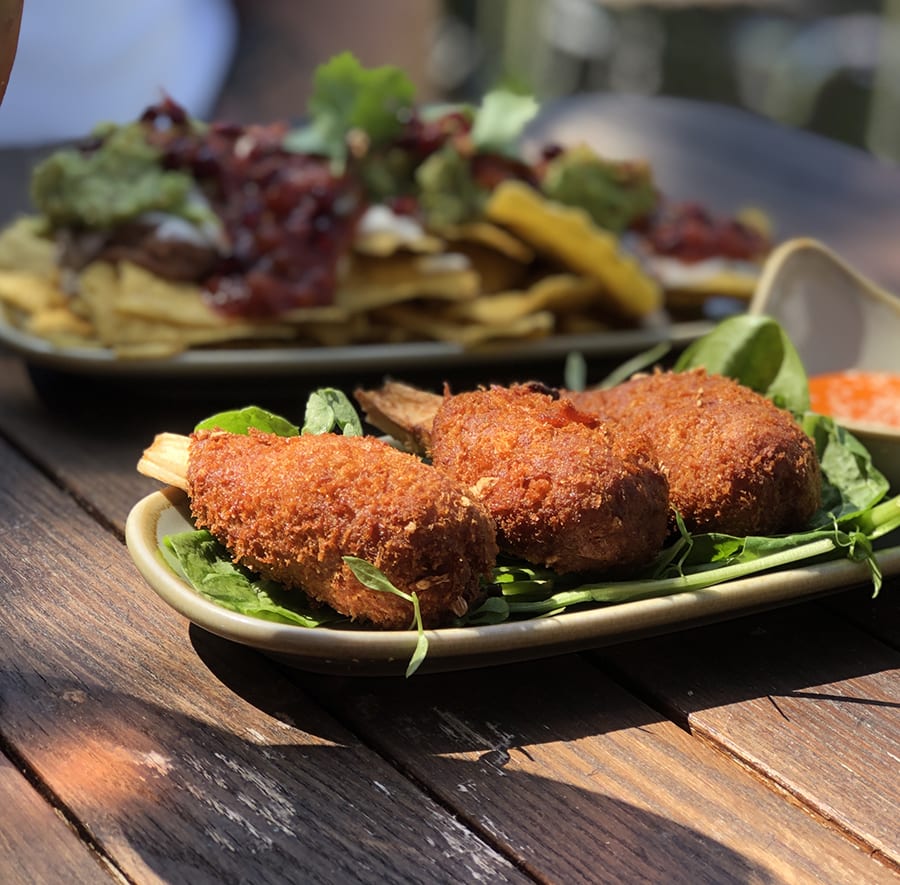 The Oak Tree is tucked away in the seaside town of Leigh on Sea, Essex. With a totally vegan menu, (including vegan wine…), it has been a firm favourite since I discovered it two years ago. The Oak Tree has a lovely personal, family feel to it. It is the brainchild of passionate husband and wife team Sam and Jim.
They wanted to bring vegan food to the forefront of the Leigh foodie scene. They have achieved this with a flourish. I have never eaten at the Oak Tree and been disappointed. Also, my husband, who is not vegan, even suggests it now for lunch dates! It is one of his favourite Essex restaurants too!
The menu is inventive and varied. It has a wonderful mix of comforting old favourites and more adventurous inspired dishes. One of my go to's to start is the generous servings of nachos, served with the best guacamole and homemade vegan cheese. Then, I would struggle with my main meal choice as there are so many options! I would totally recommend trying the New York hot dog with a side skillet of mac n cheese. Or, if you are a fan of Thai food, maybe the gently spiced pad Thai with rich peanut and coconut flavours. It is amazing!
Whatever you choose, you will not be disappointed. Oh, and I suggest leaving room for the chocolate fudge cake. It is out of this world!
Address: The Oak Tree, 75 Leigh Rd, Leigh-on-Sea, Southend-on-Sea, Leigh-on-Sea SS9 1JN
Shrub in Chester
Recommended by Sophie from The Wanderful Me
As a vegan traveller, one of my top recommendations for a vegan restaurant in the UK is Shrub, a delightful cafe in Chester, England.
With a small, yet delicious menu that changes seasonally, visitors can find delectable plant-based dishes like pumpkin and sage ravioli, Korean-style fried rice, sun-dried tomato and crispy kale gnocchi, flavorful curry, housemate burgers, vegan sticky toffee pudding and so much more.
Personally, I'm a huge fan of the pumpkin and sage ravioli! And don't forget to start your dinner with one of their amazing cocktails—the vegan espresso martini is phenomenal.
Though all the food is 100% vegan at Shrub, you'll find the prices are comparable to other restaurants in the area! This makes Shrub a really great place to eat if you're plant-based, as you get a much wider selection of food at the same price you would pay at a non-vegan restaurant.
If you need some more veggie inspiration, don't forget to check out this guide on all the best places to eat as a vegan in Chester, England
Address: Shrub, 1 – 3 Eastgate Row, Chester, CH1 1LQ
Best Vegan Restaurant in the Isle of Man
VIBE Plant Based Cafe in Douglas
Recommended by Larch from The Silver Nomad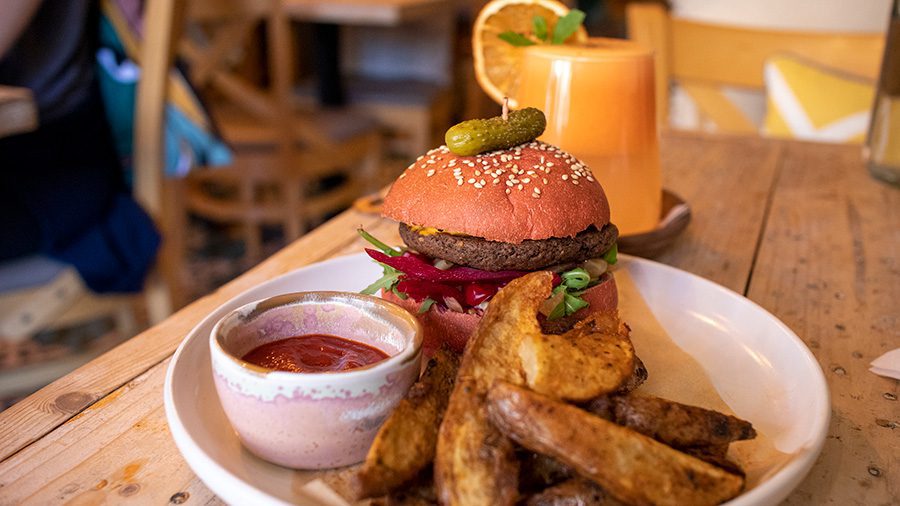 Step into Vibe Café just off the harbour front in Douglas in the Isle of Man and prepare to be super chilled. Started in February 2022 by Julia, the inspiring owner of Vibe, not only do they serve delicious vegan food, but they promote wellness through superfoods and complementary therapies.
VIBE stands for Vibrant Inspiring Beautiful Eating and using as many local suppliers as possible, the café certainly achieves that.
They grow their own herbs and edible flowers on the roof garden and forage for berries and other ingredients to make their dishes. No added preservatives, GMOs, or refined sugars are used, and there are gluten free options.
Around the café are recipe, juice and inspirational books that you can read while you are eating. Oh and check out the loos… lots of quotes to inspire you on the walls. My favourite is: "Enjoy the little things, for one day you may look back and realise they were the big things".
Open Wednesday to Sunday 10am to 4.30pm (4.00pm on Sunday)
VIBE also does pop-up vegan nights at the Boatyard in Peel, keep an eye on their Instagram and Facebook page for more details.
Address: VIBE Plant Based Cafe, 9 Ridgeway St, Douglas, IM1 1LQ
Best Vegan Restaurants in Scotland
The Mosque Kitchen in Edinburgh
Recommended by Gemma from EverythingEdinburgh.com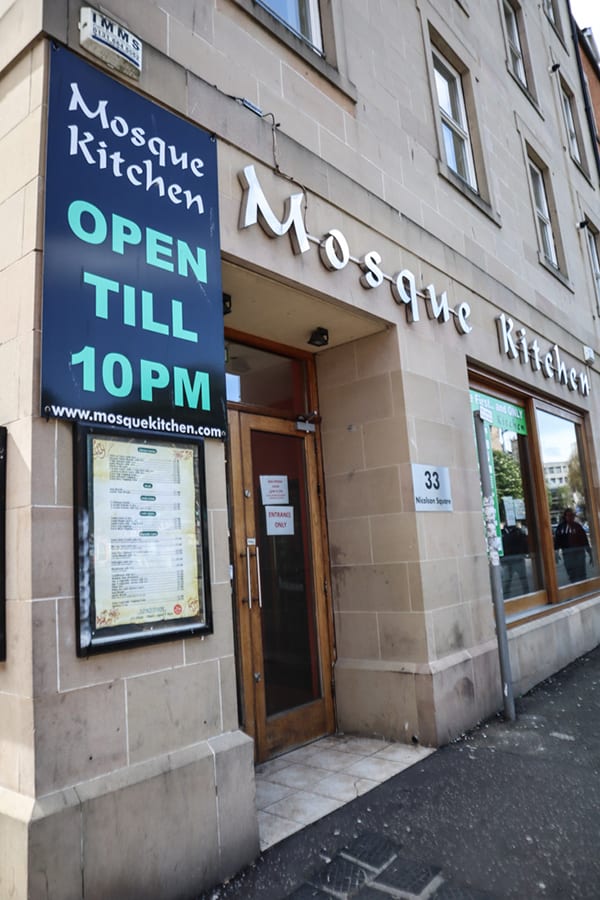 The Mosque Kitchen is an informal canteen-style eatery in Edinburgh.
While the affordable restaurant serves meat dishes, there are vegan options available for purchase too.
The food is made fresh every day and ingredients are purchased locally.
The menu includes curries made from aubergine, mushroom, cauliflower or chickpea and served with rice for under £6. You can also mix curries up for £7. A filling bargain in Edinburgh!
There's plenty of room with seating for 180 customers. The process to collect your food requires you to wait in line, like school dinners, so don't expect anything fancy, just generous portions at decent prices.
The Mosque Kitchen is a bit of an institution on the Southside of the city. Initially, the kitchen served its mosque congregation once a week after prayers.
After 9/11, an exhibition about Islam opened the mosque doors to the public and soon the kitchen followed to show that people of all faiths were welcomed.
Address: The Mosque Kitchen, 31-33 Nicolson Square, Edinburgh EH8 9BX
The Wildcat in Fort William
Recommended by Kathi from WatchMeSee.com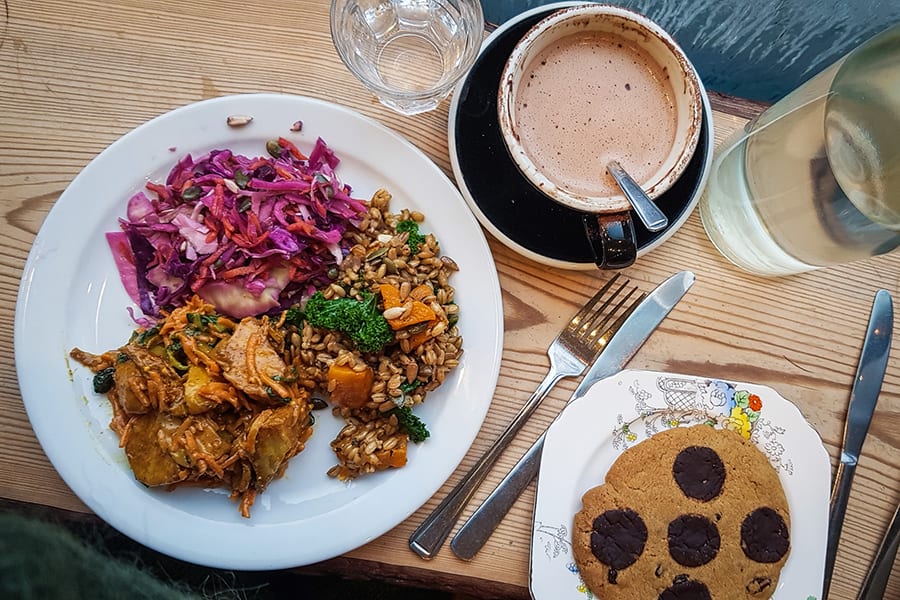 When I first visited Fort William in the Scottish Highlands as a vegan, in 2015, it was a plant-based food dessert. It was a mission to get a coffee with soy or nut milk and most eateries made dishes vegan by taking off the egg or cheese, without adding any nutritious value to the meal.
But look at it now! Fort William has its very own vegan cafe in a prominent high street location – The Wildcat.
The cafe offers a creative menu with breakfast and lunch options ranging from warm porridge sourdough with toppings (beans, avocado, spreads) to colourful salads, sandwiches and a warm main of the day (lasagna, curry, stew). They also have a wide range of cakes and biscuits to sit in or takeaway.
At the back, the Wildcat has a retail section which has brought the zero waste lifestyle to the Scottish Highlands. You can get packaging-free grains and other pantry items, organic health foods and plastic-free toiletries or household items. There is also a wide selection of cookbooks and books on environmental and social justice.
The Wildcat is a vegan oasis in the Scottish Highlands. And since my partner and I are both vegan, the easy access to delicious vegan food in the area has turned Fort William and nearby Glencoe into one of our favourite romantic places to visit in Scotland.
ADDRESS: The Wild Cat, 21 High Street, Fort William, PH33 6DH
Have you tried any of these restaurants? What is your favourite vegan restaurant? Let me know in the comments below
Don't forget to pin this article so you can come back to it later