Brussels is an amazing city to visit. As the capital of Belgium, and also the headquarters of the European Commission, it has a cosmopolitan mix of visitors and there is always something going on. Sometimes though, you may want to take time away and have a day trip from Brussels to explore other places nearby. Maybe you would like to take a trip from Brussels to other cities in Belgium or travel further afield to the Netherlands, France, Germany, Luxembourg or even the UK.
Belgium shares borders with the Netherlands, Germany, Luxembourg and France and with Eurostar, the UK is also easy to get. Head down to Brussels Central Station to buy your ticket order online with Trainline.
---
*This site uses affiliate links and I may earn a small commission when you use my links and make a purchase without incurring an additional fee yourself.
Thank you for supporting this website. See my disclaimer page for more details.
---
I reached out to other travel bloggers for their recommendations for day trips from Brussels for you to enjoy.
First Published: 8 May 2020
Day Trips from Brussels in Belgium
Bruges
Recommended by Larch from The Silver Nomad
It only takes just over an hour by train to get to Bruges which makes it the perfect place to spend a day trip from Brussels. Like Brussels, the historic centre of Bruges is a UNESCO Heritage Site filled with magnificent buildings like the Belfry and the Town Hall in Markt Square.
Bruges has a fairy tale feel to it with winding cobbled streets, horse-drawn carriages, medieval architecture and romantic bridges over the canals. It is a city that encourages you to slow down and wander soaking up the atmosphere.
With a network of canals meandering through the city, Bruges deserves its title of "Venice of the North". One of the best ways to see the city is from one of the boats gliding around the canals or take a walking tour around Bruges to discover more of the history and secrets of the city.
If you are looking to do some shopping, Bruges is famous for its delicate lace, divine chocolates from the many chocolatiers or maybe some cheese, and of course, Belgian beers, maybe one actually brewed in Bruges. There are three working breweries in the city: Bourgogne des Flandres, De Halve Mann and Fort Lapin to choose from.
Sit in one of the many canal-side cafes to rest your feet, sup a beer and watch the world, the perfect end to your day in Bruges.
Durbuy
Recommended by Katja from Globe Totting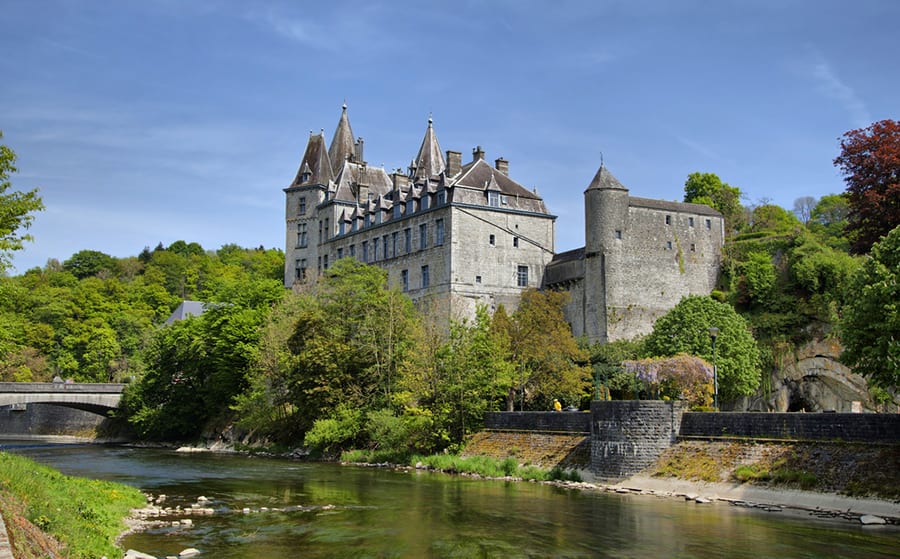 For a day trip from Brussels with a touch of whimsy, head to the city of Durbuy. Located in Belgium's Wallonia region, south-east of the capital, this pretty city looks like something from the pages of a fairy tale. Winding cobbled streets, timber-frame houses and rolling green hills make this one of Belgium's most picturesque destinations. But there's more to this medieval city than good looks, Durbuy is in fact "la plus petit ville du monde" (the smallest city in the world).
Durbuy was first granted city status in 1331 thanks to John I, Count of Luxembourg and King of Bohemia. He ordered ramparts to be raised around the town and in doing so, created the world's smallest city. Durbuy is so petit that you can walk from one side to the other in five minutes.
These days, a further 41 villages fall under Durbuy's jurisdiction but the heart of the region is still the original city. Fortunately, despite its small size, there are still lots of things to do in Durbuy.
Once you've wandered the city streets visit the topiary park and take a ride on the tourist train up to the viewpoint. On the outskirts of the city is a brilliant adventure park with zip wires, slides, bike parks and more. Further afield there are opportunities to go fishing, explore underground caves and discover ancient megalithic sites. As far as day trips go, this one is hard to beat.
Ypres/ Menin Gate
Recommended by Kat from Wandering Bird
Looking for an unforgettable day trip from Brussels? You need to head to Ypres.
Ypres in itself is a beautiful town- full of culture and traditional shops.
BUT the thing that sets it apart, and the reason you should absolutely visit, is the Menin Gate.
This incredible structure is a WW2 monument and it's breathtaking. Not so much for its size (although that is certainly impressive) but because every side, both inside and out, are covered with names of the dead or missing, just from that area alone. The sheer scale of it is hard to comprehend.
One of the most moving experiences we have ever done is to witness the Last Post at the Menin Gate, which happens EVERY SINGLE NIGHT (yes, including Christmas). Here, you stand silently and listen to the buglers paying their respects to the fallen. Hundreds of people turn up each night- in the rain, wind, snow and the atmosphere is… indescribable. Everyone should experience it at least once in their lifetime.
Whilst in Ypres, we also recommend visiting the cloth hall, which is actually a huge museum about WW1 and 2. It's probably too big to go around in one day, but it's definitely worth a visit anyway.
After all that history, be sure to finish with an ice cream from one of the many parlours on the main street- it's delicious.
Mechelen
Recommended by Tea from Culture Tourist
Mechelen is a charming Belgian town filled with history, great restaurants and some beautiful buildings. However, it's still undiscovered by many tourists. So it's a great place to feel more of the local culture and enjoy exploring it at a slower pace.
Located some 30 minutes by train from the Belgian capital, it's a great destination for a day trip from Brussels. Although you could easily spend the whole weekend in Mechelen.
Mechelen is a small town, and most of its city centre is a pedestrian zone, so you can easily wander around. There are so many amazing sights you shouldn't miss while in Mechelen.
Start your visit by climbing the tower of Saint Rumbold's Cathedral, and enjoy a fantastic view of the city. Its Large Beguinage is one of the most beautiful ones in Belgium and under UNESCO protection. Lovely Renaissance palace, Hof van Busleyden is a museum today, and definitely worth visiting, too.
While strolling around the city, be sure to look for some little details on the houses. On the main square, many buildings have images of animals in their gables.
Mechelen is home to some fantastic restaurants, too. Definitely try some Belgian waffles, fries and other specialities while there. If you like beer, be sure to visit Het Anker Brewery and try a local Gouden Carolus beer.
Antwerp
By Amy of Amy Guides™ and Amy's Cuisine™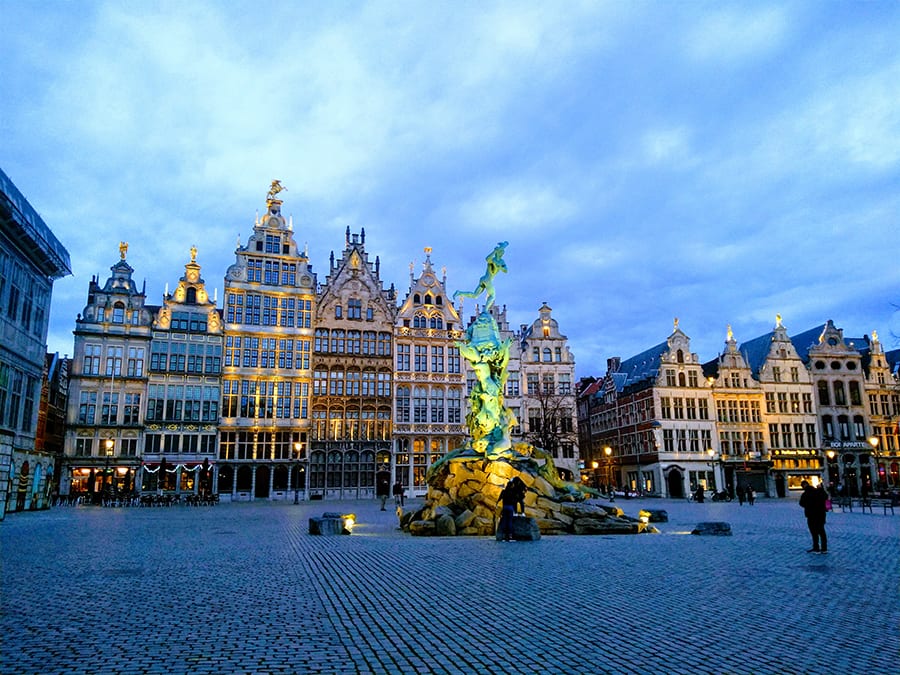 Before doing anything in this sublime city, be certain to dedicate time to explore the magnificent Antwerp-Centraal Train Station. It's an iconic location you won't soon forget. Knowing Antwerp is located on the Scheldt River reveals its overarching maritime theme, woven seamlessly into its culture and entertainment options. The Grote Markt area is lovely and features the gorgeous Brabo's Monument fountain.
The cuisine in Antwerp is absolutely fantastic! It's enough to make you fall in love and plan your return. Just outside Centraal Station are a host of restaurants and bars, serving every type of food imaginable. Enjoy a "Food Tour" eating experience, in which you may share one or two dishes at several different restaurants in a progressive fashion.
Some notable favourites include Kelly's Irish Pub, Beer Central Antwerp, Holly's Restaurant & Take Away, Brutal, Fish a'gogo, Barbarella, De Pottekijker, and Takumi Ramen Kitchen.
If you're into plant-based eating, be sure to head to Table Dance, a unique, tailored dining experience in a hip atmosphere. Chef Michelle and sous chef Rhys create dishes employing fresh, seasonal fare in multiple courses served from their open Kitchen.
Culture and museum fanatics will appreciate the sheer number of museums in Antwerp. Of note are Museum aan de Stroom, Plantin-Moretus Museum, Rockoxhuis, Red Star Line Museum, Bunker Museum, Museum Mayer van den Bergh and the famous Het Steen castle. Shopping is one of the largest draws to Antwerp, with both high profile brands and bargain options. Worth noting is the prevalence of diamond and jewellery boutiques within the city.
If you plan to stay overnight in Antwerp, some high-quality, reasonably-priced accommodations include Hotel NH Collection Antwerp (4 stars), Hotel Rubens (4 stars), Mercure Antwerp City Centre (4 stars), Franq (4 Stars), and Boutique Hotel Maison Emile (3 stars).
Dinant
Recommended by Jeff from Life Of Y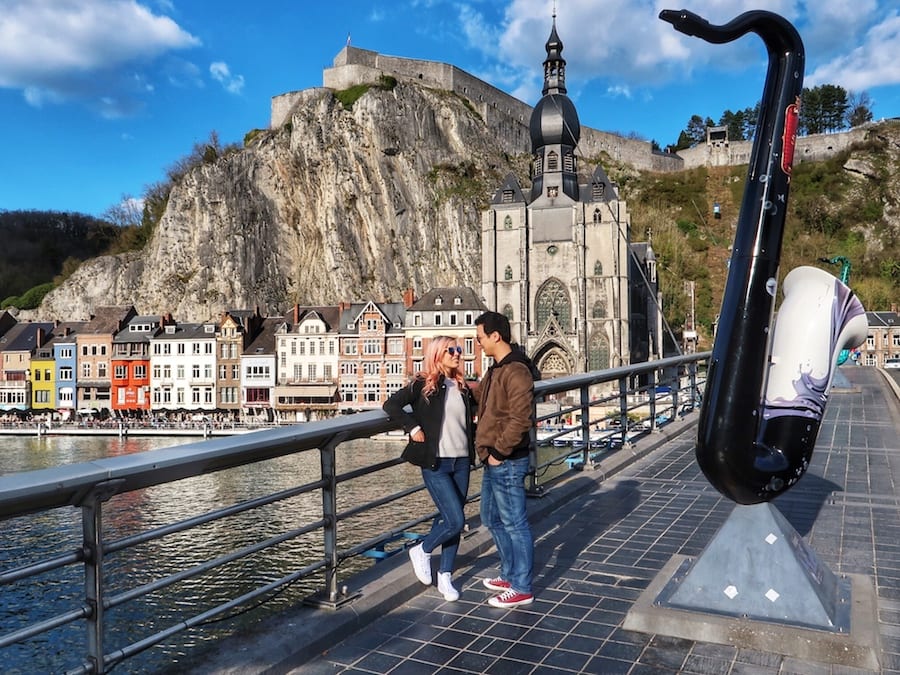 The picturesque city of Dinant is just a short journey away from bustling Brussels. The journey is less than an hour's drive and there is free parking behind the Citadel. You can also take the train but be aware that there are three stations within the Belgian capital!
Dinant was the birthplace of Adolphe Sax, inventor of the saxophone. Sax's house of birth is now an interactive museum that's free to enter. You can also admire the different painted saxophones hidden around the city and along the Charles de Gaulle Bridge.
Despite being a relatively small city, there are plenty of things to do in Dinant. The main landmark is the Collégiale Notre Dame de Dinant – a Gothic cathedral that sits perfectly with the cliff behind to create a picture-perfect backdrop.
You can also visit the Citadel Of Dinant, a fortress at the top of some 400 steps. We took the cable car as the entry is €9.50 either way! After exploring the fort you can enjoy the fantastic. views over Dinant with a cold Belgian beer!
Why not try a local Dinant treat? The Couque de Dinant. Just be careful with your teeth, they're not called Europe's hardest biscuit for nothing!
Finish the day with a walk along the River Meuse to Rocher Bayard, where you can watch buses try to squeeze through the split in the 40-metre-high rock formation.
With so many things to do in Dinant, this beautiful hidden gem makes a perfect day trip from Brussels!
Ghent
Recommended by Aurelia from Daily Travel Pill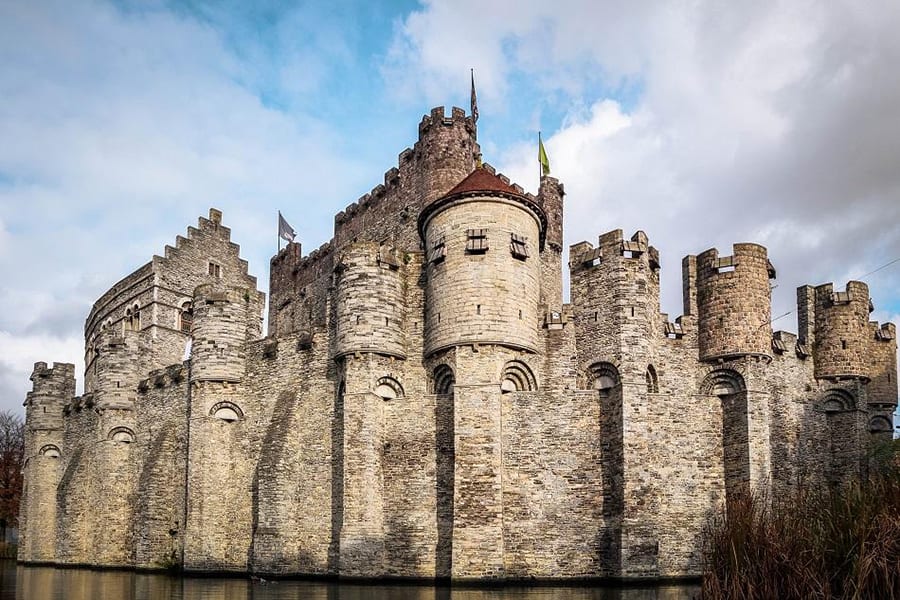 Situated in the Flanders region, Ghent is a charming small town, full of history. The cobbled streets, beautiful canals, and gingerbread-like houses are just a few reasons why you should take a day trip to Ghent.
The easiest and fastest way to get to Ghent is by train. From the train station, you can take the tram to the city centre or you can walk for about 20 minutes. If you start your journey early in the morning, I recommend walking since you'll get to see more of this beautiful city.
Once you'll get to the city centre, you'll be amazed by the city's architecture. Make sure to visit Michael's Bridge – one of the most famous tourist attractions in the city. After that, take a walk on Graslei and Korenlei, and then explore the city further with a boat tour.
If you have time life, visit the Ghent Belfry, and try the famous Ghent noses (sweet treats made of candy gum).
I'm sure you'll have a great time exploring this beautiful city! Ghent is a great option for a wonderful day trip from Brussels. Unlike its bigger brother, Bruges, Ghent is not that touristy which is a great plus.
Day Trips from Brussels to France
France is so close that ad day trip to Lille or Paris would be great fun.
Lille
Recommended by Lara – Both Feet On The Road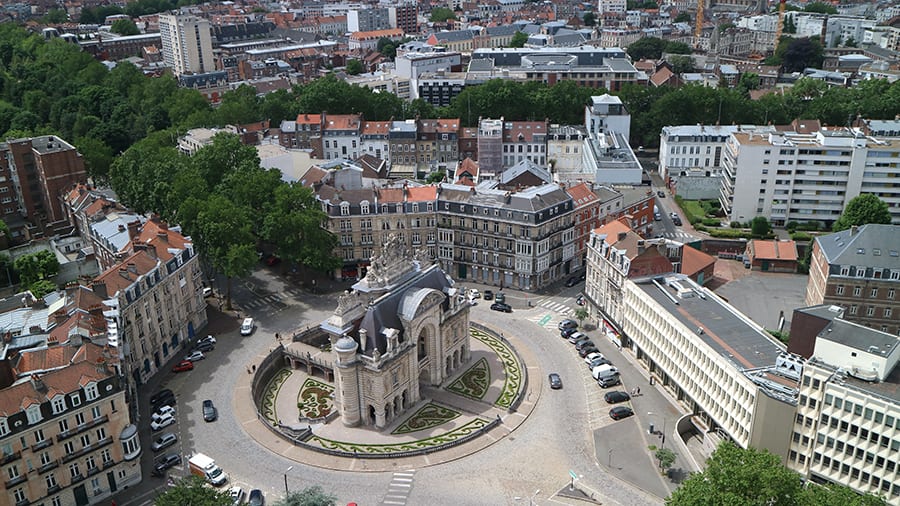 Lille (Rijsel) is a city in the north of France. From Brussels, it takes around 35 minutes by train, or an hour and a half by bus. For budget travelers, the latter is the cheapest option to get to Lille from Brussels.
Lille is an incredibly charming city and compared to Brussel it feels as if you're walking in a small cozy village. Strolling around the historic part of town is one of the best things to do in Lille. Check out the cute boutiques, creperies, and bars that serve many different options of craft beers.
Pay a visit to one of the museums in Lille such as Lille's Museum of Modern Art or the Palais des Beaux-Arts. A visit to La Vieille Bourse, the Grand Place, Porte de Paris, the Citadelle, and the Town Hall and Belfry are just a selection of the other fun things to do in Lille.
As Lille is located on the edge of France, near Belgium, you will find a combination of great places to eat and bars to try Belgian beers. Crêperie de la Vieille Bourse is a good place to try an authentic French crepe, and Le Monks café, La Capsule, and Le Hop's Café are perfect for the beer lovers. It is possible to visit Lille's highlight in one day, though you could also easily fill more days in Lille!
Paris
Recommended by Elisa from World in Paris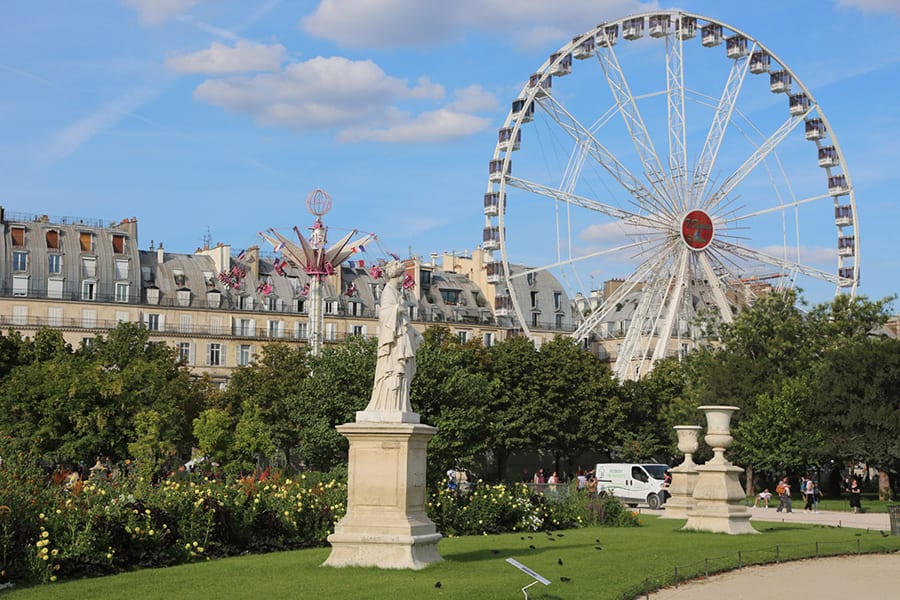 In addition to some pretty Belgian destinations, it is possible to cross the border and explore Paris on a day trip from Brussels. The train connection Brussels – Paris works very well and it is possible to reach Paris Gare du Nord in only 1.5 hours on a Thalys train.
Assuming that you take one of the first trains from Bruxelles-Midi, you can have a whole day for exploring Paris which is pretty good! Of course, one day is not enough for visiting all the French capital but it is possible to tick off some of the most iconic things to do in Paris.
For example, you can take the metro to Trocadéro to admire the Eiffel Tower from the Trocadéro Gardens on the right bank. Then walk towards the east along the bank of the Seine to get some fresh air and soak up the Parisian atmosphere. Stop at one of the cafes in the Tuileries Gardens for a break and a quick eat.
The Tuileries Gardens are beautiful for a stroll and nearby there are also Place Vendôme, Palais Royal while the Louvre Museum is on the other end of the park so you are spoilt for choice.
If the weather is not good and it starts to rain, you can always visit one of the covered walkways of Paris, located in the 1st and 2nd districts of Paris. There's good vintage shopping and beautiful Parisian cafes.
Day Trips from Brussels to The Netherlands
Travel north to The Netherlands and explore some of the beautiful Dutch cities on a day trip from Brussels to Holland.
Rotterdam
Recommended by Inma from A World to Travel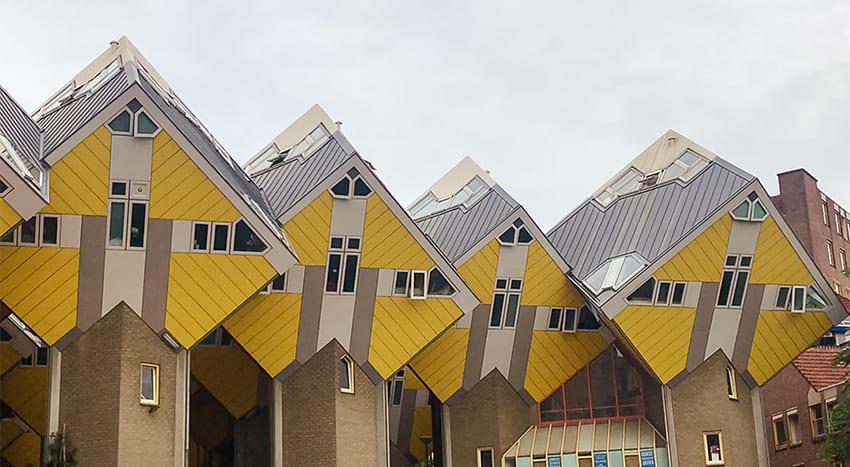 As a student of civil engineering, the first time I set foot in Rotterdam, after leaving the railway station, I was mindblown. For me, it was like suddenly placing myself in a kind of Manhattan with a twist (something that I had seen so many times on TV series and movies but that I had not visited either until then, which is why I missed the urban scale of the matter).
The fact is that the central square of that station (from Brussels it takes just over 1 hour by train) is surrounded by imposing skyscrapers with straight lines. So from the beginning, there was no doubt that Rotterdam would be a good place for an architecture lover like me.
Be sure to visit its financial center, its famous cube houses, the impossible Markthal and – in the distance – the Erasmus bridge, a symbol of the city.
The best way to get to Rotterdam from Brussels is to take a train (1h 10min, from € 16), a bus (2h30min, from € 9), or a rideshare (2h, from € 9). Although, if you have your own rental car, you can combine it with a stop in the beautiful town of Antwerp, near the border of Belgium with The Netherlands.
Amsterdam
Recommended by Constance from The Adventures of Panda Bear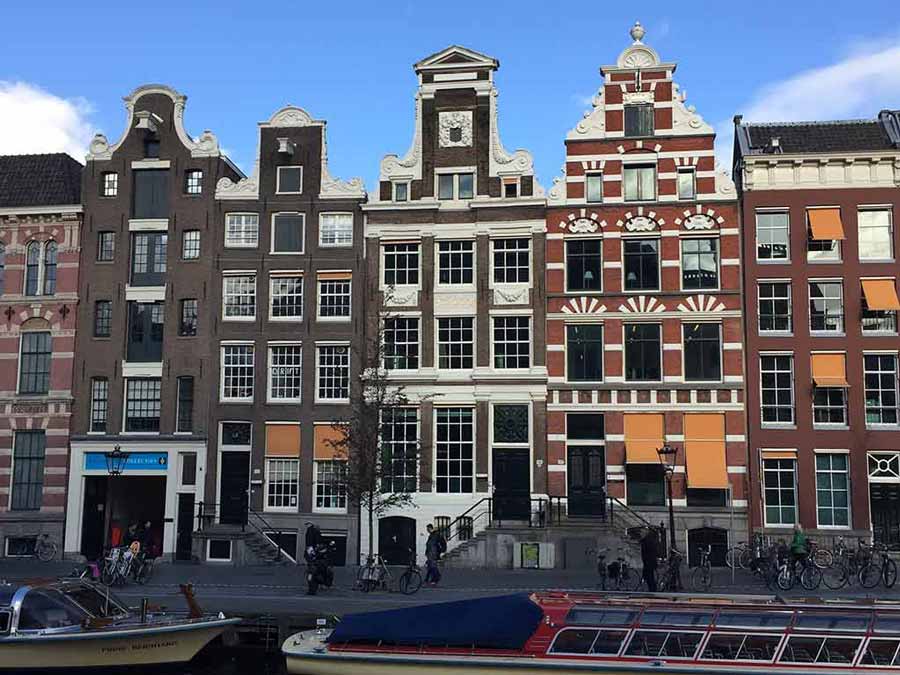 Even though Amsterdam is in another country, The Netherlands, it is the perfect day trip from Brussels. Located less than a 2 hour long train ride from Brussels, Amsterdam is easily accessible via the Thalys high-speed train. For a day trip, it's best to take the Thalys from Brussel-Zuid Station to Amsterdam Centraal, otherwise, you may have to transfer from an IC train to Thalys in Antwerp which may increase your travel time.
On your quick trip to Amsterdam, be sure to explore the historic canal ring. The houses in the Jordaan neighbourhood and along Damrak are quaint and beautiful to see. Don't forget to make time for a canal boat tour, you'll get to see the canals in a more magical way.
The Old Church (De Oude Kerk) and the New Church (De Nieuwe Kerk) are great places to explore to get a sense of Dutch history and culture.
For the best eats, check out Vlaams Friteshuis Vleminckx and Frens Haringhandel for some of the most delicious Dutch street food. Vlaams Friteshuis Vleminckx is best known for their fries and mayo in a cone and Frens Haringhandel is famous for their fried fish (kibbeling) and Dutch haring (cured herring).
Lanskroon Bakery has yummy stroopwafels with lines often out the door and down the street, remember to arrive there early!
There is so much to explore in the city that you might even need to spend a long weekend in Amsterdam to see everything.
Helmond
Recommended by Clemens from Travel Archive
Imagine a life beyond the canals of Amsterdam. Imagine streets, that are empty and where you can actually cycle. And imagine a little alley along the canal, which is full of bars and restaurants with terraces facing the water.
Well, you might have just arrived in the cute little town of Helmond, which is located in the region Brabant and just a quick drive from Eindhoven. Helmond has once been an industrial city with lots of factories and big businesses exporting goods to the entire world.
Today, one of the former factories has been reformed into an amazing building with art galleries, a cinema and a cosy restaurant – and this is exactly how you can imagine Helmond. It is small, it is romantic and it is full of little surprises that you might have not expected.
In the centre of the city, you'll find a city castle which is not only perfect for kids as it is super interactive but also great to hear a little about the history of this area of the Netherlands. The day here can be best spent on the bike. Cycle along the canals, have some ice cream and explore the surrounding park.
Also, you can visit the neighbouring town Brandevoort, which looks a little as if it was taken out of the Truman Show. Above all, Helmond and its surrounding areas are a great place to get a glimpse of Dutch daily life off the known cities, such as Amsterdam.
Helmond is located 156 kilometres from Brussels. The easiest way to get here is by using any connection that takes you from Brussels to Eindhoven. There is a direct train that leaves more than once per hour from Eindhoven to Helmond
Day Trip from Brussels to Germany
Germany is also on Belgium's border, but while the major cities of Hamburg, Berlin or Frankfurt may be too far to visit in a day, try Aachen for a magical day out.
Aachen
Contributed by Wendy Werneth of The Nomadic Vegan
While more famous German cities like Hamburg and Frankfurt are known for their futuristic skylines and contemporary architecture, Aachen has managed to retain many vestiges of its long history.
The undisputed highlight of a trip to Aachen is its Palace Chapel, which is part of the Cathedral (called the "Aachener Dom" in German). This chapel was originally part of a huge palace that Holy Roman Emperor Charlemagne built for himself in 800 AD when he made Aachen the winter capital of his Empire. The rest of the palace has long since been destroyed, but amazingly the 1,200-year-old chapel still survives.
This is where the coronations of many Holy Roman Emperors were held, and you can still see Charlemagne's marble throne, where he sat during his own coronation.
While you're welcome to roam freely around other parts of the Cathedral, visiting the Palace Chapel requires going on a guided tour, and unfortunately, these are given only in the German language. But even if you can't understand the commentary, it's definitely worth joining the tour to get a peek at the magnificent marble and mosaic decoration.
Milou, a vegetarian cat café, is a great place to stop in for lunch. In addition to the scrumptious food, it also has a very cozy atmosphere with lots of vintage furniture. And adorable kitties, of course! The quickest Deutsche Bahn Intercity-Express trains take just over an hour to get from Bruxelles-Nord station to Aachen Hauptbahnhof. Buses are cheaper but take closer to two hours.
Take a Day Trip from Brussels to London
You might think that travelling for a day trip to London from Brussels would take too long, but it is only 2 hours away by Eurostar.
London Day Trip from Brussels
Recommended by Sarah from Travlinmad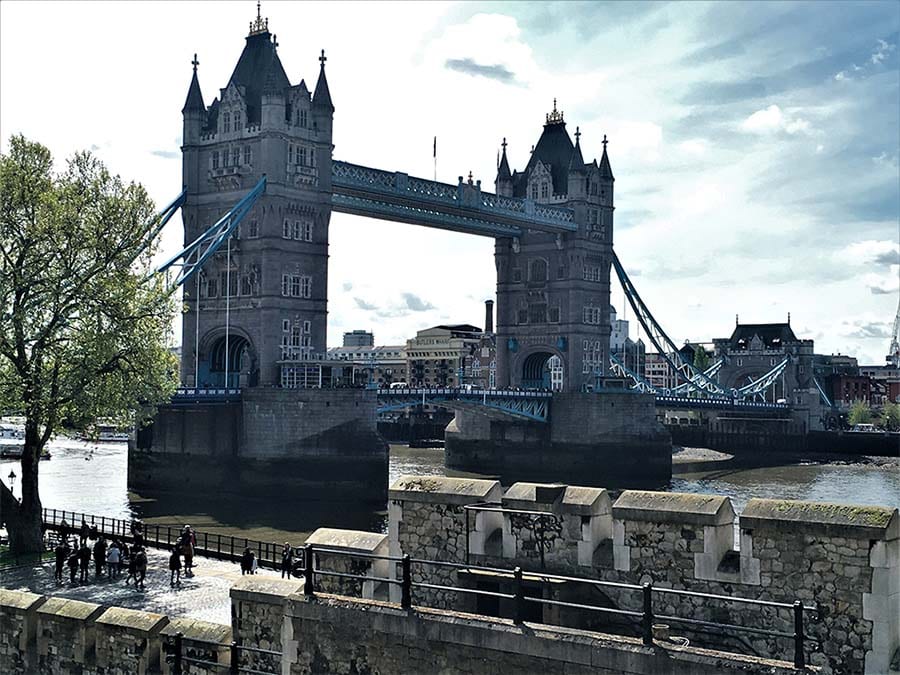 There are 9 direct Eurostar trains that take you from the heart of Brussels to the heart of England's capital, London in a 2-hour journey. 
Get a flavour for the city, start with a trip on the London Eye – it's the BEST way to get a true overview (in all senses of the word) of the city! Then jump on one of the hop-on, hop-off buses – sit upstairs on the iconic open-topped red double-decker London buses and marvel at all the sights.
Jump off at Covent Garden for a spot of lunch and to explore the outdoor areas here. Try traditional Fish and Chips, or London's Original Street Food, Pie, Mash and Liquor.
Then it's back on the bus to see the rest of what the city has to offer, pick a few attractions that pique your interest to make a stop. Make your way to the banks of the River Thames by late afternoon and take an early evening dinner cruise to see this glorious city at dusk before making your way back to St Pancras and the train back to Brussels.
Take a Day Trip from Brussels to Luxembourg
A much-underrated country, Luxembourg is to the south of Belgium and an interesting place to visit.
Luxembourg
Recommended by Paulina from Paulina on the Road..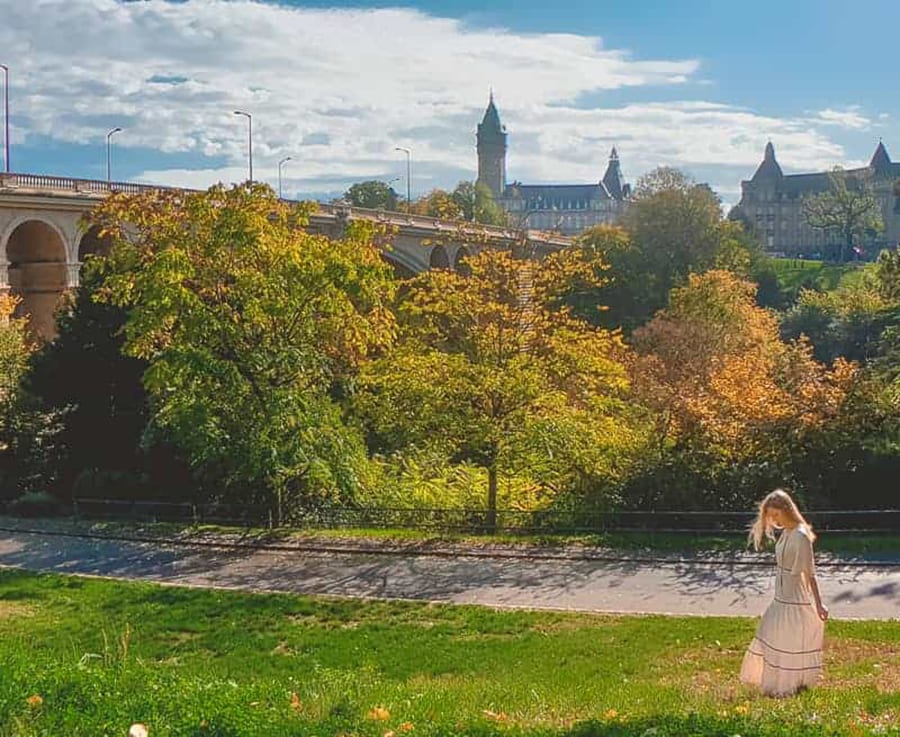 When looking for day trips from Brussels, why not visit one of the smallest countries in the world? I am talking about Luxembourg which is only a 2-3h train ride away from Brussels.
You need to take the train in Brussels Central Station and from here you'll drive through the picturesque Wallonia region until you reach Luxembourg City.
So what are the things to do in Luxembourg you only have 1 day? First, you should walk The Viaduc Bridge (Passerelle) which leads you from the station to the old-town of the capital. From here, head over to the Grand Duke's Palace and have a hot chocolate at the legendary Chocolate House.
From here make your way to the Corniche which is considered by many as one of the most beautiful balconies in the world. Then, it's time to wander to Place d'Armes where you can have lunch in Le Grand Cafe. From here, you'll walk to the Golden Lady, the national monument of Luxembourg. Your visit couldn't be complete without visiting one of the city's museums such as the Mudam.
If you want to stay longer in Luxembourg and you are wondering where to stay in Luxembourg, I recommend staying in the Old Town since it's particularly quaint.
I hope you like these suggestions for day trips from Brussels. If you have any questions or wish to share your favourite day trip, please comment below!
Don't forget to pin this article so you can come back to it later