A hidden gem in the Caribbean, Barbuda is a beautiful haven with long sandy, palm-fringed, pink and white beaches, warm turquoise seas and a chilled, laidback vibe.
Sadly on 6 September 2017, Hurricane Irma hit Barbuda with devastating effects. Houses were destroyed, the entire island was evacuated and the mangroves uprooted. Now, in 2020, nearly two and a half years later, the island is still repairing itself, but Barbuda is open to visitors again.
---
*This site uses affiliate links and I may earn a small commission when you use my links and make a purchase without incurring an additional fee yourself.
Thank you for supporting this website. See my disclaimer page for more details.
---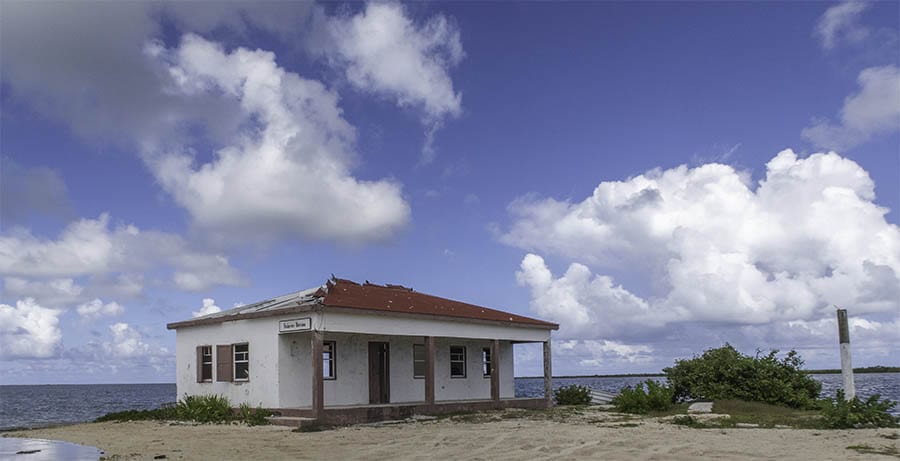 If you are intrigued, here are some things you need to know before you go:
Where is the Barbuda?
Barbuda lies about 60kms of the north coast of Antigua, with coastlines on both the Caribbean Sea and the Atlantic Ocean. At only 160km2 the island is surrounded with a varied coastline of long white and pink beaches on the Caribbean Sea side and rugged shores interspersed with white beaches on the Atlantic side.
Along with Antigua and Redonda, Barbuda makes up the Caribbean independent nation of Antigua and Barbuda within the Commonwealth of Nations.
Note: do not confuse Barbuda with Bermuda or Barbados. They are all Caribbean Islands, but Bermuda and Barbados are independent countries and Barbuda is part of the independent sovereign state of Antigua and Barbuda.
How to get to Barbuda?
There are no direct international flights to Barbuda, so you have to fly into Antigua's VC Bird International airport before crossing over to Barbuda. If you are travelling on a cruise ship that stops at Antigua, you may have time to pop over to Barbuda for a day trip.
You can either take a 15-minute flight from Antigua or take one of the two ferries:
By Sea
There are two ferry services crossing to Barbuda. Carib Breeze Ferry and the Barbuda Express Ferry which both leave from St John's Harbour.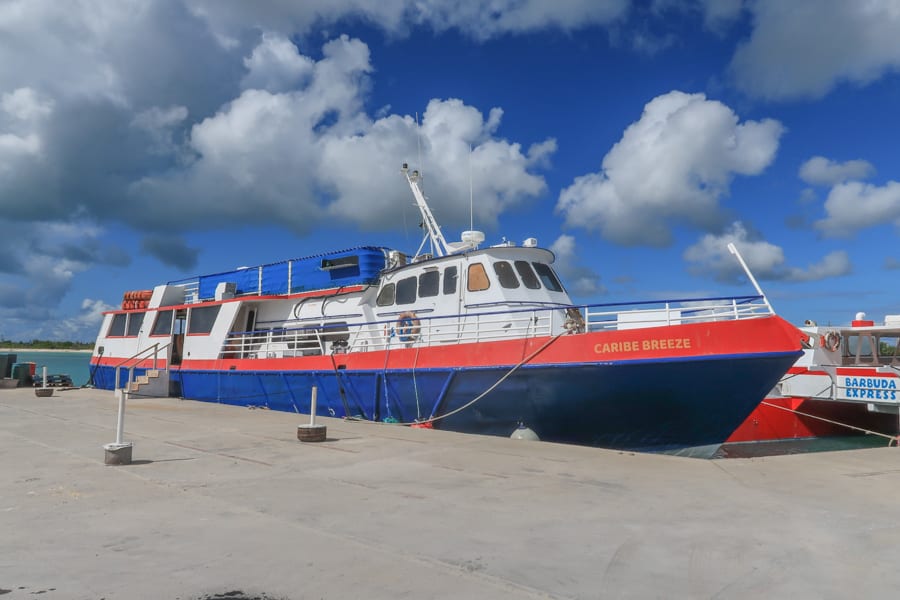 Carib Breeze
Currently, the Carib Breeze ferry leaves Antigua for Barbuda at 9:00 am on Sundays, and at 8:00 am on every other day except Wednesday when it does not operate. Returning to Antigua, the Carib Breeze ferry sails at 4:00 pm. The trip takes 90 minutes each way.
There is comfortable airline seating inside, including an air-conditioned cabin with in-house entertainment of movies and music or up on the top deck, though you can get a bit wet depending on the waves. Refreshments are available to buy on the journey.
Tickets are available to buy at Nevis Pier on Nevis Street, St John's.
Barbuda Express
The Barbuda Express is a catamaran which goes to Barbuda at:
7:00 am Mondays, Tuesdays and Thursdays
6:00 am and 2:30 pm on Wednesdays and Fridays
12:00 pm on Sundays
And returns to Antigua:
3:45 pm Mondays, Tuesdays, Thursdays and Sundays
7:45 am and 4:30 pm on Wednesdays and Fridays
For more information and up-to-date timings, please see the websites.
By Air
The Airline – SVG (St. Vincent & the Grenadines) – flies from Antigua at 7:15 am and returns from Barbuda at 4:00 pm. For more information call 1 (268) 484-1324.
Do you need a Visa for Barbuda?
To enter Antigua and Barbuda, if you are from the UK, USA and Canada, you do not need a visa. However, all visitors to the island need to have a valid passport, and either an onward or return ticket.
What is the time difference in Barbuda?
Barbuda is 4 hours behind UK time.
When is the best time to go?
Barbuda's off-season is from May to November. Rates are cheaper, and fewer tourists from Antigua. The weather can be a bit wet, but temperatures are normally around the mid-20s to 30 degrees and humid. There is also a slight risk of hurricanes.
December to April is high season on Antigua which means more tourists visiting Barbuda.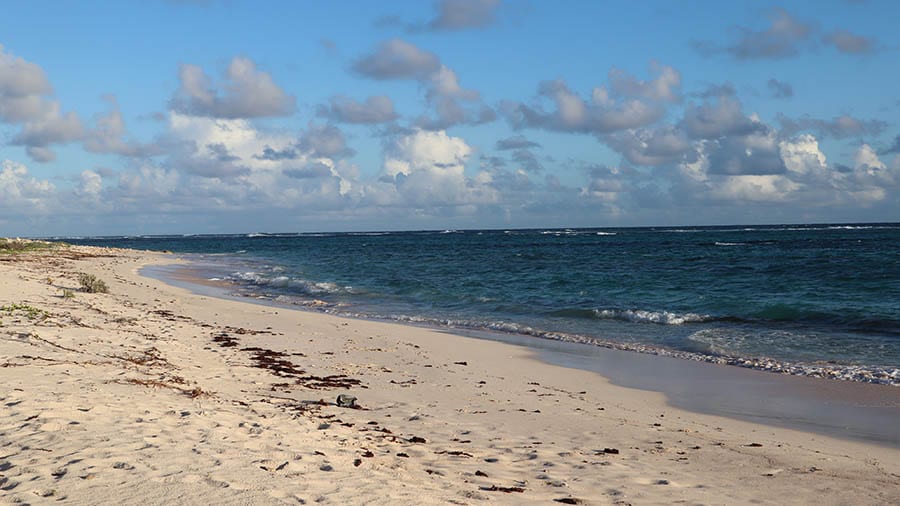 What else should you know about Barbuda?
How do you get around the island?
Depending on the length of your visit, you can hire a taxi to take you around or rent a car.
Taxi Phone Numbers:
B Uber Service – 1-268-785-9389
Strive for Excellence – 1-268-774-5504
Dilly's Taxi – 1-268-721-3392
Imran Thomas – 1-268-726-0946
Levi Hohn – 1-268-788-5378
Rental Car Phone Numbers:
Annmarie Joseph – 1-268-725-4970
Barbuda Rentals – 1-268-721-9993
Meadowlands Enterprise – 1-268-725-5453
Pressed for Time Rentals – 1-268-720-4084
What is the currency?
Like Antigua, Barbuda uses the Eastern Caribbean Dollar. Some places do also accept US dollars.
What plugs do I need?
Barbuda uses standard American plugs, so bring an adapter with you. I carry a multi-country plug adapter with me, which covers most major countries.
Can I drink the water?
Tap water is not good to drink. So carrying a water bottle with you is important. If you are out and about and want to use water from a stream, you can use a water bottle with a filter like the Water-to-Go. These bottles filter out over 99.9% of all microbiological contaminants including viruses, bacteria, chemicals and heavy metals from any non-salt water source.
Will I get a Phone and Internet signal?
Before you leave Antigua, you can pick up a sim card from either Flow or Digicell. They both have shops on diagonally opposite corners of Market Street in St Johns, so you can buy one before you cross to Barbuda.
What language do they speak on the island?
English is the main language spoken on Barbuda. There is also a local dialect, which I have to confess, I didn't master it whatsoever.
Are the beaches really pink?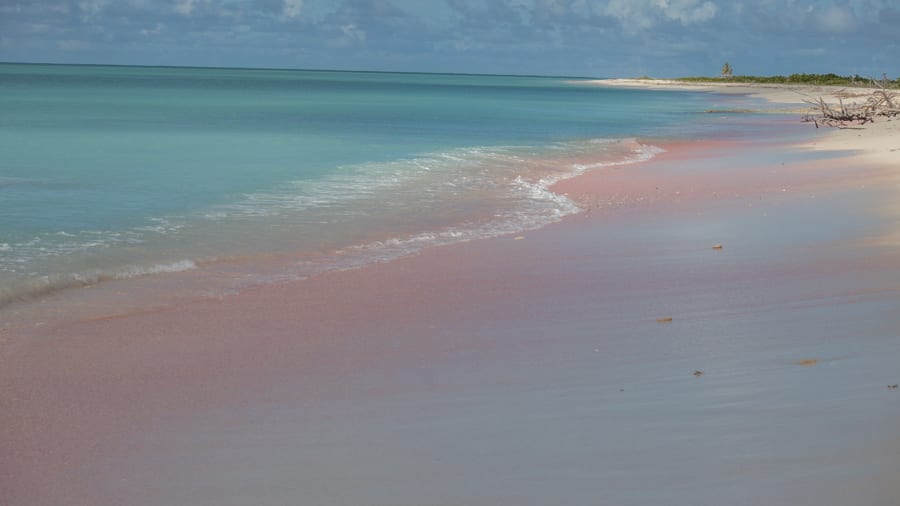 Yes! Not all of them, but the ones on the Caribbean coastline of Barbuda, the beaches are tinged with pink from millions of tiny shells and pieces of coral.
What is there to do on Barbuda?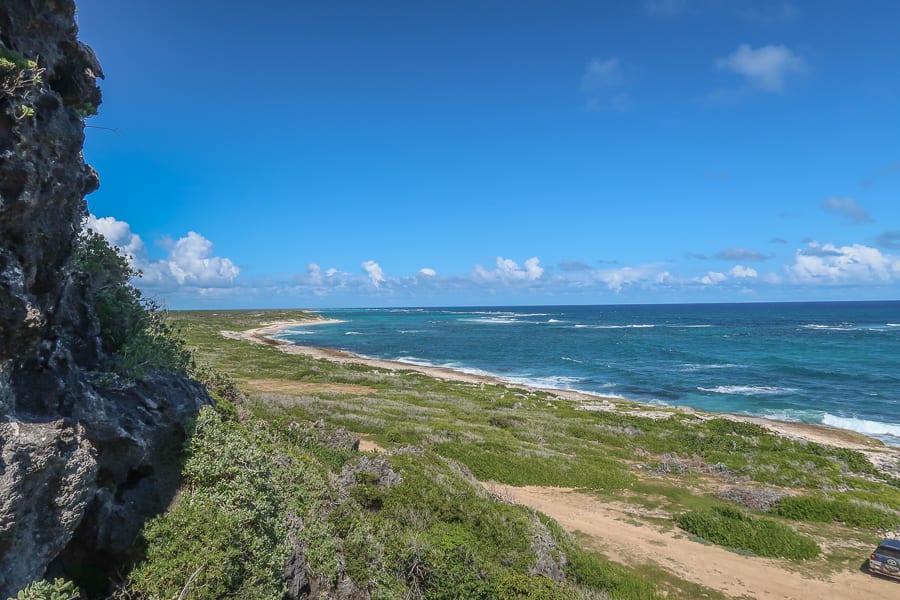 For a small island, there is plenty to do. You can rock climb, hike and explore the caves in Two Foot Bay National Park (including a geocache). Darby Sinkhole to discover. You can go camping, bird watching, snorkelling, kayaking or paddleboarding. With almost zero light pollution, you can stargaze at night.
Barbuda also has excellent diving and the most shipwrecks in the Eastern Caribbean!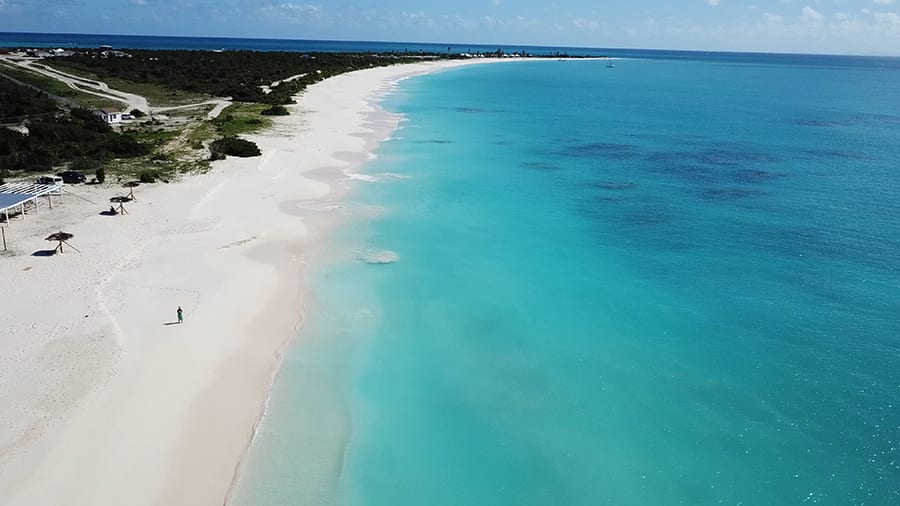 Relax on one of the many beautiful beaches on the island. Princess Diana visited Barbuda several times with the young princes William and Harry. In 2011, in an initiative of the Barbuda Council and the local tourism office in Barbuda, Coco Point Beach was renamed Princess Diana Beach in her honour. It is a peaceful, quiet, almost deserted and tranquil spot to visit.
Where can I stay on the island?
There is a range of accommodation on the island, from 5-star luxury at the Barbuda Belle Resort to self-catering at Simply the Best to glamping at Frangipani Glamping, there is something for every budget.
Check out our recommended best places to stay in Barbuda.
Where can I eat on the island?
You will not find any of the high street coffee shops, restaurants or eateries on the island, food is locally made, honest and delicious. Specialities include lobster, deer, conch, crab, beef and lamb.
Street food is big in Barbuda with many stalls along the roads in Codrington during the day and at night, serving hot corn, meat or vegetable patties or delicious lobster, deer or beef burgers.
Places to eat include:
The ArtCafe – 1 (268) 726 9118 – local home-made food and drink in an art gallery and cafe.
Uncle Roddy's – 1-268-722-3050 – recently refurbished right on the beach at Barbuda Cottages offering lobster and local catch of the day dishes.
Timbuk One Restaurant, Bar & Casino – 1-268-722-8085 – open from breakfast to late at night.
---
I hope you have enjoyed reading about Barbuda. It is a beautiful island and if you have a chance to go there, you will have an amazing time. If you have any questions, please comment below!