Do you enjoy trying new foods when you are abroad? Are you travelling to Sri Lanka? Read about the best food in Sri Lanka to try. Whether you are a vegan, vegetarian, pescetarian or eat everything, you will find delicious new dishes to try.
When I visit a foreign country, I am always excited to eat local dishes. I love trying out new flavours, getting my taste buds tingling with unusual spices and herbs wherever I go. However, it can be difficult to know what traditional food to eat. When I visited Sri Lanka, I went to the local restaurants and street carts where the locals eat to try authentic Sri Lankan food.
---
*This site uses affiliate links and I may earn a small commission when you use my links and make a purchase without incurring an additional fee yourself.
Thank you for supporting this website. See my disclaimer page for more details.
---
Sri Lanka is an island nation which sits in the Indian Ocean to the southwest of India in south east Asia. Even though it lies close to India, the cuisines are subtly different.
Sri Lankan cuisine has been likened to South Indian food, but Sri Lankan dishes have many international flavours woven in. With hints from Southeast Asia, you can taste a subtle Indian, Portuguese, Dutch or British influence here and there all melded together into unique dishes, that will excite you and your tastebuds!
Known as a spice island, Sri Lanka has its fair share of hot and spicy dishes, as well as cooler curries using spices for flavour and to enhance the vegetables, fruit fish or meat used.
Best Food in Sri Lanka to try on your trip
Rice
There are typically two to three types of rice on the menu in Sri Lanka. White (sudu batha) or a redish/brown rice called rathu batha. You can also find yellow rice which is coloured with tumeric.
Curry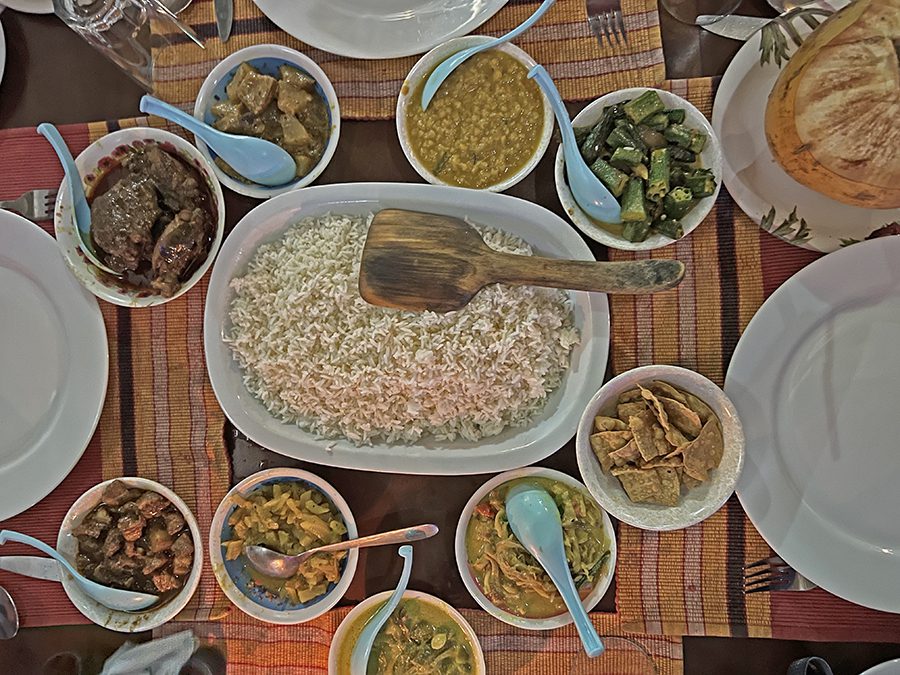 One of the staples in any local Sri Lankan restaurant or kitchen is rice and curry.
The variety of curries seems to be infinite, and most meats, fish, seafood, vegetables, or even fruits can be used. I sampled a mango curry, a papaya curry, a cucumber curry, and a beetroot curry!
Each chef has their own way of cooking them, a pinch more chilli powder here, more curry leaves there, an extra grind of black pepper or a dash of this or that.
Don't be surprised if you are served rice and curry for your Sri Lankan breakfast. It is a staple food for many Sri Lankans who eat it for breakfast, lunch, and dinner! You might even get a fried egg on top.
Also in a tropical climate, a hot curry makes you sweat, which actually cools you down and all those spices can be good for your health.
Some of the amazing curry dishes to look out for:
Pumpkin Curry
Potato Curry
Pineapple Curry
Crab Curry
Aubergine or Eggplant Curry (wambatu moju)
Chicken Curry
Sour fish Curry (fish ambul thiyal)
Beetroot Curry
Carrot Curry
Jackfruit Curry
Dhal Curry (see recipe below)
Aubergine Curry
Okra Curry
Winged Bean Curry
Banana Flower Curry
Cashew Nuts Curry
And many, many more different curries.
Do not be surprised that your hotel, restaurant or cafe has a buffet. With so many choices of curries, rice, sambols, hoppers and pickles, it is better that you choose your own plate full.
Hoppers (Appam)
Hmmm, how do you describe hoppers? They are a kind of cup pancake made from a batter of coconut milk and rice which is fermented overnight. Maybe a photo would be better to explain.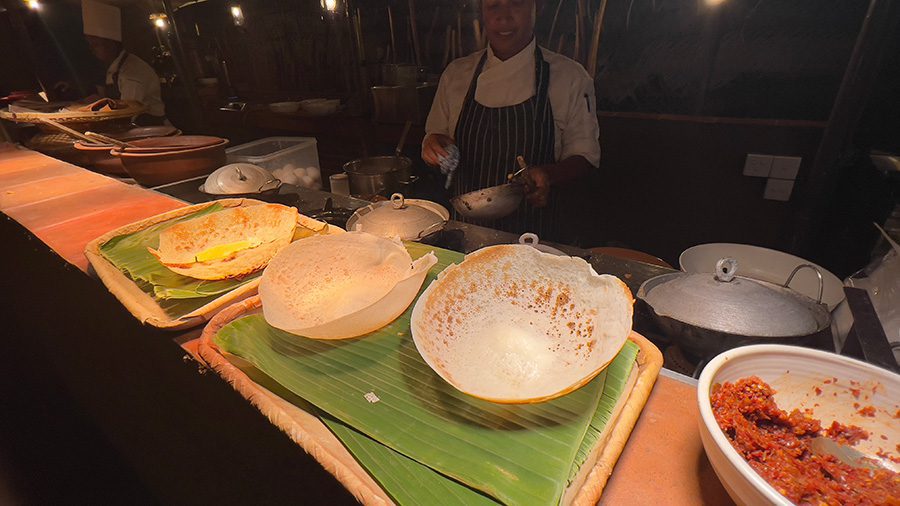 The batter is swirled around the sides of a small wok. It creates a kind of pancake bowl. Plain hoppers are served without any additional ingredients. Egg hoppers have an egg dropped into the 'bowl' during the cooking.
The hoppers are then eaten with your breakfast curry and are delicious.
String hoppers are made with rice flour mixed with salt and water. The dough is then put into a string hopper press and swirled onto bamboo moulds and steamed.
This creates a kind of noodle-like flat bundle (quite difficult to describe). Little bits are torn off to be mixed in with the curries.
A mixture of rice flour, kurakkan flour (or millet) and coconut, pittu is pressed into a special pittu maker and steamed for about 10 minutes. It can have added extras like chillis, carrots or other vegetables.
The pittu comes out the steamer is a chunky sausage shape. It has quite a nutty flavour and works well with "wet" curries with lots of sauce.
Roti
Rotis are like a flatbread that is made from the main ingredients of flour and water. To this vegetables are added for Vegetable Roti or grated coconut for Coconut Roti (Pol Roti) (see recipe below)
The roti is then dry-fried in a small wok or pan until they have crispy edges.
Once cooked, the roti are served with rice and curry. Small pieces are broken off to eat with the curry and mop up any sauces.
Godamba Roti
Using the same ingredients as normal roti, godamba roti is rolled into balls and then rested in a bowl of oil. The balls are then stretched out thinly and cooked on a very hot flat griddle until golden brown.
Kottu Roti
Another staple dish in Sri Lanka is kottu roti. Made with cut-up pieces of roti and other added ingredients such as onions, cabbages, eggs or bits of chicken, or beef. Nowadays cheese kottu is also popular.
You hear the chefs chopping up the kottu with sharp-bladed knives on a heated metal surface. It is quite an art and worth watching as they chop away.
Kottu was invented in Batticaloa on the east coast of Sri Lanka in the early 1970s.
Fish and Seafood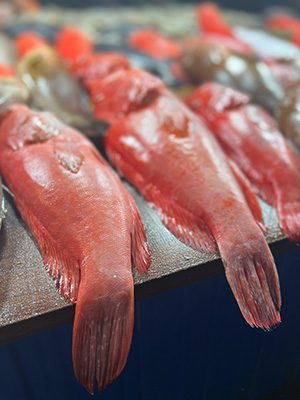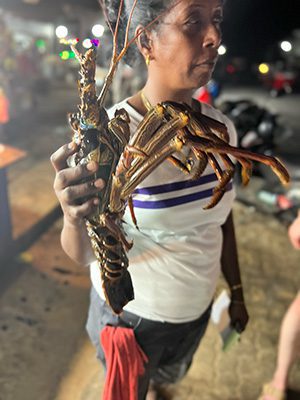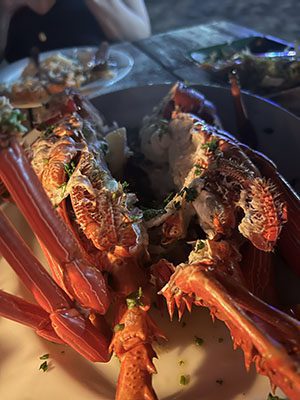 As a tropical island surrounded by the Indian Ocean, fish and seafood feature high on the menu.
All ports have their own fish markets with all the catches on display. Try to walk around and identify all the different fish. If you are in the fish market in Negombo, check out Ravi, the rockstar fishmonger… his cutting skills even feature on YouTube.
Walk down the street in Welligama in the evening and select your fresh fish or seafood from the stalls of red snapper, prawns, lobster, squid, octopus, tuna and a myriad of fish I couldn't identify. Then take your seat on the beach while it is prepared for you and get ready for a feast.
One of the best curries I tasted was the signature crab curry at Jetwing Jaffna, definitely have to eat with your fingers and suck out all the crab meat in the delicious sauce.
Isso Vade
These oval prawn fritters are delicious little bites. Deep-fried prawn patties are served in restaurants or in street food stalls.
Buffalo Curd
You often see round clay pots topped with a white cover piled up outside shops or sold on the streets. This is buffalo milk curd. It is like a creamy yoghurt and is normally served as dessert with syrup or honey.
Milk Rice
These diamond-shaped milk rice are made with rice, cardamoms and coconut milk. Perfect with the lunu miris sambol (see below).
Sambols or sambals
There are many different types of sambol; some wet and some dry.
"Wet" sambals have a sauce or liquid whereas the dry sambals, tend to be coconut based and are, well, dry.
Try a spicy lunu miris, a bright red slightly paste made with chili peppers, shallots, Maldive fish, sea salt, black pepper and a little bit of lime juice. Too hot? Maybe a curry leaf sambol is more your thing.
With virtually every curry, you will also be offered pol sambol or coconut sambal (recipe below). It is a pinky-salmon colour with a fresh taste and is not too hot.
Try gotu kola sambol which tends to be made with finely chopped leafy greens, chilli, and shallots with flecks of red from tomato and white from coconut. If you are vegetarian or vegan, be careful as it normally is made with Maldive fish flakes.
There are many, many more including, cabbage, carrot, pineapple or onion sambals, all adding a unique flavour to your curry.
Pickles and Chutneys
The Sri Lankan pickles enhance your curries and can be made with vegetables or fruits. Try hot and sour aubergine or eggplant pickle, a spicy mango chutney, onion, carrot and even starfruit pickles. If you want to try them, I would recommend putting a little on the side of your plate, or even a different plate and add more if you like it.
Salted Limes (lunu dehi) – This is a different chutney to lime pickle that you might be familiar with from Indian cuisine. Salted limes tend to be a hot and sour pickle made from ripe limes. They aren't for the faint-hearted and I found them to be an acquired taste!
Poppadums
Poppadums in Sri Lanka tend to be already cut into smaller pieces and crispy, perfect for scooping up your curry and rice.
Unusual vegetables and fruits you might find in Sri Lanka
Take a tour of any Sri Lankan food market and you will be surprised at the range of tropical fruit and vegetables on offer. Some you may be familiar with, others you may be new to you.
Look out for wood apples, red bananas, pandan leaves, winged beans, long beans, heart-shaped jambu, soursop, jackfruit and starfruit.
Eating curry in Sri Lanka
If you want to eat your food like the locals, ditch the knife and fork and use your right hand only.
To begin with, it feels weird to be eating with your hands, and I used my thumb and forefinger delicately to pick up little bits, but that is not how to do it.
The best way is if you take bits of each curry and mush them together with the rice, pick it up and try to get it all in your mouth without dropping any.
You soon get used to it and after a while, you will be mixing rice with curry and pickles like a pro!
Sri Lankan Street Food or Short Eats
Wherever you go, you will find street vendors, either with stalls by the road, cute, wheeled vehicles which appear in the evenings or even converted buses.
Not only can you get different types of vade (fried vegetable or fish fritters), but there are samosas, different types of stuffed roti, murukku which are kind of savoury, spicy pinwheel snacks.
You will often be given your food in a banana leaf packet, which doubles up as a plate and is biodegradable!
Being a Vegetarian or Vegan in Sri Lanka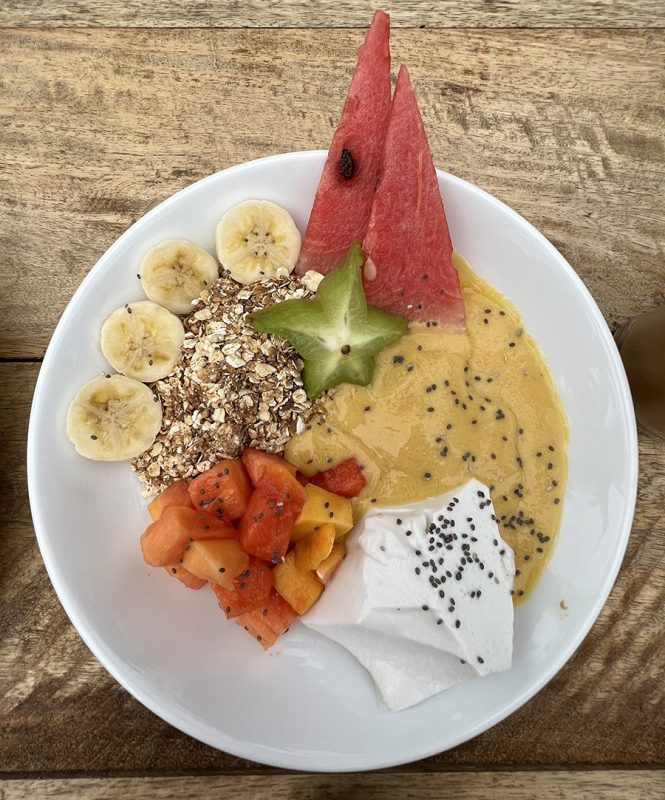 It can be difficult in some countries to find good vegan or vegetarian food, but there are plenty of options for things to eat in Sri Lanka.
Not only are most of the curries vegetarian, but there are an increasing number of vegan restaurants popping up selling both Sri Lankan dishes and Western ones.
However to be aware that some of the vegetable curry that is served may have shrimp paste or Maldive fish in the sauces.
Although not typical Sri Lankan food, there are plenty of places serving Buddha or smoothie bowls, falafel, and other delicious fusion food.
Sri Lankan Drinks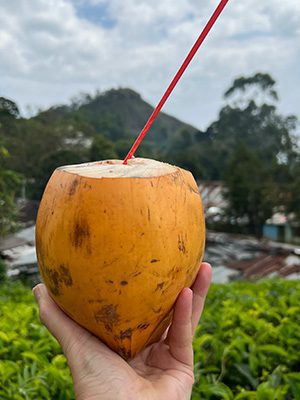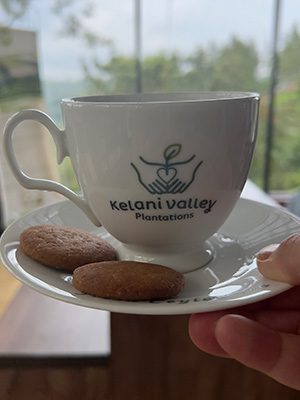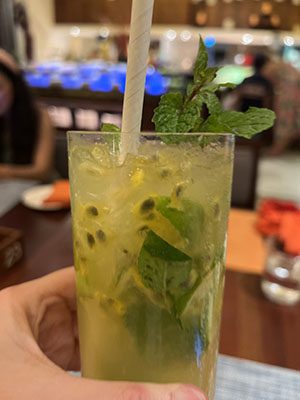 King Coconut (Thambili)
Sold on the roadside, in some of the stores and restaurants or presented to you when you arrive at your accommodation, the King Coconut is one of the most refreshing drinks in Sri Lanka.
Coconut water drunk straight from a fresh coconut is the best. I have also had it with added lime juice which is amazing! I tried it with lemon juice, but it is not the same; lime definitely gives it a tropical flavour.
When you are finished, don't forget to ask for the coconut to be opened so that you can scrape out the delicious coconut meat inside.
Lion Beer
Lion Beer is the number 1 brand in Sri Lanka and has been brewed in the country since the 19th Century. It is a light lager and available in cans, bottles or draught. Perfect to quench your thirst on a hot day.
If you don't like drinking lager, or want something a bit stronger, try the Lion Stout.
Arrack
Sri Lankan arrack is the best-known spirit in the country. Distilled from the sap released by the stems of coconut flower stems, it is a potent liquor.
Traditionally it is taken by itself or maybe with some ginger ale – a kind of Arrack Stormy – but the best that I tried, has to be the signature Jetwing Jaffna Arrack Cocktail! OMG delicious.
Tea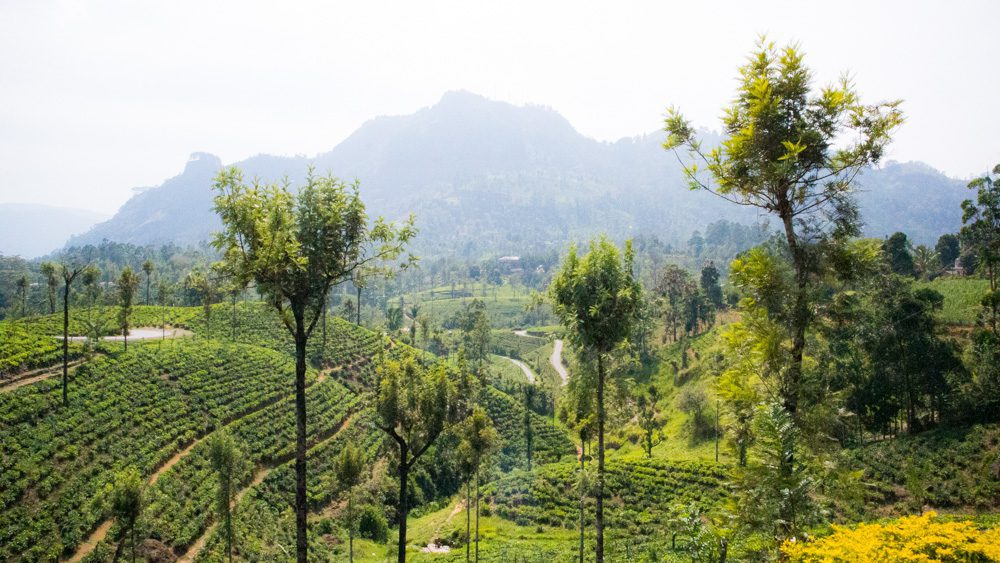 You can't mention Sri Lankan drinks without mentioning tea. With so many tea plantations in the highlands of Sri Lanka, there is a wealth of different teas to try.
Ceylon Tea is known worldwide and is regarded as one of the best you can taste.
The green terraces of tea flow down the hills around Nuwara Eliya, and a visit to a tea plantation is a must. You can have a tour around the factory, maybe try picking teas and of course have a tea tasting.
Depending on the plantation you visit you will try black teas, blended teas, green teas and even ones that are blue and turn purple when lime juice is added.
Virgin White Tea uses the very tips of the tea plants which are said to be cut with gold scissors by gloved workers.
You may be served a small brown lump which looks like a bit of Scottish tablet or fudge. This is jaggery which is a natural sweetener made from the sap of the kithul tree.
Fruit and Vegetable Juices
While you may recognise most of the fresh tropical juices on offer, you may find some you don't recognise. On offer are juices like wood apple juice, green oranges which look like large, wrinkled limes but are a very refreshing orange, green mango, watermelon, papaya, banana or maybe a bright red dragon fruit juice.
Words and Phrases for Restaurants and Food
It is handy to know a few essential phrases to use when in a restaurant or ordering food.
Can I have the menu, please – Mata menu eka génna
Not spicy – Sara ne
Spicy – Sara
I am a vegetarian – Mama mas maalu kanne neha (literally I do not eat fish or meat)
I don't eat meat – Mama mas kanne ne
I don't eat fish – Mama mas maalu ne
Recipes
Do you want to try some Sri Lankan food at home. Have a go at Sri Lankan cooking with these recipes.
When I was staying at Jetwing Surf in Pothuvil near Argum Bay, I was lucky enough to help out in a cooking demonstration.
Head Chef, Gemunu Chameera has kindly let me share four of his recipes with you.
Coconut Roti Recipe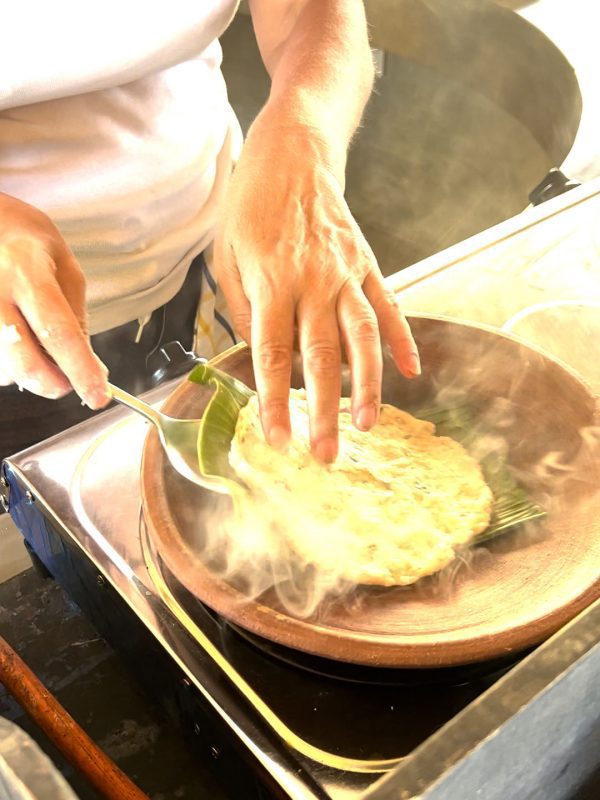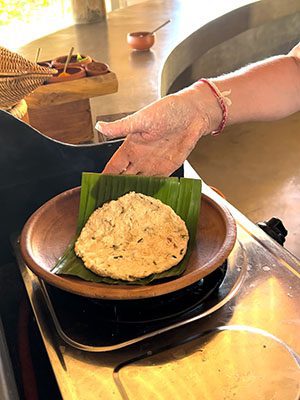 Ingredients
1kg Wheat Flour
750g Grated Coconut (preferably freshly grated)
30g Salt
Cold Water to mix
Optional
100g Finely chopped Shallots or Red Onions
25g Finely chopped Curry Leaves
50g Finely chopped Green Chilli
Method
Mix together the onion, curry leaves and green chilis (if using) with the salt and grated coconut.
Add the flour to the coconut and mix well with your hands.
Slowly add the water to the mixture and blend through until it becomes a soft-to-medium dough.
Divide the dough into small balls (around a tennis ball size).
If you are lucky enough to have banana leaves, press the balls out using your hands until they are flat and about the size of a small side plate. Alternatively, you can roll them on a board with your hand or a very lightly dusted rolling pin.
Heat a small flat-bottomed pan and slide the roti in.
Kurakkan Pittu Recipe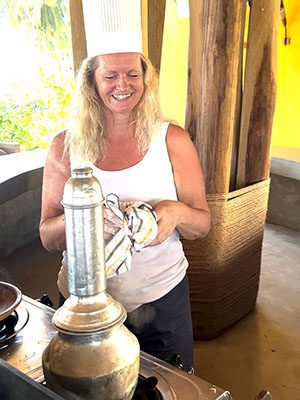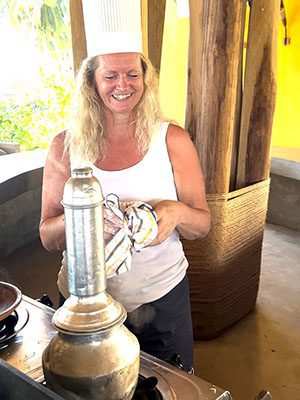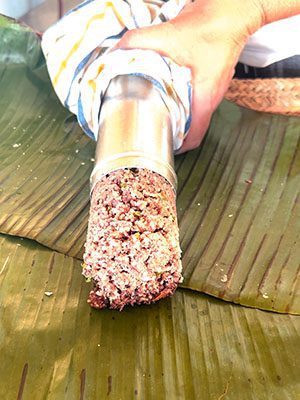 For the Pittu, you will need a pittu steamer.
Ingredients
500g Kurakkan Flour (or you can use fine millet)
500g Rice Flour
500g Grated Coconut
Coconut Milk
25g Salt
Optional
100g Finely Diced Carrot
100g Finely Chopped Onion
25g Finely Chopped Curry Leaves
Method
In a bowl, mix together the grated coconut with the salt, the carrot, onion and curry leaves, if using.
Add the Kurrakkan and rice flours and mix with your fingers until blended together.
Slowly add the coconut and mix with your fingers until it has a sandy texture.
Slowly put the pittu mixture into the pittu steamer and steam for 7 to 10 minutes.
String Hoppers Recipe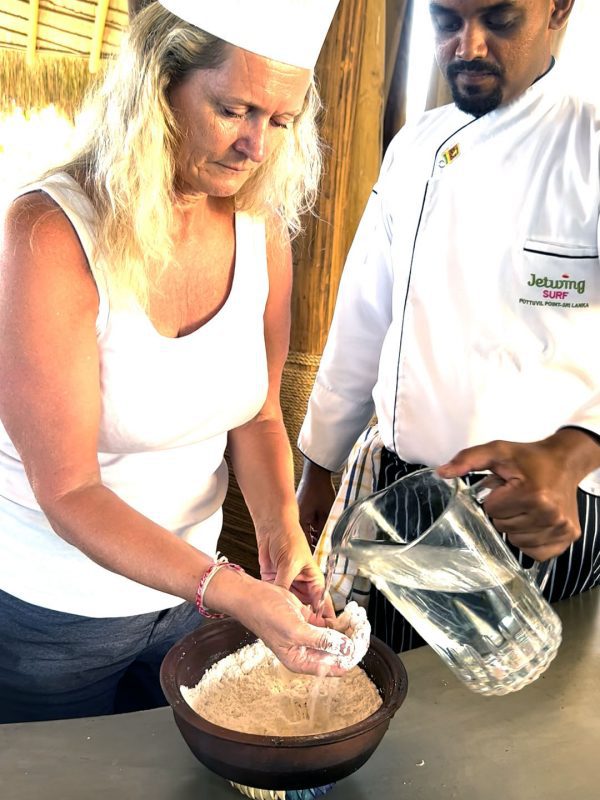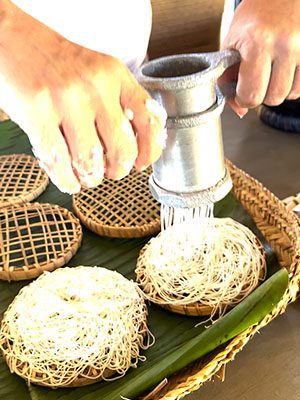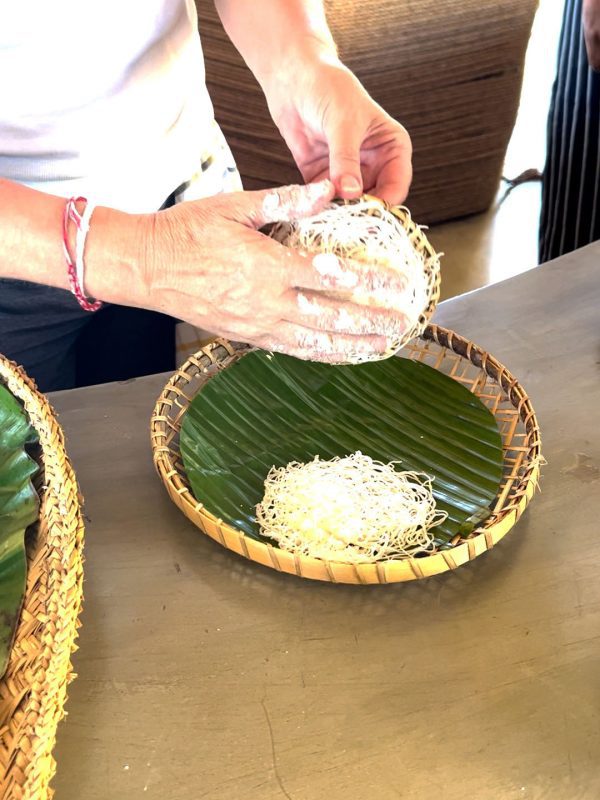 You will need a couple of pieces of equipment for this: bamboo or plastic hopper moulds, a string hopper maker (you might be able to get away with a potato ricer), and a steamer.
Ingredients
1kg Rice Flour (it is better to use string hopper flour if you can as it is smoother than normal rice flour)
15g Salt
Water to mix
Method
In a bowl, mix the salt with the rice flour
Cup your hand above the flour mix and pour some of the water in. Dribble the water over the flour and gently mix with your fingers until it is a smooth dough.
Add the mixture into a string hopper maker
Gently squeeze onto the bamboo or plastic moulds.
Steam for 4 minutes in a steamer.
Tempered Dhal Curry Recipe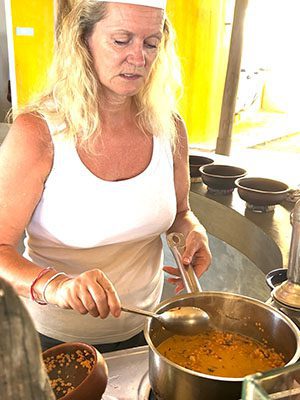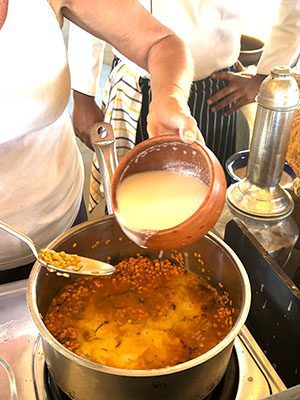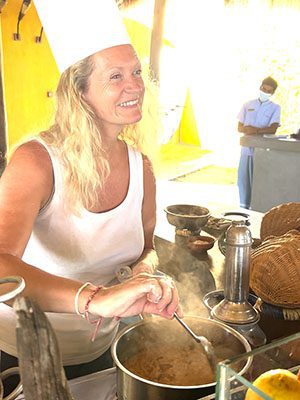 When you have Rice and Curry, one of the staple side dishes is a Dhal. Dhal is a lentil curry with different spices and varying degrees of heat. If you want to try to make it at home, try the dhal recipe below:
Ingredients
250g Dhal or Red Lentils
25g Sliced Onion
20g Crushed Garlic
5g Curry Leaves
5g Green Chili
10ml Coconut Oil
Salt
5g Chili Powder
5g Curry Powder
2g Turmeric Powder
Pinch of Mustard Seeds
Pinch of Fenugreek
First extract Coconut Milk (coconut cream solids if using a can)
Second Extract Coconut Milk (coconut liquid if using a can)
Method
Heat the oil in a wide pan or wok. Add mustard seeds.
Then add onion, garlic, green chili, curry leaves and fenugreek and sauté them until golden in colour.
Add in the chili, curry powder and turmeric to the pan, mix quickly and add the dhal or red lentils.
Pour in the second extract coconut milk and cook until the dhal or lentils are soft.
Add the salt and first extract coconut milk and heat through.
Pol Sambol Recipe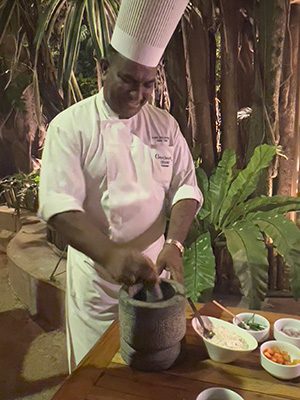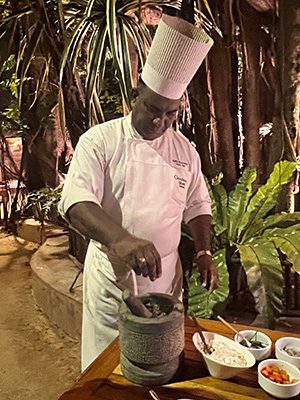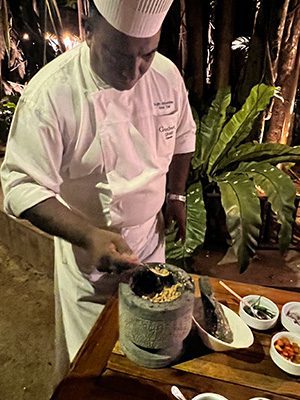 (thank you to Cinnamon Grand Colombo for this recipe)
Ingredients
500g Grated Coconut
3g Black Pepper Powder
3g Chilli Powder
3g Chilli Flakes
1 finely chopped Green Chilli
15g Tomato
10ml Lime Juice salt to taste
Method
Combine all ingredients apart from the lime and salt together in a mortar and pestle. Make sure they are all blended together.
Add Salt & Lime to taste and serve
---
I hope you have enjoyed this post about some of the amazing traditional Sri Lankan food you can try. Let me know in the comments which ones you have tried or want to try.
Kema asada?
Pin for later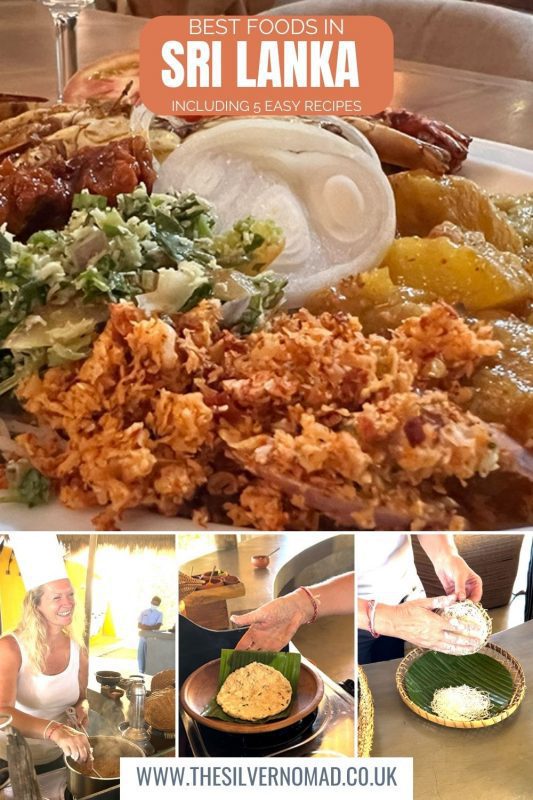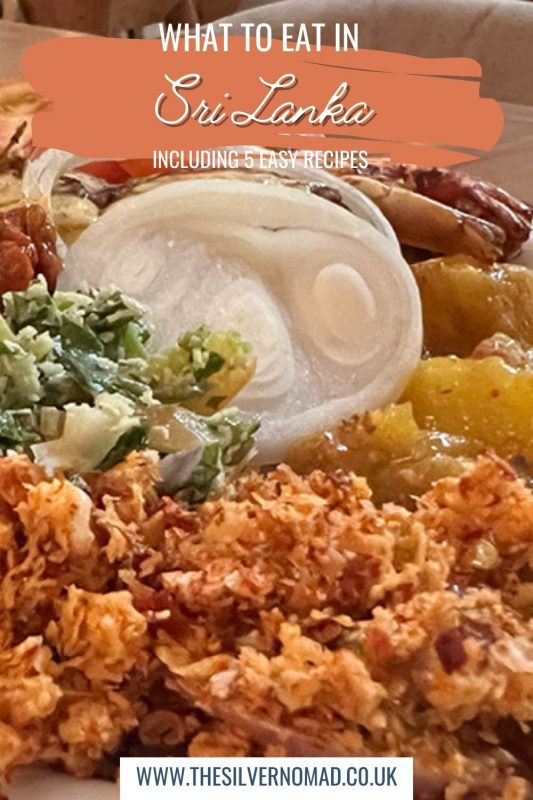 Use this Sri Lanka Travel Toolkit to plan your adventure!