I must admit I have a soft spot for Port St Mary on the Isle of Man. A fishing village in the southwest of the island, I spent many happy childhood holidays playing in rock pools, scrambling about the rocks, swimming at the long-gone Perwick Bay salt-water swimming pool and making sandcastles on Chapel Beach. Now, as an adult, I am finding many other things to do in Port St Mary.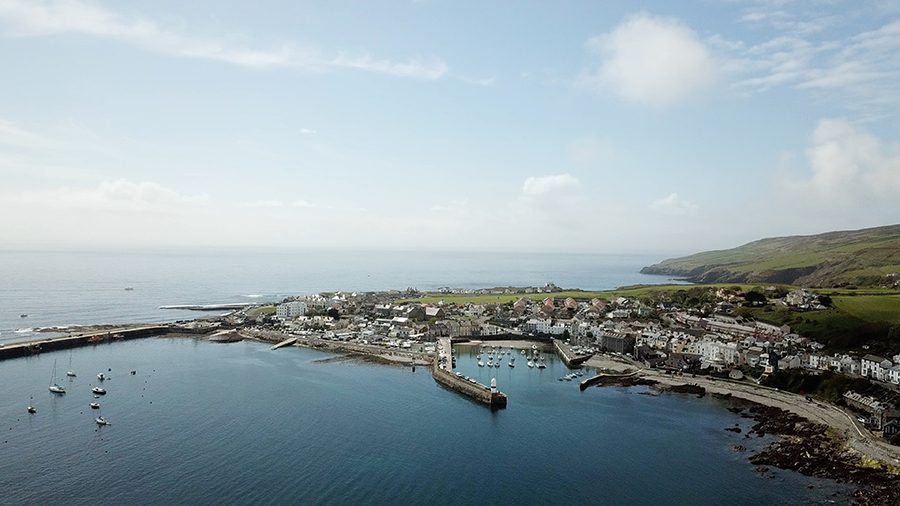 Although it is called a village, it feels much bigger, though not quite a town size. Popular as a seaside resort in the 50s, 60s and 70s, it is much quieter now, though the ice-cream coloured townhouses still line the Promenade. I have always found it a gentle, friendly place with a strong fishing heritage.
---
*This site uses affiliate links and I may earn a small commission when you use my links and make a purchase without incurring an additional fee yourself.
Thank you for supporting this website. See my disclaimer page for more details.
---
Things to do in Port St Mary
Even though Port St Mary is a village, there is still a lot to do here, beaches, walks, water sports and history to explore. Here are some of the best things to do in Port St Mary.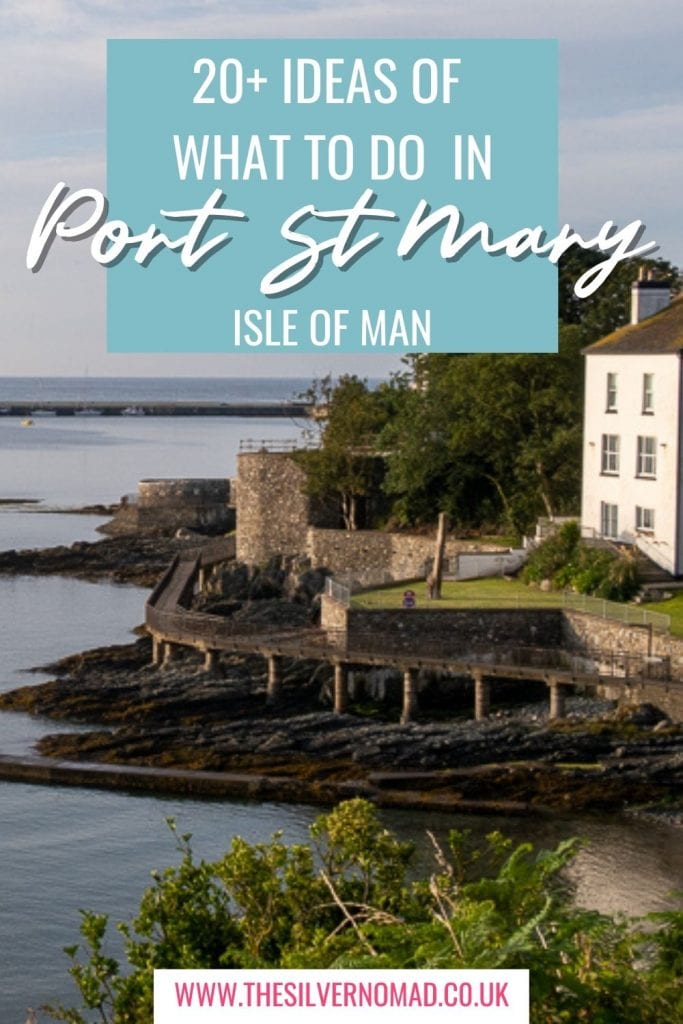 Hit the Beaches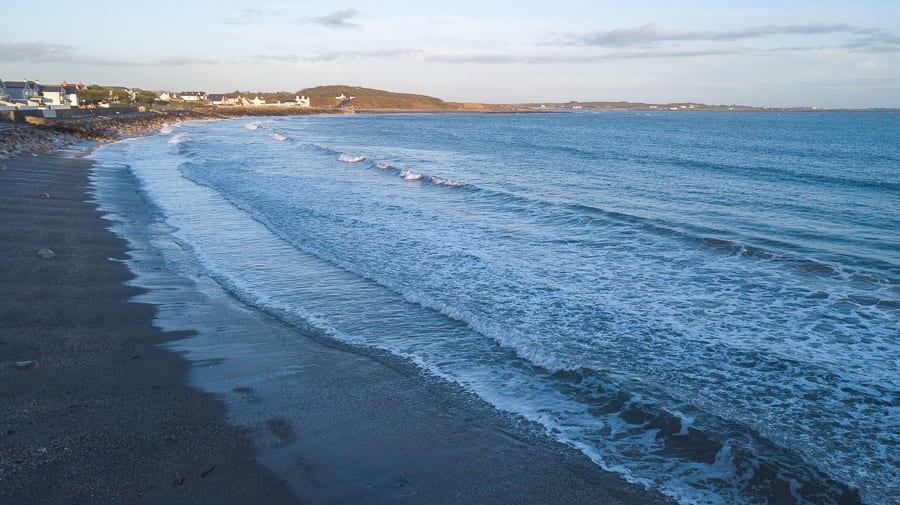 You have the option of several different beaches in Port St Mary.
At the eastern end of the village is Gansey Bay – also known as Bay ny Carrickey – a sand and shingle beach that is great for watersports such as kayaking/canoeing, surfing, windsurfing or even kite surfing. Gansey Bay is also one of the best beaches to go for a swim.
It is a dog-friendly beach, so you will often see owners and dogs traipsing along it. Try to avoid high tide as the sea can be ferocious and crash against the sea wall. You can check tide times on the Tides Chart website.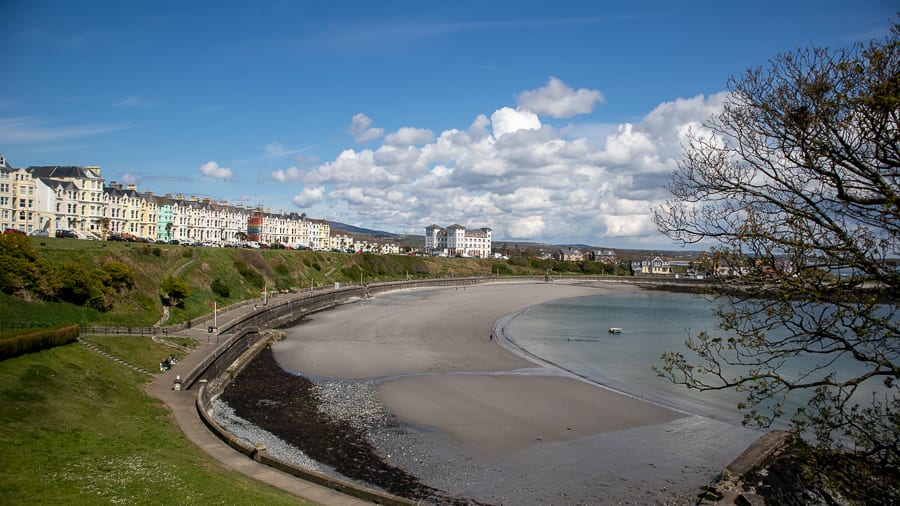 In the village itself, the sheltered sandy bay at Chapel Beach, just under the Promenade is popular all year round. In summer golden sands are ideal for sunbathing, paddling and sandcastle building when the tide is out. There is also a swimmers raft which is put out in the sea during the summer. Dogs are not allowed on the beach during the day in the summer – check notices for times.
In the winter, the beach is great to walk along and dogs are allowed or maybe go rock pooling. If you are visiting at New Year, you can join the brave (some say mad) souls who go for a New Year dip from the beach.
Further down the village, past Kellow Point, there is a mix of pebbly inlets and limestone ledges that extend out into the sea. These are perfect for rock pooling, crabbing or maybe some stone skimming.
YOU MIGHT ALSO LIKE: Isle of Man – Things to Know before you go
Kayaking and Paddle Boarding
There are several options for you to kayak or paddleboard around Port St Mary. You can launch off any of the beaches or piers. Around at Gansey Bay there is a slipway into the water. You can paddle around the coastline and explore the coves and inlets. One popular route is around from Perwick Bay towards The Sound. Do keep an eye on the tides and the weather. Click check the tide times in Port St Mary.
If you don't have your own kit, you can rent kayaks from 7th Wave in Port Erin.
Surfing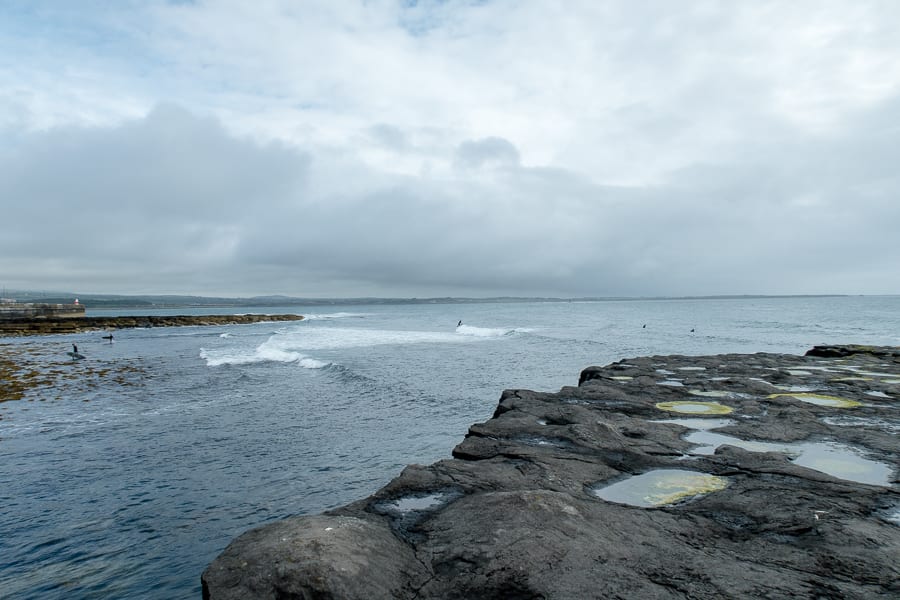 Just past Alfred Pier, the waves can be strong enough to create some great waves for surfing. There is parking along the seafront and steps down to the across to the water. There is also good surfing along Gansey Bay; the best times are the two-hour window on either side of high tide.
Crabbing and Rock Pooling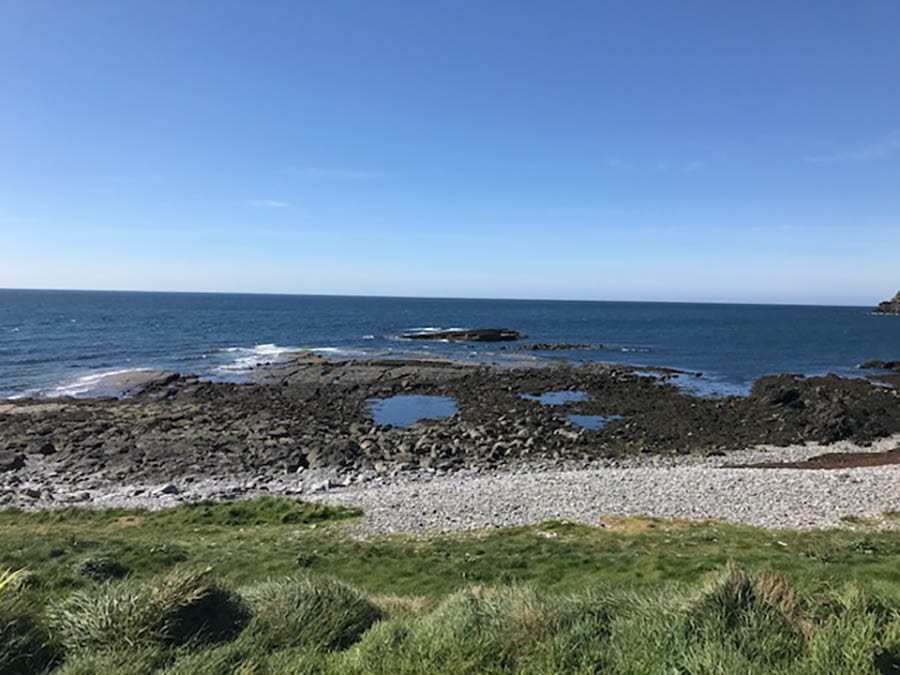 As a child, this was one of my favourite things to do in Port St Mary. The rockpools that are left behind when the tide is out are a haven for children and adults. Tiny shrimps, crabs, anemones and starfish hide in the crevices and are covered by the seaweed. If you go along to Clifton Road you can park your car and take a wander down to the beaches.
The Harbours in Port St Mary
Port St Mary harbour, or the Inner Harbour, is a tidal harbour where private and leisure boats are moored. It is also where the Isle of Man Yacht Club is based. You can take a wander along the harbour.
Further along is Alfred Pier where fishing boats still dock to land their catches. You can also fish off the pier
Port St Mary Boat Excursions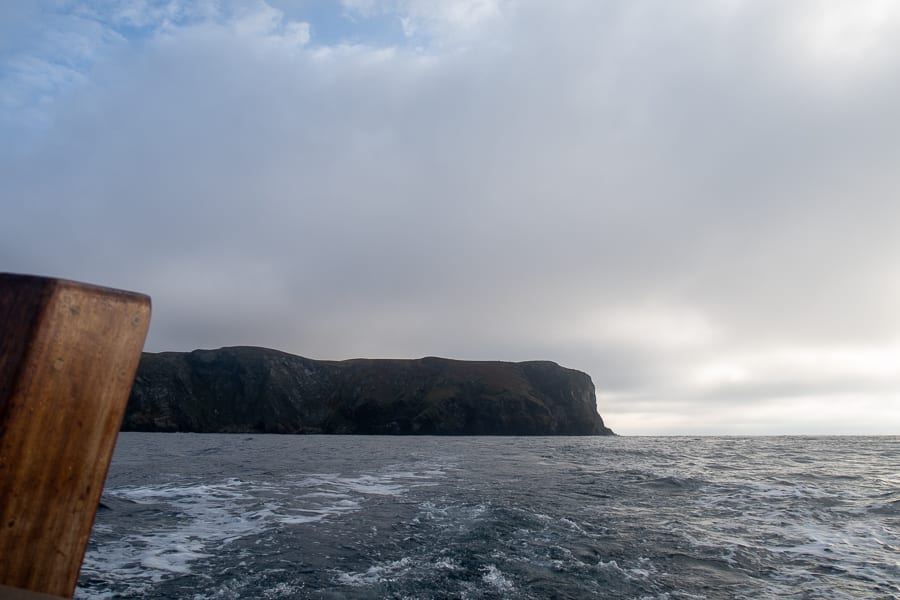 Book a trip with the family-run Port St Mary Boat Excursions. They run coastal boat trips with 1.5 to 2.5 hours onboard exploring the cliffs, coast and wildlife around the south of the island. Some of the marine wildlife you might see include basking sharks, dolphins, porpoises, whales, grey and common seals as well as plenty of marine birds.
If you want to visit the Calf of Man, the 45-minute journey will take you past the bottom of the Chasms, Spanish Head and Sugarloaf Rock. You get to explore the Calf for about 2.5 hours before returning to Port St Mary.
All trips are weather dependent
Based: Inner Harbour, Port St Mary
Tel: Steve on 07624 490615
Facebook: https://www.facebook.com/psmboatexcursions
Email: maxnotjo@manx.net
Fishing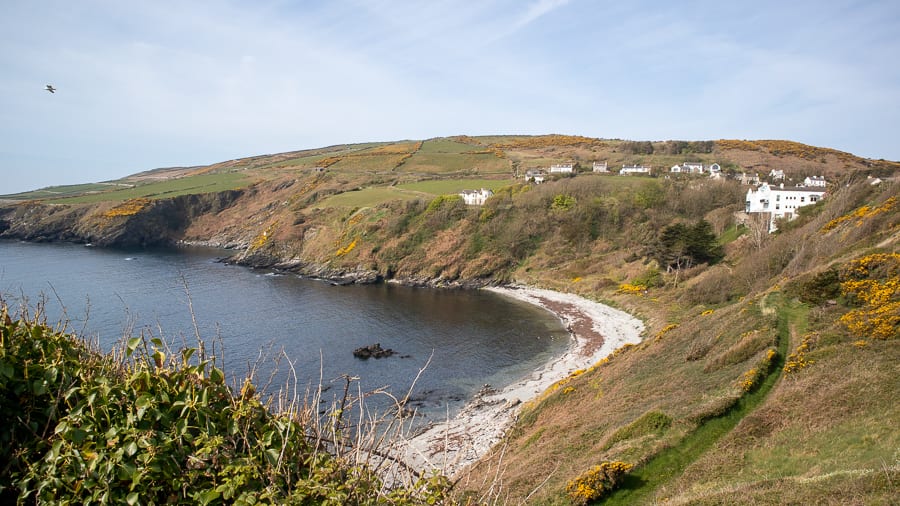 The best places to fish are off the breakwater at the harbour where there is free car parking. The alternative is to take a walk or drive along to Perwick Bay and fish off the beach there.
If you fancy going out on a boat for fishing try either Gemini – 07624 483328 or Endeavour – 01624 833008 both based in Port St Mary.
Golf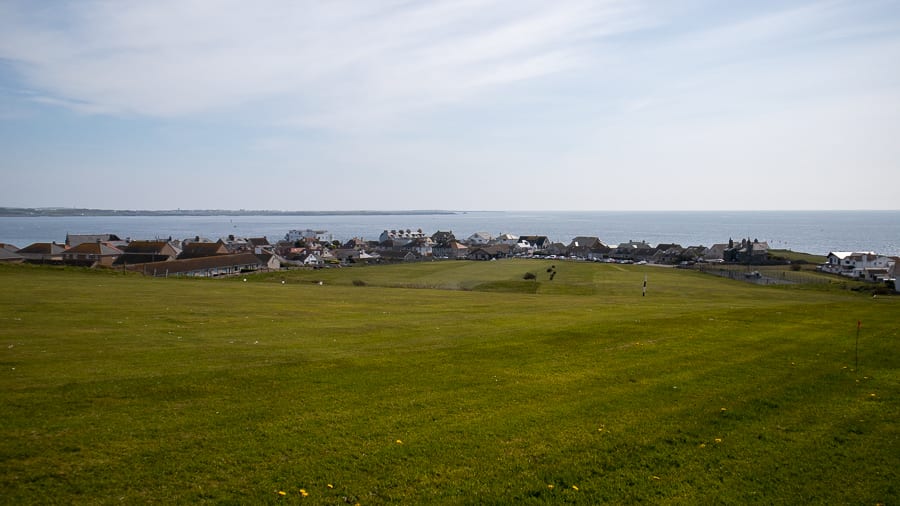 Port St Mary has the only 9-hole golf course on the island. The Links course starts out on the flat and then rises up the hill to give you stunning views over the village, Perwick Bay across to Bay ny Carrickey and out to sea. The course was opened in 1936, though there has been a course here since 1903.
A round of 9 holes costs from £10 which can be paid in the Pavilion Café during opening hours, or in the black honesty box outside. Buggies are available for hire.
Address: Kallow Point Road, Port St Mary
Website: https://www.portstmarygolfclub.im/
Email: psmiomgolf@gmail.com
Tennis
To the left-hand side of the golf course are two caged clay tennis courts. Nets tend to be put up in late April.
Places to walk in the Port St Mary area
Port St Mary Heritage Trail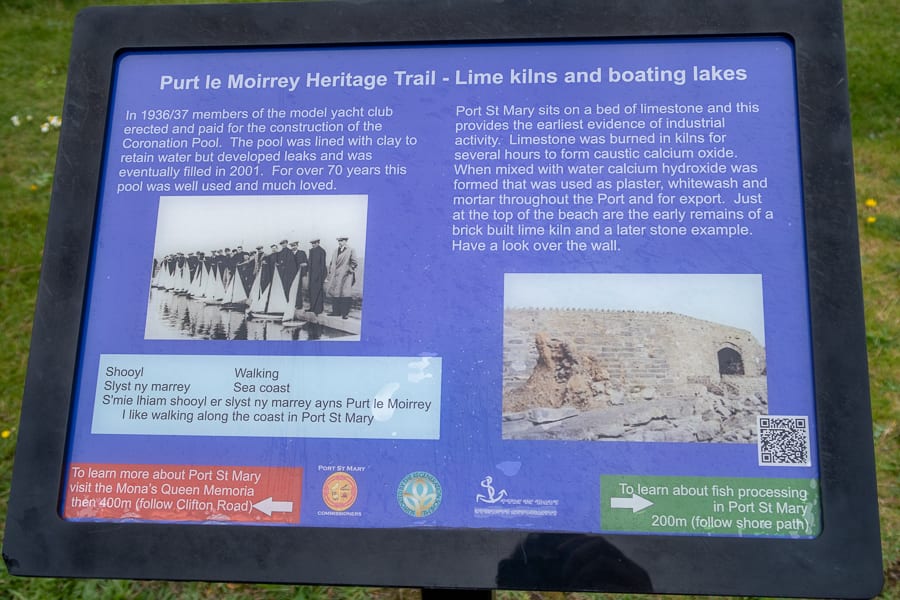 If you are interested in learning more about the history of Port St Mary, follow the Heritage Trail around the village. On the 12 different information boards, you will learn about the Neolithic area, the internment camps during World War II, shipwrecks, the fishing industry, the Lime Kilns and the Coronation Pool which was a boating pond that I remember from my childhood.
The Promenade around to Gansey Bay
A short walk taking you from The Promenade to Gansey Bay. Taking the path down from Bay View Road down towards the bay. Turning to the left takes you for a walk around the Chapel Bay Sea Wall and on to Gansey Road and round Gansey Point. From there you head towards Gansey Bay.
Depending on your walking speed, and how often you stop to take in the stunning views, the walk could last 15-30 minutes and obviously double if you come back the same way.
The Catwalk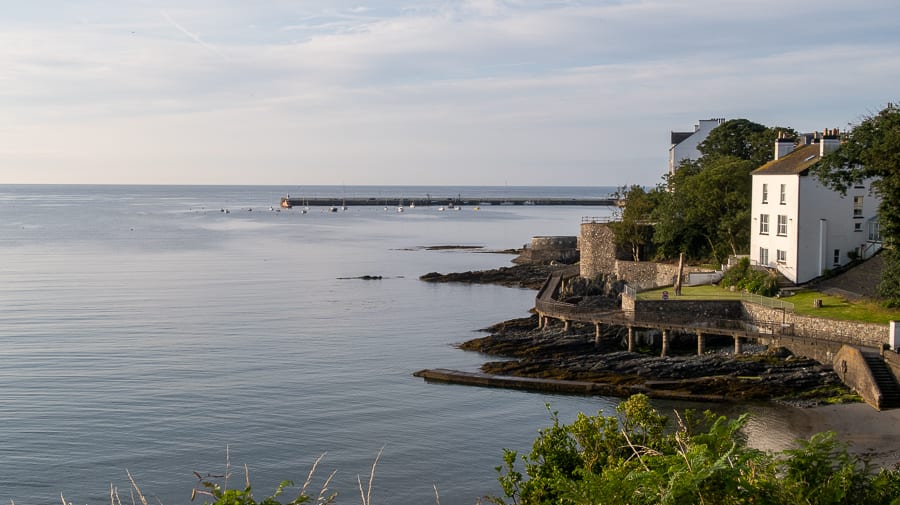 If you turn right at the For a short walk, take the path down from Bay View Road towards Chapel Beach and turn left along the Catwalk. The raised walkway takes you along to the base of the cliffs towards the harbour. You can continue your walk around to the inner and outer harbours. Keep an eye out for birdlife on the way.
Port St Mary to the Sound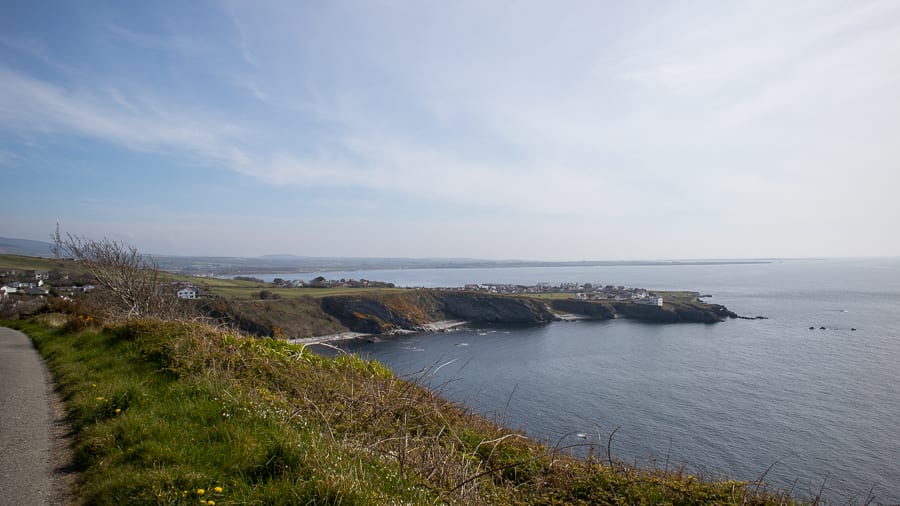 The third part of the Raad Ny Foillan takes you from Port St Mary to Port Erin. Starting from Alfred Pier, the route takes you along Clifton Road and up the cliff path. You get amazing views back across Port St Mary as you climb. As you walk you will cross moorland and cliffs seeing wildlife along the way from cliff-nesting birds, some sheep (including a few Loaghton sheep on my last walk) and maybe the occasional seal or two.
Take great care when you pass the Chasms, which are large fissures in the cliff face, and are not fenced off. Although it is graded as moderate, Parts of the path is quite steep and can be quite windy and chilly no matter how sunny it is. Make sure you wear suitable walking boots and clothing.
Continue on to Spanish Head where you start to see the Calf of Man. You can stop for a cup of something refreshing at The Sound or Cregneash Village. From there you can continue on to Port Erin. If you are taking a dog with you, please note that dogs are not allowed on the section between the Sound and Port Erin.
The total walk is about 7 miles long, but you can catch a bus back to Port St Mary from The Sound, Cregneash or Port Erin if you walk the full way.
For more walks around Port St Mary and the south of the Isle of Man, pick up a copy of Isle of Man Short Walks Southern Section.
Port St Mary Station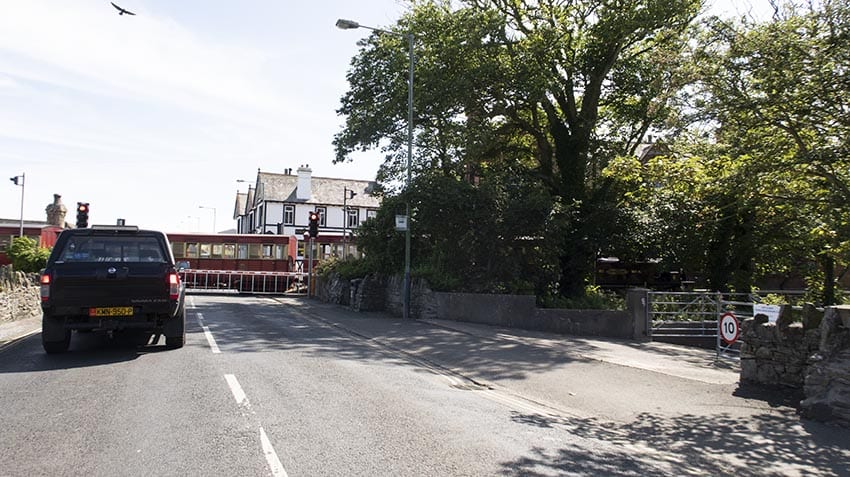 Just outside Port St Mary is Port St Mary Station. It is either the second on the second last stop on the steam train route, depending on which way you are going. There is a small car park next to the pub.
Places to eat in Port St Mary
For a small village, Port St Mary has quite a variety of places to eat, whether for a cup of tea, a bit of lunch, dinner or just a bag of chips.
Andrea's Restaurant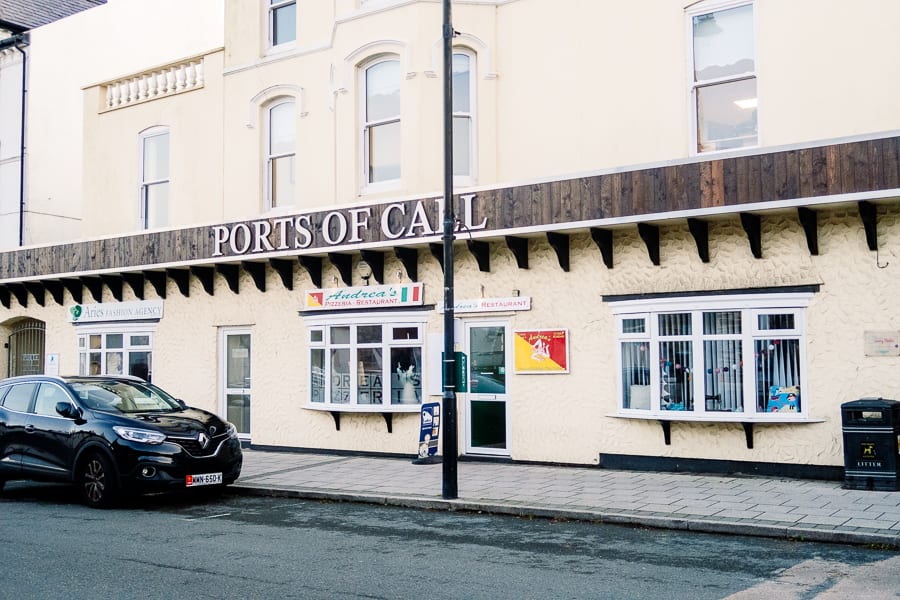 Andrea's is a popular family-run Italian pizzeria and restaurant on Bay View Road. Andreas and his wife, Lori serve up authentic delicious pizzas, pasta and Italian dishes with desserts, ice creams or traditional tiramisu. The restaurant has been recently refurbished
You can book a table or have a takeaway. As there is not an alcohol licence, you are free to bring your own wine or beer.
Address: Bay View Road, Port St Mary, IM9 5AE
Tel: 01624 834040
Hours: Tuesday to Sunday from 17:00 to 21:45 (22:00 on Saturday and 21:00 on Sunday)
Facebook: https://www.facebook.com/AndreasIOM
The Fish House
On the left-hand corner of Bay View Road, as you enter the village, The Fish House offers your classic fish and chips as well as sausages, nuggets etc. Grab a takeaway or there is a seating area if you want to eat in. You can bring your own wine.
Address: Station Road, Port St Mary, IM9 5BF
Tel: 07624 292999
Hours:
Thursday from 17:00 to 20:00;
Friday from 12:00 to 14:00 and 17:00 to 20:00;
Saturday from 12:00 to 14:00 and 17:00 to 20:00
Cornerhouse Coffee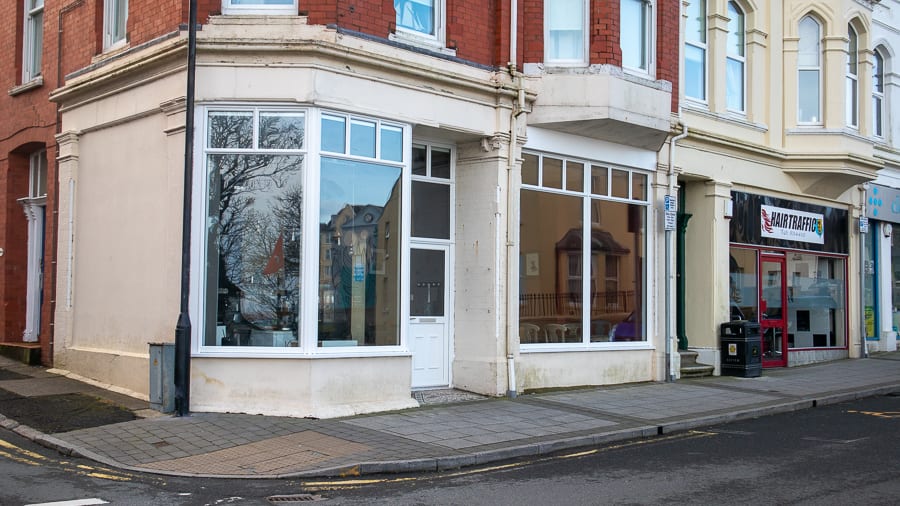 Whether you are after a warming cup of tea or coffee or some brunch, Cornerhouse Coffee is the perfect place. Choose from quiche, flaky sausage rolls, sandwiches or smashed avocado on toast with poached eggs and maybe some freshly baked cakes, choc chip cookies or traybakes.
There is seating inside, or outside if the weather is good.
Address: Bay View Road, Port St Mary, IM9 5AQ
Hours: Thursday to Sunday from 10:00 to 14:00
Website: cornerhousecoffee.im
Roots by the Bay
Behind the turquoise façade, Roots by the Bay is a relaxing, warm and friendly coffee shop. Serving homemade cakes, gourmet sandwiches, soups and much more. Using as much local produce as possible, it's a real community café.
Address: Bay View Road, Port St Mary, IM9 5AE
Tel: 01624 836418
The Boathouse
Pop into The Boathouse for a great selection of breakfasts, lunches or dinners with plenty for vegans, vegetarians, meat eaters and those who love seafood. Don't miss out on the Sunday roasts!
Enjoy your food al fresco when the sun is out, or in the blue and white diner when it is not so hot.
Address: Queens Road, Port St. Mary
Hours: Monday from 10:00 – 14:30
Tuesday and Wednesday closed
Thursday from 12:00 – 15:00 and 17:00 – 21:00
Friday from 10:00 – 15:00 and 17:00 – 22:00
Saturday from 10:00 – 15:00 and 17:00 – 23:00
Sunday from 10:00 – 15:00
Book a table here
The Manx Lobster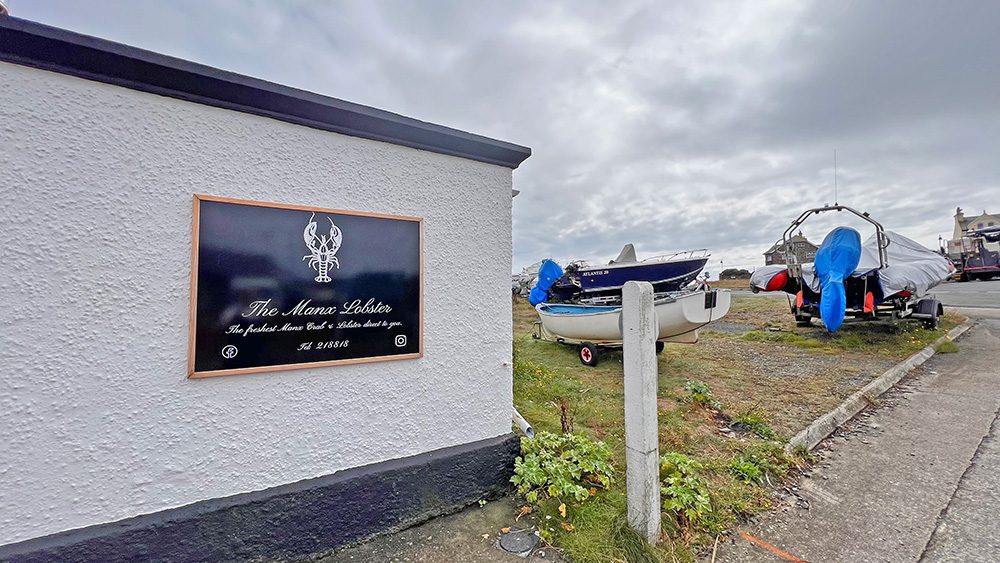 Although not a place to eat, if you are looking for crab, lobster, mackerel or Manx callig, head down to Alfred Pier and The Manx Lobster.
A family-run fishing business, everything is caught and prepared in-house. All the products are 100% Manx and have been awarded the "Product of Isle of Man" certification.
Open on Saturday mornings only, I would advise ordering online beforehand to avoid being disappointed.
Address: The Crab House, Alfred Pier, Port St Mary, IM9
Tel: 07624 218818
Hours: Saturday: 10:00 to 12:00
Website: https://themanxlobster.sumup.link/
YOU MIGHT ALSO LIKE: Versa – responsibly sourced dining on the Isle of Man
Port St Mary Golf Pavilion
Head down to the Golf Pavilion where you can pop in for tea, coffee or lunch. Choose from sandwiches, salads or café classics like fish and chips, steak and ale pies, burgers or sausages, chips and more. You don't have to be a member or even playing, to eat at the Golf Pavilion.
Address: Kallow Point Road, Port St Mary, IM9 5EJ
Tel: 01624 834932 to book a table
Hours: Breakfast: Friday & Saturday, 10:00 am to 11:45; Lunch: Wednesday to Saturday, 12:00 to 14:30; Sunday Carvery 12:00 to 12:45 & 14:00 to 14:45
Website: https://www.facebook.com/pavilionpsm/
The Shore Hotel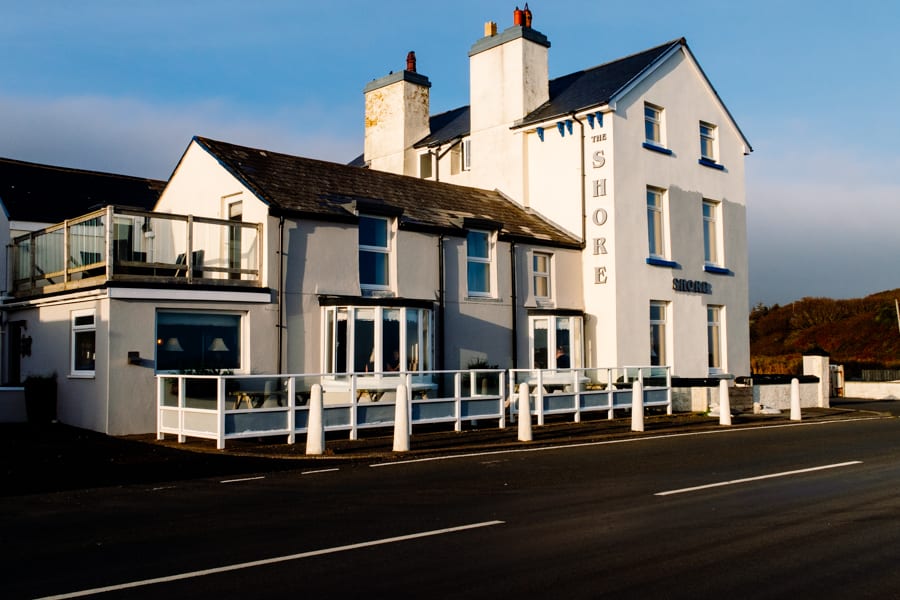 Along at the end of Bay Ny Carrickey is The Shore Hotel. The restaurant has stunning views over the beach Serving seafood, steak and a range of vegetarian dishes as well as a daily special board. The queenies (scallops) are amazing and the Chilli and Garlic Pan-Fried King Prawns are one of my favourites. Open for lunch or dinner, there is also a bar and outdoor terrace if you just want to have a drink.
Address: Shore Rd, Gansey, IM9 5LZ
Tel: 01624 832269
Hours: 12:00 Noon – 20:30 (last orders)
Website: https://www.theshore.im/
The Albert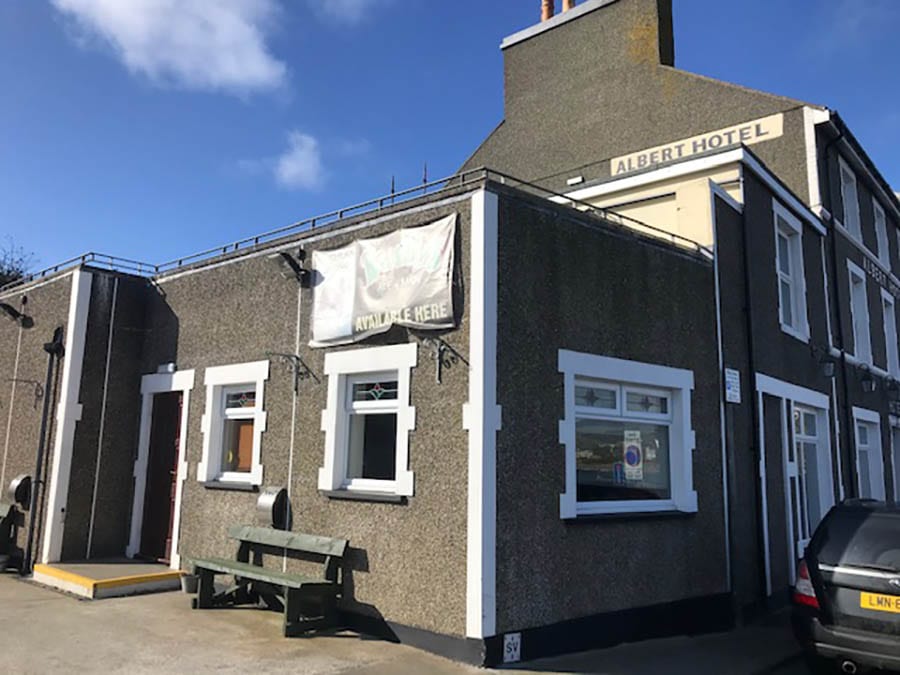 The only proper pub in Port St Mary is The Albert. With beautiful views over the inner harbour, the pub has a small Lounge Bar and a large Public Bar, both with real fires when it is cold. There is also a games room and outside seating. Serving local Bushy's and Okell's Bitters, it is the ideal place for a quiet drink.
Address: Athol Street, Port St Mary, IM9 5DS
Tel: 01624 832118
Hours: Midday – Midnight
Facebook: https://www.facebook.com/TheAlbertPLM
Railway Station Hotel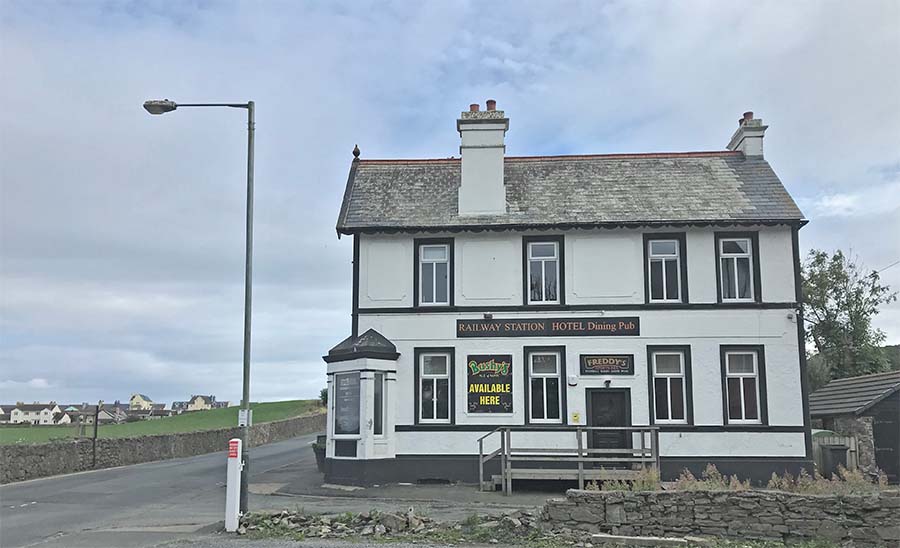 Just outside Port St Mary is The Railway Station Hotel. Sitting at the crossing for the Steam Train, the traditional family pub with a separate sports bar and outside is a children's play area. The pub has a good selection of both local and guest real ales, beers and food. On most Saturday nights there is live music is played most Saturday nights and Railway Quiz Night every Thursday.
Address: The Railway Station Hotel, Station Road, Port St Mary
Tel: 01624 832118
Hours: Mon-Thurs: 5pm – 11pm; Fri: 12 noon – 1.30am; Sat: 12 noon – 2.00 am; Sun: 12 noon – 11pm
Facebook: http://therailwaystationhotel.com/
Places to Stay in Port St Mary
If you are looking for a place to stay in Port St Mary, have a look at either Quay Cottage or Tides Reach. Both are down by the Inner Harbour and delightful places to base yourself in the village.
How to get to Port St Mary
By Car
Down in the southwest of the Isle of Man, Port St Mary is easy to get to by car. Just take the A5 road south from Douglas, past Castletown and on to the village. Once arrived, there are several parking places, either on the side of the road, the car park on the promenade or down on Clifton Road past the harbours. Don't forget to display your parking disc!
Public Transport
You can take any of the following buses from Douglas to Port St Mary: 1, 1H, 2, 2A, 11, 12, 12A, & N1. The bus takes around 45 minutes.
Map of Things to do in Port St Mary
Don't forget to pin this article so you can come back to it later