I love food, but not just any food, I love inspiring, delicious food that makes me fall in love with the dish I am eating. Meeting a chef with a passion for their craft, their ethos, ideals and zest for life is an awesome experience. On my recent trip to the Isle of Man, I was fortunate to meet Pippa Lovell the owner and head chef at Versa restaurant in Port Erin. Versa uses only locally sourced or foraged ingredients which Pippa transforms into amazing and innovative dishes.
Pippa's Background
Listening to Pippa describe her journey setting up Versa in the south of the Isle of Man, her passion for sustainability, ethical eating and supporting local growers and suppliers shines out. With auburn hair and an impish grin, Pippa's eyes sparkle with inspiration as she describes tantalising dishes using the wood avens, wild garlic, meadowsweet, alexanders and other ingredients she has sourced from the island.
---
*This site uses affiliate links and I may earn a small commission when you use my links and make a purchase without incurring an additional fee yourself.
Thank you for supporting this website. See my disclaimer page for more details.
---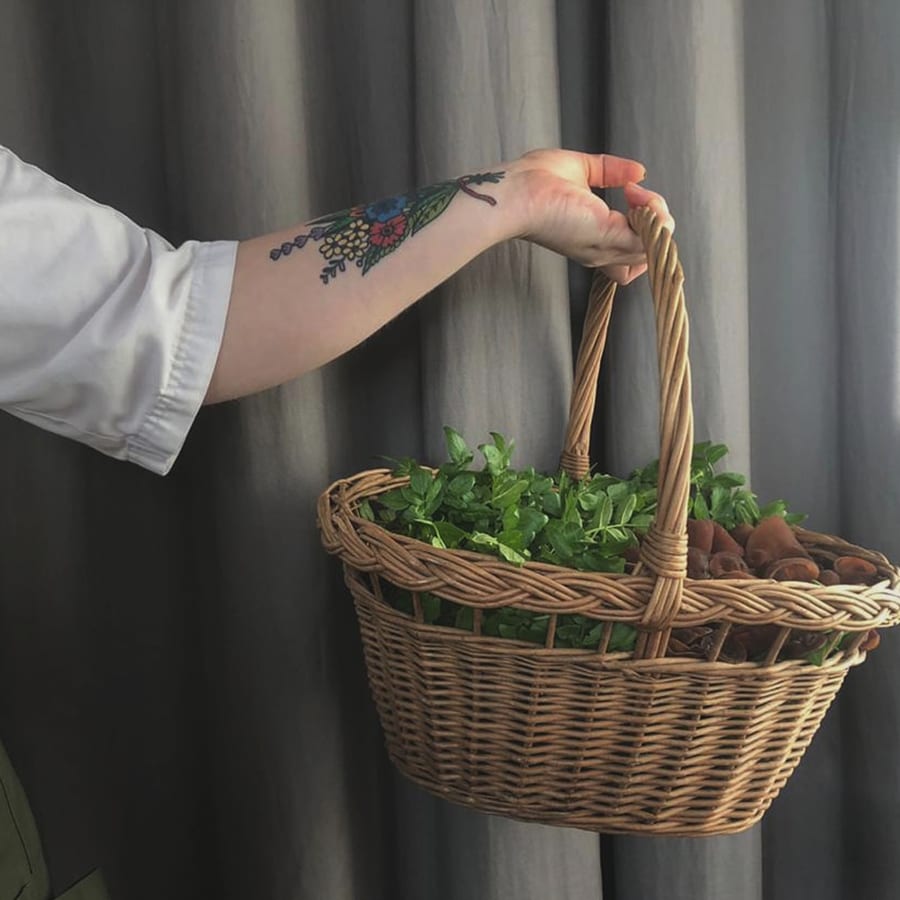 However, Pippa did not start out as a chef. She studied music and theatre at university. To help pay her expenses, she started washing pots in a restaurant and realised that her real passion was for food. She diligently worked her way up through the ranks to become head chef. She moved to Copenhagen to work in several Michelin starred restaurants. This spurred Pippa on to fulfilling her dream of running her own restaurant that used seasonal and local food. The result is Versa!
Foraging
Many of the ingredients that are used in dishes at Versa are foraged locally. Pippa makes sure that she never takes anything from anywhere she shouldn't. Taking only small quantities and respecting the land and sea, the foraged items are an enhancement to the dishes Pippa creates.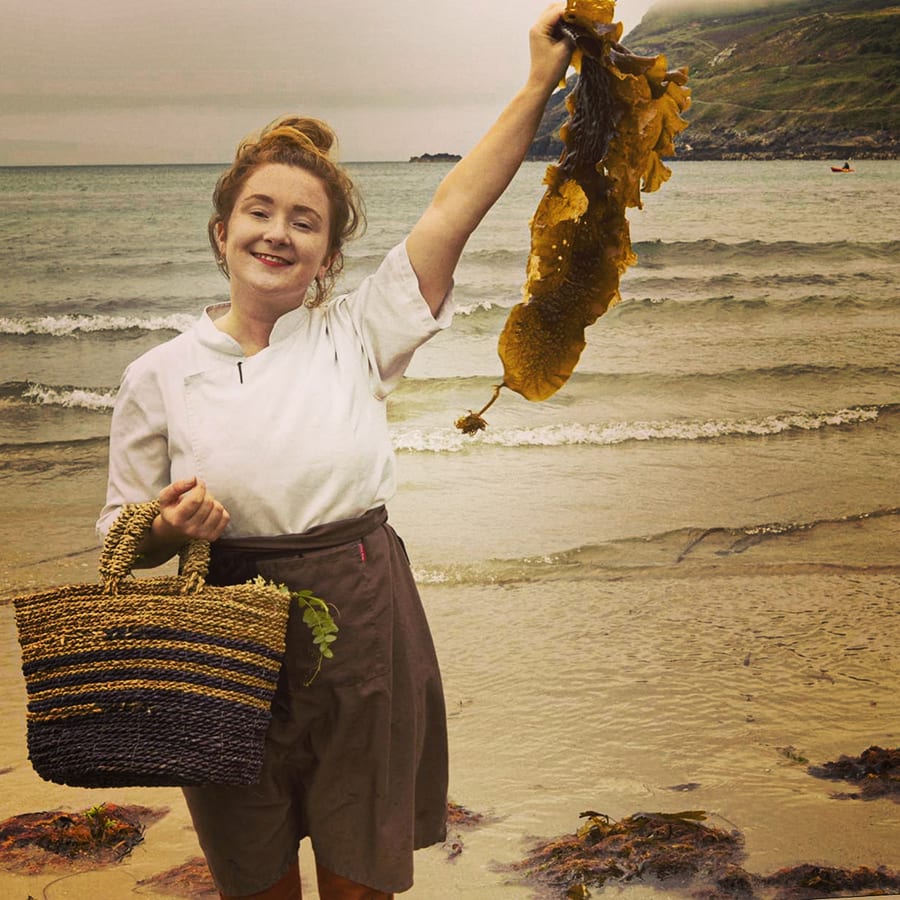 Keeping it Hyper-local
Using only products grown or produced on the Isle of Man, and in particular, the south of the island, Versa's ingredients are found as close to Port Erin as possible. Vegetables come from the allotment tended by Karen Griffiths at Cregneash about 5 minutes away from Port Erin.
Karen grows a good range of vegetables not always found to buy locally such as globe artichoke and Jerusalem Artichoke and old heritage varieties of vegetables not grown commercially, as well as wild garlic, wood avens, three corner leeks and other wild ingredients.
Cregneash is an amazing place where old medicinal herbs are still found growing wild. Karen also goes foraging with Pippa and is very knowledgeable about what can and can't be used.
A bit further away is Staarvey Farm where Stephen and Jenny Devereau grow microgreens, mizunas, various salads, edible flowers and a range of herbs in the polytunnels on their land. In the professional kitchen, Jenny also makes a range of marmalades, jams, vinegars, curds, chutneys, cordials and dressings – I highly recommend the Hot Sweet Chilli Sauce.
Milk, cream and dairy products come from Cooil's Dairy, based in Port Erin. Pippa uses the cream to make her own butter, a creamy lightly salted butter that complements her sourdough pebble rolls perfectly.
But it goes beyond just ingredients for her dishes, Pippa also sources locally made wooden bowls from Manx TurnEd and gorgeous handmade cups, which are used for tea, coffee and soups, from Aossi art studio.
Versa-tility
Keeping it so local does come with its challenges. There are many conventional ingredients that are not produced on the island and so Pippa has to use what she can get. There is no sugar made on the Isle of Man, so honey and other natural sugars are used. Lemon thyme and lemon verbena add a citrusy flavour and dried meadowsweet gives an almond taste.
When you only use locally available ingredients and foraging, you need to be flexible in your approach to designing menus. Pippa changes the menu at Versa on a weekly basis, following what is in season, what is available from her suppliers and foraging. The community in Port Erin also gift her produce and there are often vegetables, lobster or fruits left on the doorstep.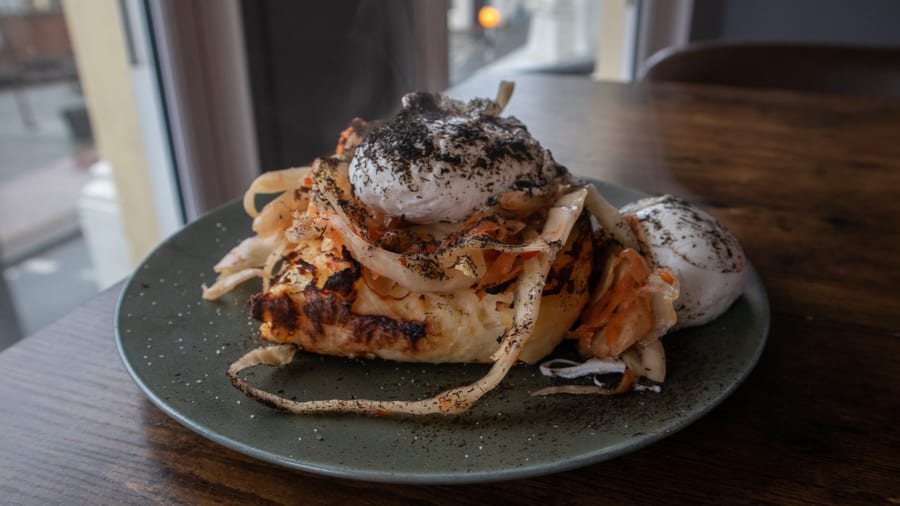 Pippa also believes in minimal waste and tries to use as much of the ingredients as possible. Leek trimmings get charred to make leek ash to sprinkle on dishes, coffee is added to kombucha to make a delicious drink, beetroot is dried and makes a beetroot powder.
Fermenting, dehydrating and pickling are all part of the sustainability ethos that Versa adheres to. The shelves in the pantry are full of jars, bottles and pots of intriguing ingredients such as sea beet powder, elder powder, dried gorse flowers and different kimchi.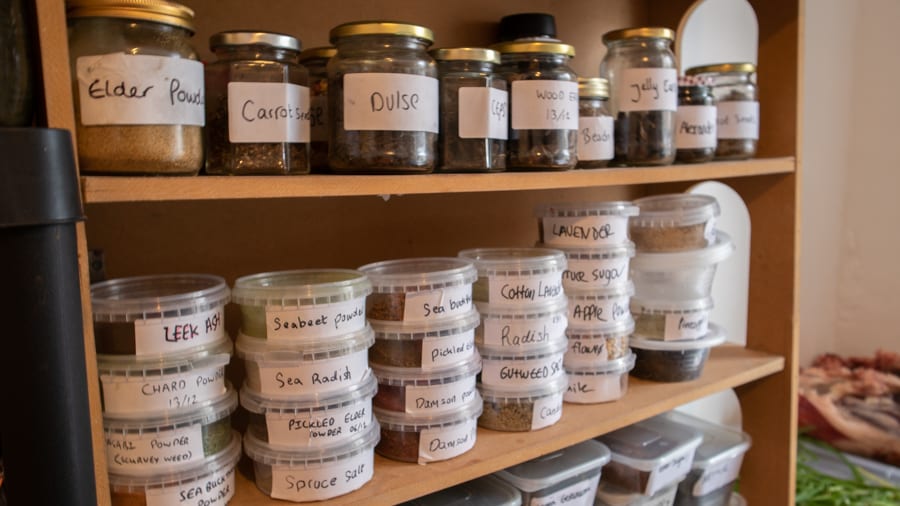 During lockdown in the Isle of Man, Pippa kept Versa open for takeaway brunches with rainbow bagels with beetroot, carrot and mizuna, lobster and lemon verbena roll, roots and quinoa salad or delicious honey and thyme cheesecake jar.
Vice Versa
Pippa is very proud that Versa uses 100% responsibly sourced local ingredients. Keeping her carbon footprint low and by using local suppliers she contributes back into the Isle of Man's economy and supports the community.
Even the menu cards for Versa's evening meals are printed on wildflower seed paper which can be planted. Imagine if everyone planted their menu, potentially over 38,400 mini wildflower patches growing every year!
Versa – the Restaurant
The decor at Versa is kept simple and uses dried teasels, pinecones, branches and grasses. During the day the light from the windows lightens the room, and at night the lights are dimmed and candles are lit and the room is cosy and inviting.
Versa opens from Thursday to Sunday every week. Brunch is served from 10 am to 3 pm. The menu could include amazing dishes like rosti with kimchi and poached eggs topped with leek ash or roast vegetables on cauliflower hummus with toasted sourdough or onion and wild garlic soup. As the menu changes weekly you never get bored with the food on offer.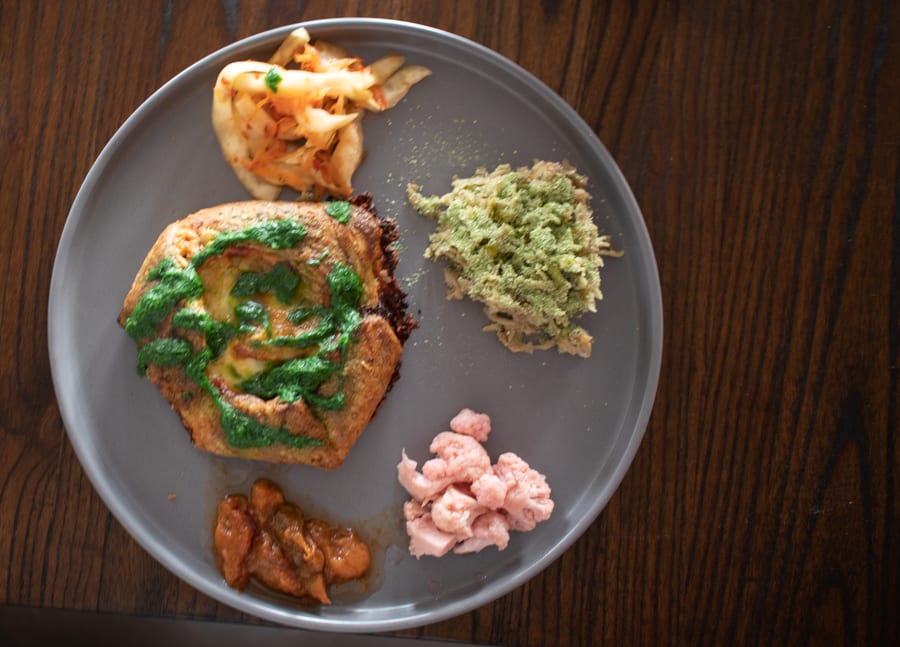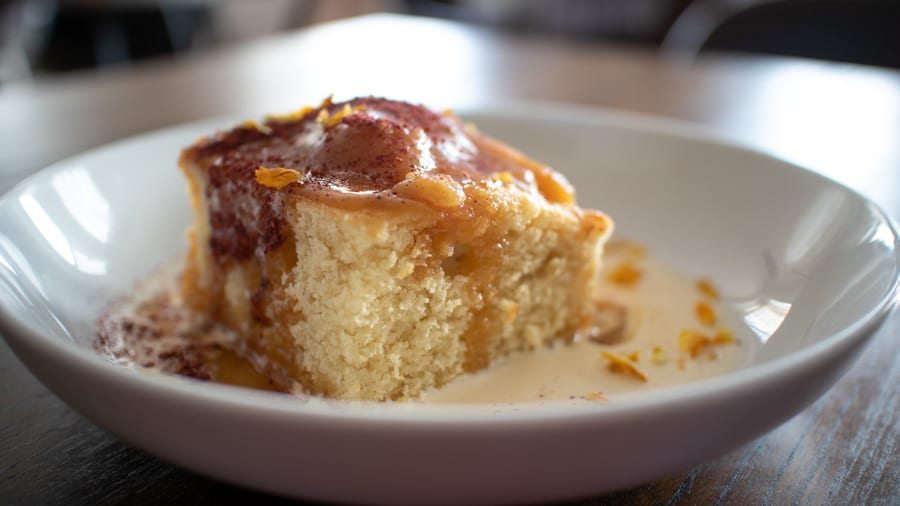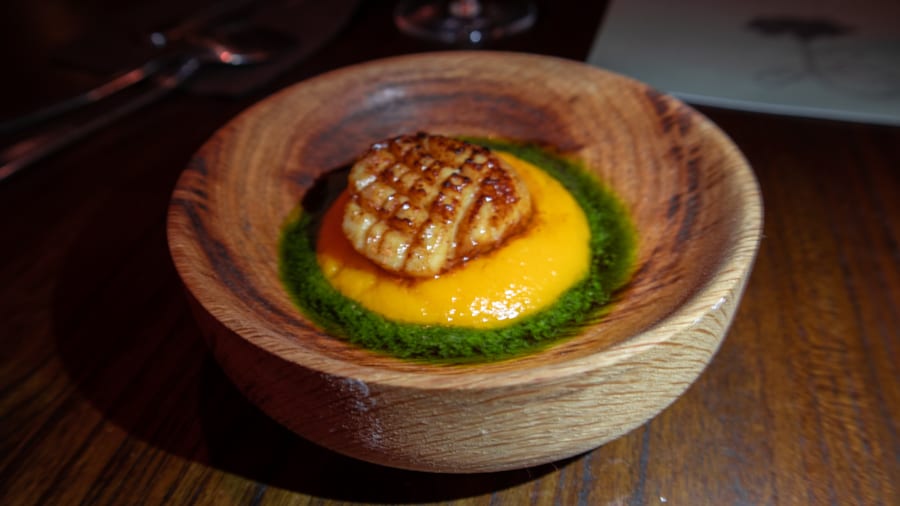 Versa takes bookings in the evenings from 5 pm to 7.30 pm. The evening is a tasting menu or either five or eight courses. Each tasting menu is individually put together for customers depending on their dietary requirements. Where she can, Pippa makes the courses vegan.
As each course comes out, the dish is explained as to the ethos and environmental impact of the ingredients used, the flowers herbs and garnishes.
Versa also offers a Charcuterie platter of local cheeses and loaghtan sheep salamis and bresaola.
You may think that a tasting menu might not fill you up, but Pippa carefully balances the flavours and courses so that by the time you come to the pre-dessert and the final dessert, you are full and satisfied. Small quantities make you fall in love with the food.
San Pellegrino Award
Sitting proudly on one of the shelves is the S. Pellegrino Award for Social Responsibility awarded to Pippa at the S.Pellegrino Young Chef 2020, UK and Northern Europe regional final. Pippa prepared a dish called "What She Found" from ingredients she sourced on the Isle of Man.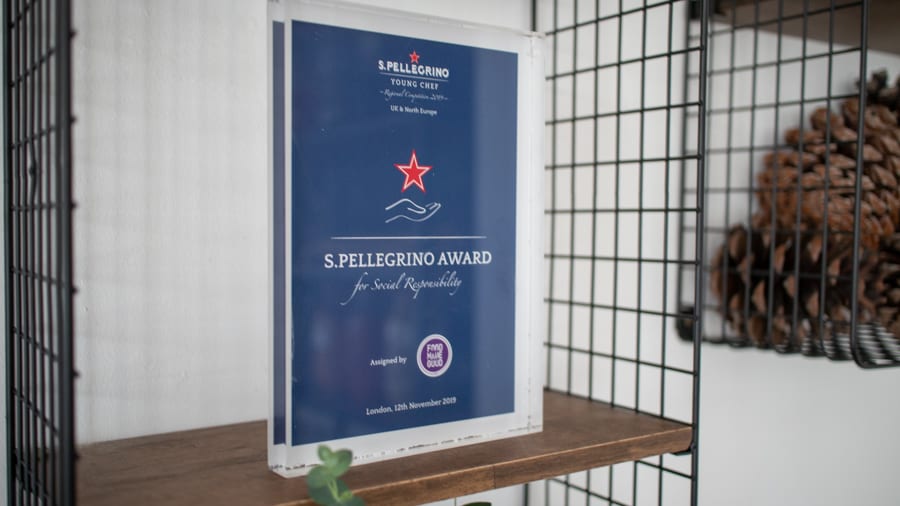 How to find Versa
So if you find yourself in the Isle of Man, head down to Versa and let Pippa's food surprise you and make you fall in love with her amazing dishes.
Where – Versa, The Little Green Door, Station Road, Port Erin, IM9 6AN
What – locally sourced, Manx ingredients
When – Thursday-Sunday: 10am-3pm and 5pm-9pm
Don't forget to pin this article so you can come back to it later