When you travel to Italy, you look forward to eating pizza and pasta galore, drowning in a delicious sea of carbs and sauces. This is certainly what I expected when I visited the town of Gorizia in Italy, but I was pleasantly surprised at the diversity of food on offer. In fact, there were many places to eat in Gorizia with not a pizza nor pasta in sight!
The town of Gorizia in North-East Italy has a blended history with influences from Italy, Austria and Slovenia and this is reflected in its foods. It is not typically Italian, or Austria or even Slovenian, but has bits of each. Gorizia is on the border with Slovenia and used to be part of Austria. It is also less than an hour from the Adriatic Coast and the abundant fish and seafood add to the mix.
---
*This site uses affiliate links and I may earn a small commission when you use my links and make a purchase without incurring an additional fee yourself.
Thank you for supporting this website. See my disclaimer page for more details.
---
In late September, Gorizia plays host to Gusti di Fronteira, an international street food festival. In 2019, more than 400 stands representing over 50 countries took part with something for every taste and palate. Hopefully in coming years Gorizia Food Festival will continue.
With many places to eat in Gorizia, let me take you to a few of my favourites and also what you can expect on the menus in Gorizia.
Disclosure: I was hosted by the Gorizia Tourist Board, however, all views, opinions and photos are my own and remain the copyright of The Silver Nomad.
Where to eat in Gorizia
Trattoria alla Luna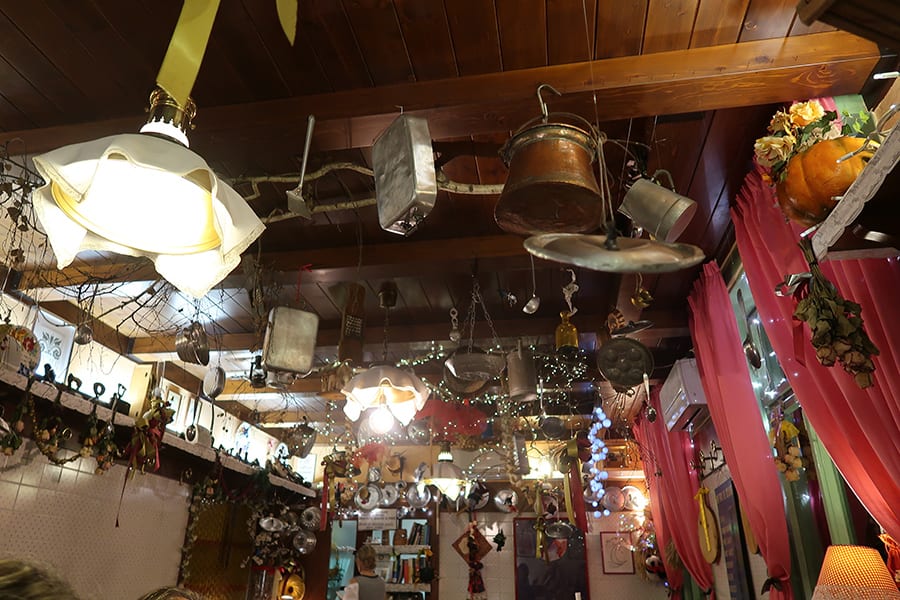 Walk into the cosy Trattoria alla Luna in Via Guglielmo Oberdan and you feel like part of the family. The restaurant is run by the Pintar family and with eclectic and fascinating decor, pans and pots lining the ceiling, intertwined with fairy lights, and waitresses wearing Austrian dirndls serving, it is a delight to visit.
The food is glorious. The flavours meld the town's Middle European cultural heritage to produce the best local cuisine. With delights including a pumpkin pie with a Montasio Cheese fondue dribbling down the side, bread gnocchi with a wild boar sauce, an ice cream cone with a liptauer topping (see below for more about liptauer), or the sumptuous palacinka (crepe) with herbs and greens, served with aged Montasio powder, a foam butter and chestnut crumb.
For dessert, try the warm gibaniča served with a flamed sugar cube on the side.
Trattoria alla Luna has two dining areas and is perfect for intimate dinner for two, parties or groups. There are options for vegetarians as well as meat-eaters, though maybe mention it when you are booking. A typical menu is around 35 Euros.
TOP TIP: Order a Pelinkovac which is a bitter herbal liqueur to round off your meal or a delicious, warming limoncello.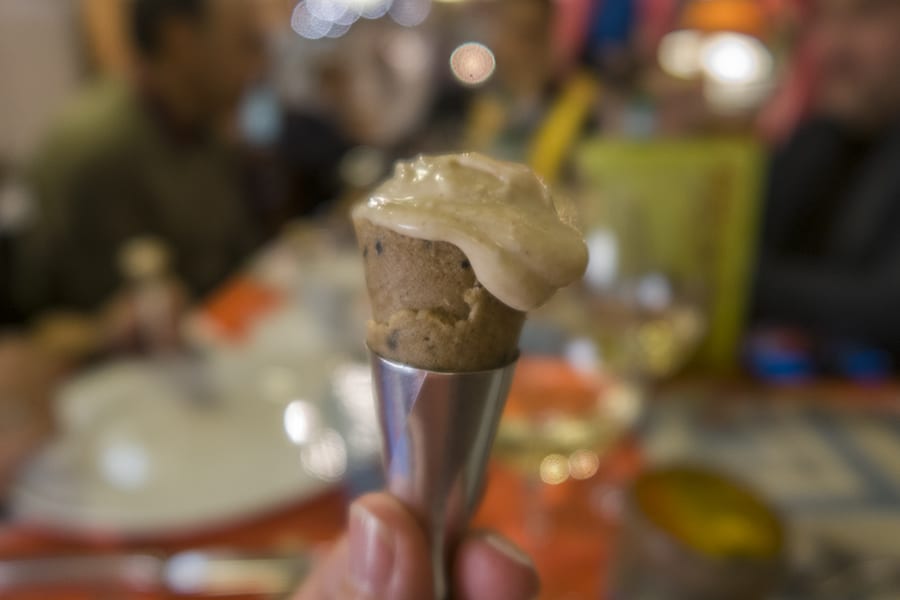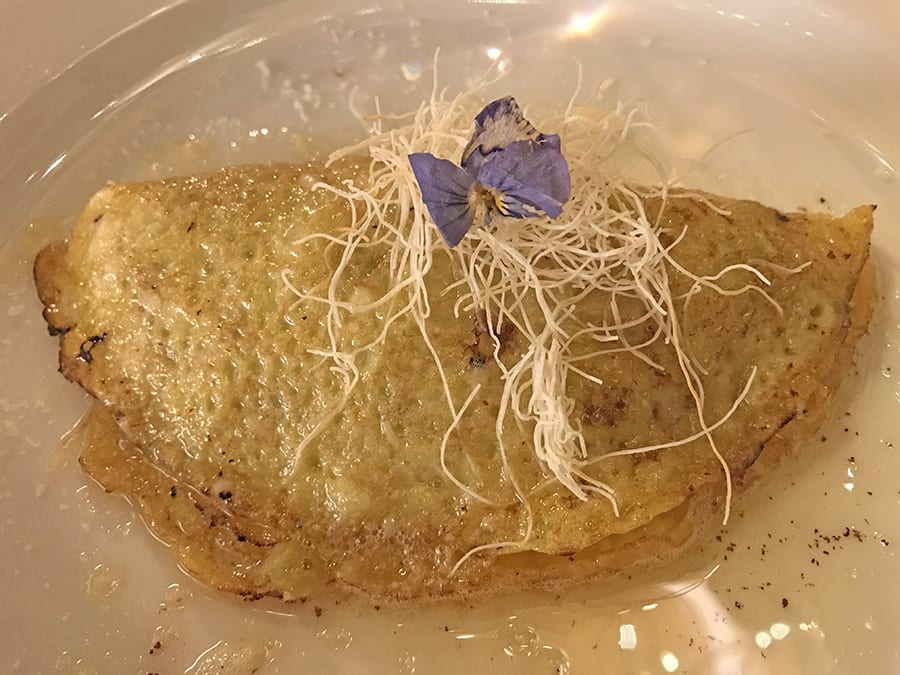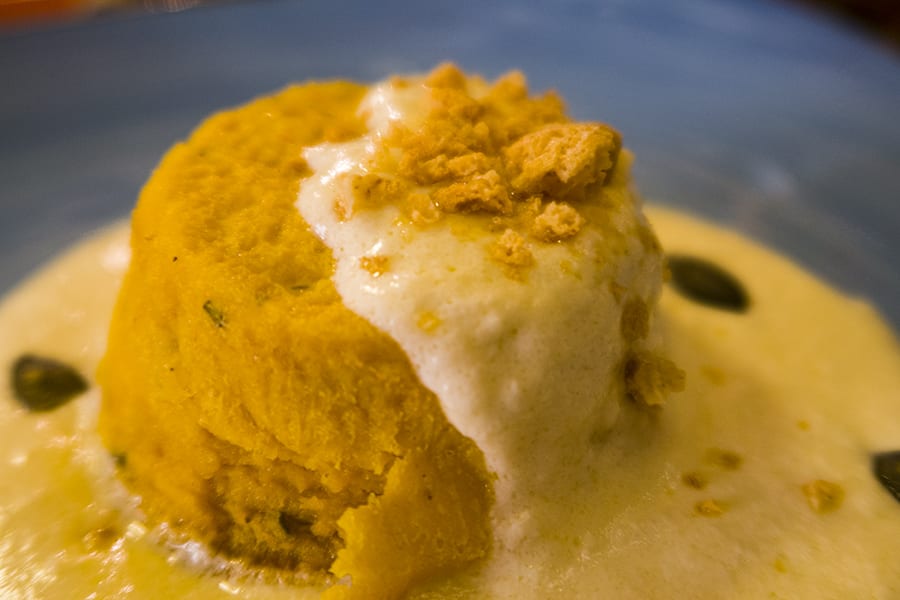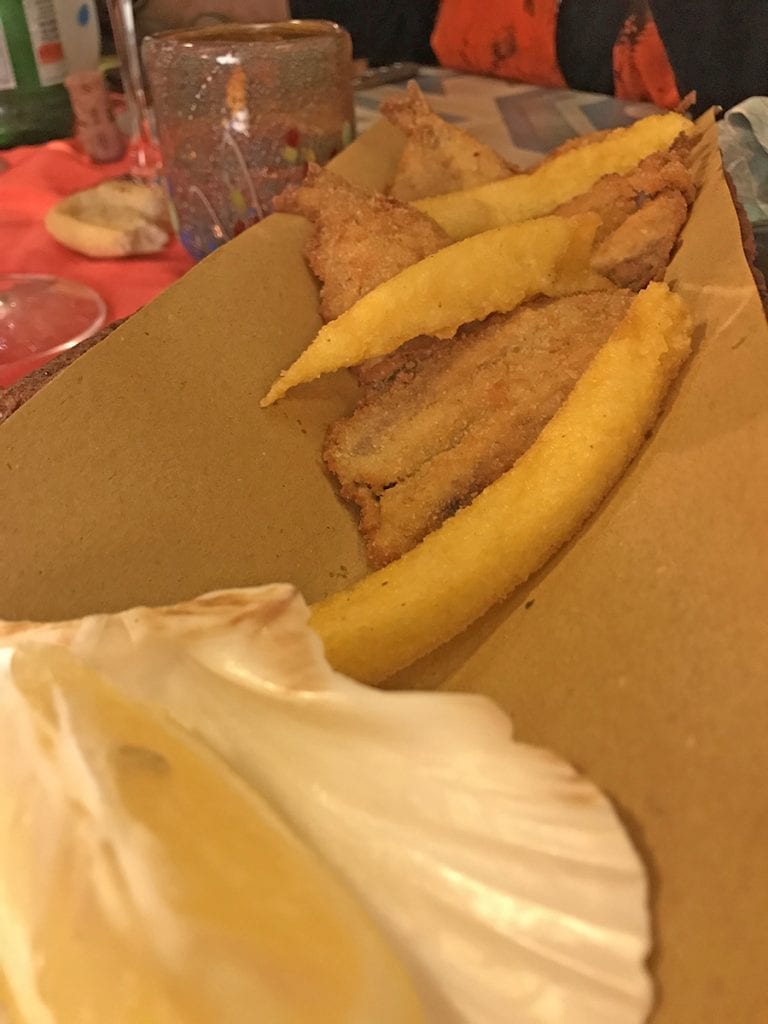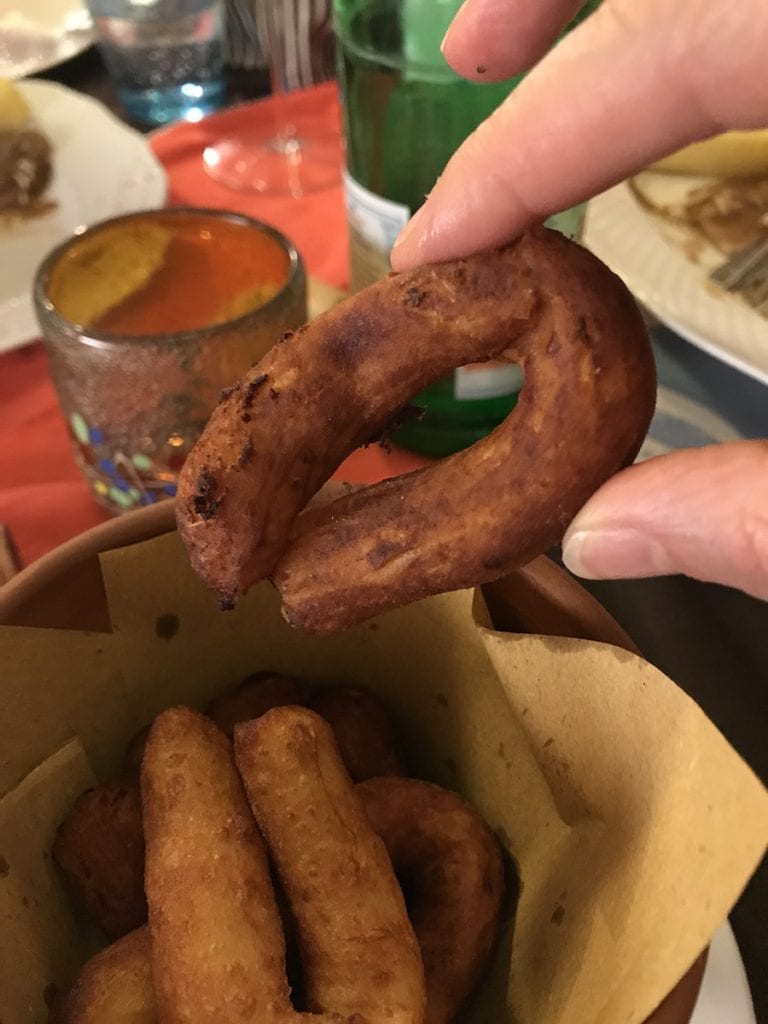 LA TRATTORIA ALLA LUNA | Via Guglielmo Oberdan, 13|34170 Gorizia | Facebook
Locanda 101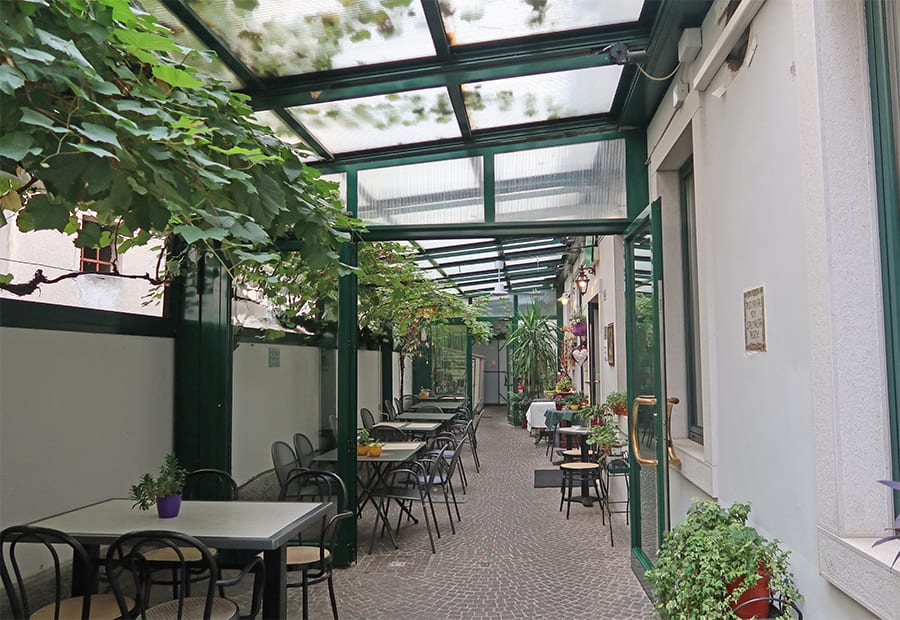 If you are looking for the best fish restaurant in Gorizia, head straight to Locanda 101. Sourcing most of their fish fresh from the Adriatic Sea, they serve perfectly balanced traditional fish dishes.
Start with a Meditteranean platter of octopus with potato, cuttlefish with tomato, herbed prawns, sarda with onions marinated in vinegar with capers and olives, bread and tomatoes to help them down. Each mouthful has a subtle flavour which lets the fish sing out.
Follow this with gnocchetti with redfish en papillote, creamed salted cod and delicately cooked firm white fish with potatoes, olives, tomatoes and capers. To round the meal off, the chilli chocolate pot with orange rind is heavenly.
The restaurant has indoor seating or, when the weather is warm, sit outside in the pergola under the vines.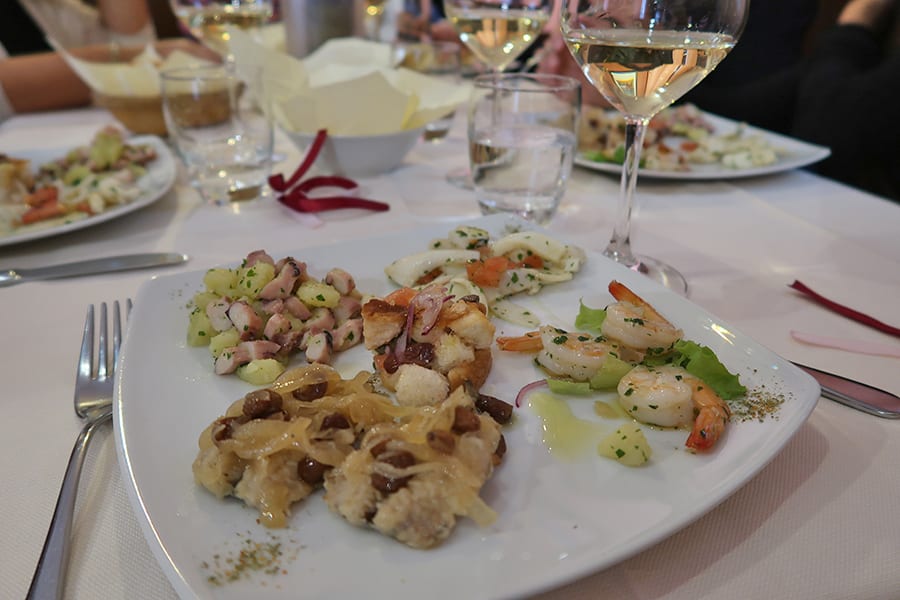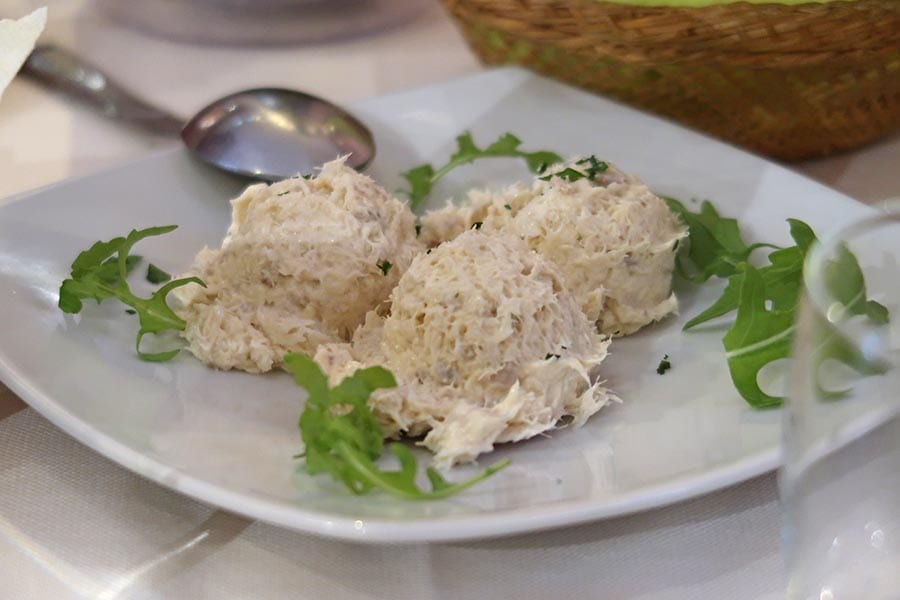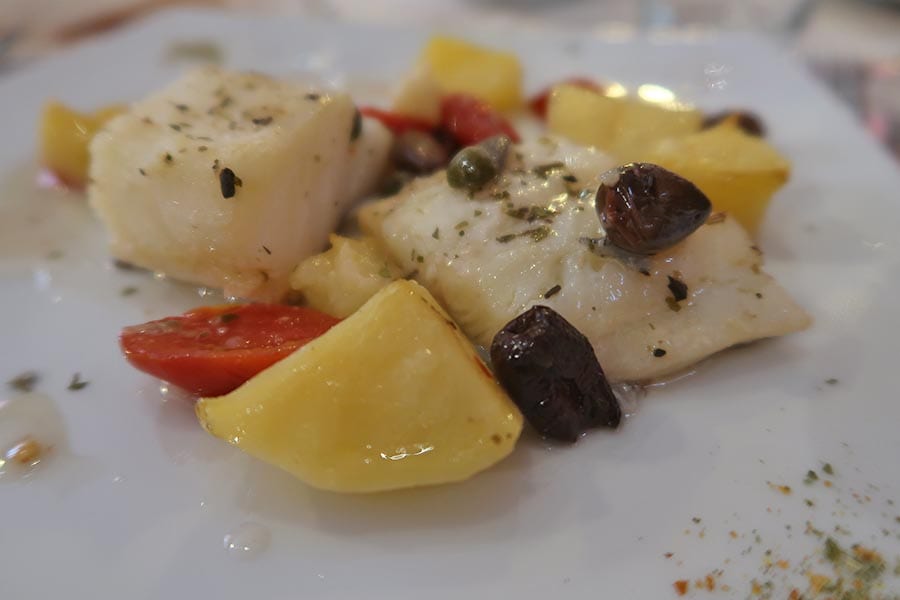 Ristorante Locanda 101|Corso Italia, 145|34170 Gorizia | Website
Ristorante Enoteca Majda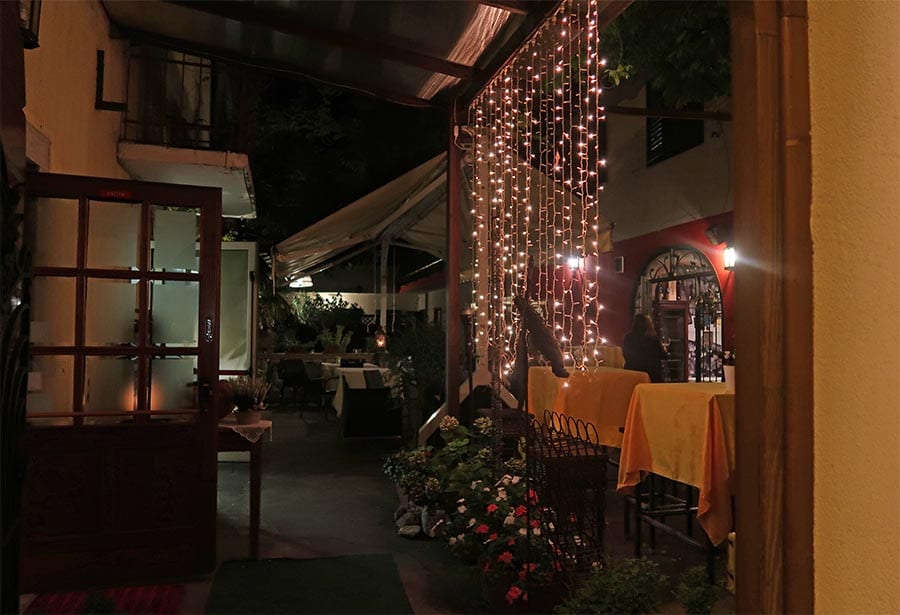 You receive a warm welcome at the enchanting Ristorante Enoteca Majda.
Experience Italian slow food at its best. Katy Stekar, the chef at Enoteca Majda, prepares traditional cuisine from the Gorizia region with her personal twist.
The dishes that use the best of the produce from Gorizia including herbed frittata stuffed served with bruschetta; vegetable strudel packed with courgettes, carrot, spinach with cream, cheese and topped with poppy seeds; fresh huge field mushrooms, breaded and deep-fried and served with a homemade garlicky mayonnaise; potato gnocchi with porcini; deep-fried aubergines and salad.
The local wines are sublime including a 1999 Ronco Severo Merlot and a 2011 Terpin as well as some local craft beer.
Enoteca Majda has three dining areas; the main restaurant, the outdoor eating area and a cosy seating area near the bar.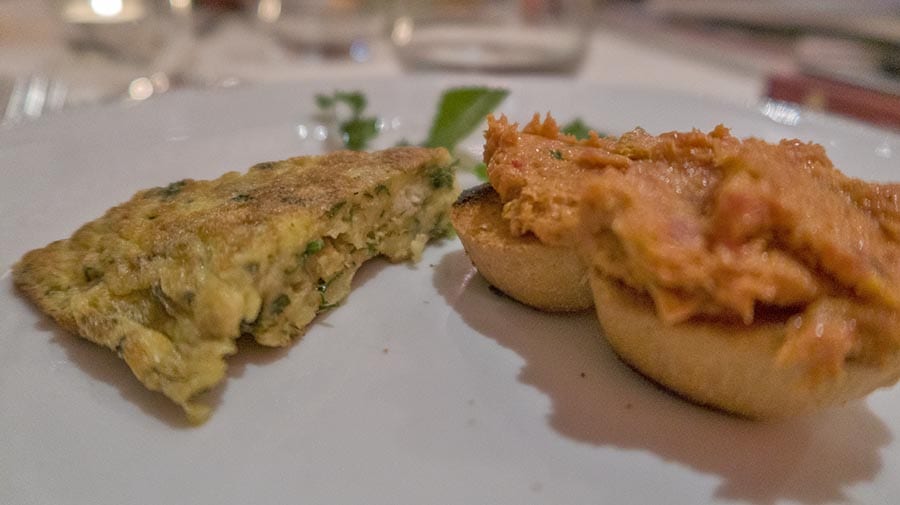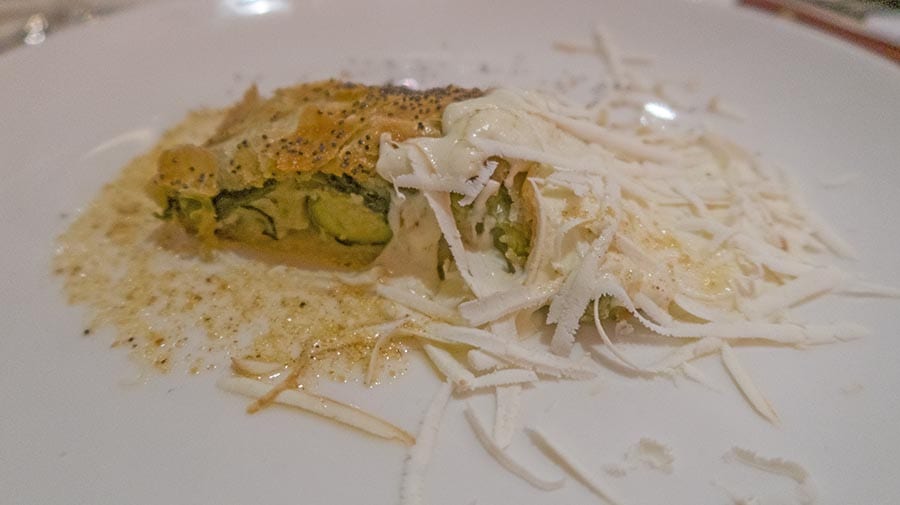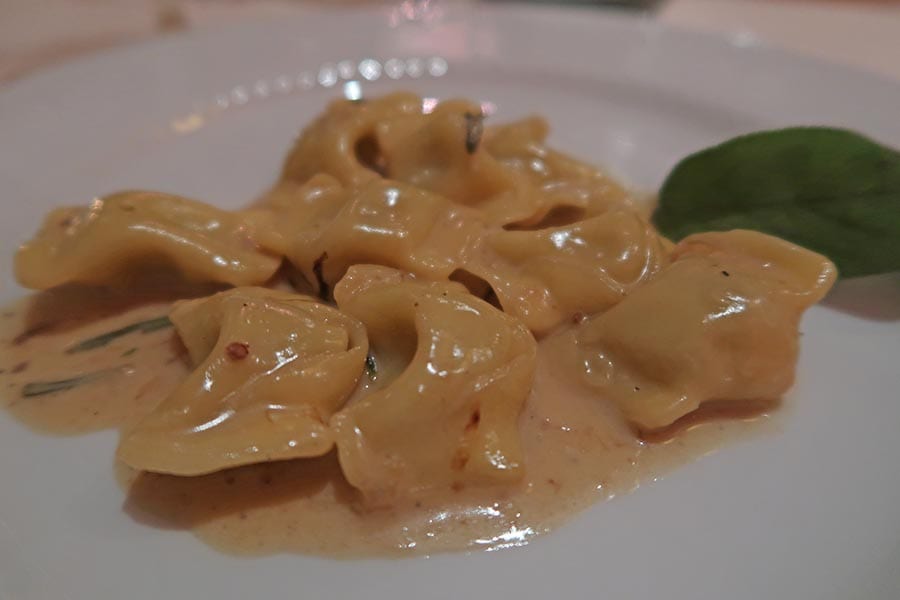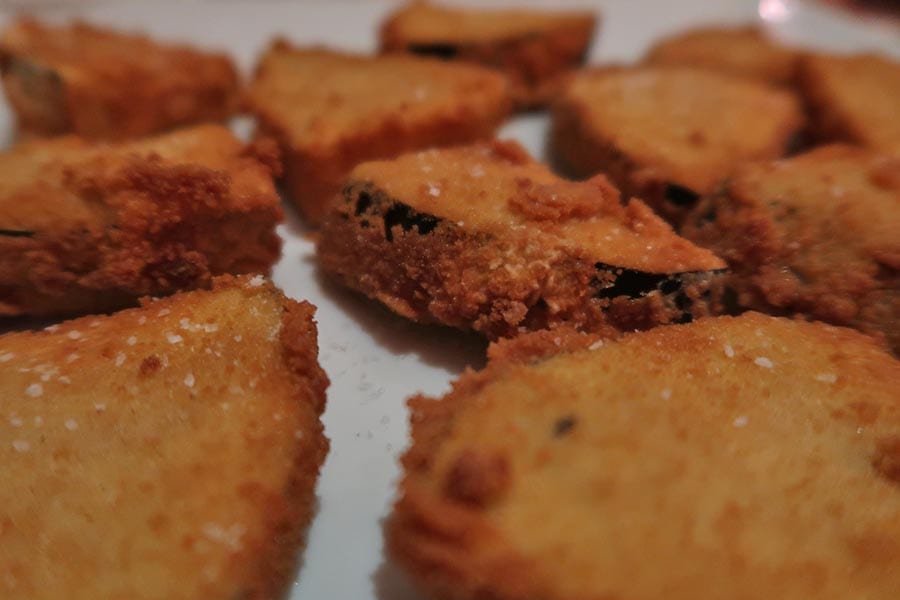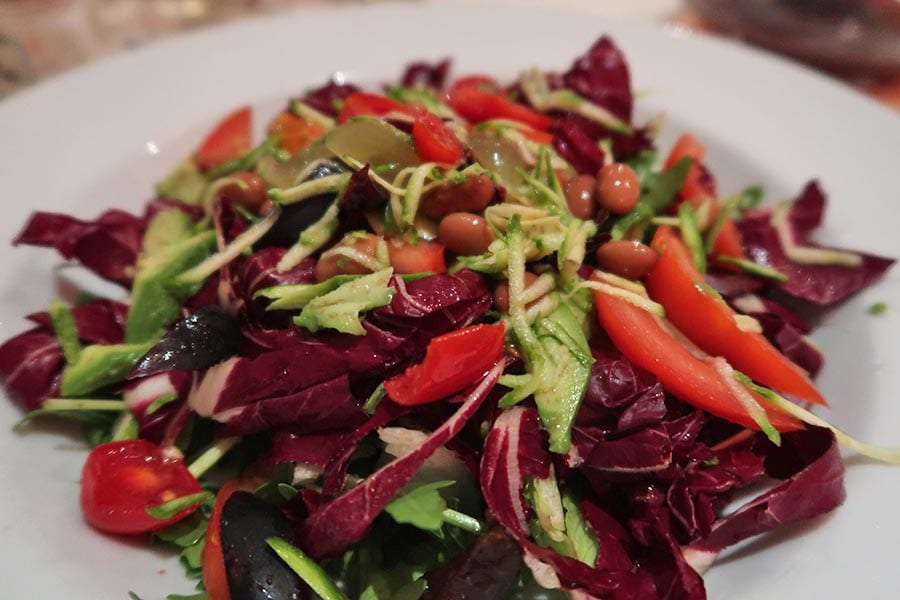 Ristorante Enoteca Majda |Via Duca d'Aosta, 71 |34170 Gorizia | Facebook
Pasticceria Panificio Centrale
If you are looking for a lovely spot to have a coffee and maybe a slice of cake, try the Pasticceria Panificio Centrale. Be sure to try the delicious moist Gubana, which is a traditional pastry crammed full of nuts, fruits, citrus peel and spice from the area which is freshly baked on the premises. Originally it was only served at Easter but is now available all year round. There is seating inside or outside if the weather is good.
Pasticceria Panificio Centrale|Via Giuseppe Garibaldi, 4 |34170 Gorizia | Website
Glida Gelataria Naturale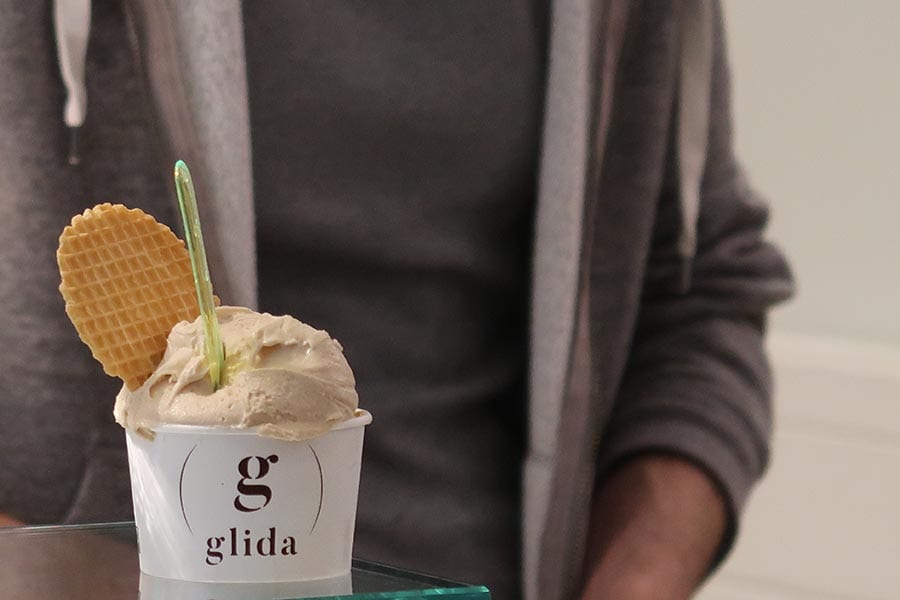 Ice cream is always good in Italy, but the flavours at Glida gelataria are out of this world. Using only the best ingredients, Matteo Ugomari produces amazing flavours. Try saffron or fig ice cream when they are in season, or Piedmont hazelnut, pistachio or one of the many other flavours on offer.
Glida Gelataria Naturale|Corso Italia, 145|34170 Gorizia | Facebook
Food to try in Gorizia
Fresh Fruit and Vegetables from the Mercato Coperto
The Saturday fruit and vegetable market at the Mercato Coperto (covered market) is a must-see. Full of fresh locally-grown produce, it is so tempting to cram your bags with brightly coloured courgettes, Borlotti beans, any of varieties of tomato on display (I counted 9 different ones), pumpkins, gourds or squashes and cepes and mushrooms galore. Stock up on dried fruits and beans from the myriad on display. It is a foodies' dream.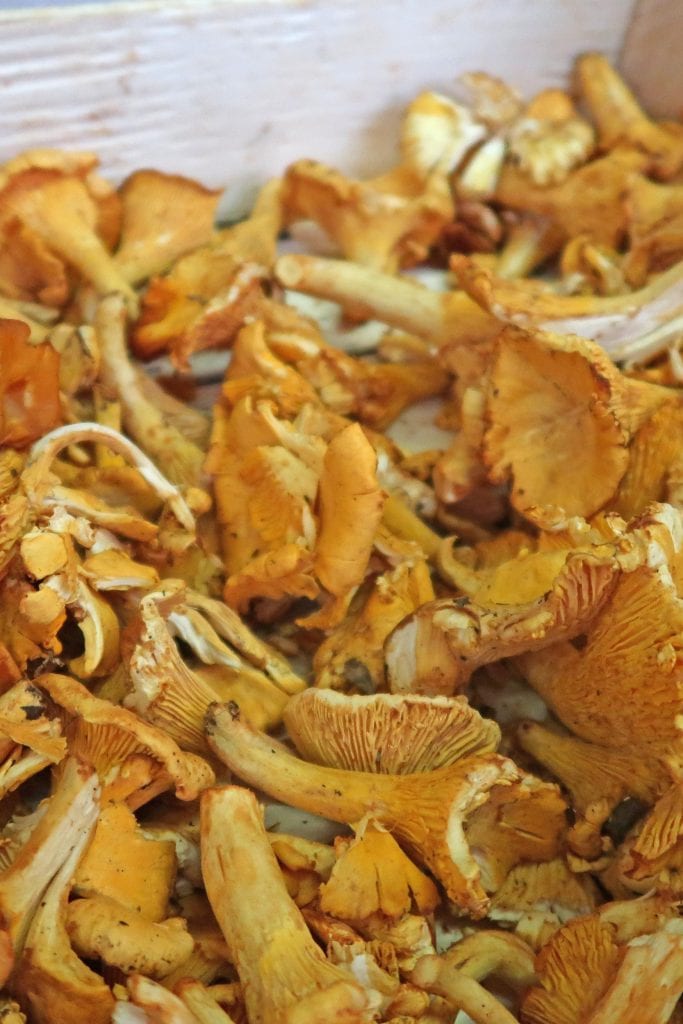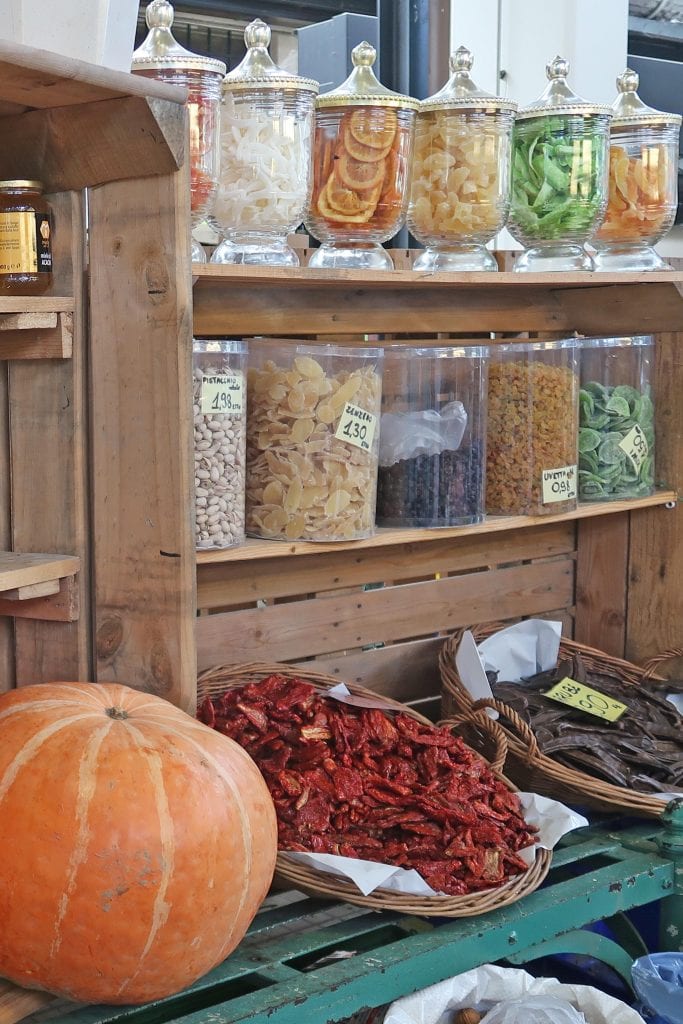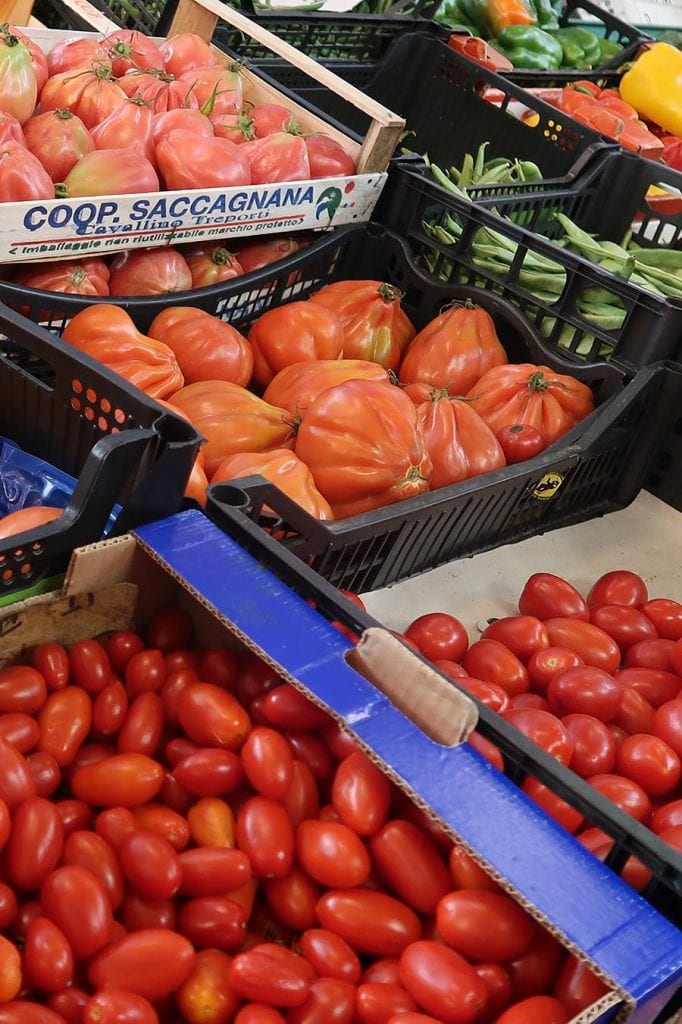 Mercato Coperto | Via Giovanni Boccaccio, 15 | 34170 Gorizia
Liptauer
The exact recipe for liptauer is a closely guarded secret, but it is made with a blend of Gorgonzola cheese, goats cheese, ricotta, anchovy paste, mustard and paprika into a spreadable cheese. It is creamy, peppery and with a bit of bite, but definitely one to try.
The Rudolfo Rudi Ierman family have been making liptauer to the same recipe for over 50 years and sell it along with other delicacies in their delicatessen shop next to the market.
Ierman Rodolfo |Corso Giuseppe Verdi, 32 | 34170 Gorizia
Rosa di Gorizia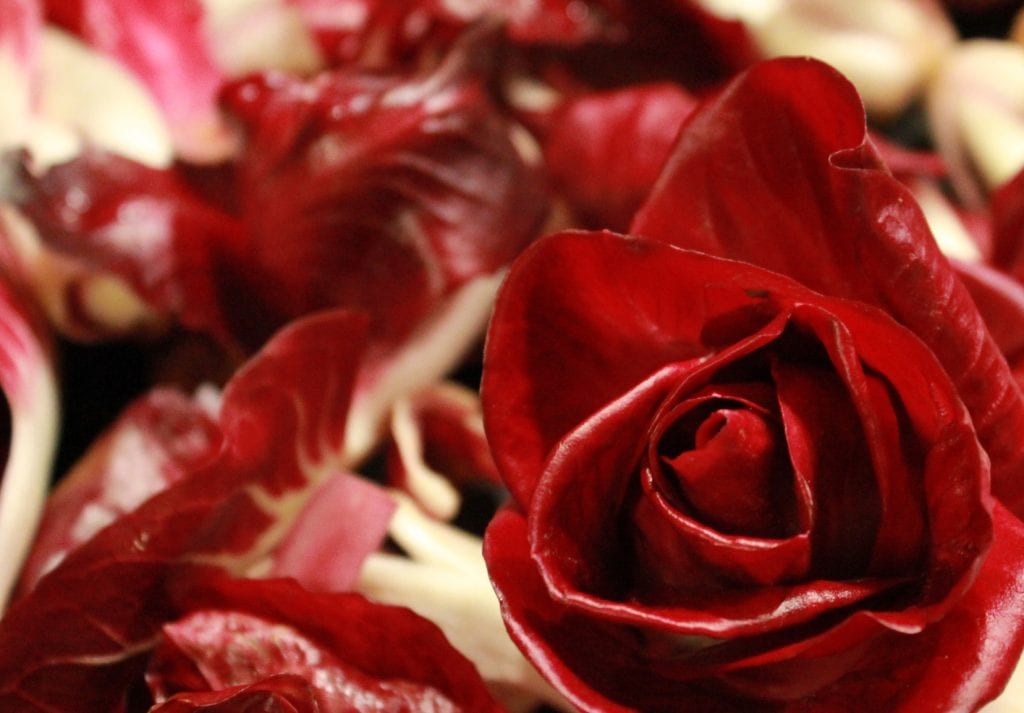 The Rosa Di Gorizia is famous in Gorizia, but it is not actually a rose, but a vegetable. It starts life as radicchio that is sown in the autumn. In early winter, the young plants are then transplanted to the cool, dark of the old Second World War air-raid shelters where they ripen and mature over the winter.
In January or February the rose-like hearts are revealed when the outer leaves are removed. Instead of the tight head of leaves that you normally get with radicchio, the rosa di Gorizia has a looser form like a rose.
With a slightly bitter flavour and a crunchy texture, they are highly prized in Gorizia and the Friuli Venezia Giulia area. Two different types of seeds are used producing a deep magenta or a variegated red and green rose.
Try it with a splash of olive oil or balsamic vinegar, but also in winter salads to add some vibrance in colour and taste. Delicious on its own The Rosa di Gorizia shop uses them to make pates, fill pasta or to make grappa which they also use to fill chocolates for an alcoholic hit.
Rosa di Gorizia |via dei Vegetariani, 2 | 34170 Gorizia |Website
Accommodation in Gorizia
If you are looking for accommodation in Gorizia, check out these Airbnbs and hotels:
I hope you have enjoyed this tour around some of the delights on offer in Gorizia and that it has whet your appetite for a trip to Gorizia and the Friuli-Venezia Giulia area. Let me know what you would like to try in the comments box below.
Don't forget to pin this article so you can come back to it later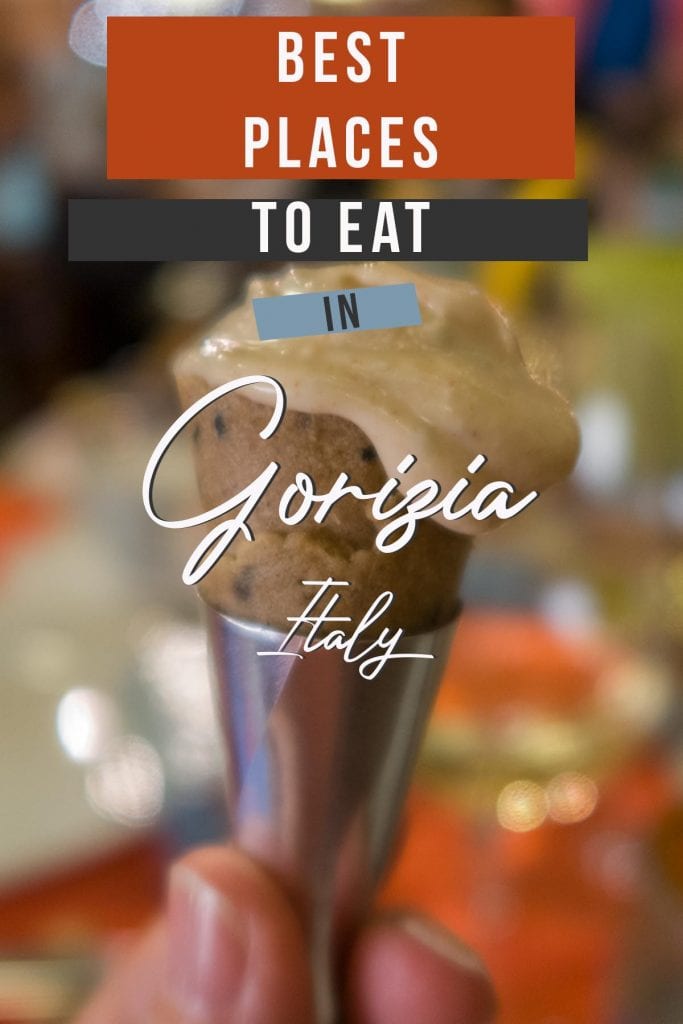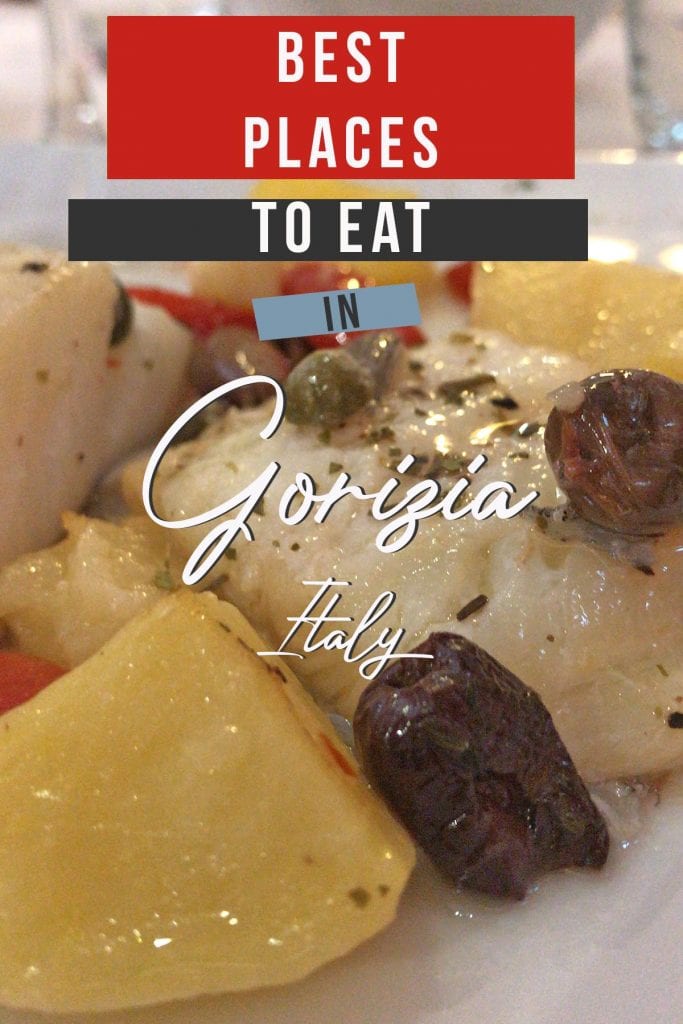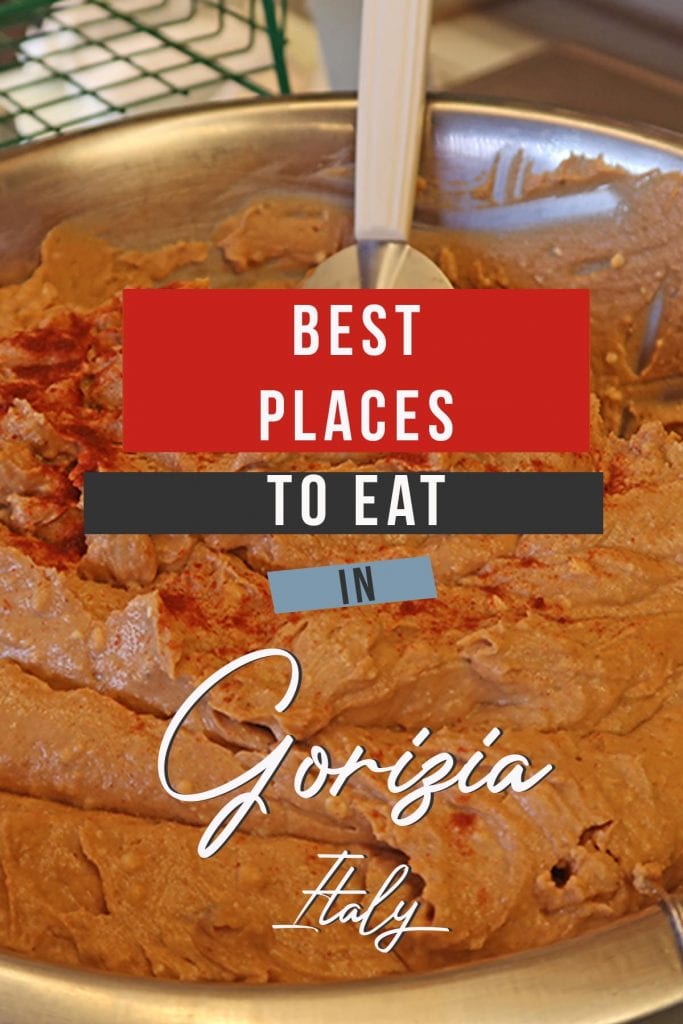 Use this Italy Travel Toolkit to plan your adventure!