As a child, my family and I spent long sunny days on Port Erin beach building sandcastles, burying my dad up to his neck in the sand and running in and out of the sea. We took rides along to Douglas on the steam train, walked up the surrounding hills and ate our fill of ice cream. There were always lots of things to do in Port Erin.
A lot has changed in Port Erin since my childhood, but also not much has changed. It is still a vibrant hub for watersports, walking, the arts and great places to eat and drink. The beach is still golden, the sea is cold but inviting and the ice cream still plentiful.
---
*This site uses affiliate links and I may earn a small commission when you use my links and make a purchase without incurring an additional fee yourself.
Thank you for supporting this website. See my disclaimer page for more details.
---
Port Erin remains one of my favourite places to visit on the Isle of Man, let me tell you more about it.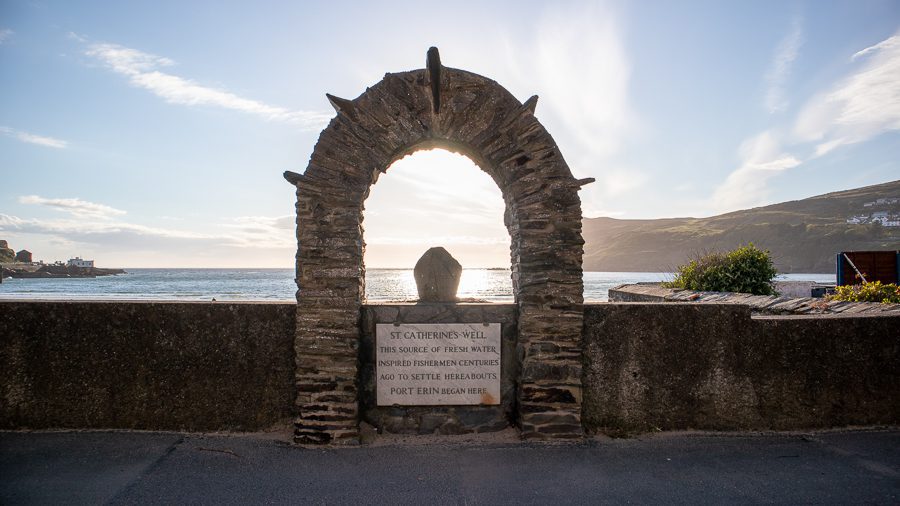 YOU MIGHT ALSO LIKE: Isle of Man – What you need to know before you go
The sandy beach is in a bay bounded by two headlands which (on windy days) funnel the prevailing westerly wind towards the village. On sunny days, the bay acts as a suntrap, so don't forget your suntan lotion. To the north of the promenade is Bradda Glen, one of the Manx National Glens.
On northern headland, Bradda Head, sits the iconic memorial tower called Milner's Tower. The promenade, on the east side of the bay, is somewhat higher than the seafront, and primarily consists of hotels, mostly built in the Victorian era, although due to changes in taste among tourists, many of these are being converted into flats and apartments. The town is famed for its views, including spectacular sunsets over Port Erin Bay and Bradda Head, as well as glimpses of the Mourne Mountains in Northern Ireland in the distance.
Things to do in Port Erin
Although Port Erin is a seaside village, it feels more like a small town. While many activities are geared around the beach and the sea, there are still plenty of other things to do in Port Erin.
Enjoy the Beach
The beach is Port Erin's crowning glory. A 1.5 km long golden sandy beach curving between two headlands. On a sunny summer's day, it is the perfect suntrap, with the seawall behind it.
During the summer months, dog are prohibited from the beach between 10 am and 7 pm, so that the sand is clean for visitors. This ends on 30 September.
The Port Erin Commissioners also put out rafts, goals for beach football and volleyball nets for the summer. These all encourage the beach to be used to its fullest during the summer and you can see people enjoying the last rays of the sun well into the evening.
Paddle Boarding
Port Erin beach is the perfect place for paddle boarding, whether you are a beginner, had a few tries or are a seasoned boarder. The bay is sheltered and the waves gentle.
If you need to rent a stand-up paddleboard, wet suit or even have lessons, the best place is Port Erin Paddleboards.
Just along Shore Road, their building has a blue wave roof so you can't miss it.
You can join groups going out for eco-adventure, try a SUP yoga or fitness class. On calm evenings, join one of the 'Twilight Glo-Paddleboard Sessions'. The boards have LED SUP lights that light up the water as you gently paddle. A truly magical experience.
Address: Wave House, Shore Road, Port Erin
Tel: 07624 302308
Website: https://www.porterinpaddleboards.com/
Getting out on the water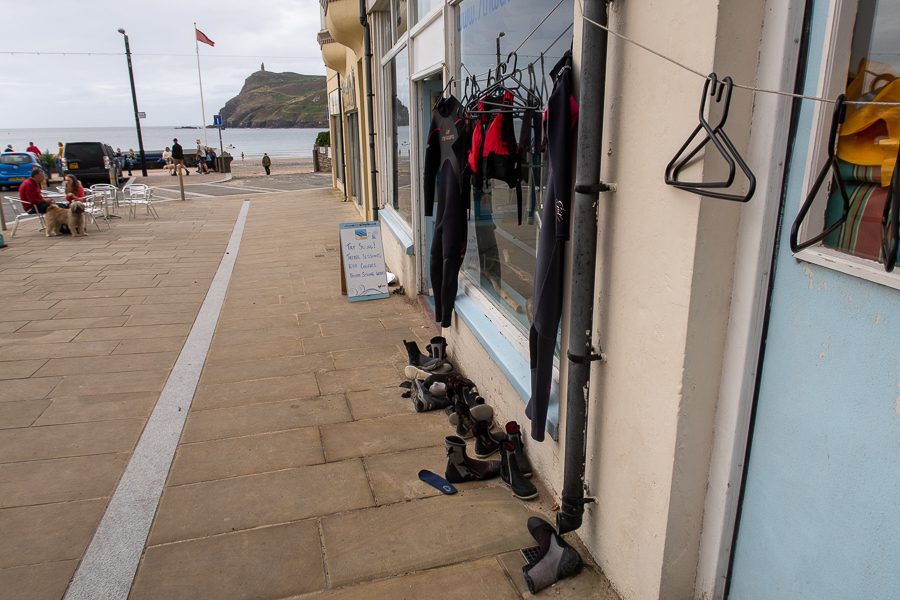 Fancy kayaking or sailing? On the right-hand side of the road down to the beach is 7th Wave, an RYA Training centre that also hires out kayaks.
You can also try a taster session of dinghy sailing and for the more adventurous, take your RYA course during your trip.
Buoyancy aids are available though, at the moment, they are not hiring out wetsuits due to COVID restrictions.
Address: 7th Wave, Strand Road, Port Erin IM9 6HF
Tel: 01624 836366
Website: https://www.7thwave-iom.com/
Aquabike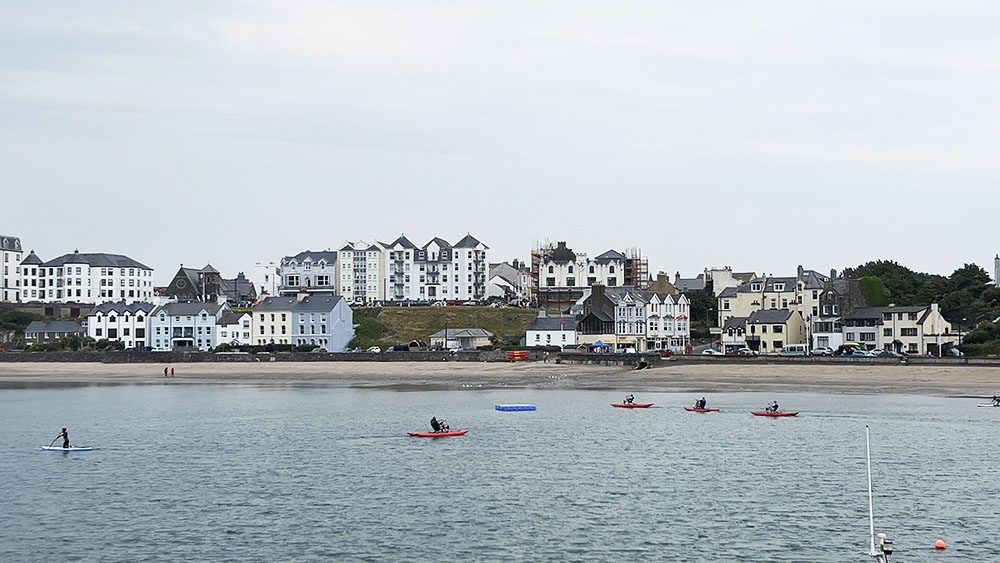 If you don't want to get your risk falling into the water, why not bike your way around the bay? These novel bikes allow you to pedal, not paddle. The bikes look as if they float on two paddle boards. You can either pedal on your own, or two of you can go tandem. Aquabike tours are for groups of up to 10 people.
Aquabikers have to be 10 years or older and sessions last an hour, enough time to see the bay and give your legs a workout!
Head along the Shore Road, past the Bay Hotel and just past the traffic lights on the right you will find the Aquabikes.
Address: The Boat Park, Port Erin
Tel: 07624 266221
Website: https://www.facebook.com/aquabikeisleofman
Shona Boat Trips
Shona Boat Trips offer several different trips on their two boats, the Shona, and the Osprey the rib.
Take the Shona for trips to and around the Calf of Man. The Shona and the Osprey also take sightseeing trips around The Sound, The Chasms, Chicken Rock Lighthouse and the Bradda Mines as well as trips to the scenic Fleshwick Bay.
Look out for bird and marine life on your trip including dolphins, seals, porpoises, basking sharks and an abundance of seabirds, look out for puffins in particular!
All trips are weather dependent
Based: Raglan Pier, Port Erin
Tel: Steve on 07624 490615
Website: https://shonaboattrips.wixsite.com/calftrips
Email: maxnotjo@manx.net
YOU MIGHT ALSO LIKE: 20+ Things to do in Port St Mary, Isle of Man
Take a ride on the Steam Train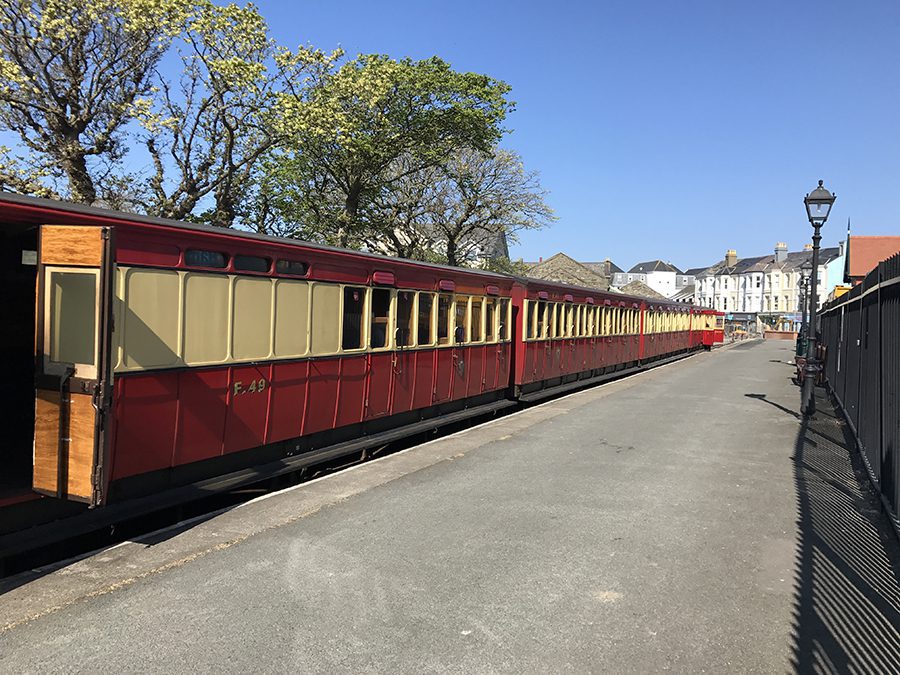 This has to be on your list of things to do in Port Erin! Taking the steam train to Douglas was one of the highlights of my childhood trips to the Isle of Man. Hearing the train's whistle is so evocative and you can hear it all over the south of the island.
Sitting in the old-fashioned carriages as it shoogles* its way along the tracks and watching the scenery pass by with the puff of steam floating by like clouds is magical. A great experience for adults and children.
The line dates back to 1874 and is a 3 gauge track and still uses its original steam locomotives and coaches! The train journey passes through the beautiful countryside, farmlands and along the coast. It used to include Peel, Foxdale and Ramsey, but the line was shortened to the 15 miles route.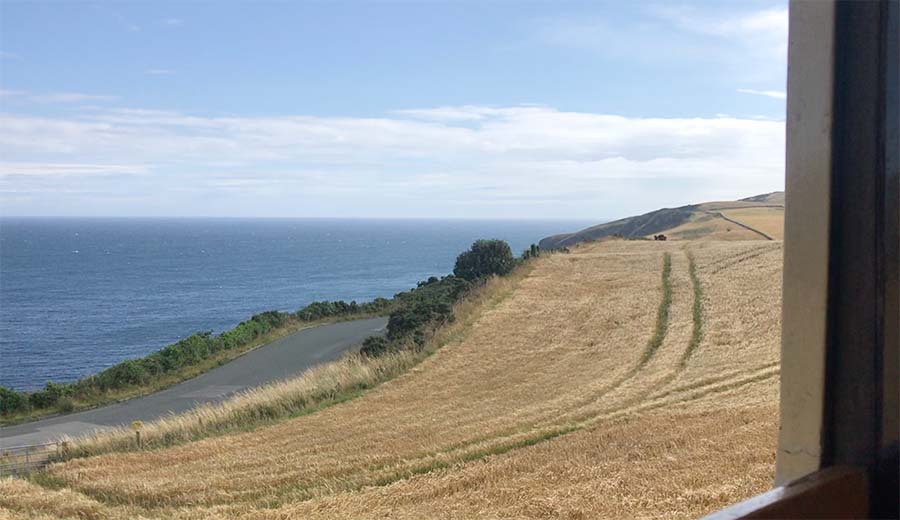 The train leaves Port Erin and passes through Port St Mary, Colby, Castletown, Ballasalla, Santon and Pt Soderick before arriving into Douglas an hour later. During the summer the train goes every two hours in each direction.
For an extra treat book the Dining Car experience for some delicious fine dining with Manx produce complete with a drinks menu of 14 wines and a cocktail Bar. The Pullman style dining car is one of only a few narrow gauge dining cars in the world.
Port Erin Railway Museum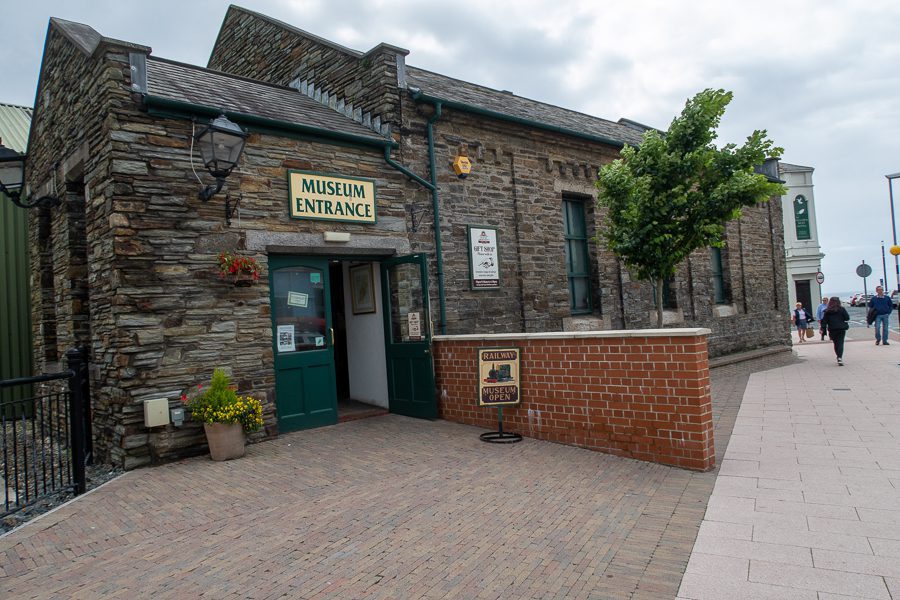 Just next to the station is the Port Erin Railway Museum. Follow the history of the steam railways over the last 140 years.
On display are steam engines and a variety of carriages including the ones used by the Queen and the Queen Mother on their visit in 1963. There is also memorabilia, posters and a shop.
If you have ever fancied being a train driver, there is a "Drive the Diesel" simulator experience.
YOU MIGHT ALSO LIKE: Best Things to do on the Isle of Man
Climb up Bradda Head to Milner's Tower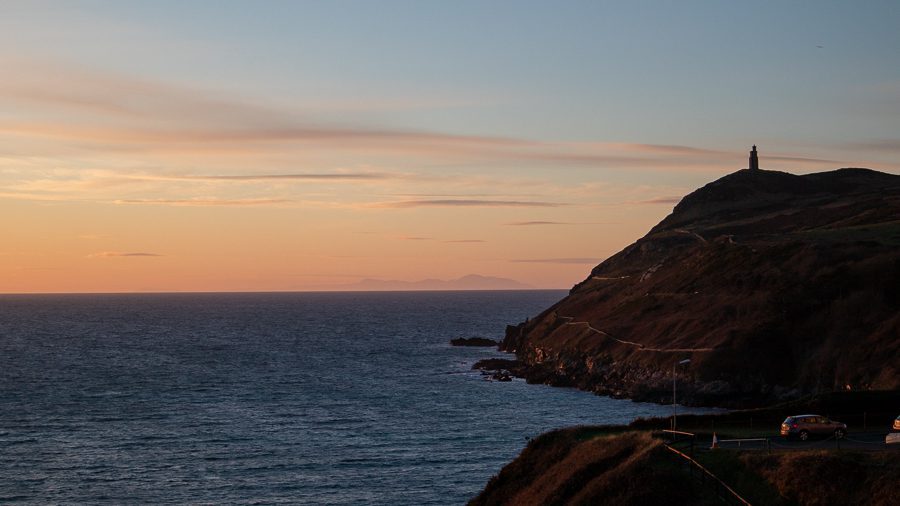 To the north on the headland stands Milner's Tower. A memorial to William Milner who was a safe maker from Liverpool, the tower is really a folly in the shape of a lock barrel.
Milner moved to Port Erin and helped support the local poor and fishermen. In 1871, the village commissioned the tower as a thank you to their benefactor.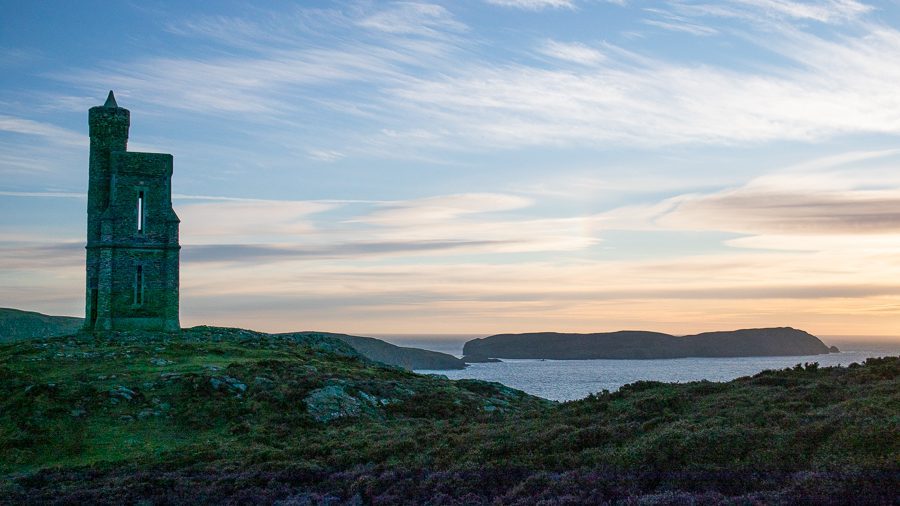 Standing at the tower, you have views across the yellow gorse to Port Erin bay and on a clear day across to Gansey Bay. As you turn, the Calf of Man comes into view and out to sea, the peaks of the Mountains of Mourne in Northern Ireland can be seen when the skies are cloudless.
There is something rugged, beautiful, tranquil about Bradda Head. Climb up through the heather and gorse to some of the stone cairns for epic views or carry on along the coastline to Fleshwick Bay, part of the Raad ny Foillan path.
Fishing from the Pier
Head over to the Breakwater to fish off the end of the jetties, or right to the end of the bay, you There is also some rock fishing at Bradda Glen.
Fish that you might catch include coalfish, pollack, ballan wrasse, cuckoo wrasse, grey mullet, mackerel and conger eel.
Top Tip: Have a look at the IOM Angling Guide for more information
Take in the Sunset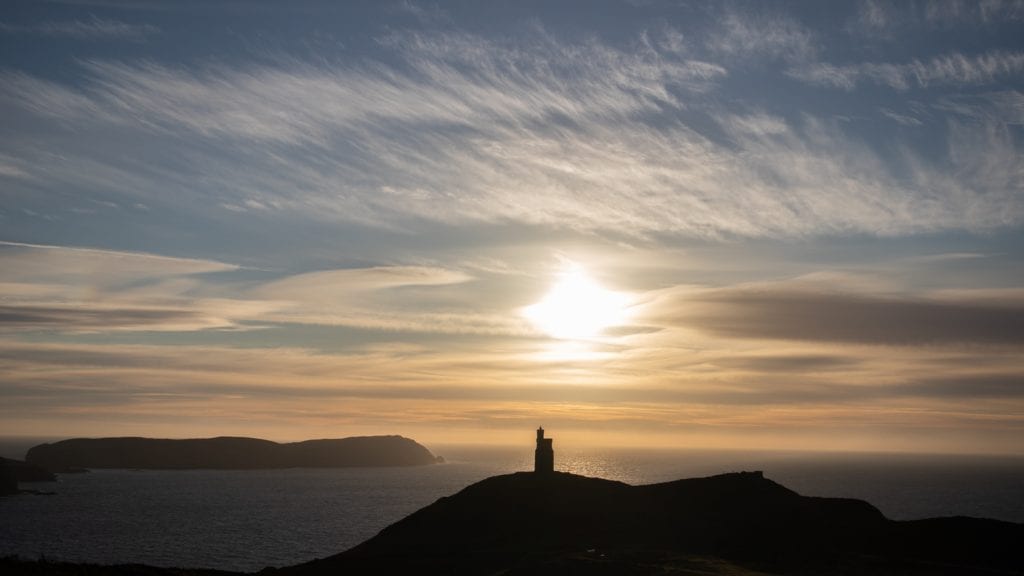 On a clear night, or even a cloudy one, the sunsets at Port Erin can be epic. As the sun comes down, the bay is filled with light as the rays dance off the sea. You might be lucky and catch the paddleboarders out on the water.
Up to the right, Milner's Tower is silhouetted against the sky, if you climb up Bradda Head you can get amazing photos across the bay to the Calf of Man.
Play a round of golf
Rowany Golf Club sits above Port Erin to the west of the beach. The course is an 18-hole, par 70 course. The course can be quite challenging especially when it is windy… which can be quite often!
The views from the course are beautiful, and the 18th hole, in particular, gives you stunning views over Port Erin Bay and the Irish Sea.
There is a 6-hole Pitch and Putt course for members use only.
A round of 18 holes for visitors cost from £25. Clubs, Trolleys and buggies are available for hire.
Address: Rowany Drive, Port Erin, IM9 6LN
Website: https://www.rowanygolfclub.com/
Tee Bookings: https://www.rowanygolfclub.com/teetimes-2/
Tel: 01624 834108
Bridge Bookshop
When I am on holiday, it just seems right to read an actual book instead of a Kindle version. I do love browsing around a bookshop, seeing what I can pick up, and the Bridge Bookshop is one of the best.
Small, but with really great staff who know their books and make great recommendations. If you have run out of reading material, fancy some Manx books, maps, cards or even art supplies, pop into the lovely Bridge Bookshop.
Address: Shore Road, Port Erin, IM9 6HL
Website: https://www.bridge-bookshop.com/
Tel: 01624 833376
Opening hours: Monday to Saturday – 09:30 to 17:30
The Papered Nest
One of my latest discoveries is the delicious Papered Nest. Full of quirky items for the home from sumptuous velvet cushions, pictures to crockery, and candles. Suzanne support local and national artisans and with an exciting range of hand things for the home, it is a place not to miss.
Address: 8 Church Road, Port Erin, IM9 6AQ
Website: https://thepaperednest.co.uk/
Opening hours: Tue – Fri – 9:30 am – 2:30 pm Saturday- 10:00 am – 4:00 pm
Walks around Port Erin
Apart from walking along the beach, there are quite a few other walks around the village.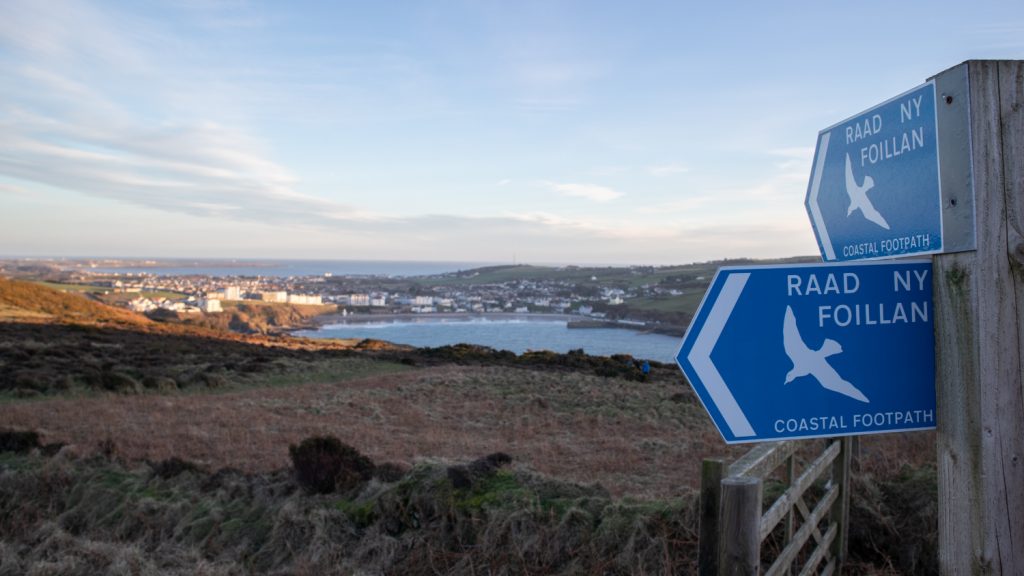 The Raad ny Foillan coastal path around the Isle of Man has two sections that pass through Port Erin. Section 3 arrives from Port St Mary and section 4 leaves Port Erin towards Niarbyl.
Section 3 – 7 miles, Moderate – Starting in Port St Mary, the Raad ny Foillan takes you along Clifton Road and up past Perwick Bay. The spectacular views across include The Chasms, vertical tears in the rocks giving glimpses down to the beach below.
The path winds round to Spanish Head and on to The Sound, where you can stop for a coffee before continuing on your way.
You come into Port Erin from the far end of the breakwater.
Section 4 – 9.5 miles, Strenuous – Continue through the village and up to Bradda Head. The path winds along the coast and if you are lucky you will see the Mountains of Mourne across the Irish Sea.

Dipping down into the peaceful Fleshwick Bay, then it is up to Lhiattee ny Beinnee.
The path undulates with up and down before you reach Cronk ny Arrey Laa for more amazing views! The end of this section brings you to the beautiful Niarbyl beach and the Niarbyl Visitor Centre for a well-deserved drink.
Cregneash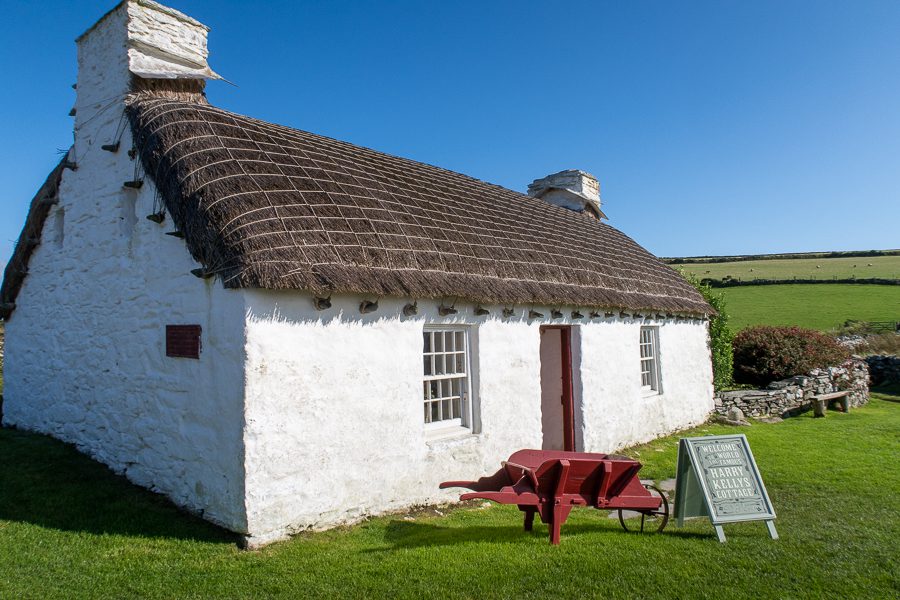 You can walk up through the village and up Darragh towards Cregeneash. It is quite a steep road, but once you get to Cregneash you can take a look around the village and get epic views of the Calf.
Above Cregneash is the ancient burial ground at Meayll Circle. It is a bit of scramble up the narrow path between the gorse, but it is worth it. Above it is the remains of one the World War II Chain Home Low RDF stations.
You can get the bus back to Port Erin if the walk is too much.
Fleshwick Bay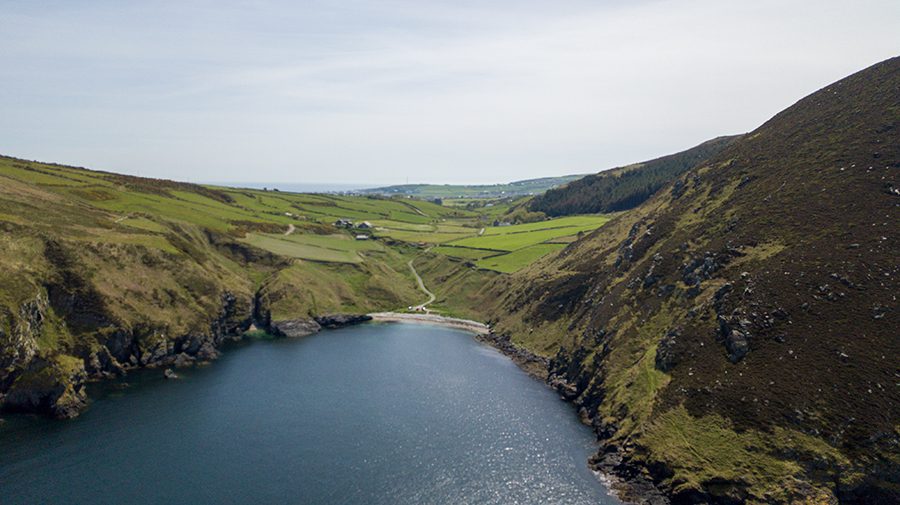 From Honna Road in Ballafesson, turn up Mill Hill and follow the road which will take you up to Surby Road. As you descend past Fleshwick Plantations, Fleshwick Bay opens up in front of you. It is a pebble beach, but very tranquil and you can sit and watch the birds and wildlife.
Places to eat in Port Erin
For a village, there are quite a few Port Erin restaurants and quite a variety of places to eat, whether for a cup of tea, a bit of lunch, dinner or just a bag of chips.
Versa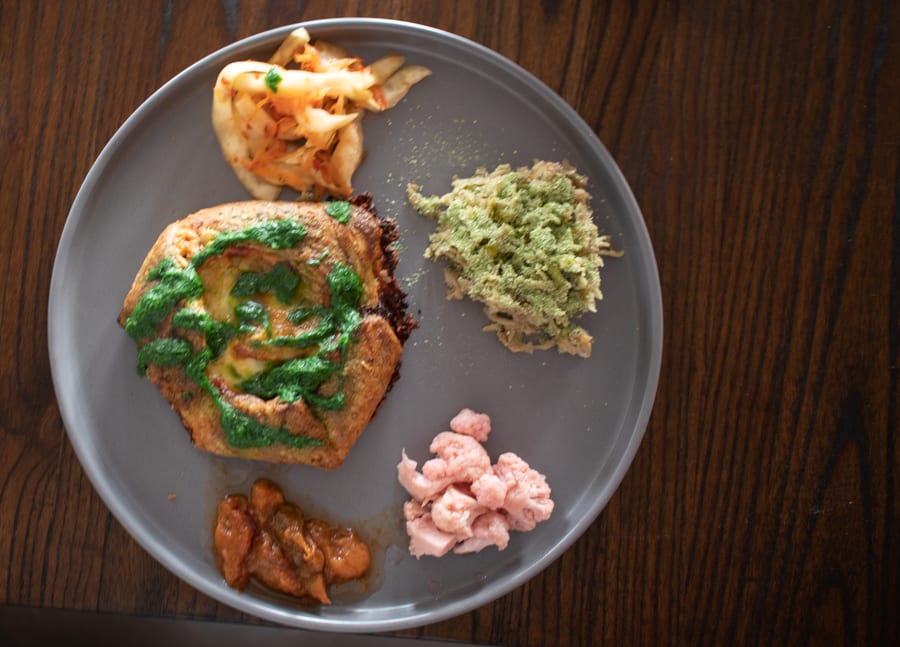 Address: The Little Green Door, Station Road, Port Erin, IM9 6AN
Tel: 07624 326349
Hours: Thursday to Monday from 10:00 to 15:00 and 17:00 to 21:00
Website: http://www.restaurantversa.im/
For a truly different dining experience, visit Versa in Station Road. Run by the award-winning Pippa Lovell, Versa's menu changes weekly depending on what local ingredients are available.
Pippa's menus only use produce and ingredients sourced on the island, mainly from the south. A passionate chef her imaginative dishes highlight the best that the Isle of Man produces in a sustainable way. She includes foraging, pickling, smoking and fermenting to enhance her delicious food.
During the day, the brunch menu offers light bites, bagels and drinks. The evening is fine dining at its best. Versa offers either a five or an eight-course tasting menu. The dishes are tailored to the customers, so vegans, vegetarians, pescatarians and all diets are catered for. Booking is essential but well worth it.
Foraging Vinters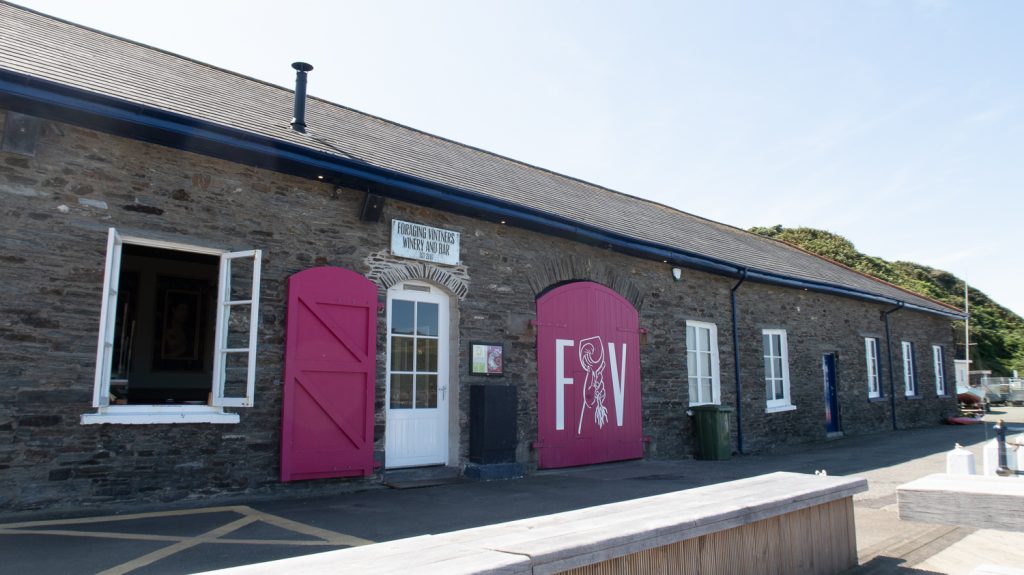 Address: The Old Coal Shed, The Breakwater, Port Erin, IM9 6JA
Hours: Wednesday to Sunday 12 pm – Late
Website: https://www.foragingvintners.com/
On the left-hand side of the beach above The Breakwater, are the bright pink doors of Foraging Vintners.
Behind the pink doors is where they make their sparkling wines using rhubarb, elderflower and honey, not a grape in sight!
Next door is the winery, where you can enjoy delicious sparkling wines, cocktails and drinks as well as a tapas or two.
Don't miss out on the amazing Foraging Vinter cocktails including the Manx 75 and my favourite, Rhugo, a mix of rhubarb fizz, elderflower gin, lemon and mint. Delicious, moreish but can be potent!
There is seating inside, or enjoy your drinks outside overlooking the piers if the weather is good.
La Gusto Pizza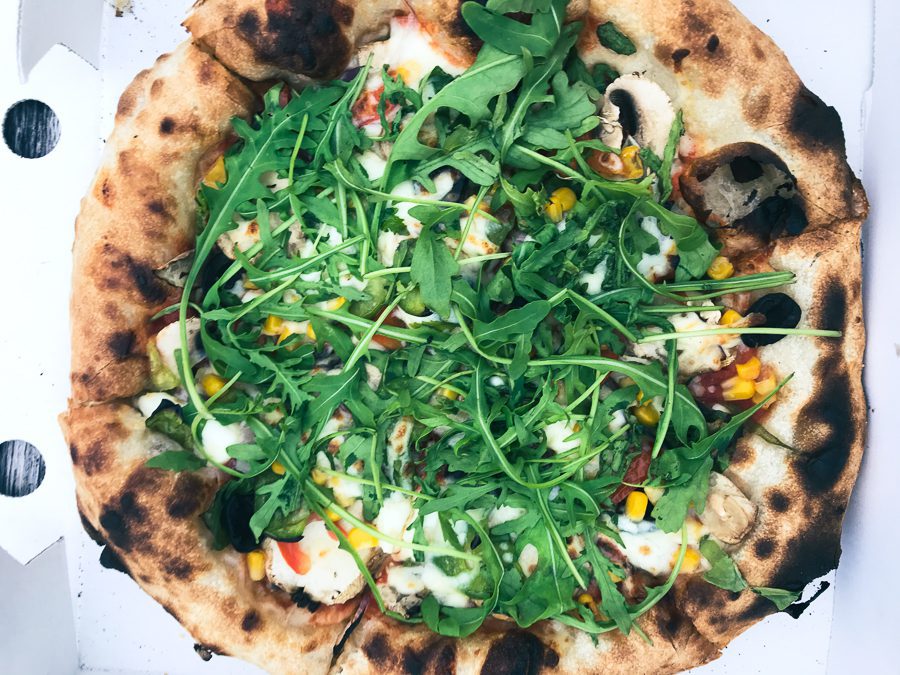 Address: Shore Road, Port Erin, IM9 6HL
Hours: Sunday-Thursday: 5pm-10pm
Friday-Saturday: 5pm-11pm
Website: https://www.lagustopizza.co.uk/
For the best takeaway pizzas in Port Erin, head along Shore Road to La Gusto Pizza.
You can select from their large range of hand-stretched pizzas or add the topping that you like. They are traditionally cooked with a lovely crispy crust.
You can also choose from calzones or try Manx Homemade burgers, wraps, salads or chips.
Bradda Glen Restaurant and Tea Rooms
Address: Bradda E, Port Erin IM9 6P
Tel: 01624 837713
Hours: Tuesday to Thursday: 12noon to 8pm
Friday & Saturday: 12noon to 8:30pm
Sunday: 12noon to 4pm
Website: https://braddaglen.im/
With sweeping views over the bay, the Bradda Glen Restaurant is quiet and secluded With an open decking area to sit in the sun, as well as ample indoor seating, it is perfect for afternoon tea, lunch, brunch or just a coffee.
Don't miss the Sunday roast! There are some great vegetarian and vegan options like the Mediterranean Platter, Falafel or Spanikopita.
There is plenty of parking on-site,
Whistlestop Coffee Shop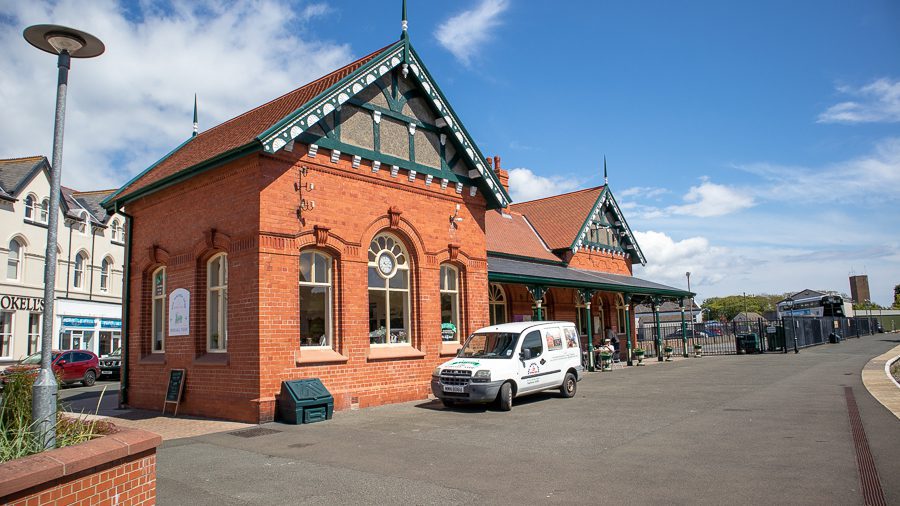 Address: Port Erin Railway Station, Station Road, Port Erin, IM9 6AE
Tel: 07624 261802
Hours: Every day 9.30 – 4.00
Facebook:https://www.facebook.com/whistlestopiom/
The Whistlestop Coffee Shop is a popular coffee shop and lunch spot at the Port Erin Railway Station.
Enjoy fresh coffee, normal and speciality teas and delicious homemade cakes and food which is served daily.
You don't have to be waiting for a train, you can pop in anytime!
Scoops Ice Cream
Address: Shore Road, Port Erin, IM9 6HF
Tel: 01624 665417
Hours: Thursday to Sunday from 10:00 to 14:00
Facebook:https://www.facebook.com/ScoopsPortErin/
You can't beat an ice cream when you visit the seaside. Scoops down by the shore sells Davison's Manx Dairy Ice Cream with a wide variety of flavours.
You can sit outside, inside or lick it while you are walking along the beach.
They also serve sandwiches, jacket potatoes, panini and homemade scones if you want to have a bit to eat.
Port Erin Chippy & Diner
Address: 3 Station Rd, Port Erin, IM9 6AR
Tel: 01624 832564
Hours: Monday to Thursday 11:30 – 14:00 and 16:30 – 20:30
Friday & Saturday – 11:30 – 20:30
Sunday – 12:00 – 20:30
Facebook:https://www.facebook.com/PortErinChippyandDiner/
No seaside trip is complete without a bag of fish and chips.
The Port Erin Chippy opposite the train station is the best for piping hot chips and perfectly cooked fish!
Port Erin Pubs and Drinking Places
There are quite a few places to drink in Port Erin including The Station, Falcon's Nest, The Bay Hotel and Foraging Vintners. You can also try The Railway Station Hotel which is at Port St Mary station between Port Erin and Port St Mary.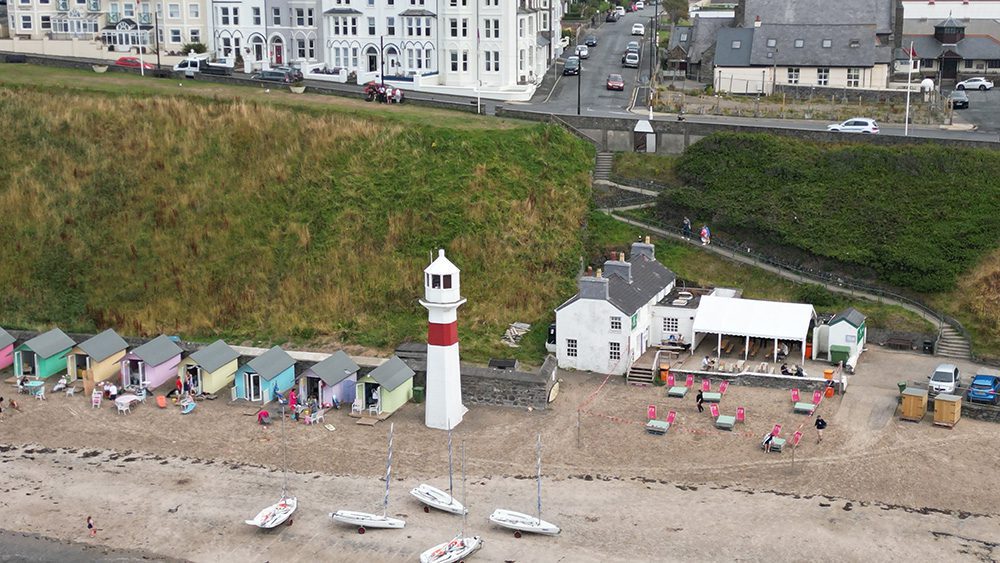 In the summer, 2021, Foraging Vintners and Noa Bakehouse took over the Cosy Nook and transformed it into Playa Del Vintners with food during the day and drinks at night.
It is a great place to hang out, whether you are having a coffee, a beer or one of the delicious rhubarb ciders!
Places to Stay in Port Erin
There are plenty of places to stay in Port Erin hotels, apartments and private rentals including the Bay View Apartments, Falcons Nest Hotel or the Athol Park Guest House.
However, I think the best places to stay are either the Seaview or Palm Villa, which are run by Seaside Cottages.
With three bedrooms Seaview is right on the Promenade and is decorated in soft tones of pink and peach. There is plenty of space for up to six people and it is dog friendly too. The private garden has seating and a barbeque for those long summer evenings.
Palm Villa is a relaxing haven of soft turquoise. The three bedrooms comfortably accommodate up to six people and it is also dog friendly. The open plan kitchen and lounge area and desk area if you need to work make it the perfect home-from-home stay in Port Erin.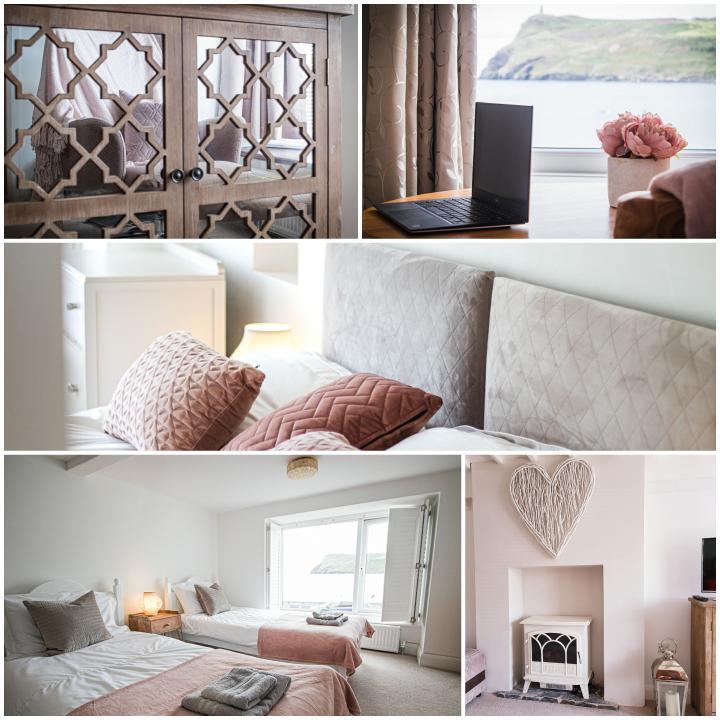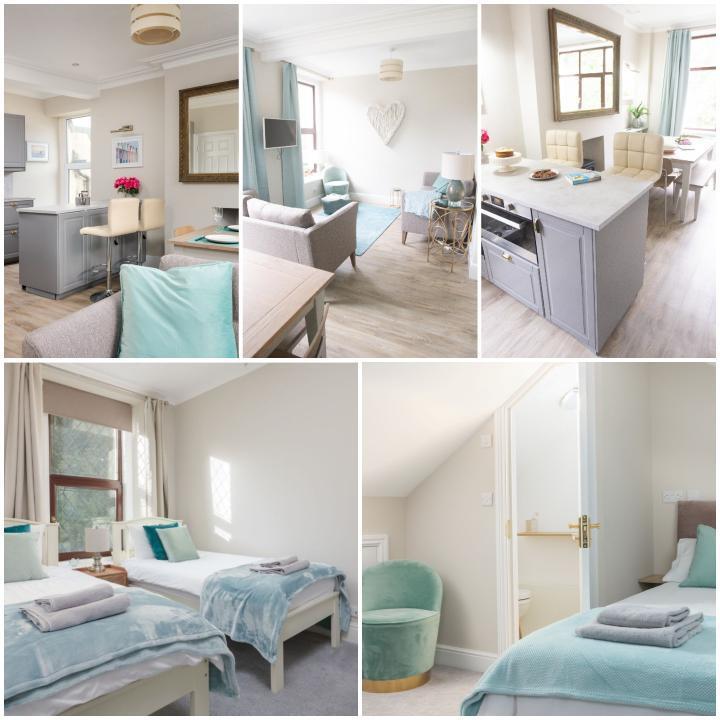 PLANNING
Get planning tips and tricks on our Travel Planning page

ACCOMMODATION
Choose places to stay on the Isle of Man with Booking.com

INSURANCE
Make sure you are full insured with Safety Wing
How to get to Port Erin
By Car
Down in the southwest of the Isle of Man, Port St Mary is easy to get to by car. Just take the A5 road south from Douglas, past Castletown and on to the village.
Parking in Port Erin is quite plentiful, from down on Shore Road, along the streets or next to Shoprite, but don't forget to display your parking disc to get free parking.
If you drive an electric car, there is a charging point on Shore Road (see the map below).
Public Transport
You can take any of the following buses from Douglas to Port Erin: 1, 1H, 2C, 11 & 12. The bus takes around one hour.
In the summer, the best way to travel is on the Steam Train. There are four trains each way every day leaving Douglas to Port Erin at 9.50 am or from Port Erin to Douglas leaving at 10.00 am. The journey takes about an hour and runs every two hours.
Map of Things to do in Port Erin
Don't forget to pin this article so you can come back to it later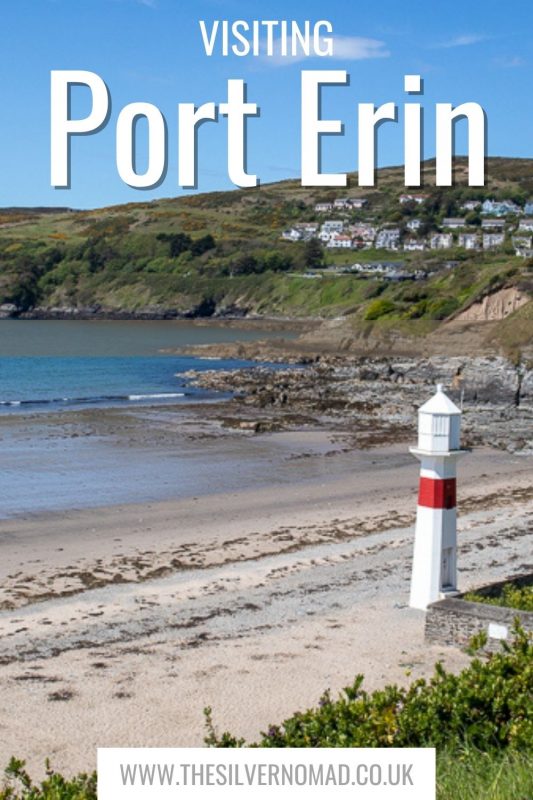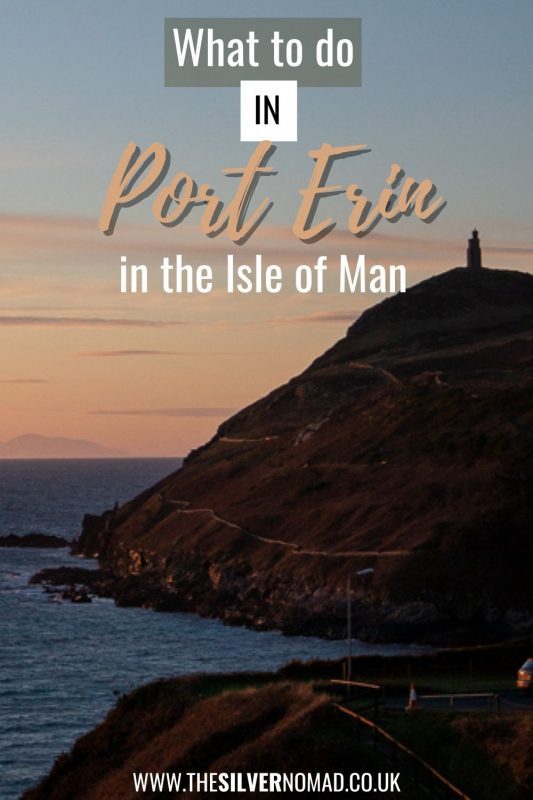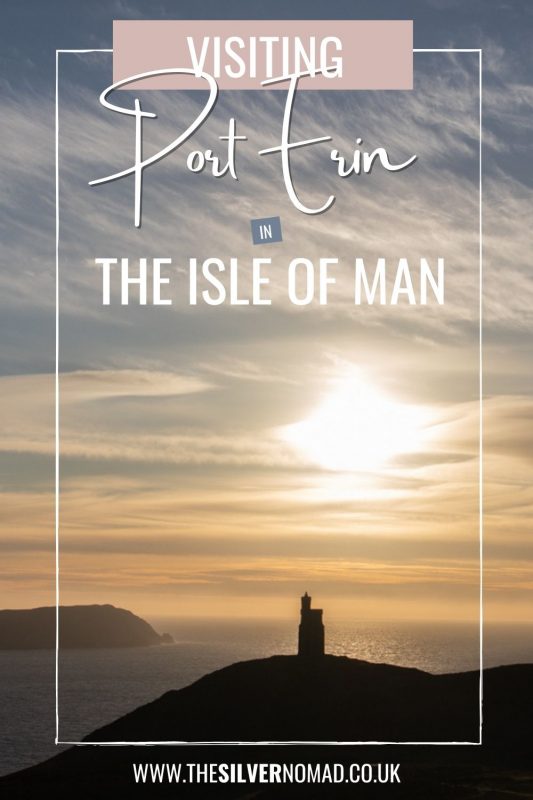 *shoogles – a lovely Scottish way of saying gentle shaking and rocking from side to side