If you are planning a trip to Jersey in the Channel Islands, you will want to stay at one of the best hotels on the island. Only 10 minutes from the Airport, the Biarritz Hotel in Jersey is a charming, relaxing hotel to base yourself at while you explore the island.
We are going to cover in this post everything you need to know about whether it's worth booking the Biarritz Hotel for your stay on Jersey.
---
*This site uses affiliate links and I may earn a small commission when you use my links and make a purchase without incurring an additional fee yourself.
Thank you for supporting this website. See my disclaimer page for more details.
---
In July 2023, I was invited over to Jersey to stay at the Biarritz Hotel, enjoy the hospitality as well as explore the island. It was my first time to Jersey and neither the island nor the Biarritz Hotel disappointed me.
The Biarritz Hotel in Jersey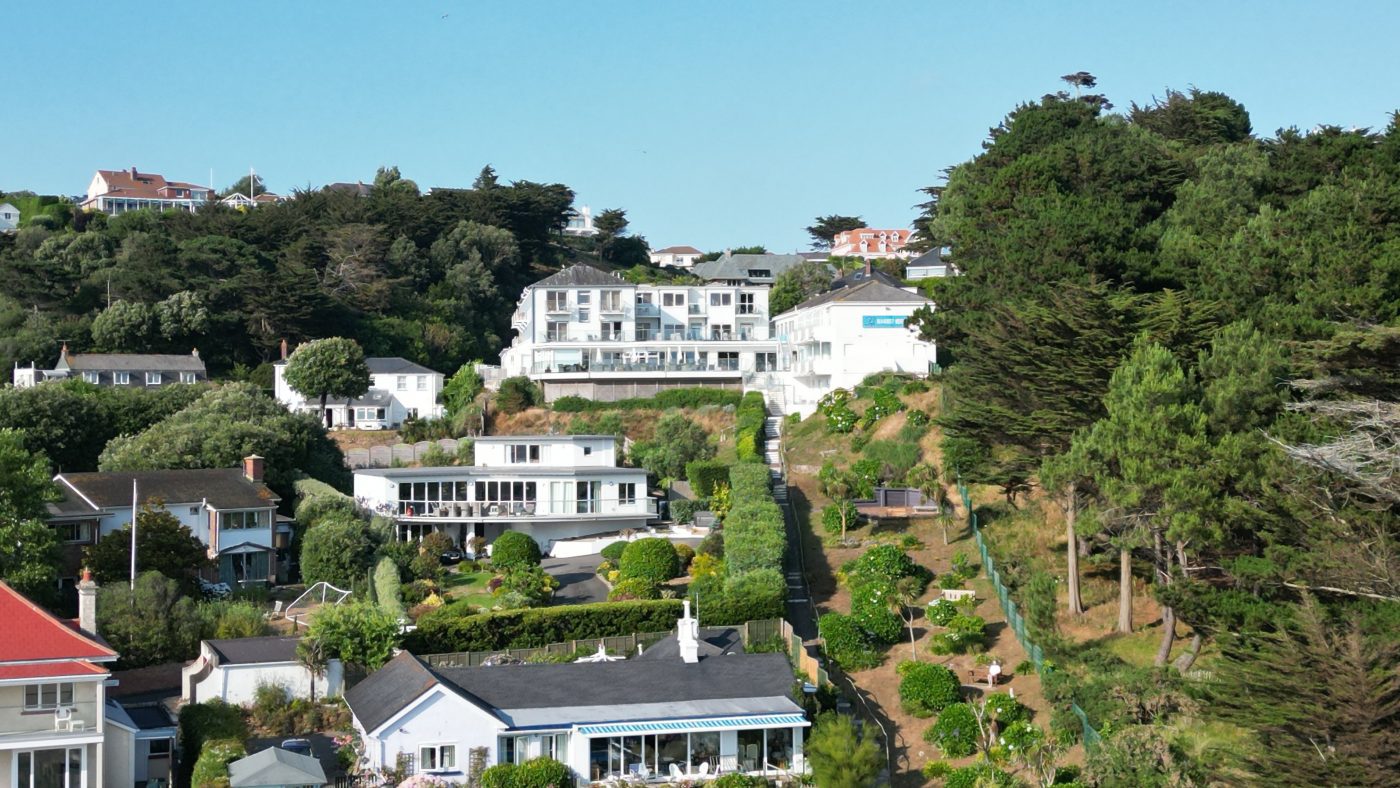 Sitting above St Brelade's Bay at the top end of the parish of St Brelade, The Biarritz Hotel is a 3-star hotel with 5-star service.
For over sixty years, the Biarritz Hotel has been welcoming guests to its beautiful premises overlooking St Brelades Bay in the south of Jersey.
Arriving at reception, you can tell why it has been such a popular hotel for so many years. The reception area is bright and airy. There is ample space to check in, as well as space if you are waiting for a taxi, your bus or friends.
The staff are very attentive and Liesl, the Front of House Manager, explained all I need to know about my stay before she took me up to my room.
The Rooms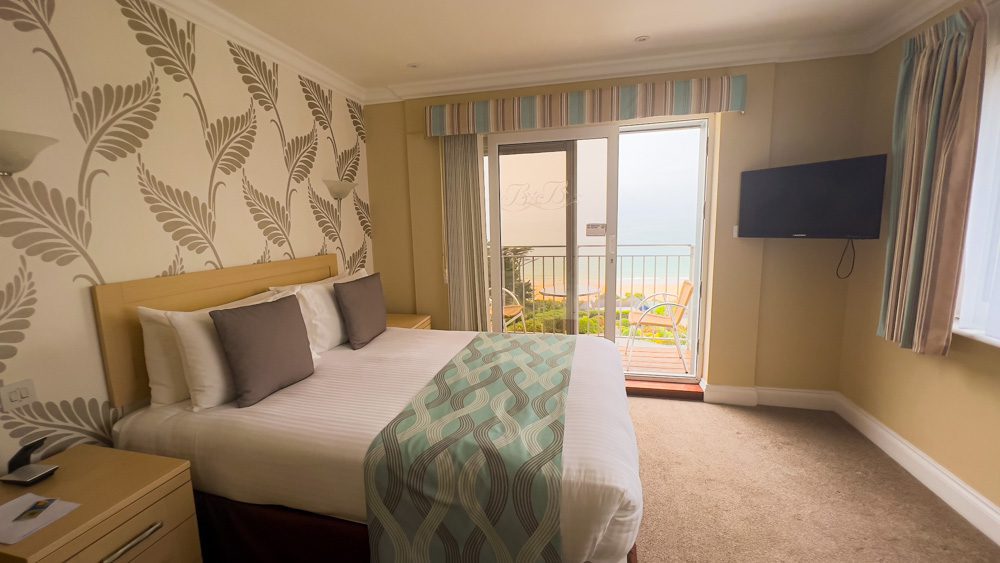 All the rooms at the Biarritz Hotel are decorated in muted tones of brown, turquoise and cream.
The beds in the double rooms are king-size and very comfortable with medium to firm mattresses. The linen is crisp, white and so soft with ample pillows and cushions.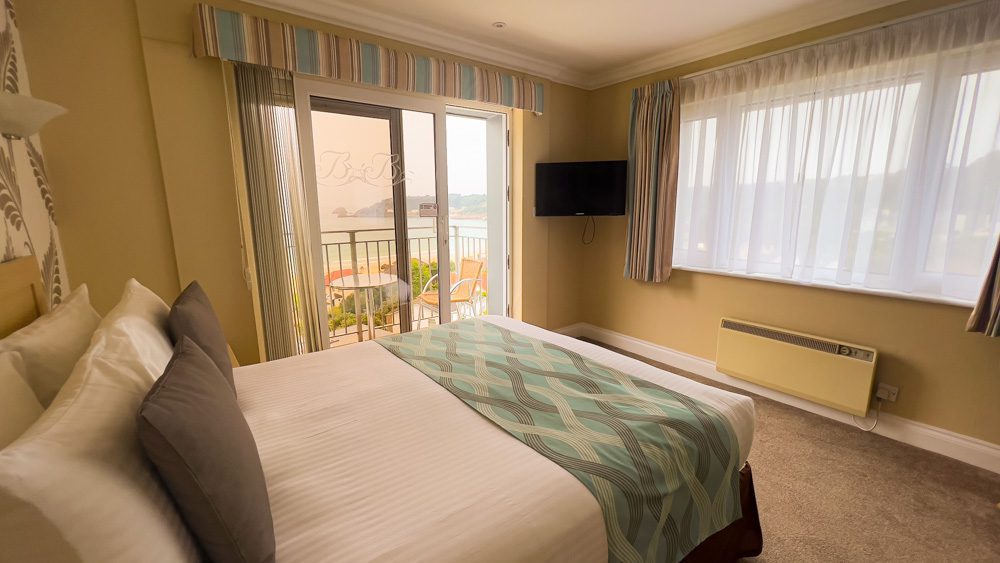 Each room is equipped with a wall-mounted flat-screen television, fast WiFi, telephone, desk/dressing table, hairdryer, complimentary toiletries and tea & coffee-making facilities. The wardrobes are generous with coathangers and single-use slippers. Most of the rooms have a sea view over the bay, though there are few inland rooms.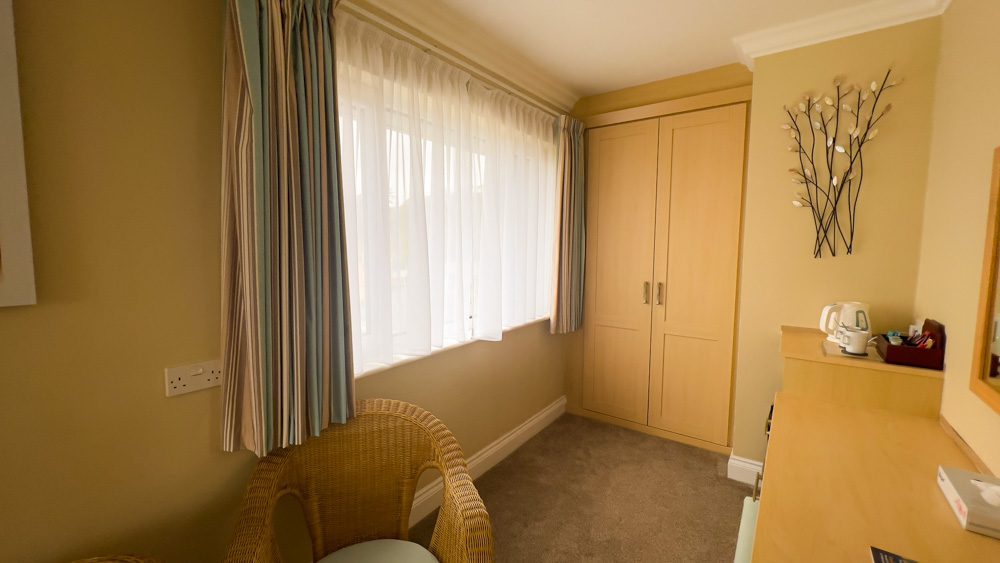 The most sought-after rooms are the Superior Sea View and Premium Sea View. These have balconies where you can sit and enjoy the views. The Sea View rooms are also equipped with a fridge, ironing board, indoor seating area as well as an amazing walk-in digital shower with two different shower heads.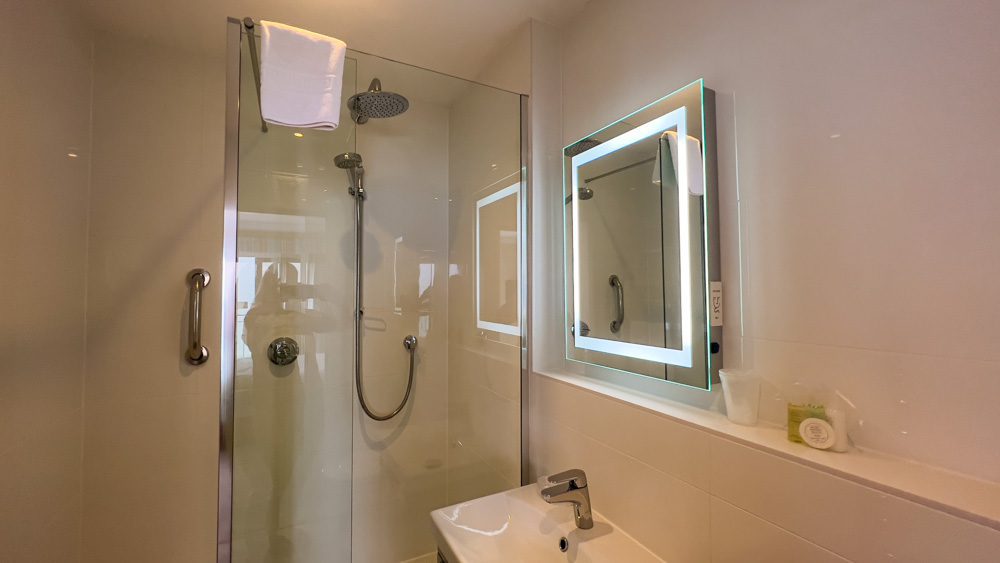 One of my favourite things about visiting a new destination is looking out the window on the first morning. The view from my Superior Sea View Balcony Room at the Biarritz Hotel did not disappoint; blue skies, turquoise sea and sandy beach. Heaven!
The layout of the hotel
With 41 en-suite rooms to choose from including Single Rooms, Twin Rooms, Deluxe Suites and Family Rooms, the Biarritz Hotel is not too big to be anonymous and not too small to feel as if it is crowded.
The hotel rooms on the ground, first and second floors as well as several rooms to the side of the terrace.
Access to upper rooms is by stairs or lift.
For guests with limited mobility, the Biarritz has many accessibility features in place. There is level access throughout the ground floor including the dining room, restaurant and all public areas. In the accessible rooms, there are ensuite wetrooms.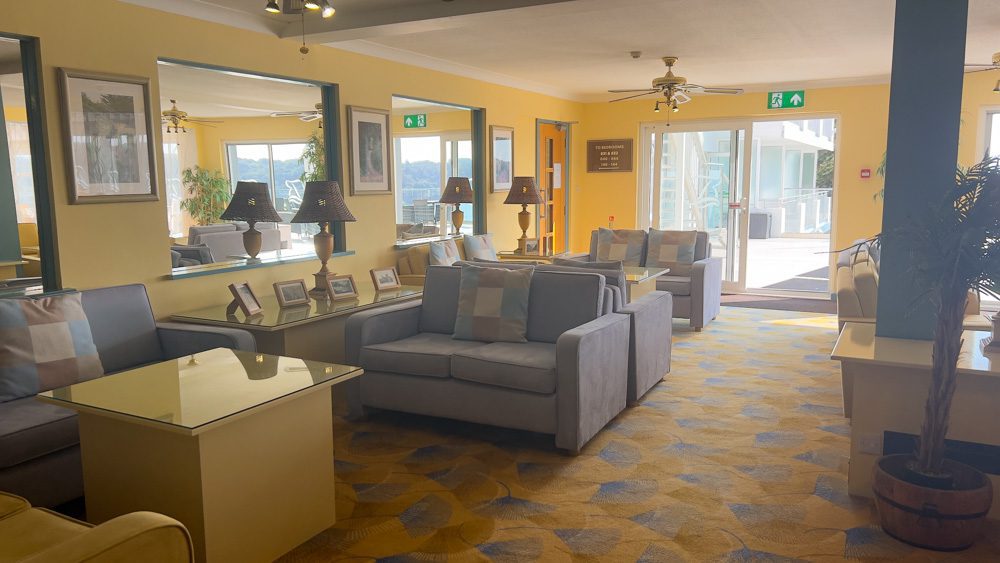 There are several quiet lounge areas to sit in around the hotel in muted tones of blues and yellows with comfortable sofas and chairs.
Dining Experience at The Biarritz Hotel
With views over the bay, you can take your seat and watch the waves while you have your breakfast or dinner.
Breakfast is a help-yourself buffet of cereals, porridge, yoghurts, fruits, a selection of pastries and various breads to toast. You can help yourself to fruit juices while tea and coffee are served at your table.
If you want something hot, you can opt for a cooked breakfast with sausages, bacon, eggs the way you want them, beans, mushrooms and tomatoes. Breakfast is served from 8:00 am to 10:00 am every morning.
For lunch, there is an on-site cafe, Blue's. You can order light meals, snacks, pastries and hot and cold drinks.
Dinner starts at 6.30 pm and on Saturdays and Wednesdays, there is a carvery. On Sunday there is a grand cold buffet. During the rest of the week, there is a table d'hote menu to choose from.
Don't worry, vegetarians, vegans and a range of allergies and dietary requirements are catered for. I had a delicious vegetarian lasagne, some stir fry vegetables with rice noodles and crispy vegetable spring rolls. I was enjoying myself and the company so much, that I forgot to take photos of the food!
If however, you are not able to stay at the Biarritz Hotel, you can still book a meal at the restaurant and enjoy the views.
Relaxing at the Biarritz Hotel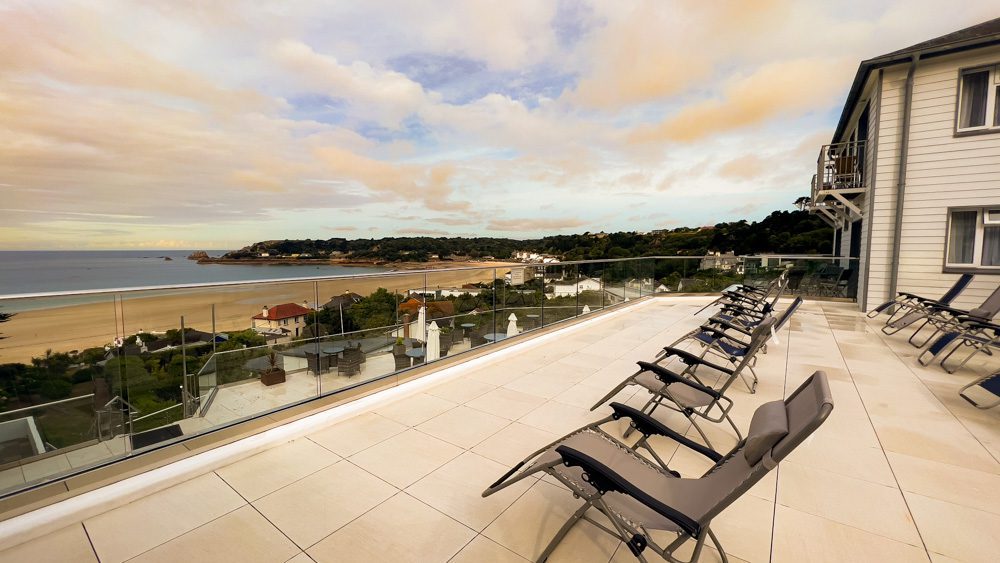 The hotel has a beautiful relaxing sun terrace with sun loungers where you can sit out to catch some rays. Head down to the lower terrace, directly in front of the restaurant and lounge area, for the outdoor seating to have some lunch or watch the sun going down while sipping a glass of wine.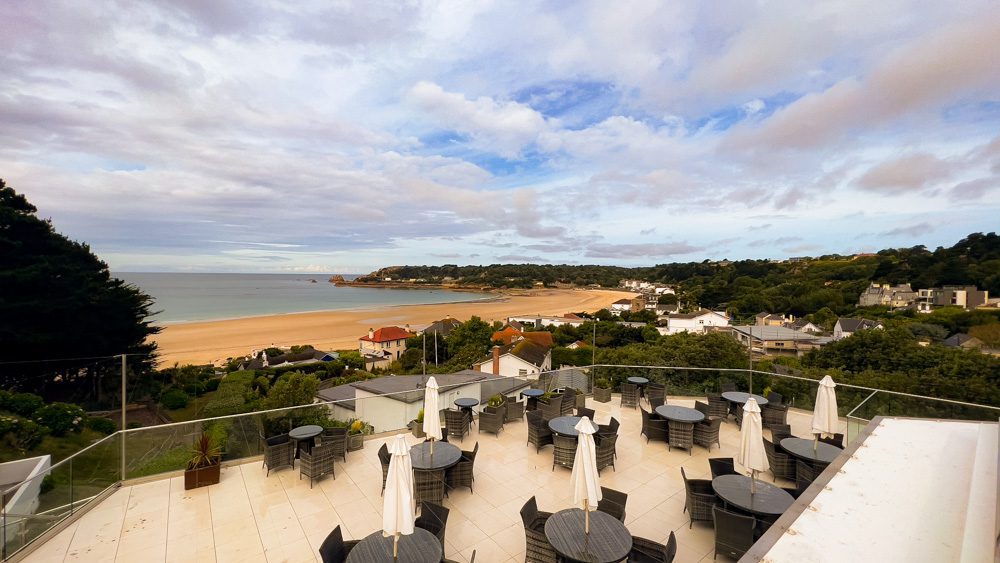 If you fancy taking a walk down to St Brelade's Bay, there is a private walkway with steps leading down to the beach. On the way, you can stop at a lavender-coloured seating area and enjoy the view.
You can walk along the golden sand on the beach which is beautifully clean or there is a promenade which will take you down to St Brelade parish.
Surrounding Attractions and Exploration
If you can pull yourself away from the relaxing atmosphere of the Biarritz Hotel, there are plenty of things to do in Jersey.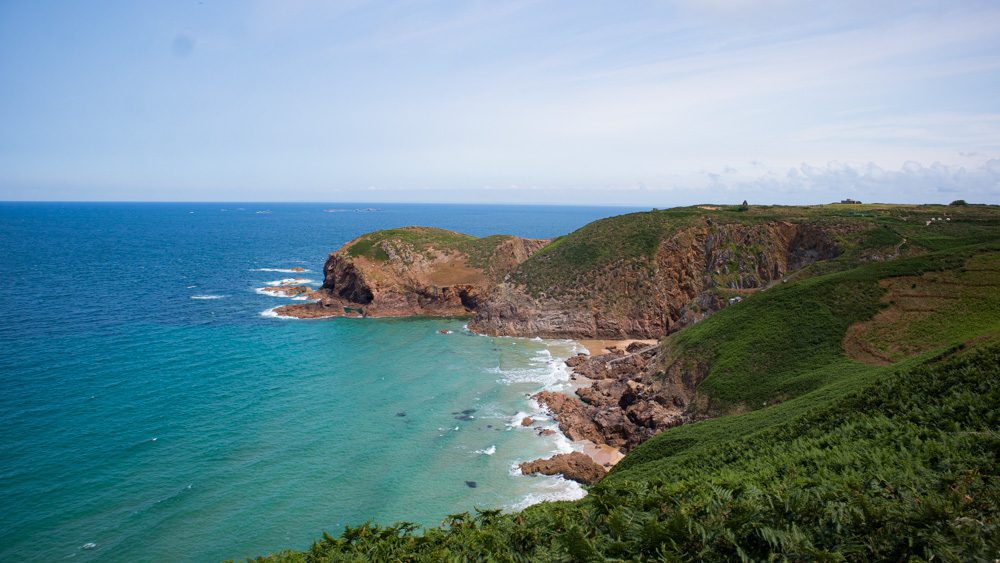 Jersey has many historical sites to visit including Elizabeth Castle, Mont Orgueil Castle and La Hougue Bie.
For nature lovers, there are plenty of coastal walks which take in the stunning scenery around the island.
There are plenty of museums to visit around the island for art, maritime history and learning more about the World War II occupation.
Bird watchers can go looking for puffins and other seabirds while animal lovers can visit the the Durrell Wildlife Conservation Trust and Jersey Zoo.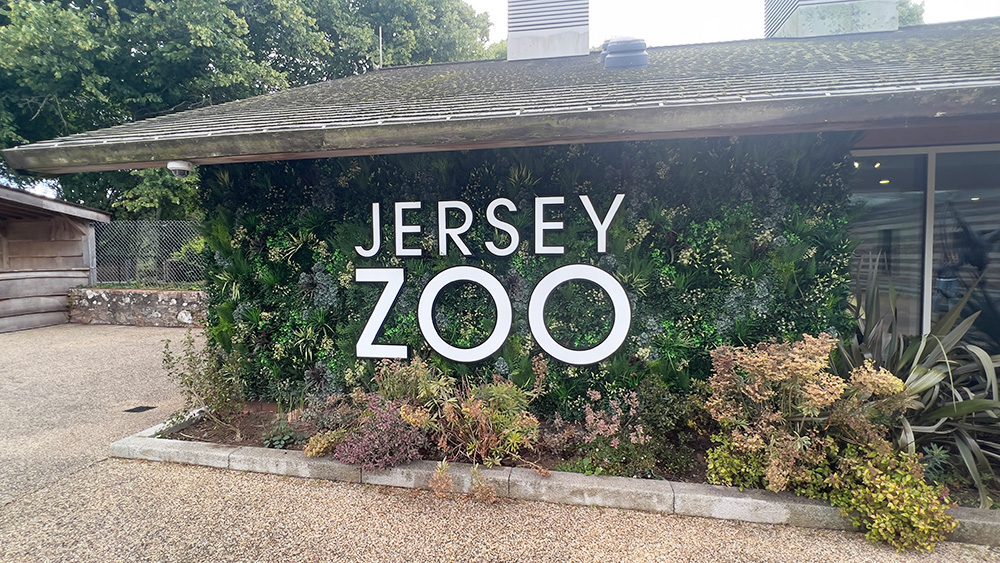 Though if you just want to relax, head to one of the many beaches, including St Brelades right in front of the hotel. The sand is golden and although there are a few rocks, most of the beach is smooth sand.
Additional Services and Amenities
Currently, there is no bar at the Biarritz Hotel, though a selection of wines and beers is available to buy to accompany your dinner. There are plans for this to change in 2024.
If you need to have your clothes washed, there is a laundry service, just ask at reception for a laundry bag.
Reception can also arrange taxis, and restaurant bookings and advise on things to do, bus times and the all-important weather!
Entertainment is arranged several times a month, with visiting entertainers and a cinema night on a Friday evening.
Testimonials and Reviews
Chatting with some of the other guests, I found that many of them have been coming back to the hotel for years. I found that the guests were not just holidaymakers, but also business people who found the hotel the perfect antidote to a stressful day's work.
One thing that was consistent with everyone that I spoke to was the praise for the staff and the level of service.
I checked out the hotel on TripAdvisor and the hotel has over 700 reviews and a 5-star rating!
The Essentials for the Biarritz Hotel
Address: Biarritz Hotel, St. Brelade's Bay, Jersey JE3 8EA
Tel: (01534) 742239
Website: The Biarritz Hotel
Email: info@biarritzhotel.co.uk
Seasonal Opening: March to October
Parking
Parking is a breeze. There are ample spaces situated just outside the hotel. There is accessible parking or a drop-off point and steps or ramp access.
Transport nearby
Just outside the hotel is the bus stop for the 12a and 14 buses to take you to La Corbiere lighthouse, along to St Aubin's Bay or into Liberation Station bus terminal in St Helier. From there you can get to most places around the island.
The Biarritz Hotel in Jersey – Final Thoughts
If you're looking for an amazing hotel in Jersey, The Biarritz Hotel is perfect for you, whether you are looking for a relaxing getaway, a romantic break or an active holiday.
I loved staying at the Biarritz. The staff were fabulous and provided recommendations of things to do, places to eat, and general friendliness. The rooms were spotless and the WiFi was really fast. Overall a wonderful stay and a hotel I can happily recommend.
Disclosure: I was hosted by The Biarritz Hotel, however, all views, opinions and photos are my own and remain the copyright of The Silver Nomad.
---
Want to save this article for later? Pin it to Pinterest!