If you are looking for a relaxing sun-filled holiday, book yourself a break to Alcúdia in Mallorca. Quieter than Palma or Magaluf, there are plenty of things to do in Alcudia to fill your time all year round.
The island of Mallorca – also known as Majorca – is one of the Balearic Islands in the Mediterranean Sea off the west coast of Spain. Mallorca is only 62 miles (100km) wide and 46 miles (75km) long. The island is easily accessible from many airports in the UK and Europe, which makes it perfect for a short break or longer holiday.
---
*This site uses affiliate links and I may earn a small commission when you use my links and make a purchase without incurring an additional fee yourself.
Thank you for supporting this website. See my disclaimer page for more details.
---
In the northern part of Mallorca, is the town of Alcúdia. Alcudia is about a 45-minute drive from Palma de Mallorca airport. It is close enough for a day trip to Palma, but also far enough to feel like a different place entirely
Alcudia
Alcudia sits between the sweeping Bay of Pollença and the Bay of Alcudia. With long sandy beaches, rugged areas of coastline, hills, stunning landscapes, historical places to investigate, cosy cafes and open-air bars, and restaurants serving local dishes there are plenty of things to do. There is something to keep the entire family, couples or solo travellers entertained.
If you are planning a trip to Mallorca, don't forget to take this list of things to do in Alcudia with you.
The top things to do in Alcudia Spain
The small town of Alcudia is split into two parts. Alcudia, which is the old town of Alcudia and Puerto Alcudia, the port of Alcudia. They are both quite different; the old town is slower, and quieter, whereas the port can be quite lively.
Things to do in Alcudia old town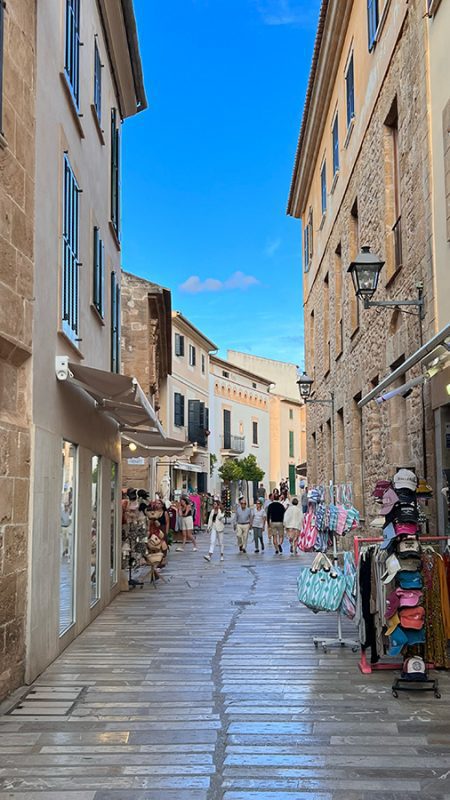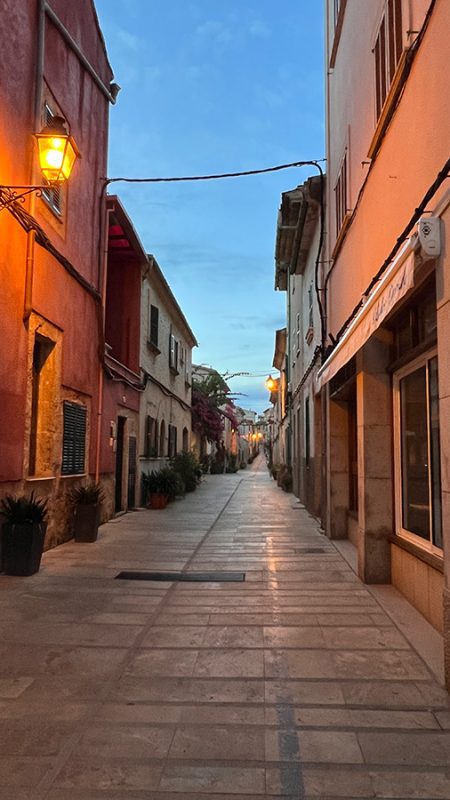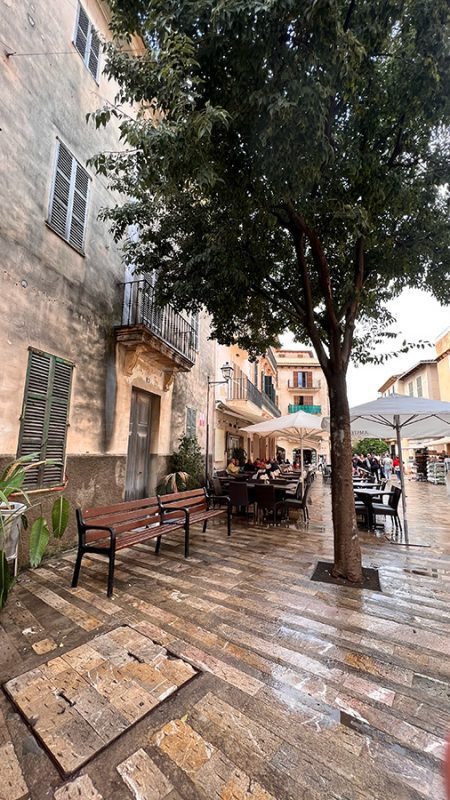 The walled medieval town of Alcudia is full of charming streets with warm honey-coloured stone buildings. Along the way, you will find local shops, great restaurants and churches to visit. You can while away your time wandering the streets, browsing the boutiques and little shops, or sitting, watching the world go by in one of the many coffee shops or bars. Listen to live music in the evenings while sampling local food in the many restaurants.
The defensive wall that encircles the town has a walkway around it. You get a great view of the whole town from the top. As you walk along, you can see the Roman ruins on the other side of the road as well as the steps of the amphitheatre.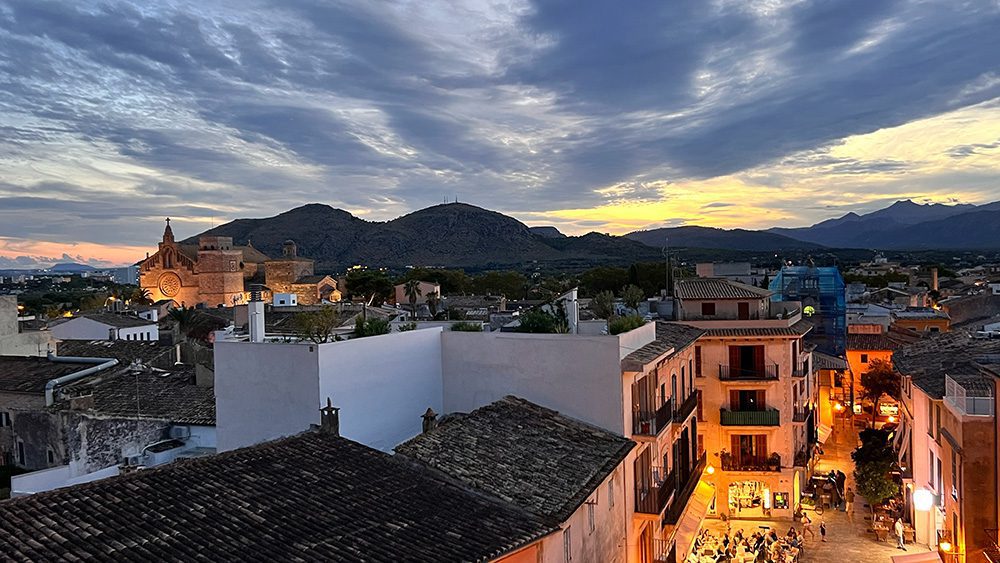 Visit the ancient Roman ruins of Pollentia
The ancient Roman city of Pollentia is located just outside the Alcudia city walls and is a must-see attraction for history buffs.
The archaeological site includes impressive ruins such as the Roman Theatre, the Forum and the Residential Area. The museum displays numerous artefacts found in the area including statues, mosaics, and ceramics, giving visitors a glimpse into the daily life of the Roman Empire.
You can sit in the amphitheatre and imagine what it was like in Roman times.
Head to one of the Beaches of Alcudia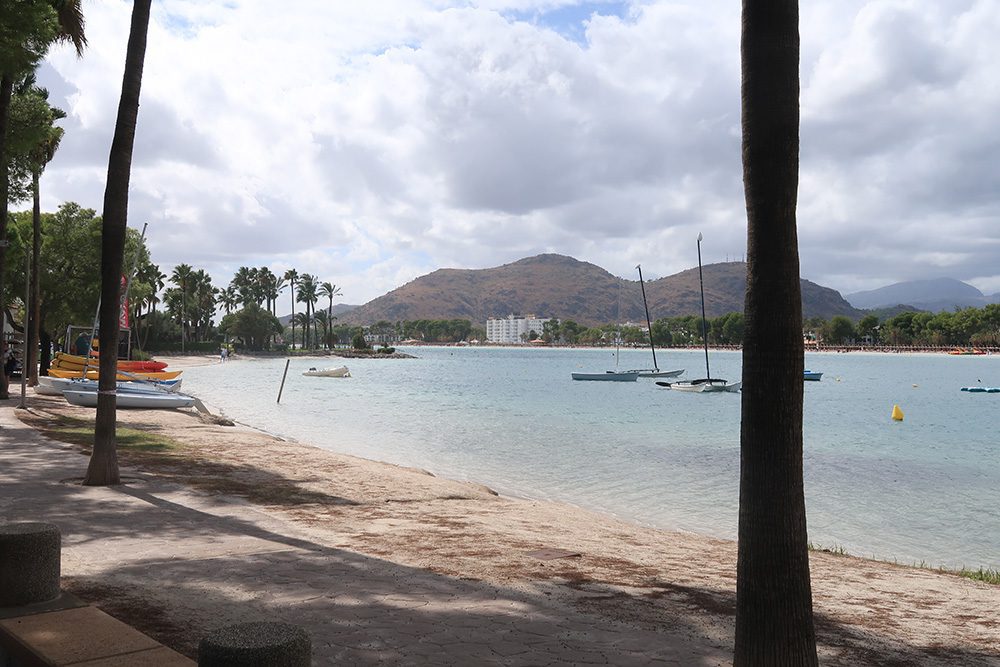 One of the most popular things to do near Alcudia is visit the beach. You are spoilt for choice with 19 beaches around Alcudia, it truly feels like a beach resort. There is a mix of beaches, from fine-sand beaches with white sand to pebbly beaches all fringed by crystal-clear waters.
One of the best beaches to visit is Playa de Muro Beach. At nearly six-kilometres-long the beach has four sections, shallow waters and white sand. There is a boardwalk to stroll along if you are bored of lying out and many hotels are restaurants are close by.
The other popular beach is Alcudia Beach or Playa de Alcudia. The wide sandy beach area and calm waters of the turquoise sea make it a beautiful place to hang out. There are plenty of cafes and even toilets and showers.
During the summer months, June to September, there is also a programme of free entertainment and fun activities for both children and adults.
Enjoy some water sports
When there is a breeze, you will find the skies above the bays peppered with the multi-coloured sails of kite surfers. Paddleboarders pass by serenely and kayaks skim over the waters when the weather is calmer.
Take a boat trip
Take to the waters on a boat trip and see Alcuida from a different perspective with a trip with Medvolt Club. The traditional wooden lläuts are electric-powered and sail serenely around the bays. Not only will you see the abundant fish, but you won't harm the environment!
There are also glass-bottomed boats, sunrise and sunset tours to see dolphins or a trip out to Formentor Beach and lighthouse.
Play a round of Golf at Alcanada Golf Club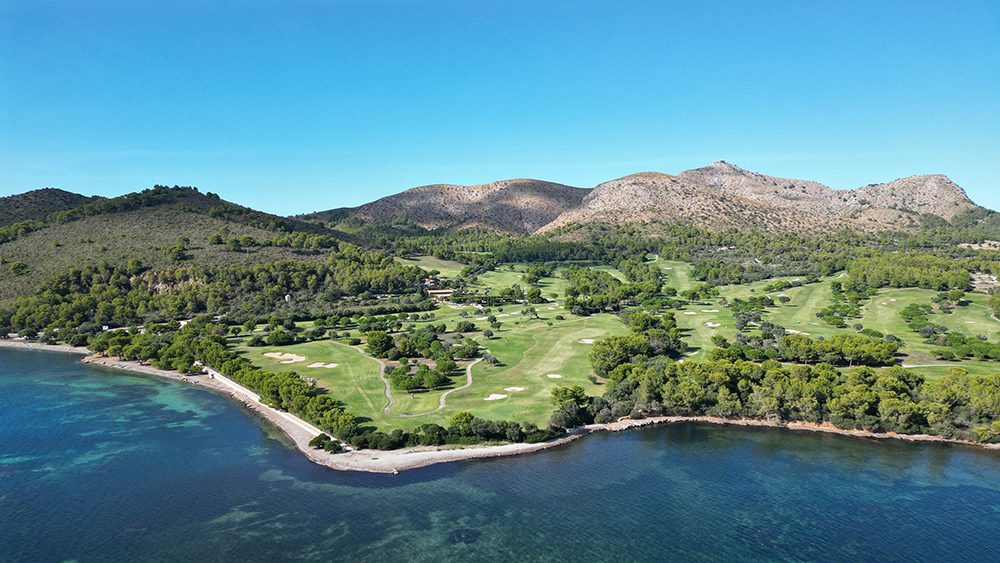 The eighteen-hole golf course is set to the west of Alcudia with the hills behind and sandy beaches fringing the Mediterranean Sea in front of it.
Don't forget to have lunch at the Golf Alcanada restaurant. Enjoy your food while you sit on the terrace with stunning views over the course and the Faro de Alcudia lighthouse.
If you don't play golf or are a golf-widow or widower, you can take a walk down to Cala Poncet & Aucanada Beaches for a swim, paddle or to relax.
Museo sa Bassa Blanca (or Sa Bassa Blanca Museum in English)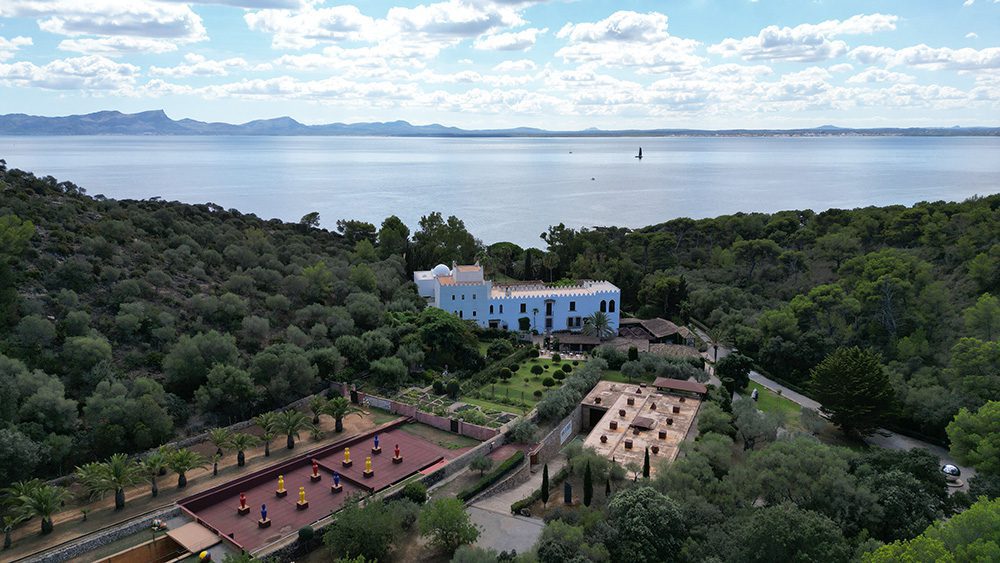 Just a short drive outside Alcudia is the Museo sa Bassa Blanca. It is a blend of a unique place to visit, a personal art gallery, a sculpture garden, rose gardens and architecture combined into this fascinating art space that blows you away.
Take a guided tour around the Sa Bassa Blanca Museum for a unique experience. The interior of the museum is full of sculptures, artworks, and curios tastefully set out against bold colours or architecturally interesting rooms.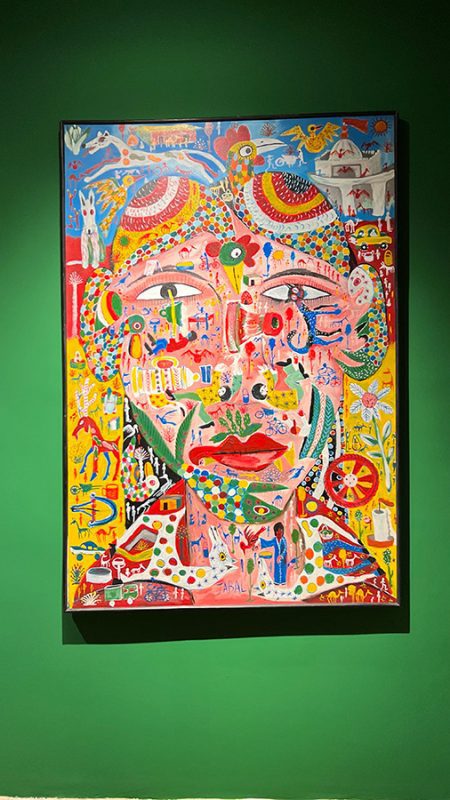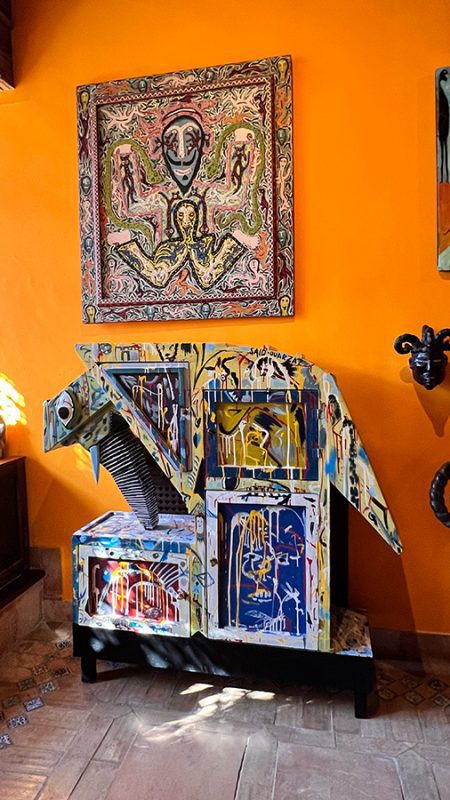 Outside, wandering through the Sculpture Garden, the sculptures include classical ones, contemporary ones, large animals, sound chambers and an oversized golden Barbie and Ken. There is an underground art gallery to explore and when you need a rest, a coffee shop serving snacks and a shop to buy souvenirs.
The whole experience is one of the lesser-known tourist attractions in Alcudia, but well worth the visit.
Website: Museum sa Bassa Blanca
Address: Museo Sa Bassa Blanca, Camí del Coll Baix Es Mal Pas, Alcúdia
Visit the stunning Formentor lighthouse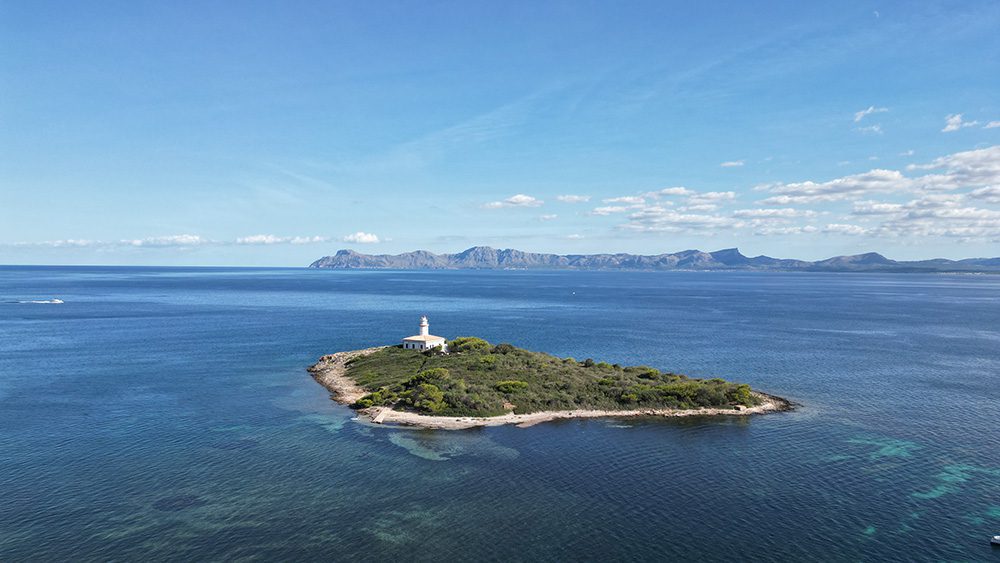 Take a boat trip out to the stunning Formentor lighthouse and enjoy the spectacular views of the Mediterranean Sea.
Located at the northernmost point of Mallorca, the stunning Formentor Lighthouse sits on a rocky promontory overlooking the sea. You can also hike or drive to the lighthouse.
The lighthouse is surrounded by a natural park with walking trails and picnic areas, making it a great spot for a day trip.
Cycling
During the cooler months, you will find loads of cyclists on the side and main roads in their lycra and helmets. There are over 1,500 cycle routes to explore in the area.
UNESCO World Heritage Site
Go hiking or cycling in the Tramuntana mountains and enjoy stunning views of the island.
The Tramuntana mountains are a UNESCO World Heritage Site and offer a stunning backdrop to Mallorca's landscape. It is about an hour trip to Tramuntana.
A couple of the most popular hiking routes are the GR221 long-distance trail, which runs the full length of the mountains, and the Puig de Galatzó trail, which takes you to the summit of one of the highest peaks in the area.
La Vitoria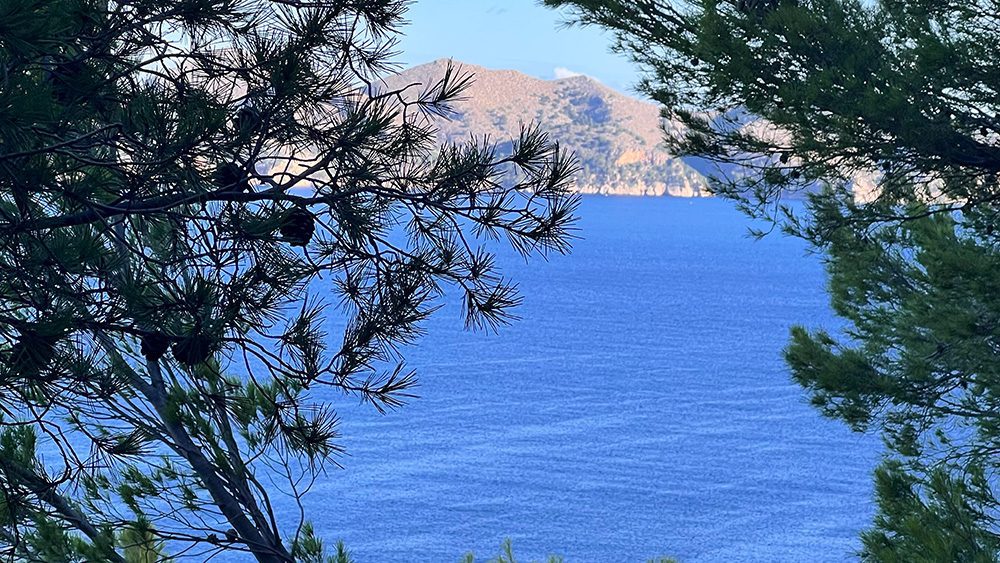 Nature lovers can head into the hills of La Vitoria. It is a peaceful area and you can enjoy the vistas over the hills and the sea below, walking, hiking or rock climbing.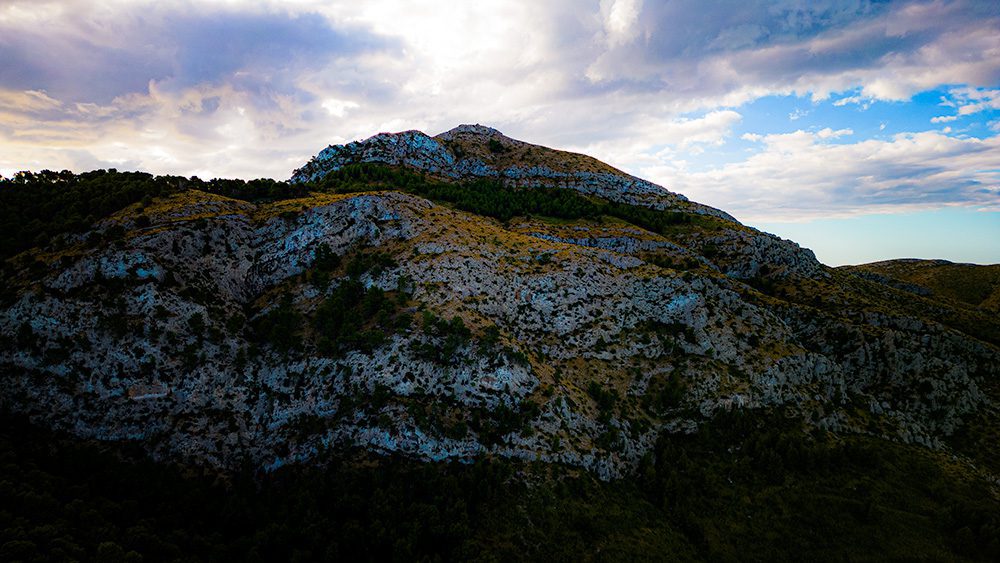 If you are looking for guided tours of La Victoria and amazing nature walks, contact Ute through her Instagram account. Ute takes small groups around.
Hermitage of la Victoria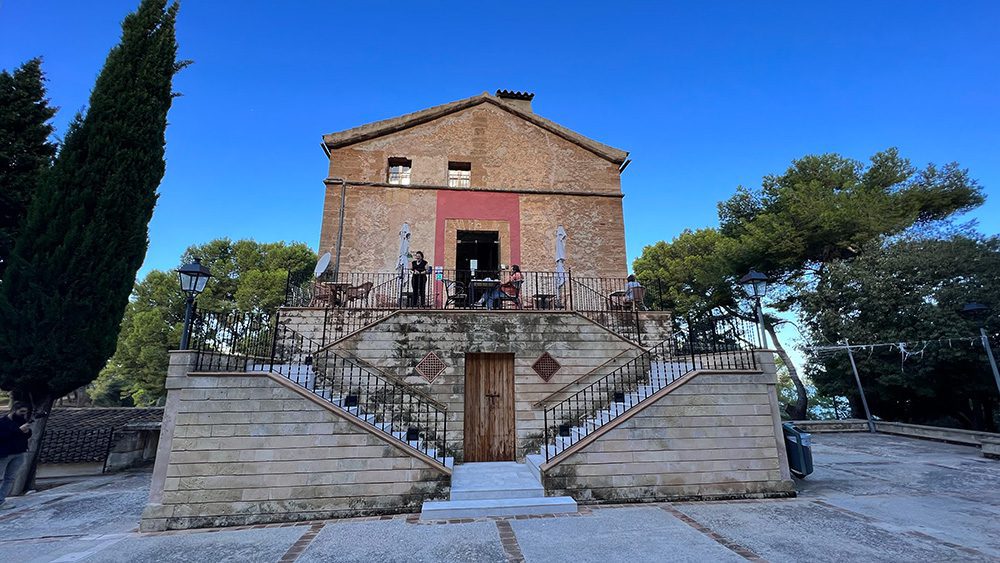 Albufera Nature Reserve
About 5km outside of Alcudia is the Albufera Nature Reserve. It is the largest and most important wetland area in all the Balearic Islands. The wetland is a haven for birdlife and animals and covers over 2,000 hectares.
While entrance to the Park is free, you do need to get a permit from the Reception Centre which is open between 9:00 am and 4:00 pm.
For other activities, check out the following:
Try some local cuisine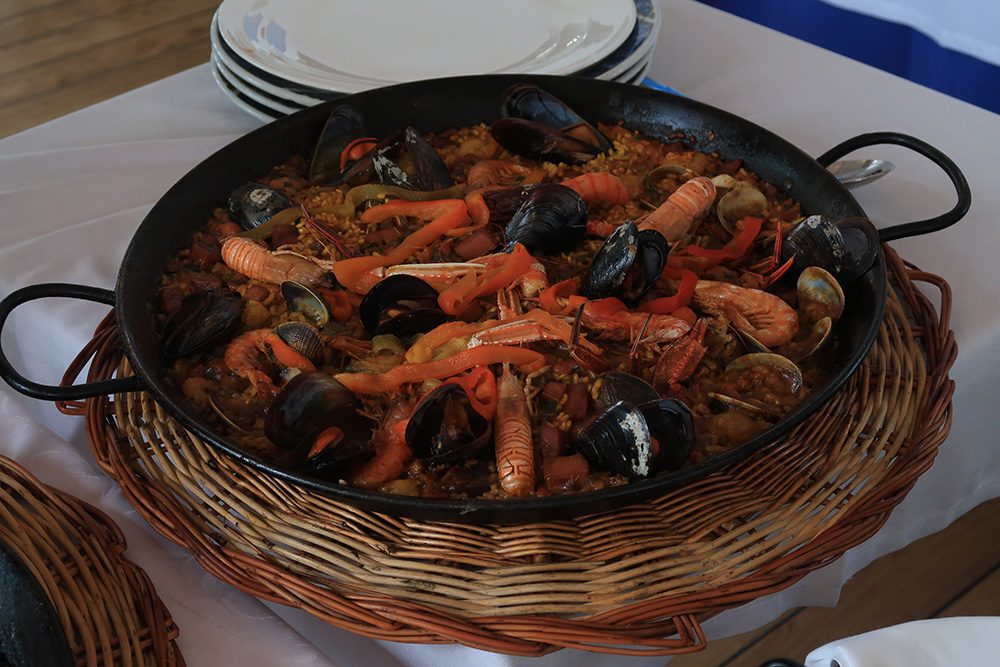 Mallorca is known for its delicious cuisine, and Alcudia is no exception. Experience the local cuisine by sampling traditional Mallorcan dishes. Try paella made with locally caught seafood or ensaimada, a sweet pastry filled with cream or pumpkin.
There are many restaurants and cafes in Alcudia serving traditional Mallorcan dishes. You can also sample international cuisine, fusion dishes and even Michelin-starred restaurants like the Jardín Maca de Castro restaurant.
Go for a wine tasting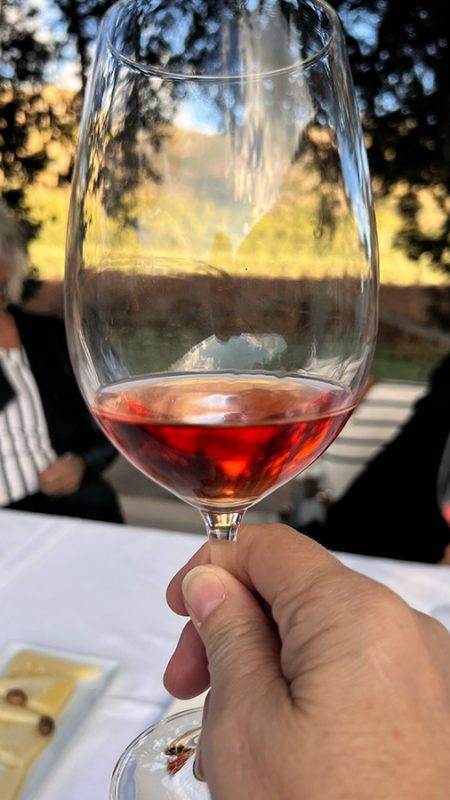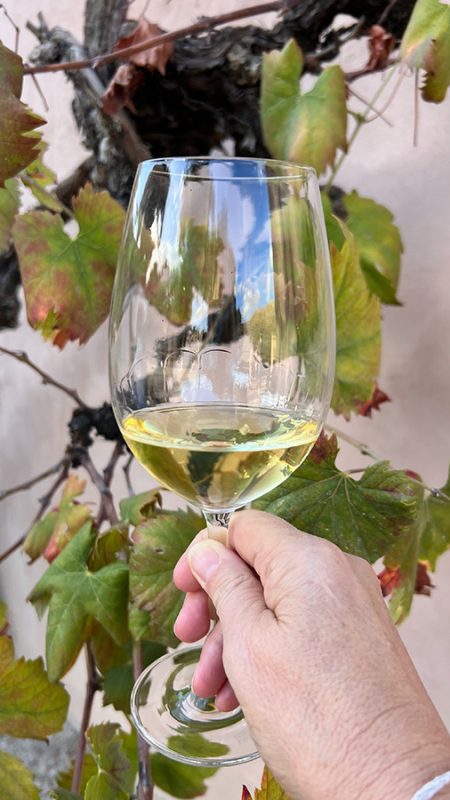 If you enjoy a glass of wine, try wine tasting. If you can, go to an actual vineyard.
I would recommend a visit to Son Simó Vell. Just 8 km out of the town centre, set in the beautiful vineyard. After a guided tour around the wine cellar, try the delicious wines out on the terrace.
Buy some olive oil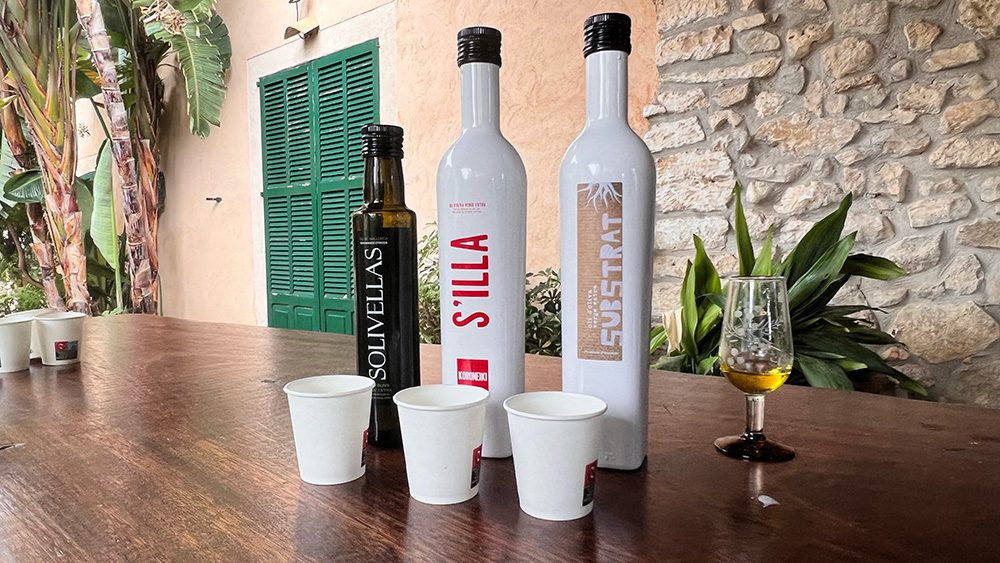 Olive oil is plentiful in Spain, the sunshine and soil are perfect for growing olives. If you are taking some home, try the Solivellas range of extra virgin olive oils.
Visit the Hidropark water park and enjoy a day of fun in the sun.
Hidropark is a water park located in Alcudia that offers a wide range of water attractions and activities, including water slides, pools, and water games. It is the only water park in the north of Mallorca.
The park is a great day out for families with children and has facilities such as lockers, showers, and restaurants.
For a day trip, go to one of the theme parks on Mallorca. The best one is Katmandu Adventure Park near Magaluf.
Go horse riding and discover the countryside and beaches around Alcudia.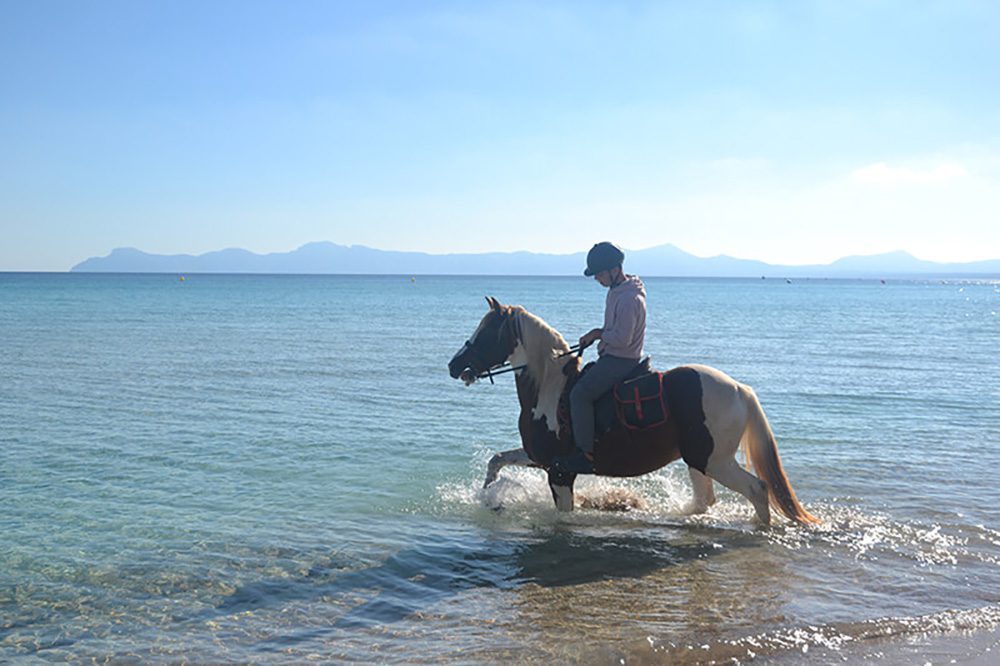 Horse riding is a great way to explore the countryside and beaches around Alcudia. Visitors can take guided horseback rides along the scenic trails and paths, enjoying the stunning views of the landscape and the sea.
There are many riding stables and centres in Alcudia offering horseback riding lessons and excursions, one of the best is Ses Roques. Ses Roques will come and pick you up and drop you off at your hotel.
Relax and unwind at one of Alcudia's spas or wellness centres.
Alcudia is home to several spas and wellness centres that offer a range of treatments and services, including massages, facials, and hydrotherapy. You can unwind and relax in the peaceful surroundings of these centres, enjoying a variety of treatments that promote relaxation and rejuvenation.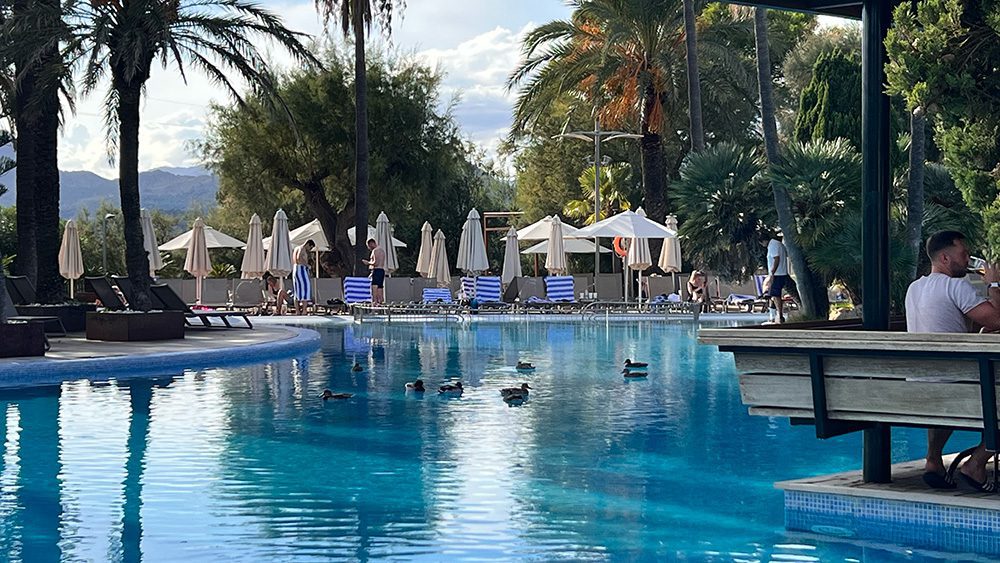 The hotel I was staying at, PortBlue Club Pollentia Resort & Spa, just outside Alcudia, had an amazing spa. With a jacuzzi, saunas, waterfalls, dynamic water jets, wave pool, contrast area, hot stone, hammam and 5 pools you will feel truly pampered.
Take in the sunset sitting in the outdoor pool. You can also indulge in a body massage, facial or other beauty treatments.
Take a meander in Port Alcudia at dusk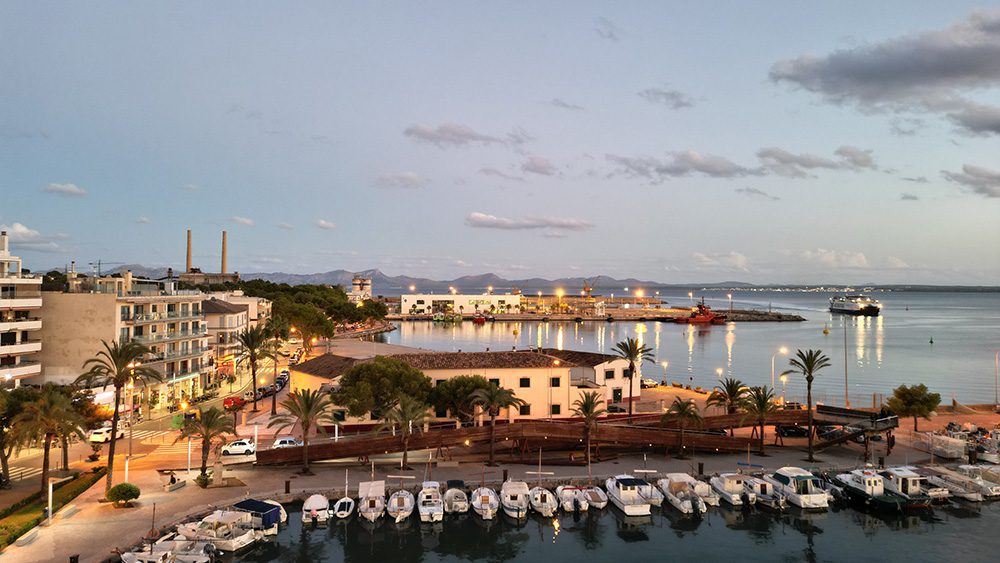 Take a walk around Port Alcudia at dusk for some people-watching. There are plenty of bars and restaurants to sit in while you sip a glass of wine or cocktail looking out over the harbour as the sun goes down. Bliss!
Wander around a local market
On a Tuesday or Sunday morning, you can visit Alcudia market. With stalls of local products, food, textiles and handicrafts, it is a great place to pick up some souvenirs or gifts to take home.
Visit some of the churches in Alcudia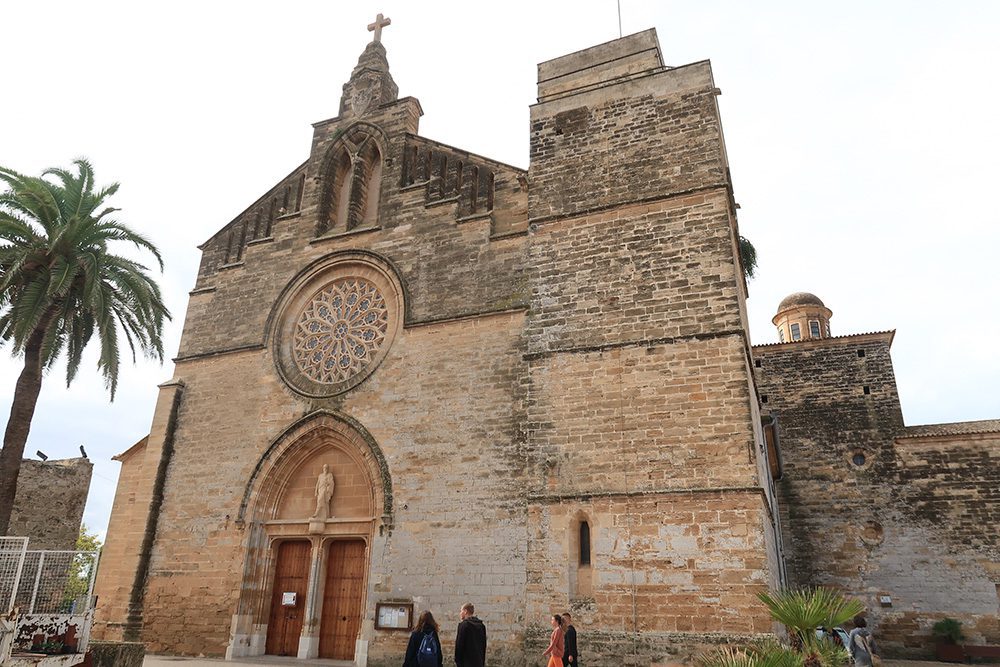 Visiting some of the local churches is a great way to learn about the rich history and culture of Alcudia, as well as to admire the beautiful architecture and artwork.
The Church of Sant Jaume is in the middle of the Old Town of Alcudia. It is a Roman Catholic Church and the original church was built in the 14th century. Look out for the interesting sculpture outside the church. From one angle it looks like two figures facing each other, but also a metal plant between them and a butterfly!
The small church of Santa Anna dates back to the middle of the 13th century and was built using stone from Pollentia.
Take a guided walk around the town
A great idea to find out more about Alcudia is to take a 2-hour guided walking tour organised by the local tourist office. It takes place every Wednesday and Friday, starting at 10.00 am from the Sant Jaume church.
Day trips from Alcudia
If you have free time and want to explore more of Mallorca, use Alcudia as the perfect place to base yourself to visit the entire island.
Explore the picturesque village of Pollença
Explore the picturesque village of Pollença, with its quaint streets and traditional architecture.
Pollença is a charming village located just a few kilometres from Alcudia. Visitors can wander through its narrow streets and admire its traditional architecture, such as the Sant Jordi church and the Plaça Major square.
The village is also known for its vibrant arts scene, with numerous galleries and workshops showcasing the work of local artists.
Take a day trip to the nearby town of Inca and discover its traditional crafts and markets.
Inca is a nearby town located just a few kilometres from Alcudia that is known for its traditional crafts and markets. Visitors can explore the town's artisan workshops and factories, where they can see crafts such as pottery, leather goods, and textiles being made.
The town also has a bustling weekly market where visitors can shop for local produce, handicrafts, and souvenirs. It is one of the largest markets on Mallorca and worth a visit.
Visit the historic town of Palma de Mallorca, with its stunning Gothic cathedral and charming old town.
Palma de Mallorca is the capital city of Mallorca and is located about 50 km from Alcudia. It is home to many historical and cultural attractions, such as the stunning Gothic Cathedral of Santa Maria, also known as La Seu.
Visitors can wander through the narrow streets of the old town, which is packed with beautiful buildings and monuments, such as the Almudaina Palace, the Bellver Castle, and the Plaza Mayor. The city also has a variety of museums, galleries, and theatres.
Take a day trip to the nearby island of Cabrera and discover its stunning beaches and wildlife.
Cabrera is a small island located about 10 km off the southern coast of Mallorca, and it is a protected natural reserve. Visitors can take a boat from Colonia de Sant Jordi, about an hour and a half drive from Alcudia, to explore the island's stunning beaches and rugged coastline.
The island is also home to a variety of wildlife, such as lizards, turtles, and birds, as well as an underwater marine reserve, making it a great place for snorkelling and diving.
How to get to Alcúdia
The main airport on Mallorca is Palma de Mallorca Airport in the south of the island.
Alcúdia is under an hour to the north of the airport. If you have not hired a car, you can take a taxi, get a public bus or the hotel may arrange transport for you.
Where to stay in Alcúdia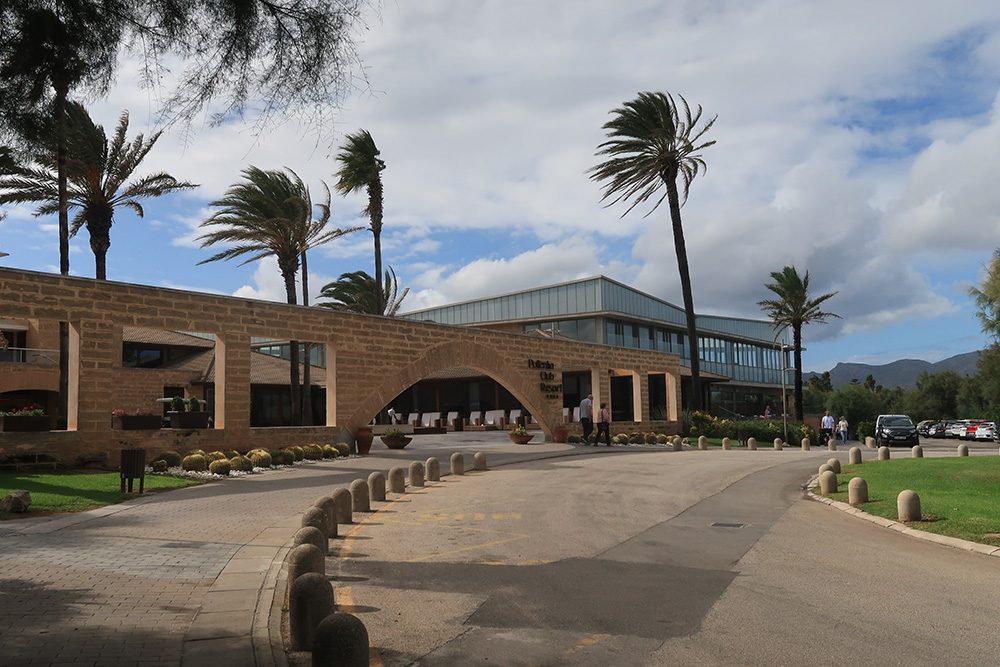 There is a great variety of accommodation near Alcudia.
During my visit to Alcudia, I stayed at the Port Blue Club Pollentia Resort and Spa. It was just outside Alcudia, with a bus link taking you into Alcudia. Check out other places to stay in Alcúdia on Booking.com or check the map below.
Planning your trip to Mallorca
Use this Mallorca Travel Toolkit to plan your adventure!
Disclosure: I was invited to Alcudia as part of a Press Trip however, all views, opinions and photos are my own and remain the copyright of The Silver Nomad.
---
I hope you enjoyed this list of things to do in Alcudia. I would love to hear your thoughts on it in the comments below and don't forget to pin it to Pinterest!
Like it? Pin it for later