"You are going where?" I frequently get asked this question, but my answer of, "Guanaja" led to blank faces all around. No one had heard of Guanaja or even knew which country it is in.
I had applied for a 10 week housesit on Guanaja, a small island off the Honduras coast in what is called the Bay of Islands. I vaguely knew where Honduras was – the middle of that twiddly bit between North and South America, right? I scanned Google maps for Guanaja and there it was, a small island about 100kms from the coast, how idyllic! So I went about trying to find out more about this little island that would be our home for 2 and a half months.
---
*This site uses affiliate links and I may earn a small commission when you use my links and make a purchase without incurring an additional fee yourself.
Thank you for supporting this website. See my disclaimer page for more details.
---
Here are a few things I have been asked about the island of Guanaja.
YOU MAY ALSO LIKE: Best places to stay in Guanaja
Guanaja Frequently Asked Questions
So Where is Guanaja Honduras?
Guanaja is one of the three Bay Islands of Honduras and is about 140km off the coast. While there are a lot of things to do on Utila and things to do in Roatan, Guanaja island is less touristy and more laid back. It is the furthest north and east of the islands.
Is Guanaja one island?
The main island of Guanaja, Honduras is only about 13 miles long by about 3 miles wide covered with pine trees and with mangrove swamps. There are many small islands or cays lying off the main island, some of which are privately owned, others empty and a few are resorts such as Graham's Place.
The name Bonnacca, or Lower Cays
The cay off the main island has many names, Bonacca, Lower Cays, Low Cay ….or just The Cay. It's actually two cays Hog Cay and Shane's Cay.
Bonacca is the name the natives have called the island for over 175 years and was the name it had while Honduras was still a British Crown Colony.
Pronunciation of "Cay" is not "kay" or "chay" but "key".
What is the population of Guanaja?
Overall there are approximately 5,500 in 2021.
Bonnacca is the most densely populated area, but with no cars to clog up the streets, it seems quite sparsely and here and there you see glimpses of water reminding you that you are only a stone's throw from the sea.
Apart from Bonnaca, there are 3 other villages: Savannah Bight on the south side of the island, and Mangrove Bight on the north. The village of Mitch is in between them.
There are other pockets of houses around the coastline, but very few people live in the interior.
Living on an island does have its challenges, and with only one road, between Savannah Bight and Mangrove Bight to the east of the island, you have to travel virtually everywhere by boat.
How do you pronounce Guanaja?
The 'j' in Spanish is pronounced like an 'h' so Guanaja is "gwa-na'-'ha." It is often misspelt as "guanja", but don't forget the 'a' before the' j'.
How do you get to Guanaja?
There are several ways to get to Guanaja but most people take a flight from La Ceiba on the mainland.
The main airport in Honduras is San Pedro Sula where most international flights land. There is then a 3-4 hour taxi or coach journey to La Ceiba.
You leave from the town of La Ceiba on a small 21-seater light plane across the 118kms to the Guanaja. The cost of a single ticket is around $99 (correct at January 2022).
Otherwise, you can get a ferry from La Ceiba or fly in from Roatan, another of the Bay Islands. It depends on your route into Honduras.
Guanaja is also a popular place for sailors to stop off on their routes across the seas and you will frequently see yachts and catamarans moored up around the bays.
How do I get about on Guanaja?
Once on the island, you can get around either by water taxi or by a boat provided by your accommodation. So unless they are within walking distance, you visit your friends by boat, the restaurants by boat and even go shopping on Bonacca by boat.
When is the best time to go?
With all year-round temperatures around the 75 degrees Fahrenheit to 80 degrees mark, the best months to visit Guanaja are from late February through to June or July. The hottest months are August and Septemeber
The rainy season starts around about July to January with the heaviest downfall from around October to January. The humidity is quite high all year round, so take anti-frizz serum for your hair!
Hurricane season affects much of the Caribbean from June to October, particularly in September and October. There can be quite strong winds and what the islanders call "Northers" and you might have to batten down the hatches.
Do you need a Visa for Honduras?
UK visitors can get a 90-day visa on arrival at their landing airport. After your 90 days is up, you have to leave the country for about 72 hours and then come back again and have another 90-day visa.
What is the Honduran Currency?
The Honduran currency is lempira, US Dollars are accepted in some places, though don't rely on it. One of the residents gave this update about bringing US Dollars with you:
Tourists should not bring $20 bills! The bank won't take them. $1's, 5's, 10's, 50's and 100's. BUT bills must be clean (no writing on them) and no small tears (and I do mean small). The bank will not accept them. So, tipping would be far easier for islanders if you bring clean bills and NO $20's.
What languages are spoken on Guanaja?
Spanish is the national language of Honduras, and it is spoken widely on the island, along with English and an island patois, kind of Guanaja-ese, which I have to admit I found difficult to follow, but fun to listen to!
With a mix of nationalities living on the island mainly Honduran but also American, Dutch, German, Belgian, Swiss, Canadian amongst others, you will hear all sorts of languages spoken.
Is it dangerous?
Unlike mainland Honduras, Guanaja is pretty safe. There is the odd petty theft, but otherwise, you are good.
What clothes should you take?
For everyday clothes, t-shirt and shorts are the order of the day, but you may want to cover up at night as the bugs come out! If you are going out for lunch or dinner you can get dressed up, but mainly it is quite casual. I didn't wear heels or make-up while I was there and existed in t-shirts, shorts, the occasional dress and flip-flops.
If you are going hiking, I would suggest longer trousers and hiking boots or sturdier shoes. Wherever I go I make sure I am wearing the best hiking sandals that will protect my feet but be flexible enough for the climb.
Is Guanaja Expensive?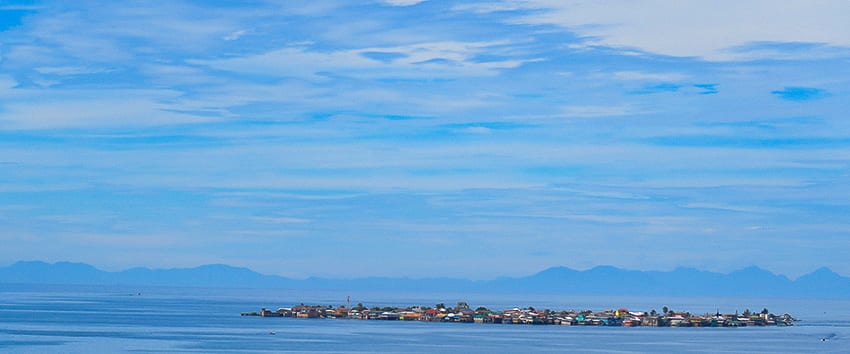 As it is an island, most things from food to cement to Amazon parcels have to be shipped in from the Honduras mainland. This does obviously add to the cost of items.
Guanaja is not a great mecca for shopping however with most of the shops on Bonacca (or the Cay as it is known) being food stores, hardware with a few barbers, a couple of clothes shops, some banks, cafés and restaurants, you will not be coming home with lots of souvenirs, in fact, I couldn't even find a postcard!
Thursday is the day the boats come in from the mainland so it is the day when most of the islanders and ex-pats come to the Cay for fresh supplies. But if the weather is bad, no boats come in and food shopping might have to wait. Thursday also is a social day, you meet with friends for a drink or bite to eat before loading your boat and heading back home.
Otherwise, like most countries, there are places that are cheap and places that are expensive. Our average food bill for a week was $60 and a meal out was around $20.
What about phone and Internet services?
Depending on where you are staying, you should have wi-fi supplied. If not, you may have to buy a local sim and use it for local calls as well for the internet.
If you have a local sim card, Tigo, a local phone company, sells a month-long or week-long package for phones. This includes internet, messaging, email and WhatsApp.
Like any place, reception is certain areas can be patchy especially in more remote areas.
Any wildlife?
Guanaja is on the migratory path for a whole host of birds travelling south for winter as well as the iridescent hummingbirds which flit everywhere. Brilliant green parrots can be heard, though sometimes are difficult to see as they tend to merge in with the trees.
Guanaja animal life is quite minimal. The sweetest little brown large guinea-pig like animals called watusa. They are very shy, but you can sometimes catch them grazing in the gardens. We did also see an armadillo, only once, and sadly did not have our camera ready to capture the moment.
The island has a huge lizards population, from cute little green ones with turquoise necks that scurry up and down to large grey ones that come out to bask in the sun and a myriad of other ones large and small, the island has lots of lizards to spot. As for snakes, there are some, but they are smaller boa constrictors and slip away when they hear you coming.
Sitting on the Mesoamerican Barrier Reef, Guanaja's sea is teeming with fish. you can get nursing sharks, blue spotted rays, octopus, eels and hundreds of brilliantly coloured fish, parrotfish, angelfish, the coral eating lionfish.
On the north-west of the island is a protected beach where Loggerhead and Hawksbill turtles come to lay their eggs. The beaches are patrolled during hatching times as the eggs and babies are prey to poachers.
Two less desirable creatures are tarantulas and scorpions. You tend not to see the tarantulas as they come out at night, and they are just as scared as us as we are of them. Scorpions hide under tiles, woodpiles and in general stay out of our way.
What makes it special?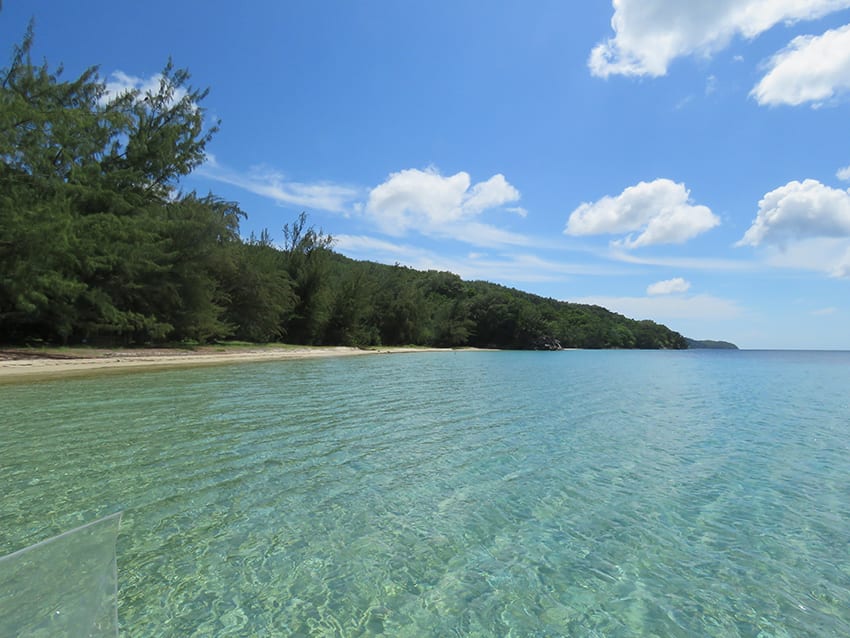 With clear turquoise waters and quiet and empty white sandy beaches on the north of the island, amazing diving and snorkelling sites which are second only to the Great Barrier Reef, a lush and mountainous interior with waterfalls, the island is its own little paradise.
Guanaja is quiet, tranquil when you need it, but also fun and exciting when you want it to be a bit more lively. You just go at your own pace.
What is there to do?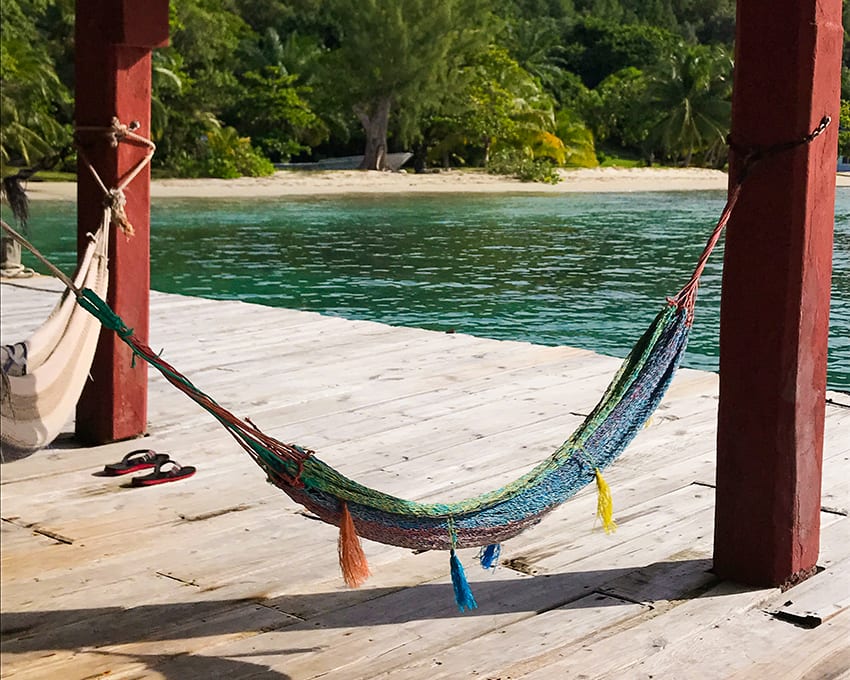 Apart from lazing in the sun in a hammock, you can go snorkelling or diving in one of the 38 dive sites around the island; kayak or kiteboard, or fly-fish; hike over the island (the highest peak is nearly 1,400 feet), see the waterfalls and rappel down them. Go bird-watching for the many varieties of birds on the island and migrating through.
Any bugs or insects?
On the coast, there is a fair share of mosquitoes as well as sand flies which can be a bit annoying, but as long as you keep yourself covered up with mosquito repellent or bug spray (I hate to use it, but 100% Deet is the most effective), you should be okay. The sandflies tend to be down near the shoreline.
Make sure at night that arms and legs (ankles in particular) are protected as they love exposed skin! Mosquito nets, mesh on the windows or burning insect-repelling candles and incense also help. You tend to have to apply bug spray morning and afternoon.
Any interesting facts?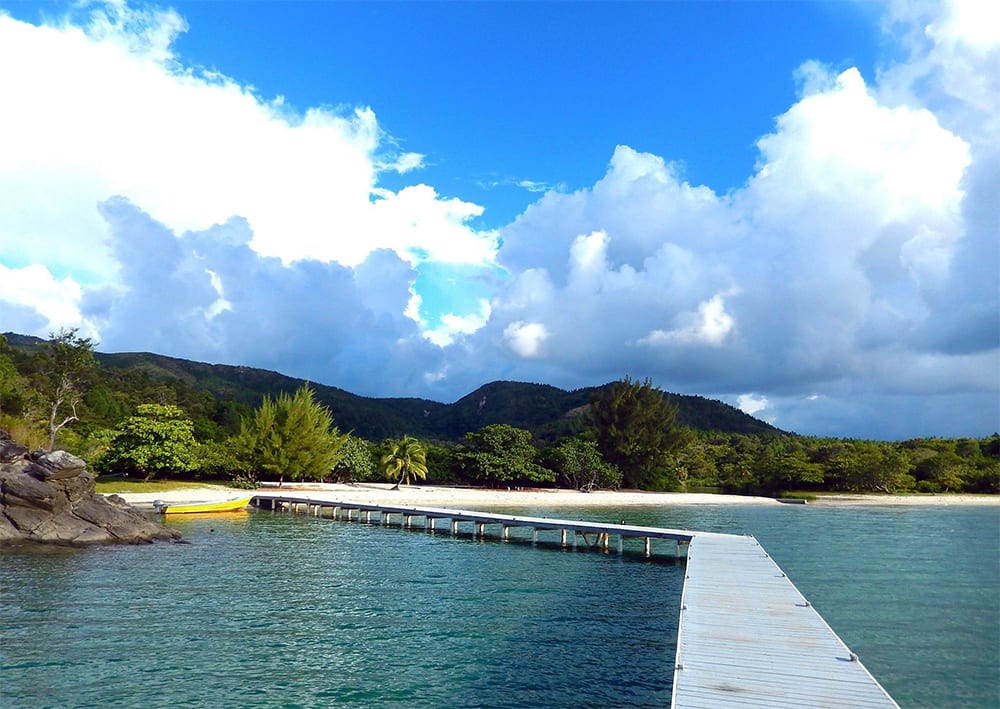 On 30 July 1502, Christopher Columbus, on his fourth voyage landed on what is now called Soldado beach on the north side of the island. He encountered some natives who were carrying cacao, the raw ingredient of chocolate. Even though the island was called Guanaca by the natives who lived there.
Columbus names it Isla de Los Pinos (Island of Pines) due to its dense covering of pine trees. Columbus' landing is celebrated in July every year with Carnival week culminating in a re-enactment of the landing and a party on Soldado beach.
Hurricane Mitch
In late October 1998, the island was devastated by Hurricane Mitch, which sat over the island and sucked up the pines and mangrove and most of the pine trees as well flattening buildings and leaving most of the island homeless. It was a tough time for everyone living on the island, and tourism is just recovering.
Where to stay on Guanaja
If you need a place to stay on Guanaja, check out these hotels and Airbnbs:
Try
Last thoughts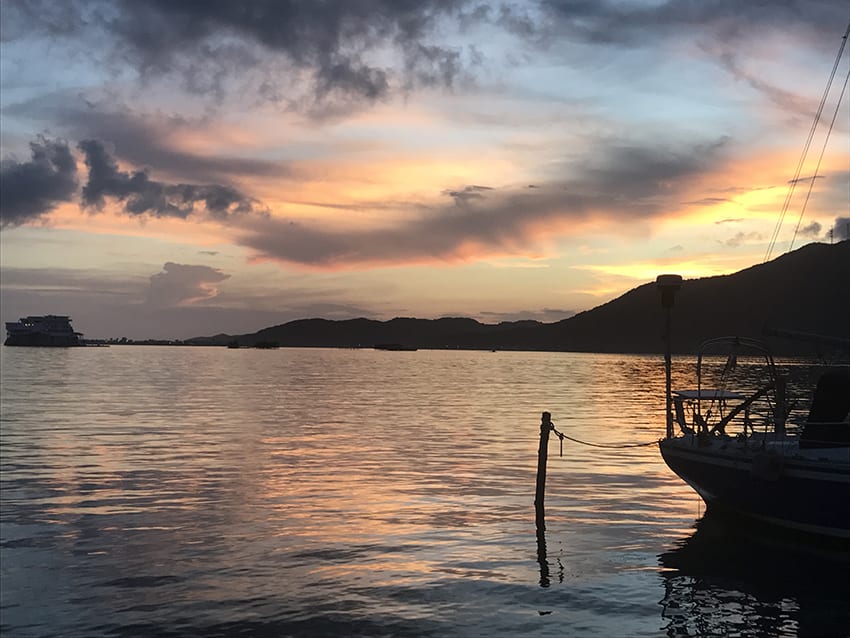 I have been to Guanaja twice now, and have made many friends there, People are friendly and encourage tourists to visit. It is an excellent place to snorkel or dive and a lovely island to visit, but don't expect 5-star resorts, but just enjoy the peace and quiet beautiful lush island for what it is.
If you are interested in house-sitting on the island, keep an eye out on Trusted Housesitters, there are normally a few during the year.
Transparency
My trip to Guanaja was entirely self-funded. I was not required to write a positive review of the island. All opinions and photographs are my own. No photographs may be reproduced in any manner without my written permission.
Don't forget to pin this article so you can come back to it later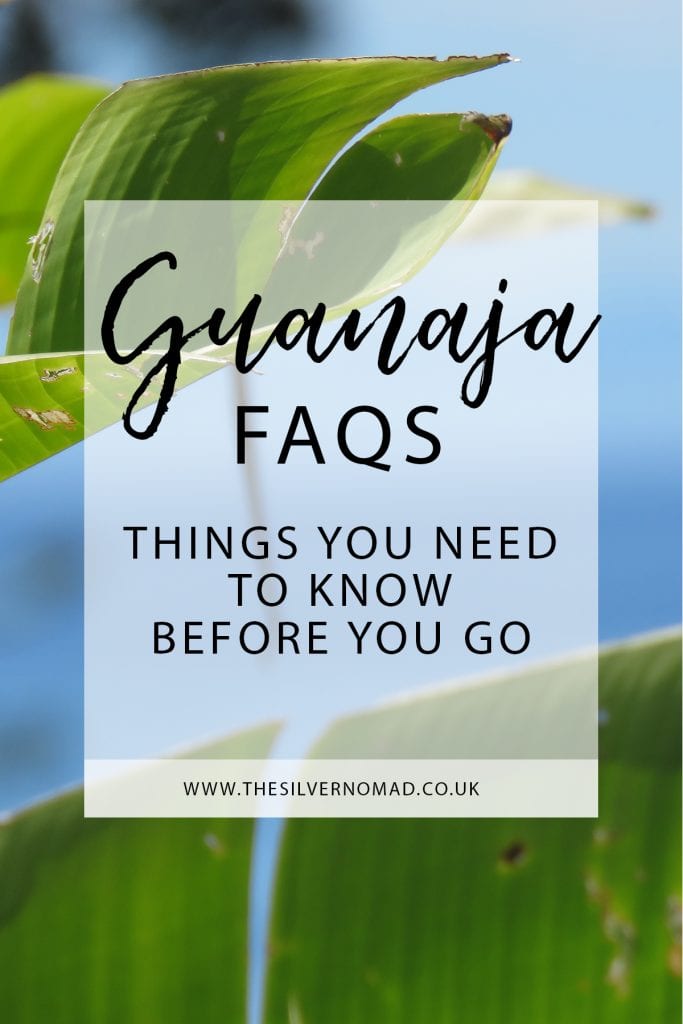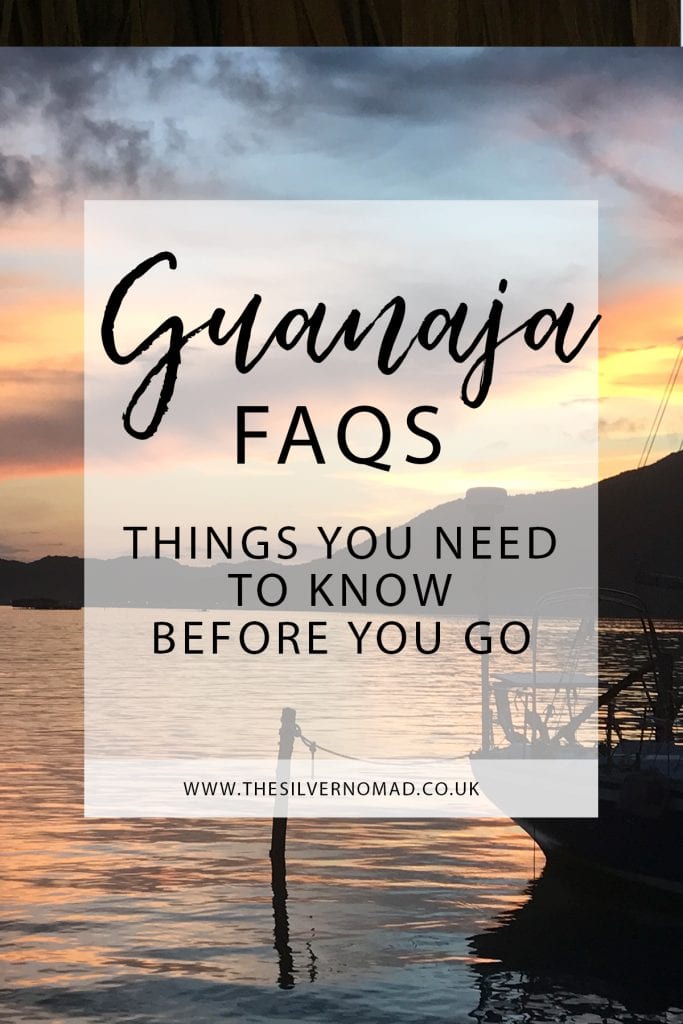 Bonnaca October 2021
Around 3 am in the very early hours of Saturday 2nd October 2021, a fire broke out on the cay off Guanaja.
Any fire on Bonnaca (or Lower Cays as it is also called) is always serious. The houses are cheek-by-jowl and many are either built of wood, or wood and breeze blocks. The streets and walkways are narrow and the homes so close you can reach out and touch your neighbour's house. Cooking on the island is mainly by propane gas canisters. Many overhead electric cables hang down creating more dangers.
All these factors helped the fire to spread quickly. From the depths of the night, the sky was illuminated with the fire which burnt on into the morning light.
The fire was massive and devastated nearly half of the cay. About 135 homes were destroyed and 200+ residents have lost their homes and belongings and are displaced. None of the business areas was affected.
The cay has no fire-fighting facilities and relied on residents and people from elsewhere on the islands to form human chains passing buckets of water to throw on the fire. Elsewhere some of the boats pumped seawater to douse the flames.
With help from the Honduran Air Force's helicopters in the morning and fire teams from the Cayman Islands, the fire was finally quelled around midday. The full devastation of the fire was then revealed. Amazingly three were no deaths, but many of the helpers were injured and 6 were hospitalized with burns and smoke inhalation.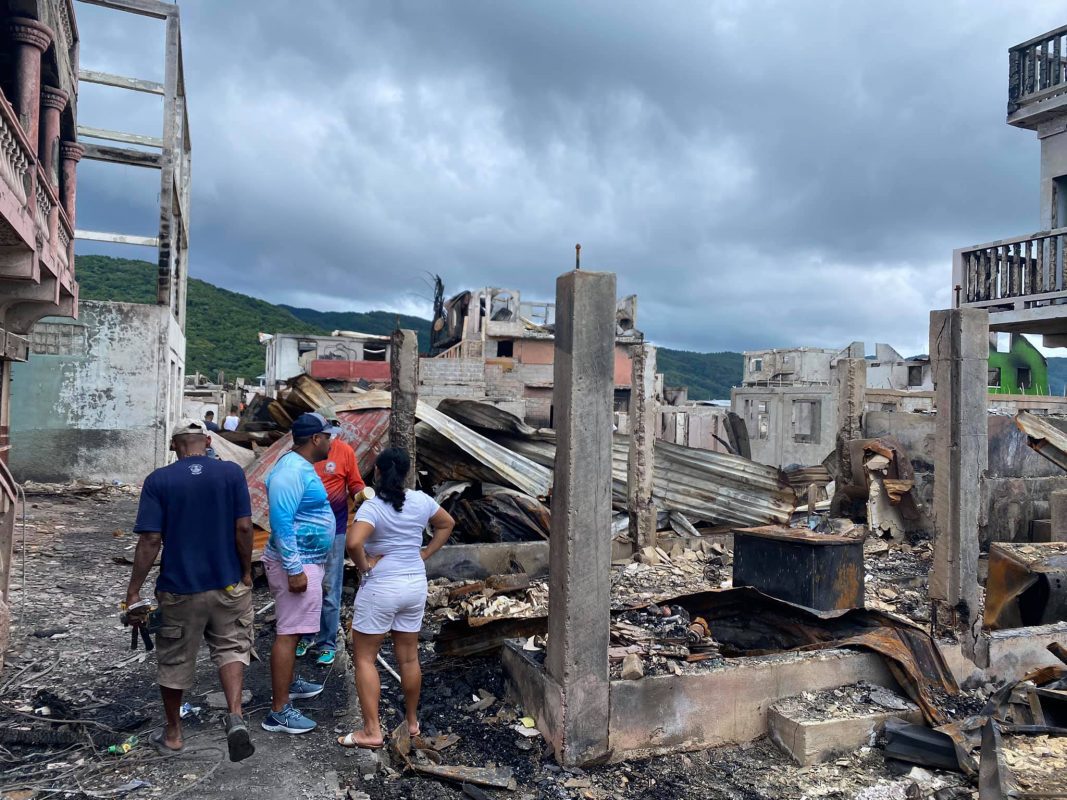 Shawn Holder from Mi Casa Too, documented everything and kept locals and the whole world updated with his honest and heartfelt Facebook posts and videos.
The cay, other residents of Guanaja, Roatan, Utila and even the Cayman Islands have come together to clean up, bring supplies and support those who have lost everything. This amazing coming together of the different communities to support each other is what Guanaja is all about.
(this post was updated in October 2021 to include the devastation on Guanaja with help from posts about the fire from locals as I was not there)