Do you love travelling in Europe? Exploring more remote places off the beaten track? Discovering hidden gems and more unusual destinations? Whichever country you go to, there will be places you never hear about, unsung villages, towns and regions that are worth spending some time exploring.
These hidden gems are out there waiting to be discovered. Let's take a tour around some amazing hidden gems in Europe.
---
*This site uses affiliate links and I may earn a small commission when you use my links and make a purchase without incurring an additional fee yourself.
Thank you for supporting this website. See my disclaimer page for more details.
---
Gorizia, a hidden gem in North-East Italy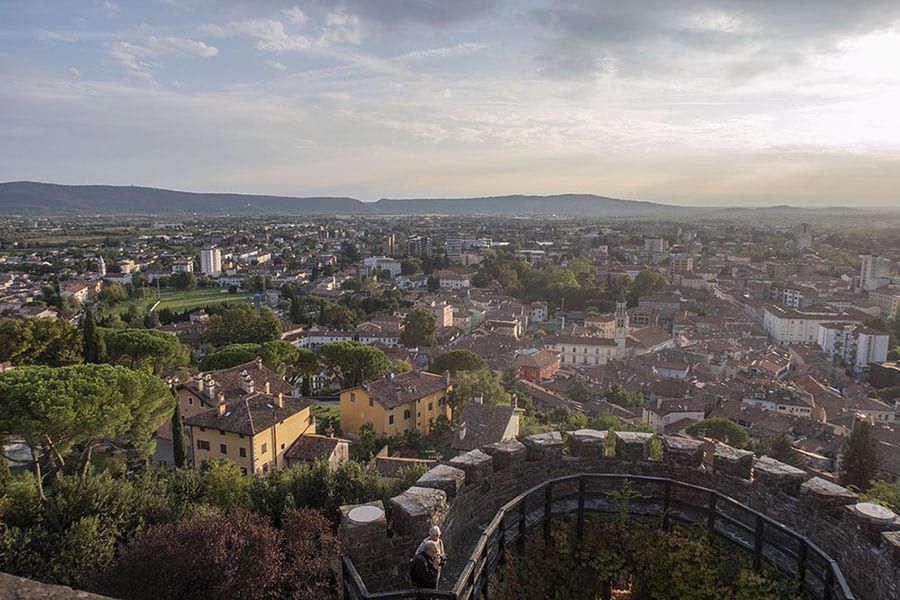 One of Italy's hidden gems is Gorizia. Sitting on the border with Slovenia in the northeast corner of Italy, the lively town has much to offer. Gorizia has an interesting history with influences from Italy, Slovenia and Austria.
Visit the 11th Century castle that sits above the town for a panoramic view. It has been a barracks and military fortress as well as a country retreat for the Counts of Gorizia. Now it is a museum with different floors showing period furnishings, tapestries, paintings and decorations from the Middle Ages.
On the road up to the Castle are two museums that are worth visiting. The first is the Museum of the Great War which has military memorabilia, weapons, photographs and artefacts from the First World War. The second museum is the Fashion Museum and the Applied Arts. Dedicated to the contribution that textiles and fashion to the economy of the town. In one of the rooms, there is an incredible late 18th Century circular silk-twisting machine which does still work.
One of hidden gems in Gorizia is the Palazzo Coronini Cronberg. Set in beautiful grounds with neoclassical sculptures and fountains, the Palazzo is a fascinating museum with furnishings and decor through the ages as well as displaying the fashions.
With the influences of 3 different countries, the food of Gorizia shows off its Middle European culture. Try dinner at Trattoria alla Luna or Ristorante Enoteca Majda for the best local cuisine or Locando 101 for divine fish dishes.
Gorizia is about an hour's and 20 minutes drive from Venezia Airport and ideal for a day trip from Venice, or if you are staying try the Hotel Entourage, 16th Century palace.
by Larch from The Silver Nomad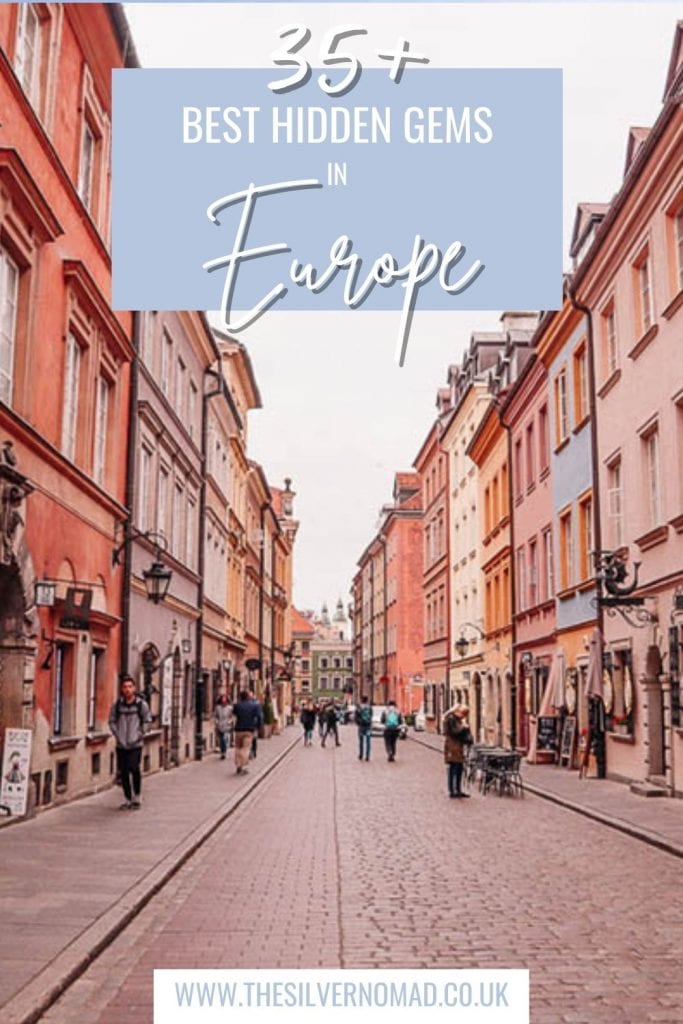 Portovenere, a hidden gem in Italy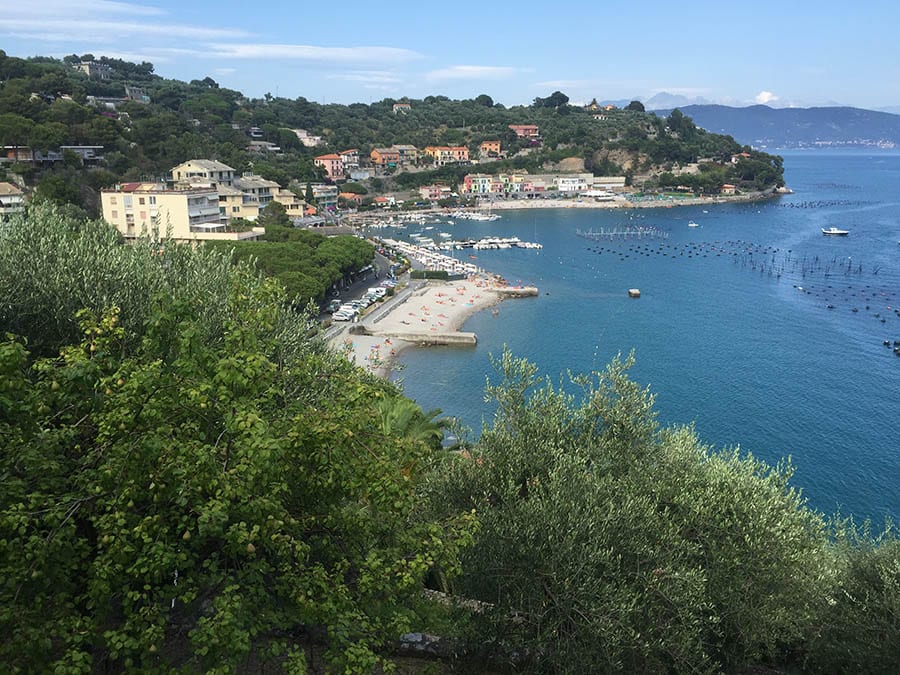 Come walk in the footsteps of the Romantic poet Lord Byron and dive into the rock-strewn coast at Portovenere. This Italian Riviera town sits in the shadow of Cinque Terre (Five Lands).
Portovenere is a hidden gem to escape the tourists who flock to hike the foot trails between the five UNESCO World Heritage seaside villages. The Ligurian Coast is deemed "a cultural landscape of great scenic and cultural value."
Nestled on the coast near La Spezia, Portovenere is a historic seaside village. Discover medieval churches plus a bustling beach town. Swim in the Bay of Poets. Tour ancient Doria Castle.
Portovenere offers cosmopolitan comforts. Stay at the Grand Hotel Portovenere (a former 13th-century convent) and book a private yacht excursion. But you can also vacation on a budget by reserving an Airbnb, eating a picnic on the rocky spur of Punta San Pietro, and watching free outdoor movies in the summer.
Portovenere offers cheap and easy ferry access to the five CInque Terre hillside villages: Monterosso, Vernazza, Corniglia, Manarola and Riomaggiore. You can also take the train to travel between the villages.
Portovenere honours its patron saint (Madonna Bianca) each year on August 17; she is credited with saving the village from ruin.
Residents parade in a torch-led procession. You don't want to miss seeing the Roman torches illuminating Byron's Grotto and San Pietro church.
by Terri at FemaleSoloTrek
Rovinj, a hidden gem in Croatia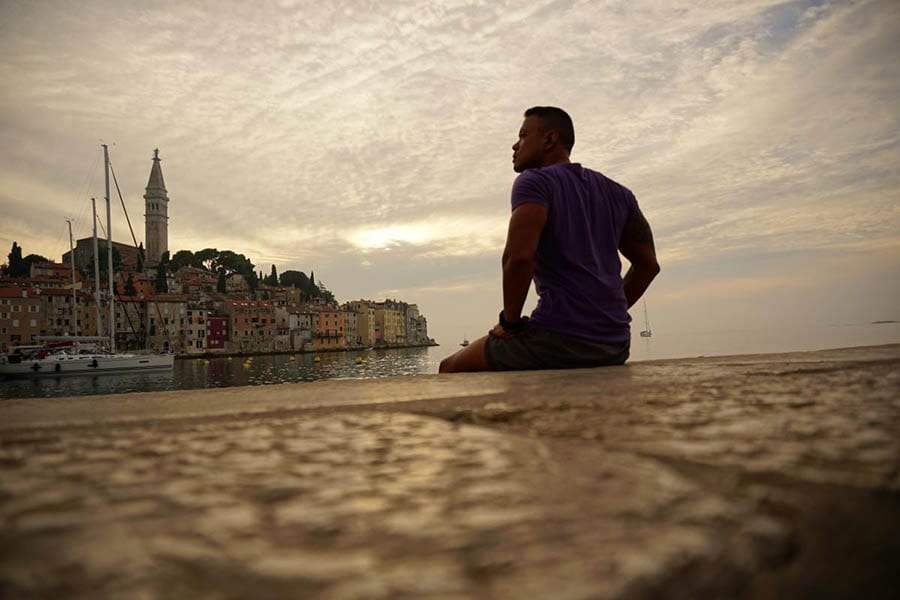 Living in Croatia cemented my opinion that it is the most underrated country in Europe. Croatia is a unique mix of 50% Balkan and 50% Italian, but with a low cost of living akin to Greece. While some cities have become overrun tourist magnets (*ahem, cough*…Dubrovnik), there are still many hidden gems that the masses have yet to find.
Rovinj, located in the Istrian region, on the northwest coast of Croatia, is just such a city. The picturesque Croatian city sits on the small peninsula watched over by the baroque Church of St. Euphemia perched on the central hill.
While tiny and quaint, visitors will still find lots to satisfy their wanderlust. Days can be filled with wine tours, olive oil sampling, truffle hunting, boat excursions, or just a stroll around the city's Old Town.
Old Town is dissected by charming narrow alleys, colorful buildings, and cobblestone streets that hint at the city's Italian roots. Grisi street is one of the most famous streets in Rovinj. The cafés and restaurants lining the street are never short of customers. Grisi is also known for its art galleries, souvenir shops, and the popular Balbi's Arch built in the 1600s and the 12th-century Town Clock.
At night, the entire city congregates on the Riva (a Croatian waterfront promenade) to socialize, eat ice cream at one of the cafés, or sit outside a restaurant drinking wine late at night with friends.
Rovinj's renaissance-influenced Riva and harbors are surrounded on both sides by the Adriatic sea, making the town accessible by ferry from nearby Pula, Croatia or Trieste, or Venice in Italy.
by Marco from Nomadic Fire
Bilbao, a hidden gem in Spain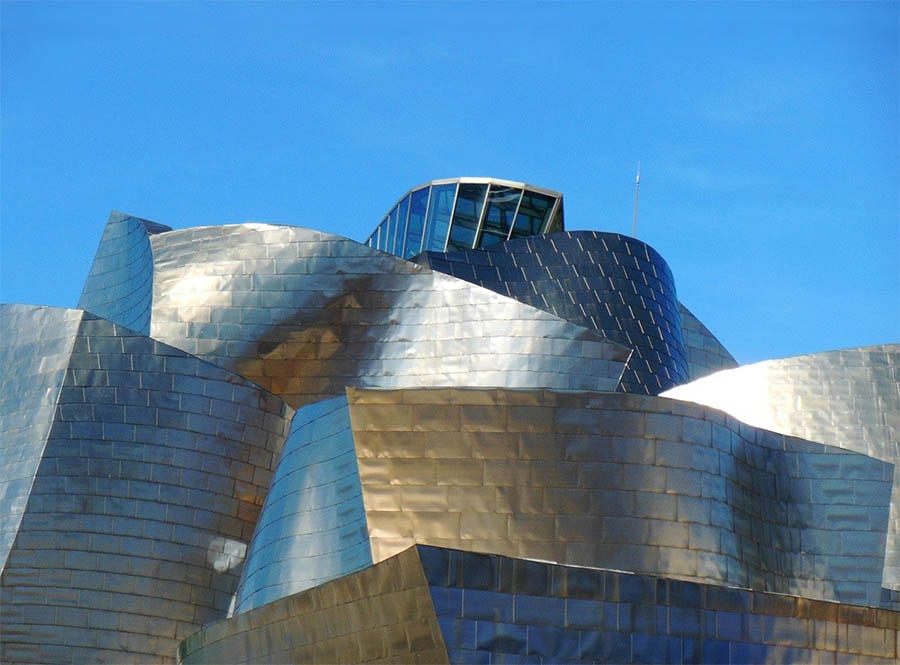 The fact that Bilbao in Spain's Basque country has the Guggenheim Museum is ample reason to visit. And while the museum might be a magnet, there is so much more to see, from the old town of Casco Viejo to the neo-Baroque Arriaga Theater to the modernistic Calatrava bridge – every era contained in a small, walkable city.
You may already know that Basque chefs are among the most sought-after in the world, so it should come as no surprise that Bilbao is a gastronomic paradise. Start with pintxos, the equivalent of Spanish tapas but usually sitting on a small slice of baguette-like bread, and work your way through the unbelievable freshness of local meat, fish and produce, with tastes so pure few sauces or condiments are needed.
For a quick day trip, visit the village of Guernica, site of a village razed with German help during the Spanish Civil War (it has been completely rebuilt). The destruction was so total Picasso was overwhelmed and painted his famous work, Guernica, so no one would ever forget. A small but excellent museum tells the village's story.
If you want a Picasso theme, room 102 of the Basque Boutique has a Guernica theme… As for food, if you're a meat-eater, the place to go is Victor Montes restaurant, iconic and irresistible.
by Leyla from Women on the Road
Asturias, a hidden gem in Northern Spain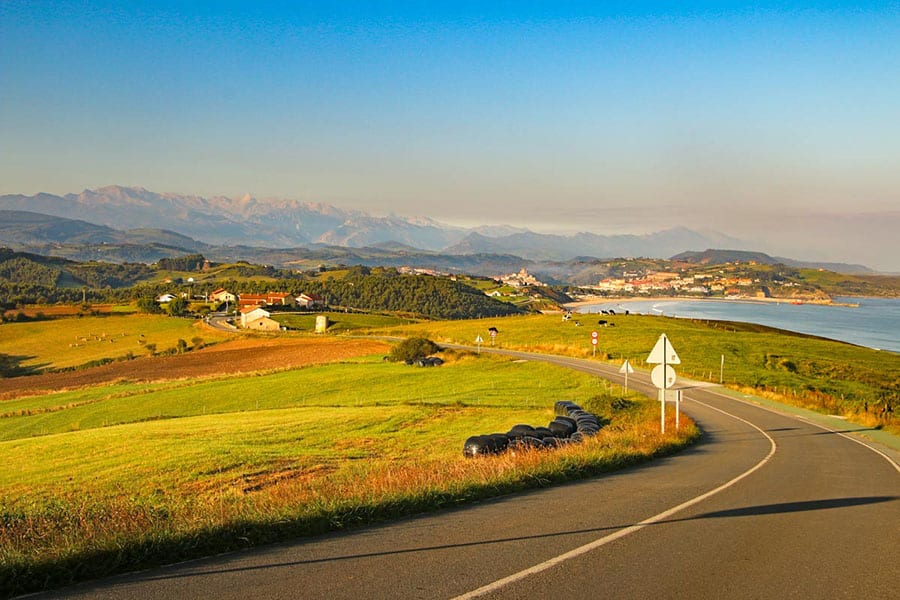 Asturias region in Northern Spain is one of the hidden gems in Europe. Often overlooked by international tourists it is an incredibly beautiful place to visit. Located between the coast and the mountains Asturias has a lot to offer to outdoors lovers.
In just a couple of hours, you can get from the beach to the mountains, it's easy to combine a beach holiday filled with water activities with hiking in the mountains. The beautiful Atlantic coast of the region with its sandy beaches, rugged cliffs, and small bays is a great place for an adventure holiday. If you like surfing, kayaking, SUPing, or any other water activities you'll definitely enjoy visiting the region.
For those who like hiking, mountain biking, and rock climbing Los Picos de Europa National Park is a wonderful place to spend a holiday. There are many hiking and cycling trails, campsites, and climbing routes of different levels of difficulty. The scenery in the park is truly spectacular; snowy mountain peaks, emerald-green slopes, crystal-clear lakes, beautiful waterfalls, and breathtaking lookout points.
If you enjoy long-distance walks you will enjoy walking the Camino Primitivo, one of the oldest old pilgrimage routes in Europe. It starts in Oviedo, Asturias, and finishes in Santiago de Compostela, Galicia offering spectacular scenery and a unique cultural experience.
by Campbell & Alya from Stingy Nomads
Cesenatico, a hidden gem on the Adriatic Coast of Italy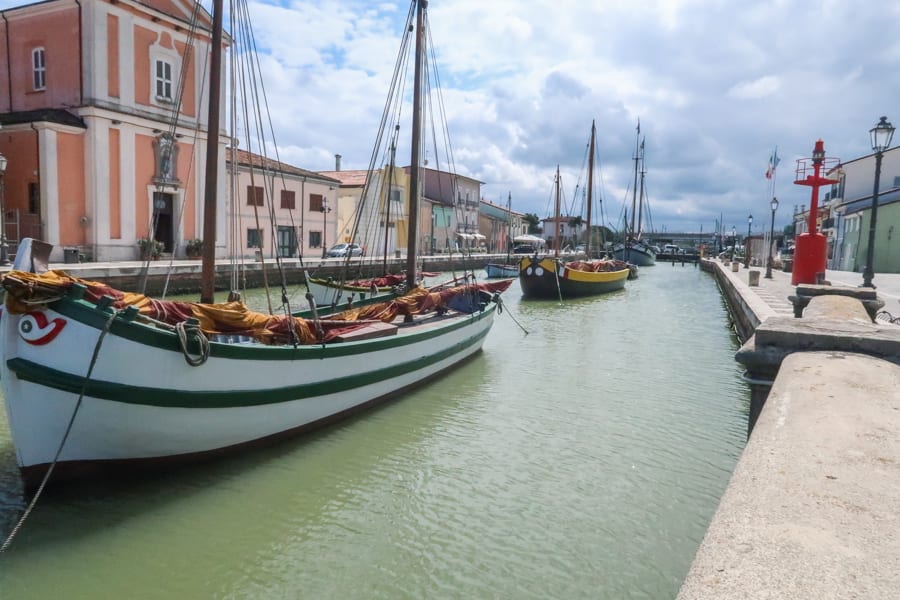 An hour's train journey from Bologna in the Emilia Romagna of Italy is the seaside town of Cesenatico. A welcome break from the hustle and bustle of city life, it is the perfect place to relax and unwind.
Take a wander around the canal harbour, designed in 1502 by Leonardo da Vinci. Lined with bars, restaurants and shops, sit by the canal and enjoy fresh seafood and fish dishes. If you need to pop across to the other side, take one of the motorised mini ferries which take you across in minutes.
At the top end of the canal is the Museo della Marineria. The museum features two full-sized ships on the ground floor with a gallery on the second floor around so you can view it from all angles. Exhibits and interactive videos about the port of Cesenatico through the ages are displayed on the two floors. The museum continues outside with 11 fishing vessels from different points in history floating in the canal.
The beaches at Cesenatico are long, golden and sandy with plenty of space for everyone. Along the edges are various courts for tennis, volleyball and other sports as well as a range of beach bars and restaurants.
Along the boardwalk, in the Giardini a Mare Gardens, is the Leaf Cathedral by Tonino Guerra. These organic rusted iron leaf shapes pay tribute to the men and women who have tended the lands around and man's relationship to the land.
For a luxurious stay try the beach front Grand Hotel Da Vinci, with indoor and outdoor pools and elegant Art Nouveau rooms.
by Larch from The Silver Nomad
Jerez de la Frontera, a hidden gem in Spain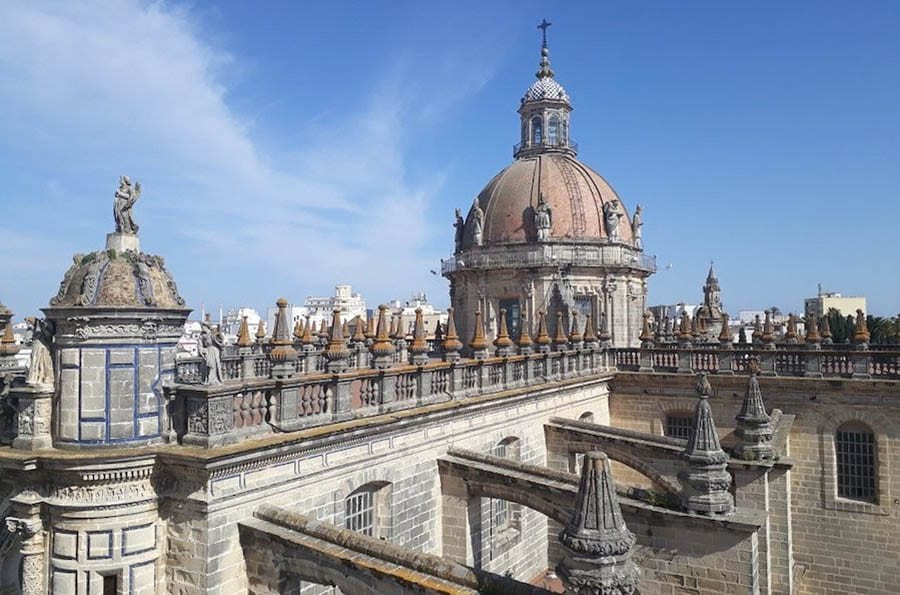 In Spain's quintessential Andalucia region is Jerez de la Frontera, overshadowed by its neighbours Seville and Granada. But Jerez is more Spanish, more passionate, and more Andalucian than either of its famous rivals. The home of sherry, the capital of Andalucian horse culture and the birth-place of flamenco, Jerez is a true hidden gem.
Since the 14th century, the particular local soil, climate and grape variety have been combined here to create sherry, a complex and delicious drink. Initially, a pretty standard wine is produced and then placed in an oak barrel where the magic happens! You cannot visit Jerez without visiting a bodega and taking a tour with a tasting session at the end to understand how this often misunderstood drink is created.
Considered an art form in Spain, flamenco literally means 'hell-raising' and when you watch this steamy and seductive dance you'll understand why. You'll find flamenco clubs aplenty in the narrow streets of the Barrio de Santiago quarter, but don't turn up before 10pm as, in true Spanish style, things don't really get going until well after that.
The annual Feria del Caballo (horse fair) is a highlight of any visit in May. Much less touristy than other spring fairs in the region, you'll be welcomed nonetheless. With locals wearing traditional costumes, dancing going on long into the night and the pure-bred Spanish horses on display, this fair is one of the best and most exuberant in the country. If you can't visit in May, a trip to the Royal Andalusian School of Equestrian Art, one of the most prestigious riding academies in the world, will give you a flavour of the equine culture and its importance to the city.
by Isobel from 24 Hour City Guides
Alcudia, a hidden gem in Mallorca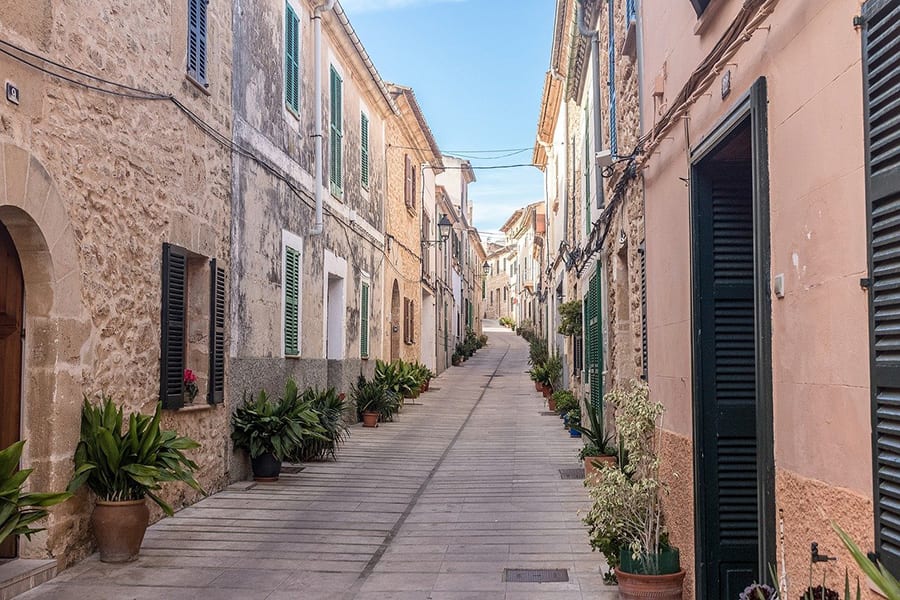 One of my favourite places to visit, which I feel is a hidden gem in Mallorca is Alcudia. What I love about Alcudia is that there are three sides to it, and as a visitor to that part of the Island it offers something for all types of visitors whether you're travelling solo, with a partner, with the family or in a group.
The Portside known as Port d'Alcudia is a very international tourist area, which although gets very busy in the Summer season is never really overcrowded because there is just so much to do there. It has beautiful beach areas with clear water where you can see the fish swimming past you.
There are hotels to suit all budgets and preferences, cocktail bars, Irish bars, English, German and themed bars, many nightclubs all in one place where you can party with the locals, lots of restaurants from traditional Mallorcan, Pizza Places, Chinese restaurants, Indian take a way's, English, American themed restaurants and fast-food restaurants and that's just to name a few.
If you are looking for activities to do you can rent a bike for a day or two, go to the Water Park, ride the mini tourist train, relax by the pool at the hotel or go out on a Horse-Riding trail with Ranxo Ses Roques or attend one of the many festivals throughout the summer.
Then you have the Old Town in Alcudia which is great if you are into history as you will see the Roman ruins, you can wander around the fort which has so many beautiful hidden corners to it and hosts the market twice a week, where you can buy all manner of items such as handcrafted items, clothing, gifts and fresh fruit and veg. The Old Town also has a few restaurants.
You could make a whole day of it in the old Town on the Market day by attending the marketing in the morning as it closes early afternoon. Go for some lunch, then wander around the fort when it's a little quieter in the afternoon and then either stroll back to the Port which is a 20-minute walk or catch a bus or taxi back which is 5-10 minutes.
The final part of Alcudia is more for the outdoors type there are up to 73 potential hikes you can do in Alcudia which will enable you to find beautiful, secluded areas such as beaches, hills, lighthouses and if you're really brave you could embark on a paragliding adventure.
So as you can see Alcudia in Mallorca is a must-visit hidden gem.
by Lisa from One Epic Road Trip
Fayence, a hidden gem in the south of France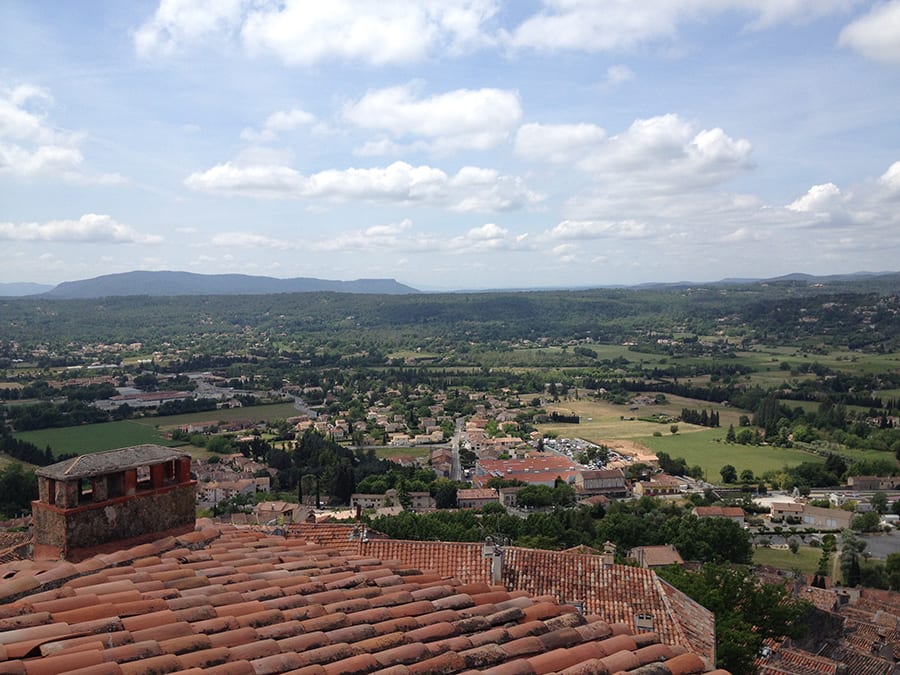 One of the hilltop towns in the Var, Fayence is a delightful place to visit. Fayence is just over a hour's drive inland from Nice and a beautiful drive through the countryside.
A medieval town there are still remnants of the fortifications including the original entrance to the village, the Saracen Gates.
The roads and wind their way in a zig-zag up the hill where you can park at the top and walk down through the town.
Cimb to the top of the town to the 19th Century Clock Tower. The tower has amazing 360˚ views over the plains and forests below. In front of the tower is a painted tile frescos so you can identify what is in the distance.
Visit Fayence on a Tuesday, Thursday or Saturday when the market takes over the Church Square. The square is filled with stalls of local produce, olives, oils, fish, bread as well as flowers, clothes and tools. The ideal place to pick up fresh food for your trip.
by Larch from The Silver Nomad
Segovia, a hidden gem in Spain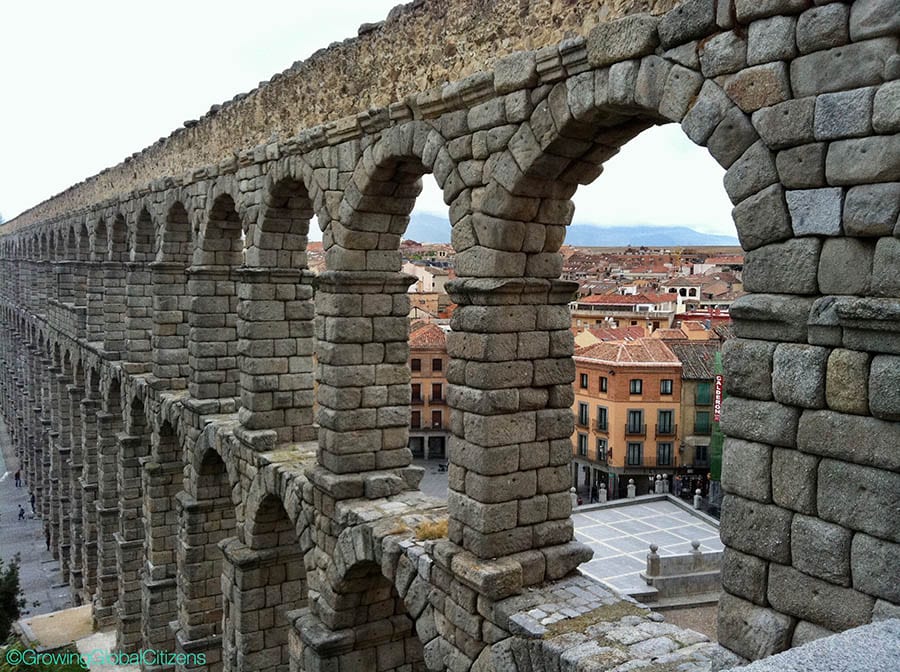 Segovia is a fairy-tale Spanish city that is a perfect day trip from Madrid. Catch the bus or train to Segovia, because once you arrive, everything is easily walkable, although a bit uphill. The first sight that greets you is a plaza framed by the stunning Roman aqueduct. One of the biggest (800+ meters long) and best preserved in the world, the structure dates back to around 200 AD.
After posing with the aqueduct, eat at one of the nearby restaurants that serve cochinillo de Segovia, or roast suckling pig. With a full belly, make your way through the narrow streets towards the cathedral. For a small fee you can have a guided visit through the inside of the gothic-style cathedral and the tower.
The medieval castle, El Alcázar, is the third must-see site in Segovia. It may look familiar because it was one of the models for the Disneyworld Castle. The castle includes dozens of rooms furnished like they were in the 15th century. The square tower is a tight squeeze and costs a bit more, but offers amazing views of the city.
If you have time and agility, scramble down to the park between the castle and the river. Looking up at the castle and the city, next to water and nature, will really give you the feeling that Segovia is the closest you've come to a real-life fairy tale.
by Kristin from Growing Global Citizens
Sibiu, a hidden gem in Romania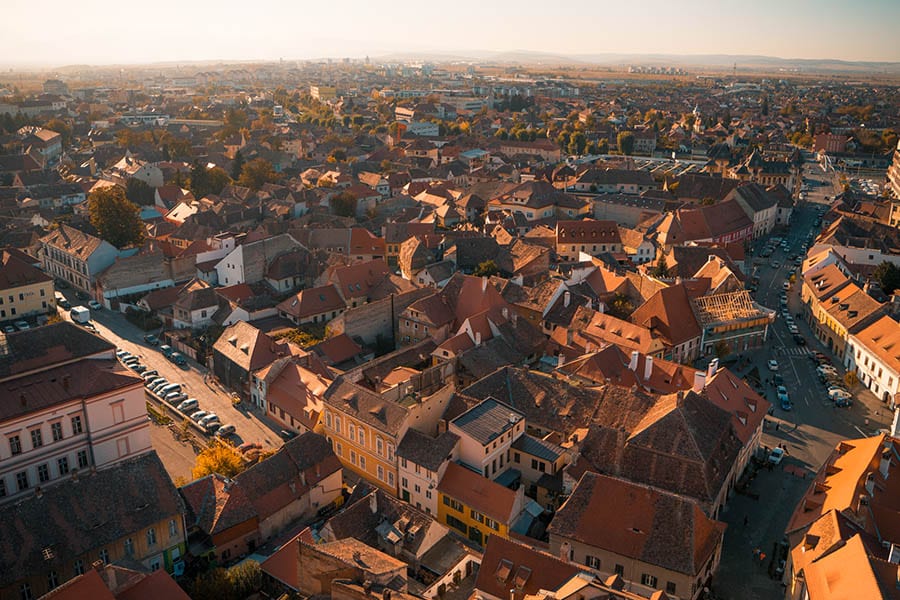 Though the European Capital of culture in 2007, Sibiu remains one of the best hidden gems in Europe. As one of the seven Transylvania walled citadels, the city is dotted with medieval fortifications and historical buildings, all of which have a story to tell.
One of the most famous attractions in Sibiu is the Piata Mare or the Large Square in English. Though not a very creative name, it is one of the most important places in medieval Sibiu and modern Sibiu. Back in the days, it was a huge space where gatherings occurred, people were executed, and trade conducted. Nowadays, it has become a place to sit, relax and admire the beautiful architecture around the square. If you look closely, you will see many of the buildings in Sibiu have windows that look like eyes. This feature has earned Sibiu the nickname of "See-biu"
Another unmissable attraction in Sibiu is the Council Tower, a place that offers a birds-eye view of the beautiful city of Sibiu and its surrounding landscape. Many of the city's historic fortifications are still standing today, so make sure you get a chance to see them.
There are plenty of beautiful places to stay in Sibiu, such as the Rabbit Hole hotel. Located adjacent to the Big Square, guests are within walking distance to the best things to do in Sibiu.
by Sean from Living out Lau
Sighișoara, a hidden gem in Romania
Looking for that quintessential fairytale-esque town, tucked away in the middle of Europe? When you fantasize about a charming medieval town in Europe, complete with cobblestone streets, oozing with history and culture, chances are you're envisioning Sighișoara, Romania. You just didn't realize it at the time.
Old Town Sighișoara (sig-ee-SHWAH-ra) is a colourful fortified village located in the dead-centre of Romania and is one of the most stunning UNESCO World Heritage Sites in the region. This beautifully preserved citadel is home to one of the most notorious warriors in history – Vlad Tepes III; also known as Vlad the Impaler, or Vlad Dracul, the alleged inspiration for Bram Stoker's Count Dracula.
Visitors can tour the supposed birthplace of Vlad the Impaler in Sighișoara, which has been turned into a small museum. If the local folklore isn't on the itinerary, you can also climb the old clock tower in the city center to gain a bird's-eye view of the valley, check out the city tower fortifications, or simply sit in the town square and absorb the historical vibes of the city.
There are many lodging options around the old town that would fit any backpacking, flashpacking, or spare-no-expense traveller's budget. The closer you get to the city centre, the more costly the nightly rate, but it's so worth it when you're within walking distance to a medieval town that wouldn't be out of place at Disney World!
by Rachelle from Adventure is Never Far Away
Condom, a hidden gem in France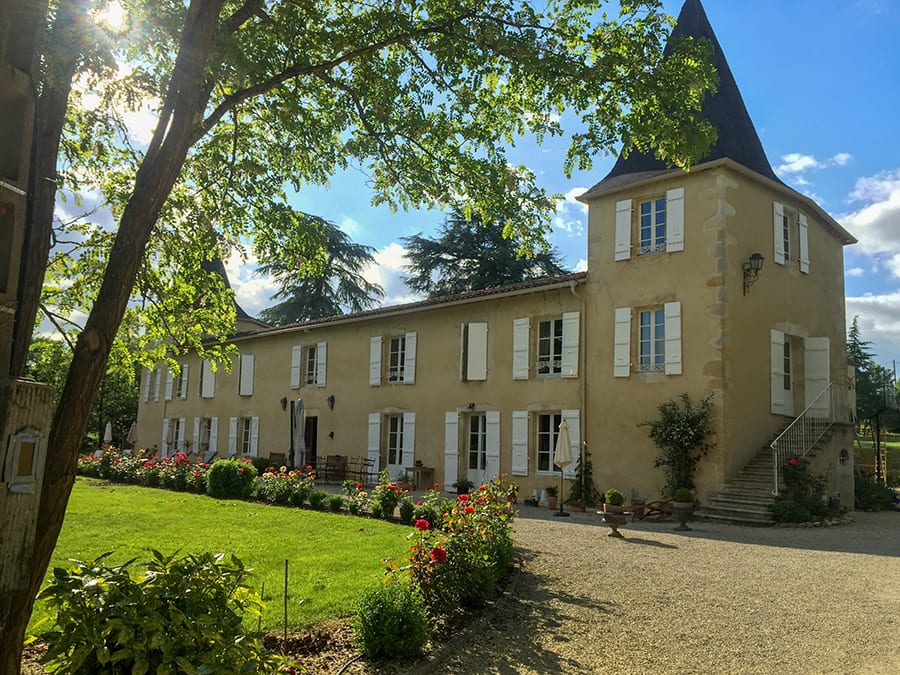 If you're looking for a hidden gem in France, head to Condom in the Ger region. One of the larger towns in the area, Condom is the centre gemstone and the perfect place to stay to explore nearby smaller gems. While admiring the beautiful landscape of rolling green hills, you'll marvel at the lack of tourists and the affordable prices.
With some of the best food in France, you can dine on gourmet meals of foie gras and duck confit without breaking the bank. Sip a glass of Condom's most famous liquor, Armagnac, after your meal. If you like it, the Armagnac Museum happens to be in Condom. In the town centre, you'll find many historic buildings, most notably the 14th-century Cathedral Saint-Pierre and its cloisters.
Just outside the centre of town, on a large property with manicured gardens sits Les Bruhasses which offers charming rooms at reasonable prices. The proprietor draws maps for her guests and will suggest a daily itinerary based on your interests. Art lovers must tour the Flaran Abbey which houses many works by famous artists. History buffs will explore Montreal-du-Gers, for its 4th century Gallo-Roman Villa de Seviac, and Eauze for its Archaeological Museum and excavated ruins.
Discover the enchanting villages nestled in the nearby hills. France's smallest fortified city, Larressingle, is just a stone throw away, and worth a visit. Stroll through the unique bastide village of Fources. Or the picturesque village La Romieu which boasts the UNESCO world heritage site Collégiale Saint-Pierre.
by Denise from Chef Denise
Amboise, a hidden gem in the Loire Valley, France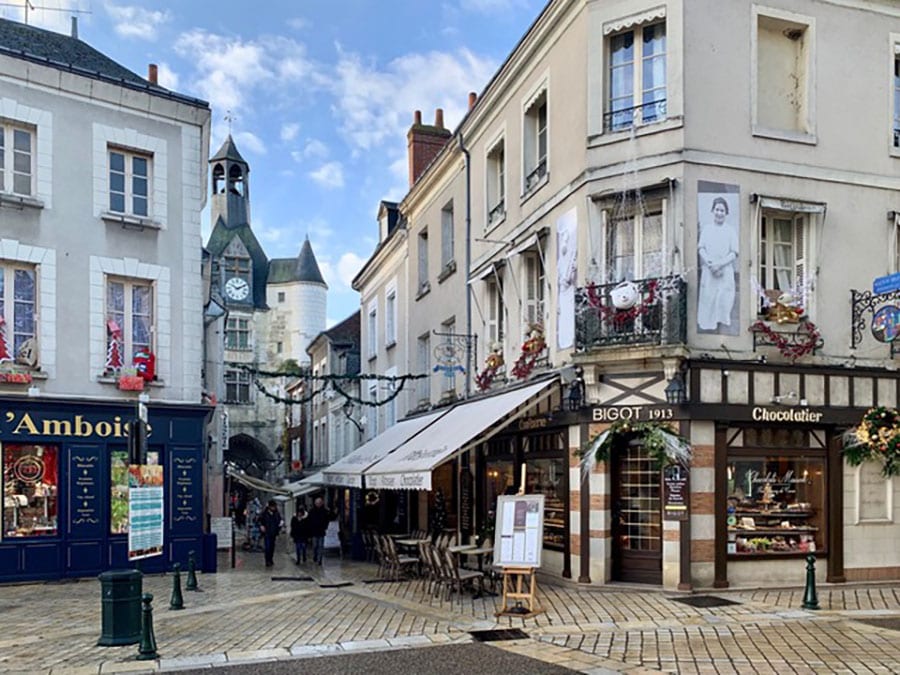 This village of Amboise is located right in the heart of the Loire Valley, surrounded by wine yards and fairy tale castles. The region itself is rather famous and a popular day trip destination from Paris – however, most visitors are heading to the well-known castles of Chenonceau and Chambord.
The little hidden gem Amboise remains under the radar of many visitors but it is absolutely worth the trip. The highlight of Amboise is the Château d'Amboise. The origins of this Loire Castle are leading back to the 9th century, and it even was once a royal residence. But the main reason why the castles of Amboise should be visited is that the great Leonardo da Vinci spent the last years of his life there and is even buried on the castle grounds!
Amboise is overall a pretty town, with narrow cobblestone alleys, old buildings and many cute and cosy cafés – a good address for some afternoon tea is for example the tea house Bigot! Amboise is a perfect location if you want to visit the region without travelling on the well-beaten path.
If you search for accommodation in Amboise, you'll be surprised to find hotels rather affordable. A great upscale adress is the Hôtel le Pavillon Des Lys, right in the center of Amboise.
Make sure to visit the local farmers market that is held every Friday along the Loire river banks. You find all sorts of local products, honey, cold cuts, cheese and of course lots of wine. The Loire Valley is nothing less than one of the leading wine regions of France!
by Lena from Salut from Paris
Maastricht, a hidden gem in The Netherlands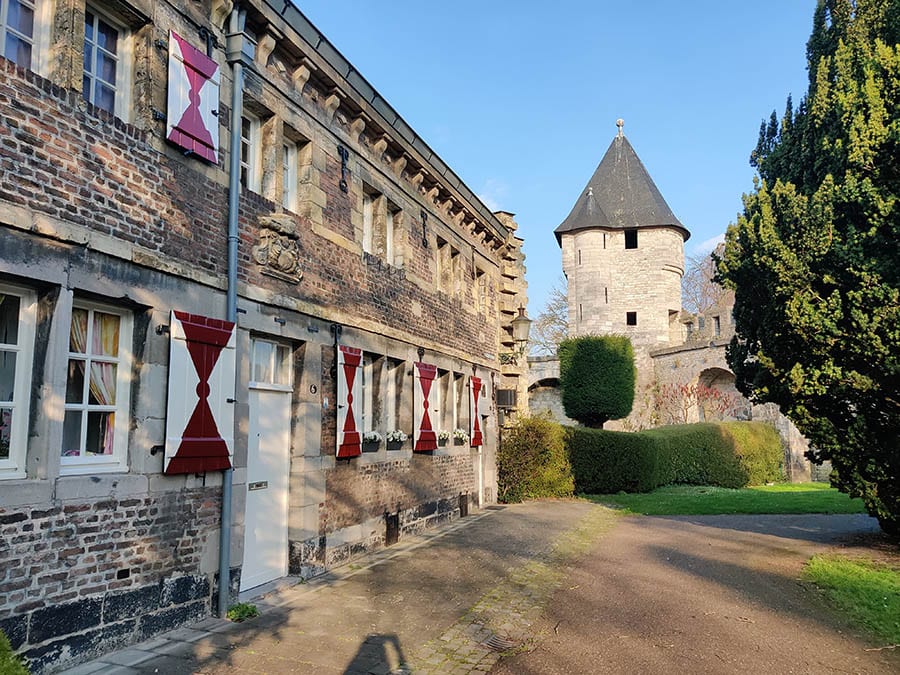 A hidden gem that should be considered next time you plan a trip to the Netherlands is the beautiful city of Maastricht. Located all the way in the south of the country, this beautiful cobblestoned city is great to explore any time of the year. The city itself is split on each side of the famous river Maas, connected by two main bridges.
The city centre is a good place to start exploring in, shopping at the big well-known stores and then to the little local boutiques. Like books? Don't forget to check out the Dominican church, converted admirably to a book store. From there, enjoy a sweet nature walk to one of the local city parks. Maastricht city centre is still surrounded by the original 13th-century walls, so walking past these and Hell's Gate is also a must.
For a foodie highlight of the visit, grab a bite to eat from the local Bisschopsmolen bakery, where they sell the best Dutch Limburg's vlaai here. The top flavours include plum, strawberry and peach.
End your days by enjoying a few nights in a hotel or B&B within the city centre. There are lots to choose from, but Hotel Les Charmes is recommended. They have beautifully designed rooms, great wifi, delicious breakfast and top service from the staff.
by Zoe from Together In Transit
Warsaw, a hidden gem in Poland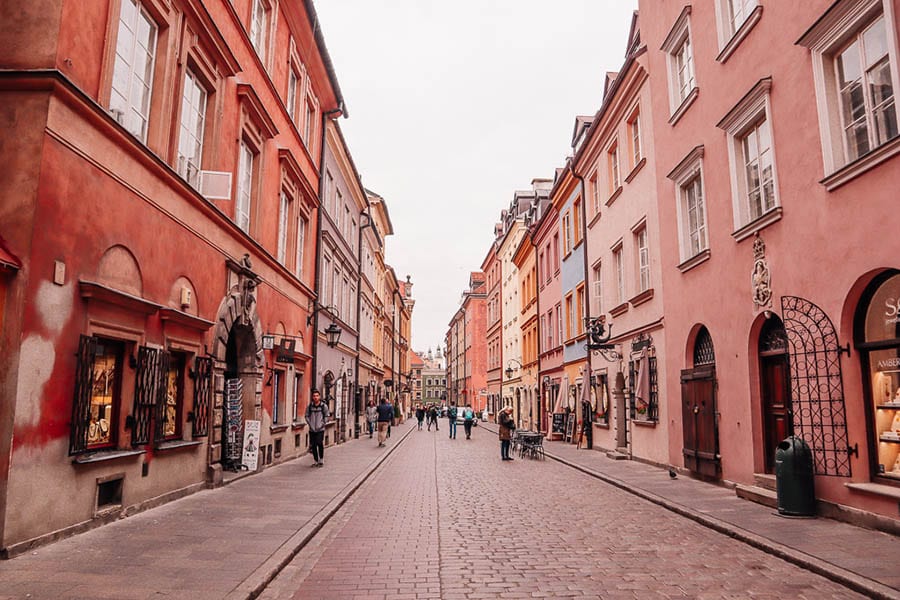 If you love cities that are both traditional and modern, you have to visit Warsaw, Poland. While you'll find pre-WWII buildings, history museums, and UNESCO World Heritage Sites, you'll also enjoy trendy cafes, shopping streets and malls, a buzzing nightlife scene, and colourful street art.
Some of the best things to do in this budget-friendly city include wandering through the Old Town, visiting the Uprising Museum, admiring the Wilanow Palace, and seeing the beautiful Warsaw University Library Garden. You can also add some unique experiences to your itinerary like the Pinball Museum, Miniature Park, and themed tours, including Jewish history, street art, Chopin, and communism walking tours.
Considering the weather in Poland, it may sound strange, but Warsaw can be visited almost all year long. From seasonal festivals in spring and summer to foliage in autumn to Christmas markets and out-of-this-world illuminated displays in early winter, Warsaw always has something to offer.
Though you can easily fill up an itinerary of 4-5 days in Warsaw, you can also take some day trips to Żelazowa Wola (Frédéric Chopin's birthplace), Malbork Castle (the largest castle in the world!), or the city of Lublin.
Stay centrally at Hotel Chmielna, which is located right next to one of Warsaw's main streets, Nowy Świat.
By Or from My Path in the World
Wroclaw, a hidden gem in Poland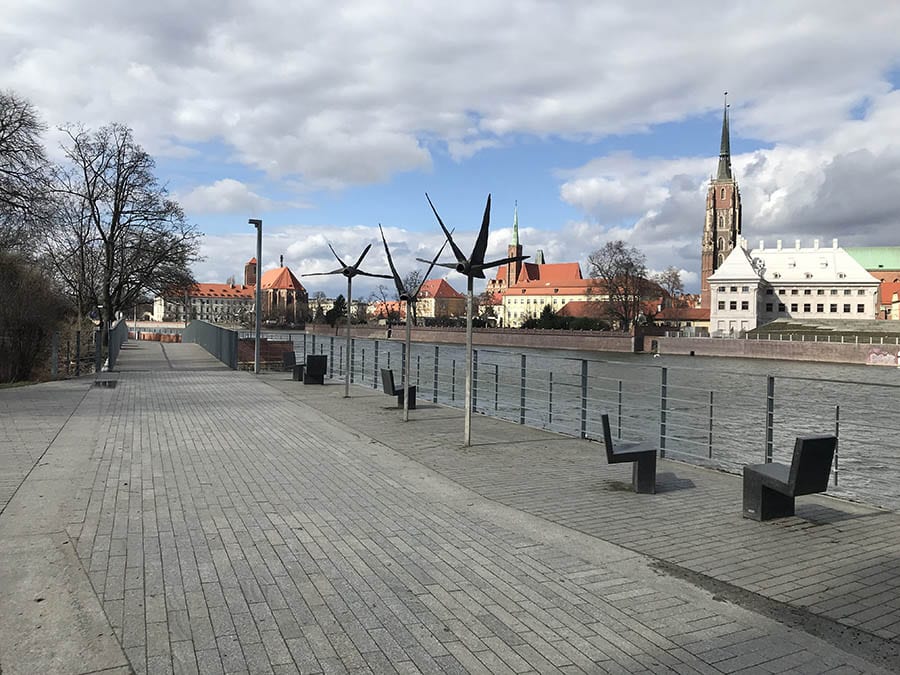 Wroclaw is the capital of the Lower Silesia region, and one of the top-visited cities in Poland. It stretches along the banks of the Odra river, connected with 133 bridges. It's better to plan your stay for at least 2-3 days, as the amount of attractions is just impressive. While some of them are located within a walking distance from the centre, you can easily travel around the city by tram, bus, taxi, or rent a bicycle/scooter (much recommended).
Wroclaw is great to visit all year round! A must-see list of places includes:
Ostrów Tumski (Cathedral Island). It's one of the most romantic places, it gets absolutely gorgeous after the sunset when the lamplighter walks through the island and turns on the street gas lamps.
Market Square. Located in the very centre, Market Square is surrounded by beautiful old houses, each of them has unique decor and colours.
Dwarfs. Wroclaw is home to more than 350 dwarfs, and searching for them is a real adventure. Get a copy of the dwarfs' map in the tourist Information Centre, and see how many you can find yourself!
Bridge of Penitents in Mary Magdalene church. A narrow staircase takes you to the top (around 300 stairs), and then you'll be rewarded with the best 360-degree views of the old town. Totally worth the climb.
Centennial Hall + Japanese garden. Located close to each other, these attractions are great for a tranquil walk on a sunny day.
by Leslie from Backland Thailand
Ghent, a hidden gem in Belgium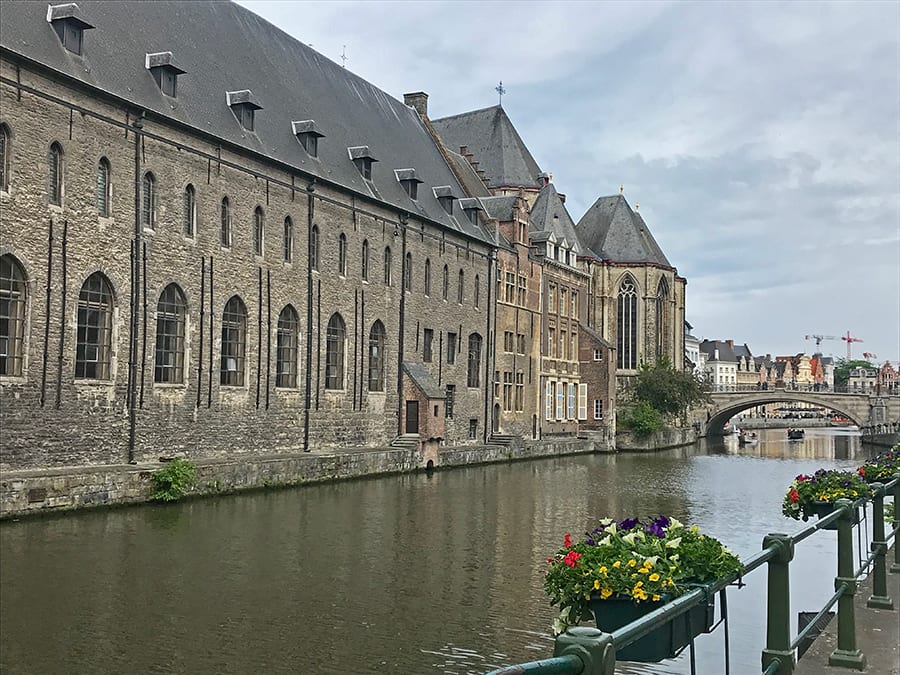 The second-largest city in Belgium, Ghent is often overlooked by visitors in favour of picturesque Bruges or bustling Brussels. And that's precisely what makes it a great place to visit—Ghent doesn't feel like it's packed with tourists.
This university city is full of young people who keep its nightlife scene, music, and art communities thriving. All of this exists alongside the historic center, which is packed with buildings that date back 500 years or more. The combination means that Ghent is filled with lots of fun things to see and do.
The most popular attractions in Ghent are the three towers—the Church of St. Nicholas, St. Bavo's Cathedral, and the Belfry. All three can be reached in a 5-minute walk and are open to visitors. St. Bavo's is the home of the 600-year-old work The Adoration of the Mystic Lamb, which has been called the most important painting in art history. Nearby, the Belfry provides incredible views over the city.
Beyond the historic sites, don't miss the street art and food scenes. There are street art murals around the city, and the graffiti alley on Werregarenstraat is an interesting spot to see some works. For food, head to the Patershol, one of the city's trendiest neighborhoods that is full of good restaurants.
To easily see the city, consider a stay at the centrally located Ghent Marriott Hotel.
by Laura from Travel Addicts
Tbilisi, a hidden gem in Georgia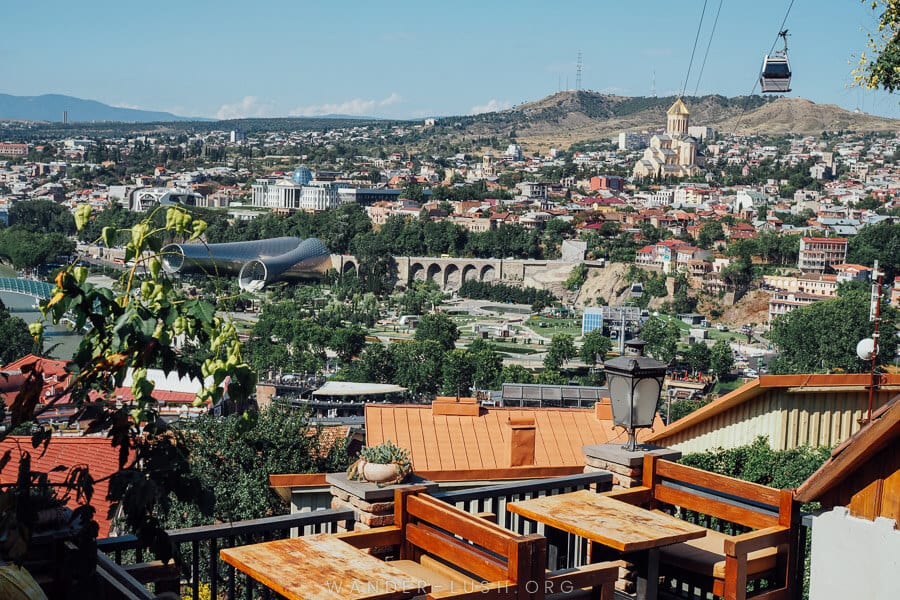 Once a pit-stop on the Ancient Silk Road, Tbilisi, capital of Georgia in the Caucasus, is one of the most intriguing cities in Europe. Despite soaring in popularity in recent years, it's still a hidden gem that's lesser-known to tourists from outside the region.
Tbilisi oozes with character and charm, from the winding streets of the Old Town to the Soviet-style neighbourhoods and the pockets of modern architecture. Georgia is known for being the birthplace of wine (the oldest archaeological evidence of winemaking was unearthed in the country's south), and there are plenty of bars in Tbilisi where you can sample the goods – some with city views. One of Tbilisi's best-kept secrets is its fantastic restaurant scene.
Georgian cuisine is extremely varied and full of spice and flavour, with many dishes such as Pkhali naturally vegetarian-friendly. Others including famous Khinkali 'soup dumplings' are meaty and hearty. You could eat out every night in Tbilisi for a year and never run out of new places to try! Salobie Bia, Shavi Lomi, Culinarium and Shemomechama are among the must-visits.
Aside from eating and drinking to your heart's content, other must-dos in Tbilisi including soaking in the Abanotubani sulfur baths, Persian-style subterranean baths that offer guests plush private rooms and reinvigorating scrub treatments; hiking in the hills for city views; visiting the museums (including the Soviet Occupation Hall inside the National Museum); and shopping at the Dry Bridge Market, a daily flea bazaar where you can find all sorts of antiques and knickknacks.
One of the best places to stay in Tbilisi no matter your budget is Fabrika Hostel & Suites. This multi-purpose creative space offers dorms and private rooms alongside restaurants, boutiques and a courtyard area that hosts regular events.
by Emily from Wander Lush
Špania Dolina, a hidden gem in Slovakia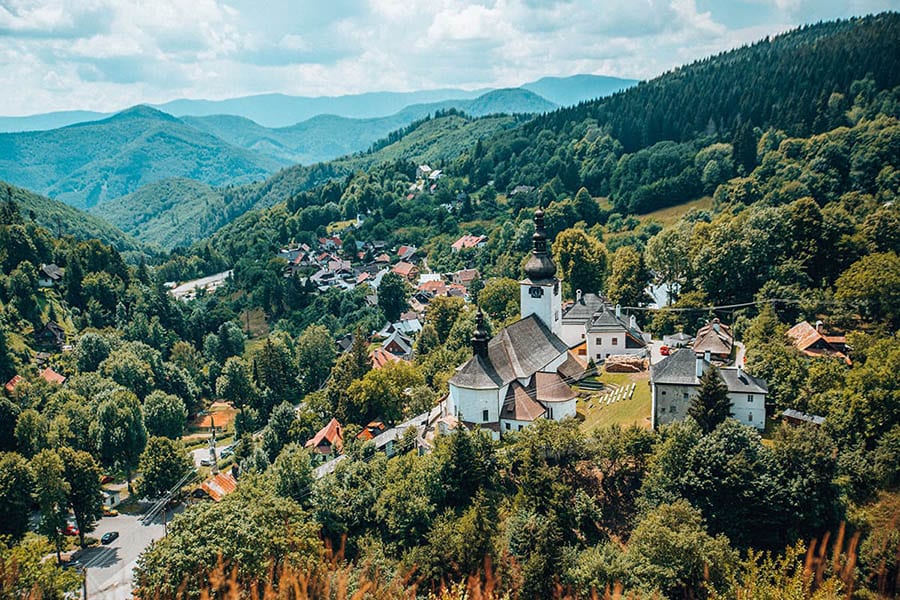 Slovakia is not often visited by international tourists, and most people only stop by the capital of Bratislava (usually as a day trip from Vienna). However, nestled in the hills of central Slovakia is a former mining town called Špania Dolina, and it is definitely one of the best hidden gems in the country and in Europe as a whole.
Špania Dolina is an amazing place to go for a casual and relaxing short hike. It's easily reachable from Bratislava by car — the driving time is around 2 hours, so it's a great day trip to take from the capital city. The best part about visiting this small town is that it's still quite untouched and you won't see too many tourists.
As mentioned before, the main thing to do in Špania Dolina is to follow the hiking paths that take you to beautiful viewpoints, where you can get an incredible view of the whole town. The hike will take roughly 1-2 hours in total and will take you through some very pretty and peaceful forests. The view from the lookout points is absolutely breathtaking. Be sure to bring good camera gear, such as some wide-angle lenses for Sony a7III, to capture the postcard-worthy panorama.
At the end of the trail, you can also enjoy a drink and a mini mining exhibition at a cafe by the parking lot. You can also admire some of the traditional mining houses that still stand in this historic town today.
by Jiayi from The Diary of a Nomad
Ljubljana, a hidden gem in Slovenia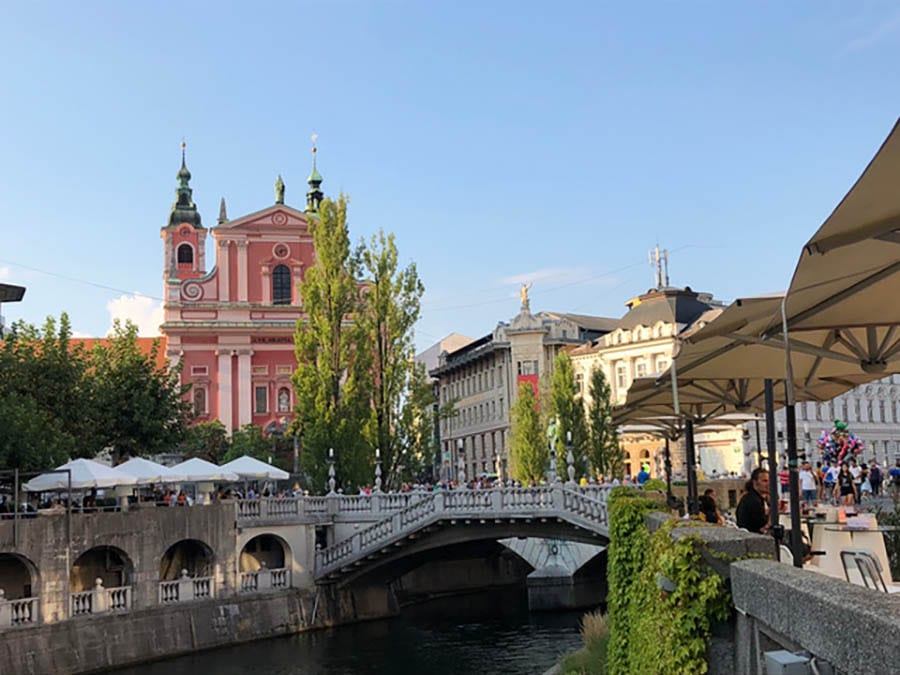 Slovenia is a beautiful country in central Europe that includes 46 km of coast along the Adriatic Sea, and breathtaking mountains next to Italy and Austria. One of the main reasons you should visit Slovenia is to spend time in the capital, Ljubljana, in particular Ljubljana Old Town.
Ljubljana Old Town is a large exquisite historical district with pedestrian-only walking zones along cobblestone streets. You can find small pretty boutique hotels along these paths that offer elegant rooms and old world charm.
There are lots of things to do and see here, from eating and drinking at amazing coffee shops, bars and restaurants scattered throughout, to some serious wallet cleansing shopping along the way. For sightseeing, you should visit Ljubljana Castle which sits perched over top of Ljubljana Old Town. It was built in the 12th Century as a medieval fortress but has been restored and renovated to not only include museums but also a restaurant. You can walk or take the gondola up to the castle. For a special end to any day, consider watching the sunset over Ljubljana from here.
Ljubljana is also known for its street art. Walking tours will take you from Ljubljana Old Town to cool funky areas, like Metelkova which was created by squatters. Along the way, you learn about the modern history of Slovenia, including the war in the late 20th Century, which is fascinating to hear.
by Nicole from Go Far Grow Close
Kranjska Gora, a hidden gem in Slovenia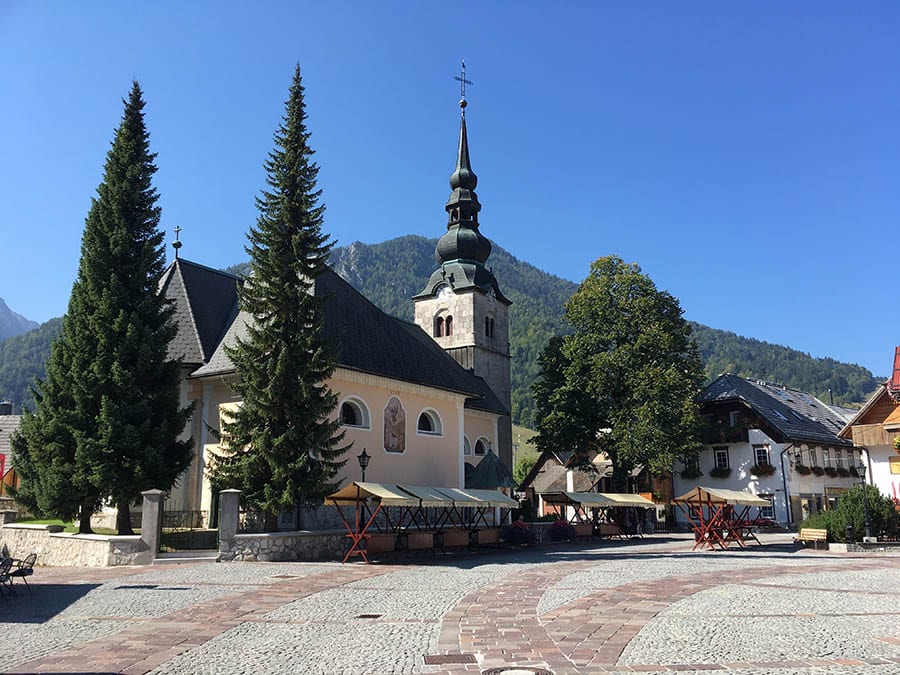 Kranjska Gora is a world-class ski destination and one of the many jewels of the Slovenian mountains, which luckily can be enjoyed in every season. Apart from skiing, there are many other outdoor sports activities you can do in both winter (ice-skating, ice-climbing, sledging) and summer (hiking, rafting, biking, rock climbing).
For culture enthusiasts, a small local museum and many historic sites and castles nearby ensure a full itinerary. Located in the Triglav National Park, in an idyllic landscape with plenty of water bodies and traditional settlements on the backdrop of the Julian Alps, Kranjska Gora is also an ideal base to explore the entire area, from Bled to the breathtaking Vrsic Pass.
For those who prefer day trips nearby, there are plenty of walking trails of all difficulties that are very well marked, like the one leading along the picturesque Vrata valley. Families with children will also find different outdoor entertainment options to appeal to their younger members.
There are plenty of accommodation options available, from hotel chains like the Best Western and Ramada to guest houses, the locals are friendly and welcoming, while food options are organic, varied, and always locally produced and prepared. Some hotels even offer a breakfast plus dinner package which is a great option to consider if you are enjoying the outdoors the whole day and would like to turn in early.
by Anca from Dream, Book, and Travel
Lake Skadar, a hidden gem in Montenegro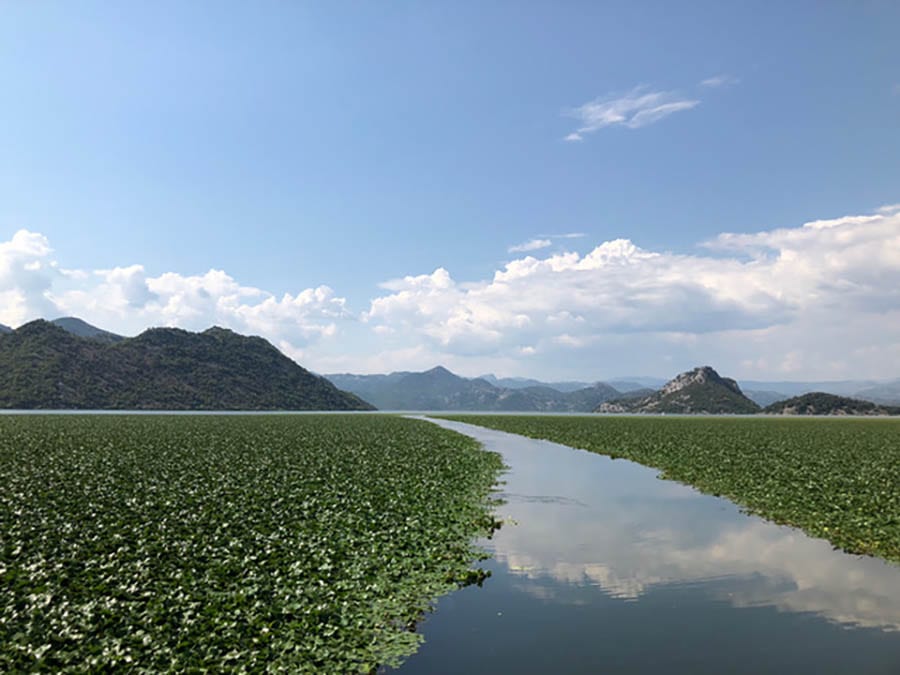 Montenegro is a small country in Central Europe that has been blessed with staggeringly beautiful mountains that seem to dive into equally beautiful lakes or the Adriatic Sea. You can spend your time exploring medieval villages, lounging on beaches, or exploring countless national parks. If you choose to explore, then you should make sure Lake Skadar National Park is on your list.
Lake Skadar is only 65 km from Kotor but with only local roads in certain parts and lots of traffic, it could take you as much as 90 minutes to drive one way. However, for most of the drive, the scenery is stunning – you overlook the Adriatic Sea and seaside towns high atop mountain roads.
Lake Skadar is a lake shared by Montenegro and Albania. It is the largest lake in Southern Europe and has the largest bird reserve in Europe. One of the best things to do at Lake Skadar is to take a private one hour cruise. You can easily book that once you get to the town of Virapazar. On the cruise, you glide through thousands of lily pads and by uninhabited islands. There are ruins scattered throughout that were once monasteries, churches, old villages, and fortresses, some of which are thousands of years old. If you have more time, you can rent bikes or hike around some of these islands, and of course, swim.
It is a perfect day trip, or you could easily spend a couple of days enjoying this beautiful part of Montenegro.
by Nicole from Go Far Grow Close
Kiev, a hidden gem in Ukraine
Are you interested in architecture – modern and traditional, love food and street art? Then Kiev is the city you should put onto your bucket list next!
The Ukrainian capital is a city full of contrasts and definitely an underrated city. Located in the Eastern Europe on the border to Russia and Belarus Kiev is a hidden gem in many ways.
Panel constructions and an architectural style called "Soviet Brutalism" dominate the cityscape alternating with magnificent churches and cathedrals. Kiev is not only a city of contrasts but also a city of superlatives. Did you know Kiev is home to the world's deepest metro station?
There are several great reasons why you should visit the Ukrainian capital. When visiting Kiev make sure to check out Castle Hill. From there you have a beautiful view of the colourful houses in Vozdvyzhenka District. Andriivska Church and St. Michael´s Golden Domed Cathedral are both indeed impressive buildings that you should definitely include in your sightseeing tour.
Kiev is a creative city as well. You can find lots of impressive street art around every corner. The Children Landscape Park Peizazhna Alley for sure is a playground not only for kids. Kiev is full of colourful flower-, flea- and food markets. So make sure to leave some space in your itinerary to stroll around and enjoy the Ukrainian capital with all senses.
by Stephanie from Smile 4 Travel
Kamianets-Podilskyi, a hidden gem in Ukraine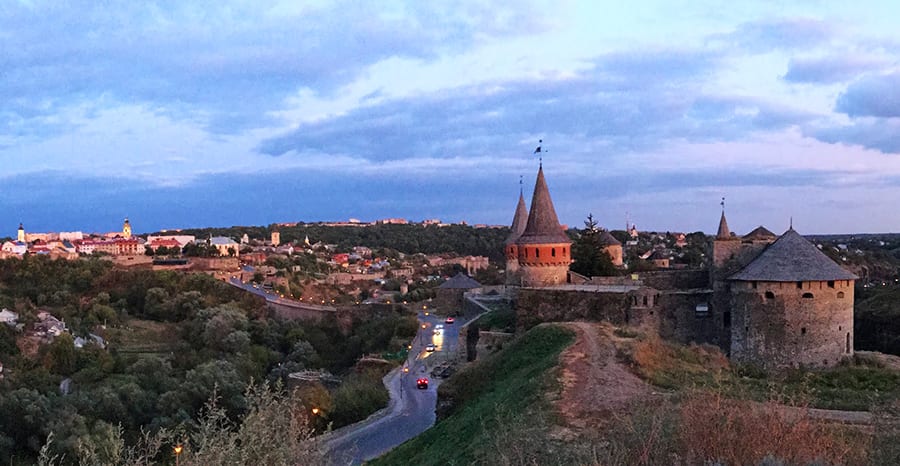 Kamianets-Podilskyi is often overlooked, given its remote location in southwest Ukraine. For those seeking adventure off the beaten path, this historic hotspot (which dates to the 11th century) features a medieval fortress, an open-air museum, and several notable festivals.
As you cross over the Smotrych River towards the old city, Stara Fortetsya (the old fortress) comes into view. One of Ukraine's Seven Wonders, this landmark is a visual reminder of the nation's turbulent history—occupied at various times by Lithuanians, Poles, Turks, Armenians, Jews, Russians and Ukrainians. Despite this, residents now celebrate their diverse heritage each year with the International Festival of National Cultures. A virtual melting pot, locals even nicknamed it the "City of Seven Cultures."
Just outside the fortress, across the cobblestone streets, you'll find a Museum of Miniatures, featuring sixteen [miniature] castles of Ukraine. The perfect pit stop for travellers on a tight schedule. Oddly enough, following your self-guided tour, this is also where you can purchase tickets to zipline over Smotrichsky Canyon or bungee jump off Strimka Lan, the highest bridge in all of Ukraine.
If the adrenaline rush is too much for you, visit in May or October when the city hosts their bi-annual ballooning festival. Or try September for the Republica music and arts festival. It moved to Kamianets-Podilsky in 2018 and now draws a global crowd. Regardless of how you spend your time, be sure to end your visit at Kava Vid Politsmeystera for traditional Ukrainian fare and ambience you won't soon forget. Smachnoho!
by Amanda from Travel Nitch
Nicosia, a hidden gem in Cyprus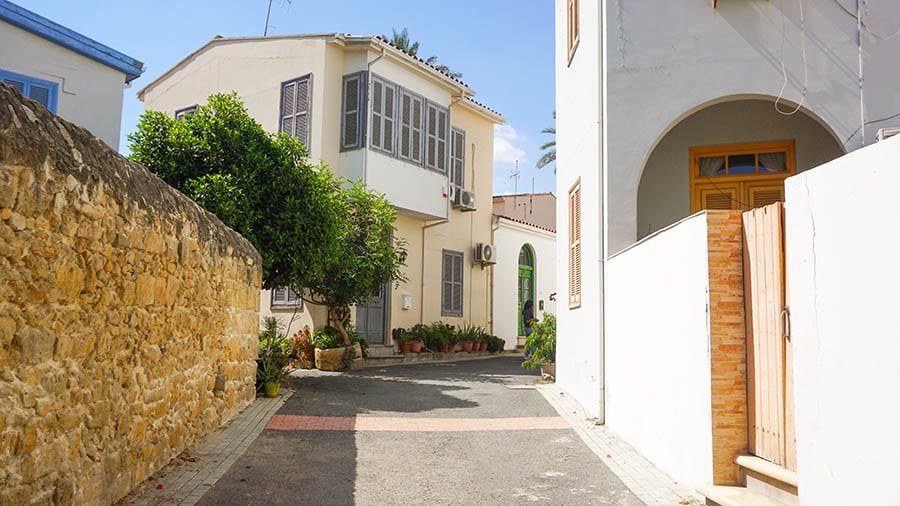 Cyprus is a popular summer destination for its pristine beaches and hot weather. Tourists fill the seaside towns of the island and leave the only inland city, which is also the capital of the island, largely unexplored. This is Nicosia, known for its long and trembling history and unfortunately, for being the last divided capital city in Europe.
Despite that, there is still plenty of things to enjoy in Nicosia, most of which can be found within the old town. The old town can be defined as the area within the old defensive walls that the Venetians built in the 16th century. There, you can walk in the tranquil streets of the city full of old mansions, or visit some of its museums, like the Leventis Municipal Museum of Nicosia and the Cyprus Folk Art Museum.
For some casual dining and shopping head to the central streets of Ledras and Onasagorou and blend in with the locals who are out for their daily walk and coffee. Both streets start at the recently renovated Eleftheria Square and finish at the Green Line, the border crossing to the occupied site of Nicosia.
Outside the old town walls, but still only a short distance from there you can find the Cyprus Archaeological Museum and the A.G. Leventis Gallery.
In terms of accommodation, you can stay at one of the central hotels of Nicosia, such as the Centrum Hotel and Cleopatra Hotel, while for a luxury stay you can choose the Landmark Nicosia.
by Elina from Empnefsys & Travel
Tartu, a hidden gem in Southern Estonia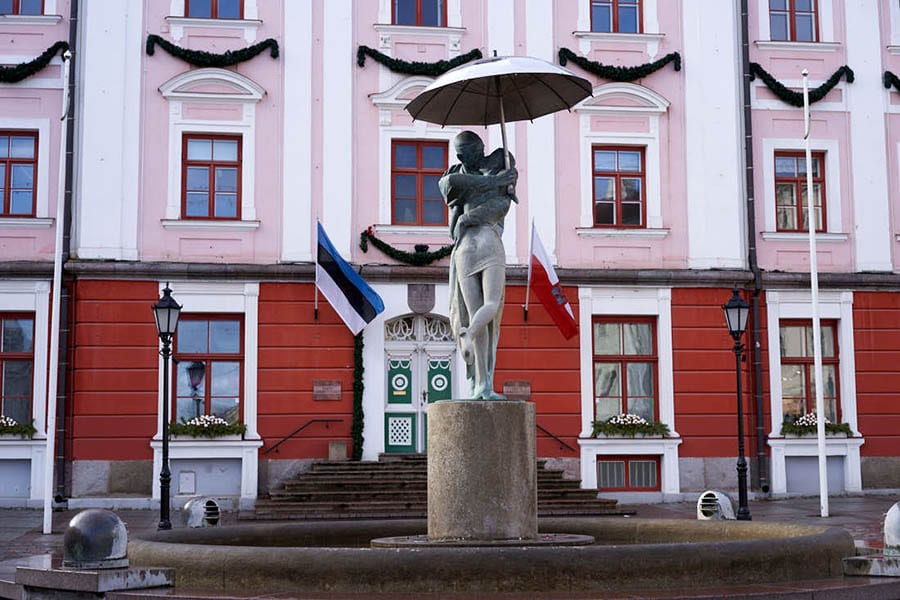 Many travellers visit Tallinn, but only a few people make it to Tartu.
Tartu is a cute university town in Southern Estonia, only two and a half hours away from Tallinn. Coming here allows you to escape the crowds and learn a few interesting facts about Estonia.
In Tartu, Friedrich Georg Wilhelm von Struve was the first person in the world to calculate the exact size and shape of Earth. He measured the length of a meridian by using a chain of survey triangulations from the Black Sea to Norway but then performed most of his calculations in Estonia. You can visit his observatory on the top of Toome Hill, where you will learn more about Struve and his work.
Besides exploring the observatory, one of the best things to do in Tartu is to walk around the Old Town. Near Town Hall Square, you can discover many historic buildings, cafes and restaurants. Make sure to stop by the Kissing Students fountain. The legend says that it's good luck for newlyweds to visit the fountain, but even those who did not get married recently will find it interesting to see.
Another fascinating sight in the Old Town is St John's Church. With its red bricks, it already looks unusual from the outside. When you go inside, you can then discover almost 1.000 terracotta sculptures!
Last, make sure to climb to the top of the church tower to see the Old Town from above.
by Daniel & Ilona from Top Travel Sights
Lagos, a hidden gem in Portugal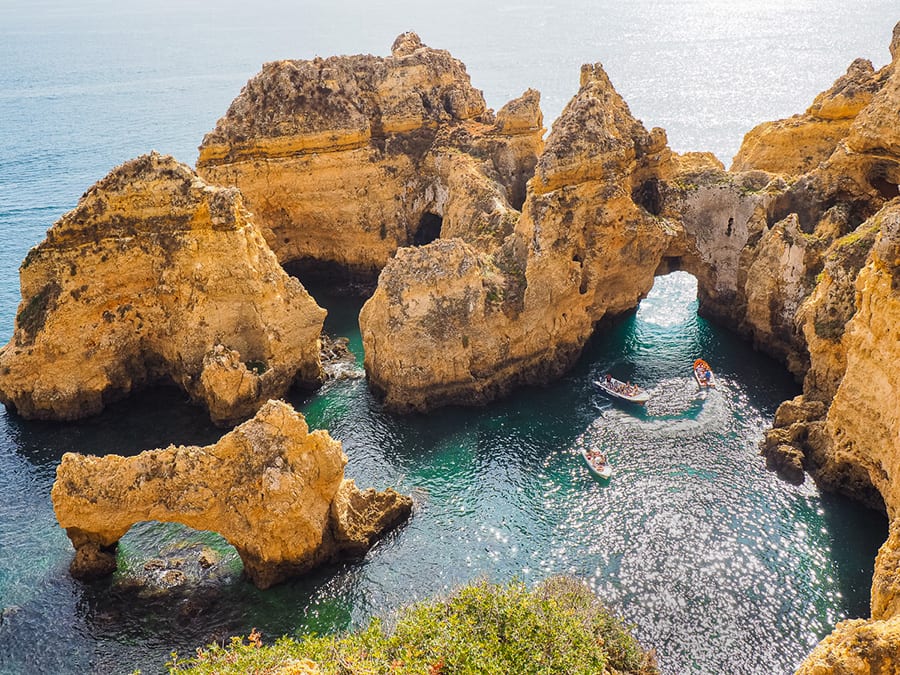 Located in Portugal's southernmost area, the Algarve, you find the beautiful Lagos, mainly known for the stunning golden beaches and epic rock formations, like Ponta da Piedade.
The best way to admire the stunning cliffs and hidden caves is to get out on the water. You can take a guided boat tour and may even be lucky to spot some dolphins on your ride or rent a kayak or SUP on your own to paddle to some hidden beaches and coves along the coast.
Visiting some famous beaches like Praia de Dona Ana, Meia Praia or Praia do Camilo should be on everyone's bucket list. It takes little effort to climb down the 200 steps to get Praia do Camilo, but you will get rewarded with calm turquoise waters and the opportunity to explore even more natural tunnels and secluded coves.
Lagos' main attraction is the breathtaking natural beauty but the charming town is worth visiting too. Stroll around the cobblestone streets in old Lagos, enjoy the delicious seafood, and admire the church Igreja de Santo António, the old fort Forte da Ponta da Bandeira, and the marina.
The town offers a lot of exclusive hotels and romantic wellness resorts in close proximity to the beach, like the Villa Zawaia B&B. But even the budget traveller will find affordable accommodations with great value.
by Rachel and Dana from Traveling Found Love
Gjirokastra, a hidden gem in Albania
A visit to the Albanian mountain town of Gjirokastra is like stepping back in time- to when the Ottoman Empire was at its most powerful. It's also really, really pretty. Nestled on a mountainside overlooking a wide valley, not far from the stunning Albanian Riviera, Gjirokastra makes an easy day trip either from there or from the Greek island of Corfu. (Or even better, stay for at least a night. Waking up to sunrise over the Albanian mountains as the call to prayer echoes around is quite magical.)
The main draw to Gjirokastra is the Old Bazaar, whether you're a big shopper or not. This UNESCO World Heritage Sight is a criss-cross of cobblestone lanes lined with shops selling colourful carpets, oil lamps and exceedingly strong coffee. There are several Ottoman houses around the town open to the public, like the stunning Zekate House. This beautiful beamed building was built in 1811 and is filled with stunning wooden carvings and stained glass windows. Albanian mountain-chic, eat your heart out.
High above the Old Town is the incredible Gjirokastra Fortress, a 12th century citadel which also (somewhat bizarrely) houses the shell of a World War II fighter plane. No-one really knows how it got there, although there are plenty of theories, and it definitely makes for a brilliant photo. The best time to reach the top of the castle is in time for sunset- the view from up here is nothing short of spectacular.
by Alex from Alex Getting Lost
Luxembourg, the whole country is a hidden gem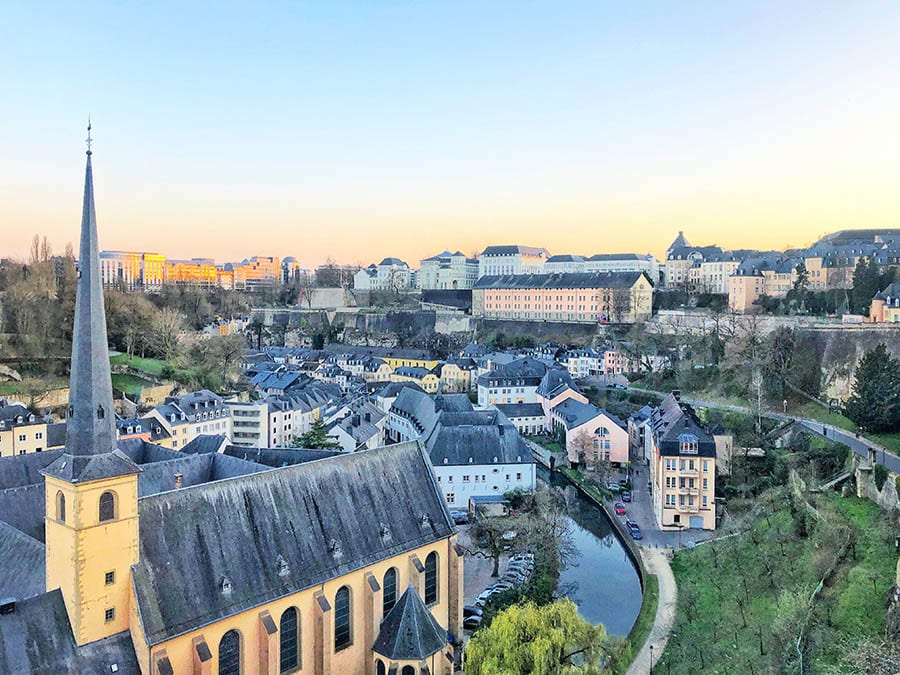 The only Grand Duchy in the world might not be on the travel agenda of many people, but most of the people visiting it will agree that surprised them in many ways. From rich history, you can dive in walking through the Museum mile, getting lost in the tunnels of the UNESCO World Heritage Site of the Bock Casemates to driving in the countryside for a tour of Lucilinburhuc. A word after which Luxembourg name comes from means the little fortress. And this is no wonder as the tiny nation is home to gazillion castles.
Coming for a day, you should focus on discovering the richness of the city centre: Place de la Constitution with the gorgeous Monument of Remembrance also known as the Golden Lady, the Notre Dame Cathedral in its Gothic architecture, Palace of Grand Dukes with the exchange of guards, the Luxembourg City Museum, the National Museum of Art and History, Place Guillaume II, Casemates du Bock, Chemin de la Corniche and Grund with Neumünster Abbey.
Driving to the countryside, the most beautiful attractions are Little Switzerland in the heart of Mullerthal, Vianden castle, Echternach town and its lake, Clervaux, Esch-Sur-Sure, Beaufort Castle and the wine region of Moiselle. You can find more details and posse day trips you can find here.
Visiting Luxembourg for more than a day you can stay in one of the many hotels (moderate price: Melia, Novotel or Hotel Park Belle Vue, luxury: Sofitel, Le pLace d'Armes Hotel, Le Royal Hotels & Resorts). There is only one hostel, Youth Hostel Luxembourg City.
by Tjaša from The Travel Momento
Giethoorn, a hidden gem in The Netherlands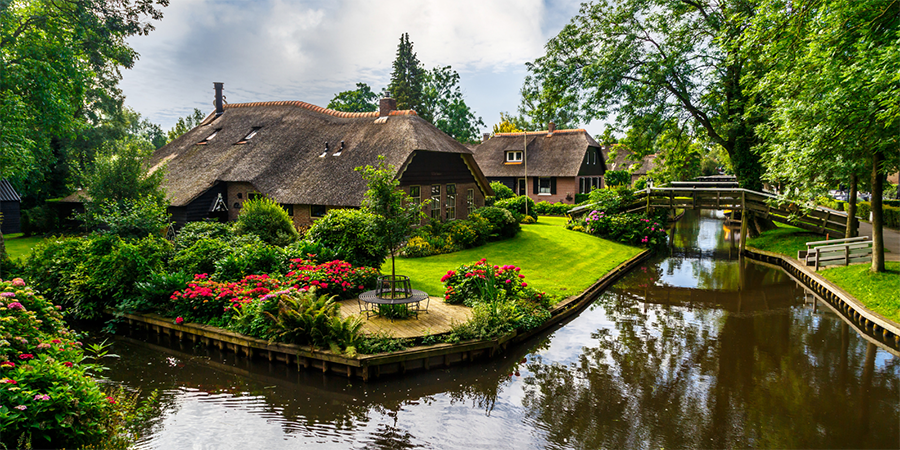 Giethoorn is considered by many as "Venice of the Netherlands". Located in Overijssel province, it is one of the best hidden gems in the Netherlands. Giethoorn offers a lovely trip to how life was meant to live – in complete peace, away from the hustle and bustle of the city. Visit Giethoorn for the sights, the people, and the serenity.
Sights
Come and see thatched-roof houses, cottages, and picturesque wooden bridges, as well as medieval museums, churches, parks, and cafés. This enchanting village is surrounded by lakes, reed beds, farms, and forests. It is nature at its best, offering a type of tourism not available elsewhere in the world.
The most popular landmarks within the village are De Oude Aarde Museum, Olde Maat Uus Museum, Michelin-starred restaurants, historic buildings, old churches, and ancient castles. Also popular are the nearby De Weerribben-Wieden National Park and the old Zuiderzee towns as Vollenhove and Blokzijl.
People
The people of Giethoorn are friendly and welcoming, willing to share the peaceful life they enjoy with everyone. Cars and motorised vehicles are not allowed inside the village. Giethoorn is best enjoyed walking, cycling, or taking a ride on a punter, traditional narrow Giethoorn boat pushed along using a long pole by a punteraar.
Serenity
Tourists from all over the world are attracted to Giethoorn for the peace and bliss it has to offer. The serenity is disturbed only by the sound of chirping birds, swooshing canal waters, and cheerful people. Also, winter in Giethoorn is what dreams are made of.
by Angelie from Ask the Dutch Guy
Telč, a hidden gem in the Czech Republic
Telč is a small fairytale-like town in Vysočina region. Telč's main square is part of the UNESCO World Heritage sites and it is one of the beautiful places to visit in the Czech Republic. Imagine colourful historic houses with high gables and arcades build in a Renaissance and Baroque style where you can find lovely cafes, galleries, and tiny shops. It's an ideal destination for everyone who wants to escape the city rush and enjoy the atmosphere of the lovely historic town.
There is also a lovely Renaissance chateau from the 17th century with an English-style park which is one of the gems of Moravian Renaissance architecture. Chateau's façade is decorated with beautiful sgraffito technique, which can be found also on other buildings in town. The original Gothic castle was rebuilt by Zachariáš of Hradec in 1533 and it is inspired by the Italian Renaissance style. In general, houses and buildings in Telč, are characterized by a diversity of decorative elements.
Besides the romantic walks around the historical centre, there are other activities that you can do in your free time like cycling, rope courses, technical museum, nearby steam mill, reconstructed underground of Telč, and more. The easiest way to get to Telč from Prague is by train or bus.
by Adriana from Czech the World
Valetta, a hidden gem in Malta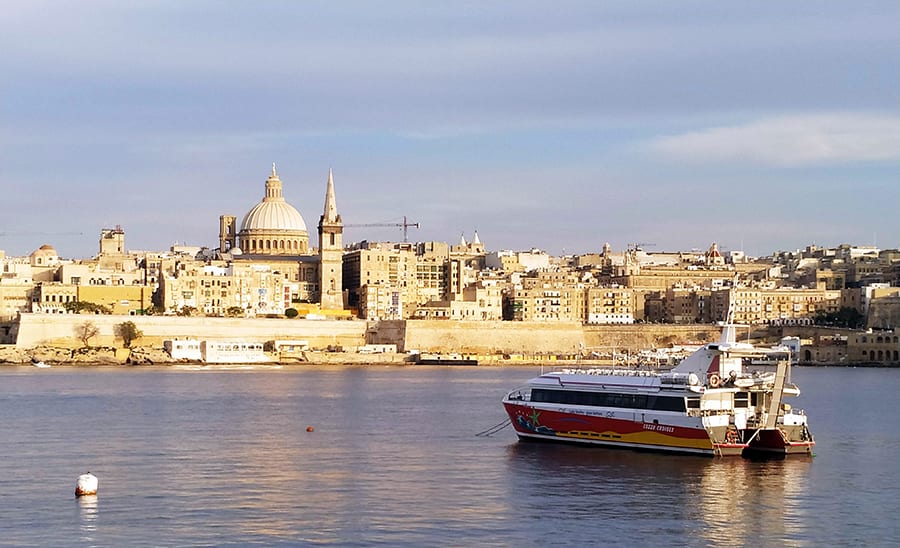 Malta is a small archipelago in the centre of the Mediterranean, just below Sicily and Valletta is its capital city. Valletta is a UNESCO world heritage site and was built entirely in the 1500s by the Knights of St. John, a Roman Catholic order. This gives the walled city its ornate baroque architecture as well as many beautiful churches, palaces and museums to explore.
Valletta is a dream to explore by foot with it's long peninsula offering sea views to harbours on both sides and pedestrian streets lined with cafes and vernacular architecture. St. John's Co-Cathedral is the main attraction with its opulent interior and houses a Caravaggio painting, while the upper and lower Barrakka gardens are scenic spots to enjoy views and watch the cannons fire everyday at noon.
However Valletta is also the perfect jumping off point for exploring the whole island of Malta. As you can walk around and see most of the attractions in the capital in one day, the rest of your trip can be spent on the beach, boat tours, hiking or exploring other ancient architecture and artifacts throughout the island.
Malta is very hot so the best time to visit is in spring and autumn when temperatures still feel like summer and there are less tourists.
by Adriana from Tara's Travels
Riga, a hidden gem in Latvia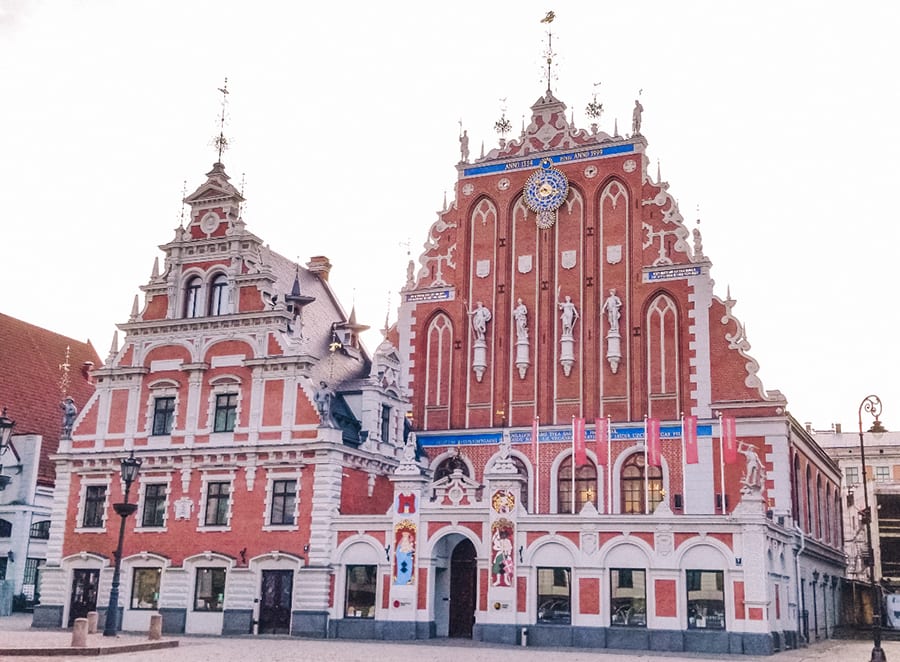 Riga, Latvia is one of the best hidden gems in Europe. Located in the Baltics between Estonia and Lithuania, this lively capital city is emerging as a hotspot for its art, restaurant, and craft beer scenes.
Visitors to Riga will want to start by touring the city's historic center to see some of the city's oldest buildings, some of which date all the way back to the medieval period. Located within walking to distance to each other are the Three Brothers, the House of the Black Heads, St. Peter's Church, and the Swedish Gate.
A few short blocks outside the historic center is Riga's famous Art Nouveau District. The city is home to the largest concentration of Art Nouveau architecture in the world making it an important piece of Riga's history and identity.
In addition to its colourful architecture, the city's art scene is one of the hottest in Europe. New galleries are opening up across the city on a regular basis featuring young local artists in a variety of mediums.
In the evenings, check out one of Riga's many trendy restaurants. The city is known to be home to a talented group of local chefs. Stop into Restaurant 3 for the ultimate local dining experience featuring fresh, local ingredients sourced from the nearby Riga Central Market.
End your night at any of the city's many local craft breweries in the Riga Beer District. Here you'll find several breweries from which to sample flights of the city's best craft beers.
by Eden from Rock a Little Travel
Madeira, a hidden gem in the Atlantic Ocean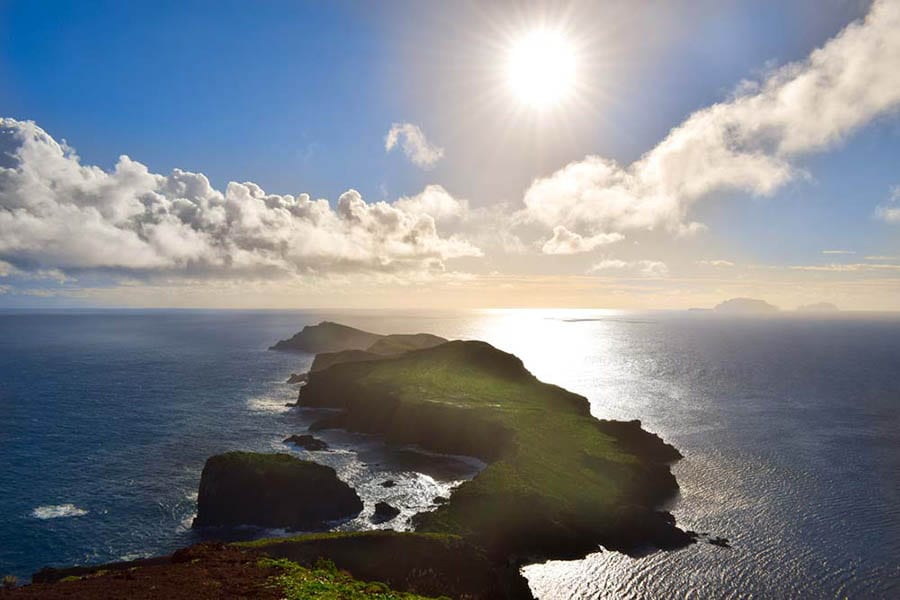 The island of Madeira is set deep into the Atlantic Ocean exactly opposite Africa, which makes it a desired winter destination by many. Madeira island is known mainly for its perfect weather, beautiful tropical nature and delicious food. On top of that, the island has a lot to offer when it comes to various activities.
Whether you are an avid hiker or just want to chill by the beach, Madeira islands has it all. Some of the most famous hiking trails in Madeira island are the hiking trail to Pico Ruivo, Levada das 25 Fontes and Ponta de Sao Lourenco.
However, if you are in for some sunbathing, there are plenty of options. The island of Madeira has lots of beaches and natural swimming pools to go to. Some of the best beaches in Madeira are Formosa and Calheta beach, which have the best golden sand on the island. When it comes to natural pools, it is best to visit the ones in Seixal and Porto Moniz.
In addition to that, the island has a lot of options when it comes to touring around. If you want to learn more about the island's creation you can check out the Caves in Sao Vicente or go to Santana theme park. Eventually, a tour around the capital of the island, Funchal, is always a good option. The city is quite vibrant and has a lot of stories to tell, including that of Christiano Ronaldo, who was born in Madeira.
by Alexandrina from EarthoSea
Corfu, a hidden gem in the Ionian Sea
Corfu is part of the Ionian Islands off the west coast of Greece. While it is not one of the biggest islands, it is one of the most popular. It is easy to get to as it has its own airport and can be reached by ferry from the surrounding islands.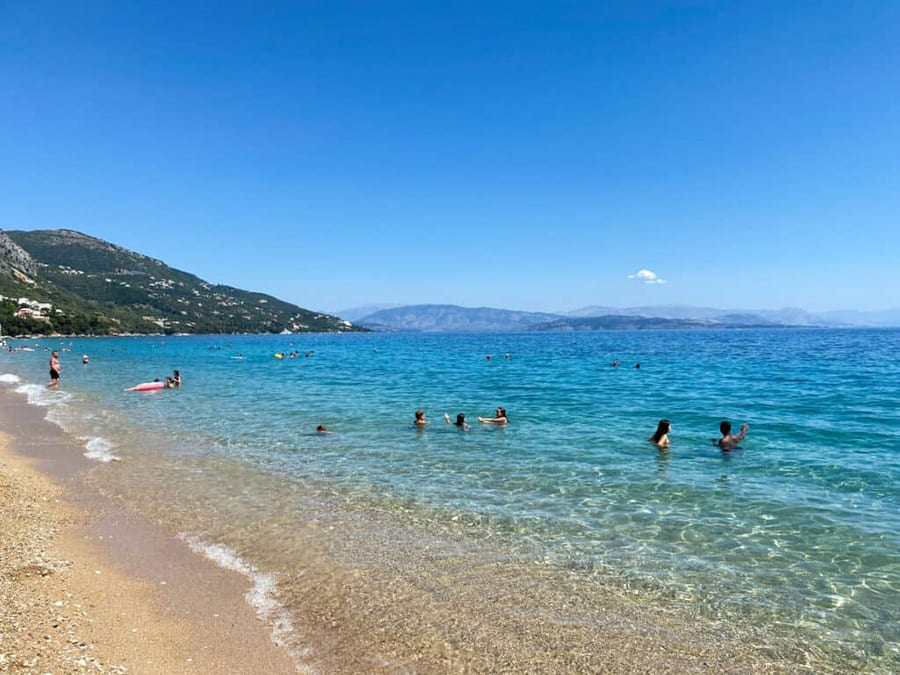 There are many reasons why people travel to Corfu. One of the most popular reasons is the pristine beaches. Many people come to Corfu to relax and it is perfect for families as well as couples. There are so many beaches that many visitors spend their time beach hopping. The sea surrounding the island is crystal clear which is a great contrast against the white pebble beaches.
It is difficult to narrow down things to do on the island, but the Old Town is definitely worth a visit. The cobbled streets and market stalls are a great place to buy souvenirs. There are many restaurants there too so when considering somewhere to stay, it should be within walking distance to the Old Town.
A chartered boat trip is another must in Corfu. Around the island, there are many private beaches. There are caves and private swimming spots too. The best thing about the trip is watching the sunset on the trip back to shore.
by Karen from Travel Mad Mum
---
I hope this post has inspired you to visit some of these amazing hidden gems around Europe and maybe seek out more places off the beaten path. Let me know which hidden gem is your favourite in the comments below!
Don't forget to pin this article so you can come back to it later