The trend for plant-based diets as people is growing, and with it, the number of vegan restaurants around the world has increased dramatically. A quick Google search will show you the nearest ones to you. Whether they are called plant-based or vegan, they offer the same delicious meat-free, dairy-free and animal-free food.
When you are travelling or visiting a new town or city how do you know where the best plant-based restaurants are? I asked some of my blogging friends for their recommendations for their favourite vegan restaurants around the world:
---
*This site uses affiliate links and I may earn a small commission when you use my links and make a purchase without incurring an additional fee yourself.
Thank you for supporting this website. See my disclaimer page for more details.
---
Enjoy some awesome Vegan Restaurants around the World
Amazing Vegan Restaurants in Asia
The SLOW, Mirissa, Sri Lanka
Recommended by Larch from The Silver Nomad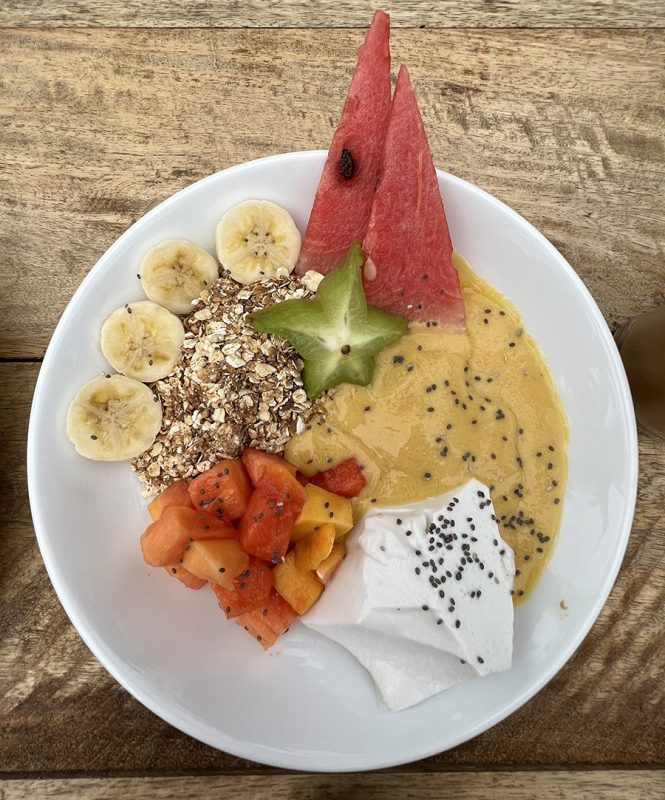 If you are visiting the south of Sri Lanka, you are in for a treat. Take yourself along to The SLOW in Mirissa.
Not only is it a stunning place to hang out right on the beach, but the food is amazing.
You can start off the day with avocado on toast with pickled onions; wholegrain pancakes with bananas or mango, or got for my favourite the "Nuts" smoothie bowl with fruit and divine coconut yoghurt.
Lunch and dinner you can keep it light with a mezze plate, bruschetta or a rainbow or vegan sushi Buddha bowl . For something more substantial try one of the three burgers – The Classic , The Beat or The Jack – pasta or Sri Lankan vegetable rice and curry.
The signature dish is a delicious Cauliflower Steak with a garlicy parsley sauce.
Sit at the tables along the beach or in the shade of the bar.
Ain Soph Soar, Tokyo, Japan
Recommended by Erika from Erika's Travelventures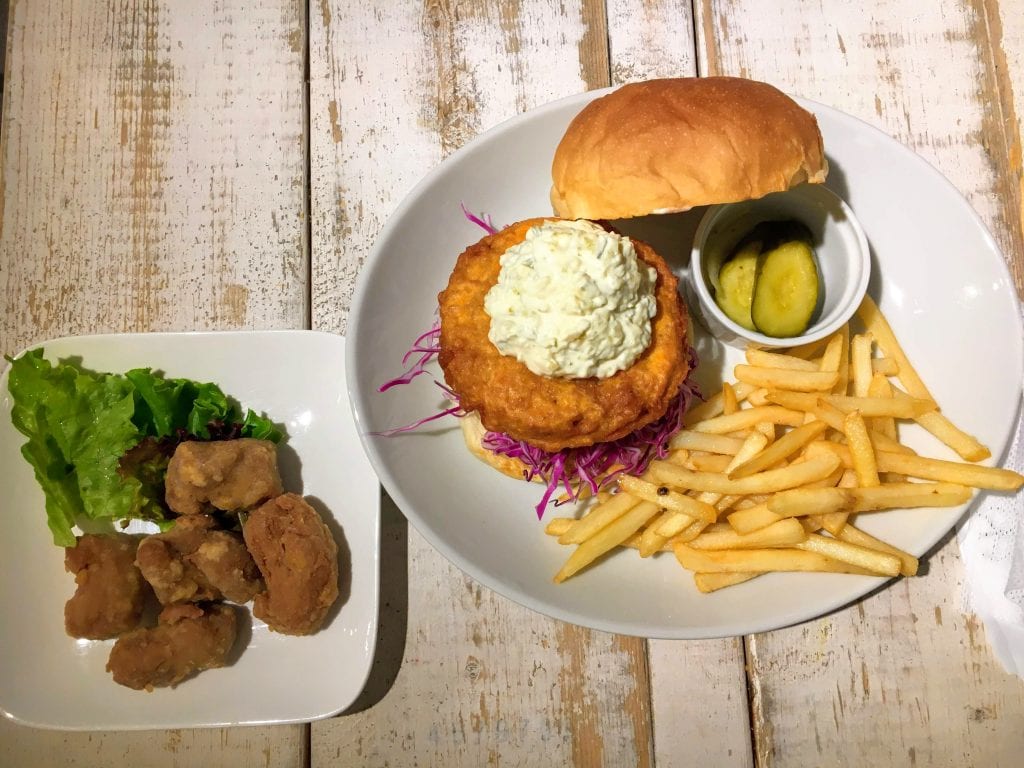 Traditional Japanese food is not vegan-friendly, so although Tokyo is foodie heaven, vegetarian and vegan visitors might find it difficult to find great places to eat. Ain Soph is the exception to this rule and should be added to any Tokyo itinerary whether you eat plant-based or not. The franchise owns a burger and tacos restaurant, Ain Soph Journey, in Shinjuku, and a high-end set menu restaurant, Ain Soph Ginza in the pricy Ginza neighbourhood.
Ain Soph Soar is located in the hip, young neighbourhood of Ikebukuro in northwestern Tokyo. The price point is in the middle of the Shinjuku and Ginza locations, so expect to spend around ¥2000 (~$18 USD) for a main dish plus a drink or a side. Its main food menu consists of vegan burgers, curries, and salads, plus a variety of sides. Although you'll be hard-pressed to finish a main AND a side by yourself, getting a side like the vegan karaage (Japanese-style fried chicken), is 100% worth the food baby at the end of your meal.
Ain Soph Soar also has an extensive dessert and drink menu too, plus lots of space in its cosy atmosphere, which makes it a perfect place for digital nomads or students to get some work done. Its dessert menu is also all vegan and includes soy-based parfaits, Japanese-style pudding, tiramisu, affogato, and gluten-free brownies.
Towzen Ramen in Kyoto, Japan
Recommended by Wendy of The Nomadic Vegan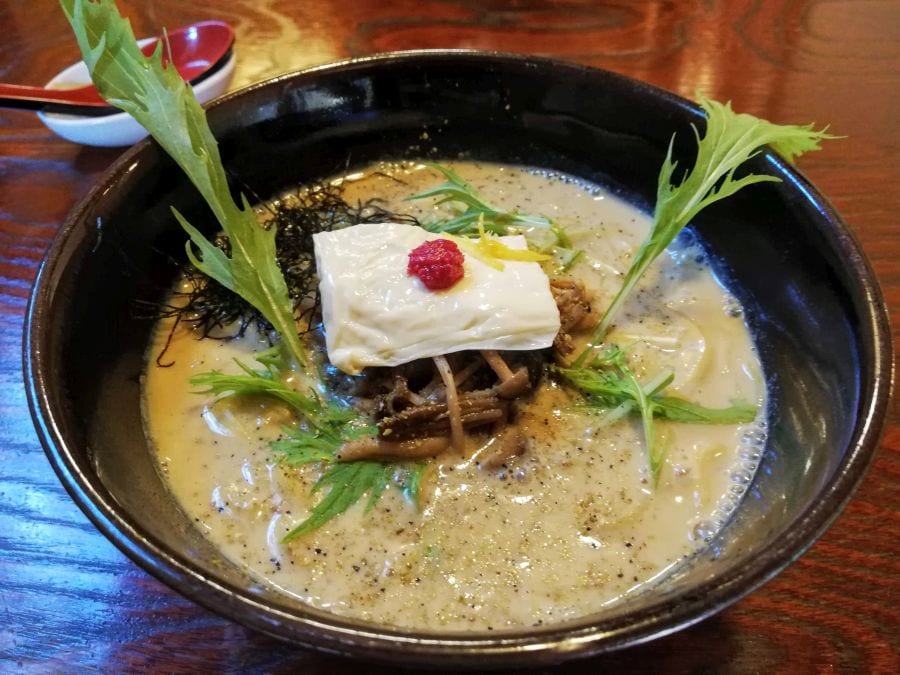 Most ramen in Japan is not vegan, as the broth usually contains animal products even if all the toppings appear to be plant-based. This makes it all the more special to find a ramen restaurant that's 100% vegan! Located in the north of Kyoto, Towzen Ramen is a little bit out of the way but is absolutely worth the detour. The bowl of ramen I ate here was the best I've ever tasted in my life.
You can choose from two different types of broth: tan tan and musashi. Tan tan is made with all the usual seasonings found in this popular ramen flavor, with the addition of soy-based meat. Musashi, on the other hand, is made with mushrooms and nori seaweed. Both flavors have a creamy base made from soy milk. And for those looking for a gluten-free option, rice noodles are available on request in place of the usual wheat noodles.
Kyoto has quite a few good vegan restaurants in the city center, so you might be tempted to stick to the more central eateries and give Towzen a miss. But that would be a big mistake! Besides, the walk along the Kamo river to get here is actually really pleasant, and lunch at Towzen can easily be combined with a visit to the nearby Shimogamo-jinja shrine.

Kynd Community, Seminyak, Bali
Recommended by Sophie from The Wanderful Me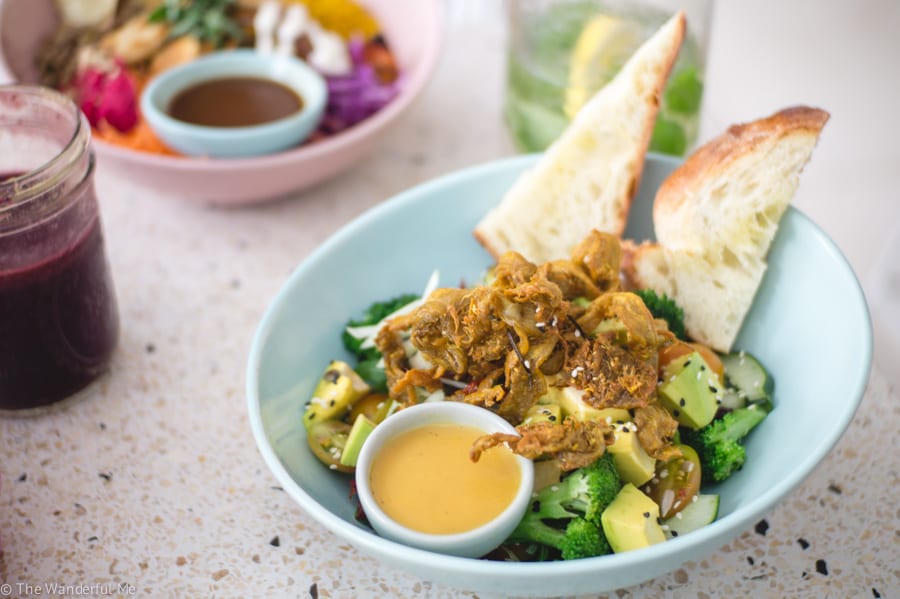 Without a doubt, Kynd Community is hands down one of the cutest cafes in Bali with a blissfully relaxing atmosphere and delicious vegan food!
With a bright pink interior, gorgeous paintings covering the walls (which are the perfect backdrop for a beautiful photo!), and a plethora of mouth-watering vegan eats, Kynd Community is everything a plant-based traveler could ever want in a restaurant!
Whether you're in the mood for a healthy salad packed with nutrients, creamy smoothie or fresh-pressed juice that'll make you feel like a hero, fluffy pancakes or waffles for breakfast, a packed burger to stuff your belly, or heck, even one of their mind-blowing "freakshakes" — aka a vegan milkshake — for dessert, they have it all!
Looking for a more entertaining night out? Head to Kynd Community for their Mexican Mondays for DIY tacos and margaritas; Acoustic Wednesdays for good music and good vibes; or Festive Fridays for 1/2 price cocktails and a good party.
Even better, if you're from the UK and missing some Sunday Roasts, enjoy some classic roast "beef" or stuffed "chicken" that'll transport you back home!
Kynd Community is on a mission to show others that veggies can taste unbelievably amazing, and after eating there myself I can wholeheartedly say they're doing a damn good job of it!
Click here to find out more about Kynd Community and other awesome vegan food spots in the Canggu, Bali area!
Akar Cafe, Lovina, Bali
Recommended by Larch from The Silver Nomad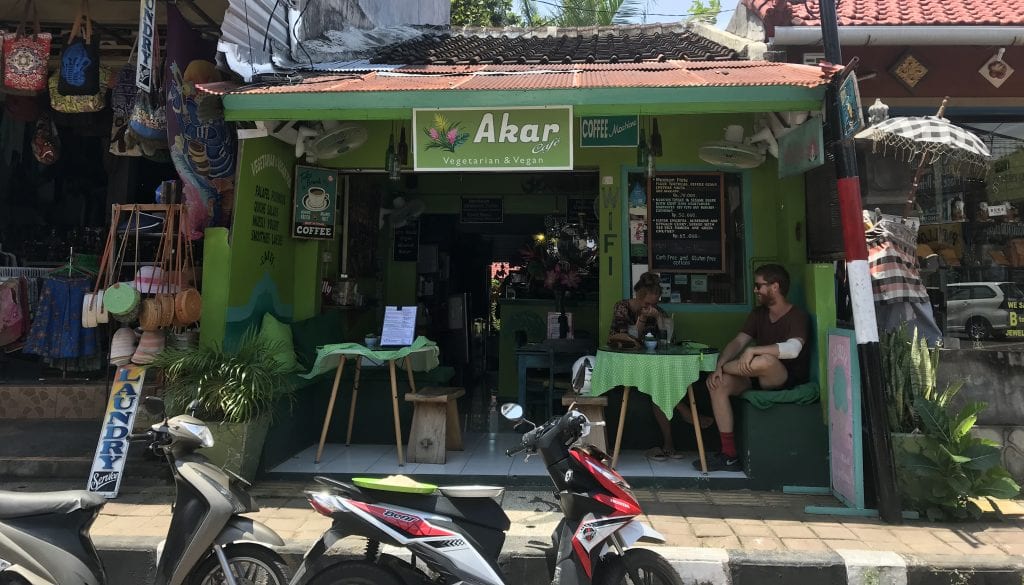 Akar Vegan Restaurant is in the village of Lovina in the north of Bali.
Painted in vibrant green and turquoise it is quite unassuming, but don't let that fool you. The service is great and the huge menu includes varied dishes including a huge number of vegan and vegetarian options from greek inspired mezes, organic salads and buddha bowls, smoothies, ice creams, falafel and pastas.
The portions are very generous and shared starter and a main didn't leave any space for a dessert.
The freshly made juice combinations are divine and the carrot, apple and ginger had the right amount of zing to it.
There is seating out the front of the restaurant, a main part in the back and a garden terrace.
Akar Vegan Restaurant is on Jalan Binaria in Lovina, northern Bali.
Earth Tone Cafe, Pai, Thailand
Recommended by Whitney from Moon Wandering
At the bottom of the hill of the White Buddha Temple in the picturesque town of Pai, Thailand, you will find a darling vegan spot called Earth Tone Cafe. With its elevated bamboo floors over a small stream of water, the atmosphere is very cozy and inviting. Choose to sit cross-legged over the sounds of the babbling brook, or sit comfortably at a table and chair. You order at the counter and the food is brought to the table. During the height of COVID, they offered online orders and delivery. Now, they have implemented strict cleaning measures and a sign-in process for customers.
Earth Tone is most well-known for their smoothie bowls, but there are so many delicious, healthy, vibrant meals offered at Earth Tone, you really can't go wrong. Using high-quality, local, and organic ingredients, they make the best raw, vegan, homemade ice cream in town. They also have amazing sandwiches and baked goods!
One last thing I love about Earth Tone is that they have a small shop at the front of their restaurant in which you can buy fresh items to take home, like jams, breads, dried fruits, and herbal teas. These are great snacks to take up that White Buddha hike. Or, it's a great place to stop after you've completed the summit. Either way, this place is a gem. Check them out!
Open Everyday 10am-6pm *Wednesdays until 5:30pm
Moo 1 81 Rural Road Maehongson 4024 Maehi Subdistrict, Pai District, Pai 58130 Thailand
YOU MIGHT ALSO LIKE: Awesome Vegan Restaurants in Europe
Fab Vegan Restaurant in Australia
Raw Kitchen, Fremantle Western Australia
Recommended by Nina from West Australian Explorer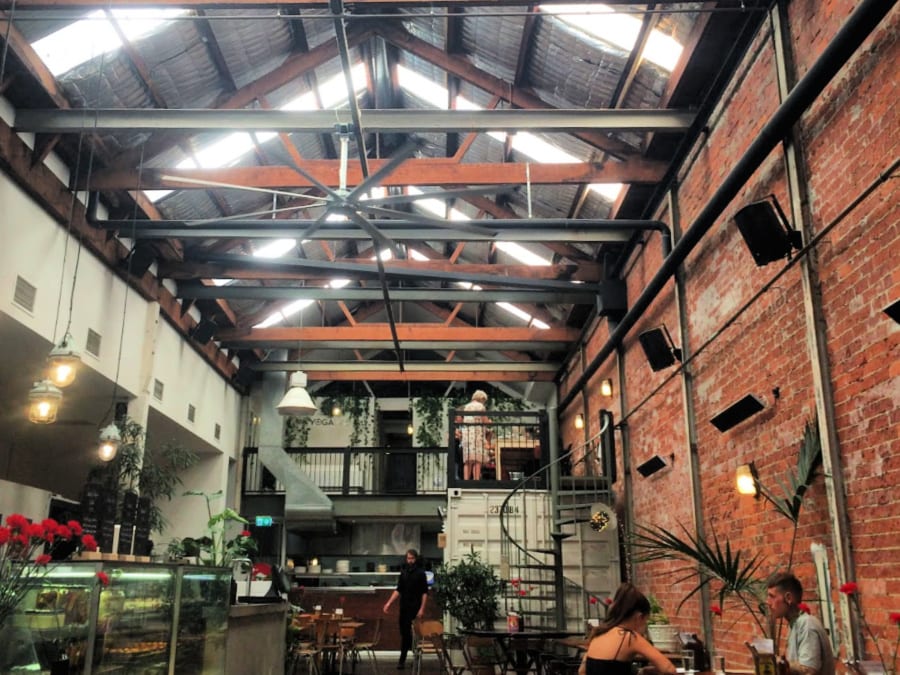 Located in the beautiful port city of Fremantle, The Raw Kitchen is one of the best vegan restaurants in Perth, Australia. Located in a 1920's warehouse, the Raw Kitchen combines vegan restaurant, zero waste store, kombucha microbrewery and yoga space in one. The Raw Kitchen is set around the ethos of sustainability and healthy living and offers a relaxing space to relax and connect.
The food at the Raw Kitchen is based on plant-based cuisine with plenty of delicious and wholesome options that makes even non-Vegans come back for more. The menu is seasonal making the most of local produce. Most of the dishes at the Raw Kitchen are dairy and gluten free with both raw and cooked options.
Stand out dishes include the raw Pad Thai with almond sauce, poke bowls and burgers. The vegan nachos are another popular dish and kids will love the vegan pizzas. For the sweet tooth, there are plenty of wholesome sweet dishes, including a seriously rawsome lemon meringue pie.
Once you've eaten, be sure to check out the Zero Waste Shop which stocks a large Australia's largest choice of sustainable and plastic free products.
Fabulous Vegan Restaurants in America & Canada
The Pitted Date, Playa del Carmen, Mexico
Recommended by Ayngelina from Bacon is Magic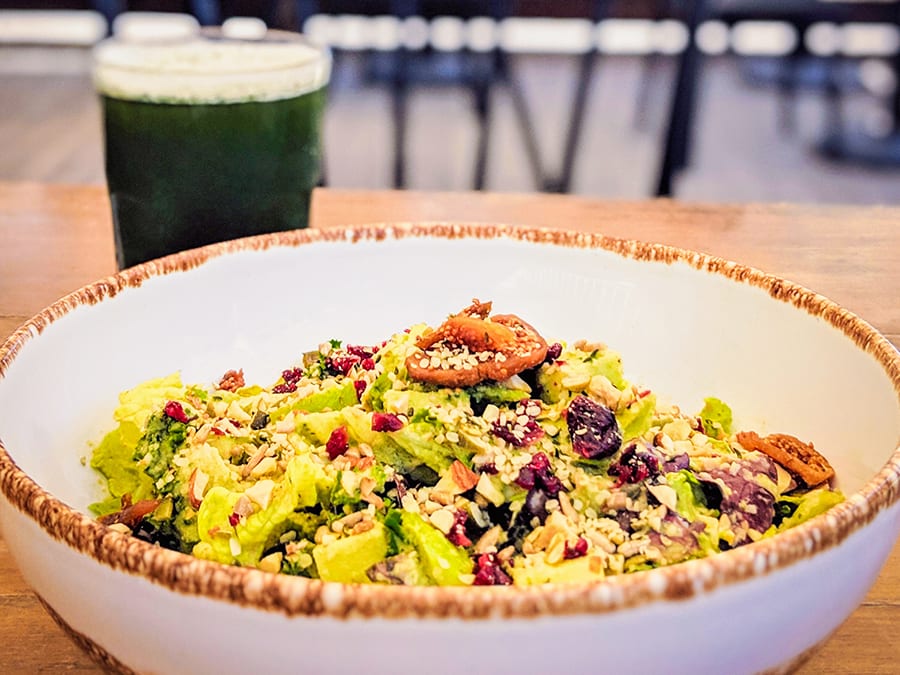 Playa del Carmen is one of the most popular beach destinations in Mexico. And for good reason, this city has powder white sand and turquoise waters but also some of the best restaurants in Playa del Carmen are vegan and vegetarian.
One of the oldest is also one of the most popular. The Pitted Date is the only 100% vegan bakery in Playa del Carmen, although most people simply knew it as a great bakery having no idea it was vegan.
It starting serving small plates of food and was so popular they needed to move to a new larger location. Now it has 36 seats on an airy patio close to the beach along with seating inside with air conditioning.
As many vegans consider it to be the best vegan bakery they've visited in any country it's not surprising that it recently added a second location in the popular city of Tulum.
Staff speak English and can provide English menus. They are known for hearty salads and an excellent all-day breakfast with many egg alternatives – particularly their "Bagelwich" with vegan egg, chorizo, mozzarella, grilled peppers and onions served with chipotle mayo and topped with avocado and spinach. It is very filling and so delicious. Gluten-free options are clearly marked on the menu.
The Pitted Date/Avenida CTM Mz 174 Lote 1,2 y 3 Local 6, Zazil-ha, 77720 Playa del Carmen, Q.R., Mexico
Gracias Madre, Mexico City, Mexico
Recommended by Trisha from P.S. I'm On My Way

Alright, just to be clear – this is not a restaurant but if you are living in Mexico City, this is sort of an institution and a landmark because it's always packed with people! There are no seats so you have to eat the Mexican way.
I discovered Gracias Madre when I first travelled solo to Mexico City. Street food truck are iconic to the capital but this one just intrigued me because whenever I pass by, there's always a lot of people – I mean A LOT.I've been eating around the world and I know that when a place is busy, it almost certainly means that it's good food. And that's what I found out when I had vegan tacos at Gracias Madre. Take note, it's vegan. It's not even vegetarian!
Gracias Madre means "thank you, Mother" in English but in reality, the 'mother' there is Mother Nature. To be honest, I thought the owners were foreigners as in Mexico, vegan food is very uncommon. Mexicans are voracios meat eaters. I got to know the owners and to my delight, they are pure Mexicans! They mostly use soy meat and jack fruit for their vegan tacos. Somewhat imitating the traditional [meat] flavours of Mexican tacos such as al pastor, gringa, and chorizo.
They did it very well because it exactly tastes like meat – it's only the texture that makes a difference.Vegan tacos at Gracias Madre cost 15 pesos ($0.75 USD) per piece and I always order more than 5 when I come here! The Kombucha is also a must-try since they do it themselves!While there are many vegetarian and vegan restaurants in Mexico City, eating at Gracias Madre won't break the bank. It's a great place for vegans who are travelling to Mexico City on a budget. And mind you, there aren't a lot of vegan places in Mexico so you better keep this on your list!
Address: Mérida 92, Roma Norte, Mexico City
Matcha Mama, Tulum, Mexico
Recommended by Shelley of Travel Mexico Solo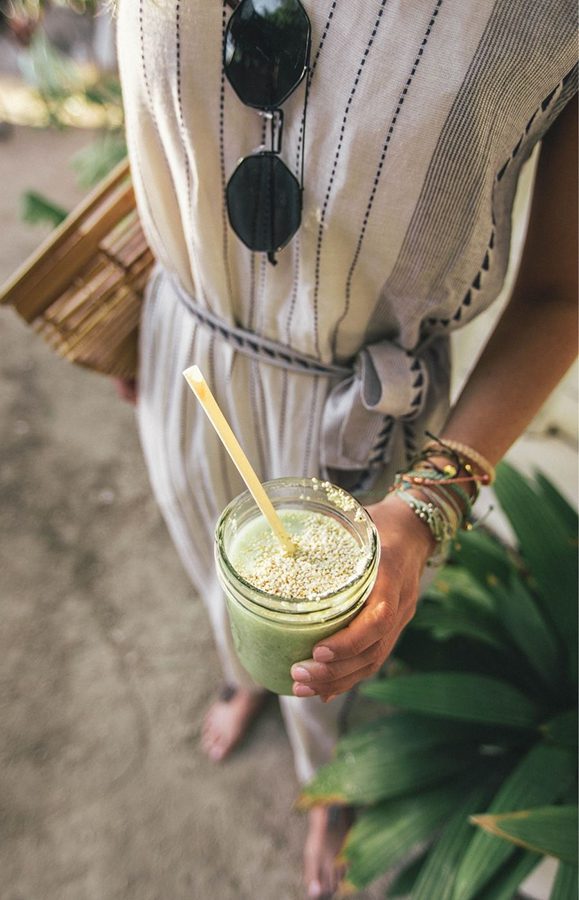 Matcha Mama in Tulum, Mexico is a must-visit among all the vegan restaurants in Tulum. In fact, those visiting Tulum for the first time will quickly realize it's one of the most vegan friendly cities in Mexico, with many restaurant and cafe options.
The original Match Mama was located along the world-famous Tulum Beach Road. After gaining in popularity, they have expanded and now have three locations. There's one in Tulum Town (AKA Downtown Tulum), the trendy Aldea Zama neighbourhood, and on the beach.
Beyond yummy and fresh vegan food, Matcha Mama is one of the most Instagrammable places in Tulum. The beach location is a small, boho-chic stand on the side of the road, with its famous swing chairs and I Love Tulum So Matcha surfboard sign.
Head there early in the day for a cold brew, kombucha or breakfast acai bowl. The earlier you arrive the better, so you'll beat the hungry crowds wanting food and the influencers taking photos at Matcha Mama.
They serve some small bites and snacks, which rotate daily based on freshness and availability of ingredients — in addition to a host of juices, elixirs, smoothies and coconut waters. One of their must-try favourites is the vegan "nice cream," which you can get in coconut, cacao or matcha flavour.
Matcha Mama-Tulum Beach Address: Quintana Roo 15, #470 Zona Hotelera, Tulum, Quintana Roo, Mexico 77780
The Buckingham, Edmonton, Canada
Recommended by Crystal from Loving Edmonton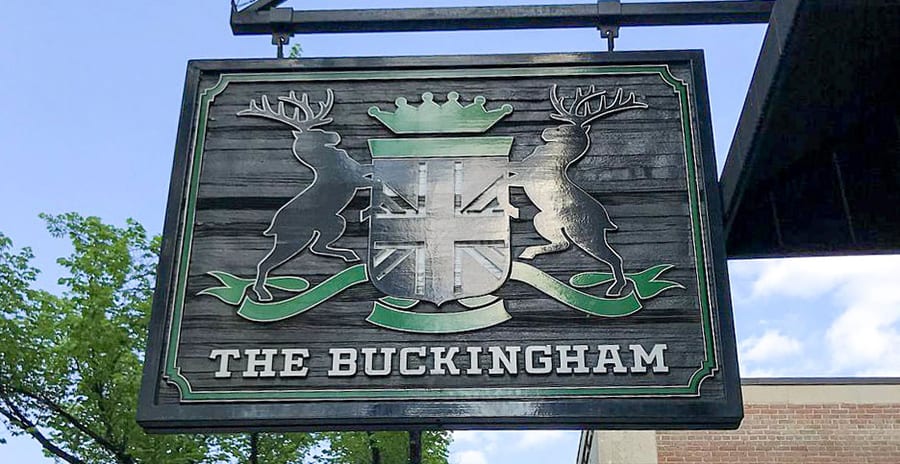 When you're craving greasy pub food but want to have a clean conscience, try The Buckingham on Whyte Avenue in Edmonton, Alberta Canada. With their slogan of "ALL VEGAN – ALL THE TIME", you can be certain your buffalo wings or beef melt sandwich is completely meat and cruelty-free.
Located in Edmonton's trendy historic Old Strathcona district, The Buckingham's atmosphere makes you feel like you stepped into an English pub, with unique artwork and retro video games. Their current arcade game is The Simpsons Arcade Game which invites you to step back into 1991 as you take on the role of Marge and fight off bad guys with your trusty vacuum cleaner.
The Buckingham pub often hosts live music performances, so you can sit back with your pint and vegan nachos while listening to some eclectic tunes from musicians from around the world.
Must try menu items:
Jumbo with Cheese: The vegan version of a donair! Donairs are incredible and they're one of the biggest things I've missed since I stopped eating meat. The Buckingham's vegan donair is delectable and a great animal-friendly version of the Canadian classic.
If you're craving a McDonald's Big Mac, try The Buckingham's Maccas Burger to satisfy your hankering. Complete with homemade "Macca" sauce and a slice of vegan cheese – you'll never want to go back to McDonalds again.
Lastly, as you're in Canada, you must try the vegan-friendly poutine! Complete with hand-cut fries, vegan mozzarella and gravy, you can embrace Canada's national dish while sticking to your vegan diet.
Shizen, San Francisco, USA
Recommended by Jyoti from A Story at Every Corner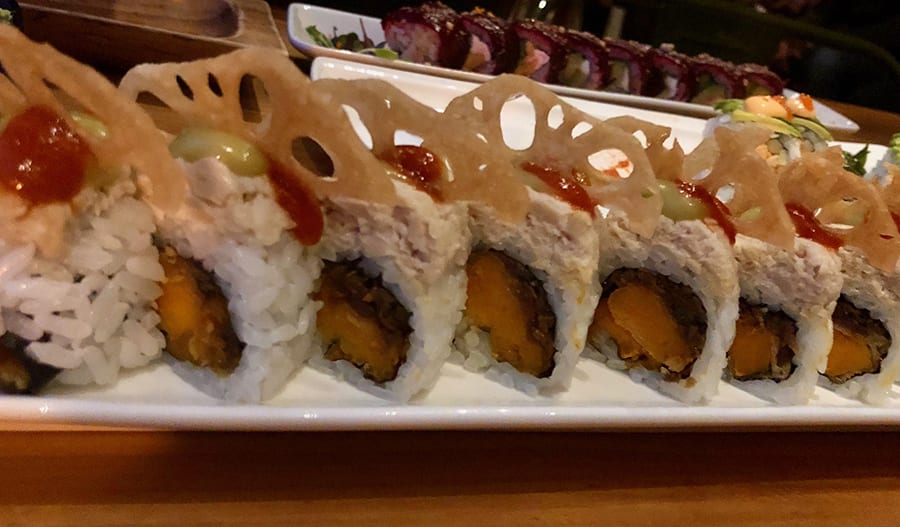 As a vegan, I'm always looking for authentic and delicious vegan food, especially as we travel around the world. But my most favourite restaurant of all is Shizen, an amazing Japanese vegan restaurant. They have an extensive menu with a huge variety of gourmet sushis which is my favourite. They also have many other Japanese dishes, pretty much anything you'd fancy.
A satisfying dinner in Shizen is a great way to end a day trip to San Francisco. However, you need to know that it is extremely popular. The wait to get a table can easily be an hour. I like to go there at 6pm after the first group is seated. They give a url to track your wait time and list of people in line. So you don't have to wait at the restaurant.
While you're waiting for the table, you have the perfect opportunity to hang out is the vibrant Mission district which is famous for street art. Be sure to visit Clarion alley to see some spectacular art on building walls. Head back to the restaurant when there a couple of groups in line before you. You don't want to miss the spot.
The wait is totally worth it. The service, ambience and the food will touch your soul. You'll surely want to come again.
Green Point, Cusco, Peru
Recommended by Lauren from Always Find Adventure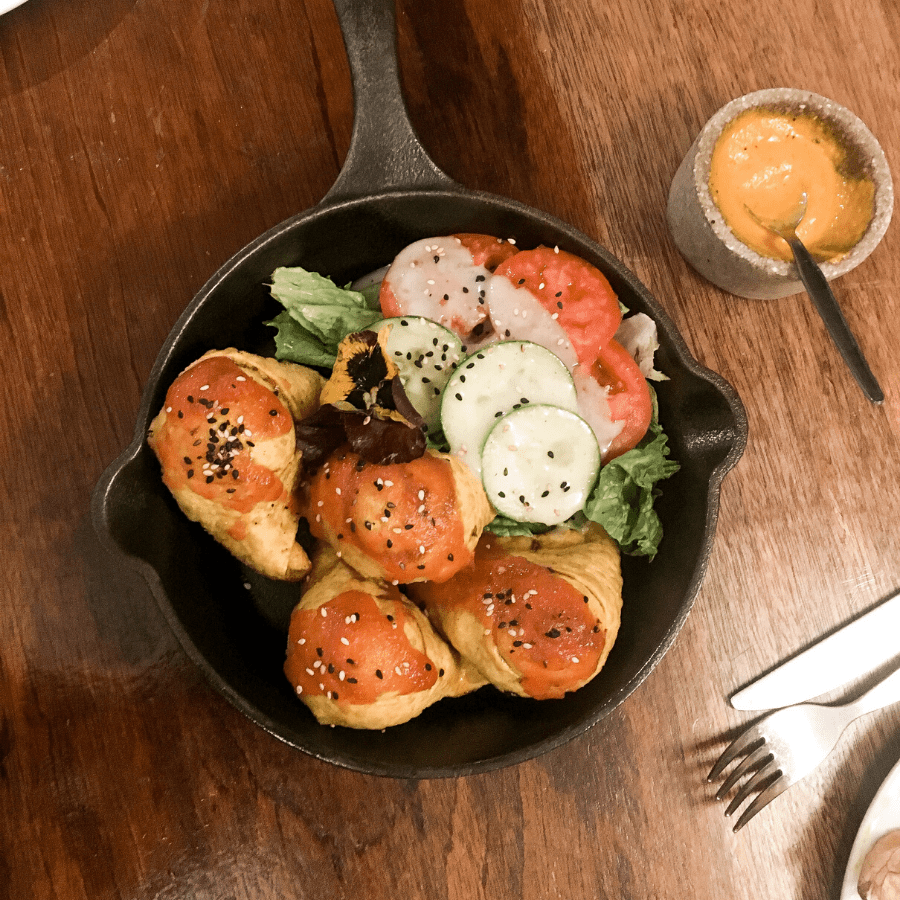 Green Point in Cusco, Peru is one of the most wonderful vegan places I've ever been to, and it's hidden in one of the alleyways of Cusco, Peru. The presentation and quality of the dishes would make you think you were in a Michelin-star restaurant. Even those who are not vegan would enjoy this restaurant because the quality and presentation are divine. The atmosphere completes the experience equipped with twinkle lights, tree branches, candles, and modern mood lighting.
The cuisine is based in Peruvian ingredients to make many international favourites like pumpkin ravioli, tacos, spring rolls, pizza and pad Thai. The menu is vast and includes really amazing cocktails, juices, breakfast, and desserts. Many dishes are offered to be cooked or raw accommodating all types of vegans.
You won't have to worry about a language barrier because the servers and the menus are in English and Spanish. The staff is not only attentive to allergies, but it's one of the first things they ask so you can feel comfortable with specific requests for any of the dishes. The meal is a bit more pricey compared to the other restaurants in the area, but that shouldn't stop you from treating yourself to a really great meal.
They even have cooking classes for those looking to spice up their plant-based kitchen skills. In addition, they have a small store for staple items and a bakery for take-home desserts and snacks.
On your stop to Machu Picchu, this is a must.
YOU MIGHT ALSO LIKE: Awesome Vegan Restaurants in the UK
POP Vegan Food, São Paulo, Brazil
Recommended by Wendy Werneth of The Nomadic Vegan
São Paulo has the best vegan scene of any city in Brazil, and with so many vegan restaurants it can be hard to choose which ones to visit. I definitely recommend POP Vegan Food as one that should not be missed! If you are travelling on a budget, the lunch buffet is incredible value at just 15 reais, and on Mondays, it even goes down to 10 reais! The owners of POP are passionate about making vegan food accessible to everyone, so they keep the prices as low as possible. The food offered as part of the buffet is typical Brazilian fare, such as beans and rice as well as salads, pasta and veggie dishes.
But what really stands out about POP is their pizza, which they serve in the evenings. Pizza is quite a popular thing in São Paulo, and here you can sample some of the typical paulista pizza flavors in a vegan version, such as pizza topped with arugula and vegan goat's cheese.
Try to time your visit for a Tuesday or a Friday evening, when they offer "pizza rodízio" for 37 reais. Rodízio is a Brazilian concept that's like an all-you-can-eat buffet, except that instead of serving yourself at a buffet spread you stay at your table and wait for the servers to pass by, carrying all different types of pizza.
Luv Burger, Nosara, Costa Rica
Recommended by Haley of Barefoot Travel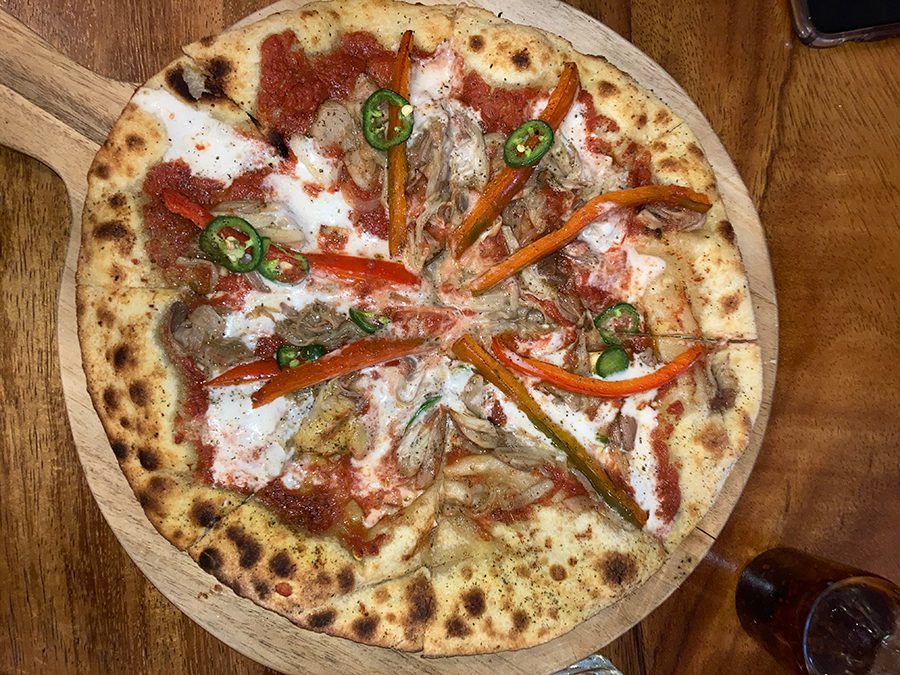 While Costa Rica is already well known for its beautiful beaches and friendly locals, it also contains a plethora of delicious vegan restaurant options. Nosara, Costa Rica is home to hands down one of the absolute best vegan restaurants in the country: Luv Burger. With a gorgeous outdoor patio nestled in the rainforest, the atmosphere at this restaurant is almost as good as the food.
All of the food from Luv Burger is vegan, organic, with gluten free options available. The menu offers a varied selection of vegan pizzas, burgers, salads, and bowls. They also have some fantastic desserts and cocktails.
Some of the most tasty dishes include the (Luv)Burgers, flatbreads, and salads. However, everything on the menu is delicious. The staff is also quite friendly and passionate about their vegan cuisine! The plates are fairly priced, and most nights you can even hear the howler monkeys in the trees above, adding to the tropical rainforest atmosphere.
Costa Rica is a very vegan friendly travel destination, and the small beach town of Nosara has plenty of other vegan restaurants to explore. That being said, LuvBurger is definitely a must visit for any vegan (or aspiring vegan!) traveling to Nosara, Costa Rica.
Planta, Toronto, Canada
Recommended by Diana of Diana's Healthy Living
One of my favourite plant-based restaurants in Toronto is PLANTA. This is a great restaurant to take your friends and family that aren't plant-based, they will hardly miss anything as all the dishes are so flavourful and well prepared.
PLANTA was opened to provide environmentally sustainable and delicious plant-based dining options in Toronto. All of the meals are plant-based and they also offer gluten-free and nut-free options.
There are three locations in Toronto. One in the high-end shopping district known as Yorkville one is located on Queen Street West and PLANTA Burger located downtown Temperance Street.
The PLANTA Yorkville location is the flagship restaurant offering delicious cauliflower tots, PLANTA burgers, Bianca pizza, and PLANTA burger, just to name a few. The buffalo cauliflower is highly addictive and the young Thai coconut & chia seed pudding is to die for.
The Queen Street location offers a totally different Asian inspired menu with dumplings, dim sum, and Maki.
PLANTA Burger is a plant-based burger joint where you will have many different burger options from the classic burger, the California burger and wash it all down with a milkshake.

Cafe Gratitude, Kansas, USA
Recommended by Lindsey from Seven Day Weekender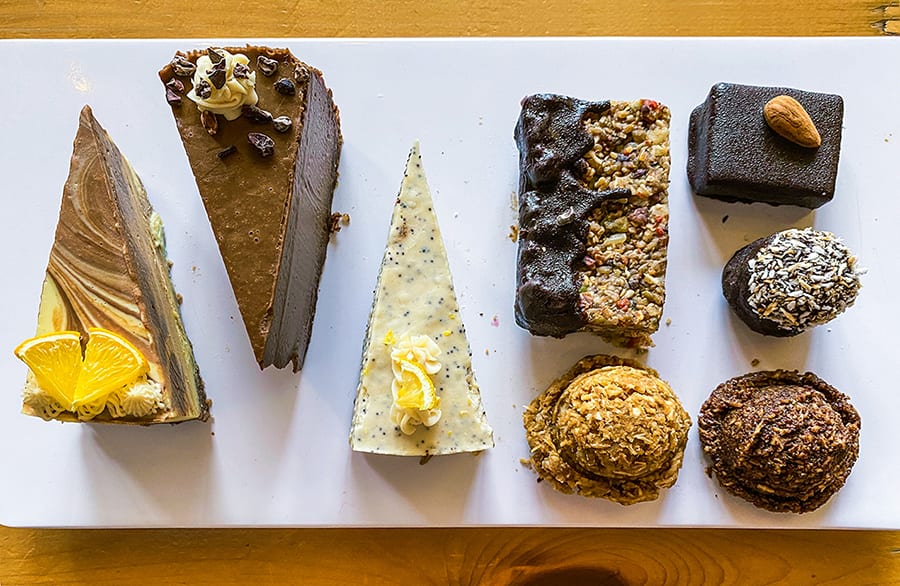 A city that may surprise you when it comes to great vegan eats is Kansas City, Missouri. Tucked almost directly in the middle of the United States, Kansas City is so up-and-coming even the locals don't realize it's about to burst onto the travel scene. This burgeoning explosion is most evident in the city's food scene: featuring a multitude of vegan cafes and restaurants.
One of the best, in my opinion, is Cafe Gratitude (just south of the hip Crossroads neighbourhood on Southwest Blvd.). This popular lunch spot has some of the BEST vegan food I have ever tasted in the U.S. One of the most charming things about Café Gratitude is the fact every single item on the menu, and every piece of the restaurant (from the menus to the bottles of water they bring to your table) is done with intention.
If there is one thing we all should be more conscious of these days it should be supporting our local farmers, and choosing products and solutions that are environmentally friendly and sustainable. This is something that has been integrated 100% into the core of Café Gratitude. The restaurant is solar-powered, the tables are made from reclaimed wood, the lights are made from wine bottles, all of their TO GO ware is biodegradable, and all of the veggies in the variety of amazing international plates & smoothies are locally sourced!
Although I wished I could have eaten here every day of my trip to KC, alas there were many other places to experience. But out of the things I was able to try I can 200% recommend the Mac & Cheese made with gluten-free brown rice noodles in a creamy blend of cashew and Brazil nut cheeses, the Mexican Bowl with black beans, guacamole, pico de gallo, salsa verde, cashew ricotta cheese, pepitas, romaine & brown rice, the I AM EFFERVESCENT Ginger Ale, the homemade ginger ale with lemon juice, ginger juice and agave, topped with sparkling water, and the I AM ELEVATED Rose Water Lemonade, made with rose water, freshly squeezed lemon juice, and agave.
Although I did not have room for dessert, which is typical, I can say the platter that was presented to the table next to us looked unreal!
The mission of Café Gratitude is to invite people in and be grateful for every day. After you've had your unreal meal of Mac & Cheese, or Sweet Potato Tacos, or the Spaghetti Squash Alfredo, and are presented the check, your server will invite you to think about something you are grateful for the remainder of the day as you step back out onto the streets of KC. You come into Café Gratitude to nourish your body, and you leave nourishing your mind.
Bread and Chocolate, Grand Cayman, Cayman Islands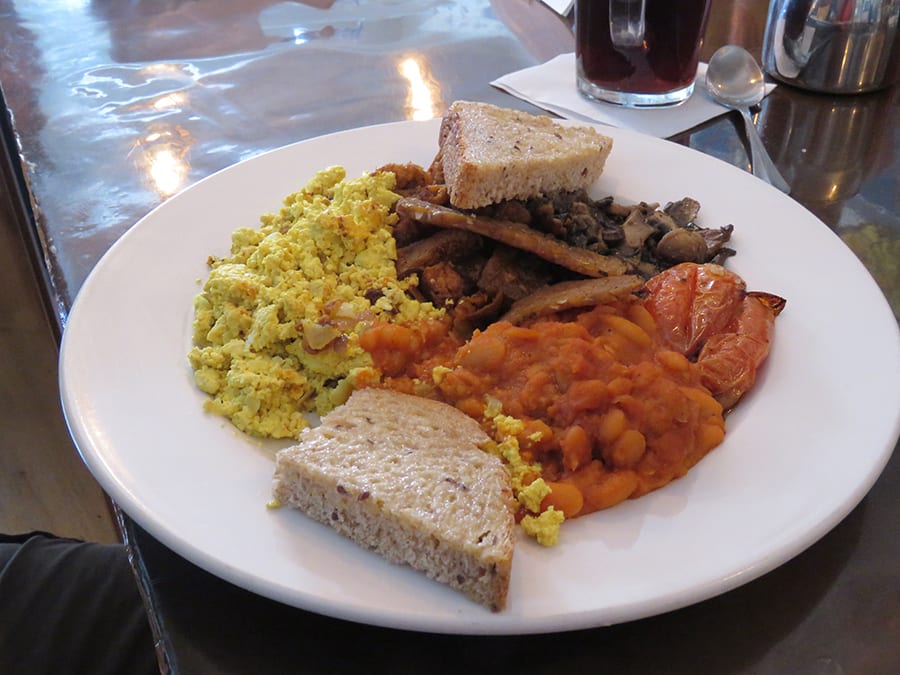 Recommended by Larch from The Silver Nomad
Stepping out of the heat of the morning into the cool of Bread and Chocolate was bliss. A quirky little restaurant with colourful vibrant walls and comfy seating.
Start off with a freshly made juice, coffee or tea while you choose what you want to eat.
The menu is varied with such delicious items as vegan Impossible burgers, salads, portobello sandwich and tempeh BLT. Try the amazing vegan breakfast tacos with red onion, bell peppers, and hickory-smoked tempeh in a corn tortilla, with a side of black beans topped off with freshly made sour cream, pico de gallo and guacamole.
Or maybe a Full English Breakfast is more your style? With tofu, red onion and turmeric scrambled 'egg', with homemade baked beans, hickory smoked tempeh 'bacon', mushrooms and tomatoes a non-vegan could be forgiven for thinking they are eating the real thing.
The desserts are divine and made fresh everyday.
They are open for breakfast and lunch from 8 am to 3 pm in the week and until 2pm at the weekends. Dinner is from 5.30pm to 8pm, Monday through Friday.
Delicious Vegan Restaurant in Israel
Meshek Barzilay, Tel Aviv, Israel
Recommended by Claudia from My Adventures Across The World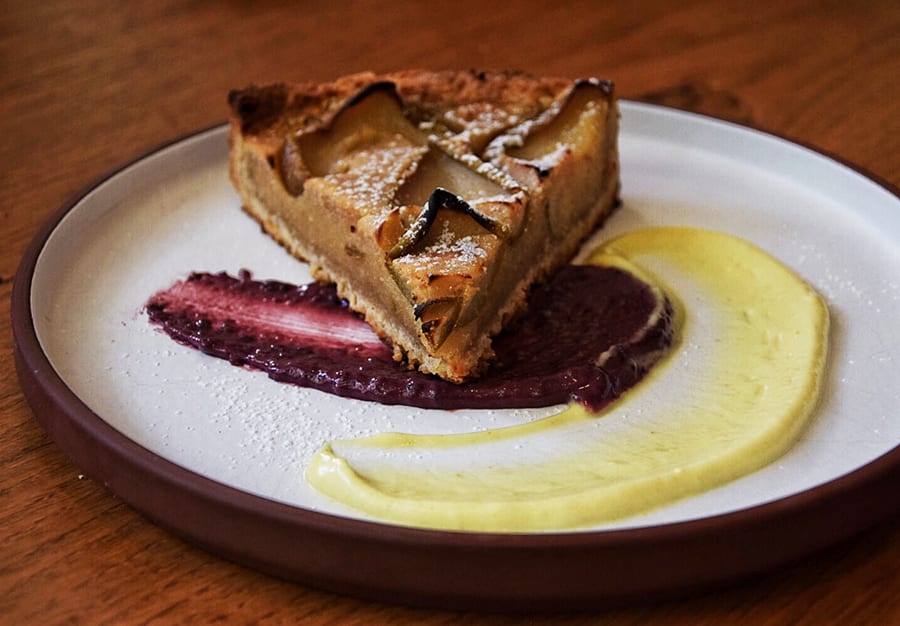 There are many good vegan restaurants in Tel Aviv and should you decide to visit Israel's most vibrant city, you won't have any issues finding one that suits your taste and needs. This is the vegan capital of the world!
One of the best vegan places in town is Meshek Barzilay. This lovely bistro and the annexed deli are located on 6 Ahad Ha'Am Street, in the heart of Neve Tzedek, one of the nicest and oldest neighbourhoods in Tel Aviv. Open daily (though on reduced hours during Shabbat, on Friday and Saturday), Meshek Barzilay has a fantastic menu that includes old local classics such as hummus and baba ganouj (naturally vegan dishes) and boureka – phyllo pastry stuffed with spinach and (in this case vegan) cheese.
House specialities include the mushroom risotto made with venere rice and the incredible drunken pear – a cake made with pears poached in wine and served with wild berries and lemon sauce.
I hope you will be able to try out some of these amazing vegan restaurants around the World. If you have any recommendations of vegan restaurants around the World, please comment below!
Don't forget to pin this article so you can come back to it later