With stunning long white sandy palm-fringed beaches and turquoise blue seas, the Caribbean Islands have always been a lure for travellers looking for the sunny skies, luxury and relaxation. With so many Caribbean islands to choose from, how do you know which one is right for you?
I asked some of my blogging friends to recommend their favourite Caribbean islands and included a few of my own amazing places to visit, starting with the Caribbean Island of Barbuda.
---
*This site uses affiliate links and I may earn a small commission when you use my links and make a purchase without incurring an additional fee yourself.
Thank you for supporting this website. See my disclaimer page for more details.
---
The Most Beautiful Caribbean Islands to visit
Barbuda
Recommended by Larch from The Silver Nomad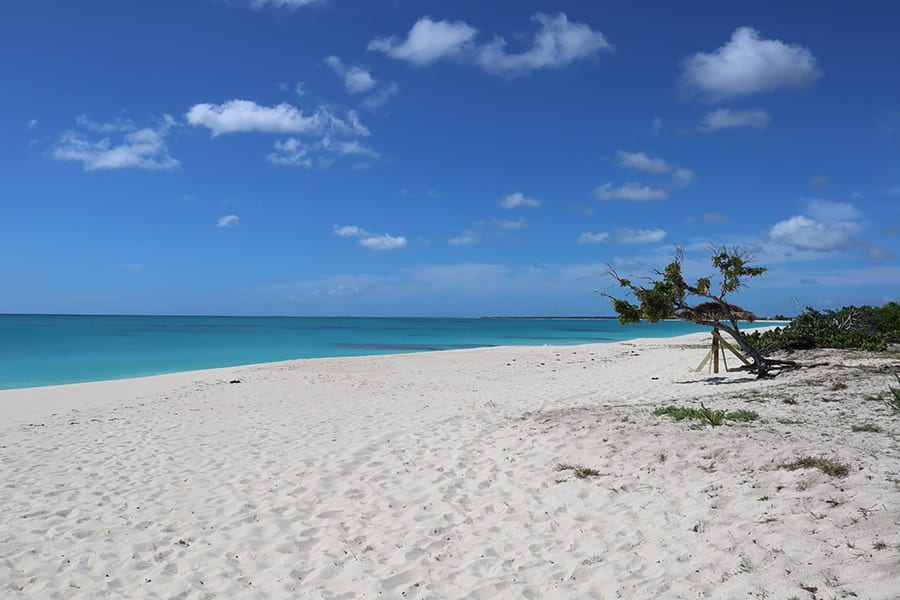 The smaller of the two islands that make up Antigua & Barbuda, Barbuda is an amazing island to visit, tranquil, green and welcoming. A boat or plane ride from Antigua it is definitely worth visiting.
Barbuda is a small island with just one town, Codrington as is a world away from the hustle and bustle of Antigua. The pace is slower and although the buildings are not fully renovated, there is still much to do.
Badly hit by Hurricane Irma in 2017, Barbuda is still recovering and many of the buildings are still unusable. Several of the guesthouses and hotels are now open.
If you are looking for serene beaches, try the beautiful pink-tinged beaches at Barbuda Belle or Princess Diana Beach or the empty beaches of the Atlantic Coast.
In the Two Foot Bay National Park you can hike or explore the Indian caves to explore or for a take a 45-minute walk to the 300ft wide and 70ft deep Darby Sink Hole with its own mini rainforest.
Take to the waters for kayaking, diving, fishing or a boat trip to see the Frigate Bird Sanctuary where the males puff up their red breasts to impress the females.
Barbuda can be visited as a day trip from Antigua or as a longer holiday which will give you the chance to explore more and sample the lobster, wild deer and boar on offer.
Guanaja, Bay Islands, Honduras
Recommended by Larch from The Silver Nomad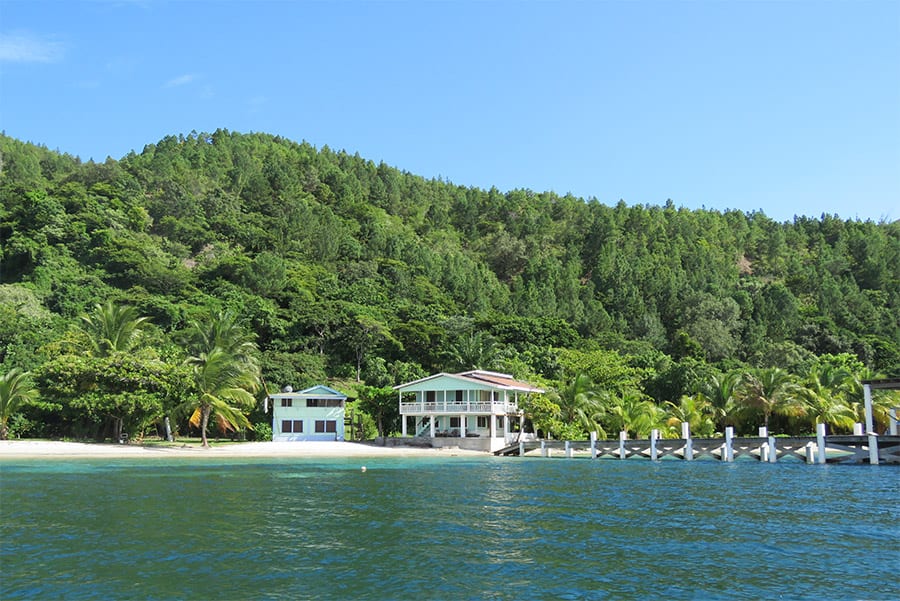 About 100kms off the coast of Honduras is the island of Guanaja. A short 30-minute flight from the airport of La Ceiba on the mainland and you are transported to a lush green island paradise. Although not technically a Caribbean Island, Guanaja is in the Caribbean Sea.
With only one proper road on the island, you travel everywhere by boat. Your taxi from the airport dock is a boat, take a water taxi to the Cay to do some food shopping or to visit some of the restaurants.
Most of the interior of Guanaja is covered by pine trees and jungle. As it is quite mountainous, there are some beautiful waterfalls to hike up and explore.
The diving and snorkelling are exceptional with over 35 dive sites dotted around the island, second only to the Great Barrier Reef. Go out fishing for the day or take a kayak out and glide around the bays.
There are several places to stay; guesthouses on Airbnb, the luxurious Graham's Place or try the delightful Tree House at Rolands Garden Guest House or Clear Water Paradise on the North Side of the Island.
San Andres, Colombia
Recommended by Mitch from Project Untethered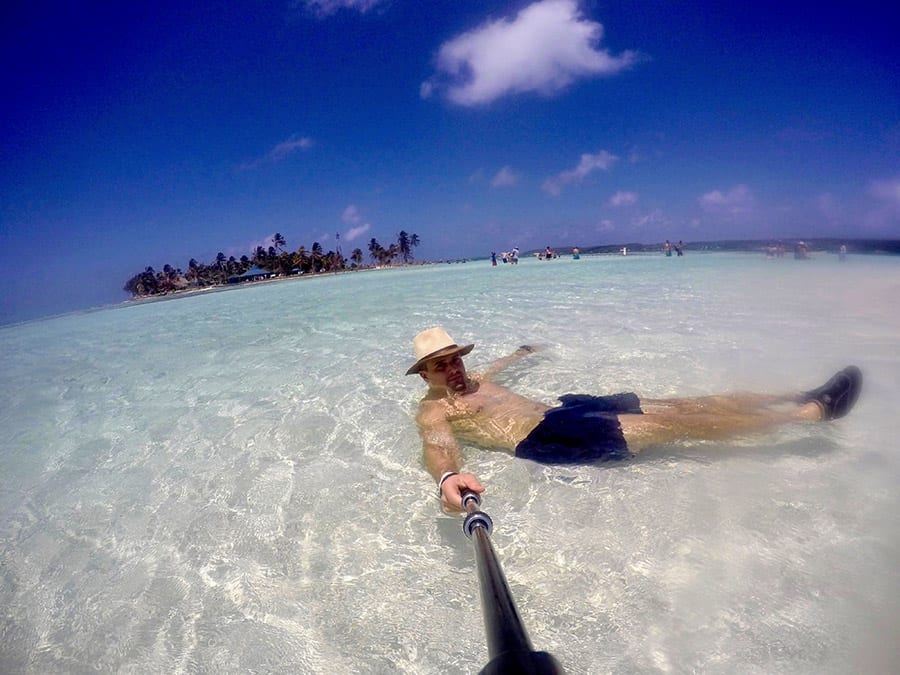 San Andrés is a tropical Caribbean paradise that should be part of every Colombia travel itinerary.
Despite its distance from Colombia (it's actually closest to Nicaragua), budget flights to the island can be surprisingly cheap — less than $100 if you plan it right.
On San Andrés, the beaches are spectacular, the relaxed Caribbean vibe is contagious, and the water has the most stunning shades of blue I've ever seen.
As with most beautiful getaways, this place is no secret. You won't have beaches all to yourself (unless you opt for a trip to nearby Providencia island). But despite the crowds, you won't be disappointed.
Best of all, there's plenty to keep you busy. Apart from the day tours to popular cays and beaches, you can also rent a scooter or golf cart and go exploring around the island. There are some pretty interesting stops around the loop including a geyser, snorkel spots, and botanical gardens. It's also worth zipping through the town in the centre of the island to see what local life is like.
Lastly, if you've got shopping to do, San Andres is a duty-free zone, so you may be able to find some good prices.
As far as accommodation goes, the closer you are to the beach, the more expensive it will be. If you're on a budget, I recommend staying at a hostel or a "posada" in the neighbourhoods away from the beach, a short walk down the coast.
Whatever you do, don't forget the sunscreen!
Martinique
Recommended by Dominika from Sunday In Wonderland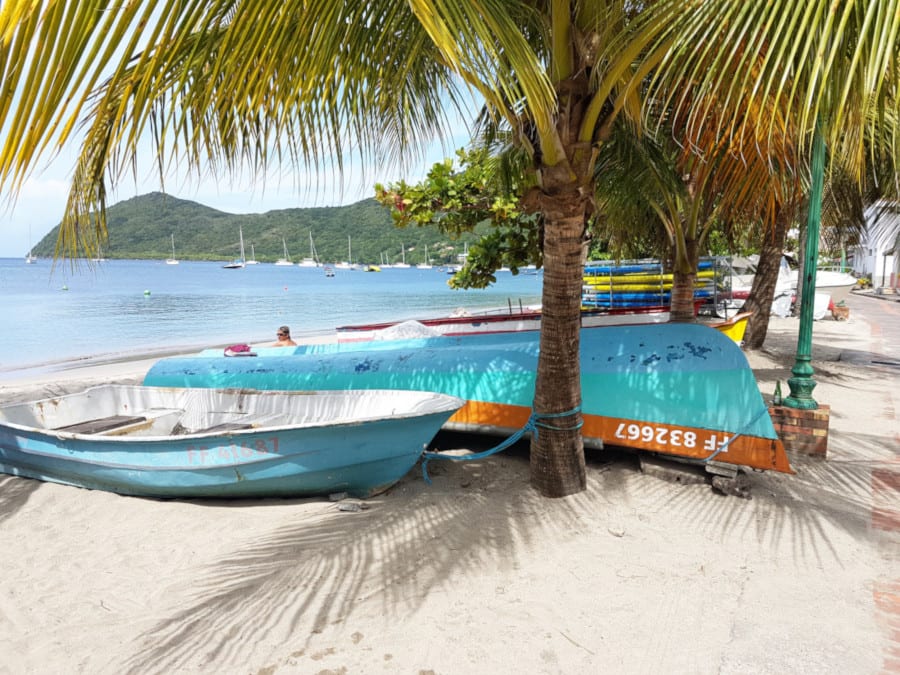 Some of the Caribbean islands, besides the distance, stay in the European zone of influence. One of these islands is French Martinique. There, you can enjoy relaxing in the Caribbean sceneries, on the beach, and under the palm trees, and still be able to taste traditional French baguettes and pay in euro.
Martinique has lots of attractions both for adventurous tourists, culture chasers, and beach vacation enthusiasts. Climbing an active volcano of Montagne Pelée, trekking through the jungle, swimming with wild turtles in Anse d'Arlet are some of the best things to do in Martinique. You can also discover the heritage sites like La Savane des Esclaves, or various museums, rum distilleries, and plantations.
There are some must-try culinary experiences in Martinique such as tasting the local Ti'Punch (a rum drink), eating a colombo chicken and accras de morue in a beach restaurant or enjoying coco sorbet on the road.
I recommend you to stay in the Southern or central part of the island. Both, Sainte-Anne and Le Diamant regions are a good option. The island is small enough to drive it through in a few hours. Although the bus network exists there, it's not too well organized from a tourist's point of view. So it'll be much easier for you to rent a car or to use taxis collectifs.
Martinique is a well-developed and safe island to visit in the Caribbean. Your time spent there will result in many lovely memories.
Antigua
Recommended by Larch from The Silver Nomad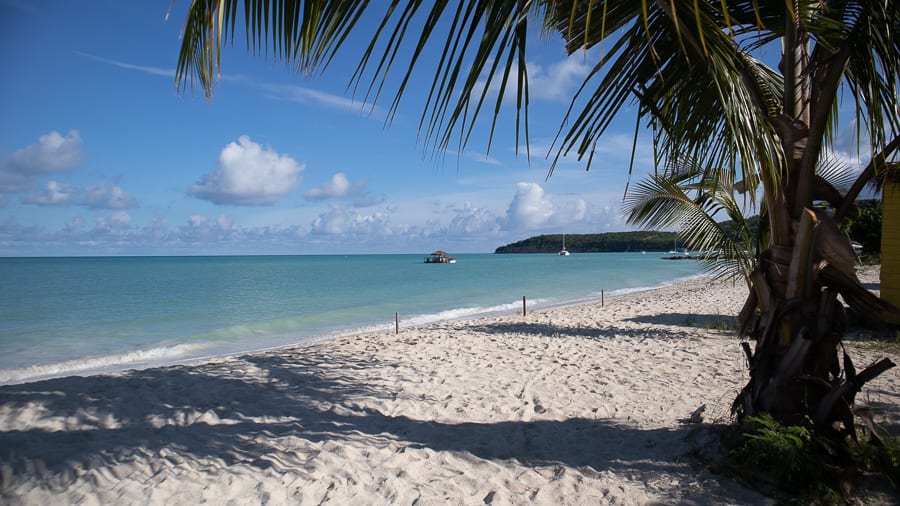 A favourite port for cruise liners, Antigua 's lush green mountainous landscape, duty-free shopping, casinos as well as the 365 long white beaches, friendly people make it a holidaymakers' paradise.
Antigua is the perfect Caribbean Island for a romantic getaway with your partner with all-inclusive adult-only resorts.
If you like adventure, calm, water or land, there is something for everyone
For epic sunsets and views across the island go up to Shirley Heights at the bottom of the island. Sunday is their BBQ party night which is not to be missed.
At sea level, visit the UNESCO Heritage Site of Nelson's Dockyard in English Harbour. The docks date back to 1713 and are full of the history of the island when Nelson was in charge of the docks and the port was a refuge from hurricanes and, due to the deep waters, ships could be repaired.
Take a driving tour around the island with United Taxi Association based in the airport or with one of the cruises, such as the Excellence to see the island from the water.
Antigua offers sun, sand, sea and relaxation and is the perfect Caribbean Island.
Sint Maarten
Recommended by James at Travel Collecting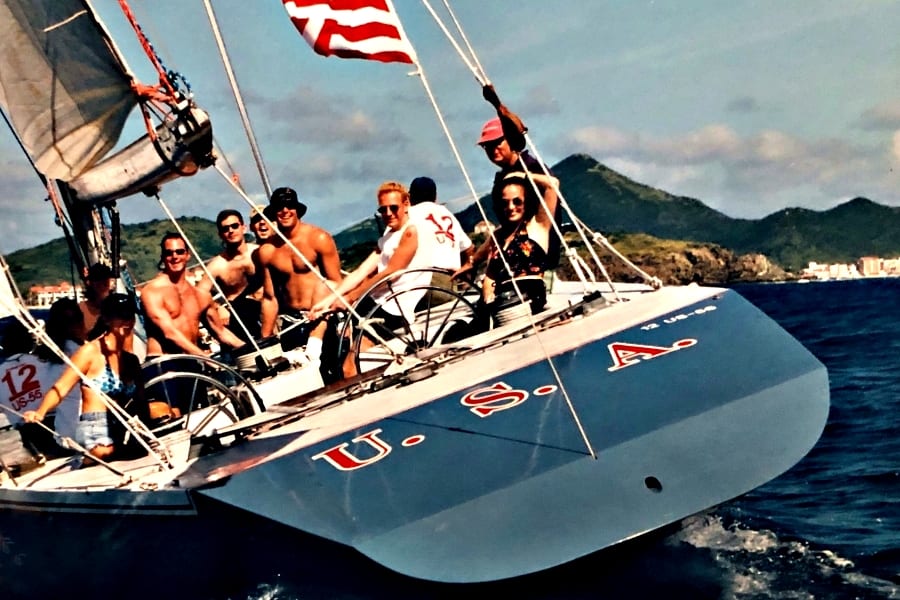 Sint Maarten/ Saint Martin is unusual in that half the island (Sint Maarten) is Dutch and half the island (Saint Martin) is French. The capital of the Dutch side is Philipsburg and the capital of the French side is Marigot. English is widely spoken on both sides and travel around the island is unrestricted.
The island has many wonderful beaches. The most popular is Orient Bay Beach. The gorgeous white sand and aqua blue water remain, but the businesses along the beach were severely affected by Hurricane Irina, although they are coming back. There are many other beautiful white sand beaches to choose from.
There are plenty of water sports and activities available on St Maarten/ St Martin, including catamaran trips, snorkelling and diving and kayaking. My favourite is the America's Cup 12-meter Regatta, where you crew a sailing boat that has actually raced in, or was designed to race in, the famous America's Cup yacht race. The day trip involves you forming the crew of the boat, as it races against a competitor boat. Lowering and raising sails, leaning far to the side to prevent the boat tipping, etc. is a real thrill.
If shopping is more your kind of thrill, then Main Street in Philipsburg will keep you satisfied. It's a great place to find bargains on electronics, jewellery, and perfume. After you have shopped till you dropped, head the top of Pic du Paradis (Paradise Peak) for stunning views over the island, ocean and nearby Anguilla, Saba and St Eustatius Islands. Also not to be missed is a plate of the local speciality, conch and dumplings – a delicious pile of conch (a kind of sea snail) and dumplings covered in a spicy gravy.
There are dozens of beautiful resorts to stay at – one of the best is The Villas at Simpson Bay Beach Resort and Marina.
Cozumel
Recommended by Jenn and Ed from Coleman Concierge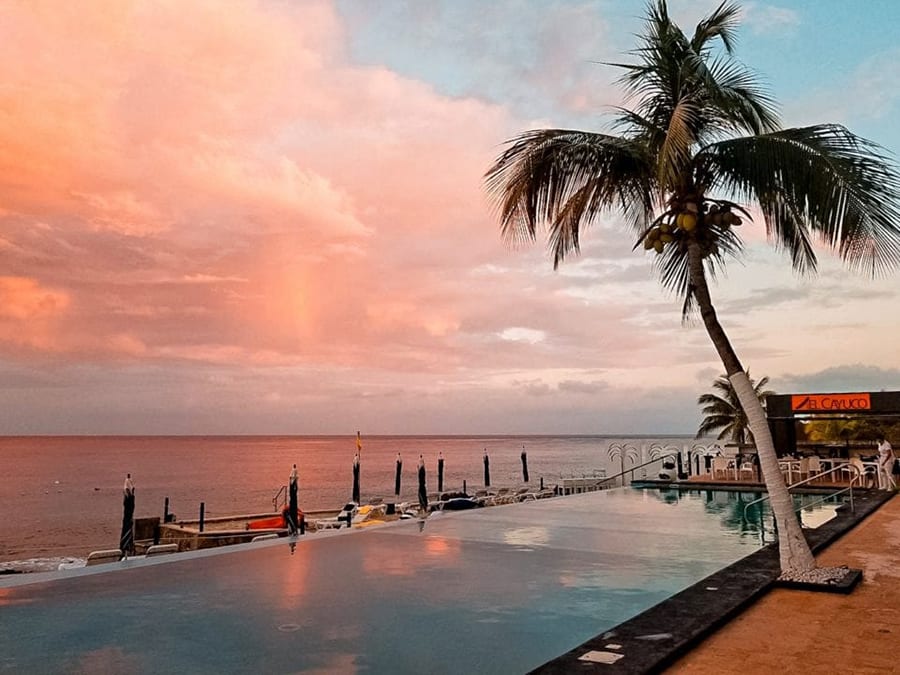 Cozumel is a 30-mile long island off the coast of Mexico near Playa Del Carmen. It's large enough to have an international airport but small enough to feel like you're away from the hustle and bustle of the Yucatan, even though it's only a short ferry ride from Playa.
Cozumel offers fantastic Mexican food, jungle and beach adventures, but most of all, world-class diving. Cozumel dive sites are some offer amazing drift diving along enormous coral reefs. Non-divers can still enjoy snorkelling in the crystal blue bays or even taking a submarine tour. Inland, you can explore the San Gervasio Mayan Ruins or take an ATV tour to one of the largest cenotes in Mexico.
When you're on Cozumel, consider staying at an all-inclusive resort. Families will love the Allegro Cozumel All-Inclusive, while couples might prefer the romance and luxury of Secrets Aura. Of course, you'll have to get off the property at least once to try the street tacos at Machete and the frozen drinks at Wet Wendy's. A trip to Cozumel offers the best of the Caribbean with a twist of Mexico and generous portions of blue water and golden orange sunsets.
Guadeloupe
Recommended by Jade from The Migrant Yogi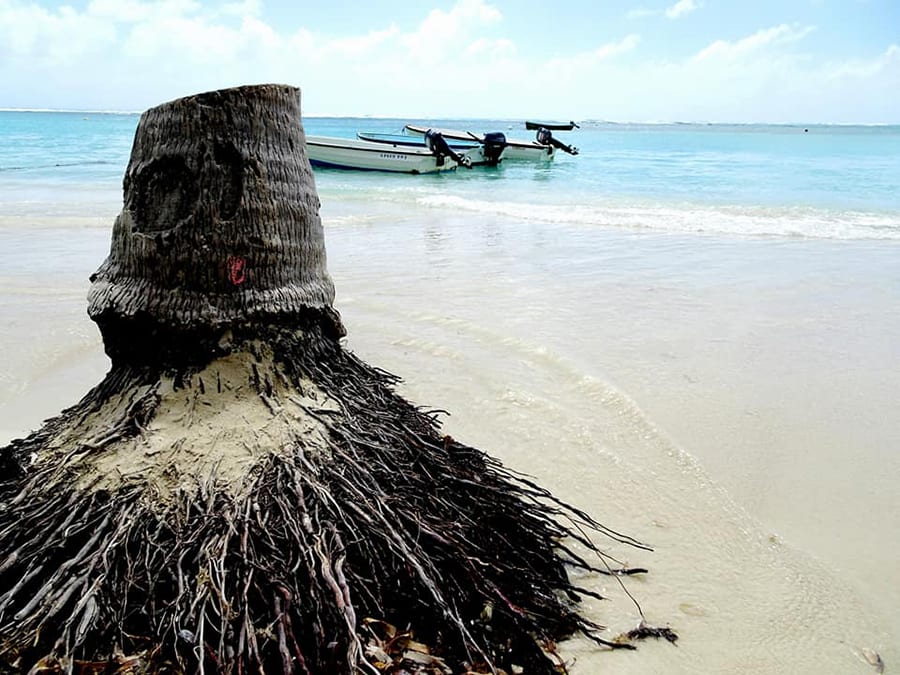 Guadeloupe is a magical archipelago nestled in the southern Caribbean. There are twelve islands total, which provides some great opportunities for island-hopping.
The French territory is shaped like a butterfly, split into two main islands – Grande Terre and Basse Terre, each of which has its own personality.
In the mood for white-sand beaches, shopping, and spice markets? Grande Terre is where you'll want to settle. If jungle adventures are what you're after, head to the slightly further south island of Basse Terre. If time allows, check out both!
Guadeloupe is no doubt one of the French Caribbean's best-kept secrets. Being a French territory, you'll want to brush up on your language skills. English-speaking is not guaranteed, even in the more touristy areas. You'll find many French nationals here on holiday, as well as a surprising number of Australian bartenders!
Everyone on the island is super-friendly, and making friends is almost a guarantee. Between the two main islands, you can find volcano-hiking, waterfalls, sunbathing, zip-lining, snorkelling and diving, shopping, cultural institutions, and more.  Simply put: it's got EVERYTHING! It's the perfect getaway for a group of friends, couples, or for a solo, soul-searching experience. 
So head to Guadeloupe when you get the chance to live la belle vie!
Grenada
Recommended by Sarah from ASocialNomad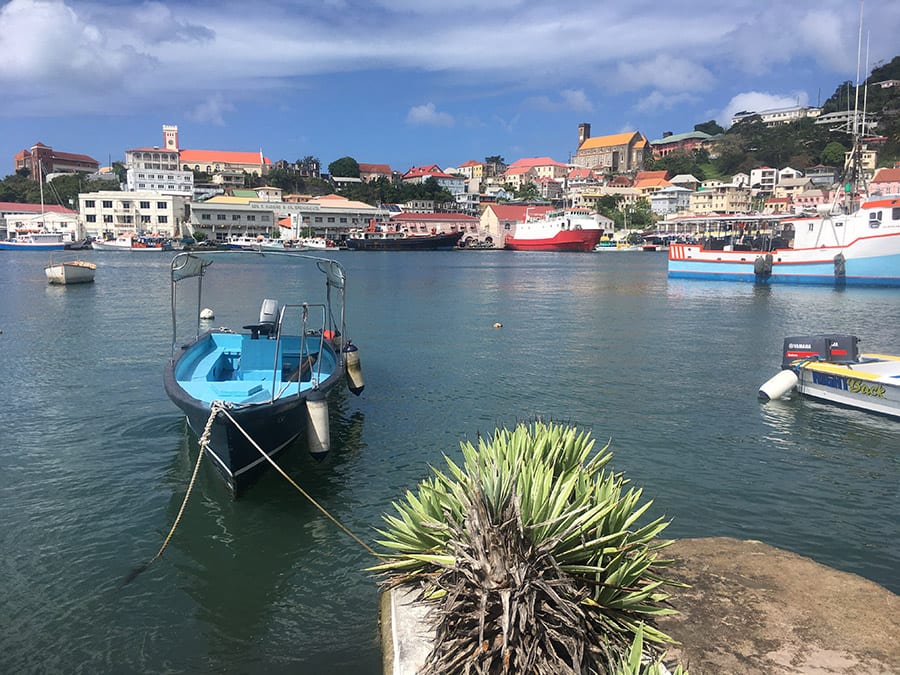 Grenada is one of the prettiest Caribbean islands – she's known as the Spice Isle as the island provides cinnamon, turmeric, cloves, ginger and nutmeg. Nestled around a glorious photogenic bay, Grenada's capital, St George's doesn't disappoint.
Houses and business are built into the hillside, ferries to Carriacou, also part of Grenada depart and arrive from here and luxurious yachts moor in nearby marinas. There's international cricket here too with the stadium within a short walk of St George's.
Head out of town, though to sample rum from the River Antoine Rum Distillery, the only remaining distillery in the Caribbean to use a water wheel for power as part of the process. Also visit the Belmont Estate – for a view into plantation life, cocoa production and a whole lot more.
You shouldn't leave Grenada without trying the national dish – Oil Down – a one-pot mix of coconut, local vegetable callaloo, chicken, crab, dumplings, breadfruit and anything else to hand. Wash it down with Grenada's national beer, Carib.
The local buses on Grenada are fun, musical, fast and easy to use, but the best way to explore is to rent a car and try some of the roads yourself – you'll get to out of the way places and be able to explore in your own time. And if you truly want to explore the laidback Grenadian life, take the ferry to Carriacou, also part of Grenada, and experience the real Caribbean dream.
St Lucia
Recommended by Darek from Darek and Gosia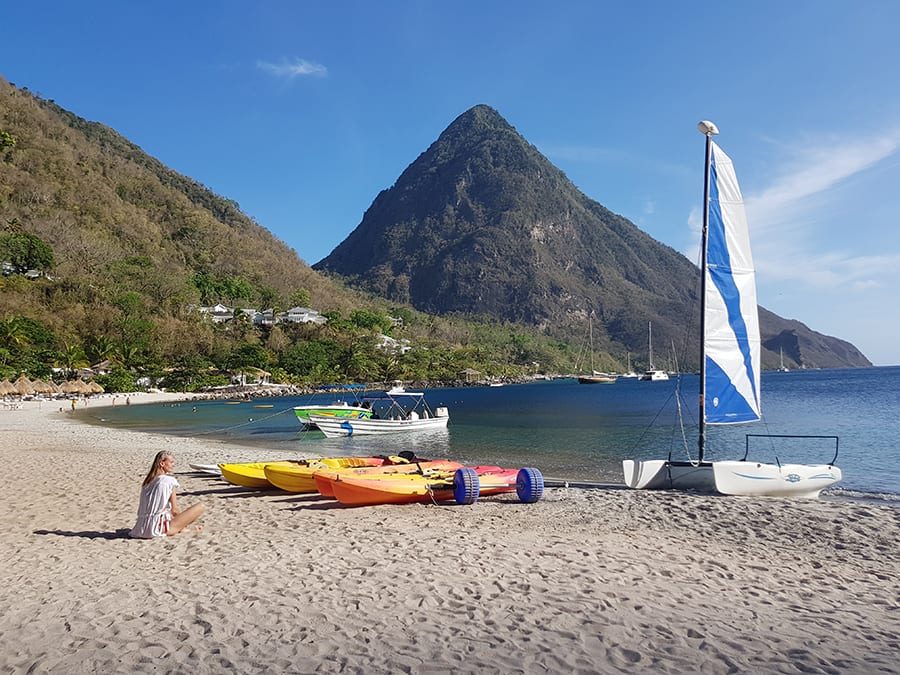 Saint Lucia is most often associated with the two mountains of Les Pitons. They are the dominant element of the island's landscape, and their image also appears on the flag of the country. The island's natural uniqueness also includes tropical forests, long, sandy, paradise beaches and magnificent coral reefs – it really is one of the best islands in the Caribbean!
Gros Piton and Petit Piton – these are the two impressive mountains on the island of Saint Lucia. Both are part of the National Park created here and are on the UNESCO World Heritage List, which is the best proof of the uniqueness of the island.
On the Grand Anse beach there is a turtle observation point, and in some places on the island there are special places to watch beautiful, paradise birds.
You will find beautiful views, the captivating world of nature, as well as excellent entertainment, good tourist infrastructure and fascinating culture on the island. Of course, you should also find time to rest and relax on one of the paradise beaches and exotic bays, which are really many here.
Saint Lucia is a great island for sailors who will not have problems with mooring their yacht or catamaran in the most convenient place with a beautiful view. So, are you ready to explore this stunning Caribbean island?
Barbados
Recommended by Laura from The Travelling Stomach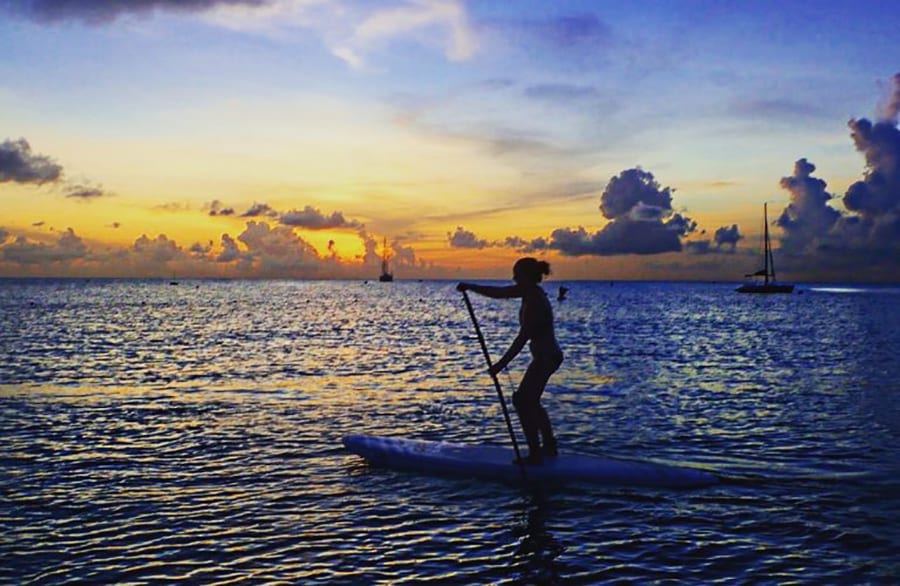 Not many spots in the Caribbean carry the same iconic status as the island of Barbados. Whilst being less than two hundred square miles in size, it is home to some of the regions most luxurious residences along with a classically Caribbean culture.
Around the island's capital of Bridgetown, you can find Carlisle Bay, one of Barbados' central hubs for beach and water life. It is a protected marine park in itself, with a number of purposely sunk wrecks perfect for diving or snorkelling, and is one of the hot spots for those seeking out the island's famous turtle sightings.
If you're looking to spend a few days diving, head to Barbados Blue, who are a super professional outfit running both scuba and snorkelling trips 7 days a week.
On the other side of the island is a massive contrast to the calming "West Side", where the rough Atlantic hits the island with a rugged effect, making a dramatic spot to take a trek by horseback near to the colonial town of Bathsheba.
The island does have, of course, a great history for rum production, with the iconic St Nicholas Abbey being one of the most revered, with its striking Jacobian plantation house located with enviable views across the northern end of the island.
San Bernardo Islands, Colombia
Recommended by Adam from Cartagena Explorer
Located off Colombia's Caribbean coast between the popular destination cities of Cartagena and Medellín, the San Bernardo Islands are a hidden gem.
They are surrounded by crystal clear waters with pretty beaches. The most popular beaches are on the islands of Mucura and Tintipán. There are a handful of hotels, hostels, and lodges on both Mucura and Tintipán as well.
When my wife and I went, we stayed at Isla Roots Hostel on Tintipán and thought it was great. Those looking for a more exclusive stay may want to check out the resort on Isla Palma a bit closer inland, while those looking for a more budget-friendly way to see the islands should consider staying at Hostel Mamallena on the Beach on the little beach town of Rincón del Mar where day trips to the islands can be easily organized.
When planning your trip to the San Bernardo Islands, you'll definitely want to enjoy the beach and get a fresh lunch or lobster lunch. You can also enjoy snorkelling and see bioluminescent plankton in the mangroves at night, a very neat experience. And the sunset is not to be missed!
Finally, you can also visit Santa Cruz del Islote, the most densely populated island in the world. Largely neglected, a small donation in exchange for doing the tour helps support community projects. You can also dive into a pen with giant nurse sharks. Up to 3 meters long, they are big, but basically harmless suckerfish. It's a neat experience seeing them up close!
Turks and Caicos
Recommended by Nikki from SheSavesSheTravels
Turks and Caicos is a string of islands located just south of the Bahamas in the Caribbean Sea. With pristine white sand and uncrowded beaches, it's an amazing Caribbean destination. The vivid turquoise water and bright white sand beaches are a beach lovers' dream!
Turks and Caicos is home to Grace Bay Beach, which is often ranked by travellers as one of the world's top 10 beaches. And although there's many great beaches on Turks and Caicos, the fun and beauty don't stop there. It's an island perfect for honeymooners or families, full of romance and adventure.
Activities on the water are the most popular things to do in Turks and Caicos, and for good reason! Known for its diving and snorkelling, travellers can take day trips to dive the great reefs or grab their own gear and snorkel right off the shore. Bight Beach and the Beach at Smith's Reef are both great spots for snorkelling along the island of Providenciales (the main island).
Try kiteboarding, kayaking or setting sail on a catamaran. My favourite activity was going horseback riding in the ocean, an incredible experience with an ethical animal tourist organization. Visit the world's only conch farm or end the day catching a beautiful sunset along the beach.
Save big on your trip to the Caribbean by choosing a vacation rental property instead of a hotel. With limited hotels on the islands, it's incredibly expensive so staying at a condo or guest house makes perfect sense.
Old Providence, Colombia
Recommended by Iris from Mind of a Hitchhiker
The smaller, less-visited island of the Colombian San Andrés archipelago is quite the Caribbean gem. To get there, you must travel from San Andrés island either by a short flight in a tiny plane or by a small catamaran ferry. Everything is so petite!
English Puritan slaveowners were the first to colonize 'Old Providence' island. After many skirmishes between settlers, privateers, and buccaneers, the Spanish captured the island—which leads us to the modern state of Colombia and the renaming to 'Providencia'. This history is why the local people (Raizals) speak an English-based Creole, are protestant, and feel Caribbean. This contrasts with the Hispanophone, Catholic, and Latin-American vibes of the rest of Colombia.
The highlights of any stay are visiting the paradisical Manzanillo beach, kayaking to Crab Caye, and seeing the whole of Old Providence after hiking up to The Peak. For pirate lovers, it's fun to take a hike to Morgan's Head on the former peninsula of Santa Catalina, which is connected by a bridge. There's fresh seafood at small restaurants everywhere, but you can also cook your own food by making a shopping trip in Santa Isabel near the ferry terminal.
The best way to get to those places is by asking your host at your chosen posada to arrange a motorbike taxi or by renting a scooter for your stay. As the island only has about 5000 inhabitants, it's a close-knit society where you'll depend on their connections. I loved the hospitality and stories at Posada Sunrise View.
Cuba
Recommended by Kay from The Awkward Traveller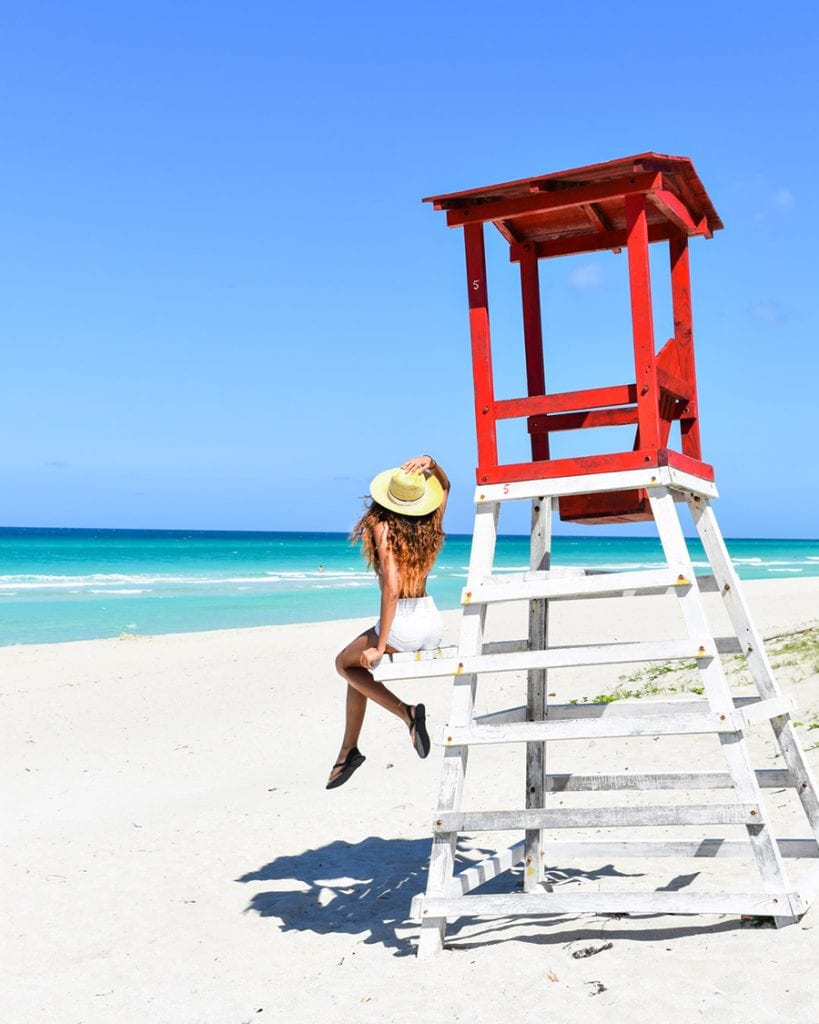 The beautiful island of Cuba is unlike any other destination in the world. As the largest island in the Caribbean, Cuba definitely provides more than its share of travel inspiration.
Cuba has always been open for tourism globally, but since 2016, American tourists have legally been granted visas from the USA, which lead to a huge influx of new businesses and restaurants on the island to keep up.
Most travellers visit the capital city of Havana, full of late-night dancing, colourful art installations (like Fusterlandia!), and delicious restaurants. Yeah, that rumour that all food in Cuba is bad? FALSE! In Havana, check out these locally run restaurants to eat authentic (and tasty!) cuisine: Paladar Los Mercaderes, Los Tres Chinitos, Oasis Nelva, and the Sloppy Joe Bar, creator of the ORIGINAL sloppy joe sandwich!
In terms of lodging, stay at a Casa Particular! These work essentially as homestays, and they are now available for rent on Airbnb! For an extra 5cuc, you can add on freshly prepared breakfast every morning!
While some of the most popular things to do in Cuba include seeing the ballet or a cabaret show, there are also a lot of more "off the beaten path" experiences that include a more in-depth view of the country's culture.
While some of the most popular things to do in Cuba include seeing the ballet or a cabaret show, there are also a lot of more "off the beaten path" experiences that include a more in-depth view of the country's culture. There are numerous heritage tours, like explore Afro-Cuban history of slavery and the strong Asian influence on the island before the revolution. Food lovers will enjoy the plethora of cooking and mixology classes, and after you're all full, Cuba offers amazing snorkelling opportunities in neighbouring cities like Varadero!
Utila, Honduras
Recommended by Carine & Derek from We Did It Our Way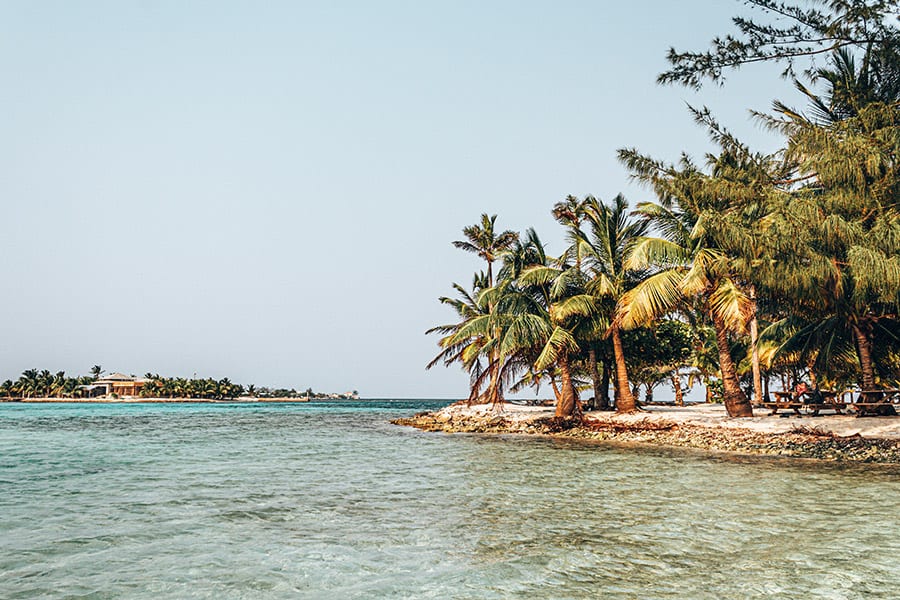 There's a little island off the coast of Honduras that's a perfect paradise getaway in the Caribbean: Utila!
People often avoid Honduras because of safety concerns, but we promise you that it's safe, if you know what to expect and what to do. Most people will only visit Roatan, which is why we recommend you head to Utila instead. Roatan is a popular stop on the cruise ship circuit. And although it is bigger than Utila, we found the latter was more charming.
There are plenty of things to do in Utila, whether you're looking to chill out, party or learn something new. Utila is one of the cheapest places in the world where you can learn how to scuba dive, so if this is a skill you're looking to develop, it's the place to do it. If not, Utila is also a great place to party. The drinks are cheap and there are plenty of bars to choose from on the main road.
If you're looking to chill out instead, there are a few beaches you can choose from, either on the island or a short boat ride away. Our favourite would have to be a trip to Water Cay, a tiny uninhabited island right off Utila. It's the perfect place to set up your hammock under the trees and chill out in clear waters. Basically, it's paradise!
Finally, if you're looking to do some more adventurous activities, you can hike up Pumpkin hill, hike along the cliffs, snorkel in one of the many spots and kayak down the small canal in the middle of the island.
There are a ton of places where you can stay in Utila. If you want to be in the heart of the action, the main street is the best place to be. That's also where you'll find the best restaurants on the island!
Utila is a great place to be, either for a few days or even a full week. You'll surely make some new friends and a ton of amazing memories.
Jamaica
Recommended by Daniel from Layer Culture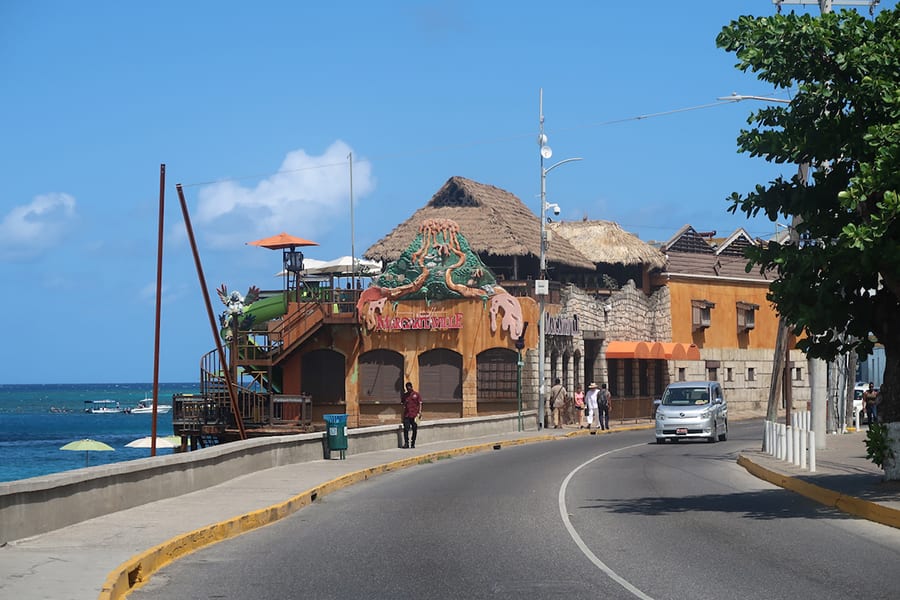 Whilst looking for the most amazing islands to visit in the Caribbean, Jamaica should be somewhere on your list.
The small island located just 381 kilometres off the coast of Cuba offers a unique culture. With thousands of curious visitors every year, the reggae vibes attract people looking for a rhythmic experience in the sun.
From Kingston, you can start a rugged mountain adventure in the Portland parish climbing up into the Blue Mountains. The mountain experience at Strawberry Hill is great for coffee lovers.
Once you've seen the other places to visit in Jamaica you can use the Knutsford Express coach service to travel around the island. From the east of the island in Montego Bay you can find various hotel attractions and some cool guesthouses such as Mobay Kotch.
On Gloucester Ave, you can dance the night away at Margaritaville nightclub. One must-try food here is Ackee and Salt-fish which is delicious at breakfast time. You can find a small local restaurant inside the craft market area for authentic Jamaican food.
Heading over to Negril you can also find some world-class resorts as well as get access to fine Seven Mile beach. All in all, if you want to get out of the hotel scene and get off beaten Jamaica can offer you a distinct travel experience like no other in the Caribbean.
Tobago
Recommended by Andrea from Happy Days Travel Blog
Tobago, the smaller of the twin-island nation of Trinidad and Tobago, sparkles like a lush green jewel in the azure blue of the Caribbean.
It is the perfect destination for nature lovers with secluded white sand bays, stunning coral reefs, and Main Ridge Reserve, the oldest protected rain forest in the Western hemisphere. Tobago is also a world-class turtle nesting site.
There is abundant wildlife, including over 200 bird species attracting ornithologists from all over the world. Local guides can take you on hikes through steamy forests to cooling waterfalls.
Tobago's dive sites are amongst the best in the Caribbean. There is no need to don a scuba tank, though. Snorkelling in the warm shallow waters close to shore will reveal a kaleidoscope of vibrantly coloured fish and plants.
Tobago's Amerindian and African heritage are reflected in the island's rich culture. 'Curry crab and dumplings' is the delicious national dish. Rum punch is the cocktail of choice throughout the island, usually made with 75% proof Puncheon! Steelpan and African drums entertain tourists and locals alike.
Most visitors to Tobago congregate in the hotels near the airport. They rarely venture further than the areas around Crown Point and the iconic Pigeon Point. I would urge you, though, to base yourself in Castara. Here in this fishing village, you will experience authentic Tobagonian life as you enjoy the soft sands and warm sea of Big Bay and Little Bay. Beautiful Englishman's Bay, Parlatuvier, and Bloody Bay are close by, too.
Tortola, British Virgin Islands
Recommended by Shannon from Snorkels and Snowpants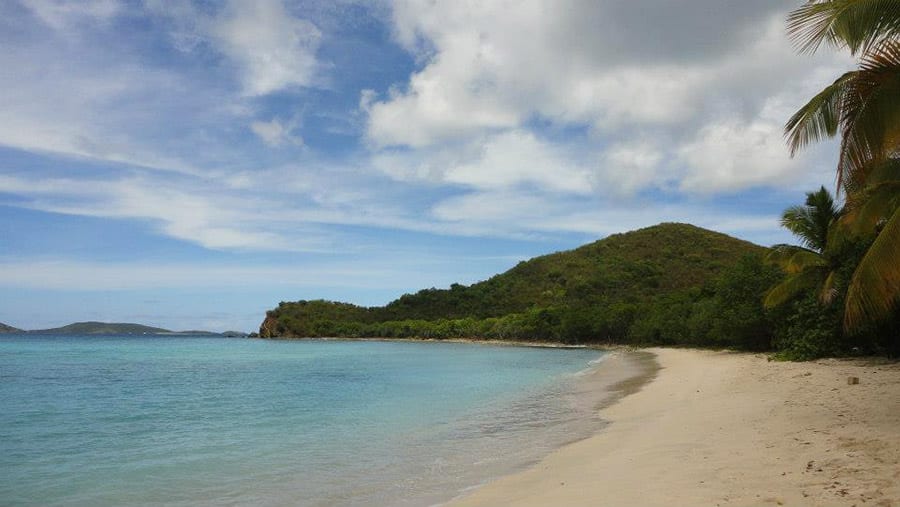 Tortola is the largest of the British Virgin Islands and home to the BVI's capital, Road Town. With no direct US or European flights, most visitors arrive by boat. Tortola is gorgeous, laid back, and not too overrun by tourists thanks to its relative inaccessibility.
Upon arrival, head straight for remote beaches and beautiful mountains! For a true castaway experience, visit Smuggler's Cove. Off Route 1, over a mile down a dirt road, Smuggler's Cove is a beautiful, hidden, powdery white sand beach. There is a bar hut, which seems to open when they feel like it, but the beach is often empty. Snorkelling is accessible right off the shoreline, with a fair amount of coral and plenty of colourful fish. Smuggler's Cove feels like you've set sail on a pirate adventure and landed at a secret place you want to keep all to yourself.
Had your fill of sun and sand? Callwood's Rum Distillery is one of the Caribbean's oldest. Housed in the original stone building, this distillery has been producing rum for around 400 years. Like so much of Tortola, the distillery feels like a step back in time, a visit to another era.
With numerous beaches and crystal blue water, sailing, mountainous hiking, unique shopping, and more, the island has so much to offer! You won't regret including Tortola on your next Caribbean adventure!
Don't forget to pin this article so you can come back to it later